Summertime is sockeye salmon season, and this Maple Glazed Salmon recipe is one of my favorite dinners to make at home, especially as we look forward to our cruise in Alaska this summer!
There's only 5 ingredients and the clean-up is easy, so it's a simple and delicious recipe that's perfect for a busy weeknight, or double it up for an elegant meal with friends over the weekend. Since there's such little prep and clean-up, you can spend more time enjoying your family and friend's company rather than cooking and doing dishes. And to me, that makes this recipe a winner!
Maple Glazed Sockeye Salmon Recipe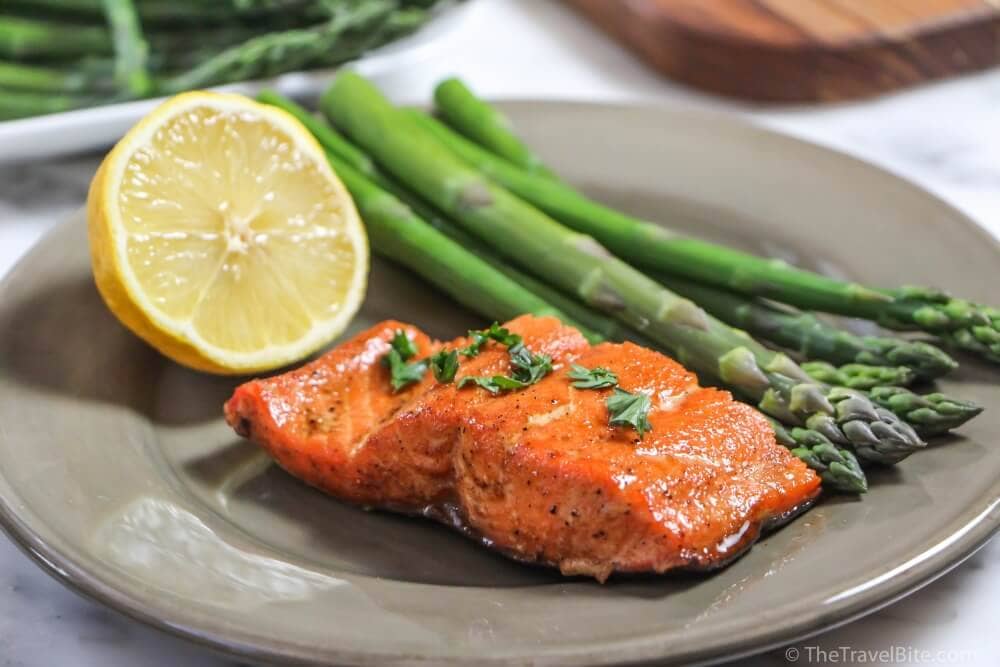 Inspired by the flavors of Alaska and British Columbia, it's a delicious blend of sweet heat with Canadian maple syrup and a bit of spicy paprika and chili powder. Sockeye salmon is generally wild-caught in the Pacific Northwest, with most coming from the Copper River in Alaska or the Fraser River in British Columbia, Canada. One of the things I'm most looking forward to during our cruise is having wild Alaskan-caught salmon!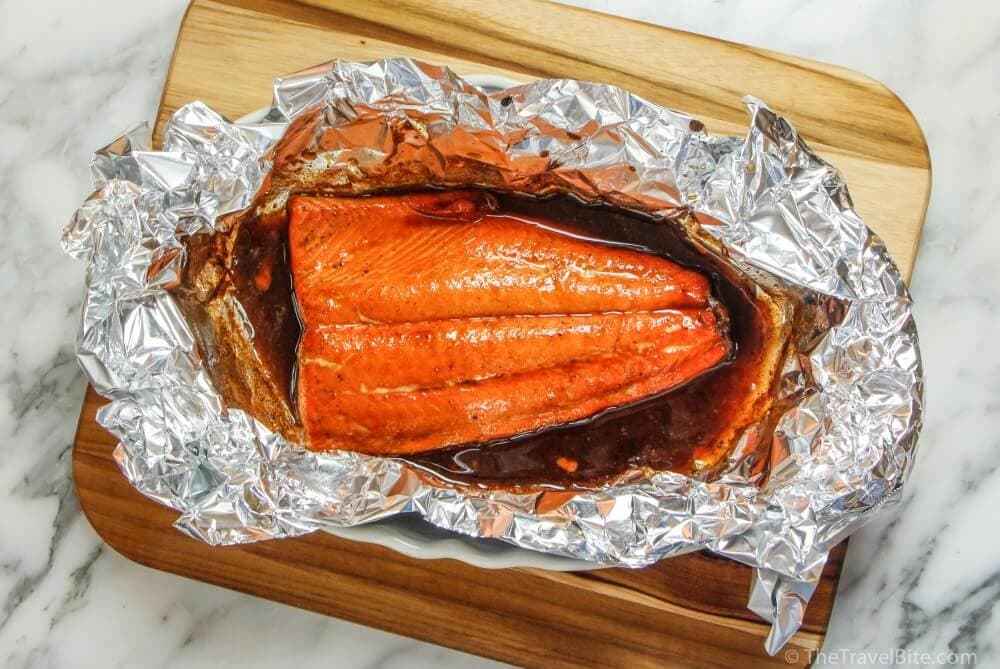 Sockeye Salmon Cooking Tips
For shopping tips at home, I tend to look for a fresh filet of wild-caught sockeye salmon at my local grocer. It's easily recognizable for it's deep red color. A filet typically weights about a half pound and is the perfect size for a dinner for two, but you can also get a larger filet and bake it whole to easily feed 4 to 6 people. I typically plan for 4-6 ounces per person. And for cooking tips, wrapping the salmon in foil helps seal in the flavor and makes it easy to clean up!
I hope you enjoy this recipe as much as Pete and I do! Be sure to check back later this month to find out more about our cruise!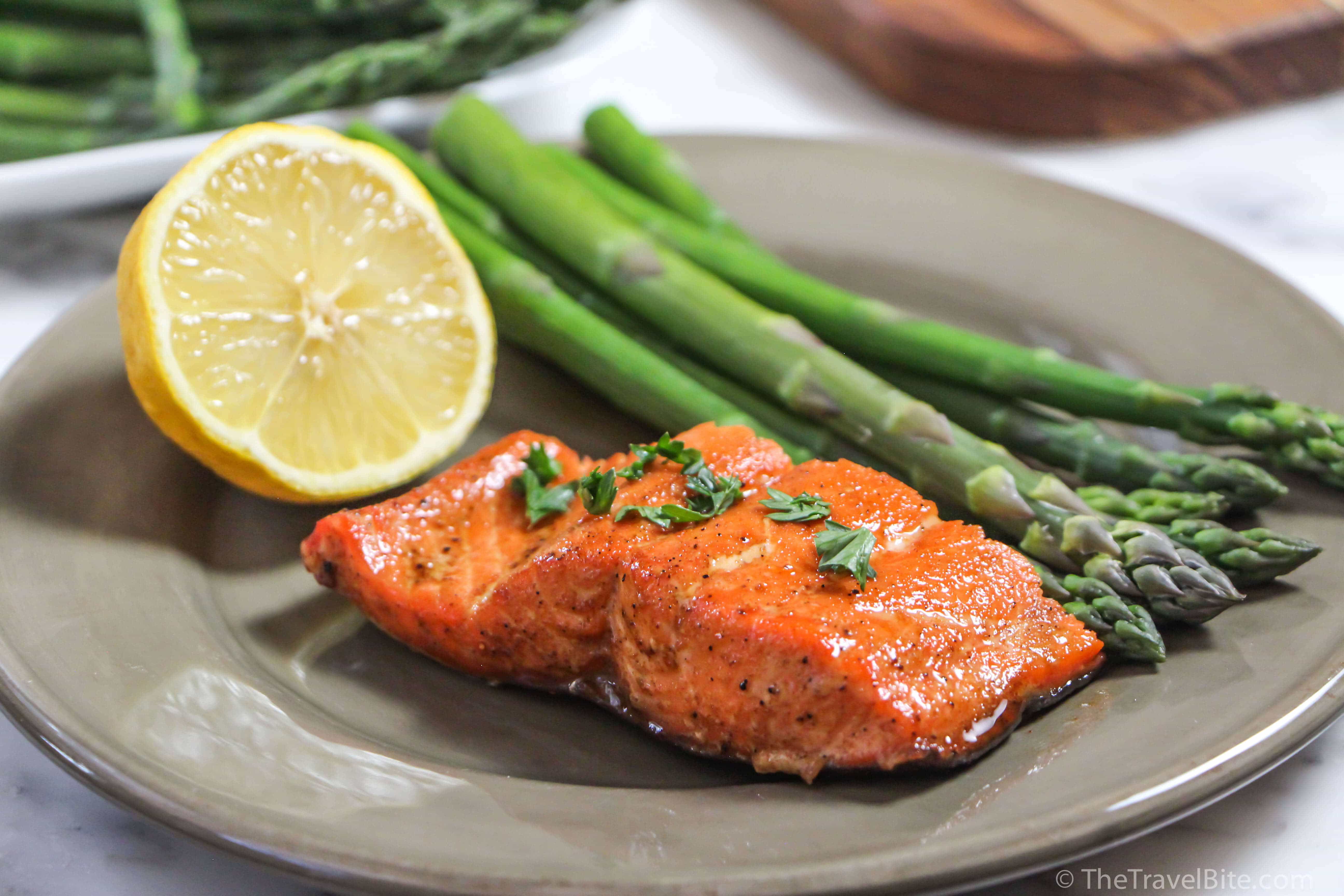 Maple Glazed Sockeye Salmon
Ingredients
1 teaspoon paprika
1/2 teaspoon chili powder
1/4 cup maple syrup
1 teaspoon sea salt
1/2 lb salmon filet
Instructions
Preheat oven to 400 degrees.
Add the maple syrup, paprika, chili powder, and sea salt to a small bowl and whisk together.
Line a shallow glass baking dish with tin foil, being sure to use enough to cover the edges of the dish, and place the salmon inside. This helps keep the syrup on the fish and makes clean-up pretty easy.
Pour the syrup mixture over the salmon filet, taking care to coat it evenly.
Cook the salmon for 15 minutes. Remove the fish from the oven and coat it with syrup from the dish using a basting brush or spoon. Cook for an additional 5 minutes.
The salmon is done when it flakes easily with a fork.
Makes 2 servings
Nutrition Information:
Amount Per Serving:
Calories:

0
Total Fat:

0g
Saturated Fat:

0g
Trans Fat:

0g
Unsaturated Fat:

0g
Cholesterol:

0mg
Sodium:

0mg
Carbohydrates:

0g
Fiber:

0g
Sugar:

0g
Protein:

0g
Want to save this recipe for later? Pin it!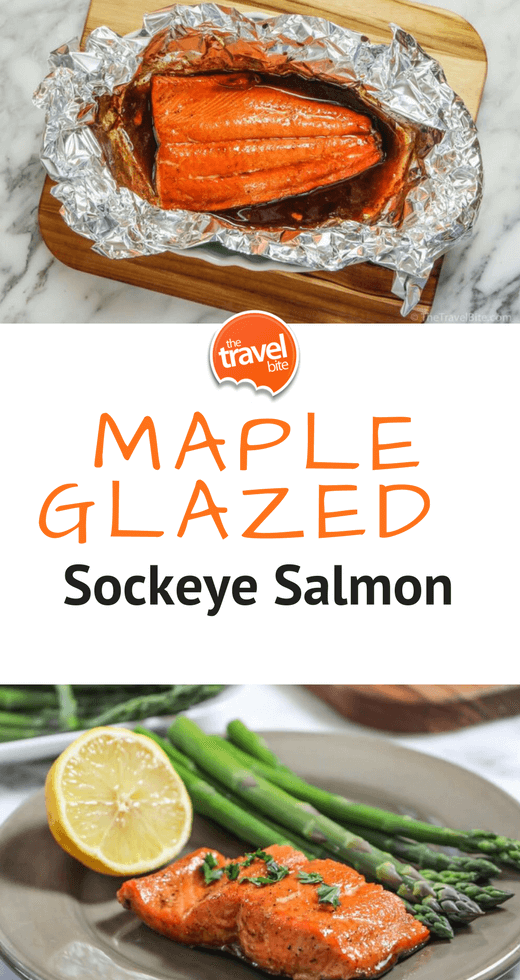 Originally published in 2016. Updated 2020.