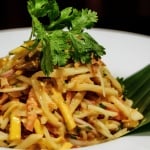 This recipe for mango salad comes from Myanmar (formerly Burma) in South East Asia.  If you've ever visited the region, you'll know that the weather there is hot and tropical, and not so different from stepping into a steam room during the summer.  It's great for your skin and for spending time at the beach, but it leaves you constantly craving chilled foods and beverages to restore your energy.
I learned to make this salad during a cooking class at Sule Shangri-La, Yangon, and I have a feeling it's going to become a regular meal back home in Florida.  A mix of fruits that are on the verge of being ripe, this salad has a cool crunch to it that is pretty refreshing.  The spices give it some kick and add flavor while the chick pea powder provides a hint of creaminess in the dressing and also has some hidden protein to keep you full.  I love it.
The hardest part is in the prep work, but once you have everything chopped all that's left is to mix it together.
** A few prep notes before you get started.  The dressing is made out of fried shallot oil and chick pea powder, which if you can't find at your local grocer, are pretty easy to make at home.**
How to make chick pea powder:  Drain and rinse one 12 ounce can of chickpeas and spread them evenly on an ungreased baking pan.  Roast at 400 degrees for 35-40 minutes until their crisp and brown.  Let cool them cool, then puree in a food processor or spice grinder until they become a fine powder.
To make the shallot oil:  Heat 2 tbsp of peanut oil, 1/2 sliced shallot, and pinch of turmeric powder in a saute pan.  Fry on medium heat until golden brown, remove and let cool.  Strain the oil.  Ready to use as dressing.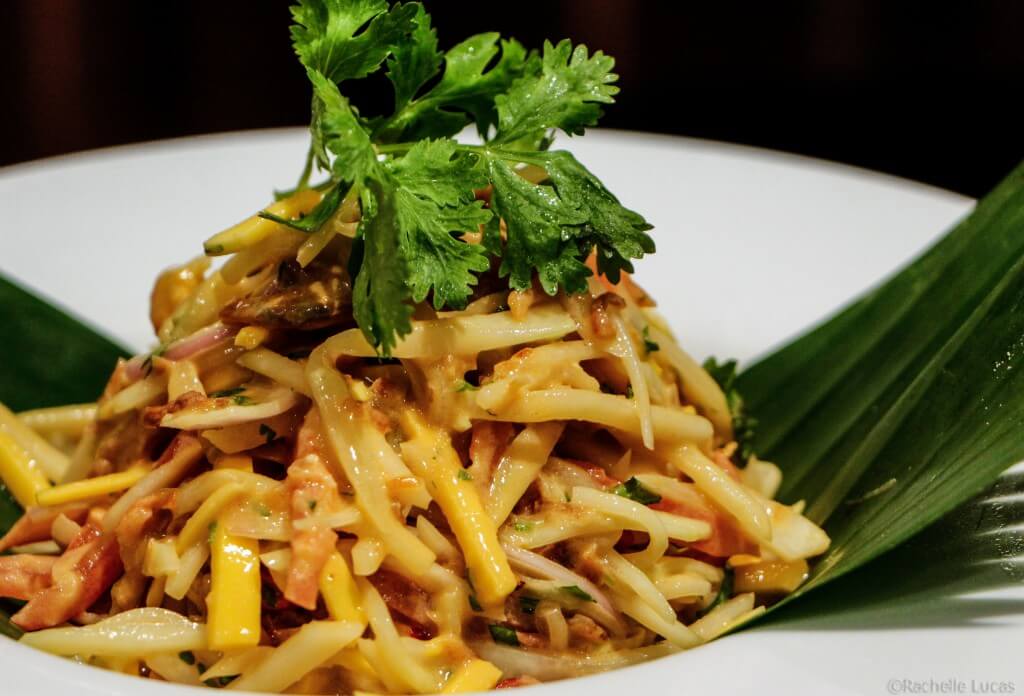 | | | |
| --- | --- | --- |
| Myanmar Mango Salad | | Print |
Cool and refreshing with a hint of spice, this recipe is really easy to make and perfect for summertime.
Ingredients
2 Cups Green Mango, Julienne Cut
1⅓ Cup Green Papaya, Julienne Cut
1¼ Cup Cucumber, Julienne Cut (peel and seeds removed)
1¼ Cup Tomato, Julienne Cut (seeds removed)
1¼ Cup Onion, sliced
¼ Cup Cilantro
¼ Cup Toasted Chick Pea Powder
¼ Cup Fried Shallot Oil
⅓ Cup Fish Sauce
⅓ Cup Lime Juice
¼ Cup Dried Shrimp
1 Teaspoon Fried Chili Powder
1½ Tablespoon Fried Onion for garnish
Banana Leaf for decoration/garnish
Instructions
To make the chick pea powder, add 1 cup of whole chick peas to a cookie sheet and bake at 350 degrees for 30 minutes. Remove and let cool. Then, Peel, seed, prep, and julienne slice the papaya, mango, cucumber, and tomatoes.
 This campaign was created and sponsored by Cathay Pacific Airways in partnership with iAmbassador. As always, thoughts, opinions, and enthusiasm for travel is entirely my own.