Looking for a few good ramen hacks? We've got you covered. Buried in the back of your pantry, probably from your college days, is a hard brick of instant noodles. You know the kind of ramen I'm talking about. Not the legit full of umami kind that a chef spent hours on, making a broth from scratch, and pulling fresh-made noodles. But the cheap, salty, easily microwavable, and good for a hangover instant noodle. Now, let's make that instant noodle fancy.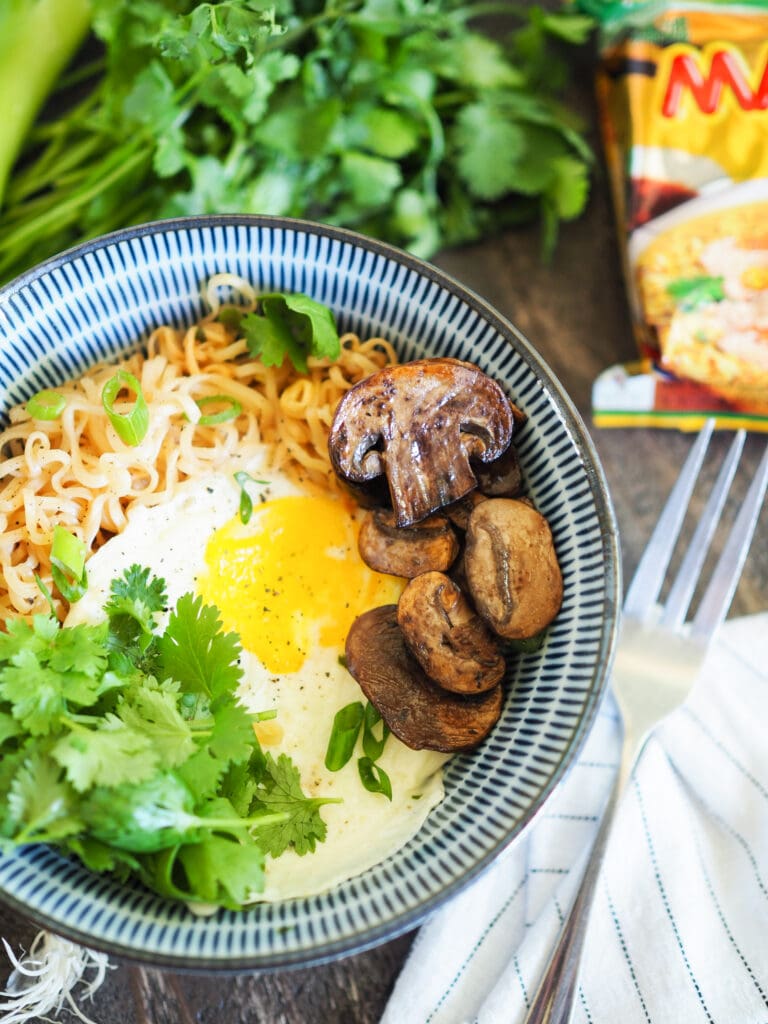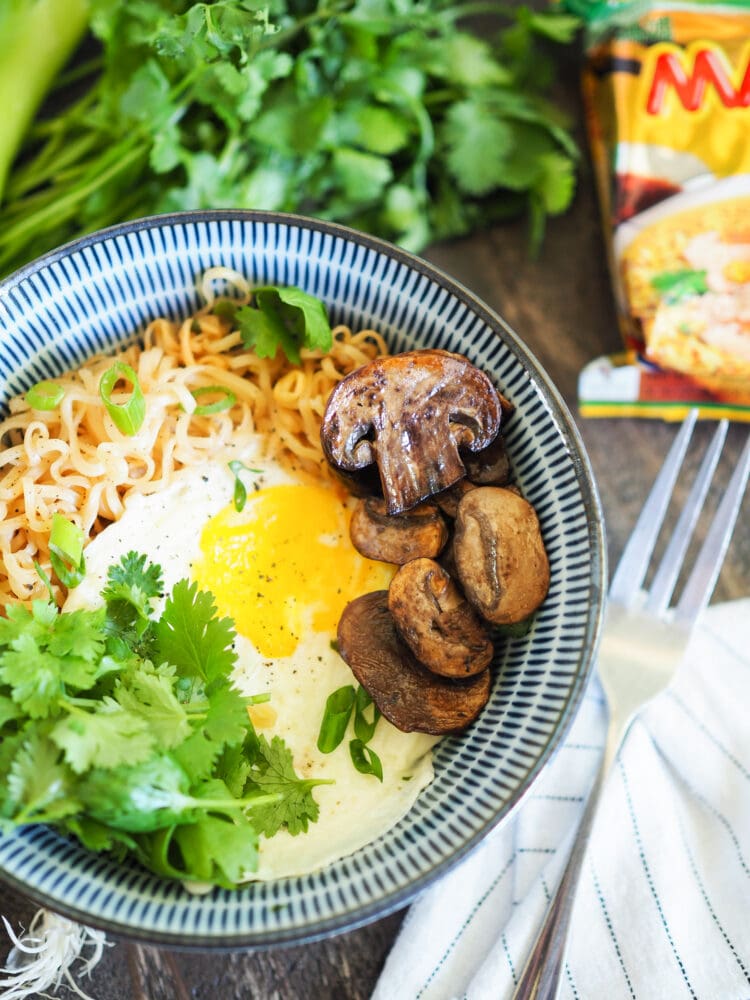 Ramen Hacks: 5 Easy Ways To Upgrade Your Instant Noodles
You can make a basic instant noodle look and taste better. And I'll explain how below with our 5 ramen hacks. So, if you're a grown adult looking for ways to extend the time between grocery shopping trips, or just looking for budget friendly pantry meals, here's how to upgrade instant noodles to make them fancy enough to post on Instagram.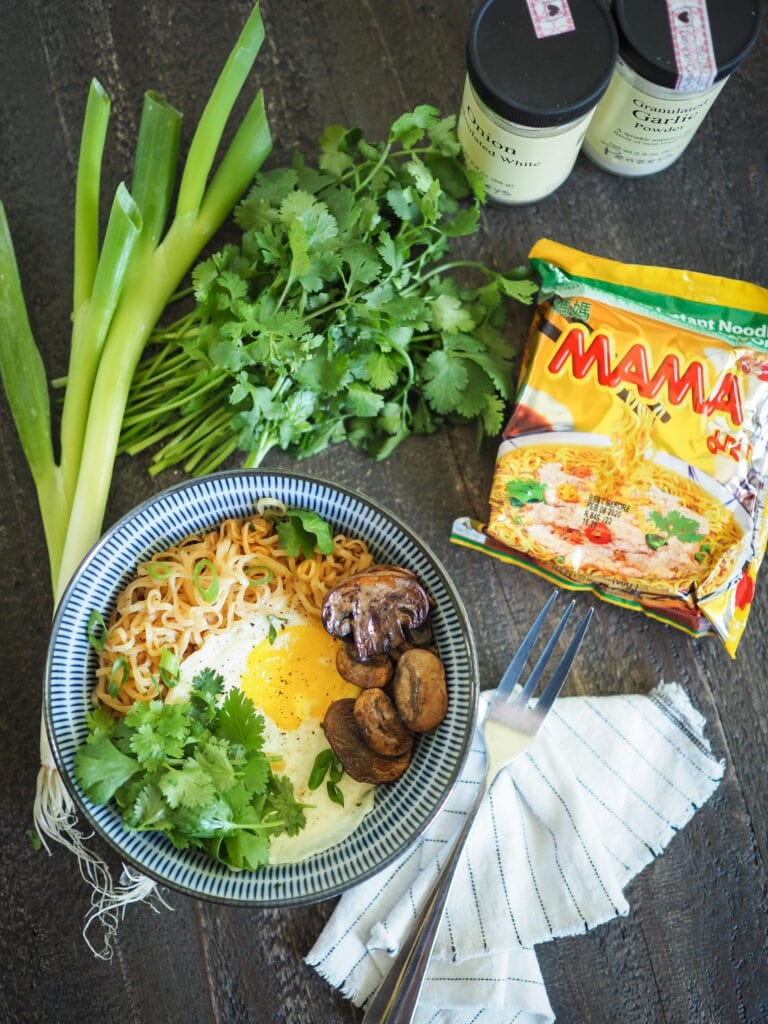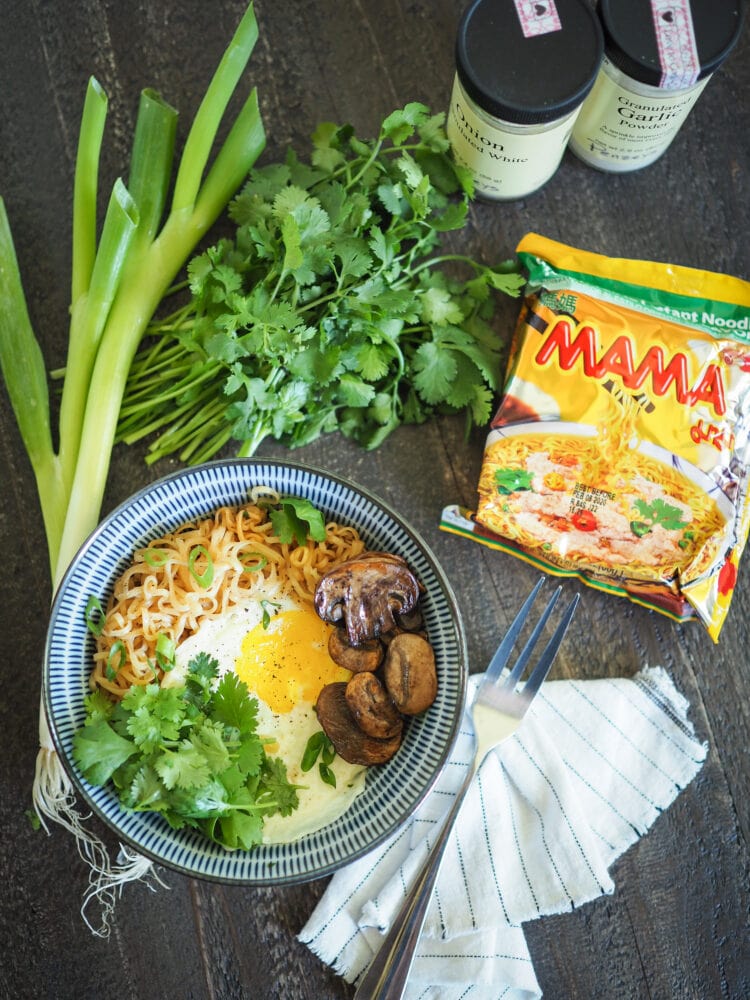 #1 – Pick A Better Noodle
One of the first instant noodle ramen hacks you can do is pick a better noodle. You could go all out and buy actual Japanese ramen noodles. Or just choose a different brand of instant noodle. My husband, Pete, introduced me to the Thai brand called MAMA. These noodles have great flavor and texture for an inexpensive instant noodle. And the spice packet that comes with it includes roasted garlic and chili pepper too.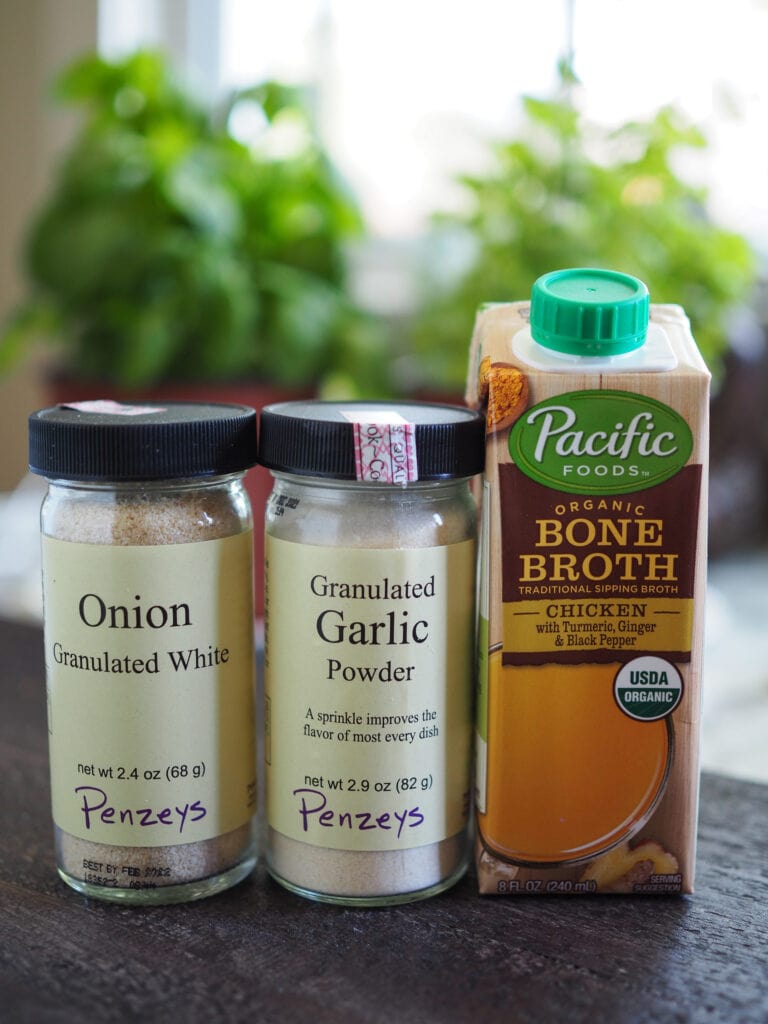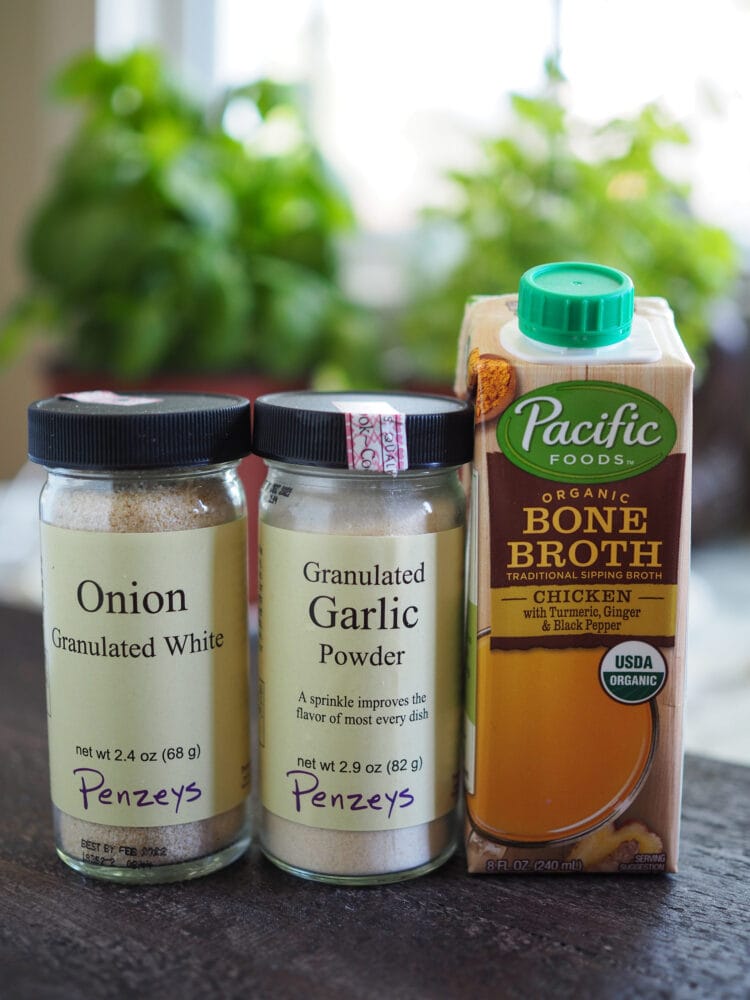 #2 – Mix Up Your Own Spices
Another thing you can do to upgrade your instant ramen noodles is to mix up your own spices. The spice packet that comes with instant noodles tends to be a little on the salty side. Instead, of using the included spice pack, add your own spices to flavor the noodles just the way you like it. I typically add a 1/4 teaspoon of onion powder, a 1/4 teaspoon of garlic powder, and just a pinch of salt.
There are dozens of options in your pantry to make a variety of flavor nominations. Here's a list of spices and condiments that go great with instant noodles. Try out a few combinations and come up with your own spice recipe:
Onion Powder
Garlic Powder
Curry
Ginger
Soy Sauce
Fish Sauce
Miso Paste
Sesame Seeds
Red Pepper Flakes
Harissa
Sriracha
#3 – Use Broth Instead Of Water
Instead of making your instant noodles with water, try using broth instead. You could choose a bone broth to add more protein. Or even a simple vegetable broth would do. Having a few cartons of broth in your pantry is definitely a good idea to add flavor to any meal, not just ramen.
But beware, if you use broth in combination with the included spice pack, your noodles might be a bit salty. Instead, use broth only with your own spice mix. Or, add the broth first, then flavor with the included spice pack a little bit at a time to get it just right. I typically add the broth with my own spice mix mentioned above.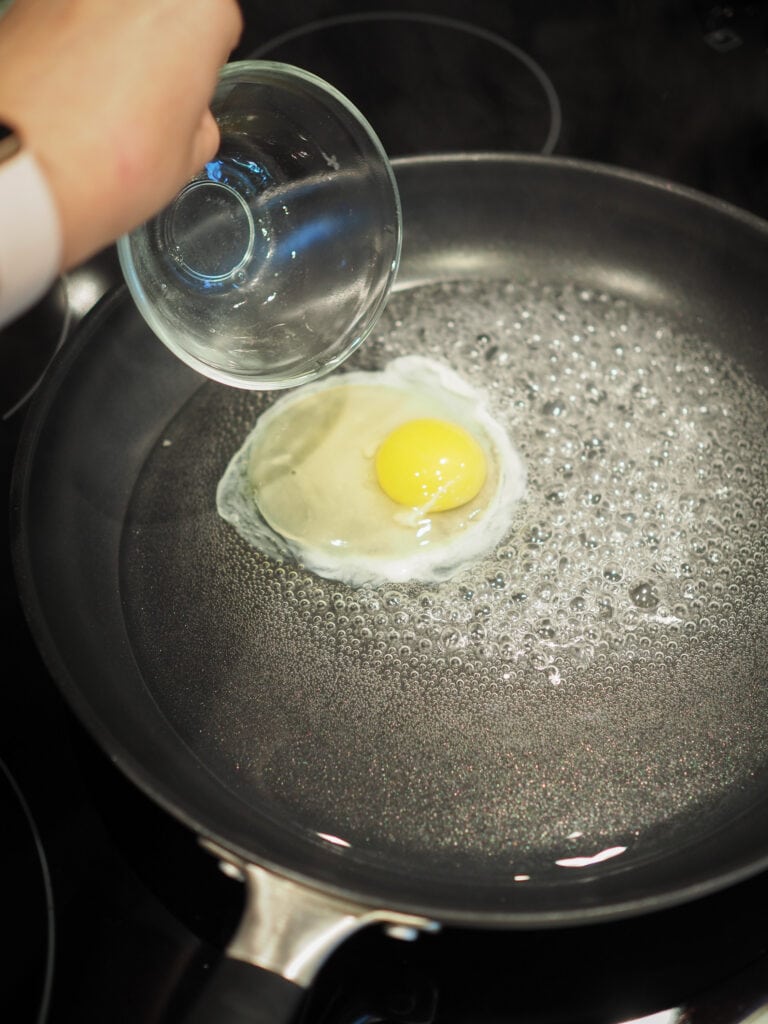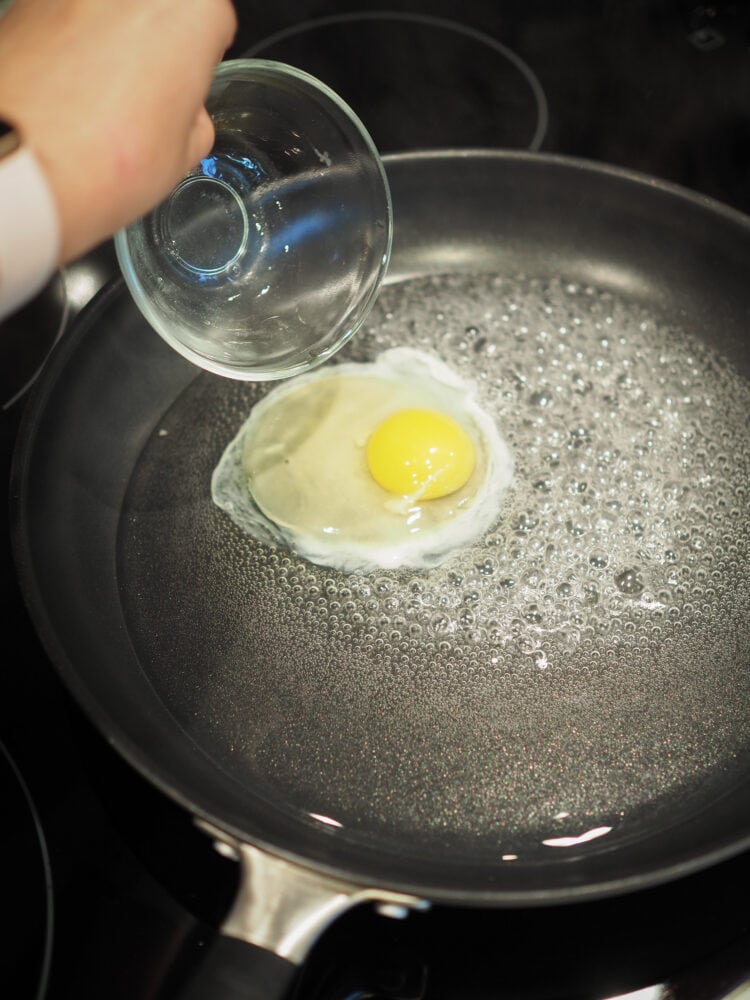 #4 – Make It A Meal By Adding Protein
The best way to turn ramen instant noodles into a full meal is by adding a protein. Soft boiled eggs are most commonly served with traditional ramen. But you could also do a sunny side up egg the way it's served in a Korean Bibimbap. Scrambled eggs are also great, and you could add one that's hard boiled too. I like to make a poached egg right in the same pan that I'm cooking the noodles. This is another ramen hack my husband taught me.
In addition to poaching the egg, I'll also only add 3/4 cup of broth so that it's more of a noodle bowl instead of a soup. And who doesn't love one pan cooking?
Sliced chicken, pork, or beef are all fantastic protein options in addition to an egg. Especially if the meat is from left overs that need some jazzing up. And, of course, tofu is a great vegetarian option too.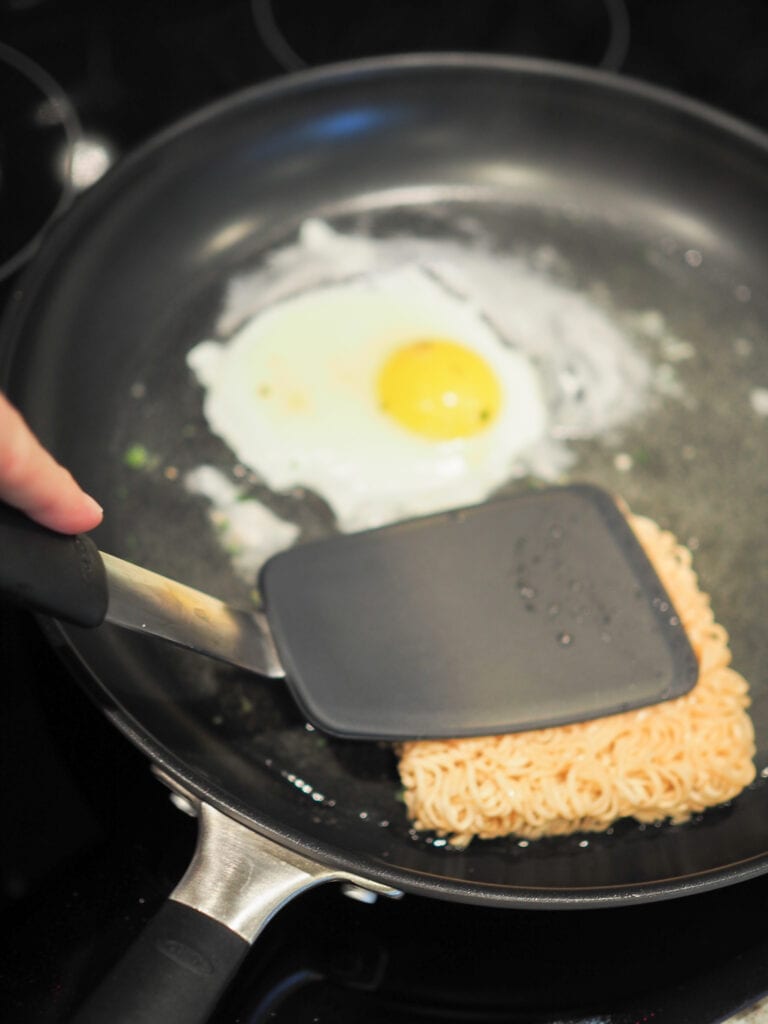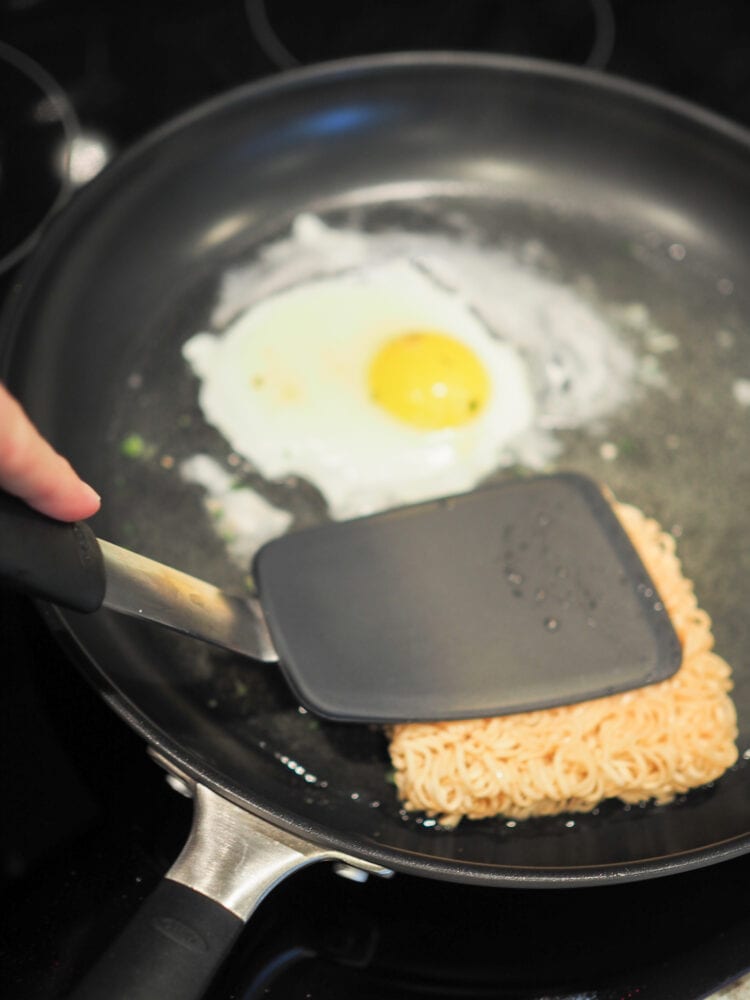 #5 – Add Some Greens To Your Ramen
Finally, my favorite of the five ramen hacks and a must-do even if you skip all others — add some fresh green herbs. Green onions are a must. And they're actually easy to grow in a window sill in just a cup of water. So you can always have some on hand.
I also like to add cilantro, Thai basil, and sometimes even parsley. You could also add some crunchy bean sprouts similar to what you might find in pho. Or give a little squeeze of fresh lime juice like you'd find in Thai recipes.
Nothing fresh on hand? No problem. Frozen veggies work great too. Simply add 1/4 frozen vegetables to your soup as it's cooking. Peas, carrots and corn all pair really well with instant noodles. And if herbs and fresh green vegetables aren't your thing, you could add some sautéed garlic and mushrooms.
What's your favorite of these ramen hacks? Have you tried any, or have one of your own? Comment and let us know!