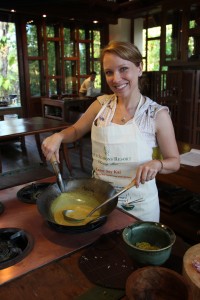 Thai is a tough language to learn for a native English speaker.  But there's one word I've got down pat:  "อร่อย." It's pronounced "ah-roi," and it means "delicious." During my
FSJet
Around-The-World Trip,
TCS
& Starquest Expeditions
 guest lecturer and art historian Charles Doherty taught me to say this word during our flight from Bali to Thailand and I silently repeated it over-and-over again until I had it memorized.  I wanted to learn at least one word to impress my Thai mother-in-law back home, plus I thought it would put me on good terms with the chef at
Four Seasons Resort Chiang Mai.
This simple expression came in handy when I tasted
khao soi gai
as this comforting bowl of noodles is quite the "party in your mouth." It covers all the taste sensations: sweet, salty, sour, bitter and spicy and is layered with textures. I learned how to make this dish during a cooking class at
Four Seasons Resort Chiang Mai.
Here is the recipe so that you can make it, too. Trust me, you'll be saying "ah-roi."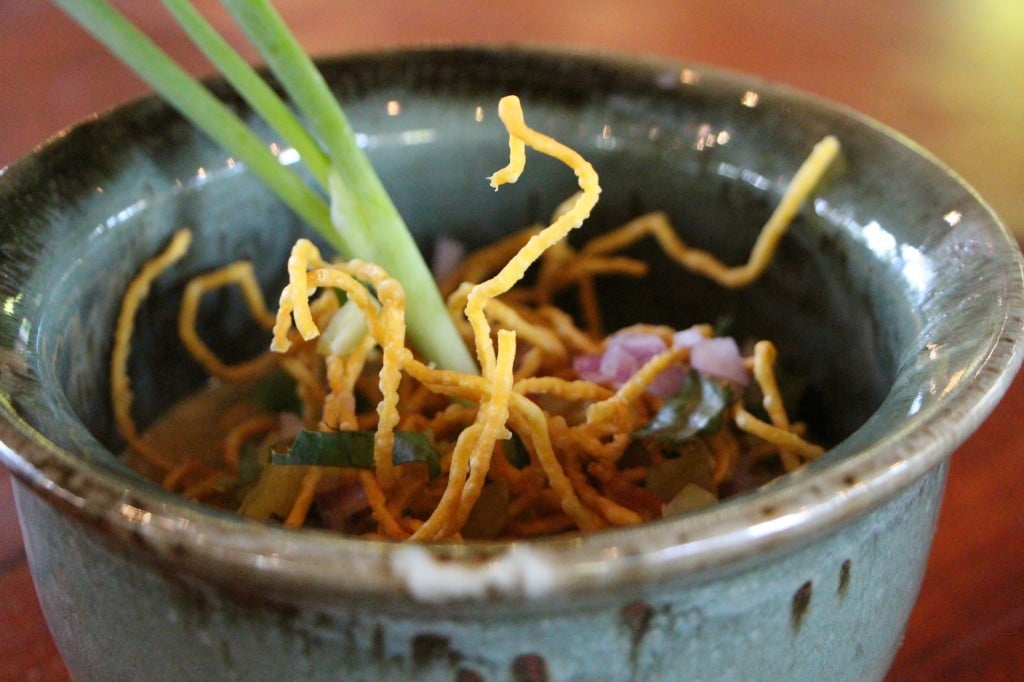 | | | |
| --- | --- | --- |
| RECIPE: Chiang Mai Curry Noodles With Chicken | | Print |
Prep time:
Cook time:
Total time:
This is the famous "Kaow Soi Gai," a savory bowl of Chiang Mai's famous curry noodles with chicken. The ingredients below are included in both Thai and English.
Ingredients
100 gr Chicken (Gai)
1 Pc. Fresh Egg Noodle for frying (Bamee thod)
1 Pc. Fresh Egg Noodle for blanching (Bamee)
1 tbsp Red Curry Paste (Narm prig gaeng daeng)
¼ tsp. Hung Lay Curry Powder (Phong hung lay)
1 tsp. Yellow Curry Powder (Phong ga ree)
1½ cup Coconut Milk (Gathi)
1 cup Chicken Stock (Narm soup gai)
1½ tbsp Fish Sauce (Narm pla)
1 tbsp of Palm Sugar Paste or White Sugar (Narm tan peeb)
2 leaves Thai Coriander, sliced (Pak chee larb)
1 stem Spring Onion, sliced (Hom soi)
Garnish
Lime (Ma naow)
Shallot (hom daeng)
Pickle Mustards (Pak kad doung)
Chili in Oil (Prig kaow soi)
Instructions
Heat the wok with vegetable oil. Then deep fry the egg noodle. (This only takes a couple of seconds) Set aside.
Blanch the remaining egg noodle in boiling water and place in a soup bowl with Thai coriander.
Heat a wok and add the coconut milk half ladle and stir until coconut milk boils.
Add red curry paste and stir. Mix red curry with coconut milk and follow with hung lay curry powder, yellow curry powder and mix well.
Add sliced chicken and keep stirring until chicken turns a bit white in color. Then add rest of coconut milk and stir.
Bring to a boil again, then add chicken stock, Thai fish sauce, and palm sugar paste. Reduce heat.
Keep cooking for 3-4 minutes
Pour the curry soup on top of the egg noodles.
Garnish with crispy egg noodles and sliced spring onion.
Optional - if you need more flavors add in condiments for a stronger taste.