Bolognese is a kind of ragù (the Italian word for meat sauce), originally from Bologna, Italy. It's a tomato-based meat sauce simmered low and slow with a trio of aromatics and a good dose of red wine. Typically, three different types of ground meat are added: ground beef, ground pork, and ground sausage. One thing you won't find in an authentic Bolognese sauce: milk. The only dairy used is fresh grated Parmigiano-Reggiano on top of your pasta Bolognese when it's served. The secret to having a Bolognese sauce that's tender and layered with flavor is time and patience. And wine.
First Rule Of Bolognese – Use The Proper Pasta
This has to be one of the most popular pasta sauces in the world and while the ingredients are simple, it's easy to screw up a pasta Bolognese. First of all, it's never served on spaghetti in Bologna. Ever. There is no such thing as spaghetti Bolognese, and it makes sense as the sauce slides right off the circular shaped noodles so your left with a pile of spaghetti and a bowl full of sauce at the bottom. True pasta Bolognese is served on tagliatelle, an egg-based noodle in the shape of flat ribbons, similar to fettuccine. Since tagliatelle is typically fresh made, the ribbons are a bit sticky and porous allowing the meat sauce to stick. It can sometimes be a little tricky to find tagliatelle at most grocers in the US, so look for a good substitute (please, God, don't use spaghetti. Every time you do, an Italian faints). Instead, I recommend using spiral egg noodles or fusilli to properly hold on to your meaty sauce if you can't find a tagliatelle.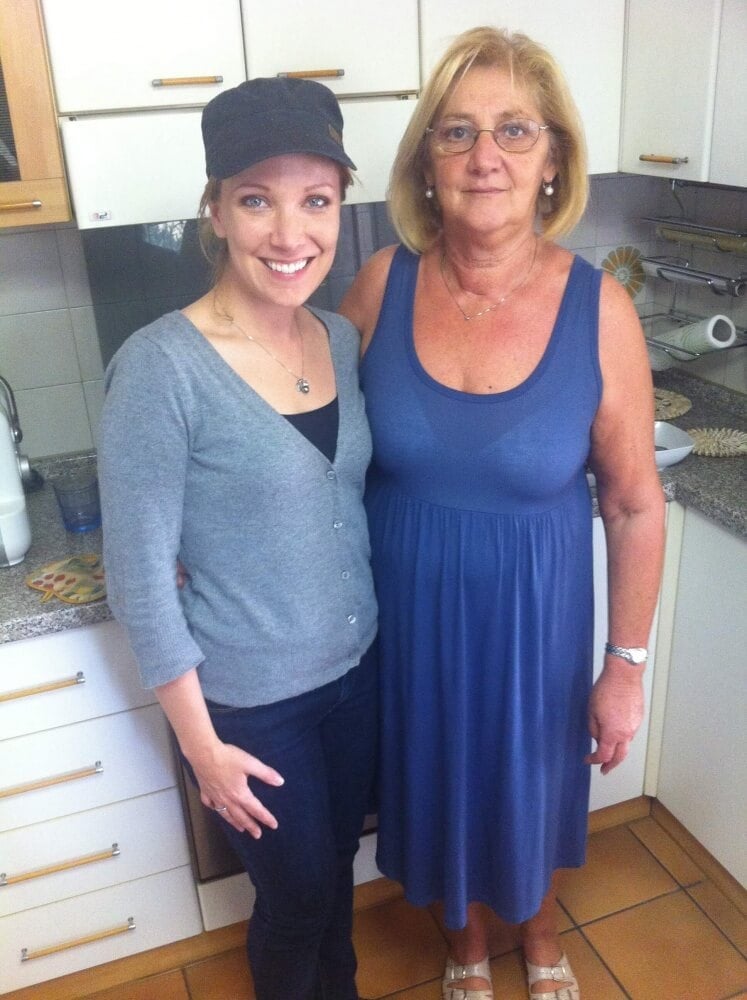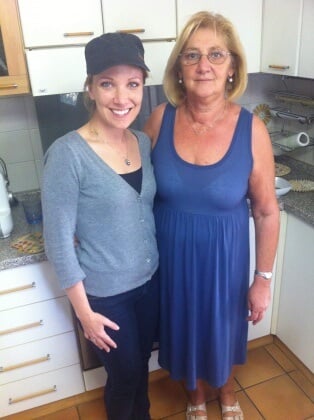 Second Rule Of Bolognese – Slow Simmer The Sauce
Now, let's get to making that sauce. The only way to truly learn Italian cooking is not at a fancy cooking school, but in the kitchens of the aunties and grandmas that have passed these recipes on for generations. That's the real deal, with real ingredients, feeding real families. So, when I inquired about learning to make pasta Bolognese while away at Blogville, the program's manager, Nick, took me to the best place: his aunt's house.
Third Rule Of Bolognese – Learn To Make It From An Italian Auntie
Meet Anna, pictured abovie. This is her recipe that she generously shared with me. Anna doesn't speak English, and I don't speak Italian, but the basics of cooking are all the same and there is lots to learn in the kitchen just by watching, using your hands, and tasting. I did have Nick with me, translating as we went along. About the only difference is that in the US we measure volume (teaspoons and cups) instead of by weight (grams), so the measurements are approximate. I've included both US and Metric so that you can make the recipe no matter what part of the world you're in. Want to get a quick glimpse of how to make it? Watch the short video below.
Authentic Pasta Bolognese Sauce Recipe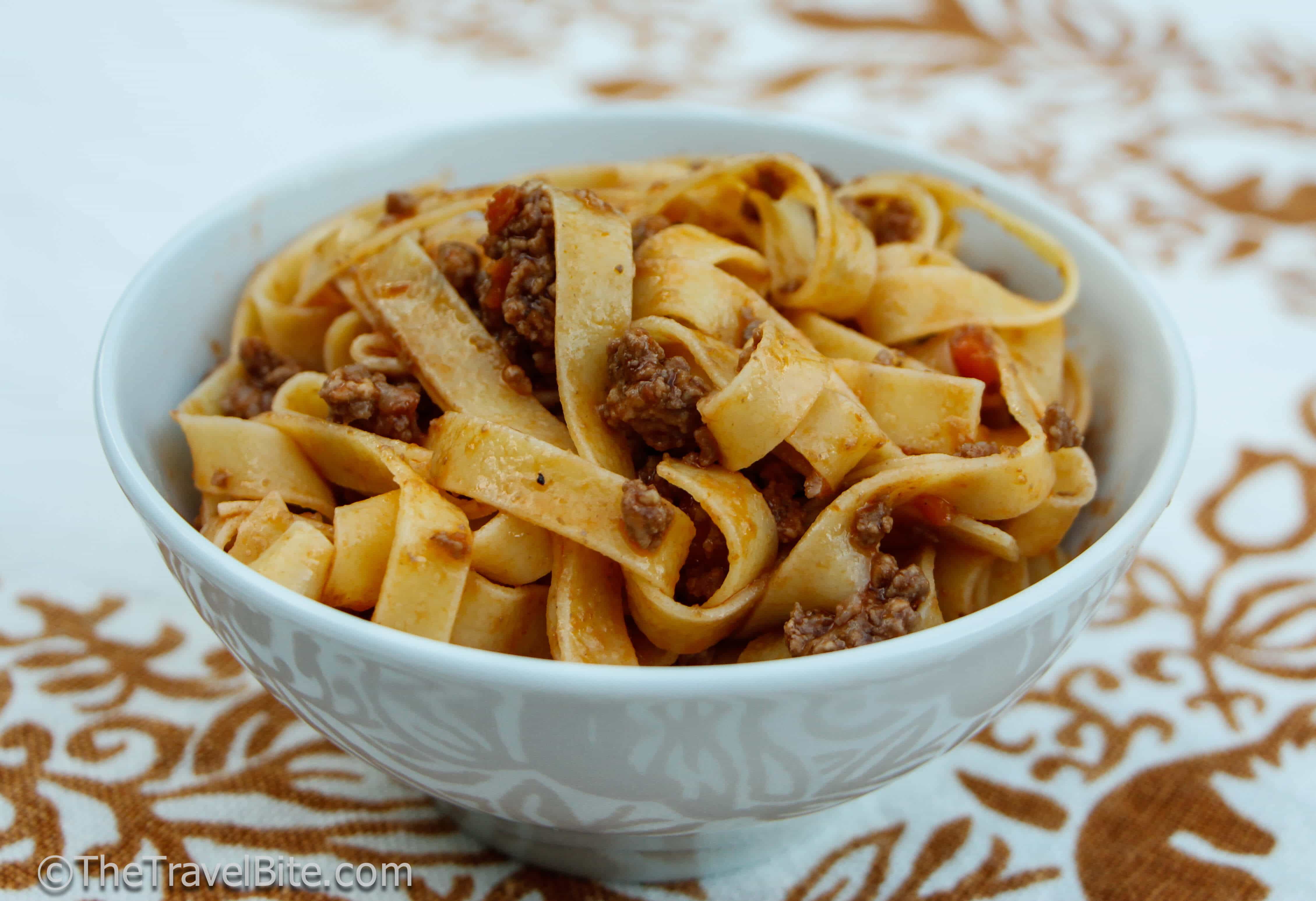 Bolognese Sauce a.k.a. "Ragu di Anna"
Total Time:
2 hours
15 minutes
Ingredients
approx 1/4 cup (20g) diced carrots
approx 1/4 cup (20g) diced celery
approx 1/4 cup (20g) diced onion
1/2 cup Extra Virgin Olive Oil
5 ounces (150 g) ground pork
5 ounces (150 g) ground beef
5 ounces (150 g) ground pork sausage **This works out to be about a pound of meat. You can ask your local grocer to make a meat loaf pack for you**
1/2 cup red wine
7-8 ounces (200g) tomato sauce
Salt and Pepper to taste
Instructions
Heat olive oil, carrots, celery, and onion in a large sauce pan and cook for about 5 minutes until the onions sweat a little and look clear. The Italians call these the "odori" or aromatics.
Next add the meat and cook it thoroughly. After the meat is cooked, add a couple of dashes of sea salt. Salt pulls juices out of meat and vegetables, so waiting until it is cooked to add the salt keeps it from getting watery.
Add the wine, slowly pouring it in from one side and stirring it into the meat.
Next add the tomato sauce and a little more salt.
Cook for 2 hours on low heat, stirring occasionally.
More pics from my afternoon of cooking pasta Bolognese with Anna …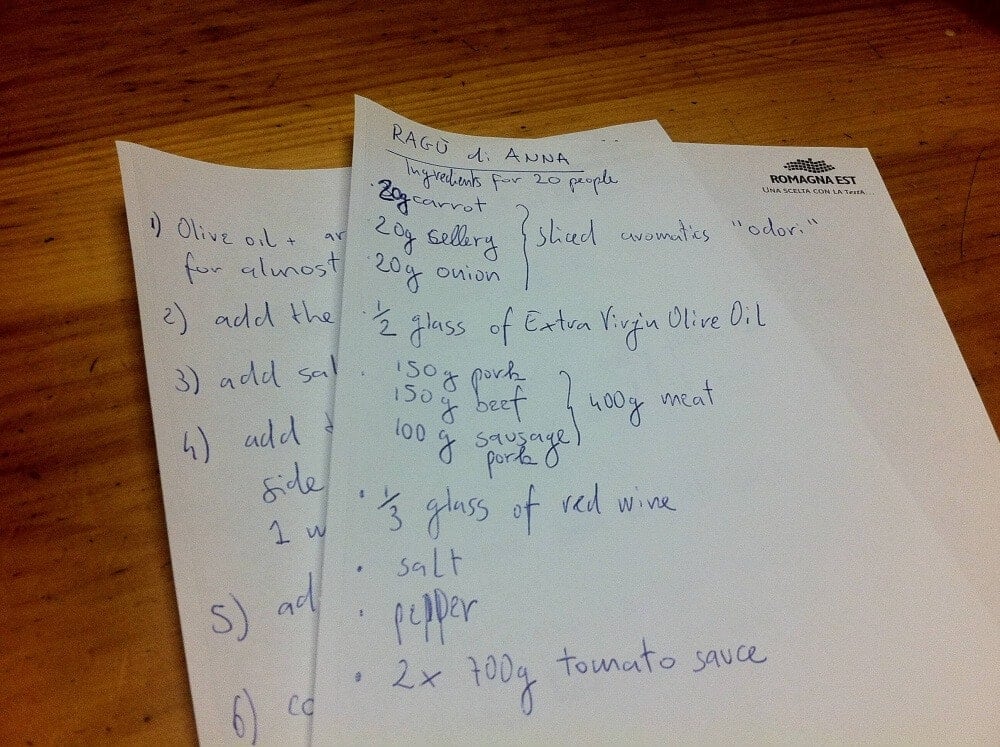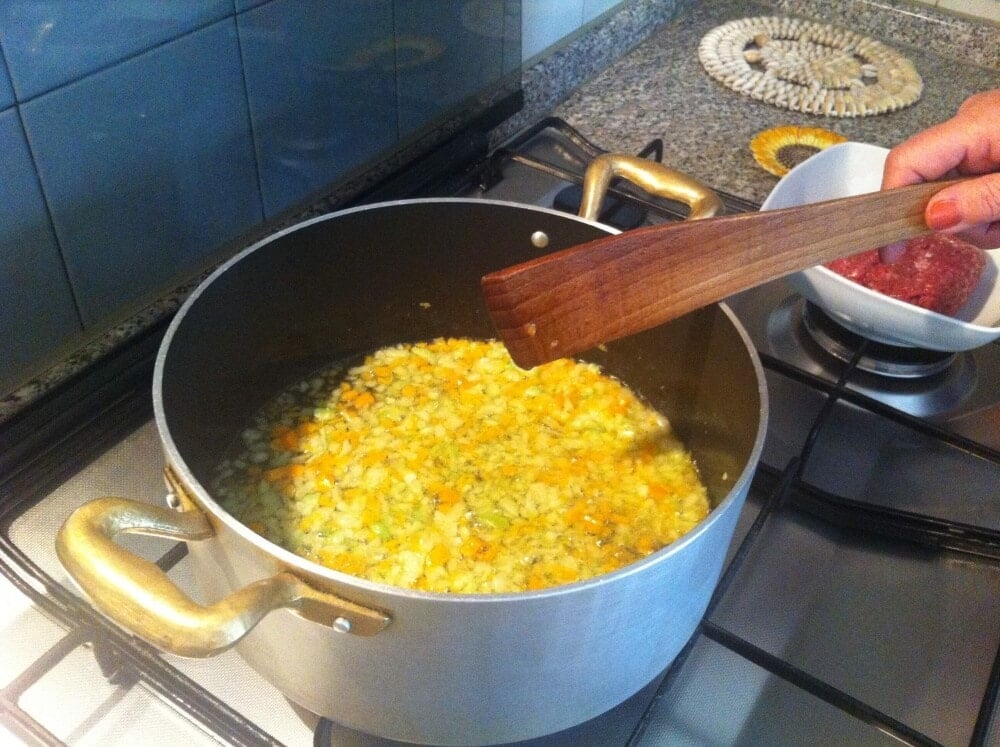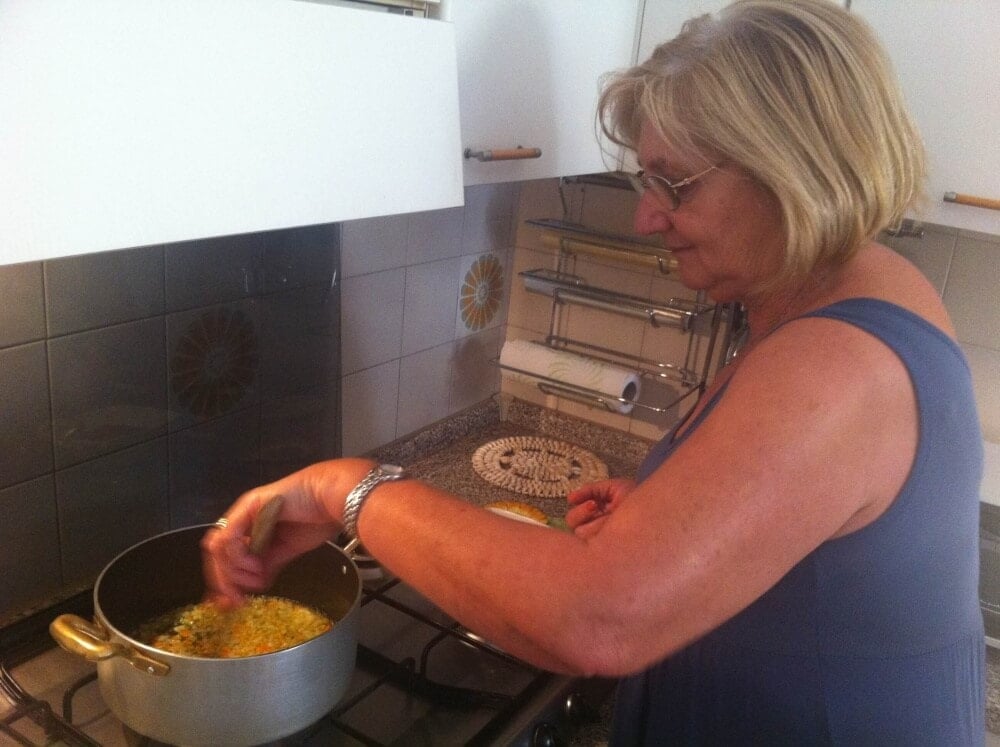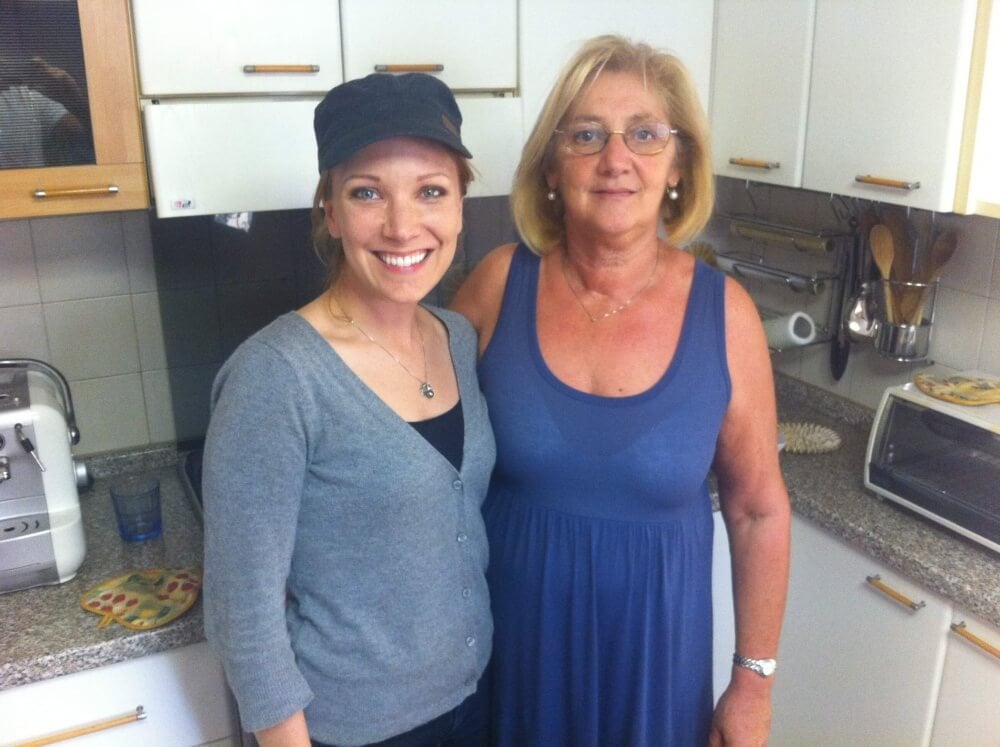 Want to save the recipe for later? Pin it!


The apartment in Bologna was provided by the Emilia-Romagna Tourism Board as part of the #BlogVille campaign created by iAmbassador. As always, my thoughts, opinions and enthusiasm for travel and food are entirely my own.