Pasta Bolognese is such a popular comfort food, but do you know its origins? Bolognese is a kind of ragù (the Italian word for meat sauce), originally from the city of Bologna, Italy. It's a tomato-based meat sauce simmered low and slow with a trio of aromatics (celery, onion, and carrots) and a good dose of red wine too!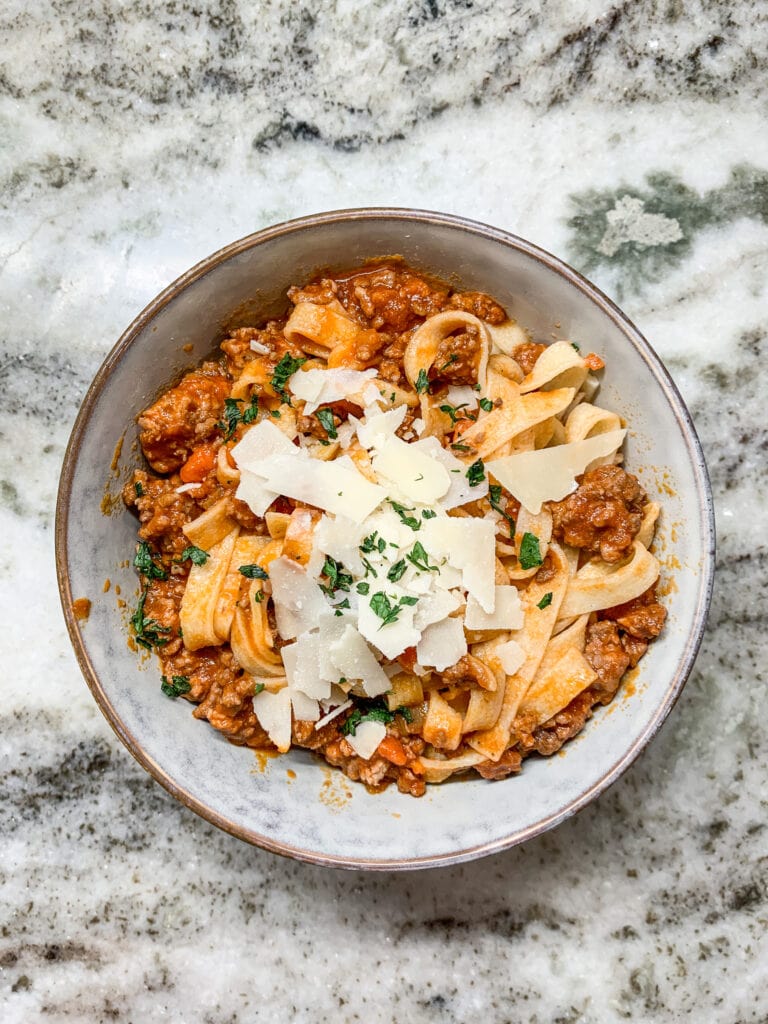 What Is Pasta Bolognese?
Typically, a Bolognese sauce has three different types of ground meat: ground beef, ground pork, and ground sausage. The meat is slow simmered in tomato sauce with carrots, onion, celery, and wine. Sometimes milk or nutmeg is also added. Then it's topped with fresh grated Parmigiano-Reggiano and served with a glass of red table wine or Lambrusco. If you're ready to cook, just hit the "skip to recipe" button above. But be sure to come back and do a slow scroll through the top 3 rules to making pasta Bolognese as well as a bit of history and cooking tips too.
1st Rule Of Bolognese: Use The Proper Pasta.
This has to be one of the most popular pasta sauces in the world and while the ingredients are simple, there are a few rules. First of all, it's never served on spaghetti in Bologna. Ever. There is no such thing as spaghetti Bolognese. And it makes sense as the sauce slides right off the circular shaped spaghetti noodles so you're left with a pile of spaghetti and a bowl full of sauce at the bottom. If you ever travel to Bologna, that is the first thing they want to tell Americans, "there is no such thing as spaghetti Bolognese!"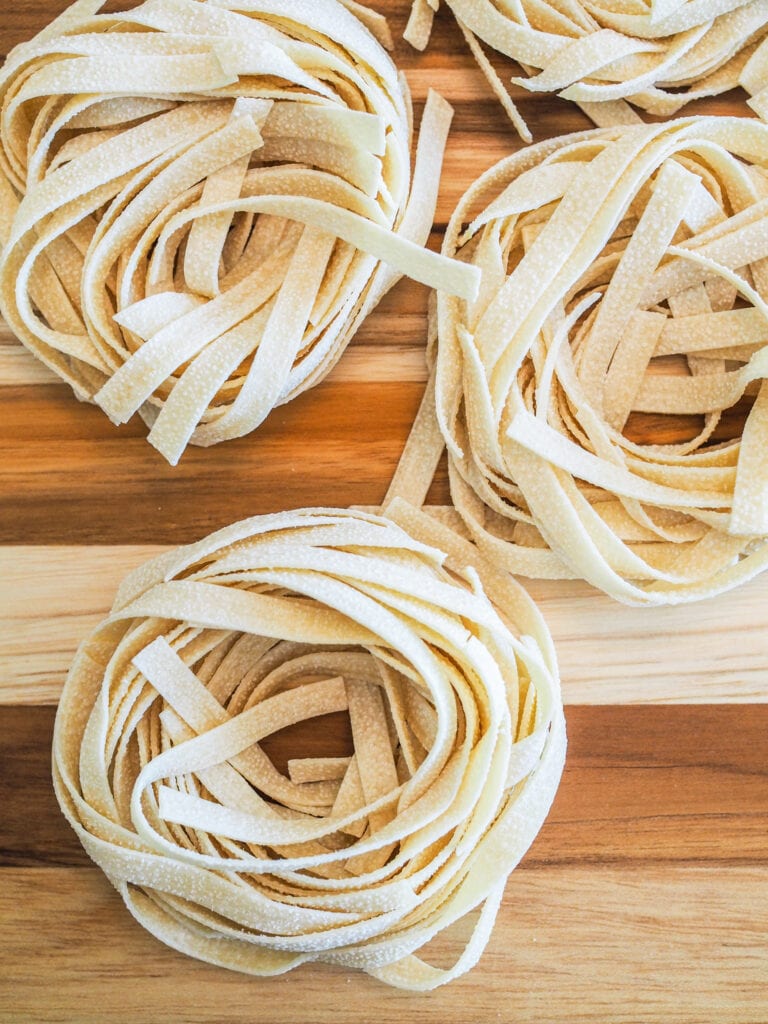 What Kind Of Pasta Is Best For Bolognese?
True pasta Bolognese is served on tagliatelle, an egg-based noodle in the shape of flat ribbons, similar to fettuccine. Since tagliatelle is typically made fresh, the pasta noodles are a bit sticky and porous allowing the meat sauce to stick. Tagliatelle is sometimes difficult to find at most grocers in the U.S., so look for a good substitute (Please, God, don't use spaghetti. Every time you do, an Italian faints). Instead, use fettuccine, pappardelle, or even a spiral egg noodles or fusilli to properly hold on to your meaty sauce if you can't find a tagliatelle.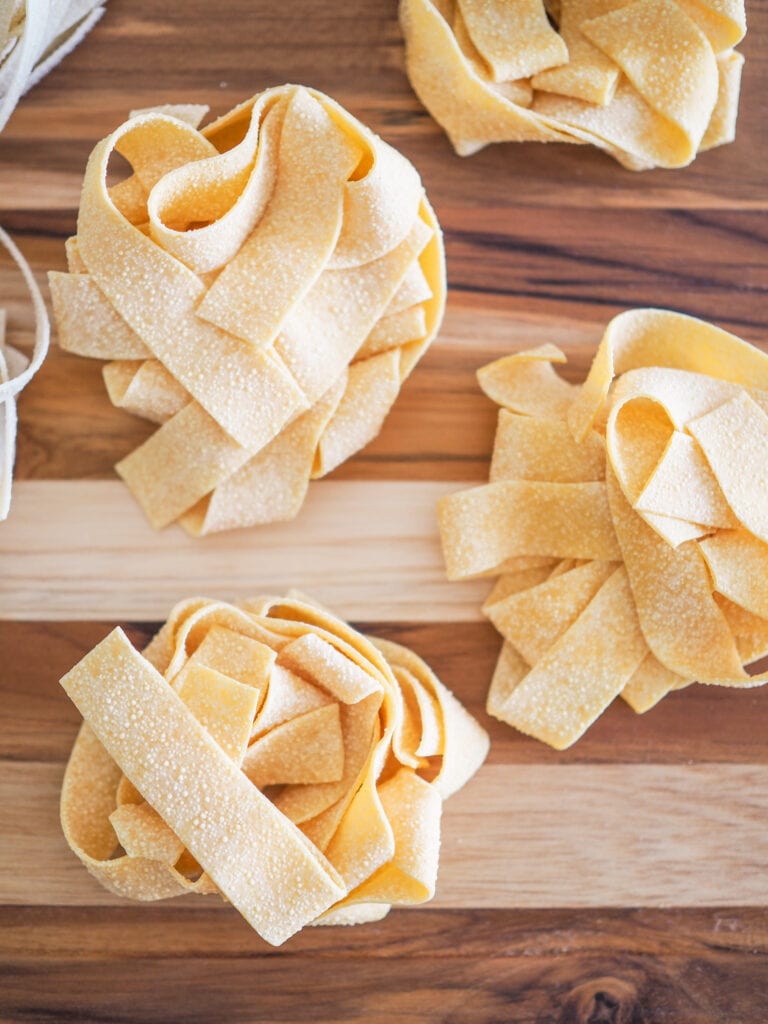 2nd Rule Of Pasta Bolognese: Slow Simmer The Sauce.
Now, let's talk about making a proper Bolognese sauce. While the ingredients for Bolognese sauce are rustic and simple, the biggest tip I can give you is to not rush it. This isn't something you want to throw into your pressure cooker (though I've tried). While it might be good, it's not great. That rich umami flavor that has you wanting to just eat the sauce straight out of a pan with a spoon takes some time. And slow simmering the sauce will layer all of those flavors together into a mouthwatering meal.
3rd Rule Of Bolognese: Learn To Make It From An Italian Auntie!
The only way to truly learn Italian cooking is not at a fancy cooking school, but in the kitchens of the aunties and grandmas that have passed these recipes on for generations. That's the real deal, with real ingredients, feeding real families. So, when I inquired about learning to make pasta Bolognese while away at Blogville in Bologna, the program's manager, Nick, took me to the best place: his aunt's house.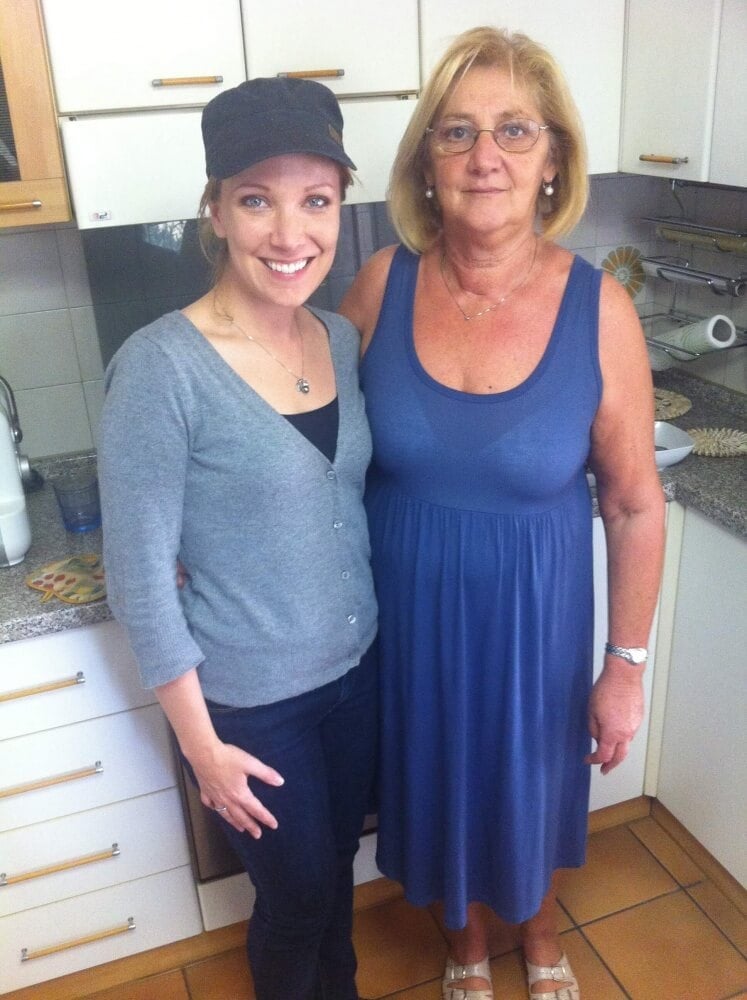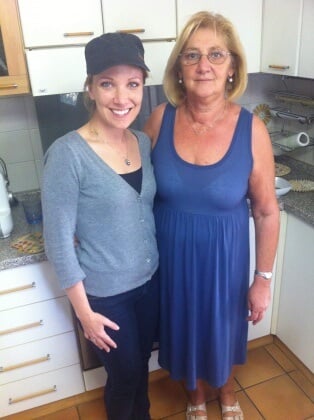 Pasta Bolognese – Ingredients You'll Need
Now, every Italian grandmother and auntie will swear their family's recipe is the best. And I don't doubt them. The type of red wine they use might be different. Or they might swear by their local butcher's ground meat mix. But the basic ingredients will be the same. I've included a quick list of ingredients below to make your grocery shopping easier, plus a few tips for substitutions if you can't find something.
1 pound wide noodle pasta*
1-2 whole carrots
1-2 celery stalks
1 small white onion
Extra Virgin Olive Oil
ground pork**
ground beef**
ground pork sausage**
red wine
tomato sauce
salt
pepper
* For pasta, tagliatelle is what ragu is served with in the city of Bologna. But if you can't find tagliatelle, look for a wide noodle pasta such as fettuccine or pappardelle. Even a spiral shaped fusilli or rotini do a good job of holding onto the sauce.
** This works out to be about a pound of meat. You can ask your local grocer to make a meat loaf pack for you. I've also made this sauce with a farmer's blend of beef, pork, and bacon. If you can't find plain ground pork, ground chicken is a good substitute.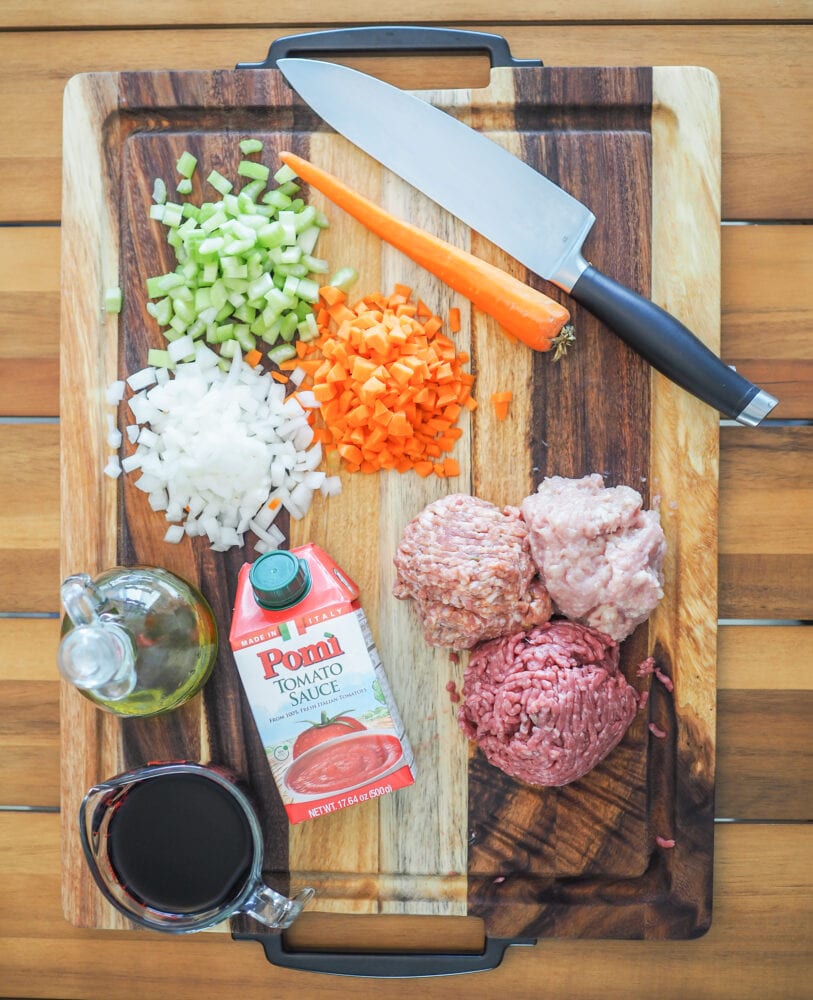 Is There Milk In Bolognese?
While staying in Bologna and taking cooking classes there, we never added milk to the ragu. However, there are a lot of recipes that have milk included in Bolognese. So I did some research to see if this was just up to preference, or if it was an American Italian thing. Turns out, adding milk is up for a hot debate!
I included three "hard line" rules for making Bolognese sauce above, but everything else is truly up to your preference. I texted my friend Stephanie (who used to live in Bologna) and asked her if she added milk to her Bolognese. (Spoiler alert – she does!) But this sent us down a rabbit hole of research.
The first recorded recipe for Bolognese ragu by Pelligrino Artusi includes veal, bacon, butter, and very little tomatoes. It actually sounds quite different from the Bolognese sauce that is so loved today! The regions to the north of Bologna are known for their buttery and creamy dishes, such as the butter and sage sauces of Lombardi and Piedmont. And south of Bologna is the Tuscany region, known for garlicky tomato sauces. Even Bologna sits between two regions with Emilia to the west and Romagna to the east.
So, when it comes to adding milk, truly it is up to your preference. And family recipes will differ depending on where they're from in the Emilia Romagna region. Some chefs say that the milk softens the meat. Personally, I think simmering the sauce in wine for three hours is what softens the meat.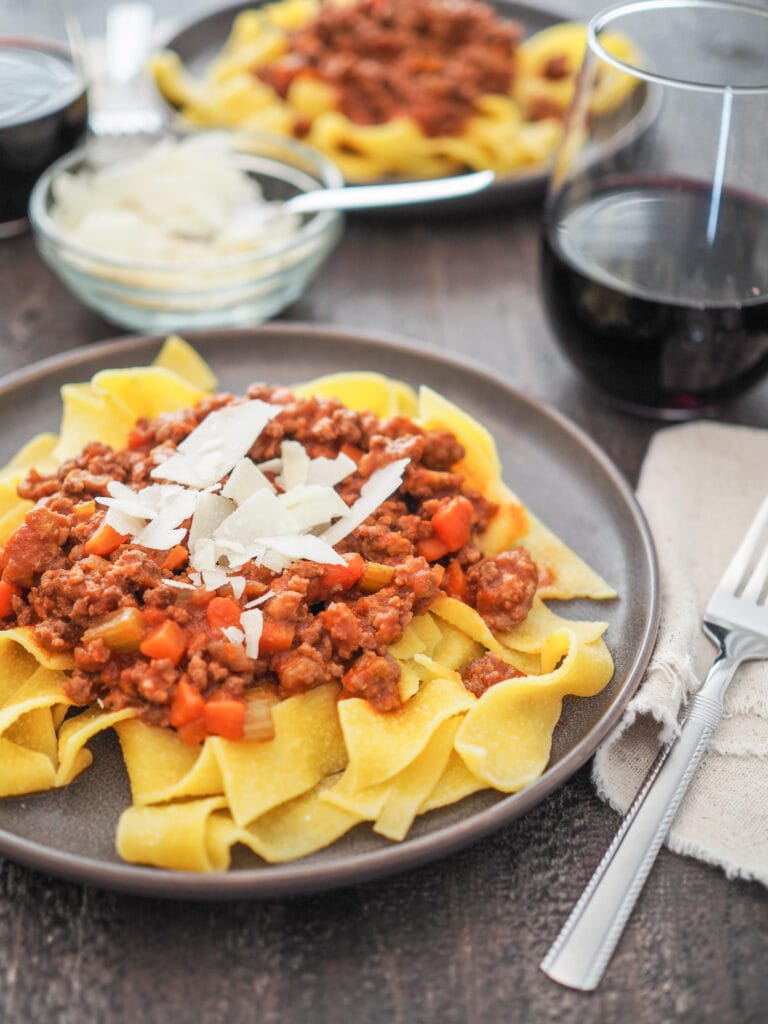 What Kind Of Wine Do You Use In Pasta Bolognese?
Cook with the wine you're going to drink with your pasta. So since you'd traditionally have a red wine with a meaty tomato-based pasta dish, I like to use red wine to make Bolognese sauce. White wine seems to get lost in the flavor of the meat, especially the pork sausage. Bologna really isn't known for wine, but regionally you'll typically find Lambrusco and Sangiovese. Lambrusco is a bit bubbly and sweet (especially the ones you'll find in the United States). So I recommend cooking with a Sangiovese or a Cabernet Sauvignon.
Stephanie texted me a ( recipe from a Bolognese blogger she follows that has the official ragu recipe that is locked in the Chamber of Commerce in the city of Bologna. This is some top secret National Treasure sort of stuff here. Her recipe said, in rough translation: "300g of beef; 300g of tomato sauce, 150g of pork belly, white wine (no, I put the red that makes good blood) and a glass of fresh cream (which I don't put)."
So there you have it from a modern Bolognese cook. Red wine. No cream.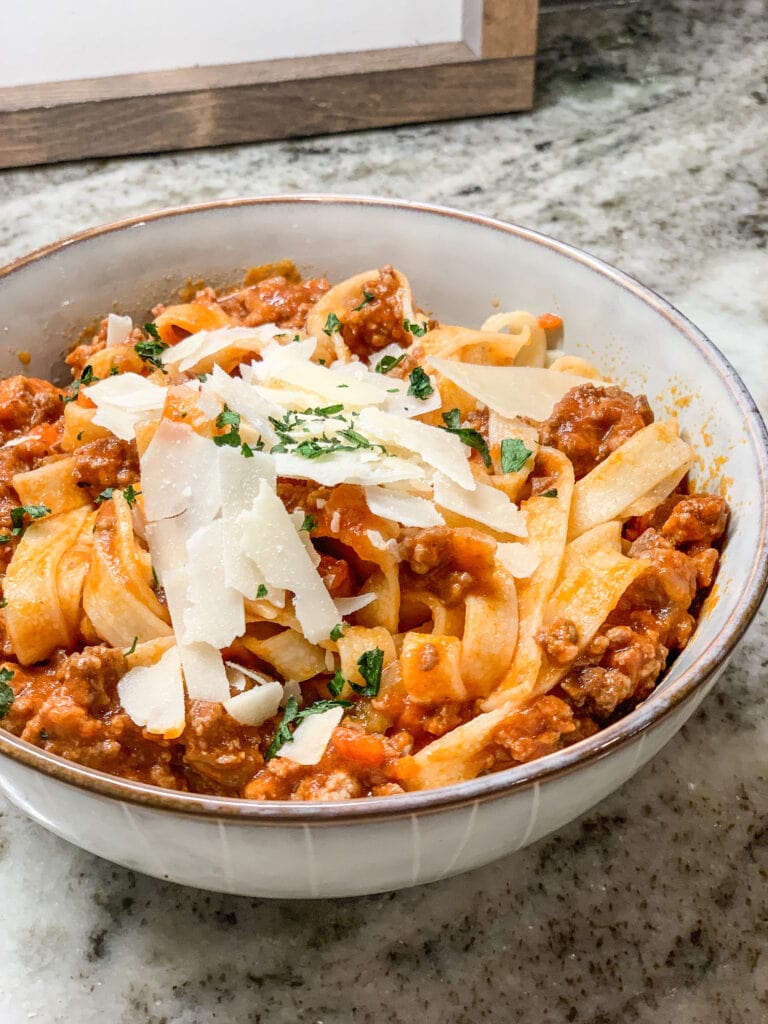 Additional Cooking Tips
You'll need 16 ounces of meat for the recipe below. And while I normally make it exactly as-is, I've also experimented with using a farmers blend from local butcher that consisted of beef, pork, and bacon. Marbled meats give a rich flavor to the ragu, so when choosing the beef go for a ground chuck.
Use a large pot for cooking. One that has a substantial base for retaining heat during a slow simmer. I like to use an enameled cast iron such as Le Cruset or Staub. The longer this sauce cooks, the better it gets. If you don't have an enameled cast iron pot, no problem! A slow cooker will also work. Add the sauce ingredients to your slow cooker after sautéing the ingredients in a large pot.
When choosing wine, go for an Italian red wine that is near the Emilia Romagna region. Pick a Sangiovese, Chianti, or Cabernet Sauvignon.
The secret to having a Bolognese sauce that's tender and layered with flavor is time and patience. This is a perfect meal for a Sunday dinner!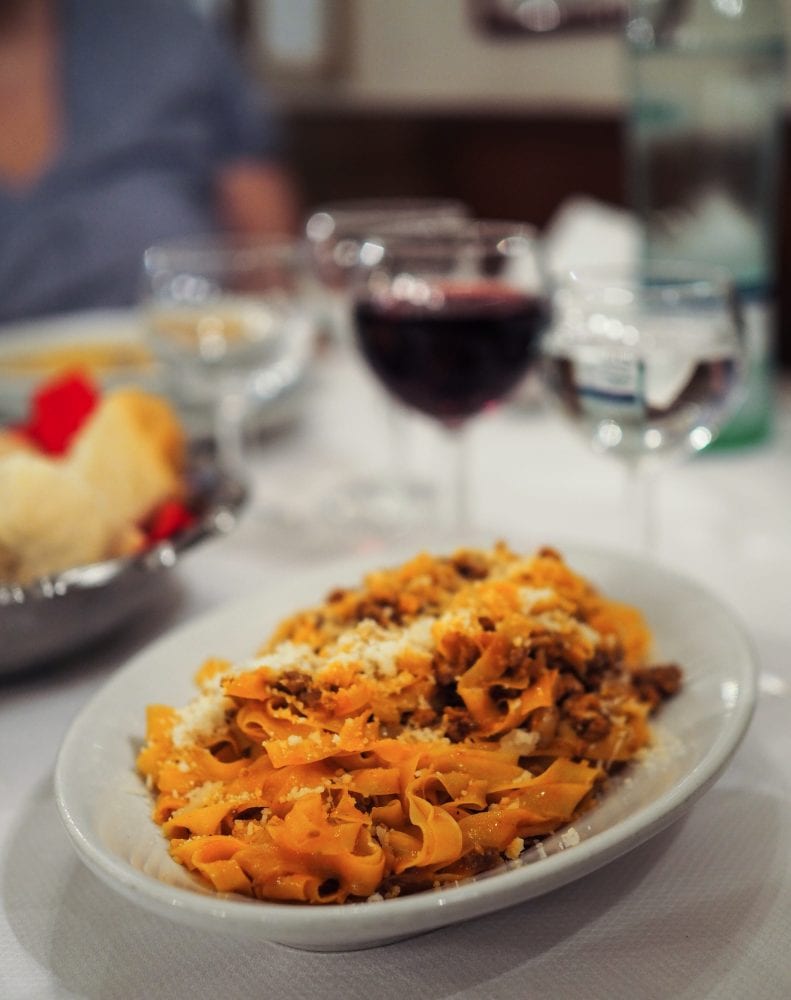 Bolognese Sauce a.k.a. "Ragu di Anna"
Meet Anna, pictured above. This is her recipe that she generously shared with me. Anna doesn't speak much English, and I don't speak Italian, but the basics of cooking are all the same and there is lots to learn in the kitchen just by watching, using your hands, and tasting. I did have Nick with me, translating as we went along. About the only difference is that in the U.S. we measure volume (teaspoons and cups) instead of by weight (grams), so the measurements are approximate. I've included both US and Metric so that you can make the recipe no matter what part of the world you're in. Want to get a quick glimpse of how to make it? Watch the short video below.
Authentic Pasta Bolognese Sauce Recipe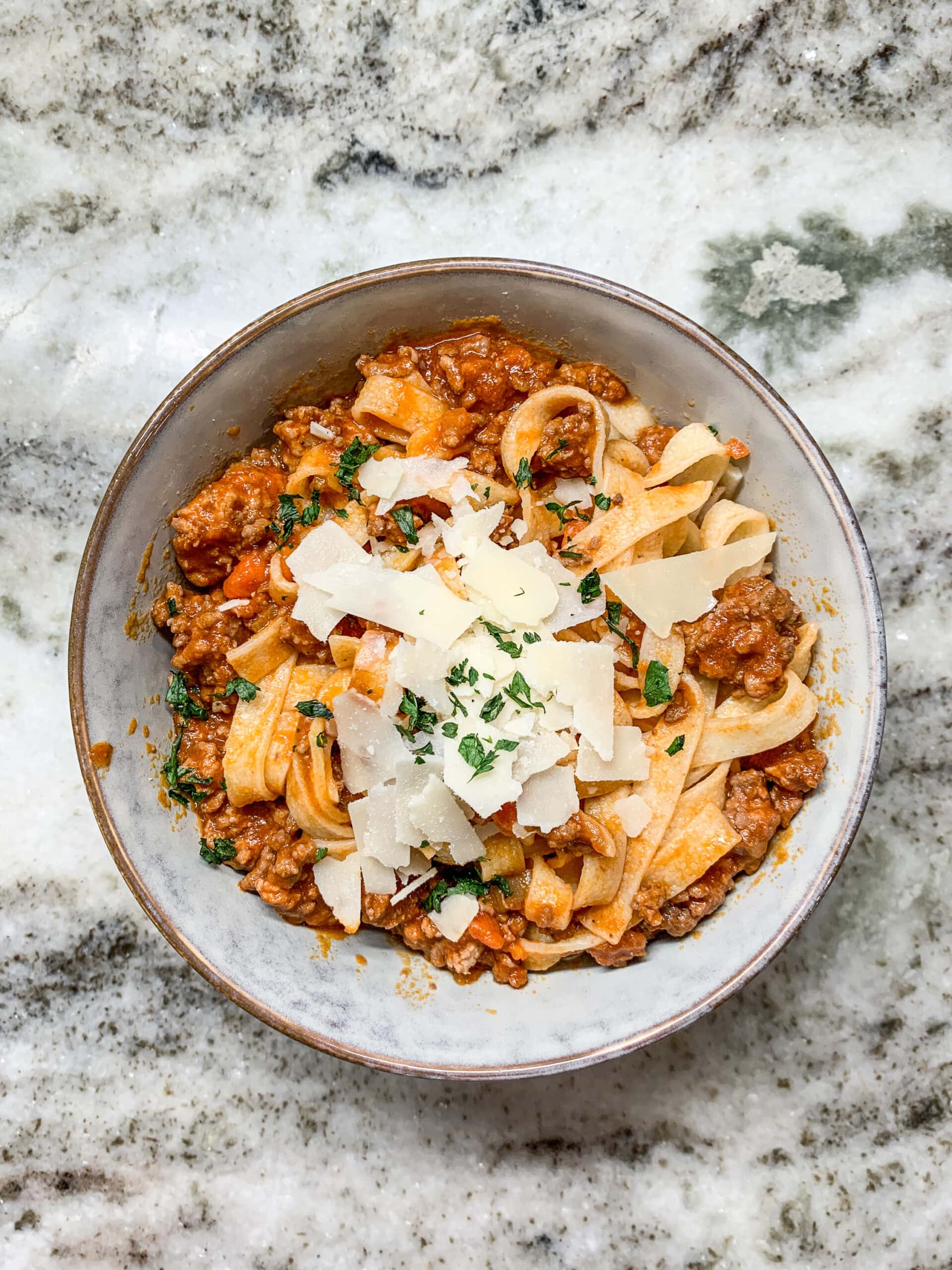 Pasta Bolognese
Cook Time:
2 hours
30 minutes
Total Time:
2 hours
45 minutes
Ingredients
1 lb pasta*
approx. 1/4 cup (20g) diced carrots
approx. 1/4 cup (20g) diced celery
approx. 1/4 cup (20g) diced onion
1/2 cup Extra Virgin Olive Oil
5 ounces (150 g) ground pork**
5 ounces (150 g) ground beef**
5 ounces (150 g) ground pork sausage**
1/2 cup red wine
7-8 ounces (200g) tomato sauce
Salt and Pepper to taste
Instructions
Heat olive oil in a large sauce pan on medium heat. Add the carrots, celery, and onion and cook for about 5 minutes until the onions sweat a little and look clear. The Italians call these the "odori" or aromatics.
Next add the meat and cook it thoroughly, break it up with a wood spatula as it cooks. After the meat is cooked, add tsp of sea salt. Salt pulls juices out of meat and vegetables, so waiting until it is cooked to add the salt keeps the sauce from getting watery.
Add the red wine, slowly pouring it in stirring it into the meat.
Next add the tomato sauce and a pinch more of salt.
Cook, covered, on a low simmer for 2 or more hours on low heat, stirring occasionally.
When the Bolognese sauce is done simmering, make the pasta according to its package directions.
Serve one cup of pasta with 1/3 to 1/2 cup of Bolognese sauce.
Top with fresh grated Parmigiano-Reggiano.
Notes
* For pasta, tagliatelle is what ragu is served with in the city of Bologna. But if you can't find tagliatelle, look for a wide noodle pasta such as fettuccine or pappardelle. Even a spiral shaped fusilli or rotini do a good job of holding onto the sauce.

** This works out to be about a pound of meat. You can ask your local grocer to make a meat loaf pack for you. I've also made this sauce with a farmer's blend of beef, pork, and bacon. If you can't find plain ground pork, ground chicken is a good substitute. 
Nutrition Information:
Yield:

10
Serving Size:

1
Amount Per Serving:
Calories:

494
Total Fat:

30g
Saturated Fat:

8g
Trans Fat:

0g
Unsaturated Fat:

19g
Cholesterol:

86mg
Sodium:

638mg
Carbohydrates:

23g
Fiber:

3g
Sugar:

6g
Protein:

29g
Nutrition information provided is only an estimate.
More pics from my afternoon of cooking pasta Bolognese with Anna: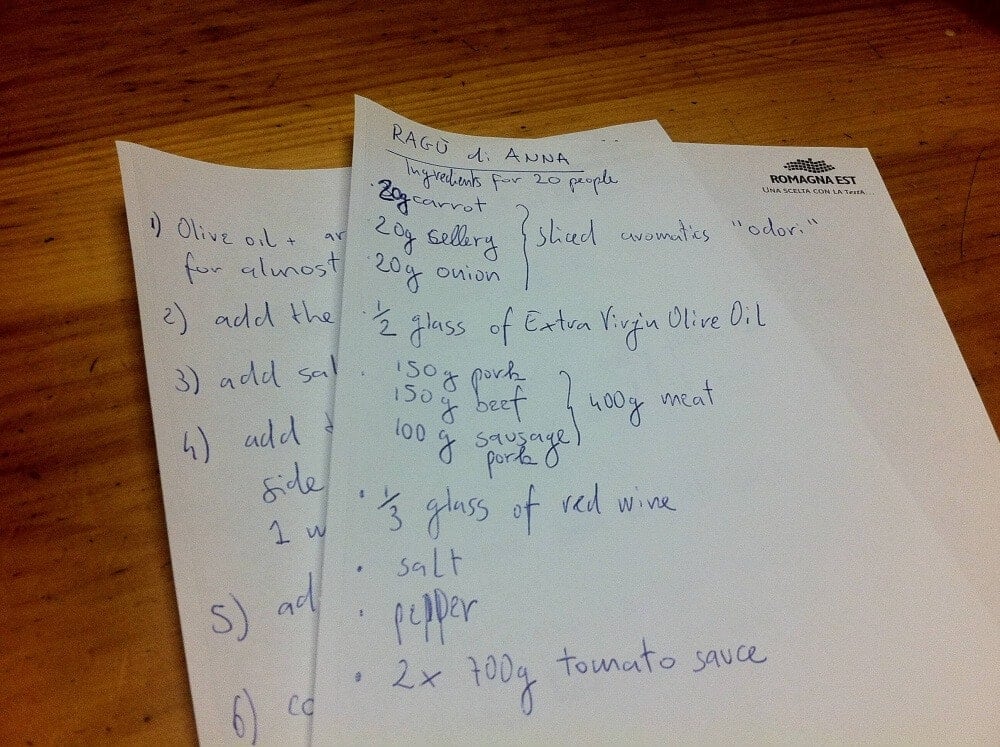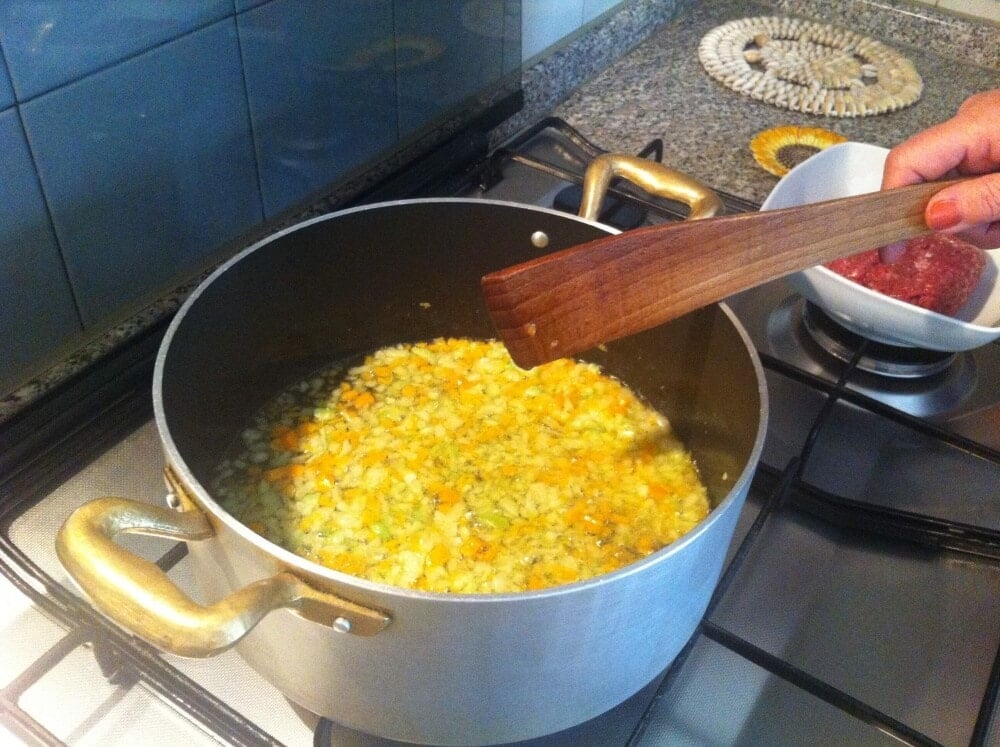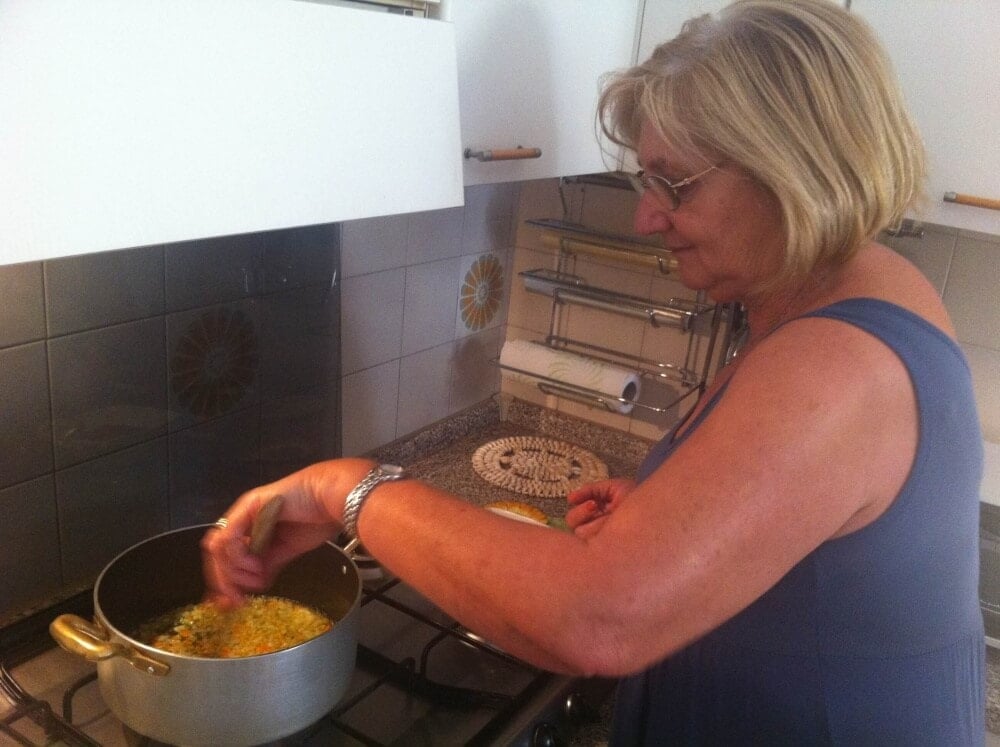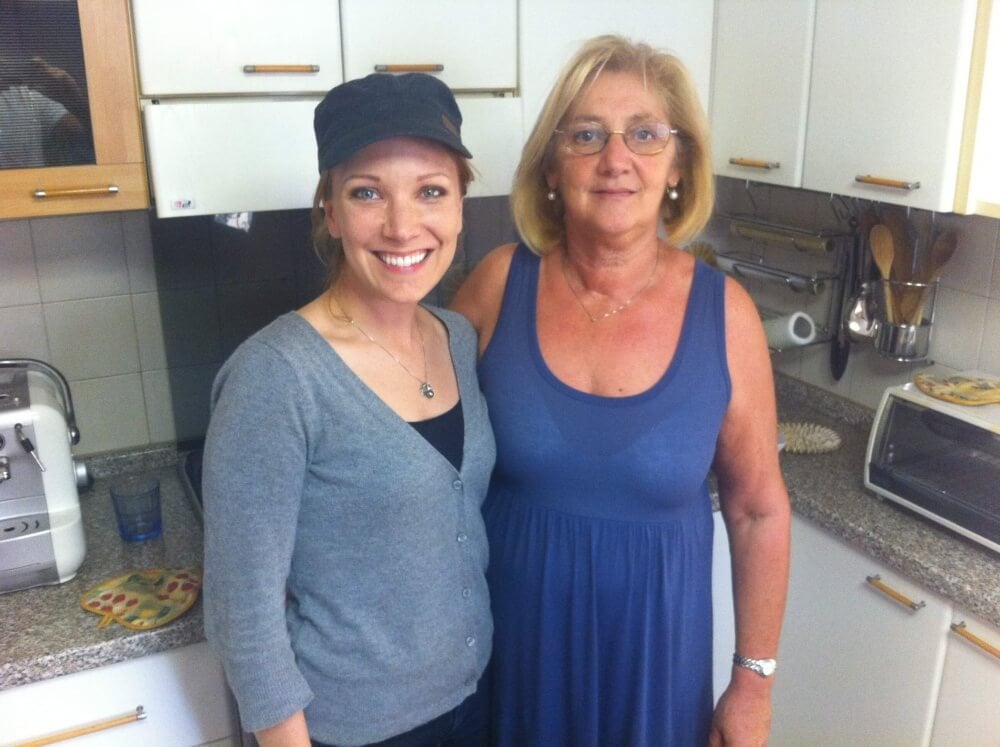 YOU'LL ALSO LOVE THESE ITALIAN RECIPES AND STORIES
Want to save the recipe for later? Pin it!


The apartment in Bologna was provided by the Emilia-Romagna Tourism Board as part of the #BlogVille campaign created by iAmbassador. As always, my thoughts, opinions and enthusiasm for travel and food are entirely my own. Originally published Oct 23, 2013. Updated 2020.