I've written down this lemon pasta recipe on a napkin so many times for friends that I thought I should actually shoot it and add it to the blog.  It's a zesty five ingredient lemon pasta recipe that's one of my favorites to throw together when I'm short on time.  Not only is it quick and easy to make, but it also reminds me of Italy.  I have several different variations of it (perhaps I'll share those other recipes too!) as I used to make pasta quite a bit when I was training to run a marathon.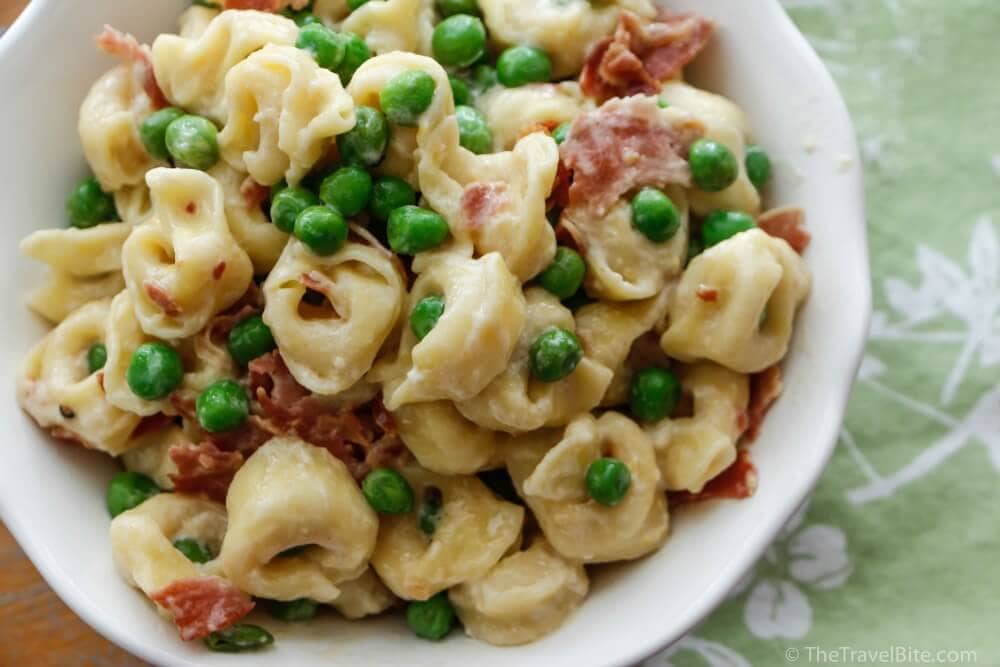 Now I just make it when I'm craving something comforting and delicious.  Here's the best part, it's only 5 ingredients!  Yes!  Only 5!  And one bowl too, so there's less dishes to do.  If you've never had pancetta, it's basically like gourmet Italian bacon made from pork belly and cured with salt. The spices from the pancetta season it perfectly, while the lemon and peas give it a really fresh flavor that's perfect for spring or summer meals out on our patio.  And my secret ingredient – mascarpone.  Rather than using butter or heavy cream, I use mascarpone cheese with lemon juice to make light sauce.  As for pasta, you can really use any type that is bite-sized (rather than a ribbon shaped pasta like spaghetti or tagliatelle).  I prefer tortellini since it's a bit meatier and has a little surprise of cheese or meat inside to make this a more substantial meal.  I hope you enjoy this lemon pasta with peas and pancetta as much as we do!
5 INGREDIENT DINNER:  LEMON PASTA WITH PANCETTA AND PEAS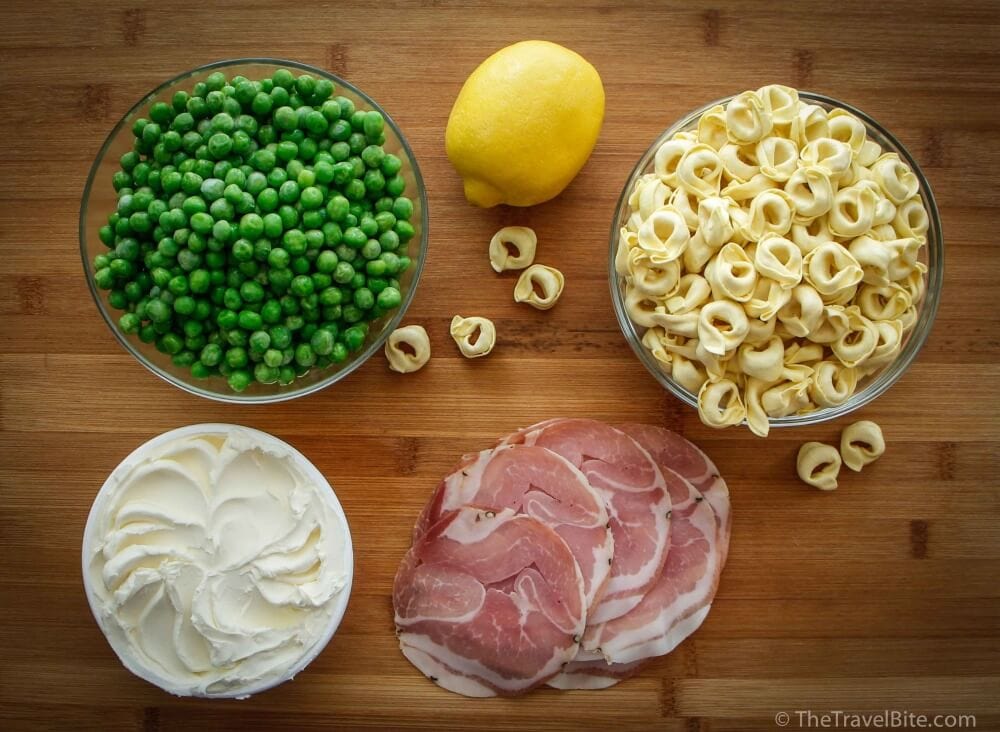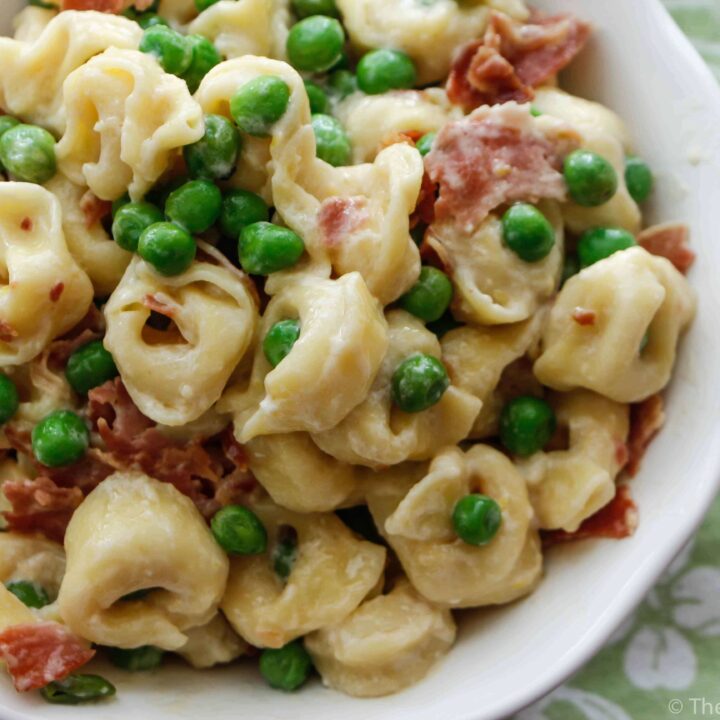 5 Ingredient Dinner: Lemon Pasta With Pancetta And Peas
Ingredients
6-8 slices of pancetta
1 lemon
1 bag frozen peas
1 bag of tortellini
1 8 oz package of mascarpone cheese
Instructions
Bring a large pot of water to boil for the pasta. Follow pasta's package directions for cooking al dente.
While you're waiting for the pasta to cook, fry the pancetta in a large saute pan until crispy. Remove and set aside on a plate lined with a paper towel to absorb any excess fat just as you might do for bacon.
Add the frozen peas to the same sauté pan and cook for 2-3 minutes until warm. The peas should get nicely coated with the fond (bacon drippings) left over from the pancetta.
Add the mascarpone cheese to a large bowl and grate the lemon peel over it with a zester. Then, slice the lemon in half and squeeze the juice into the bowl with cheese making sure to remove any rogue lemon seeds.
Whisk the mascarpone cheese, lemon zest and juice with a fork.
Add the cooked pasta and peas to the bowl with the lemon mascarpone and stir together. The heat from the freshly cooked pasta should melt the mascarpone cheese nicely.
Crumble up the crispy pancetta with your fingers and sprinkle over the pasta, mixing it all together.
Enjoy!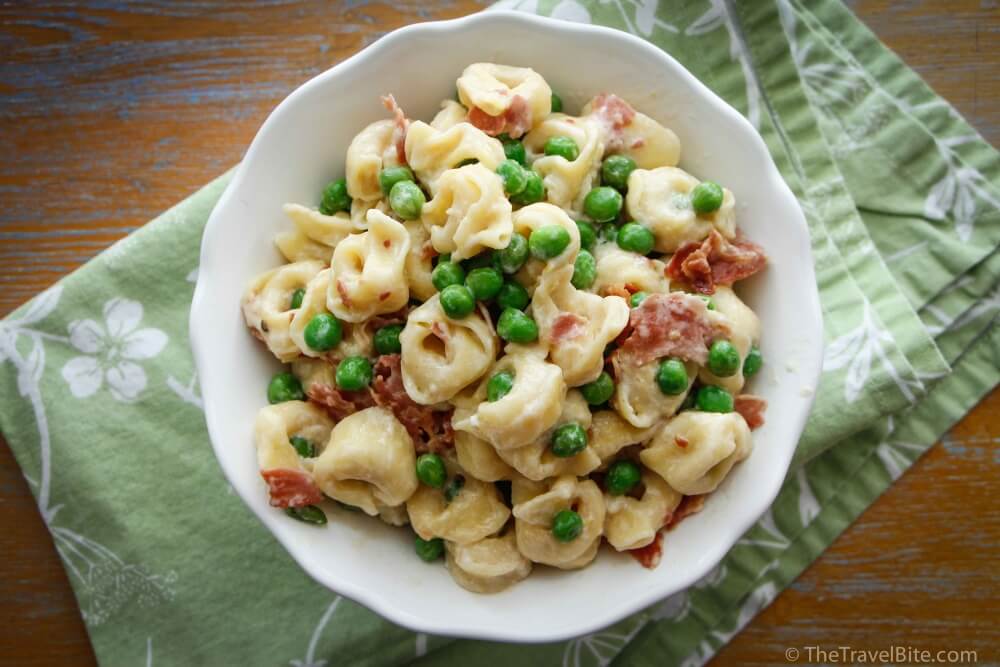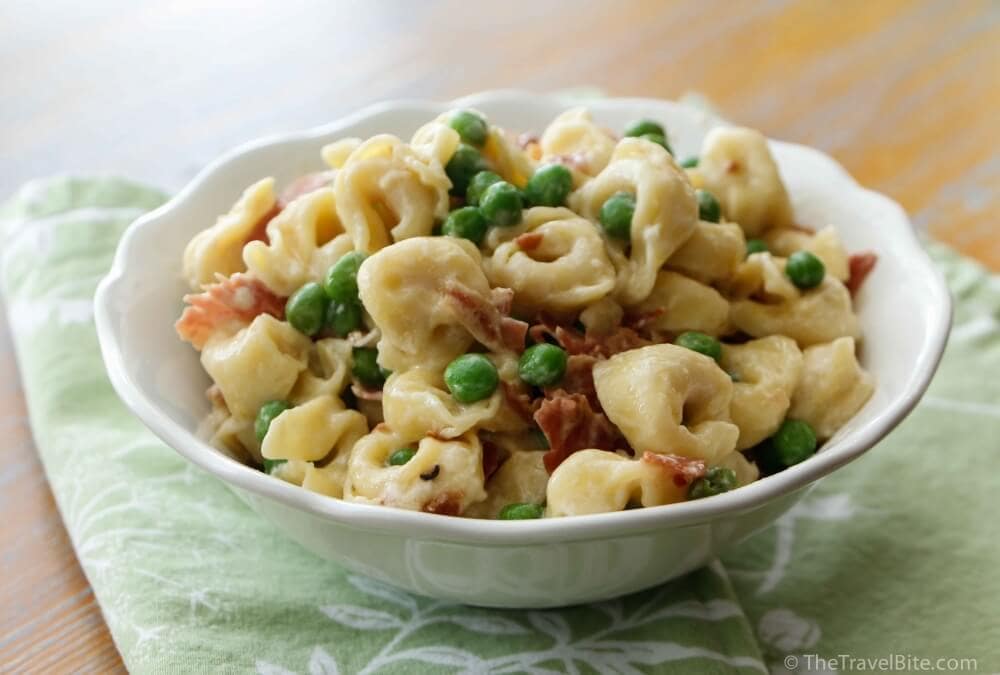 Want to save this recipe for later? Pin it! 🙂