Mint lemonade is such a refreshing drink on a hot day. It tastes like lemonade, sweet and tart, but with just a hint of cooling mint. Living in Florida (where it's pretty much summer all the time) I couldn't wait to try this recipe at home. We hope you enjoy it too! Hit the "jump to recipe" button above if you're ready to give it a try. Or scroll through our tips and tricks below including how to make it into a frothy smoothie, or turn it into a sparkling mint lemonade for a something special.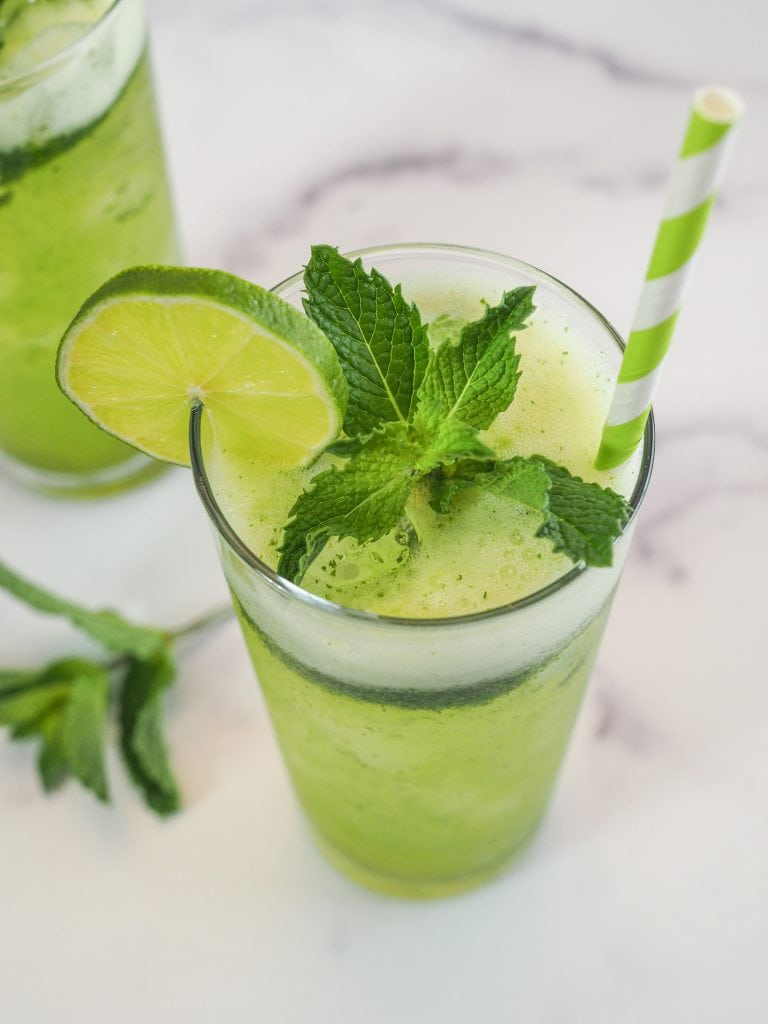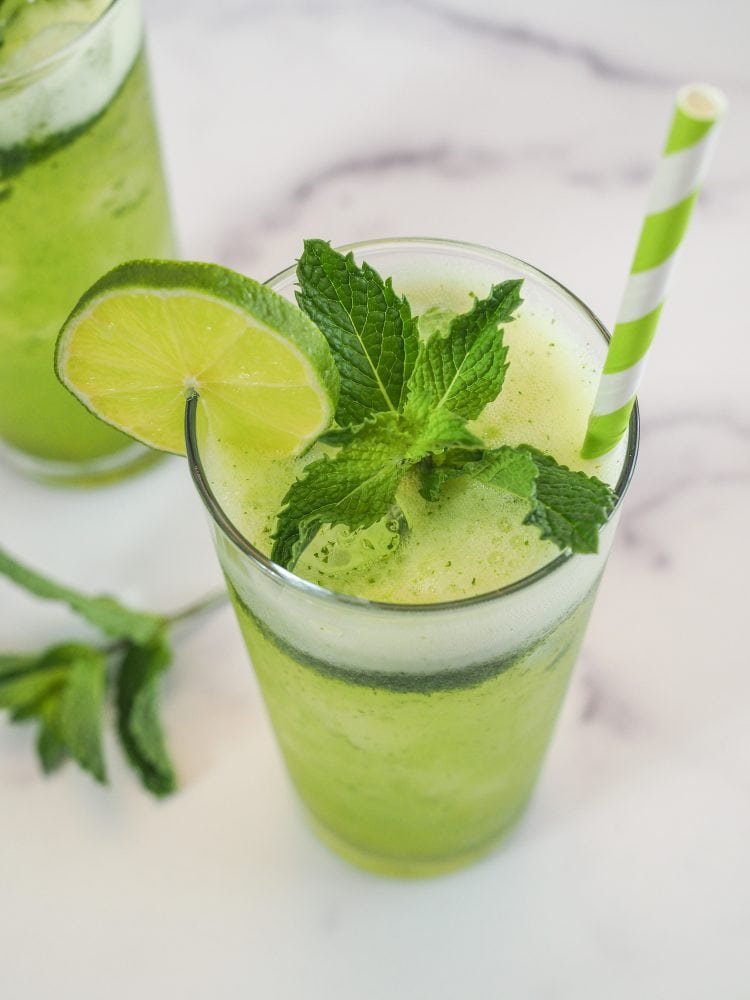 Limonana – Middle Eastern Frozen Mint Lemonade
Whenever we've traveled in the Middle East, in places like Jordan and Dubai, mint lemonade was on the menu at every restaurant.
Each place had it's own version, some were more like a frozen smoothie, while others made it more like a traditional lemonade with a layer of blended mint floating at the top. And sometimes this mint lemonade was made with lime instead!
In the Middle East, frozen mint lemonade is also called limonana. The way it differs from traditional lemonade is that it is blended with a generous handful of mint and ice, whipping it up into a frothy, almost smoothie-like texture. So if you've ever had an abundance of mint on hand and wondered what to make with it, this is the perfect recipe!
Ingredients You'll Need
First, gather together your ingredients, which are really quite simple. Here's a list to make shopping easy:
1 bunch of mint (The more mint, the better! Ideally, you'll need about a cup of mint leaves)
2-3 lemons (You don't need a lot of lemons, just count on at least one lemon per serving)
limes (you can substitute the lemons for lime, or even mix up a lemon/lime batch too)
sugar (I find regular granulated sugar recreates the same flavor and texture I remember experiencing in Dubai and Jordan. But you can substitute for any another sweetener, such as honey, stevia, simple syrup, etc.)
water and ice (the ice is what helps make this mint lemonade be refreshingly ice cold)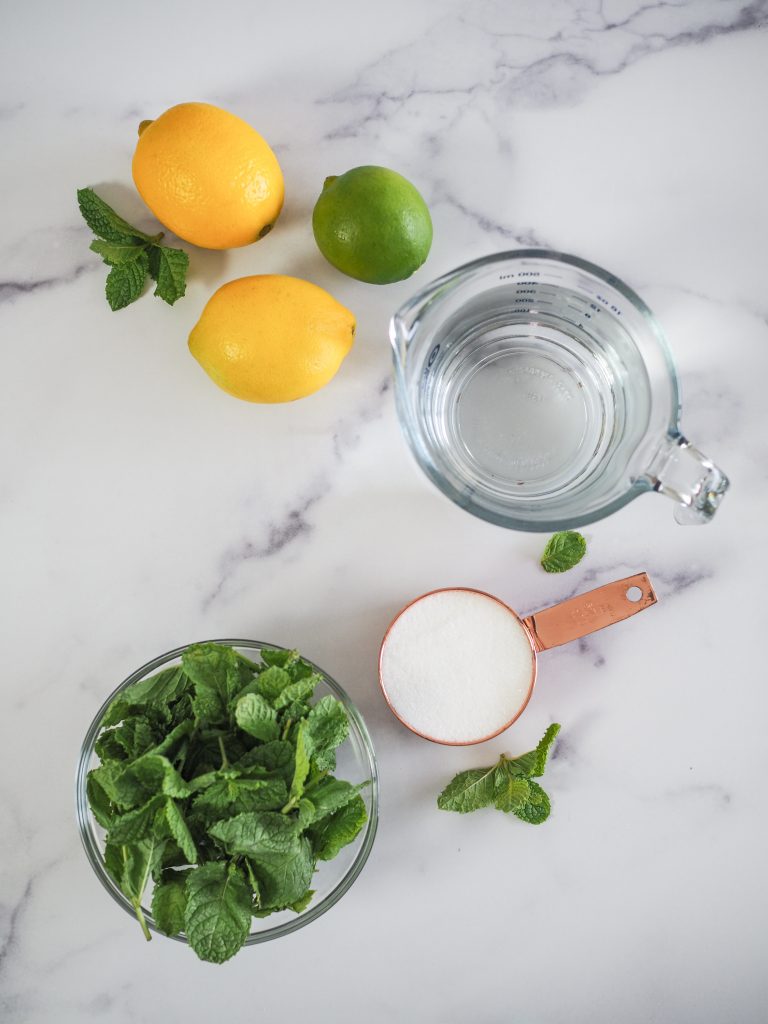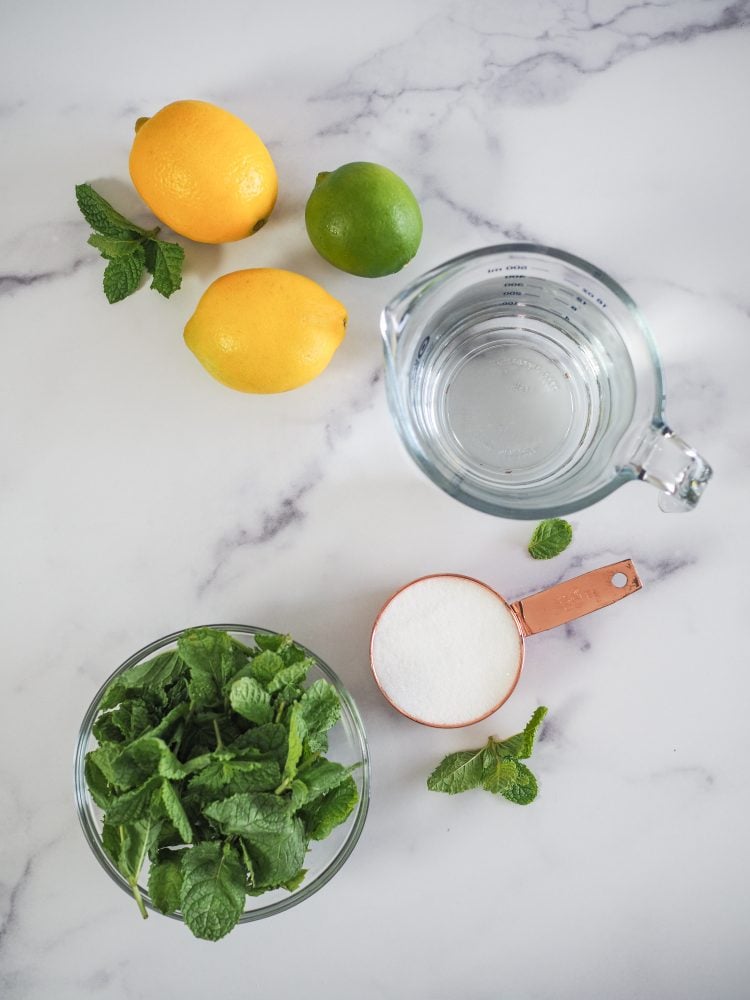 Frozen Mint Lemonade Recipe – Step-by-Step Photos
Once you have your ingredients together, the method for making this recipe is quite simple. First, decide weather you'd like for it to me more liquid-like, or more smoothie-like. To make it more like a traditional lemonade, juice your lemons until you have a half cup of lemon juice.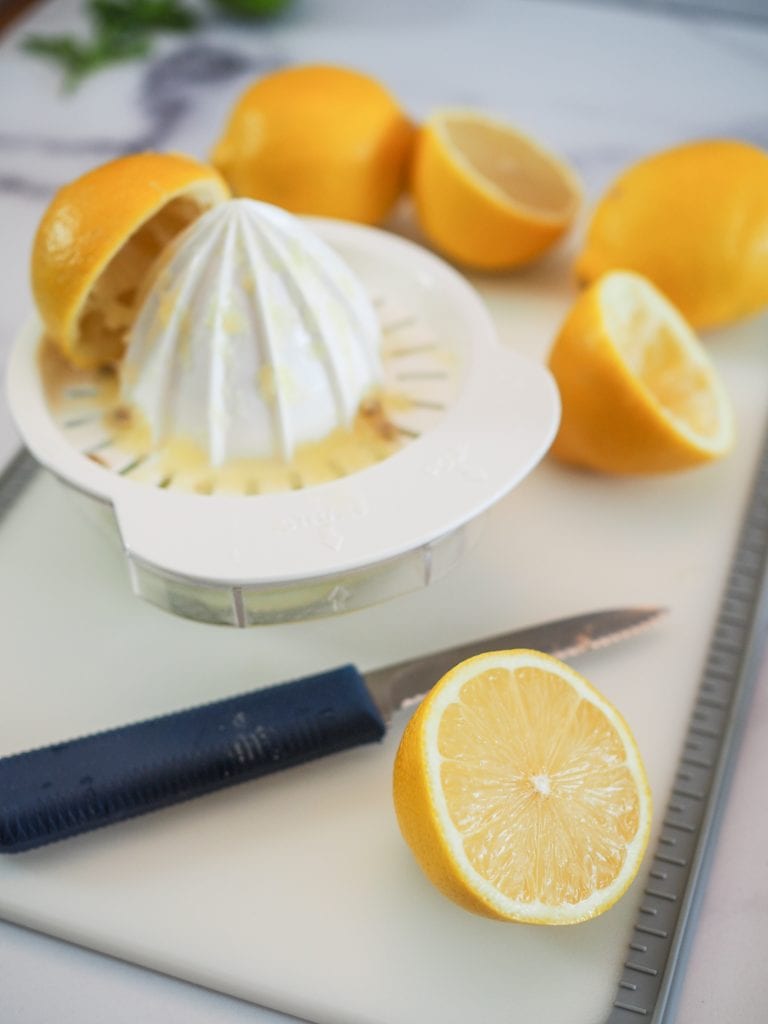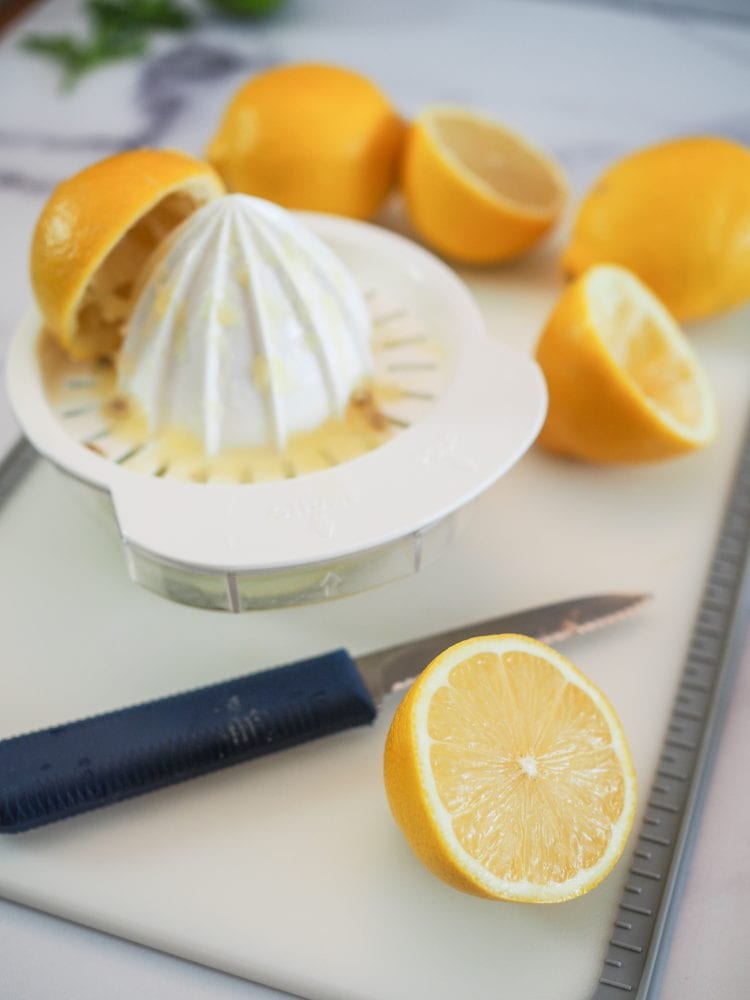 To make a more smoothie-like texture, remove the lemon peel and add the whole lemon to the blender.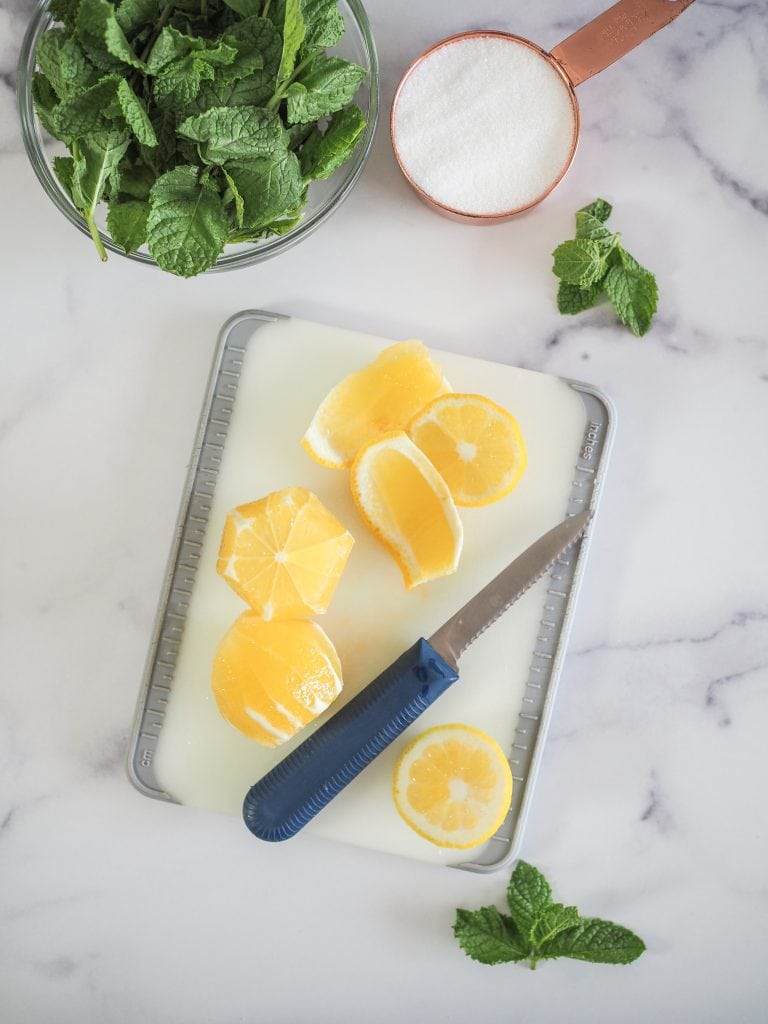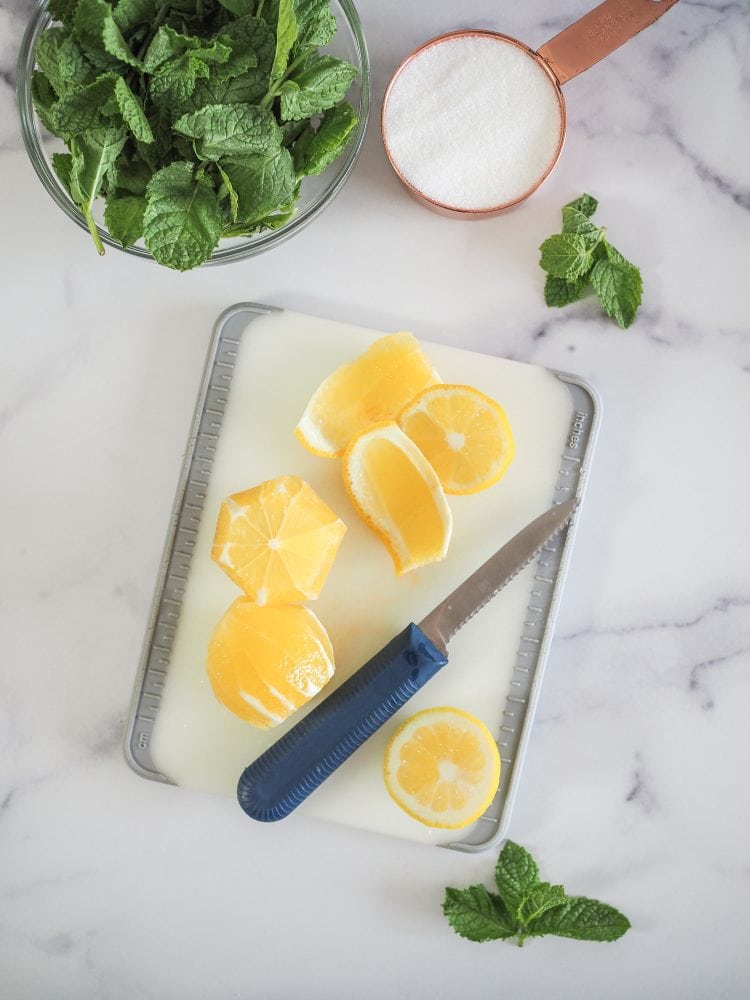 Next, add all the rest of the ingredients to a high powered blender (sugar, water, lemons, and mint.) I usually add the mint first so that the other ingredients can tamp it down toward the blades. If you'd like a more liquid-like texture, hold the ice. I also added one sliver of the lemon peel for more lemon flavor.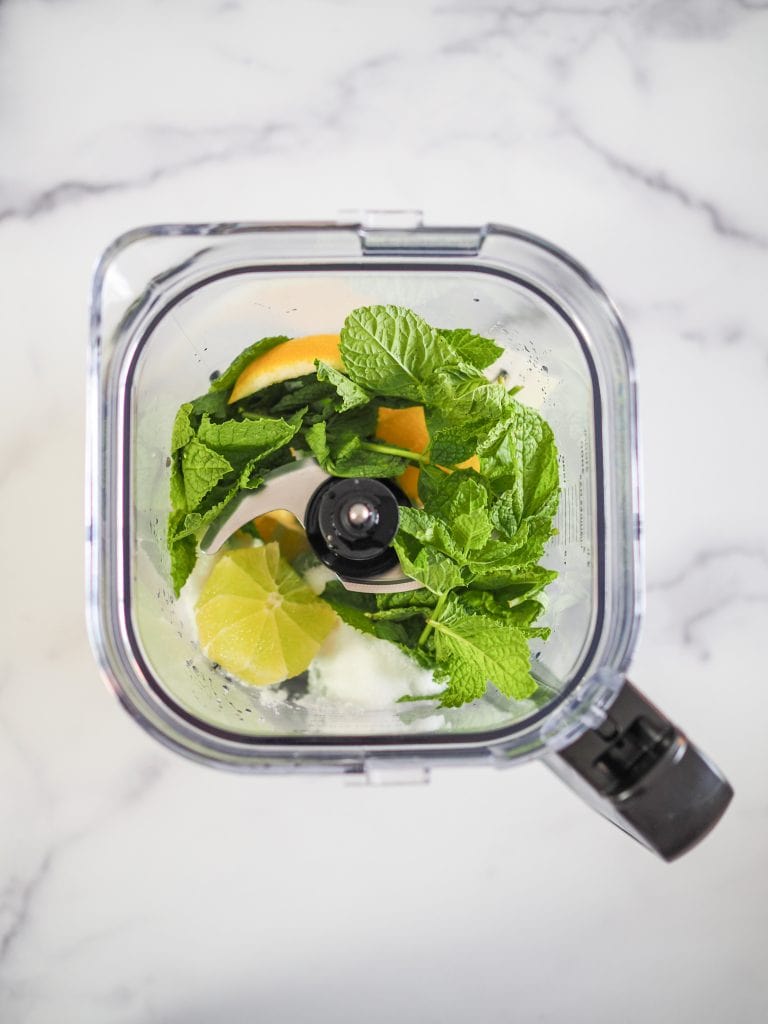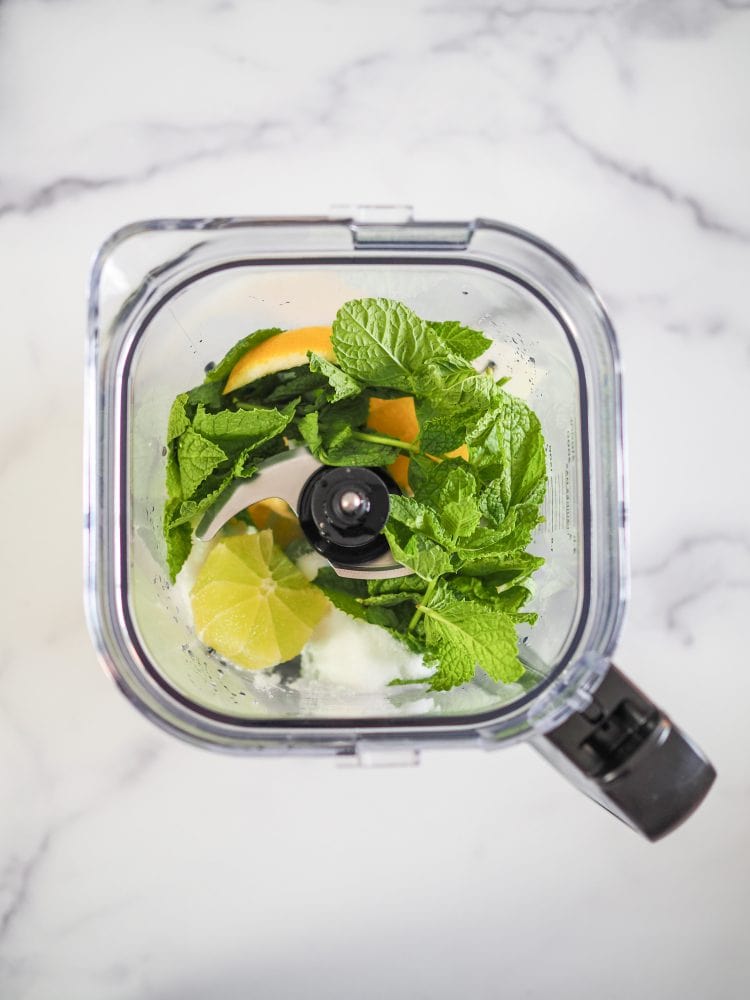 One thing I was a little unsure of was exactly how much sugar to add. I watched a great tutorial on YouTube by Jordanian food blogger, Cooking with Amira, for some clarity. But feel free to experiment with how much sweetener you'd like to add depending on whether you want it more tart or sweet.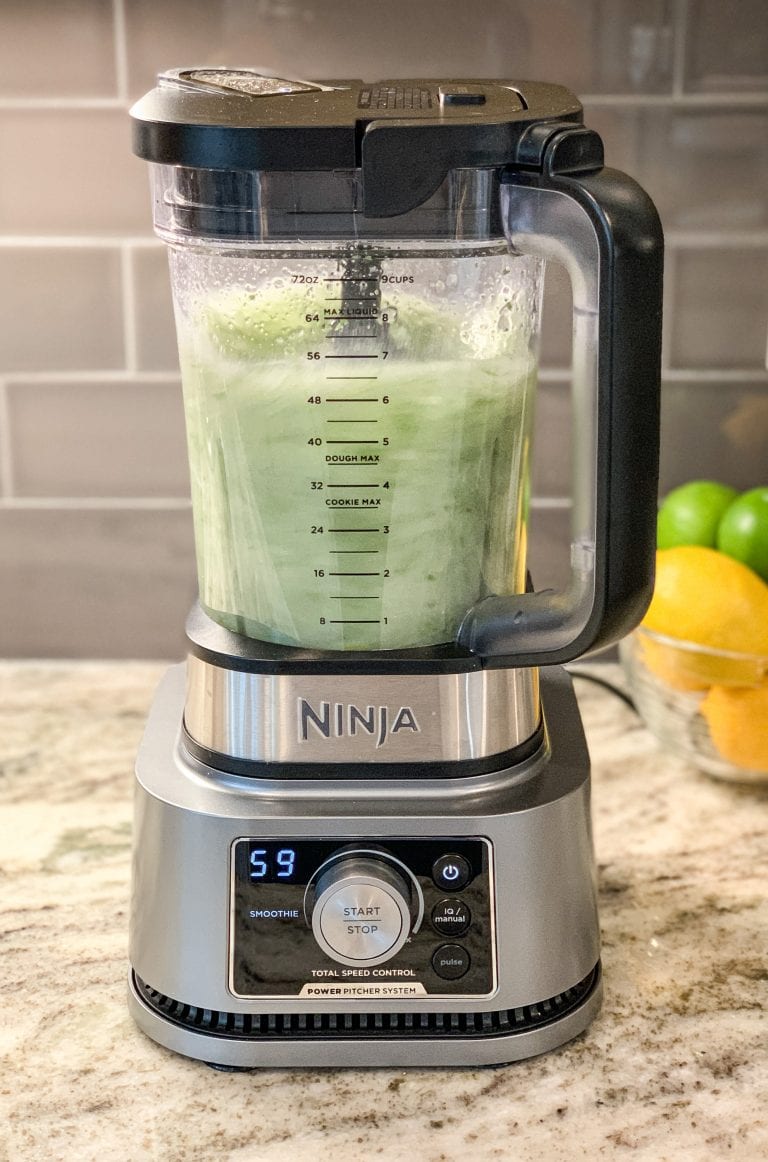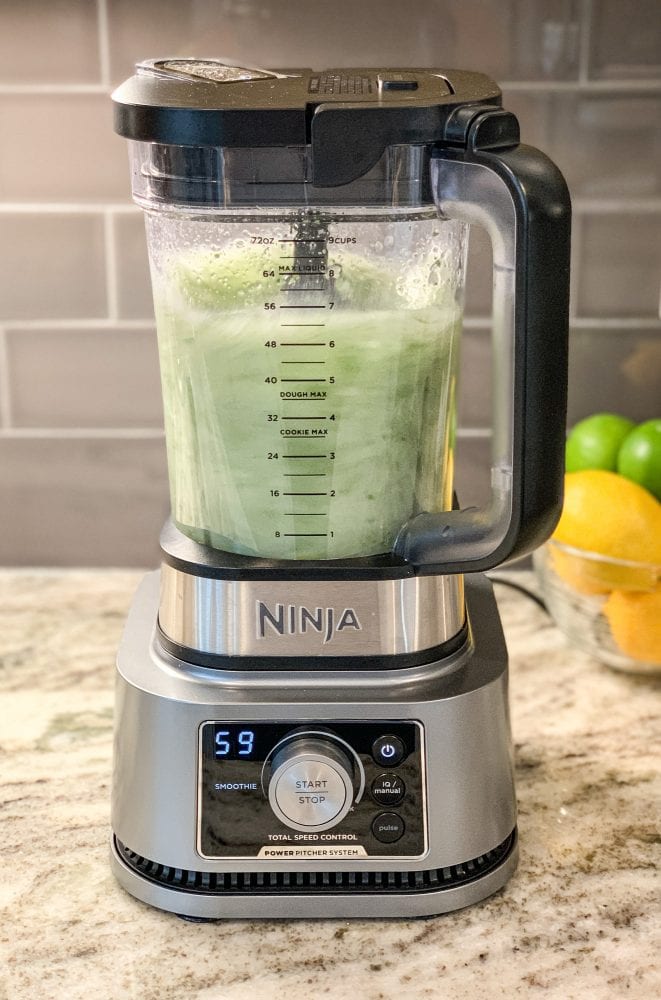 Blend on high until all the mint is thoroughly blended into the mint lemonade. It will be a bit frothy, and that's exactly what you want! For the frozen mint lemonade method, it's really not too thick. It's just a little thicker than a traditional lemonade, but a little lighter than a regular smoothie. Personally, I prefer it made the traditional way blended with ice. But one reason you might want to have it without ice is so that you can add a bit of sparkling water to the drink for a special occasion that calls for bubbles.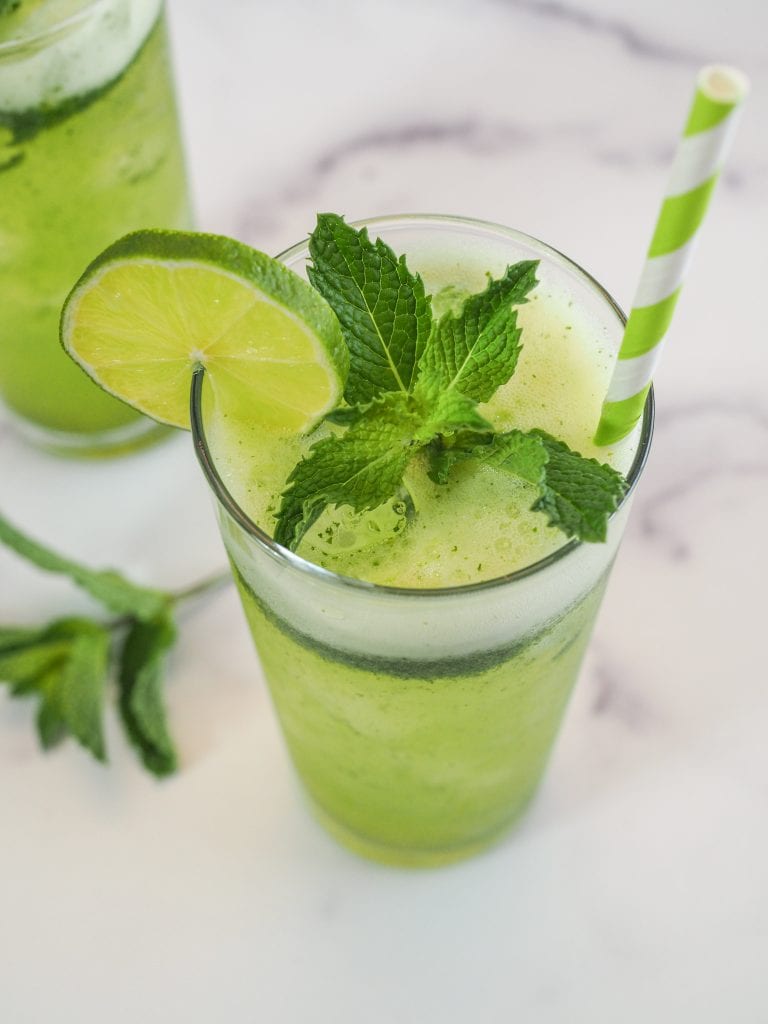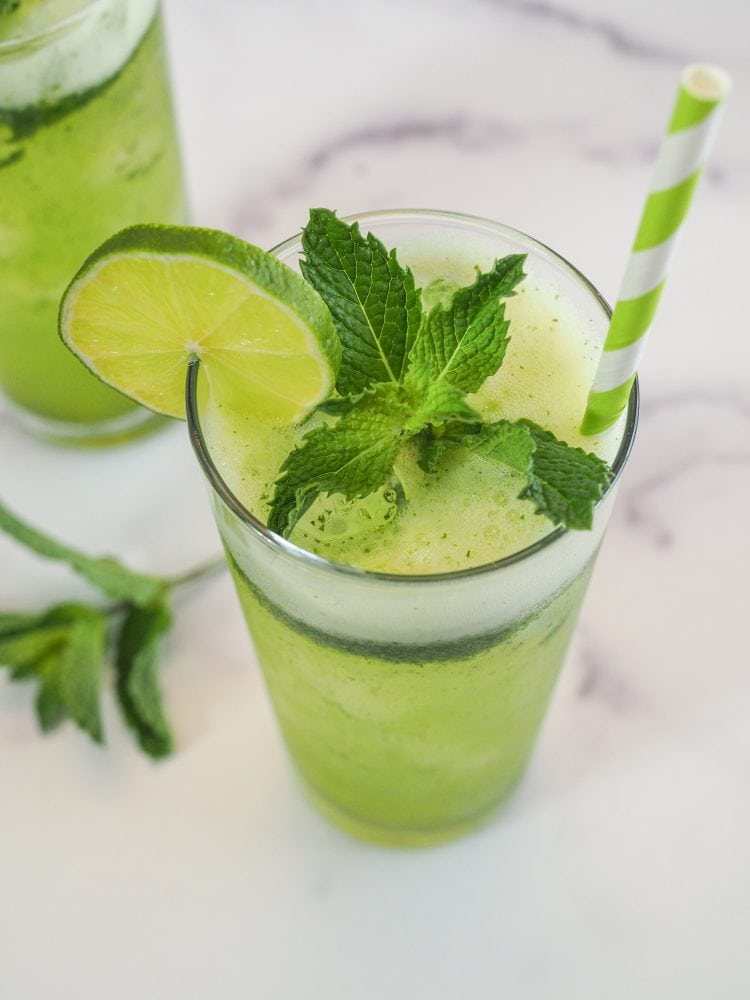 Once the frozen mint lemonade is blended, it will be frothy and the mint will float toward the top.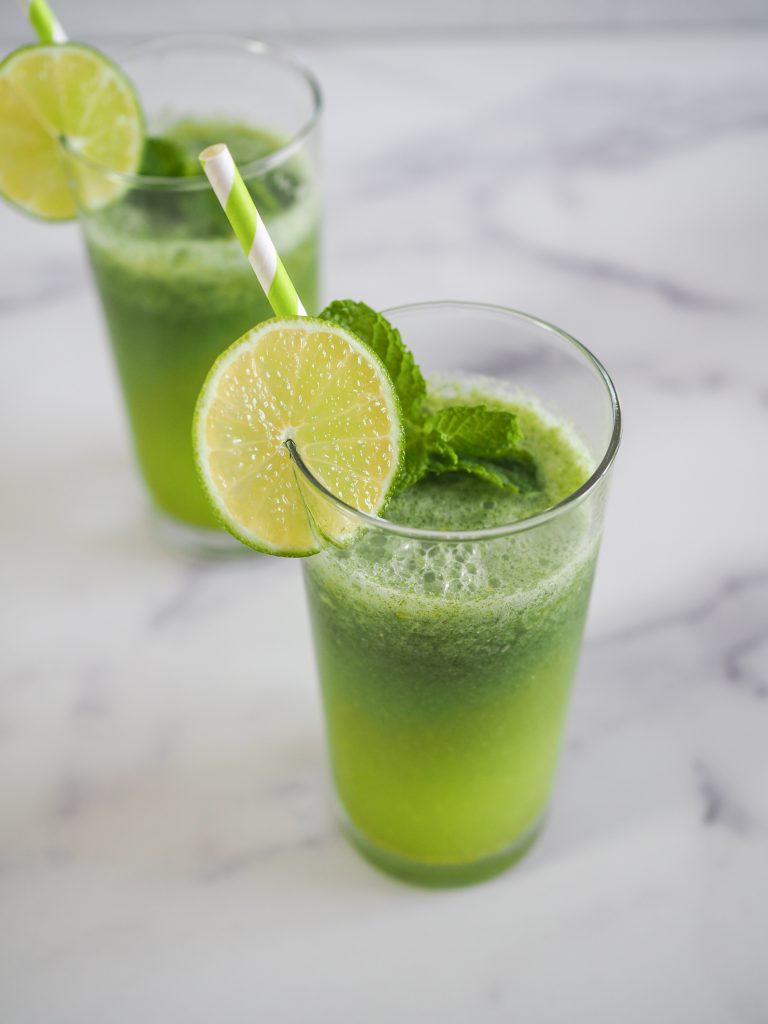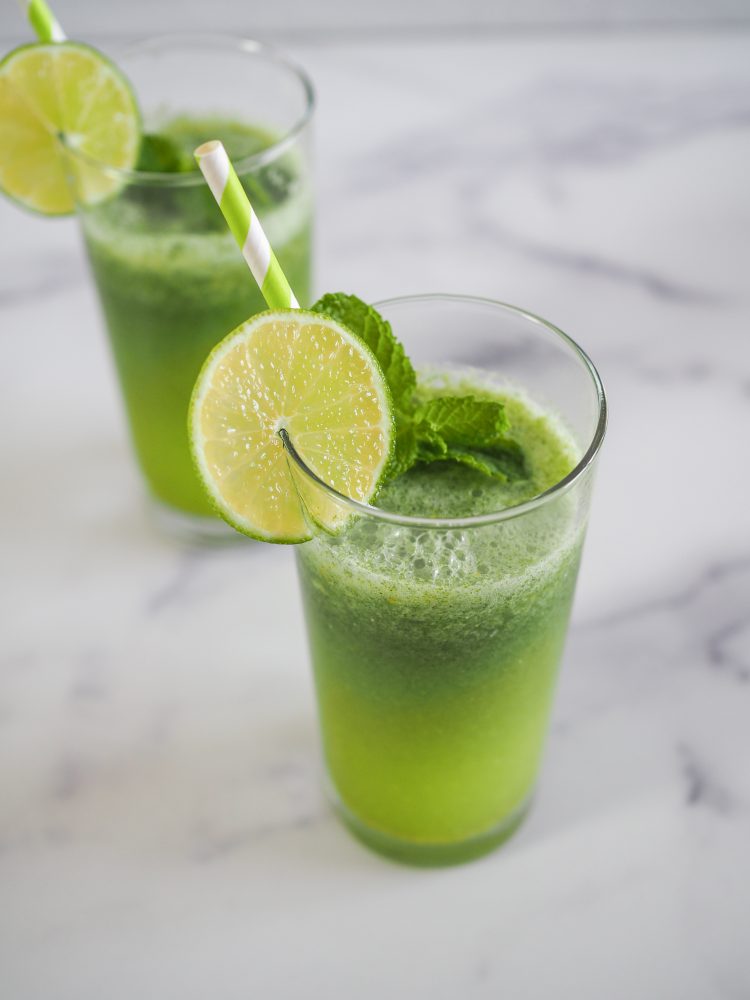 This doesn't effect the flavor and adds a need ombre color effect to the drink! Plus, it is as close as it gets to how they make it in Jordan and Dubai.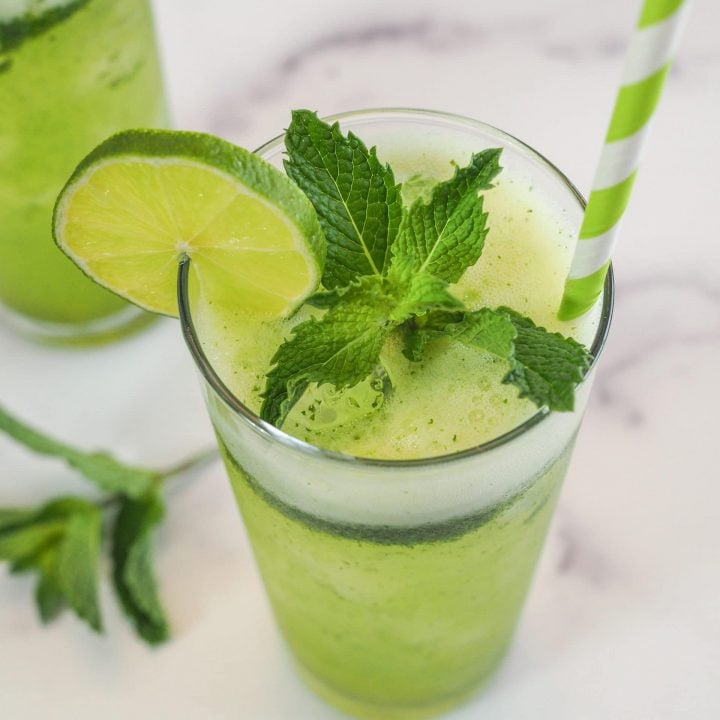 Mint Lemonade
Ingredients
2-3 whole lemons, peeled (or 1/2 cup lemon juice)
1 whole lime, peeled
1 lime or lemon, thinly sliced (for garnish)
1/2 cup sugar
1 cup fresh mint
3-4 sprigs of mint (for garnish)
2 cups water
1 cup ice
Instructions
Measure out the sugar. Wash and peel your lemons and lime.
Wash and pat dry the fresh mint.
Add all ingredients to a blender (holding aside sliced lemon/lime and a few springs of mint for garnish) and blend on high for 1 minute.
Pour, serve, and enjoy!
Nutrition Information:
Yield:

3
Serving Size:

1
Amount Per Serving:
Calories:

182
Total Fat:

0g
Saturated Fat:

0g
Trans Fat:

0g
Unsaturated Fat:

0g
Cholesterol:

0mg
Sodium:

14mg
Carbohydrates:

49g
Fiber:

4g
Sugar:

38g
Protein:

2g
Nutrition information provided is only an estimate.
More Refreshing Drinks You'll Love