This honeydew melon cucumber smoothie is so refreshing it reminds me of something you'd get at a spa. It's light, refreshing, hydrating, and easy to make! What I love about this smoothie is that it's not too sweet and has a definitive cucumber flavor.
The inspiration for this cucumber smoothie actually came from my cucumber melon scented soaps and lotions. But this version is edible. LOL! I needed to get creative with smoothies after having minor dental surgery (no fun) since I could only eat soft foods for two weeks. The tricky part was also avoiding tomato or citrus-based ingredients since their acidity would burn (ouch!).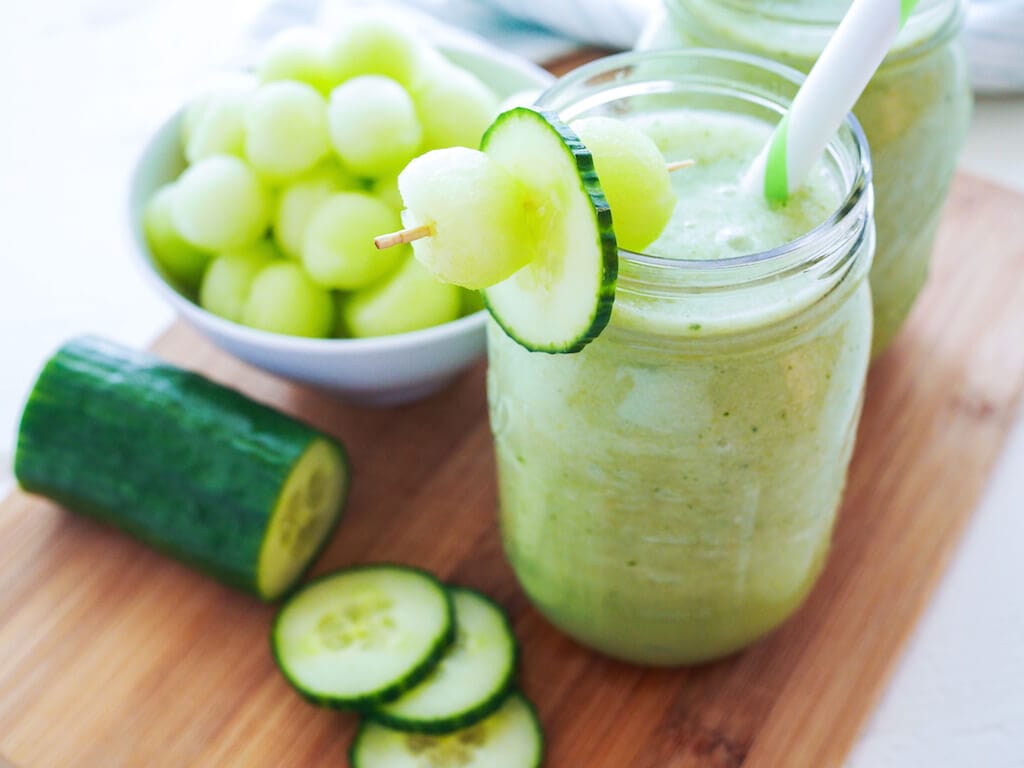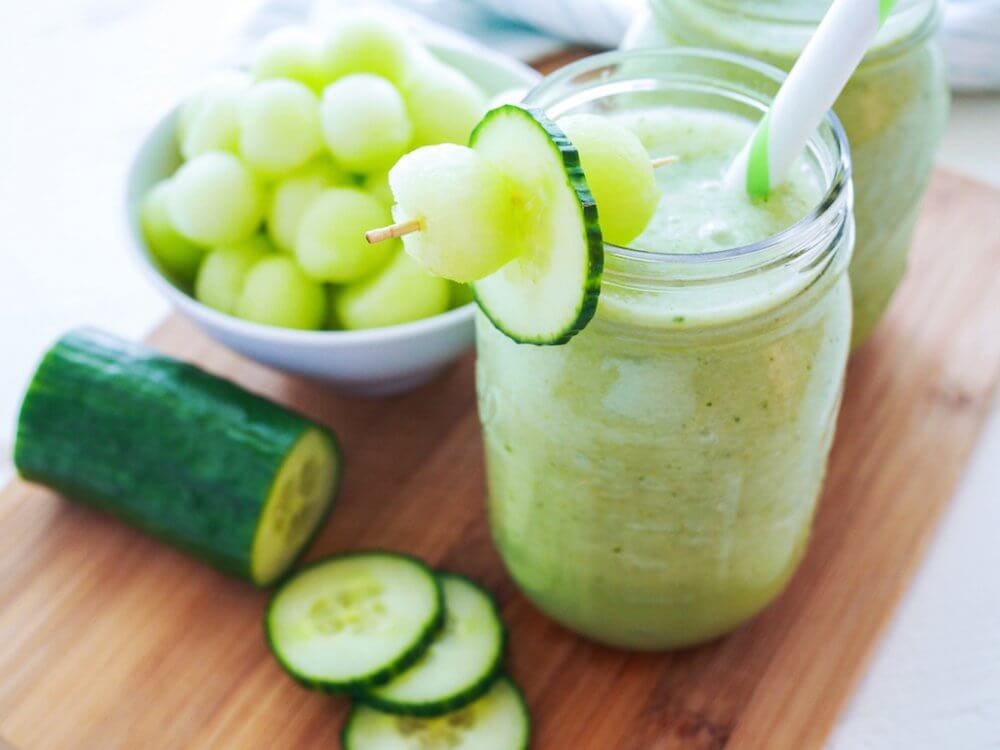 Most of my smoothie recipes have a bit of citrus, including my favorite kale smoothie. So it was a bit of a challenge to think of a green smoothie I could blend without citrus, until I took a little inspiration from my kitchen hand soap. This cucumber melon smoothie was the perfect remedy!
It's really simple to make with only five ingredients. The secret in the mild sweetness is using honeydew melon and green grapes which add to the color and flavor without masking the cucumber flavor. Cucumber smoothies are now one of my Sunday at-home spa day favorites! I hope it becomes one of your favorite smoothie recipes too. The ingredients are listed below for easy shopping. And the recipe is at the bottom of the post.
Cucumber Smoothie Ingredients
For this recipe, I really wanted the cucumber flavor to shine without being overpowered by the other ingredients. Which is hard to do since cucumbers are mostly water. I used a light coconut milk. But cashew milk and almond milk also work really well. The grapes are light in flavor and add a nice sweet juice to the smoothie. If you don't have grapes on hand, peeled apples are a nice alternative.
1/2 cup light coconut milk
1 cup green grapes
2 cups honeydew melon (about half a melon)
1 cup cucumber, diced (skins on)
4 cups ice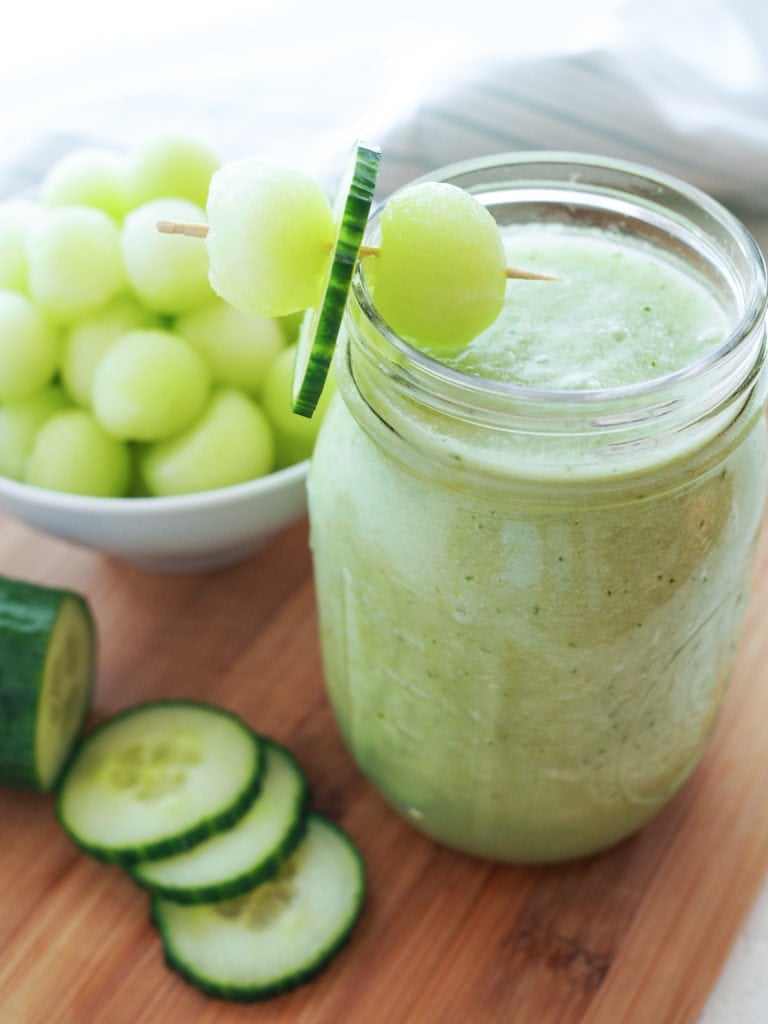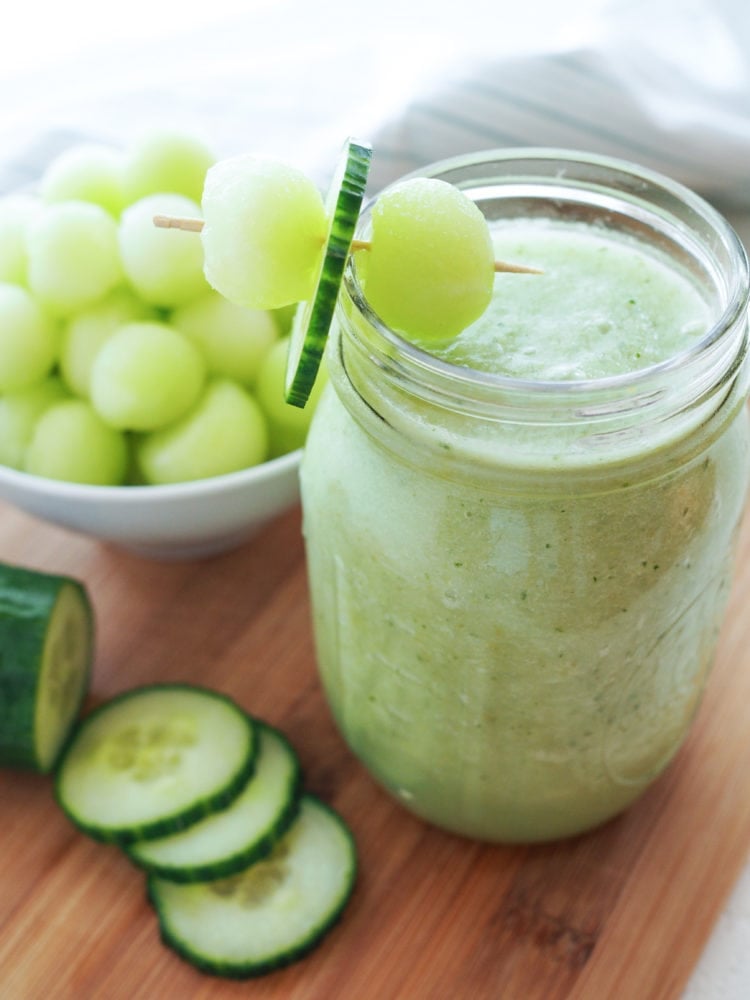 Should I Peel The Cucumber To Make A Smoothie?
You can peel the cucumber, but I don't think it's necessary. Most of the nutrients are found in the cucumber skin and you don't want to loose those. Plus, the skin of cucumbers is thin enough that it blends quite nicely and I like the added effect of small green specks in my cucumber smoothie. Just be sure to wash the cucumbers well before chopping them to add to your smoothie.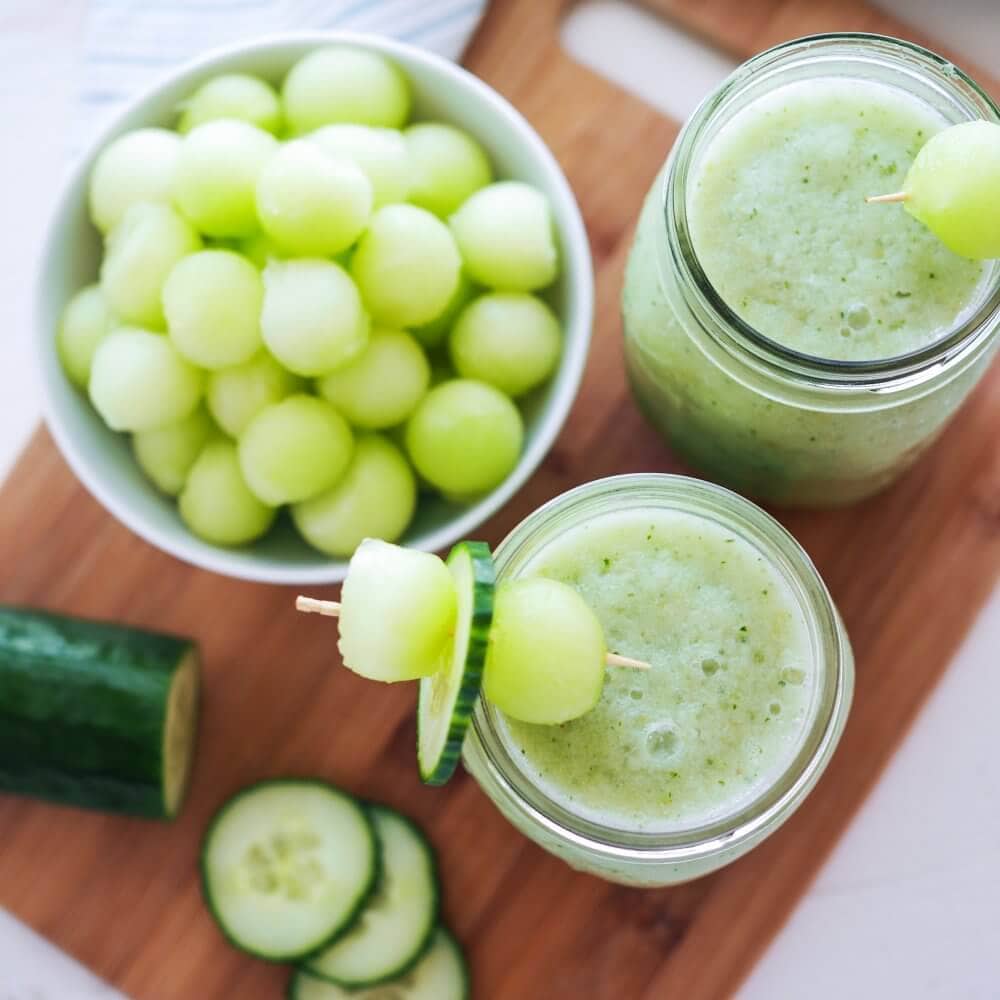 Benefits Of Cucumber
Cucumbers are about 95% water, so they're great for hydration! Especially if you don't like to drink plain water and want something with a bit of flavor. They also have small amounts of vitamin K and vitamin A. Personally, I just like the flavor of cucumber and find them to be refreshing.
More Smoothie Recipes!
Looking for more smoothie recipes for breakfast or afternoon snacks? Here are a few of our favorites: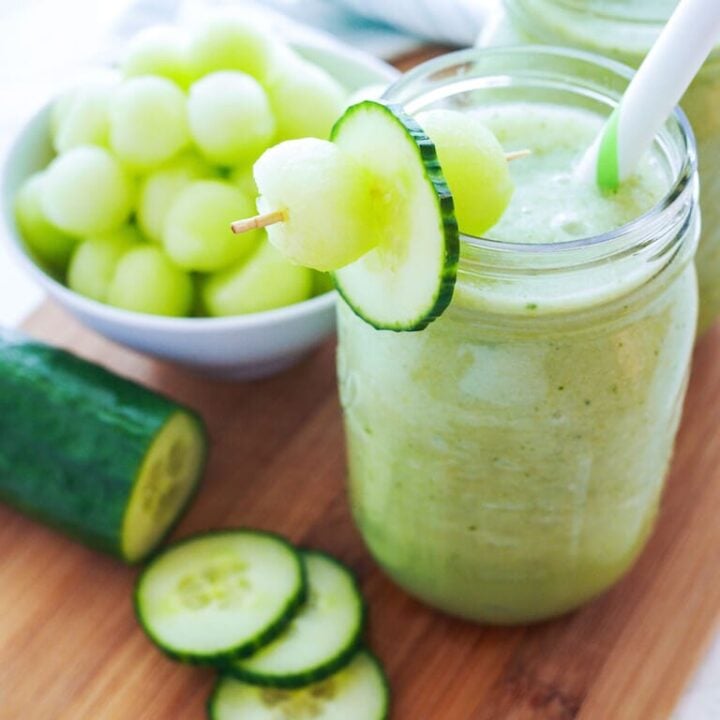 Cucumber Melon Smoothie
Ingredients
1/2 cup light coconut milk
1 cup green grapes
2 cups honeydew melon (about half a melon)
1 cup cucumber, diced (skins on)
4 cups ice
Instructions
Wash the cucumber, melon, and grapes. Set them in a strainer and set aside.
Chop the honeydew melon into smaller cubes, about 2 inches in size.
Slice the cucumber into smaller pieces. They don't have to be perfect since you're blending them. Save a few thin slices for garnish.
Add all the ingredients to a blender in the order they're listed above.
Blend on low speed until they start to mix together.
Turn speed to medium-high until desired constancy is reached.
Pour in a glass and enjoy!
If you have any left over, it keeps well in the refrigerator for up to a week.
Notes
You can substitute coconut milk for another light plant based milk such as almond or cashew.
Nutrition Information:
Yield:

2
Serving Size:

1
Amount Per Serving:
Calories:

161
Total Fat:

5g
Saturated Fat:

4g
Trans Fat:

0g
Unsaturated Fat:

0g
Cholesterol:

0mg
Sodium:

43mg
Carbohydrates:

31g
Fiber:

3g
Sugar:

27g
Protein:

2g
Nutrition information provided is only an estimate.
Want to save this for later? Pin it!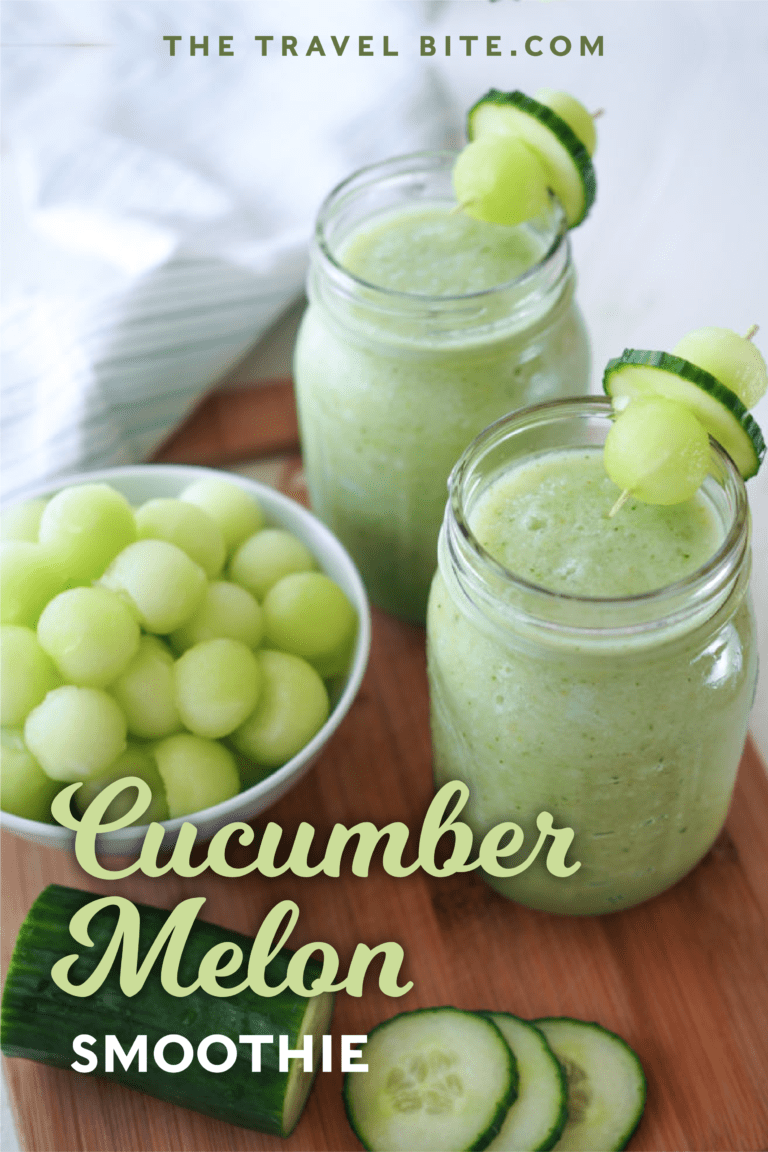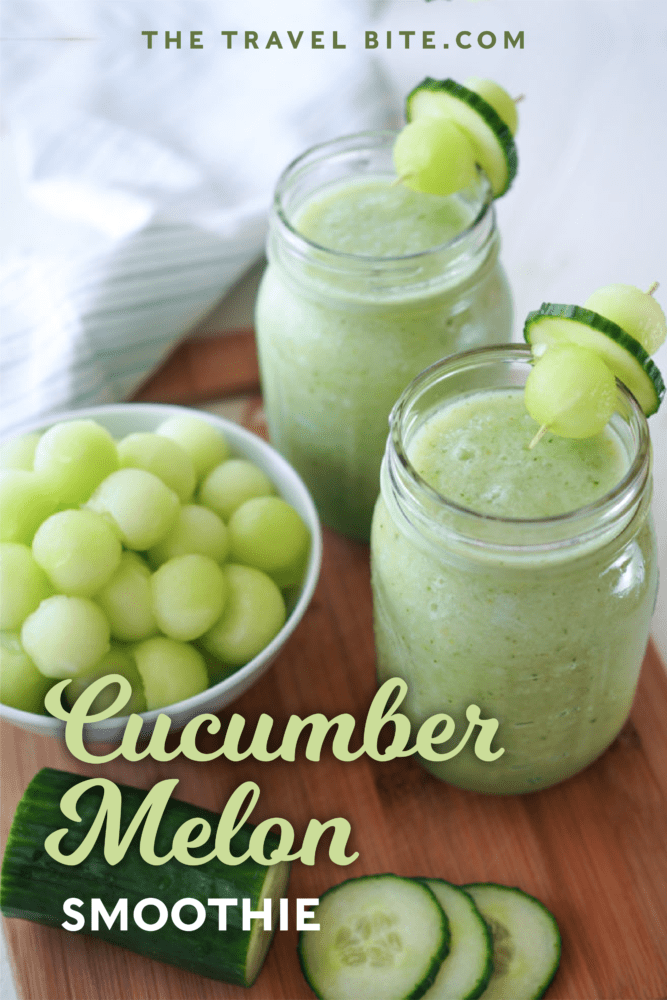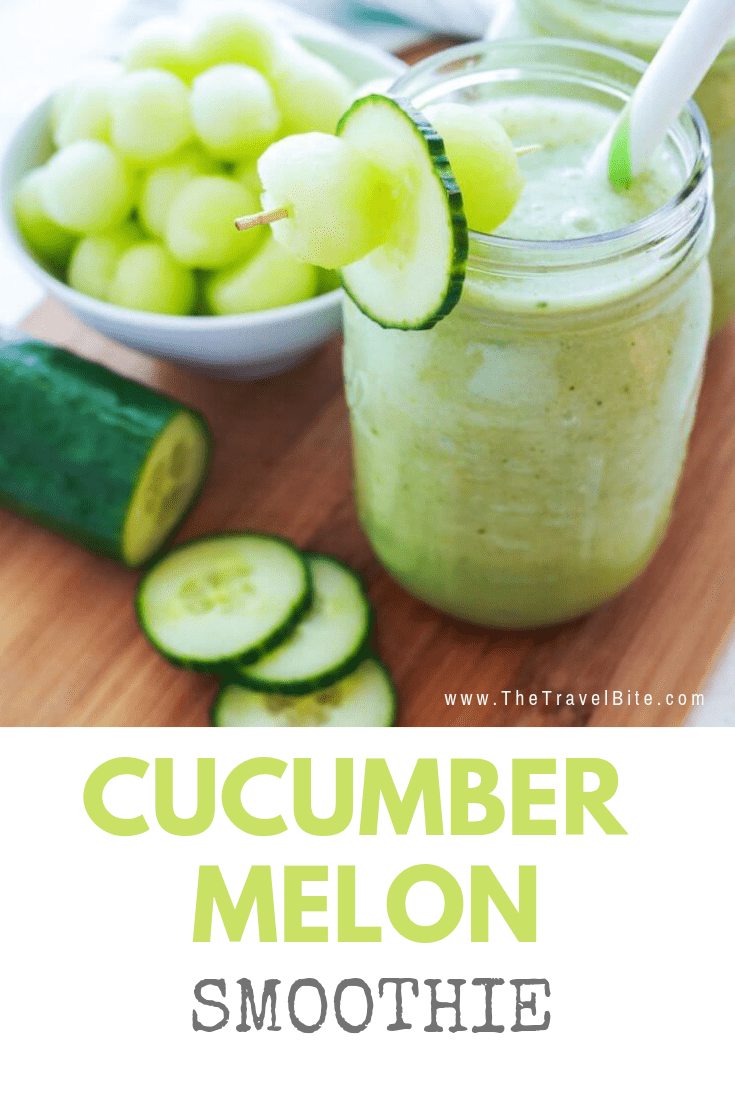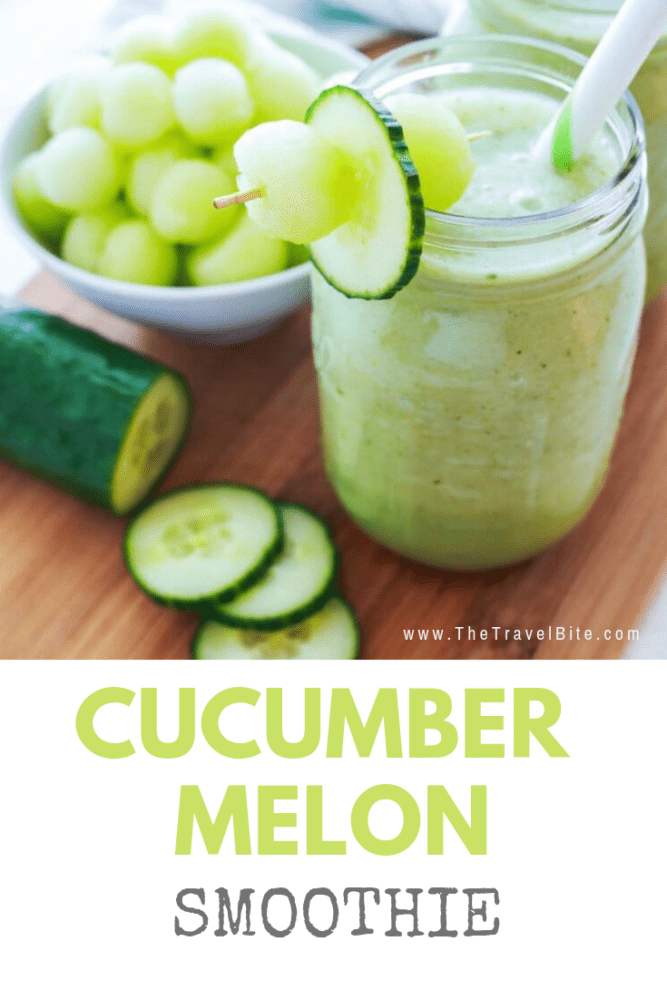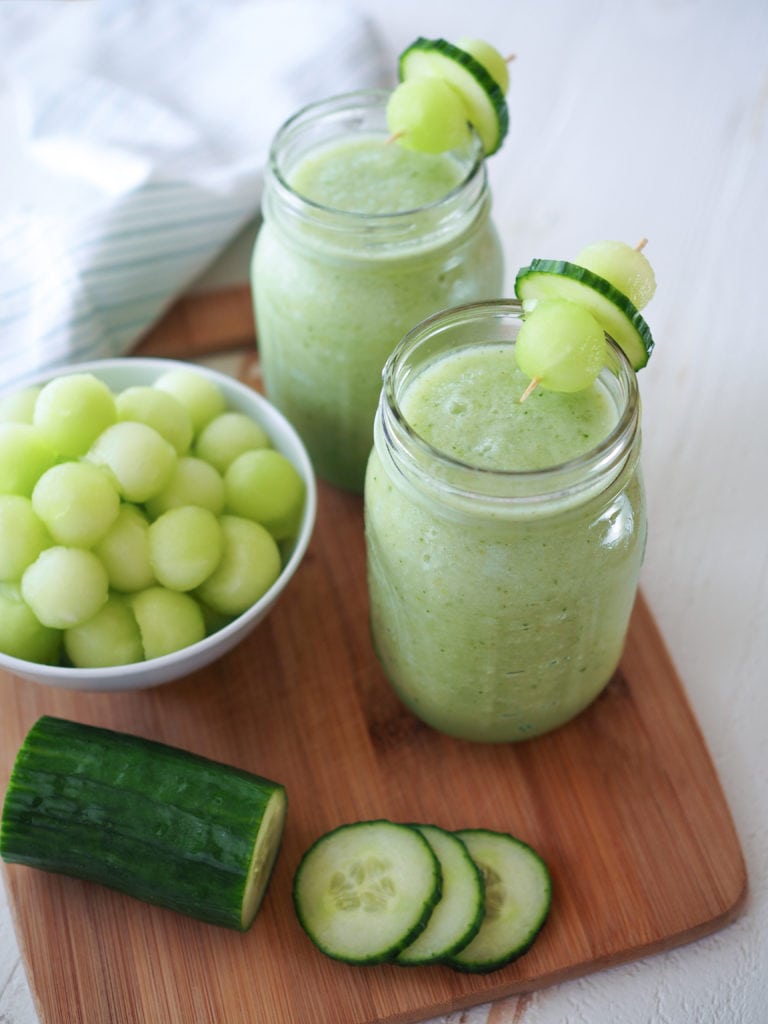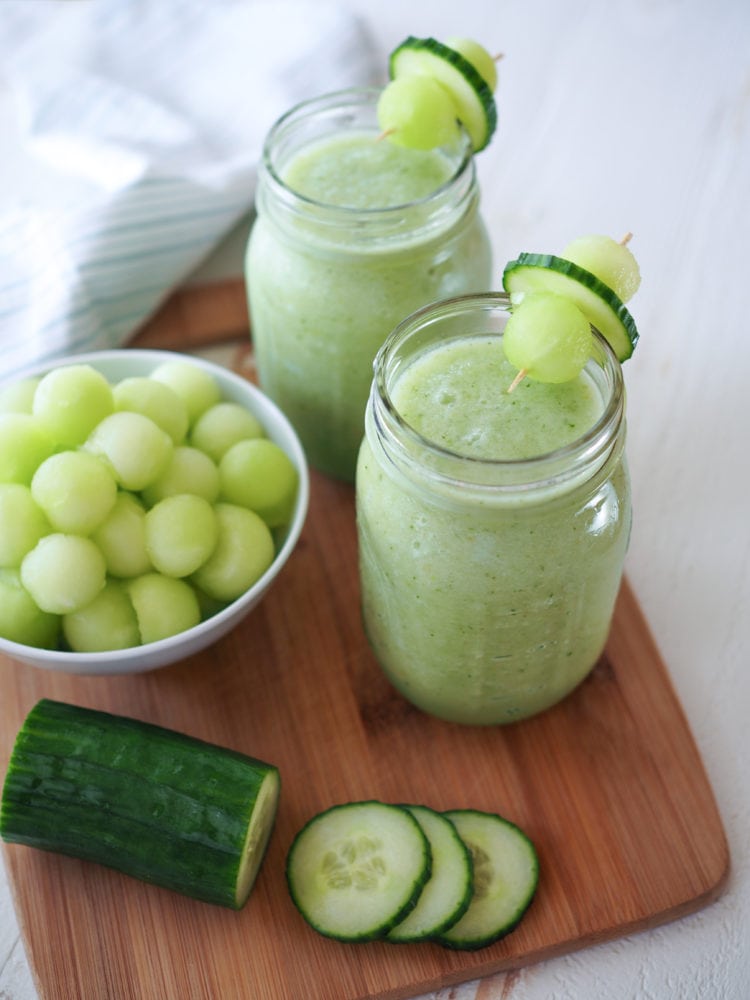 Originally Posted In 2015. Updated 2020.