This apple smoothie is my favorite breakfast when I want something healthy, but I'm in the mood for sweets. It's a blend of apples, oatmeal, cinnamon, ginger, and nutmeg that tastes like apple pie. It's heavenly! And the added protein from walnuts and collagen keep me full until well past lunch.
Check out our tips below or simply skip to the recipe at the bottom and enjoy.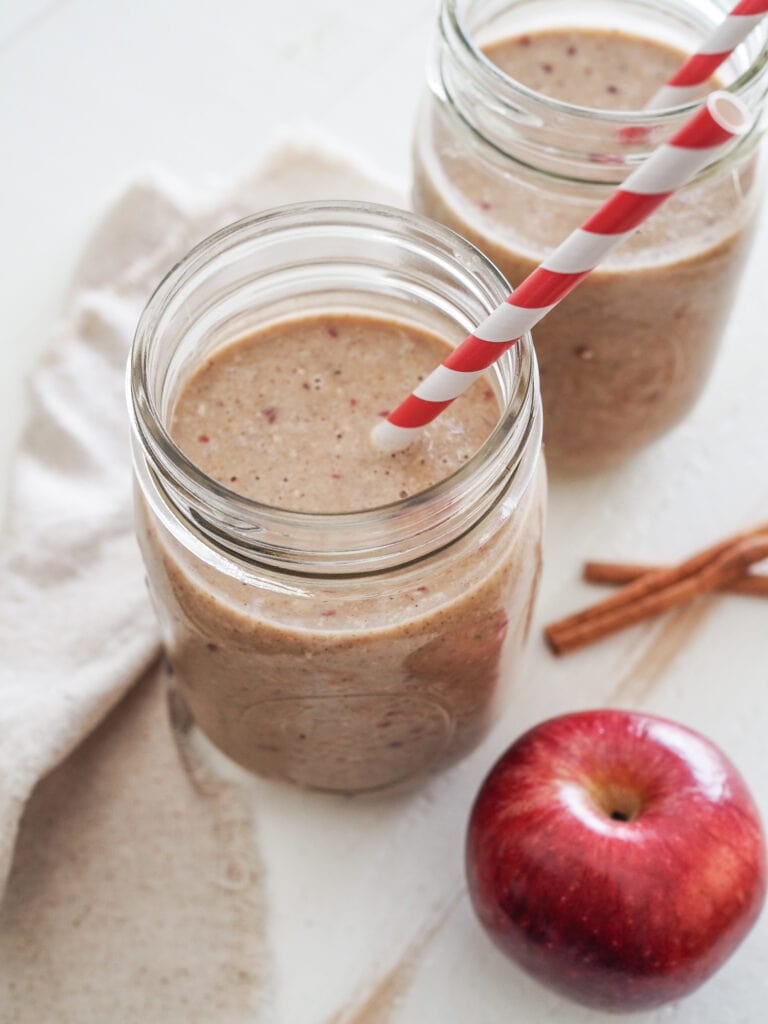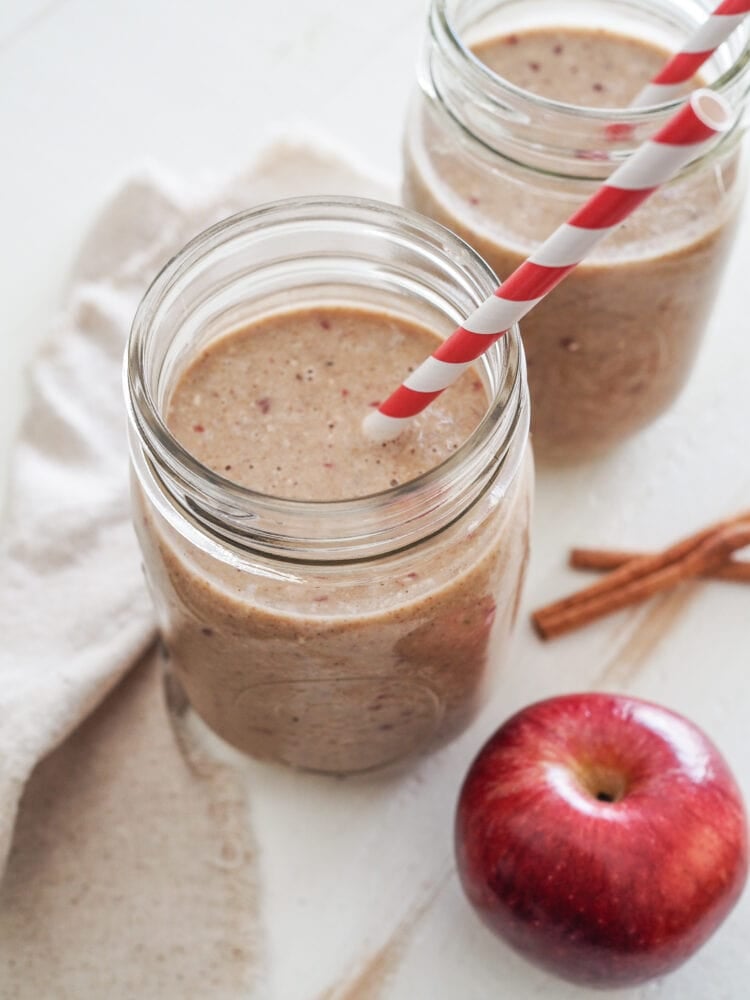 What Apples Are Best For Smoothies
Personally, I like crisp, sweet apples to make apple smoothies. Varieties like Gala, Jazz, or Honeycrisp are best. I would stay away from Granny Smith and other green or tart varieties that are better suited for baking. You want an apple that tastes juicy and sweet on its own without baking.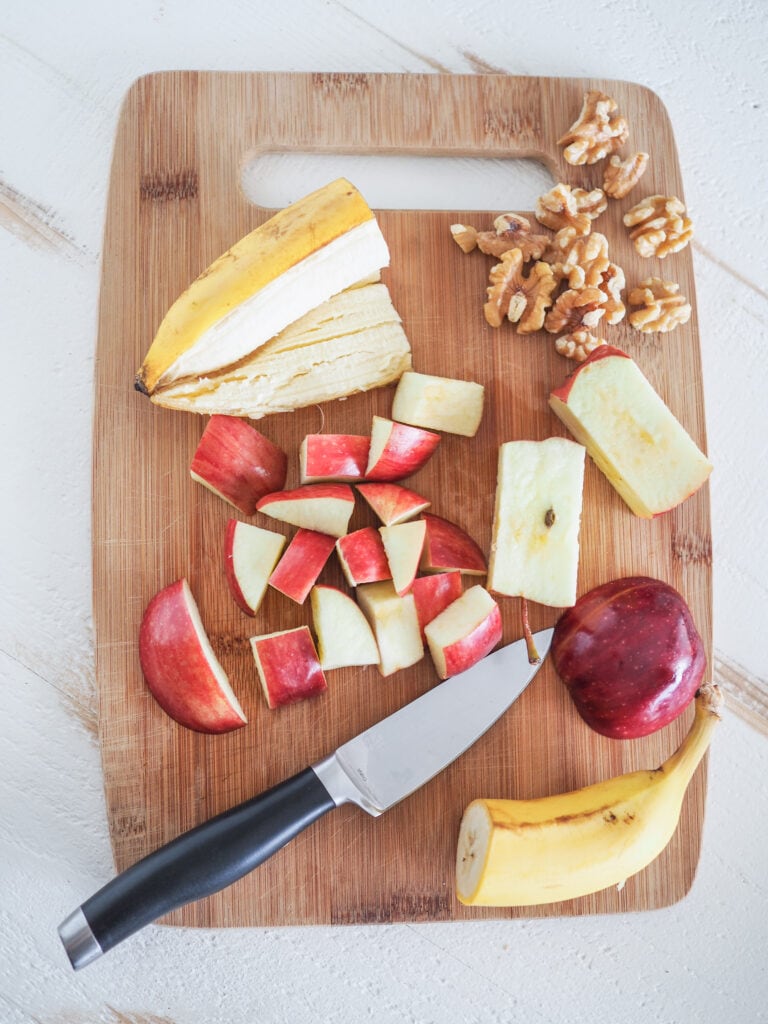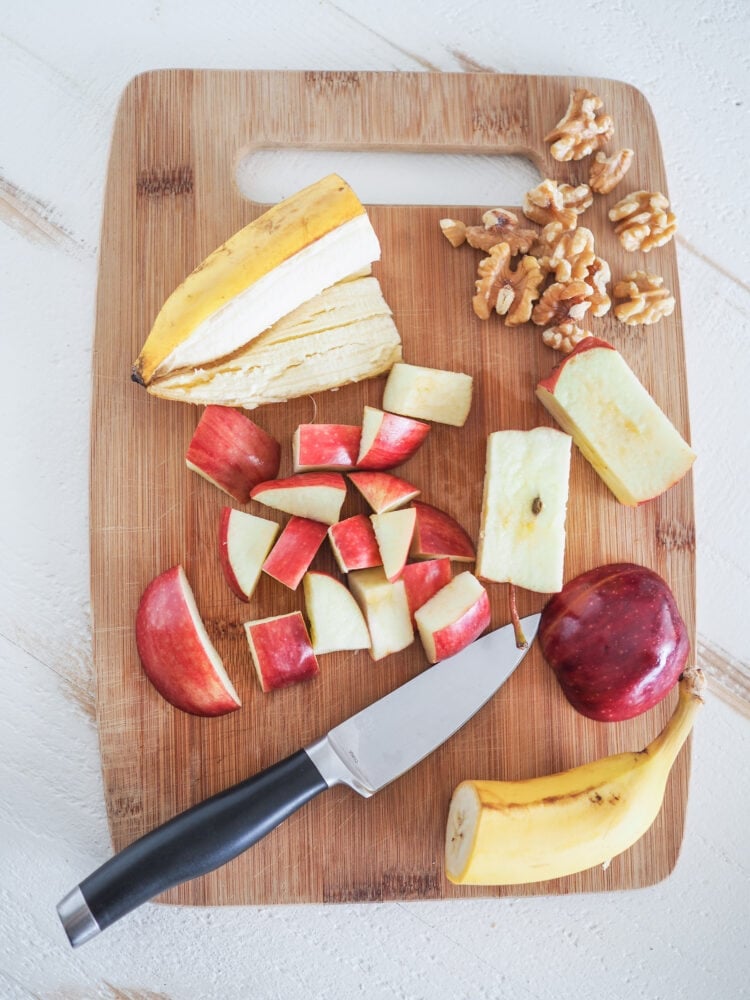 Do You Have To Peel An Apple For A Smoothie?
Thankfully, you don't need to peel your apples before adding them to a smoothie. Apple peels are quite thin and so they blend easily. Plus, the little specks of red from the apple peel adds a nice texture and color (as well as additional fiber) to the smoothie too.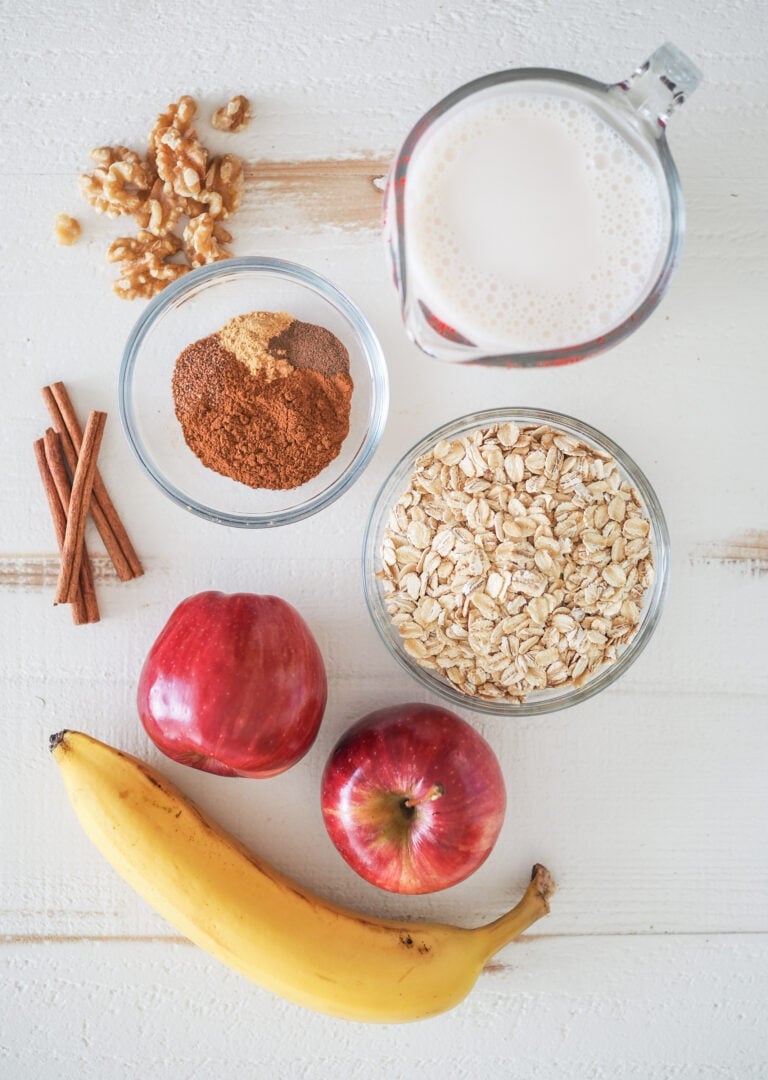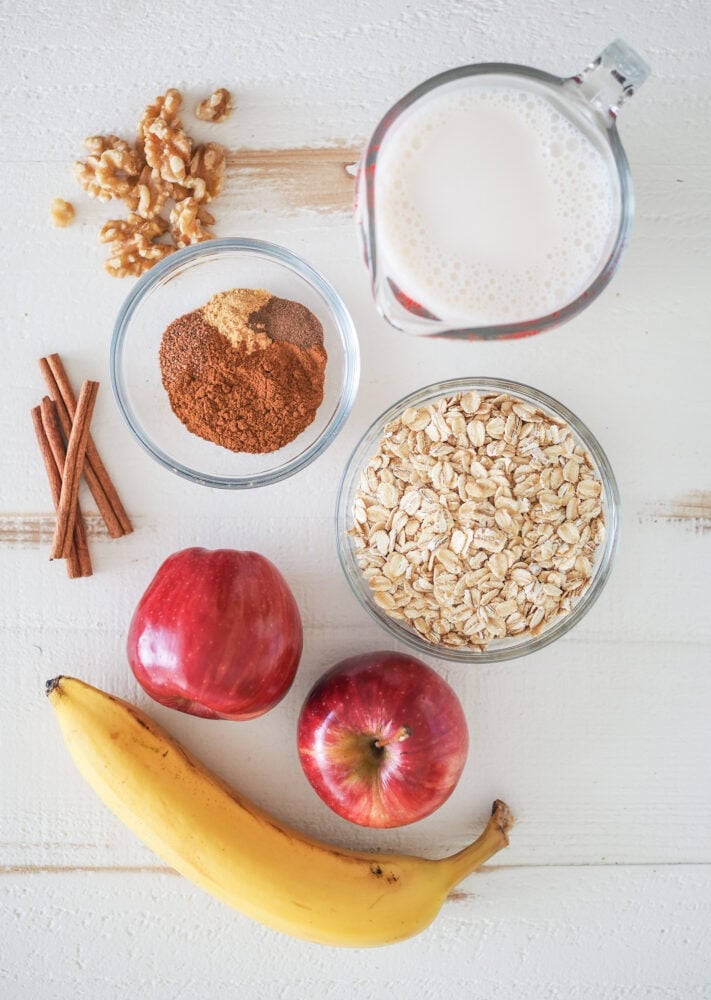 Apple Smoothie Ingredients
The ingredients listed below are for one single serving smoothie. But it's easy to double them up if you're making smoothies for two or more.
Apple: Any red sweet variety (such as Jazz, Honeycrisp, or Cosmic) will work really well and taste great.
Oatmeal: Oatmeal is what makes this apple smoothie taste more like apple pie! Plain quick oats work best, but regular rolled oats will also work. I wouldn't recommend Irish oatmeal or steel cut oats as you need and oat cereal that softens up easily when blended with a liquid.
Banana: This adds a bit of sweet creaminess to the smoothie. And since a single serving only includes half a banana, you can't really taste it in the smoothie.
Pie Spices: The spices give this apple smoothie a true autumn dessert-like flavor. I have the spice quantities broken down in the recipe below. But you can also use pumpkin pie spice!
Oat Milk: Truly, any milk will do. I tend to use plant-based since I'm lactose intolerant. For this smoothie, a creamy plant based milk work best. Oat milk, almond milk, or cashew milk are all great.
Maple Syrup: This adds just a little natural sweetness to the smoothie. You could use any of your favorite sweeteners (honey, agave, stevia, etc). Or skip the sweetener all together if you want to make this smoothie low in added sugar.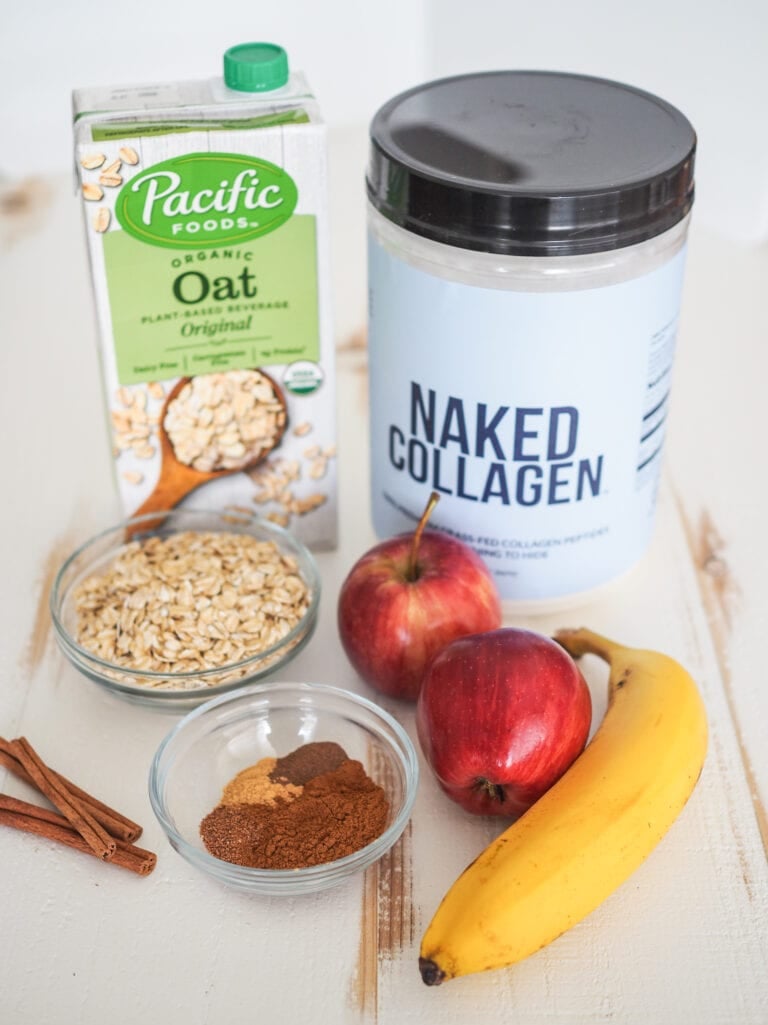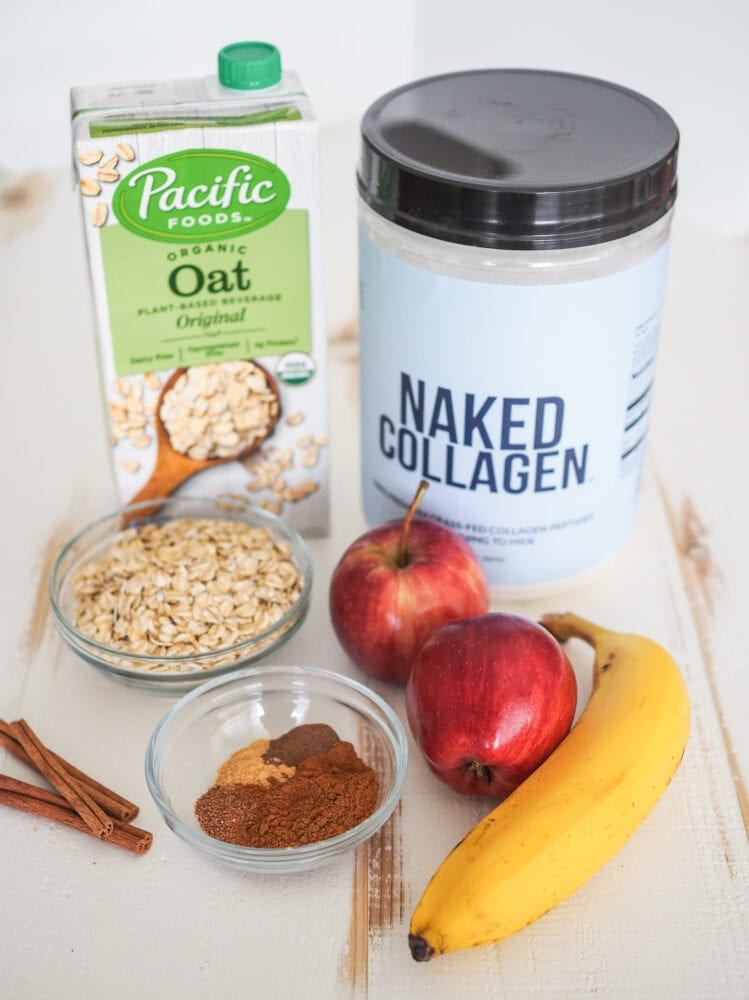 Add Some Protein To Make It A Meal
While the smoothie is delicious with just the ingredients listed above, I also like to add a little protein to make it more of a meal. For that, I include walnuts to enhance the pie-like flavor. And dairy-free collagen protein.
Walnuts: Walnuts add a bit of protein to the smoothie while also adding to that pie-like flavor. Walnuts are a pretty soft nut, so they blend easily. If you don't have walnuts, pecans also work really well.
Collagen Protein: I really like collagen protein since it adds 9 grams of protein while also being dairy-free. Plus, it has no flavor on it's own, so it won't add any weird taste to your smoothie. Personally, I like to use either Naked Collagen or Vital Proteins since they're both from pasture-raised and grass-fed cows.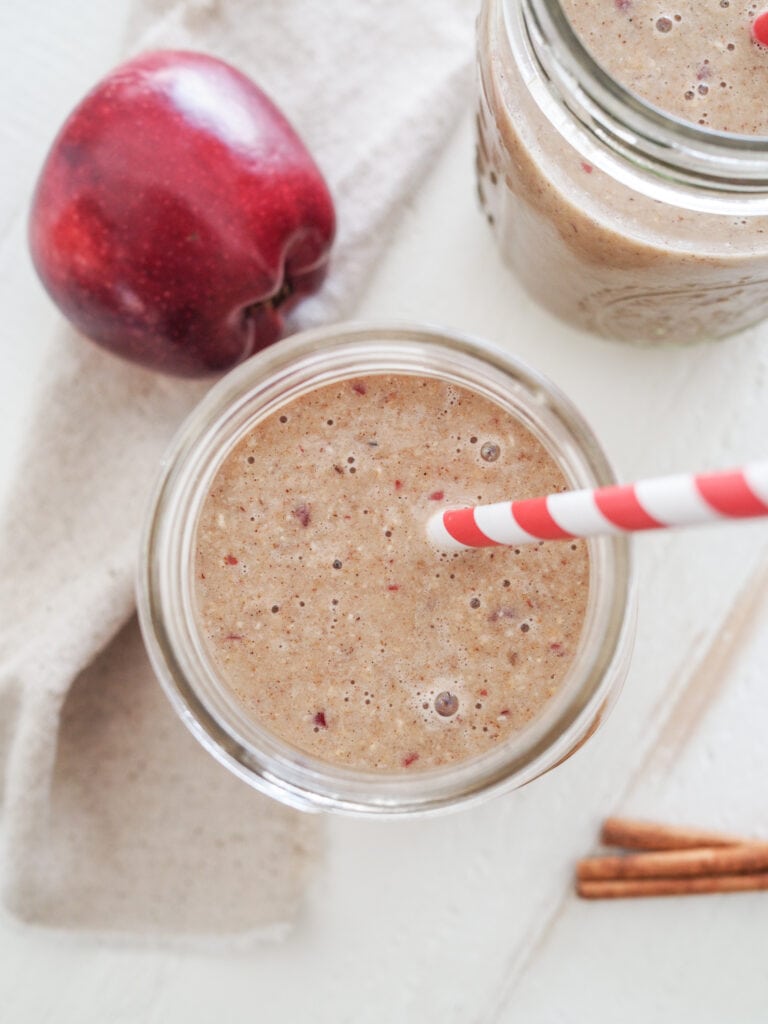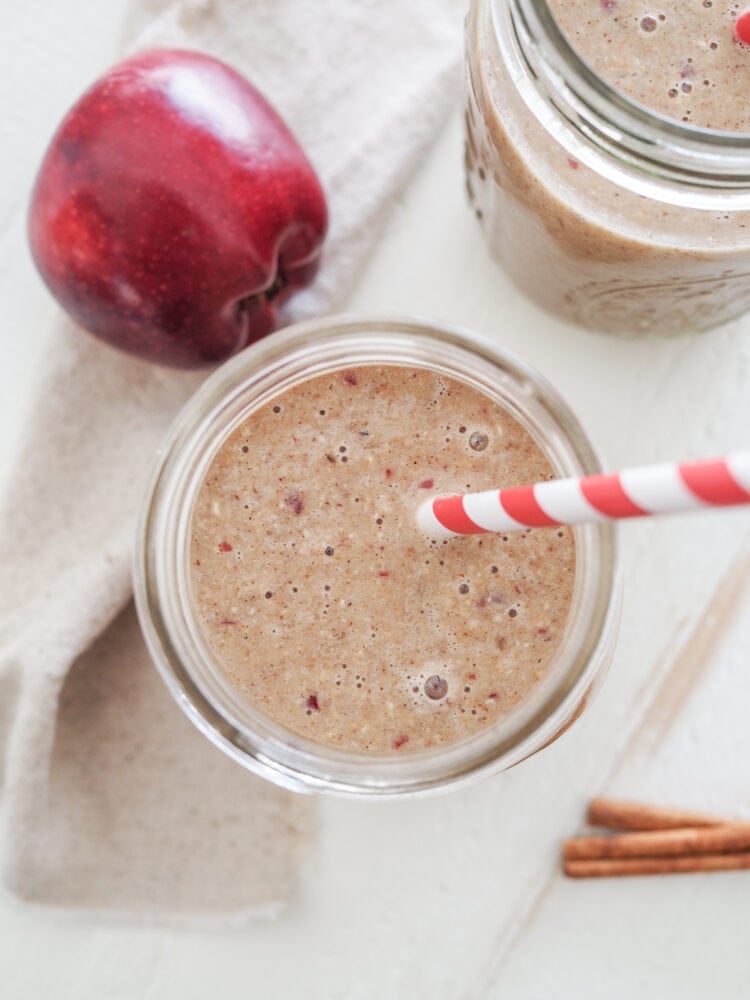 Apple Smoothie Recipe: Step-By-Step
Apple pie for breakfast? Yes, please! But without the guilt. Hope you love this apple smoothie recipe as much as we do. Here's how to make it.
Start by gathering your ingredients. You'll need one apple, a quarter cup of oatmeal, half a banana, a quarter cup of ice, two teaspoons of cinnamon, one quarter teaspoon of nutmeg, one quarter teaspoon of ground ginger, a half cup of almond or oat milk, two tablespoons of walnuts, one tablespoon of maple syrup (optional), and one scoop of collagen protein (optional).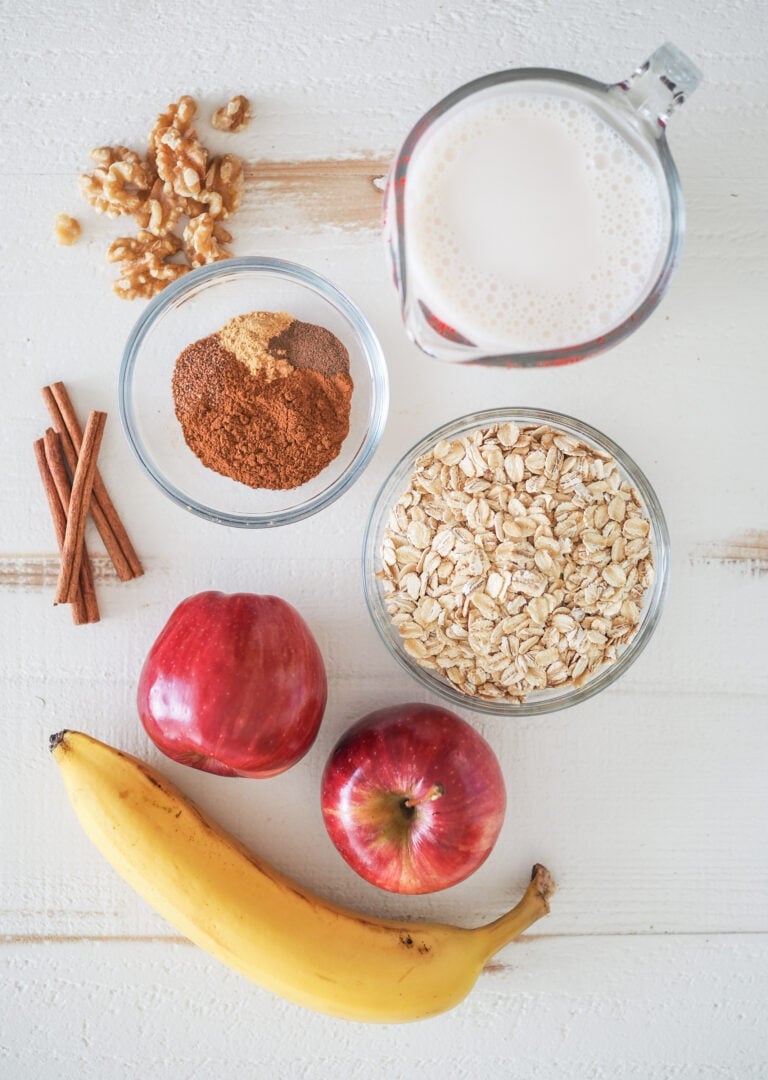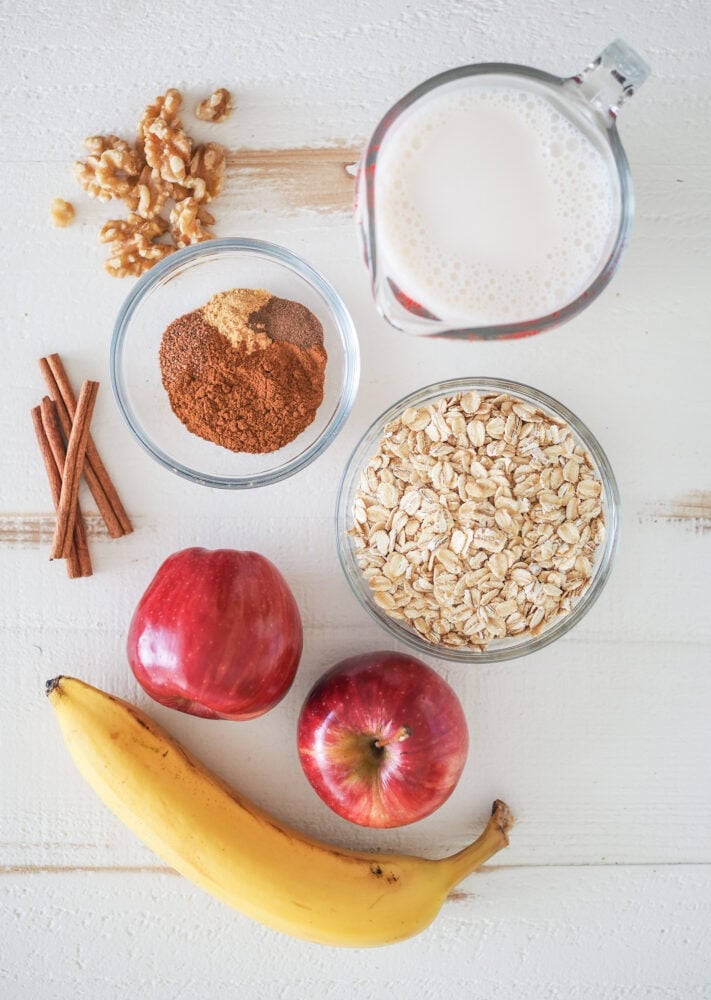 Wash the apple and cut into large slices, removing the core and seeds but keeping the peel.
Slice the banana in half, then peel and cut into smaller pieces. Save the other half in the refrigerator for a snack or another recipe.
Measure out all the spices (if you haven't done so already) into a small bowl. I like to pre-measure the spices rather than adding them directly into the blender in case one spills (or I accidentally overfill a teaspoon). Just a tip from experience.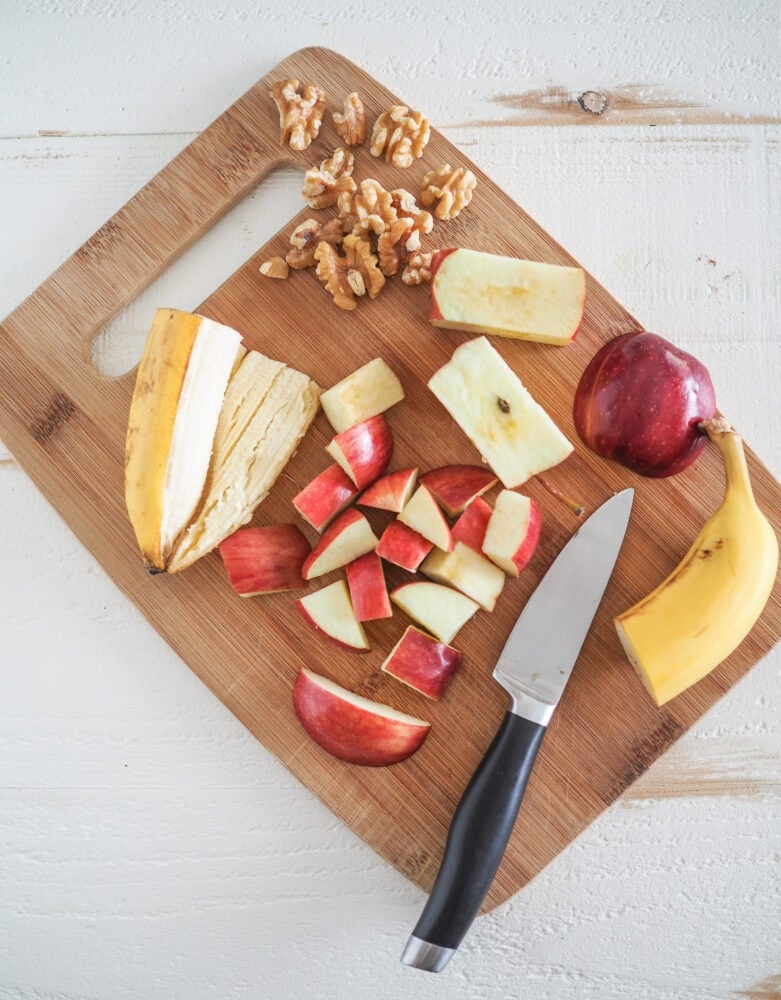 Once all the ingredients are washed, sliced, and measured, add everything to your blender, cover with the lid, and blend on high for 45-90 seconds until smooth.
The resulting apple smoothie will have the color and flavor of some of your favorite apple treats. Only this is a bit of a healthier version with oatmeal, collagen protein, and a bit of sweetener.
Serve with a slice of apple, fun smoothie straw, and enjoy!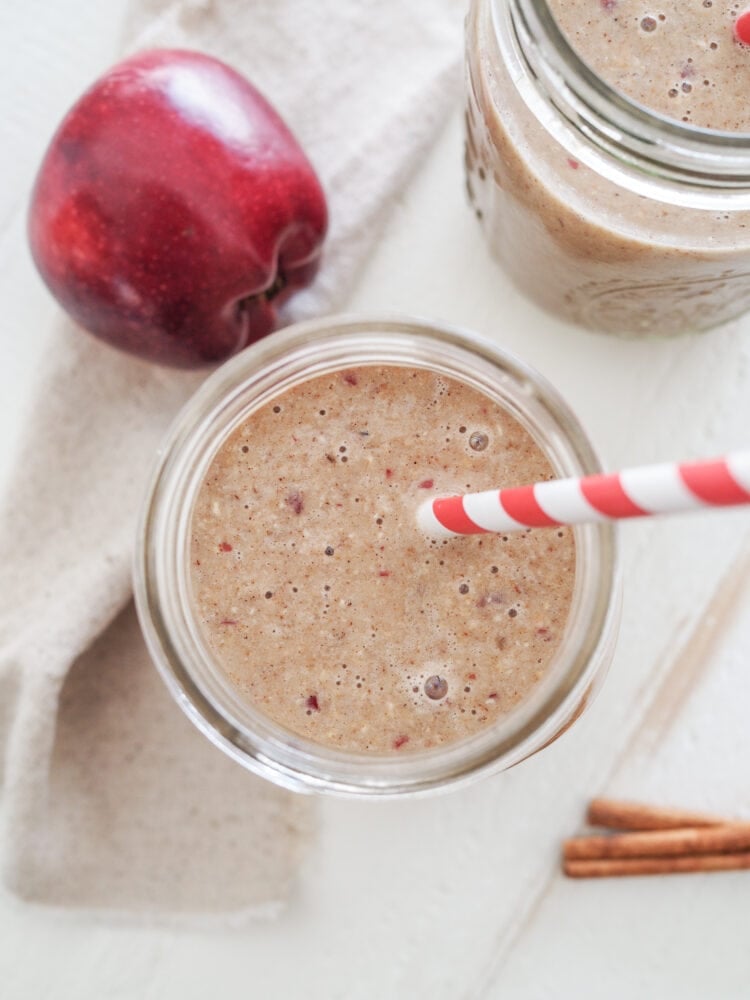 YOU ALSO LOVE THESE RECIPES: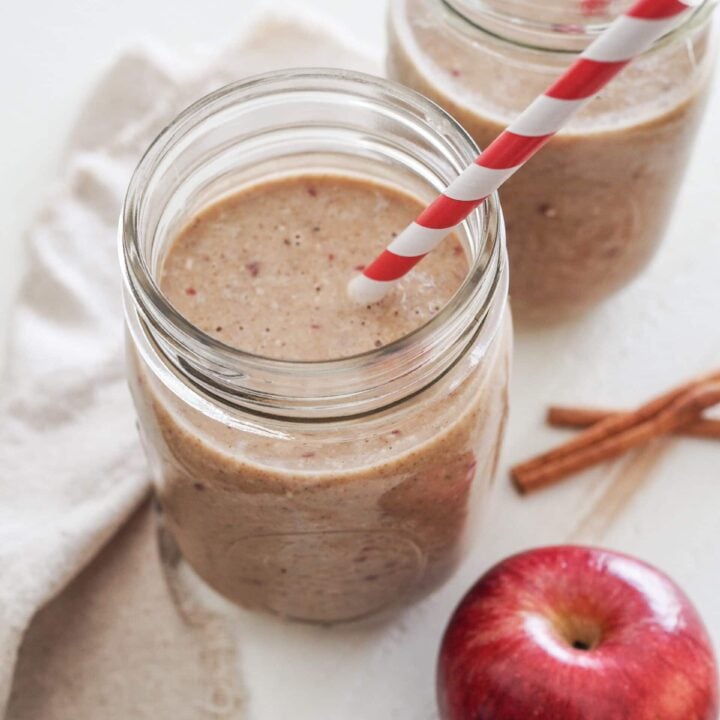 Apple Smoothie Recipe
A healthy breakfast or snack that tastes like apple pie!
Ingredients
1 Medium Apple (any sweet variety)
¼ cup oatmeal (quick oats work best)
½ banana
¼ cup ice
2 tsp cinnamon
¼ tsp nutmeg
¼ tsp ginger
½ cup almond milk
2 Tbsp chopped walnuts
1 Tbsp maple syrup
1 scoop Collagen Protein
Instructions
Wash the apple and cut into large slices, removing the core and seeds but keeping the peel.
Peel and slice the banana in half.
Add all of the above ingredients to your blender in the order they are listed.
Blend on high for 45-90 seconds until smooth.
Serve cold and enjoy!
Notes
To make a lighter version, omit the collagen powder and maple syrup.
Nutrition Information:
Yield:

1
Serving Size:

1
Amount Per Serving:
Calories:

519
Total Fat:

13g
Saturated Fat:

2g
Trans Fat:

0g
Unsaturated Fat:

10g
Cholesterol:

5mg
Sodium:

79mg
Carbohydrates:

72g
Fiber:

12g
Sugar:

43g
Protein:

37g
Nutrition information isn't always accurate.
Originally posted 2020. Updated 2022.