Here's a great pumpkin cream cheese muffin recipe to warm you up this fall season. It comes to us from the B Street House Bed & Breakfast in Virginia City, NV. There are two things in this recipe that make your taste buds leap off the charts — it's spicy like gingerbread and it has a cream cheese surprise in the middle.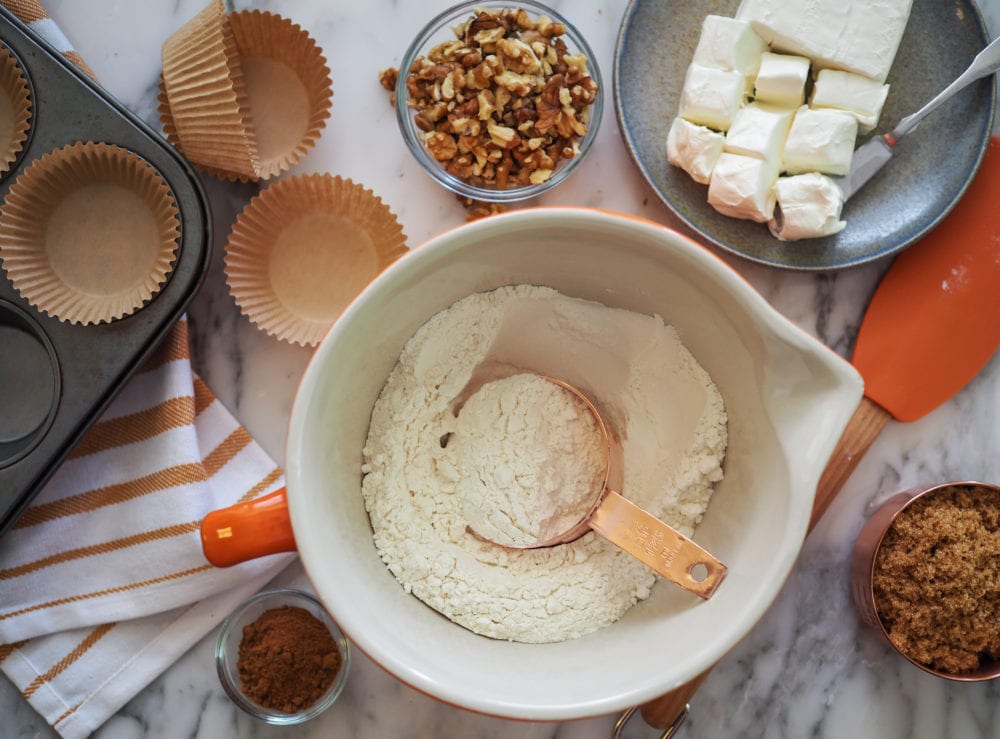 There was one particular spice that I didn't have in my pantry, and while I was shopping for ingredients my jaw it the floor at the price — cardamom. Our local grocer carried only one brand of cardamom, and the sucker was 12 bucks. Sheesh. Well, if it's expensive, it must be good, right?
This inspired me to do some research. What's the story behind this pricey spice? I googled it and found that my $12 bottle was a bargain. Some spice shops online were charging upwards of $67. I've just renamed this recipe Fall Harvest Food Of The Gods. The cardamom truly makes this muffin the epitome of "pumpkin spice" and is the secret ingredient, for sure.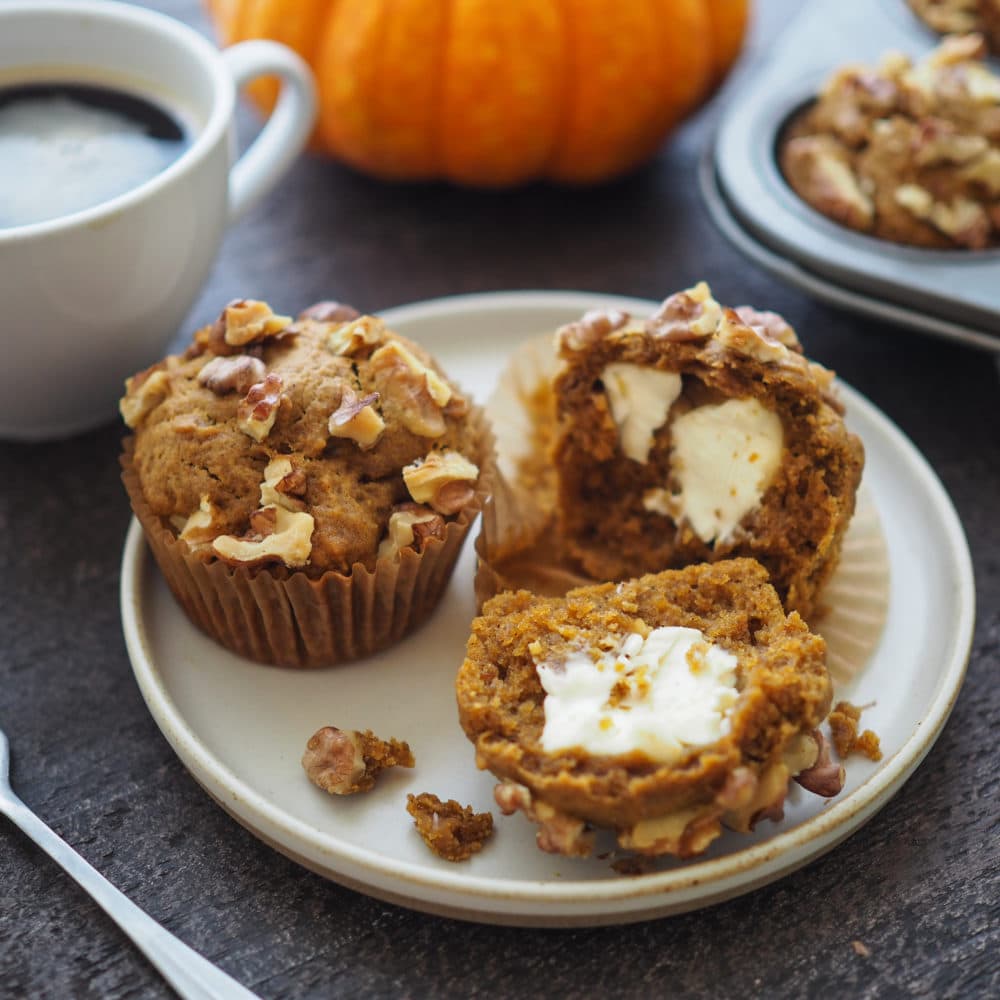 Wikipedia says … "Green cardamom in South Asia is broadly used to treat infections in teeth and gums, to prevent and treat throat troubles, congestion of the lungs and pulmonary tuberculosis, inflammation of eyelids and also digestive disorders. It also is used to break up kidney stones and gall stones, and was reportedly used as an antidote for both snake and scorpion venom." The spice includes volatile oils such as camphor, eucalyptol, and limonene. Some sites reported it to be used in Ayurvedic medicine and also an effective aphrodisiac.
Well no wonder it's so dang expensive! It's a absolute cure-all. Next time I get sick I'm baking some of these babies instead of taking NyQuil. LOL! Recipe for these delicious pumpkin spice muffins below.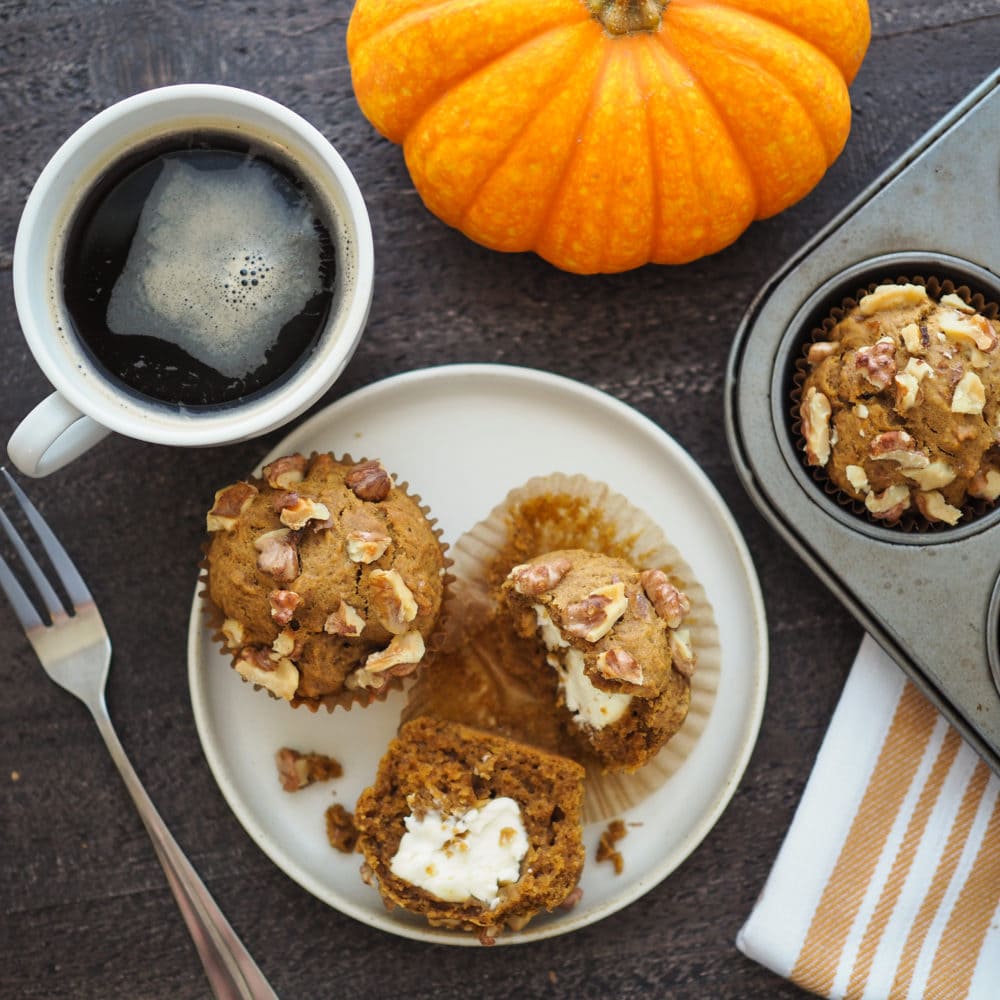 Pumpkin Cream Cheese Muffins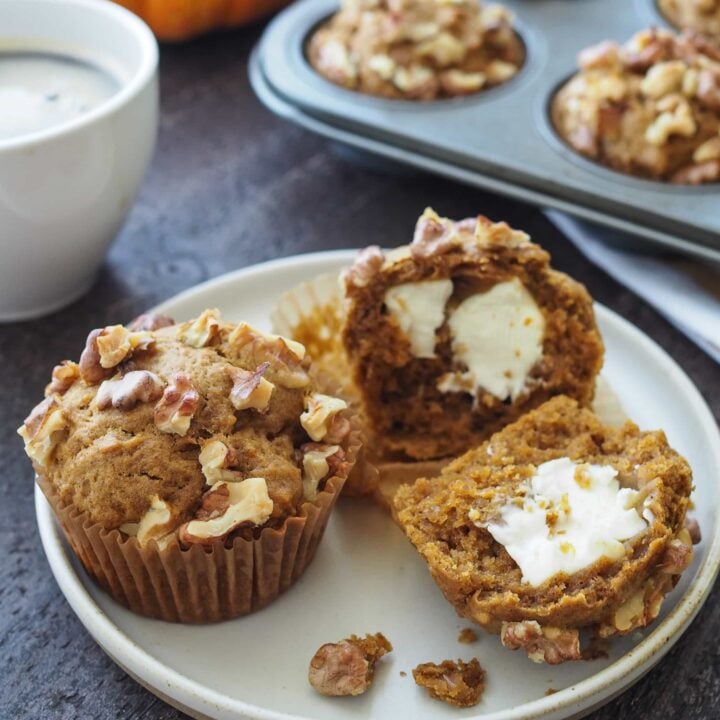 Pumpkin Cream Cheese Muffins
Ingredients
4 oz cream cheese
1 1/2 Cups flour
1 Cup dark brown sugar
2 Tbsp pumpkin pie spice
1/2 tsp cinnamon
1/2 tsp ground cloves
1/2 tsp nutmeg
1/2 tsp ground ginger
1/2 tsp cardamom
1/2 tsp baking soda
1/2 tsp salt
1 Cup cooked or canned pumpkin (not pie filling)
2/3 Cup vegetable oil
2 large eggs
1 tsp molasses
1/2 tsp vanilla extract
1/3 Cup chopped walnuts
Instructions
Preheat oven to 350 degrees. Grease or spray with butter-flavored oil spray 12 muffin tins, or line with paper baking cups.
Using a wire whisk, stir together the dry ingredients in a large bowl. Make sure to beak up any clumps from the brown sugar.
Mix together the pumpkin and wet ingredients in a separate bowl. Using a fork or spatula, stir pumpkin mixture into dry ingredients until blended.
Spoon muffin batter into cups or baking tin and fill them only 3/4 of the way full.
Divide cream cheese into 12 equal portions. Put one portion in the middle of the muffin batter for each muffin, pressing down lightly. Add a spoonful more of batter on top of each muffin to cover the cream cheese. Sprinkle top with chopped walnuts.
Bake at 350 for 25-30 minutes or until a toothpick comes out clean from the muffin part. Let cool for a bit then serve!
Notes
Take note that is is only 1 cup of pumpkin, not the whole can. If you accidentally use the whole can, that is okay. It will just be a bit more moist and dense and might need an additional five minutes of cooking time.
We've also tried these with chopped pecans on top and they tasted amazing!
I know it seems like a lot of spices, but trust me, it delivers that perfect fall "pumpkin spice" flavor.
More Recipes You'll Love!
Save This Recipe … and Pin it! 🙂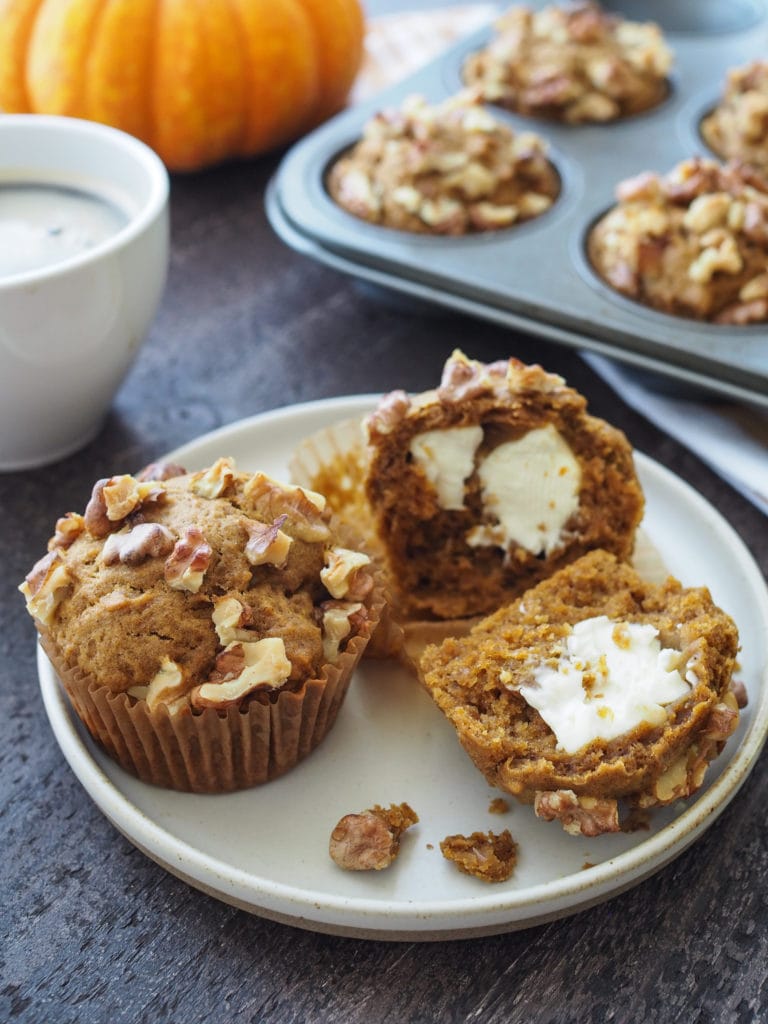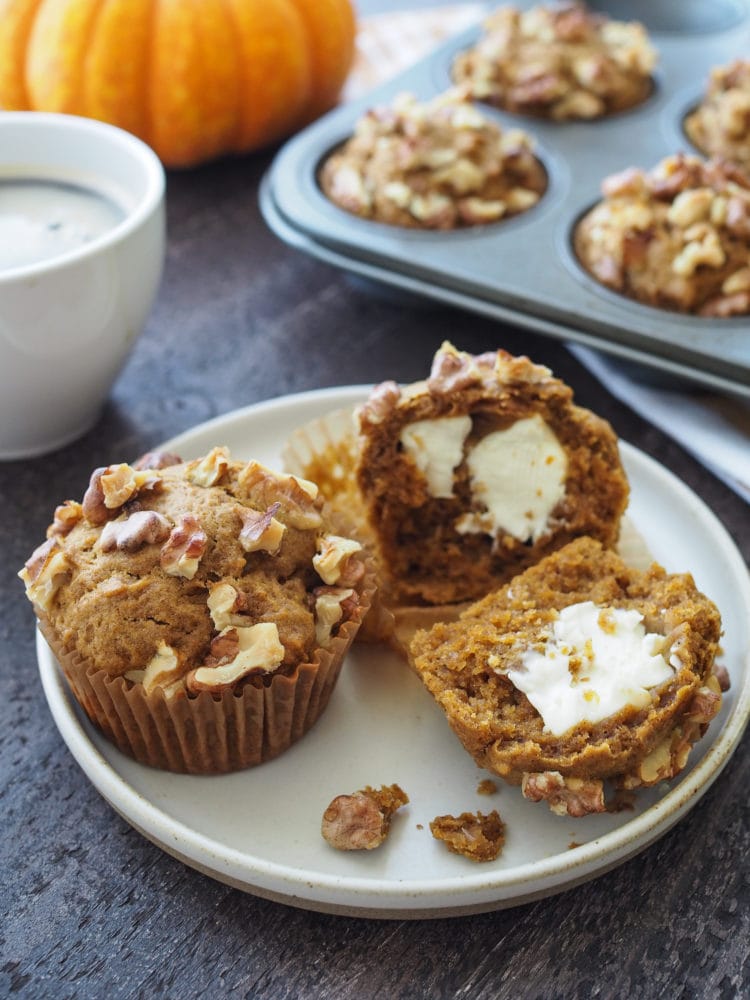 The recipe for pumpkin muffins originally published on my innkeeping blog, Inn The Kitchen, on Oct 29, 2011. Updated for The Travel Bite.