Sweet potato muffins with pecan topping are perfect for autumn mornings on-the-go. They're like having a Thanksgiving side dish in muffin form.
As much as I like to hover over my hot cup of coffee and savor the morning, some days are a little more rushed than others. This recipe is great for days where you crave the soothing feeling of being wrapped up in a warm blanket lingering over a hot beverage, but in reality you have to get out the door quick. Take a couple of these wholesome treats with you for a boost of energy you'll need to face the day.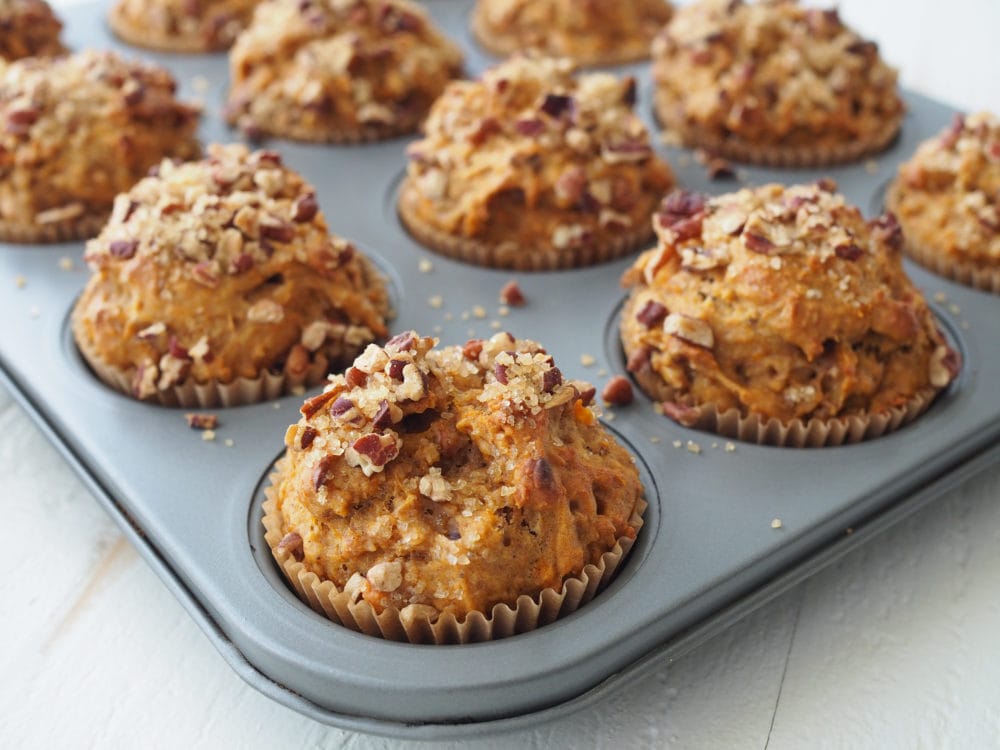 Sweet Potato Muffins Origins
This recipe for Sweet Potato Muffins was sent to me from Mitch at the Beaufort Inn in South Carolina. I just checked their site and they're fairing well after the hurricane! Thank goodness. Anyway, he's had a lot of practice making breakfast over the years, even before life as an Innkeeper. Sundays used to be his only day off and he would make something delicious in the morning for his daughter and a houseful of her friends. Lucky girls!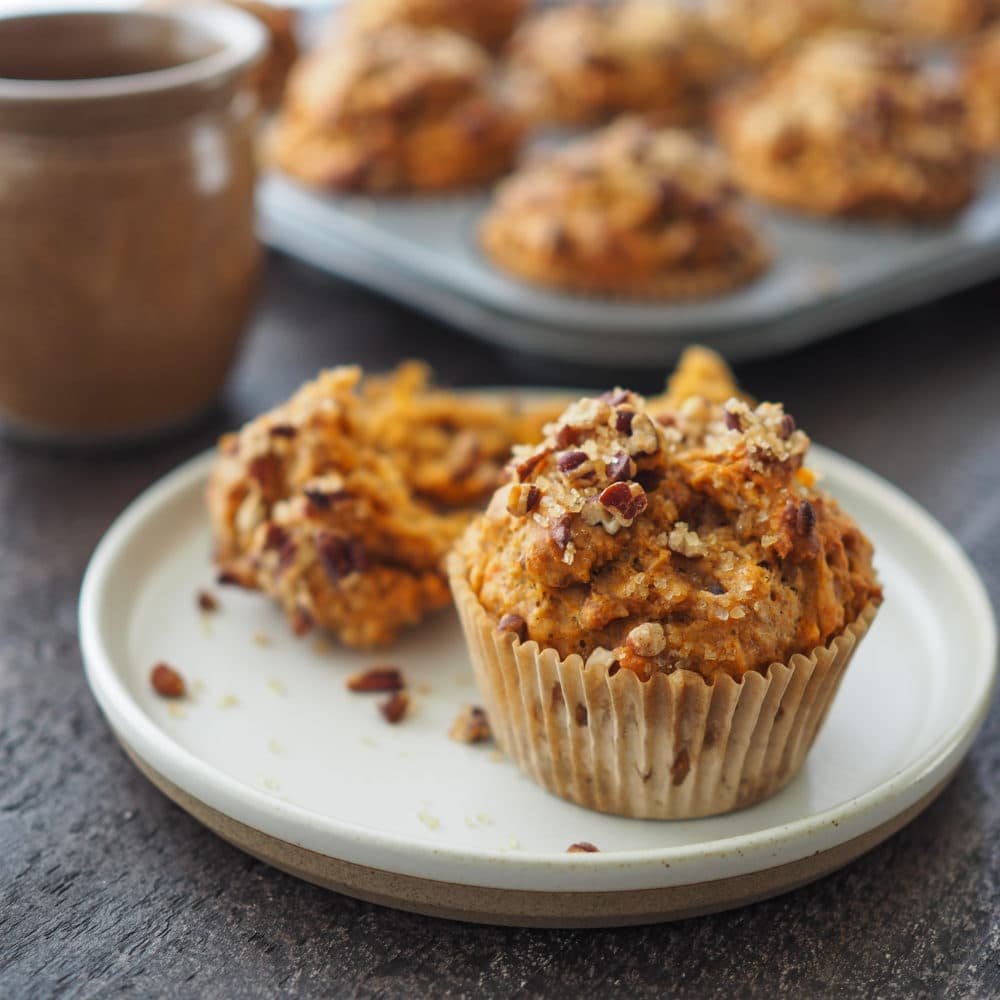 Recipe Tweaks
One of the things I love most about Fall (well, besides the cooler weather, holidays, festivals, and everything decorated in my favorite color – orange) are the spices! Clove. Cinnamon. Nutmeg. Allspice. Ginger. They all seem to bring with them a feeling of comfort and warmth. For the next three months I'll be baking up a storm using every combination of these delightful spices.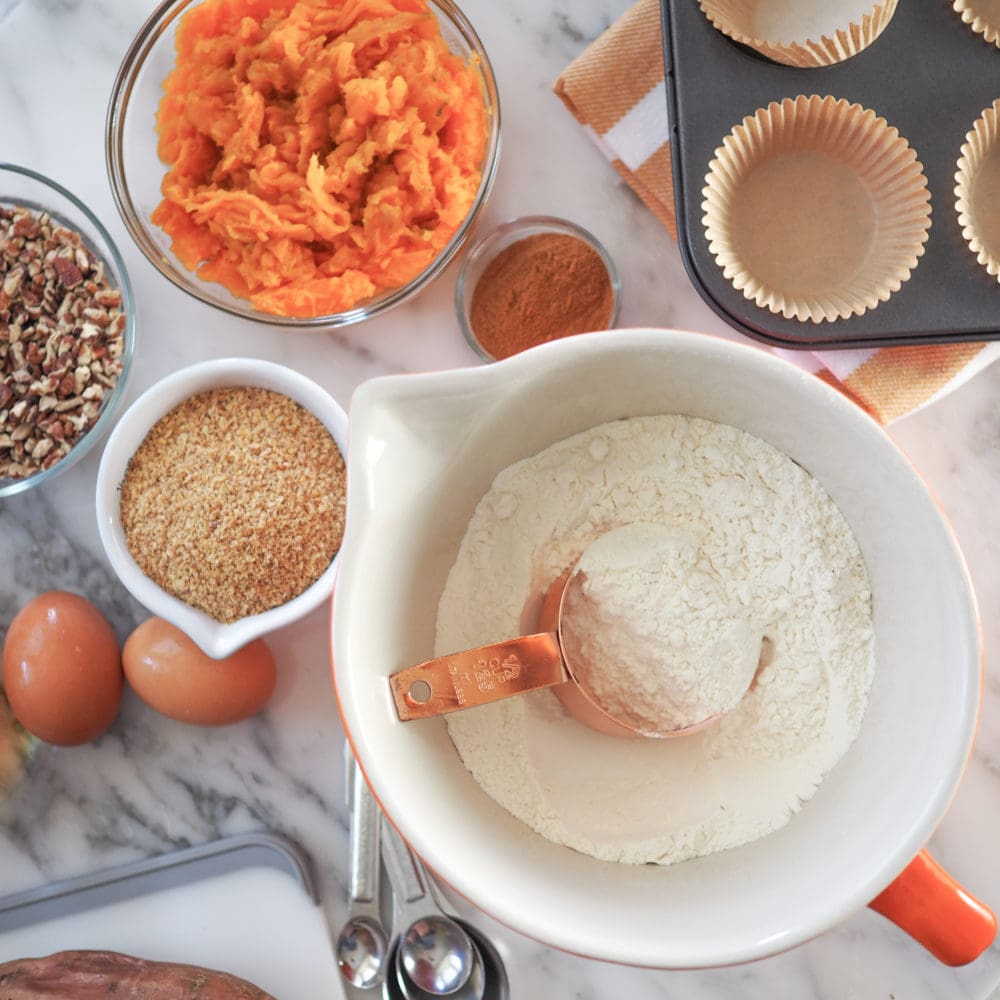 These muffins have two of those spices, cinnamon and clove. Plus, a bit of flax seed which will help you feel full longer and give you some extra energy. I've played around with this recipe over the years (we originally posted this in 2009), and I've tweaked it just a bit, adding pecans and omitting the cranberries. But I've saved those different variations for you in the notes below the recipe. Enjoy!
A snapshot of ingredients …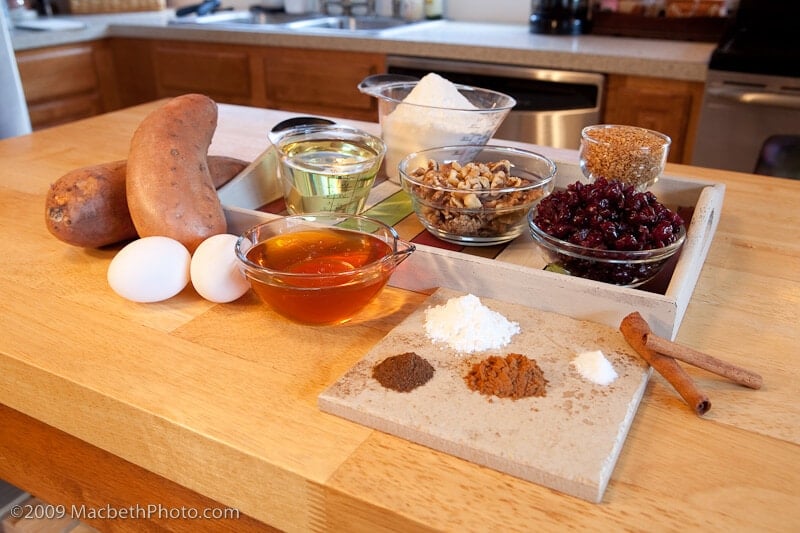 Flax seed is the secret ingredient that makes these little muffins wholesome, hearty, filling and delish. But don't over indulge our you'll experience what I call a flax-itive.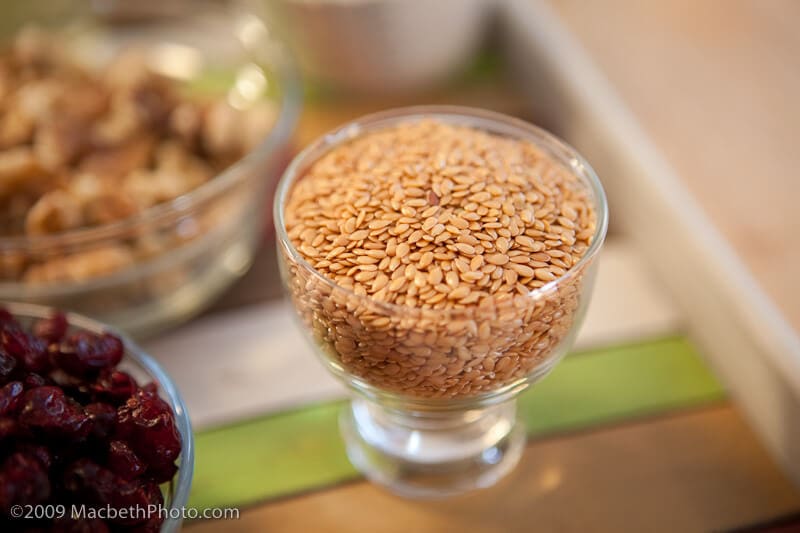 I grind my flax seed in a small coffee mill grinder. It does the trick pretty good.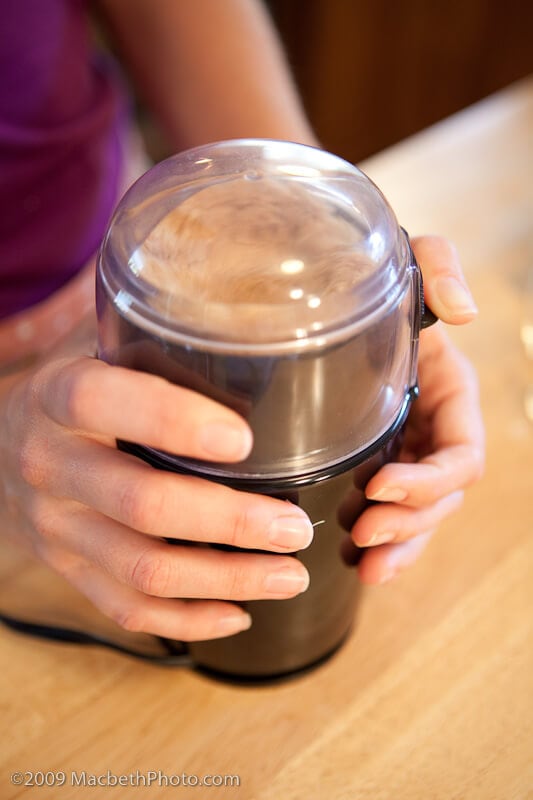 After grinding the flax seed, add them to your flour and spice mixture and mix well. Next, beat the eggs in a separate bowl.
Add your eggs, oil, and honey to the flour/flax/spice bowl.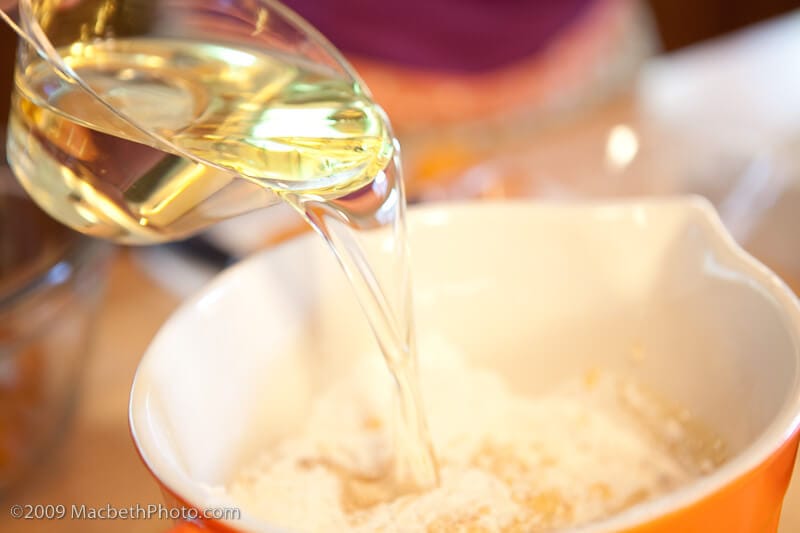 This is going to get real thick, real fast. I don't recommend using a mixer or beater, or else your muffins will fall flat. Instead just a fork will do, and just fold the batter together.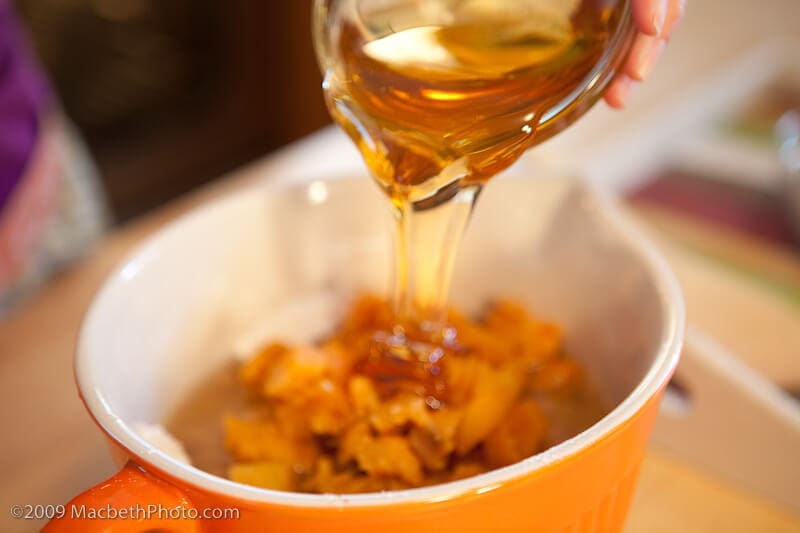 The honey combined with the flax seed makes this a thick and hearty stick-to-your-gut kind of muffin. No fluffy pastry here. This is a get outside and go hiking-climbing-fall-leaf-collecting-pumpkin-picking kind of breakfast. Eat your heart out Kashi.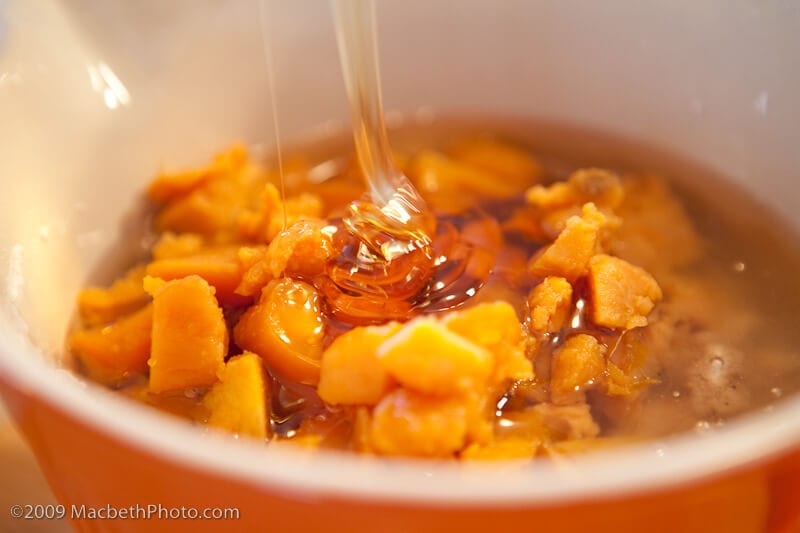 Fold in the nuts, cranberries and sweet potatoes. Do you feel like you're making your own super food bar yet? The recipes I post are usually not the healthy kind. Bookmark this one for when you get into the thick of the holidays full of butter and sugar and crave a less guilt-ridden snack. Just remember … don't over indulge.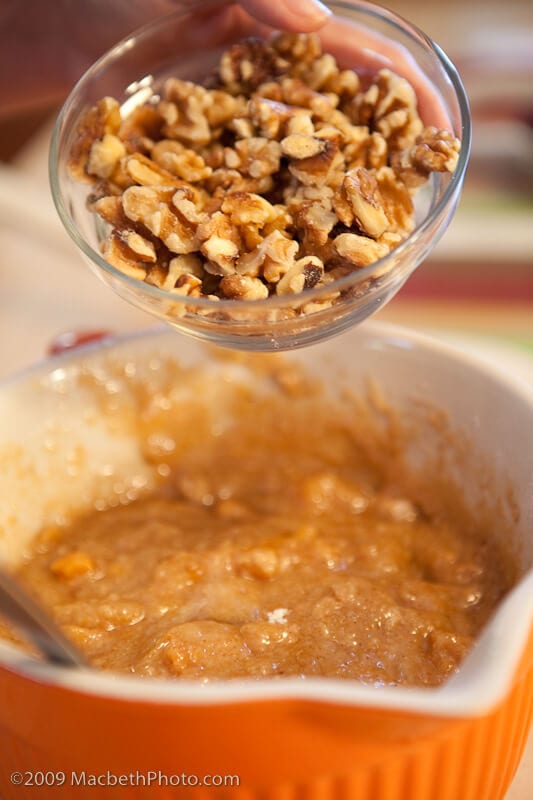 Scoop the gooey wholesome goodness into greased muffin pans. I like to add a little flour too. It makes them pop out really easy and creates a little crust on the edge. You can also use paper or foil muffin cups.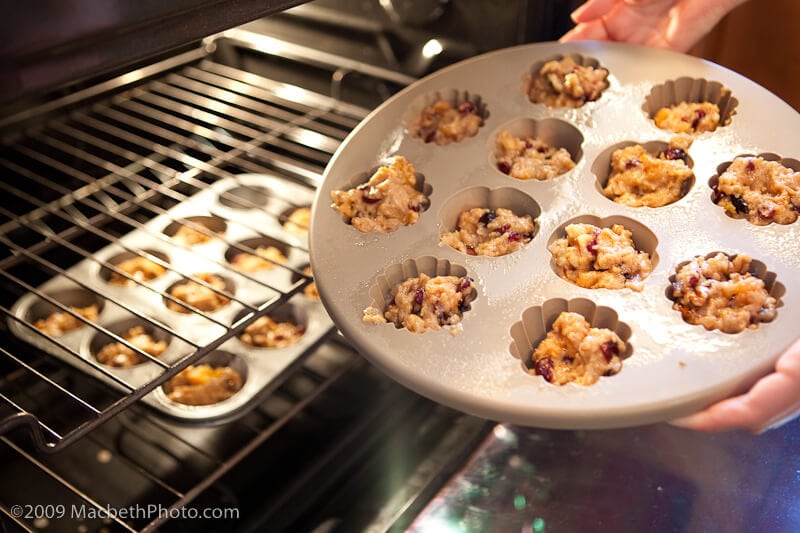 Let the sweet potato muffins cool on a wire rack and enjoy! Pack them with you for a hike, fall festival, or to just get you through the work week. If you like these, you might also want to try pumpkin muffins with cream cheese, or our easy one bowl pumpkin bread.
Sweet Potato Muffins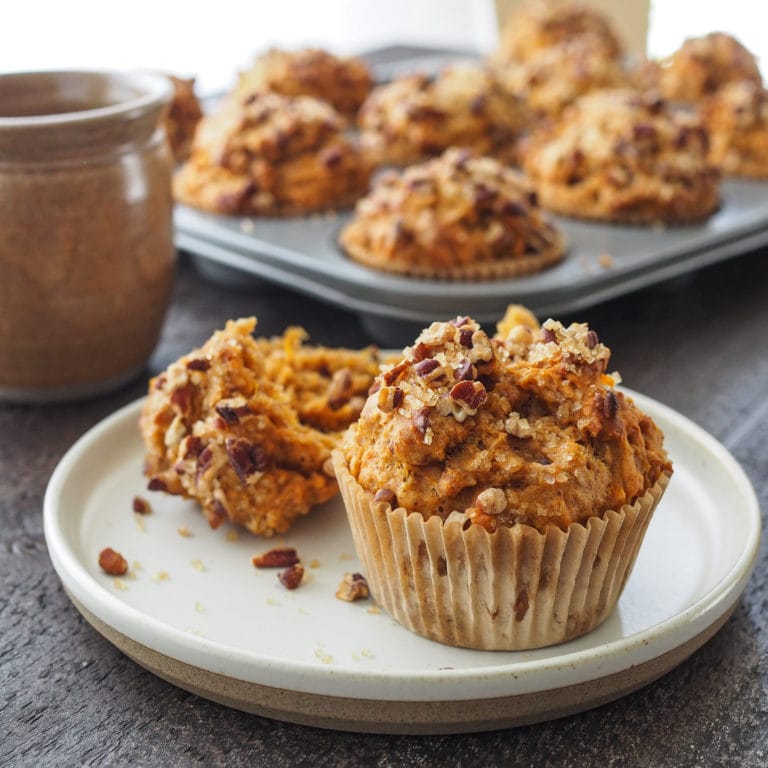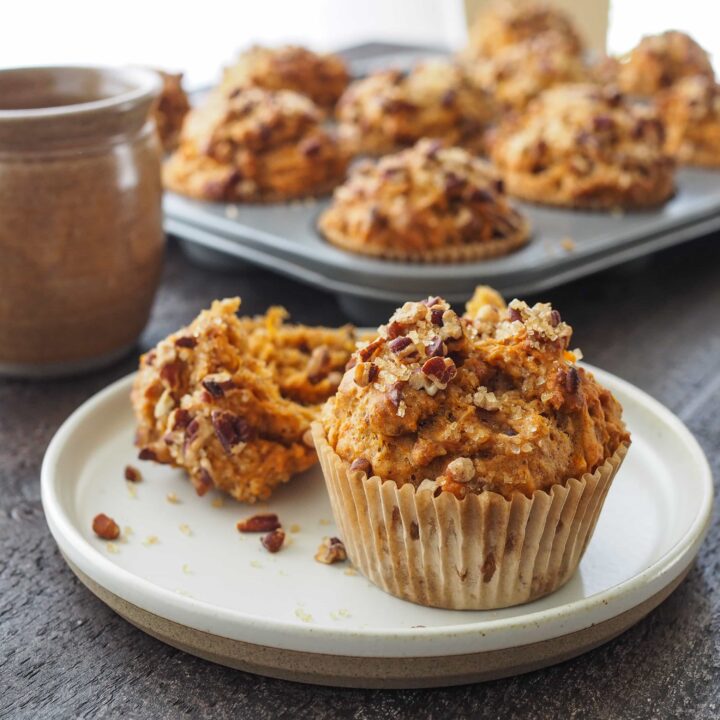 Sweet Potato Muffins
Ingredients
2 Cups white flour
1/2 Cup ground flax seed
1/2 Cup honey
1/4 tsp baking soda
2 tsp baking powder
1 Tbsp ground cinnamon
1/2 tsp ground cloves
1/2 cup oil
2 cups sweet potatoes, baked
2 eggs, beaten
1 1/2 cup chopped pecans (1/2 cup for topping)
2 Tbsp turbinado sugar (for topping)
Instructions
Preheat oven to 375 degrees
Wash 2 sweet potatoes and poke holes in skin with fork. Wrap the sweet potatoes in foil and bake for 45 minutes to an hour until soft.
Using a wire whisk, mix dry ingredients (flour, baking soda, baking powder, ground flax seeed and spices) in large bowl.
Beat eggs in a separate bowl. Blend honey and oil in with the eggs, then pour mixture into the bowl with flour.
Scoop the baked sweet potato out of the skins and measure out two cups. Add the sweet potato and one cup of the pecans to batter (set aside the remaining half cup for topping) Fold the mixture together by hand using a large spoon or fork.
Spoon muffin batter into greased muffin pan (or muffin cups). Sprinkle tops of muffins with remaining pecans and turbinado sugar and bake for 25 to 30 minutes until golden.
Cool on a wire rack for 15 to 20 minutes, then serve!
Notes
I like to use pecans since it reminds me of a sweet potato casserole. But you could also use walnuts, or even add a cup of dried cranberries too.
If you'd like the muffins to be more sweet and dessert-like, replace the honey with 3/4 cup of sugar.
You can substitute apple sauce for the oil.
Nutrition Information:
Yield:

12
Serving Size:

1
Amount Per Serving:
Calories:

372
Total Fat:

22g
Saturated Fat:

2g
Trans Fat:

0g
Unsaturated Fat:

19g
Cholesterol:

31mg
Sodium:

134mg
Carbohydrates:

41g
Fiber:

5g
Sugar:

17g
Protein:

6g
Nutrition information provided is only an estimate.
More Recipes You'll Love!
Want to save this recipe for later? Pin it!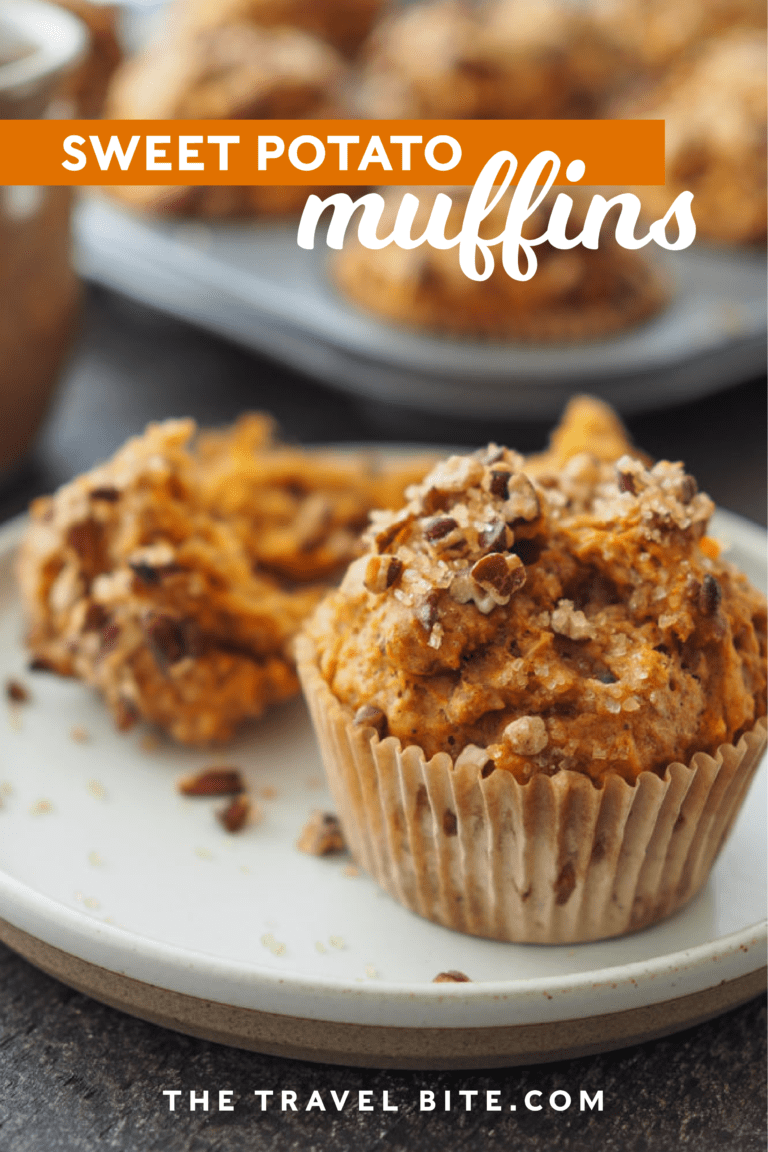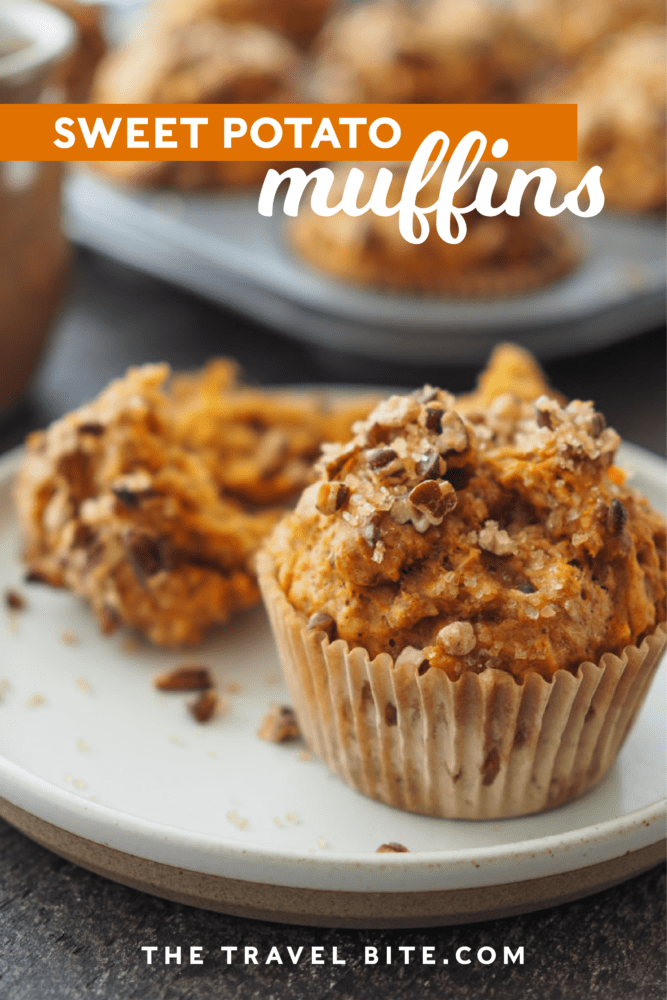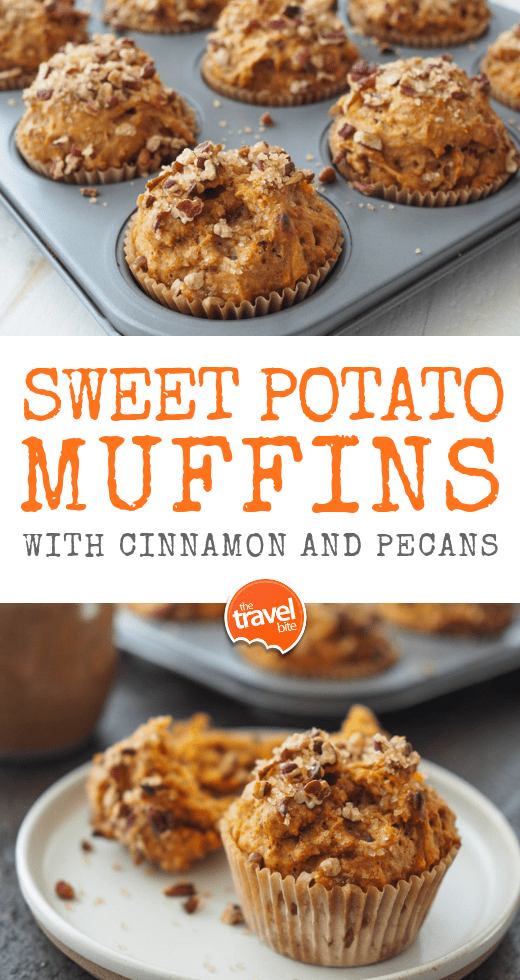 Originally published on Inn The Kitchen, 09/09/09.