Some of the links below are affiliate links.
Blueberry muffins have always been one of my favorite breakfast treats! From the time I was a little girl, to making welcome baskets for guests at my former inn, to leisurely weekend mornings now, blueberry muffins for breakfast are my favorite. I've been a bit obsessed with blueberries after visiting a U-pick farm, making everything from barley pancakes with blueberry sauce to lemon and blueberry farro salad.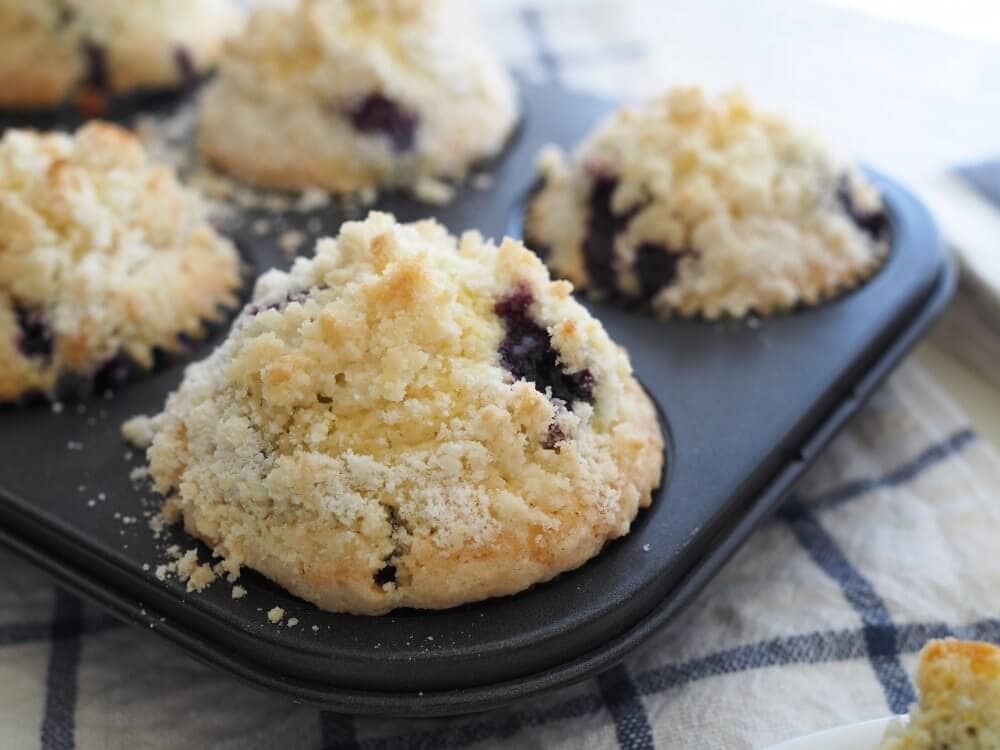 And now, I kinda want to live on a blueberry farm. Pete says we should start with a row of blueberry bushes in our suburban yard first, just to make sure I like it (I'm pretty sure I will), before we purchase some acerage. I'll have to let you know how that gardening project goes. In the meantime, this recipe for lemon blueberry muffins is a tangy twist on a breakfast classic, and the sweet crumble and puffed up dome top make them a delicious bakery-style dessert too.
Read This: Homemade Blueberry Granola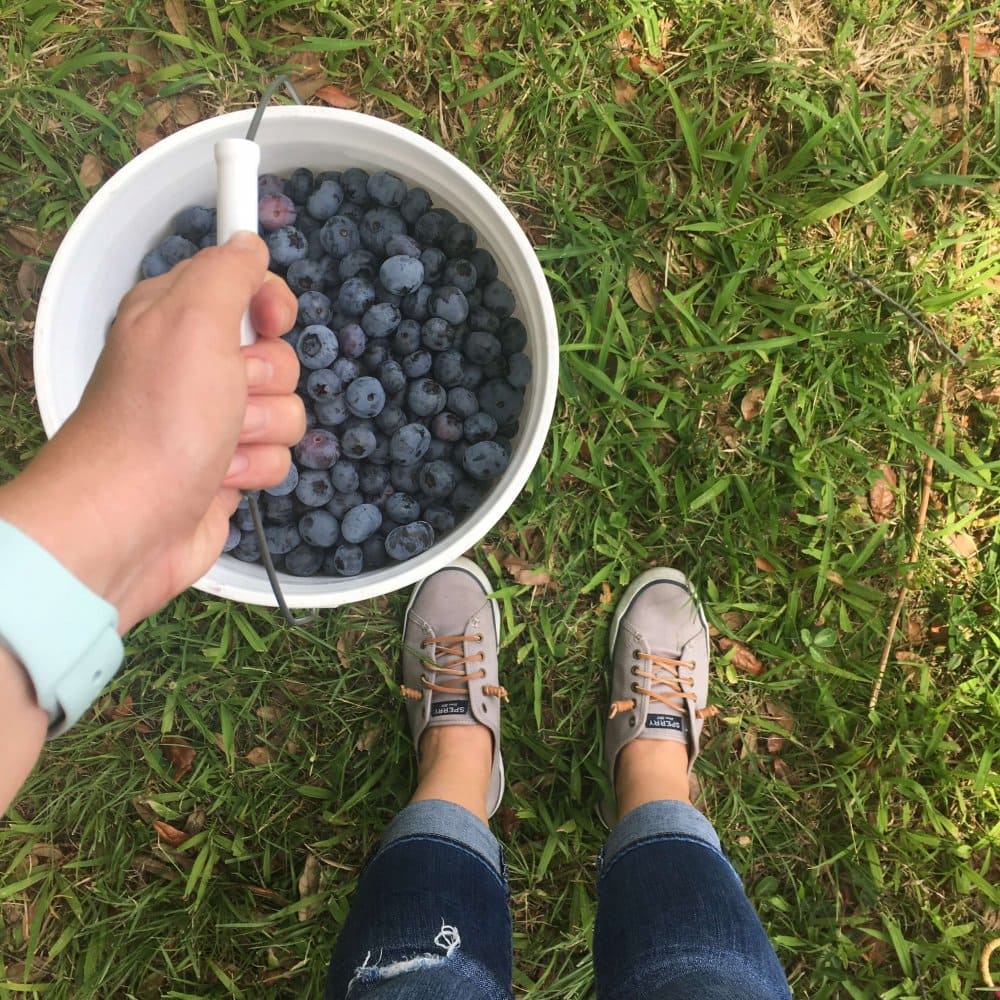 Tips For Picking The Best Blueberries For Baking
I'm all out of my own hand-picked berries, but I've been enjoying the bounty of blueberries coming down from the northeast this summer. Here's a little tip about selecting blueberries for muffins — A pint is roughly a cup and a half of berries. You'll only need a cup of berries for the recipe below, so while you rinse them, go through and select the smallest ones. The smallest berries hold up to baking much better than the big quarter-sized ones. They're typically more tart, so when you bake them they sweeten up and have a more intense flavor.
Read This: Balsamic Blueberry and Brie Burgers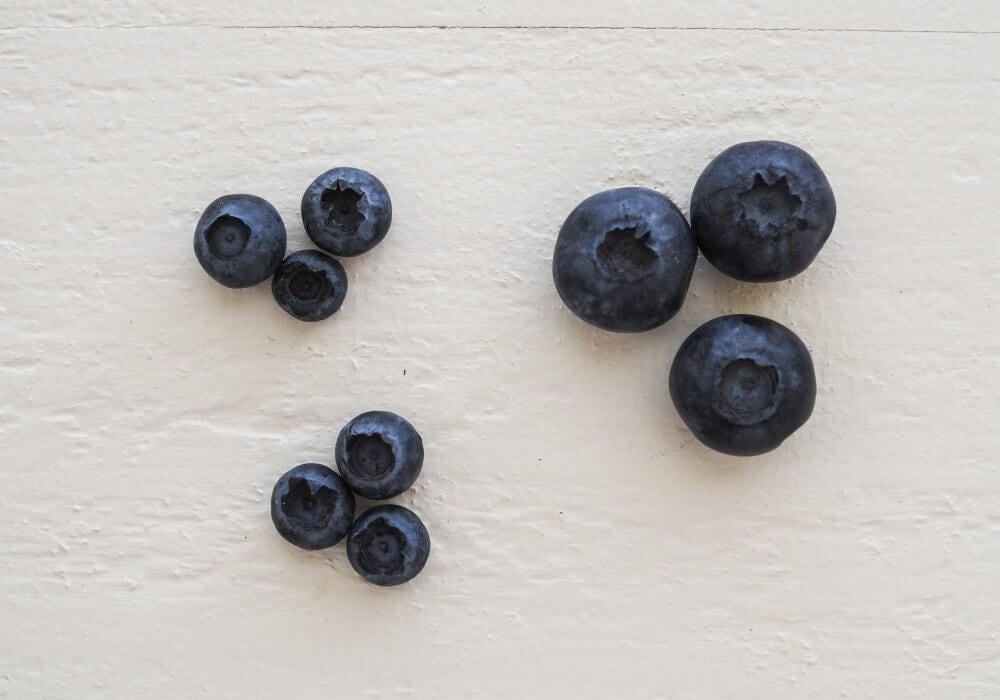 Blueberry Muffins – Tips & Time Saving Tricks
Pick the smallest berries for the best flavor when baking.
Use the same liquid measuring cup (like these made by Pyrex) for the oil, milk, and even beating the eggs.
A pastry cutter (dough blender) is a time-saver when it comes to making crumble topping.
Foil baking cups are easiest to peel off baked muffins, plus they hold their color and design if you're baking these for an occasion.
Hand mix only! Using an electric mixer will result in flat muffin tops.
Read This: Barley Pancakes With Homemade Blueberry Sauce
Lemon Blueberry Muffin Recipe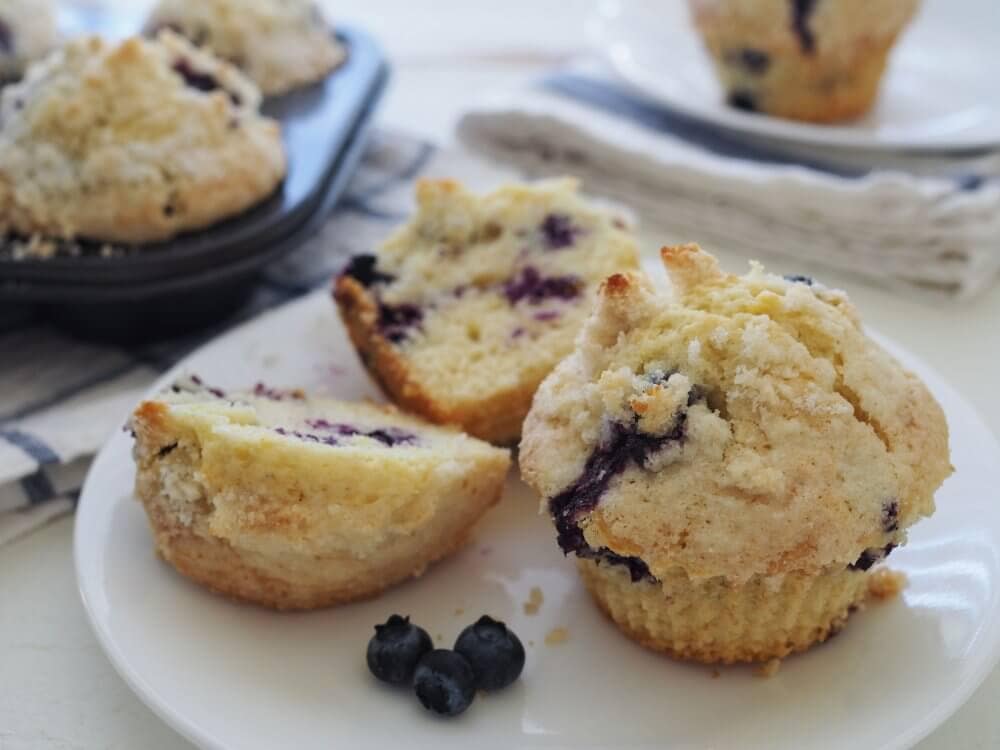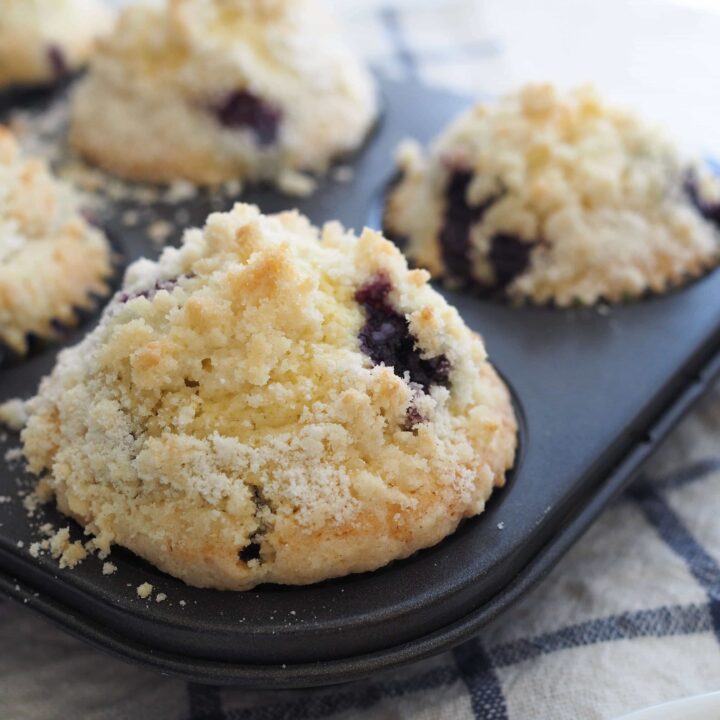 Lemon Blueberry Muffins
Ingredients
2 cups all-purpose flour
3/4 cup white sugar
1/2 teaspoon salt
2 teaspoons baking powder
1/4 cup vegetable oil
2 eggs, beaten
2 lemons, zest (roughly 2 Tbsp)
2 Tbsp lemon juice
1/4 cup milk
1 cup fresh blueberries
1/2 cup white sugar (for crumble)
1/3 cup all-purpose flour (for crumble)
1/2 stick butter, cubed
Instructions
Start by making your crumb topping, mixing together the 1/2 cup sugar, 1/3 cup flour, and 1/2 stick of butter with a fork or pastry cutter. Once the butter is blended in with the flour and sugar, place in the refrigerator until ready to use.
Pre-heat oven to 400 degrees. Line muffin tin with foil muffin liners.
Whisk together 2 cups of flour, 3/4 cup sugar, salt, and baking powder in a medium bowl.
Zest two lemons over flour mixture. Cut lemons in half, and then squeeze juice into a separate bowl or cup. Measure out 2 Tbsp of lemon juice and add to flour mixture.
Add milk, oil, and beaten eggs to flour mixture and blend ingredients using a fork or spoon (do not use a hand mixer or Kitchenaid stand, this will make your muffins tough and keep them from rising)
After wet ingredients are blended in, gently fold in the blueberries and then spoon batter into muffin cups.
Spoon refrigerated crumb topping onto each of the muffins and bake at 400F for 20-25 minutes.
Want to save it? Pin it! 🙂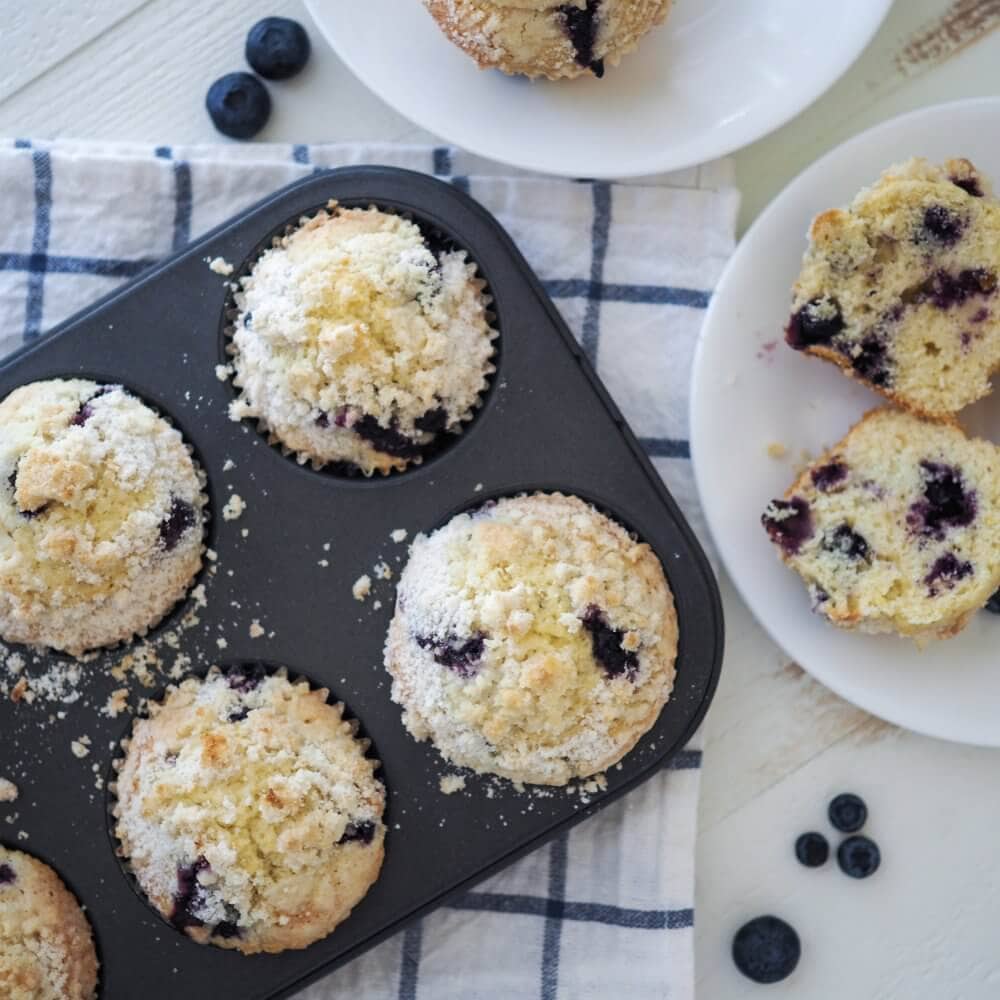 More Recipes We Think You'll Love