When Pete and I returned home from our road trip around Nova Scotia, the first recipe I couldn't wait to share is one for Nova Scotia Oatcakes. They're popular throughout all the maritime provinces in Canada and are a nod back to the region's Scottish roots.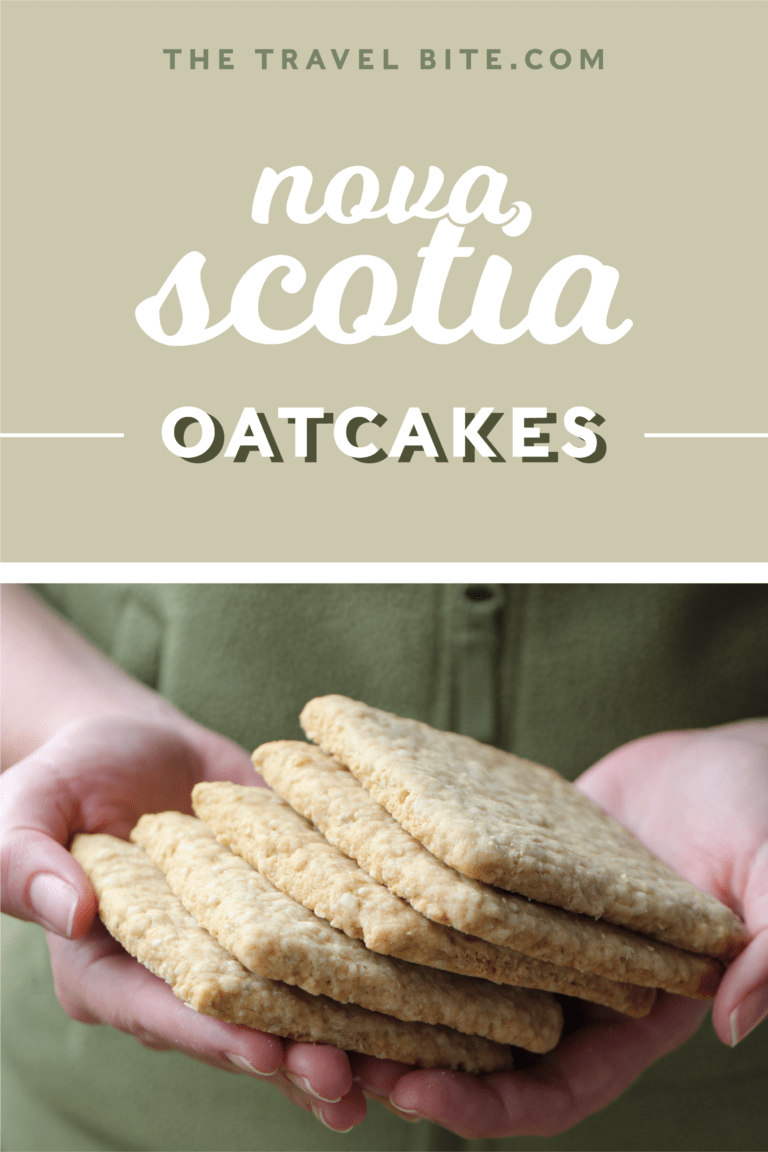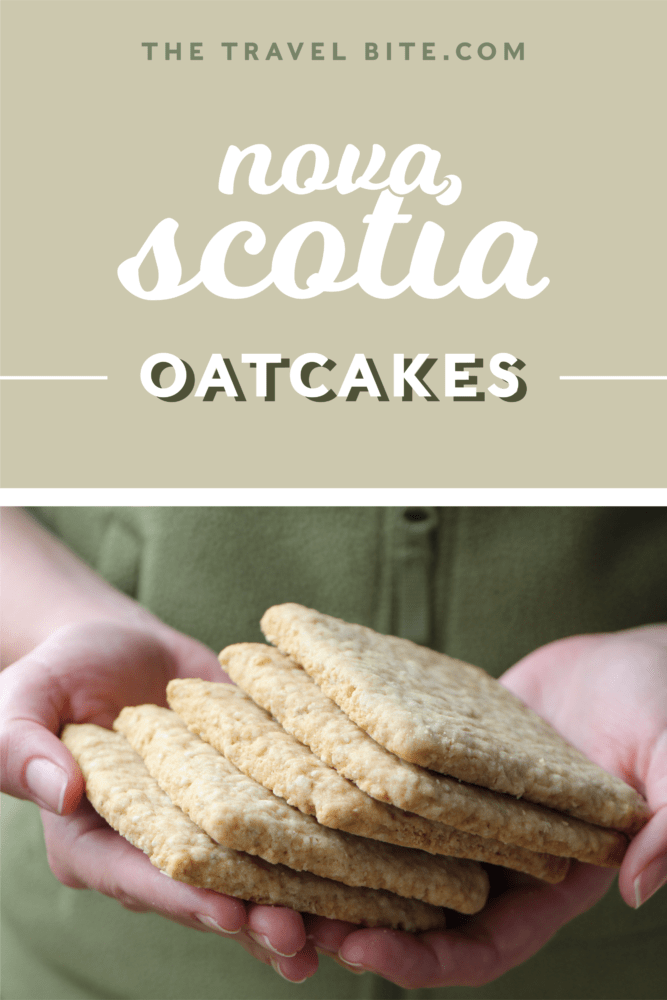 What Are Oatcakes?
Oatcakes are crisp like a shortbread cookie or cracker, lightly sweetened, just a smidge salty, and make quite a hearty snack. It's common to have them in the afternoon with tea or coffee, but I also think they're perfect road trip food and great for taking with you in a daypack for some quick energy during an afternoon hike.
They're sort of a healthy homemade version of an energy bar. Yes, I know there's butter and sugar in them. But I think the oatmeal balances that out. At least that's what I tell myself.
Nova Scotia Oatcakes Recipe
This recipe is adapted from an old fashioned recipe book from Sherbrooke Village, a nineteenth century mining and lumber community in Nova Scotia that has been restored and is now a museum. For history buffs, it's quite fascinating to walk along the streets and into the original buildings to get a real feel of what life was like in the late 1800s. Want to check out our road trip? Read A Foodie's Roadtrip Guide To Nova Scotia.
Tips For Baking Oatcakes
Over the years, I've received quite a few comments and questions on this oatcakes recipes, so I thought I'd update the post and share a few tips along with some step-by-step photos.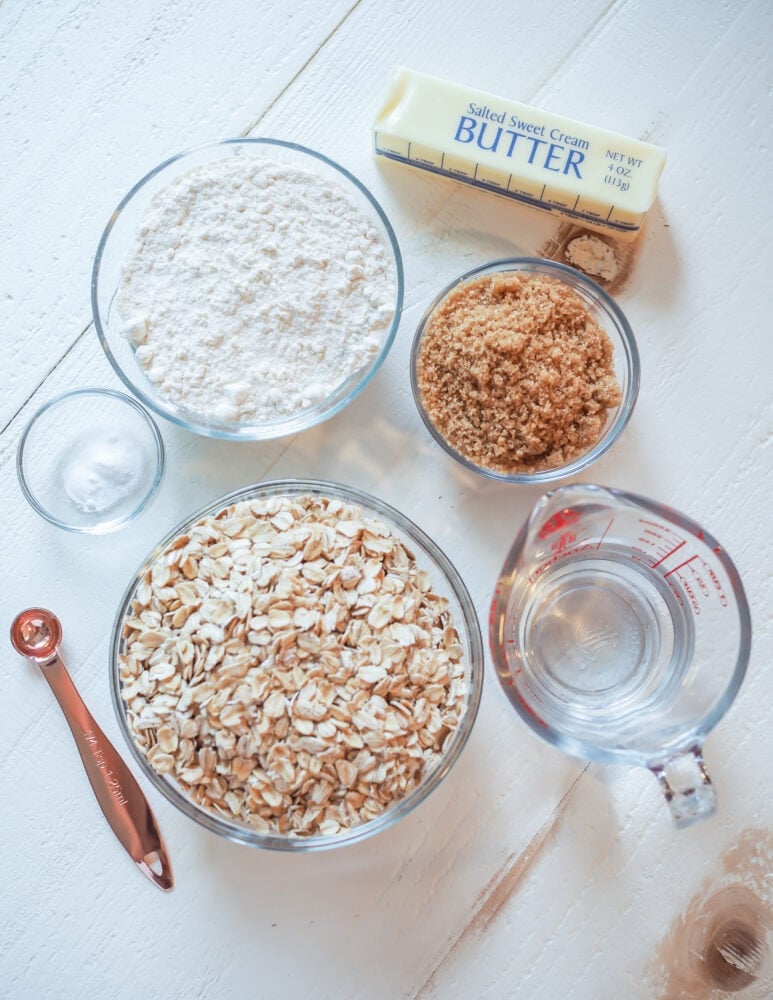 First, about the butter. It's best to have it at room temperature. But if you forget to take it out of the refrigerator, it's okay to warm it up a bit in the microwave. Just heat it for 10-20 seconds. You want the butter to be soft, but not liquified, so you can easily mold the oatcake dough. Mix all the ingredients together just using a medium sized bowl and large spoon or fork. There's no need to pull out your stand mixer.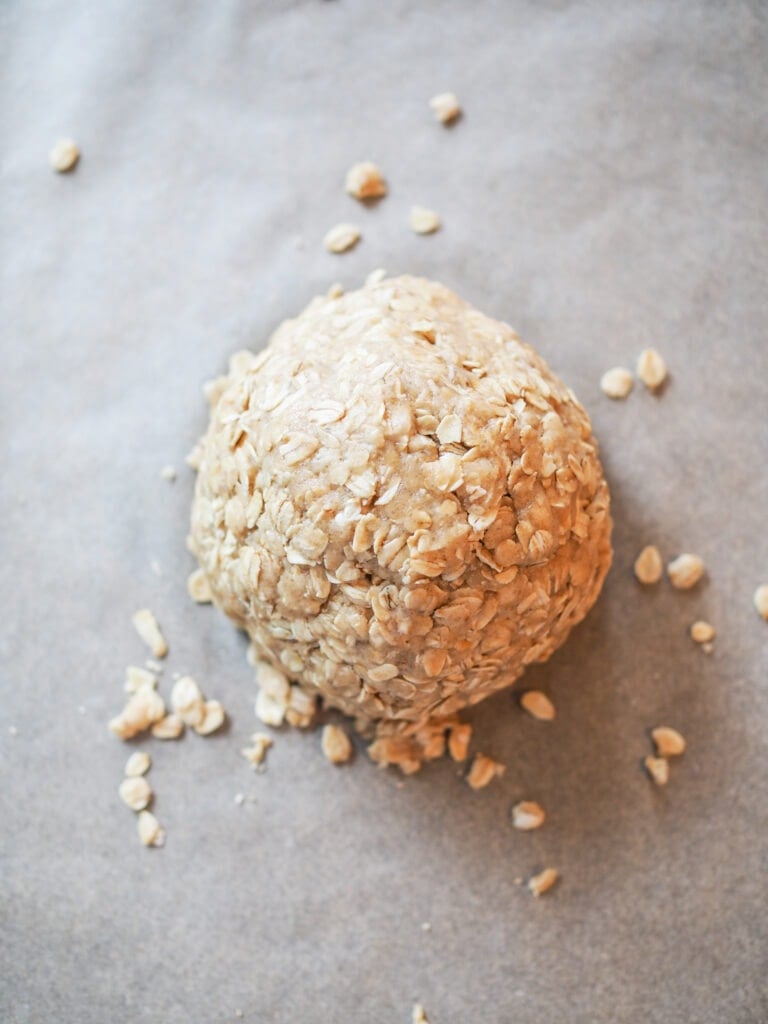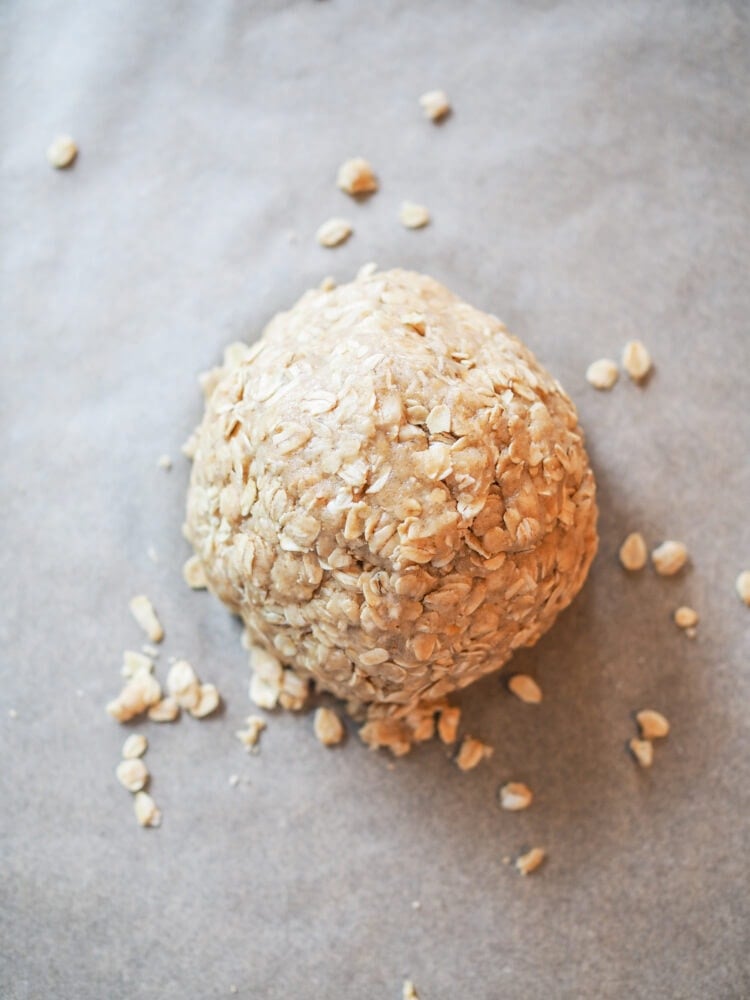 I like to start by forming the oatcake dough into a round ball to get all the ingredients blended together. Then, I smoosh it down into a disk shape. And then roll it out into a rectangular form. If you don't have a rolling pin, it's not a problem. You can also use a tumbler or glass.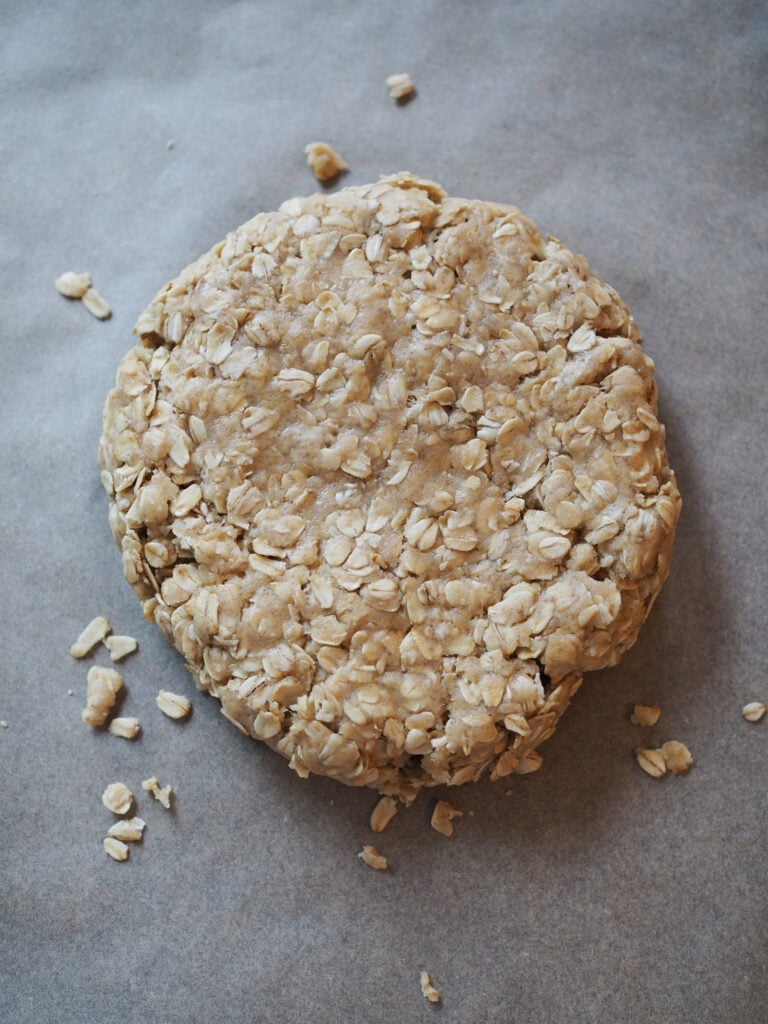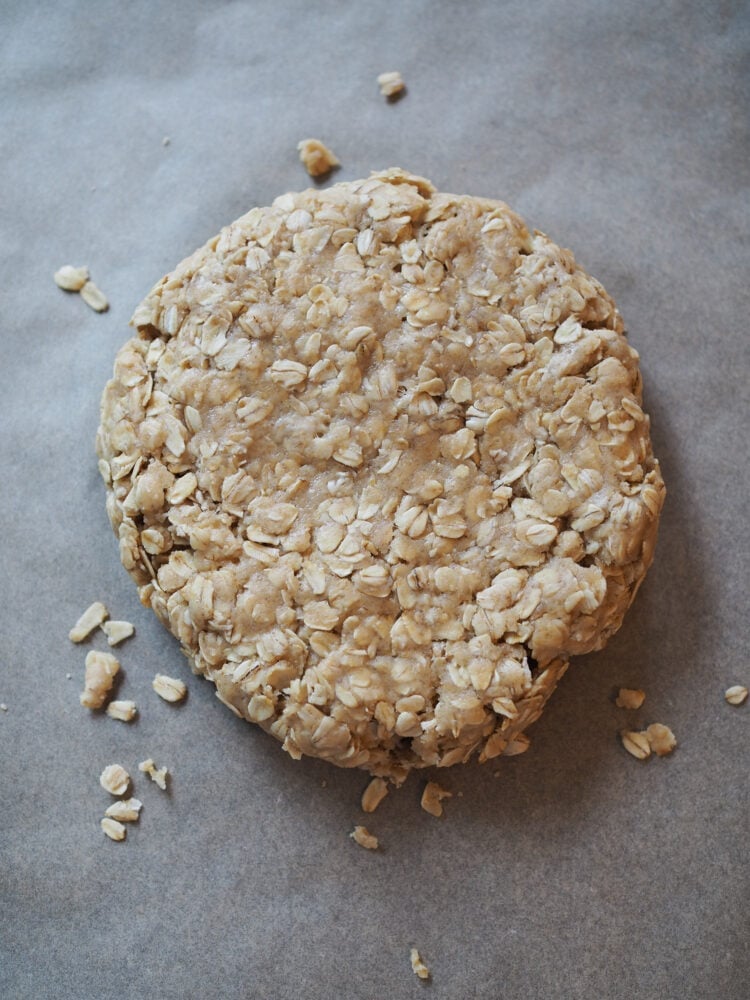 Nova Scotia Oatcakes are traditionally in rectangle form. But you don't have to worry about getting them perfect. I typically roll it out until it is about 1/4″ thick. Then I shape the outside edges with a butter knife. The whole "oatcake" should fit easily on a standard sheet pan.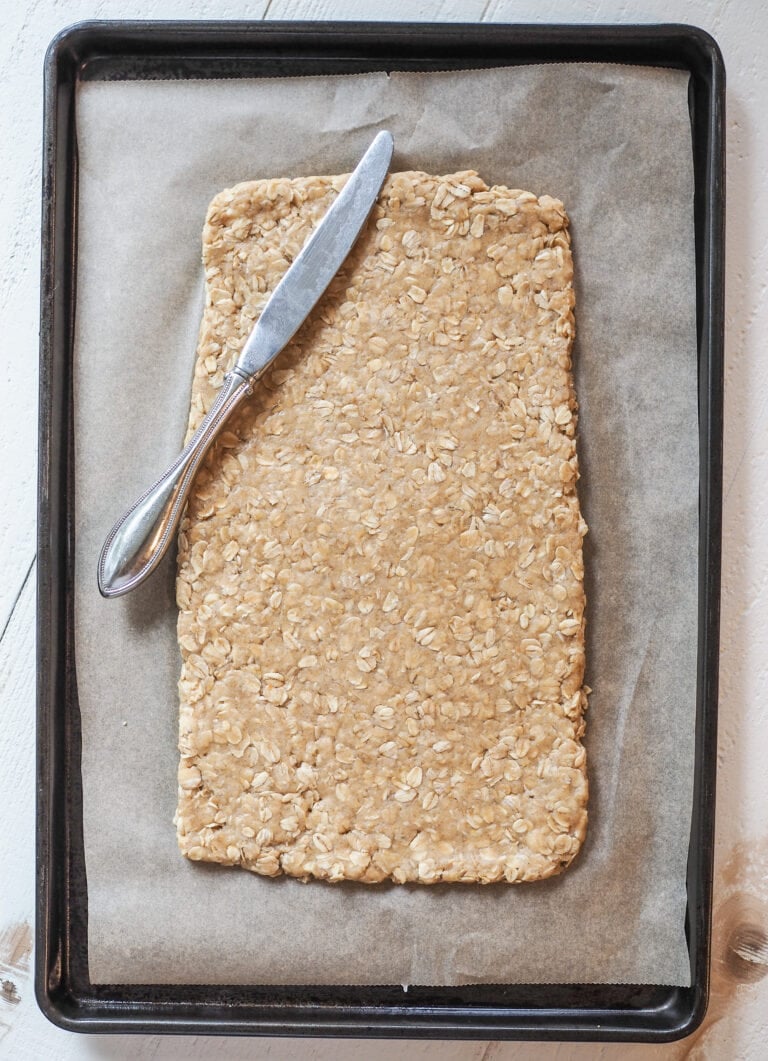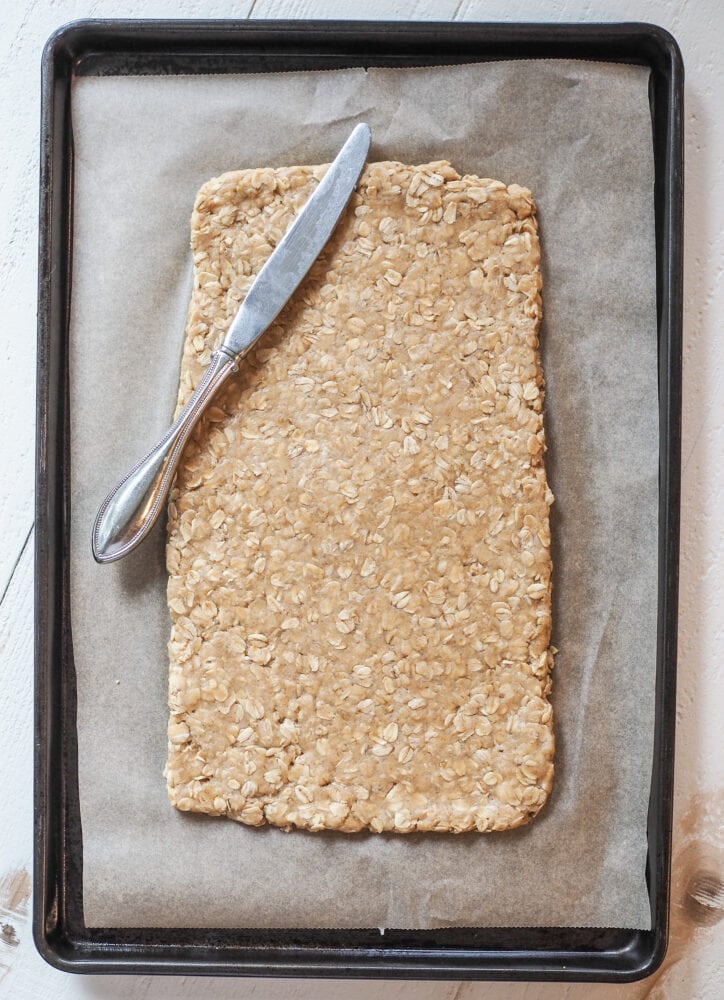 Once the dough is chilled in the refrigerator for 10-15 minutes, I score the oatcakes with a butterknife, but I don't completely cut them. Typically, this oatcakes recipe will make 8-10 depending on how you cut them.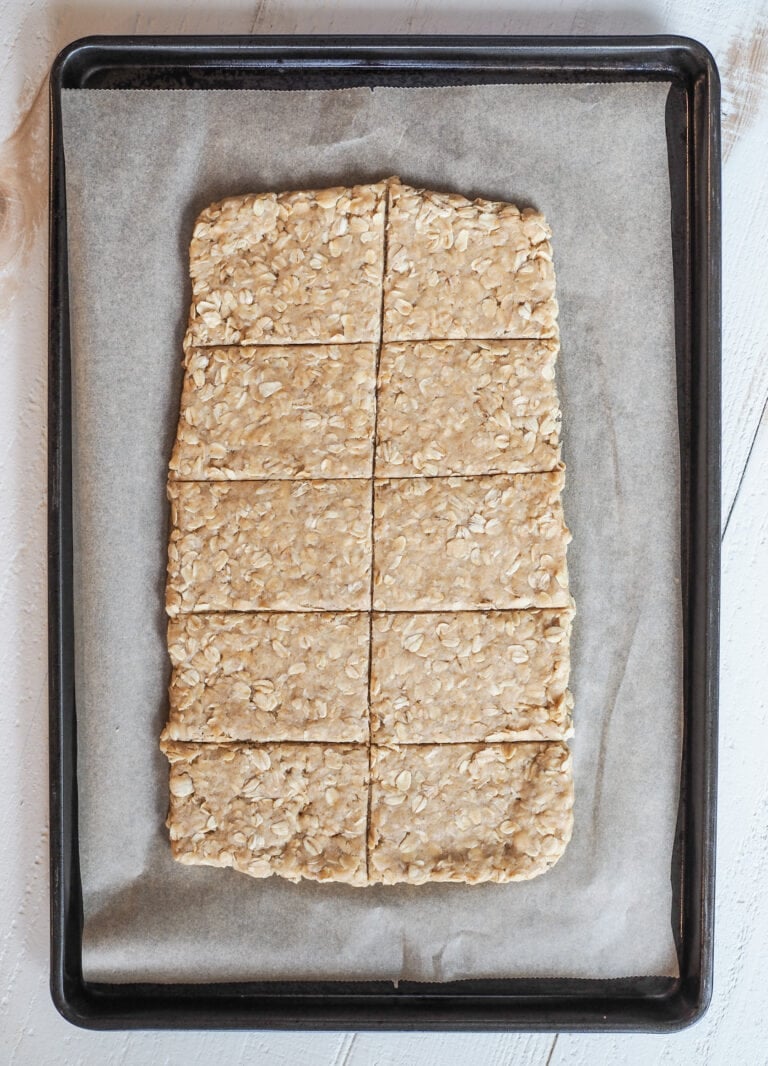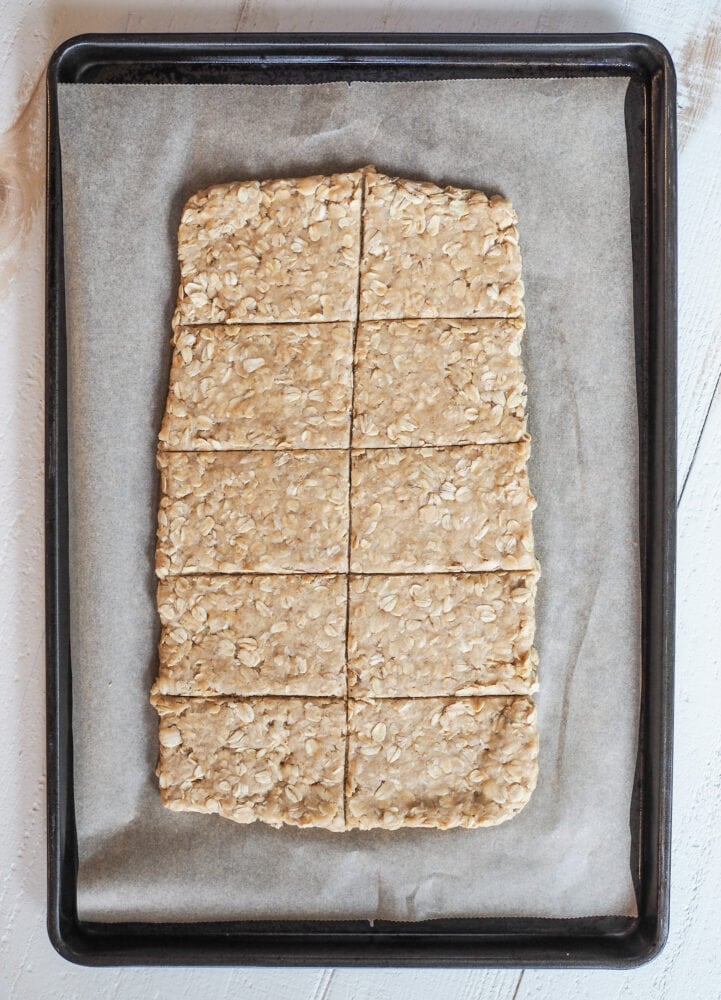 Once the oatcakes are done baking, they easily break apart along the score lines. Check them toward the end of baking to make sure they're golden. If you like a real crisp oatcake, bake them for an additional one to two minutes after separating them and wait until they're completely cooled before enjoying with your coffee or tea.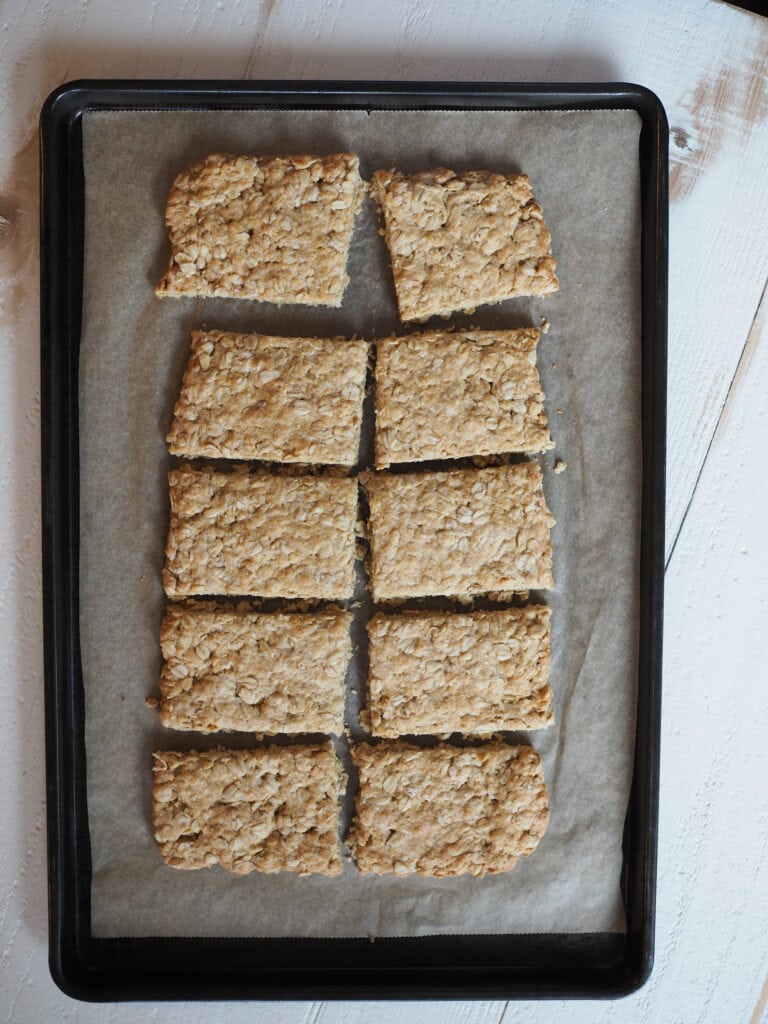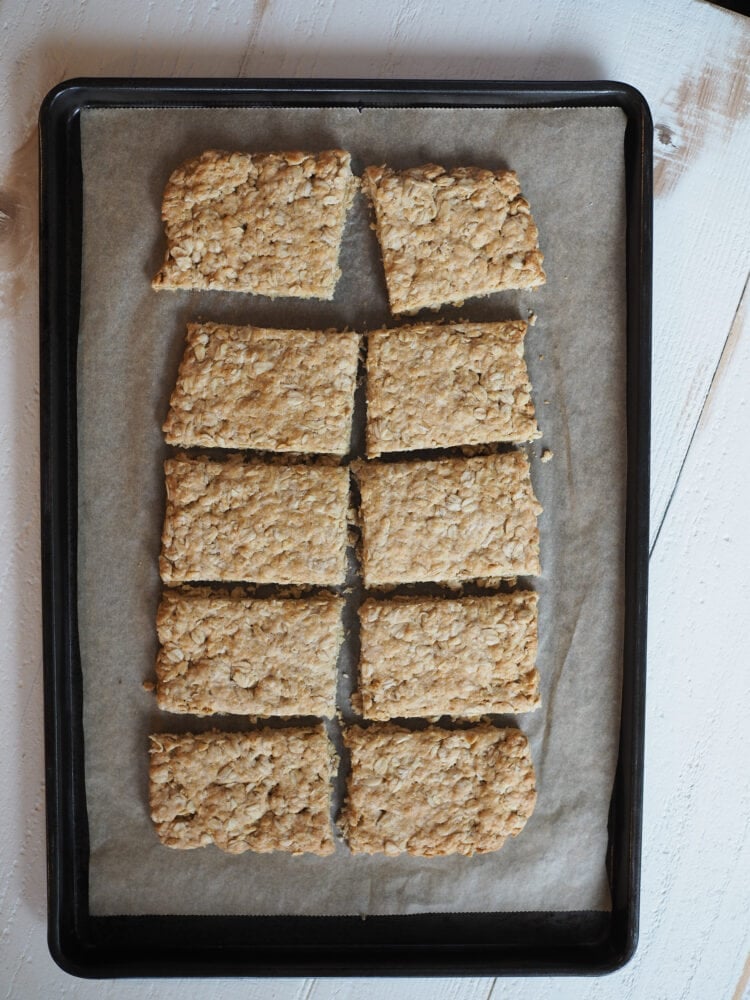 Oatcake Recipe Variations
Once you get the hang of this recipe, experiment with a few of the following flavor combinations and variations.
CINNAMON: For cinnamon oatcakes, mix in 1 tsp of cinnamon to the flour. You can also sprinkle them with 1 tsp of cinnamon sugar.
PUMPKIN SPICE: For pumpkin spice oatcakes, mix in 1 1/2 tsp of pumpkin spice mix to the flour.
PECAN: Pecans are a great compliment to the nutty, toasty flavor of oatcakes. Add 1/4 cup crushed pecans to recipe below.
PEANUT BUTTER: For peanut butter, I've found it easiest to incorporate a peanut butter powder to the flour. Add 1 Tbsp.
ALMOND BUTTER: Just like peanut butter, it's best to use powdered almond butter. Add 1 Tbsp.
CHOCOLATE DIPPED: Once the oatcakes are baked, dip half of each oatcake in chocolate for chocolate covered oatcakes! I like to use Baker's Dipping Chocolate.
CHOCOLATE CHIP: Add 1/4 cup of mini chocolate chips to make chocolate chip oatcakes.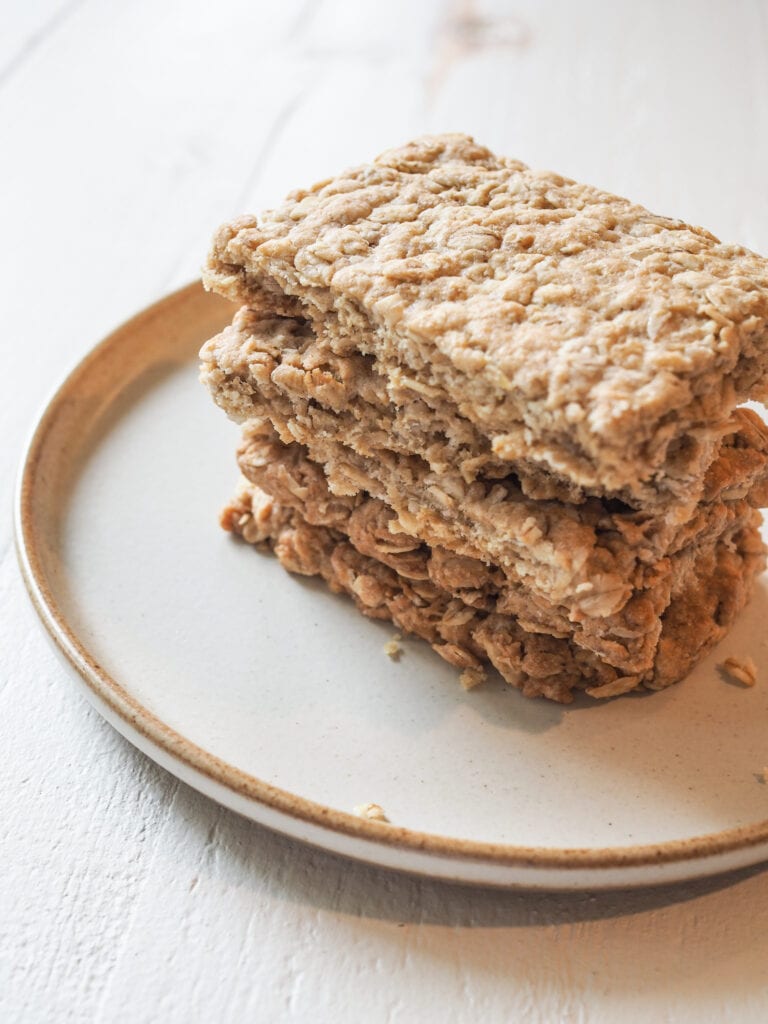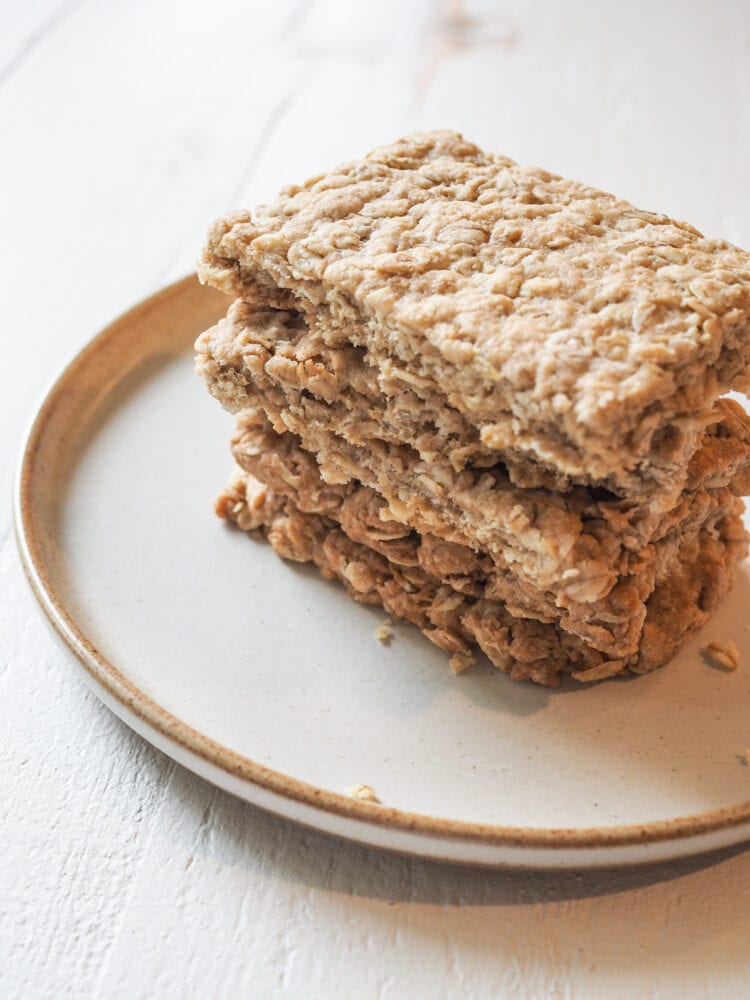 Store Your Oatcakes
I have to confess, oatcakes don't last too long in our house. LOL! Once I bake them, they're gone in a jiffy. I usually keep my oatcakes in a dessert dome on the counter for easy access. But I love some of these vintage cookie jars for storing them too.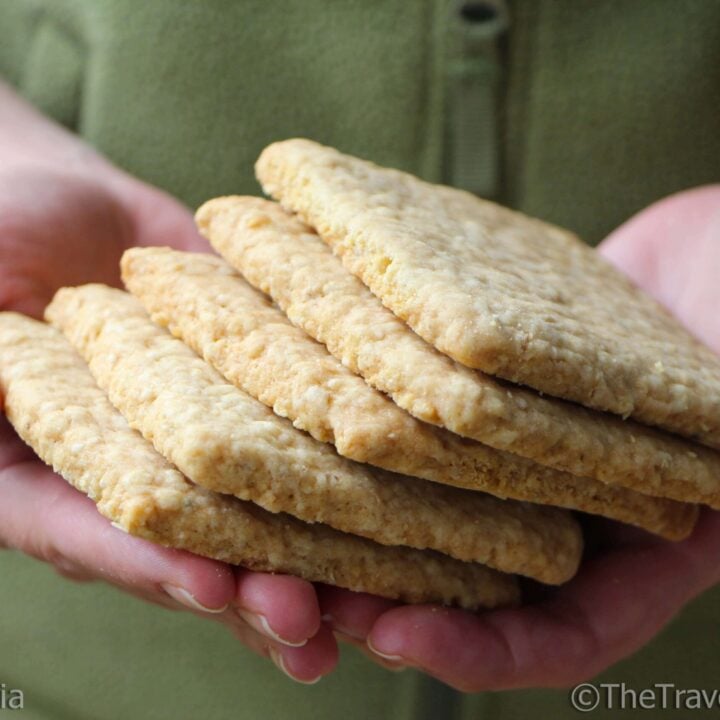 Nova Scotia Oatcakes
Inactive Time:
10 minutes
Ingredients
2 Cups Oatmeal
1 Cup Flour
1/2 tsp Salt
1/2 Cup Vegetable Oil or Butter
1/4 tsp Baking Soda
1/2 Cup Brown Sugar
1/4 Cup Hot Water
Instructions
Preheat oven to 400 degrees and line baking sheet with parchment paper.
Dissolve baking soda in hot water (add a little more water if needed).
Combine dry ingredients with butter, then add dissolved baking soda.
Mold into a dough ball, then press it out onto a baking sheet. You can roll it out with a dough pin to make it thin as you want it to be (I recommend about 1/4 inch thick.)
Cover and chill for 10-15 minutes to firm up the dough, then remove the oatcakes and score down the middle and across to make 8-10 squares (you'll use these lines for clean cuts after it's done baking).
Bake for 12-15 minutes until they are golden brown. They should be crisp and crunchy, not chewy.
Separate the cakes along the score lines with a thin knife and then allow them to cool.
Enjoy with your favorite coffee or tea or add them to your day pack for some quick energy during a hike or a long road trip.
Nutrition Information:
Yield:

8
Serving Size:

1
Amount Per Serving:
Calories:

275
Total Fat:

16g
Saturated Fat:

2g
Trans Fat:

0g
Unsaturated Fat:

13g
Cholesterol:

4mg
Sodium:

202mg
Carbohydrates:

30g
Fiber:

1g
Sugar:

11g
Protein:

3g
Nutrition information provided is an only estimate.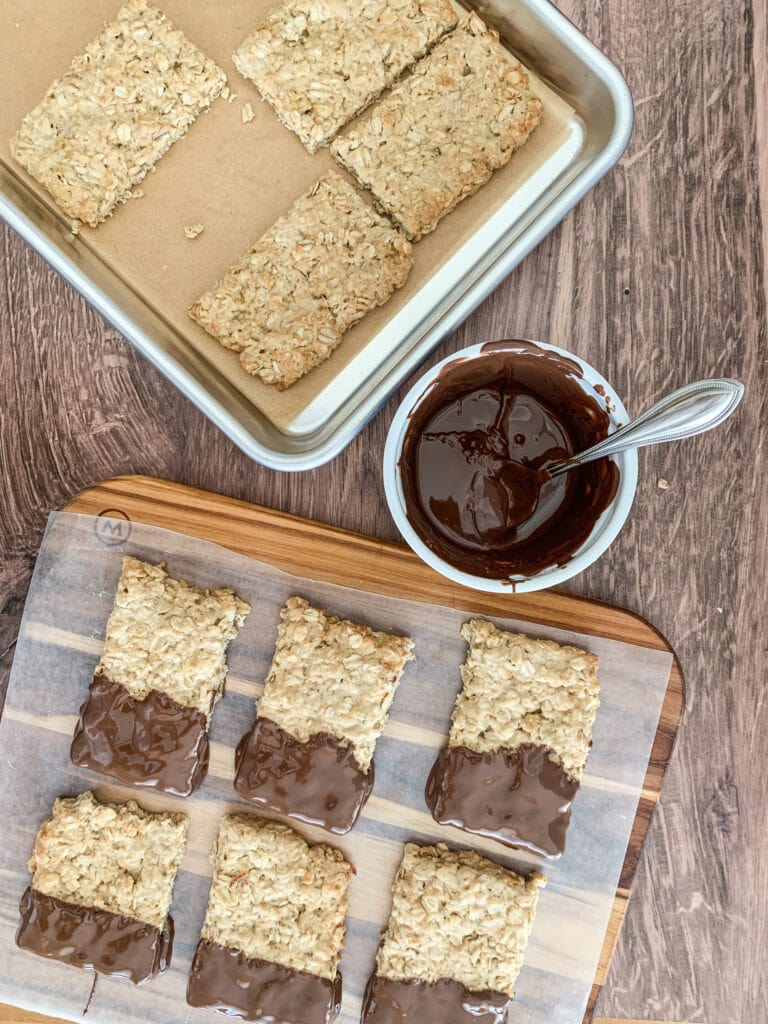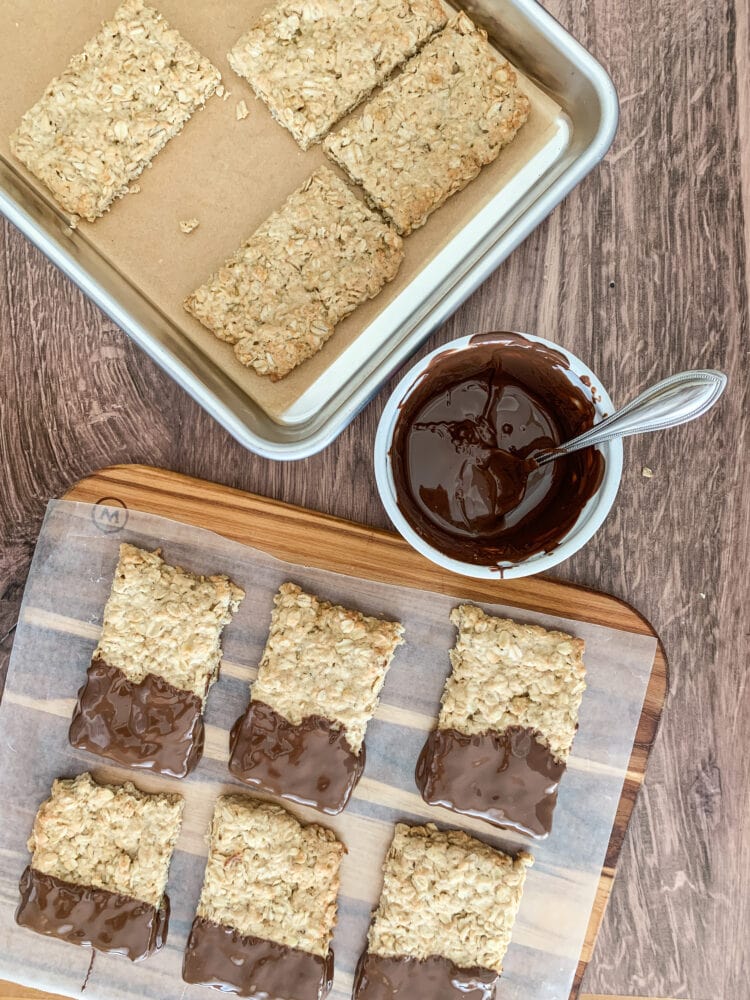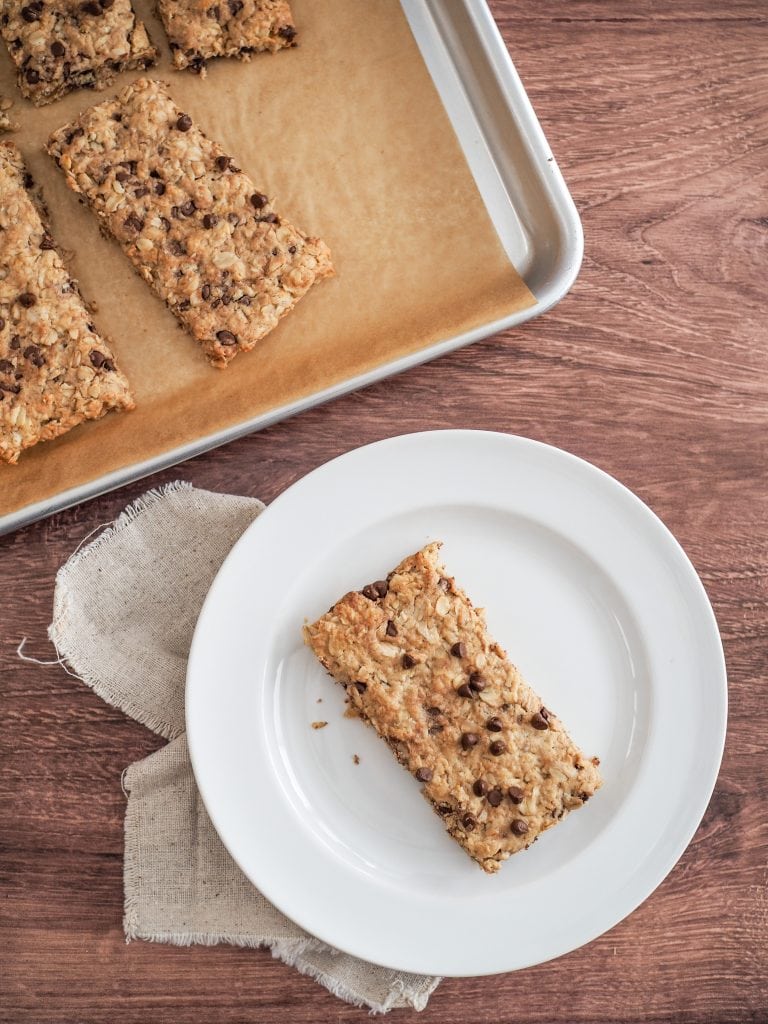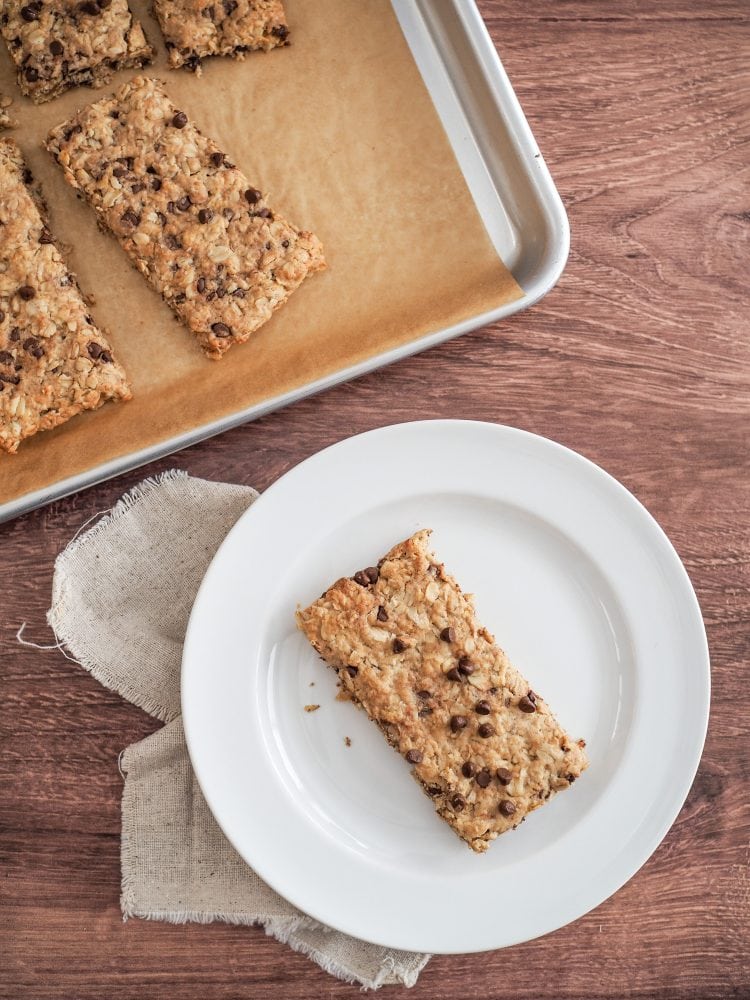 More Oatmeal Recipes You'll Enjoy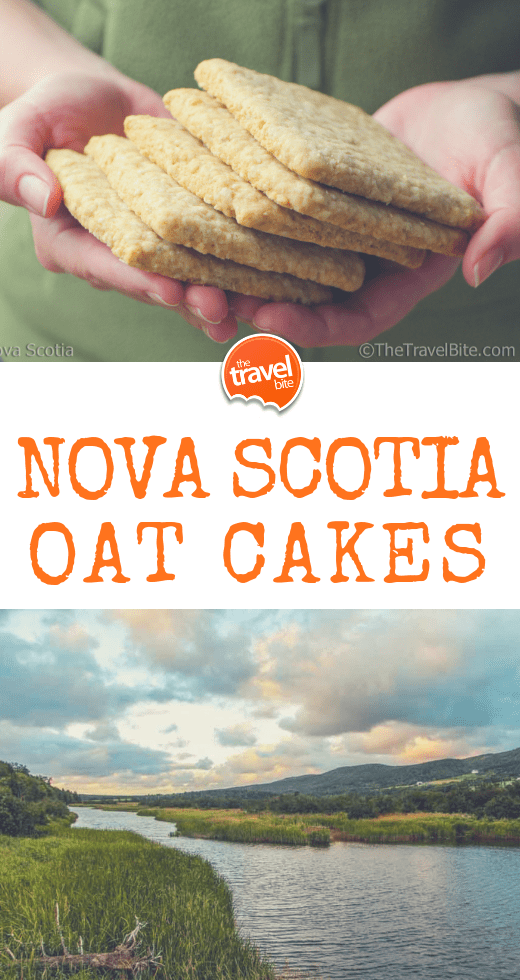 Originally published in 2015. Updated for 2021.