Oatcakes are a fun, easy-to-make breakfast or afternoon treat. But chocolate dipped oatcakes, that's a decadent dessert perfect for coffee or teatime!
Our Nova Scotia Oatcakes recipes is one of our all time favorites (and a reader favorite too!) And every now and then we like to dip those oatcakes in chocolate. Here are the steps for how to make them!
Ingredients For Chocolate Dipped Oatcakes
You'll need to start with our basic recipe (with step-by-step photos included) for plain Nova Scotia Oatcakes. You can bake these the night before, or just give them some time to allow them to cool enough to the touch so you can dip them in the chocolate. The two additional things you'll need to add to your shopping list for this version are wax paper and dipping chocolate. Here is a list to make your shopping easier.
Oatmeal
Flour
Salt
Butter
Baking Soda
Brown Sugar
Hot Water
Dipping Chocolate
Wax Paper (for allowing the chocolate to harden)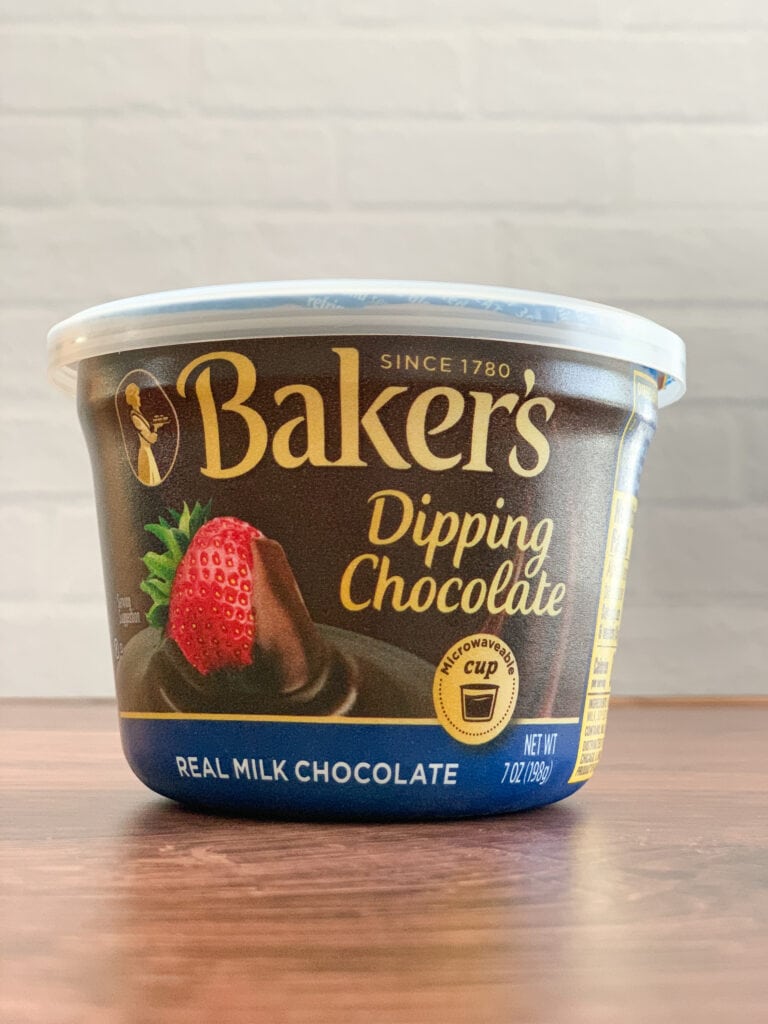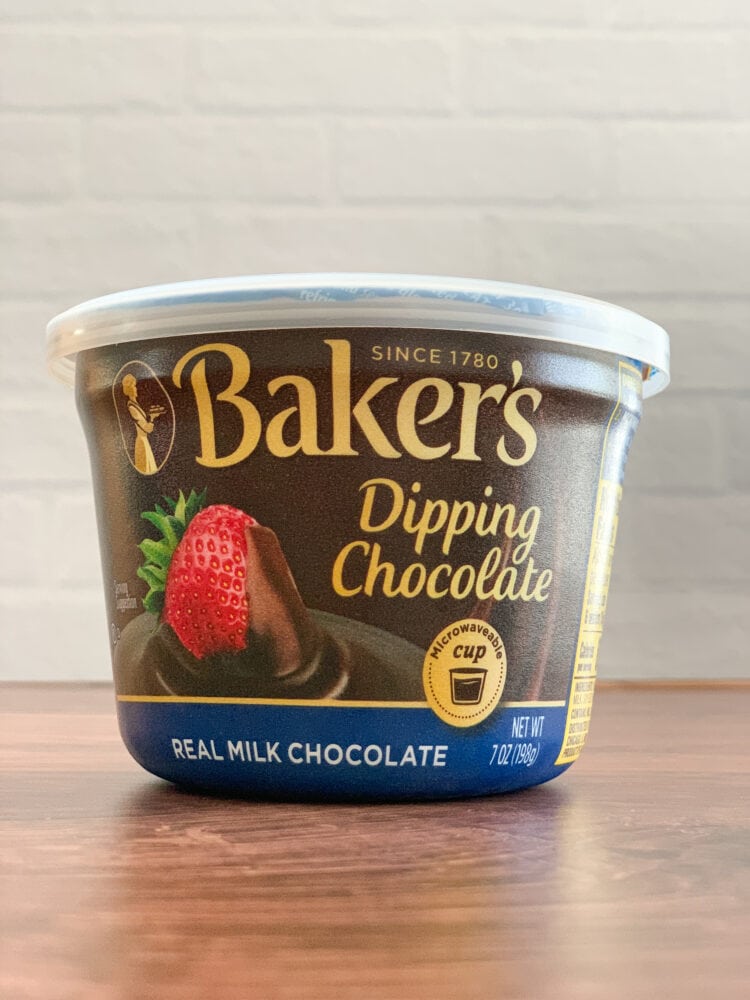 While some home cooks will temper chocolate on the stovetop, I find it much easier (and quicker!) to simply use Baker's Dipping Chocolate in the microwave.
Dipping Oatcakes In Chocolate
Follow the instructions on the chocolate package for melting in the microwave. It takes only about a minute to have the chocolate at a rich, thick dipping consistency.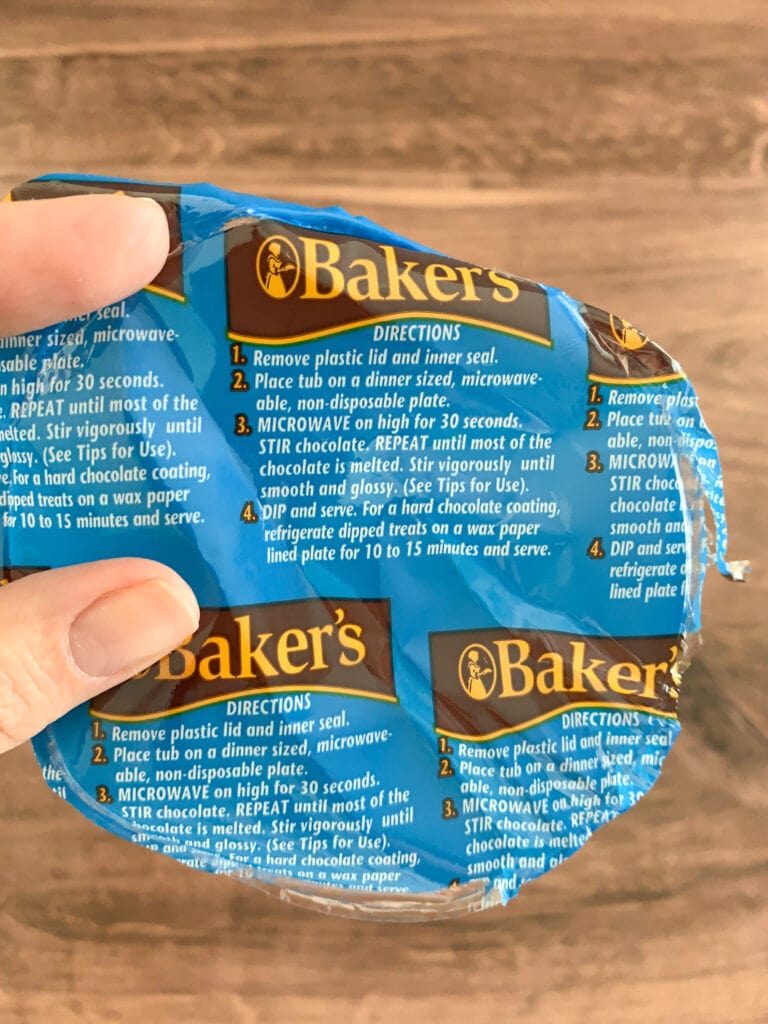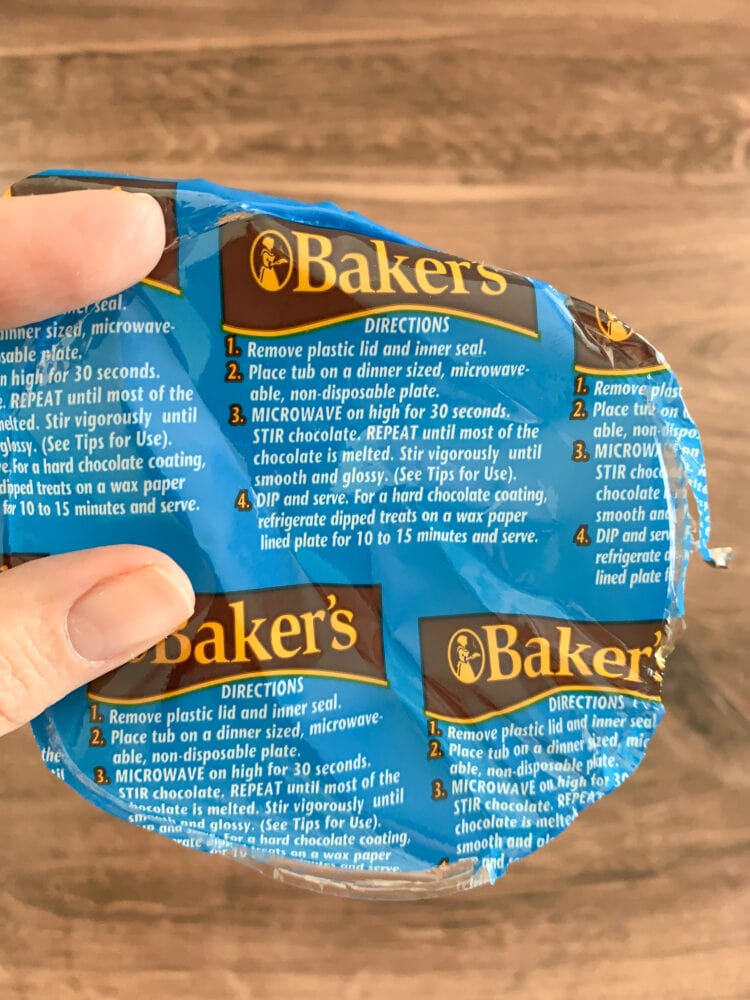 I found the tip/instruction to put the microwave safe bowl onto a dinner plate helped keep the temperature of the chocolate from getting too hot at the bottom.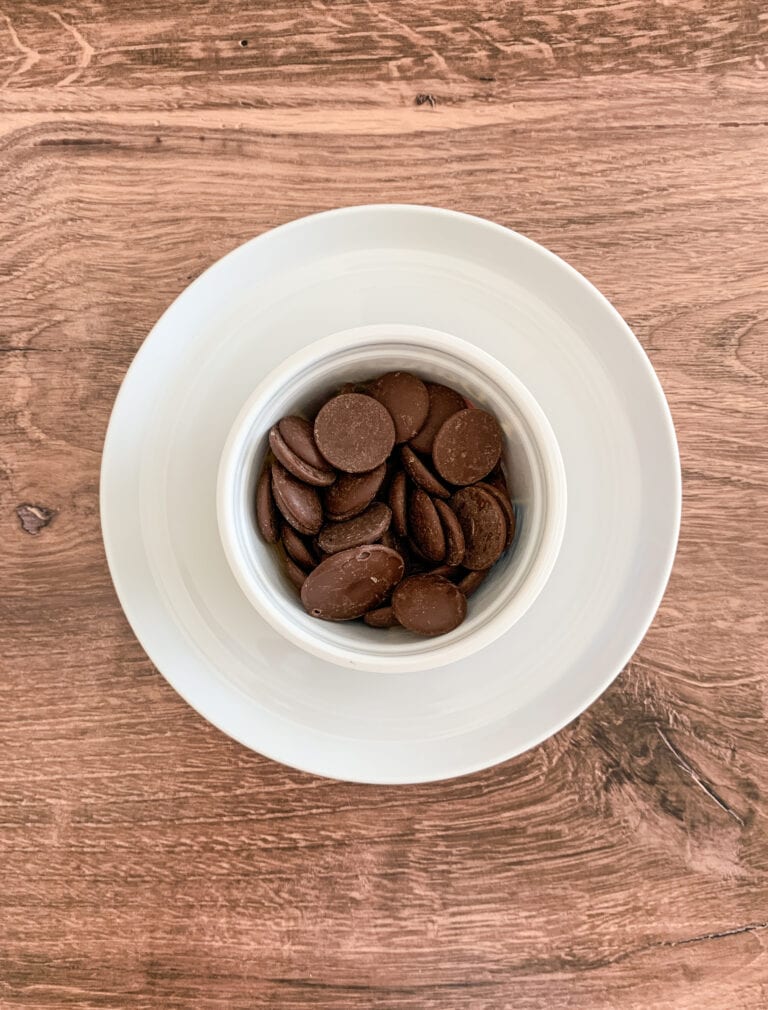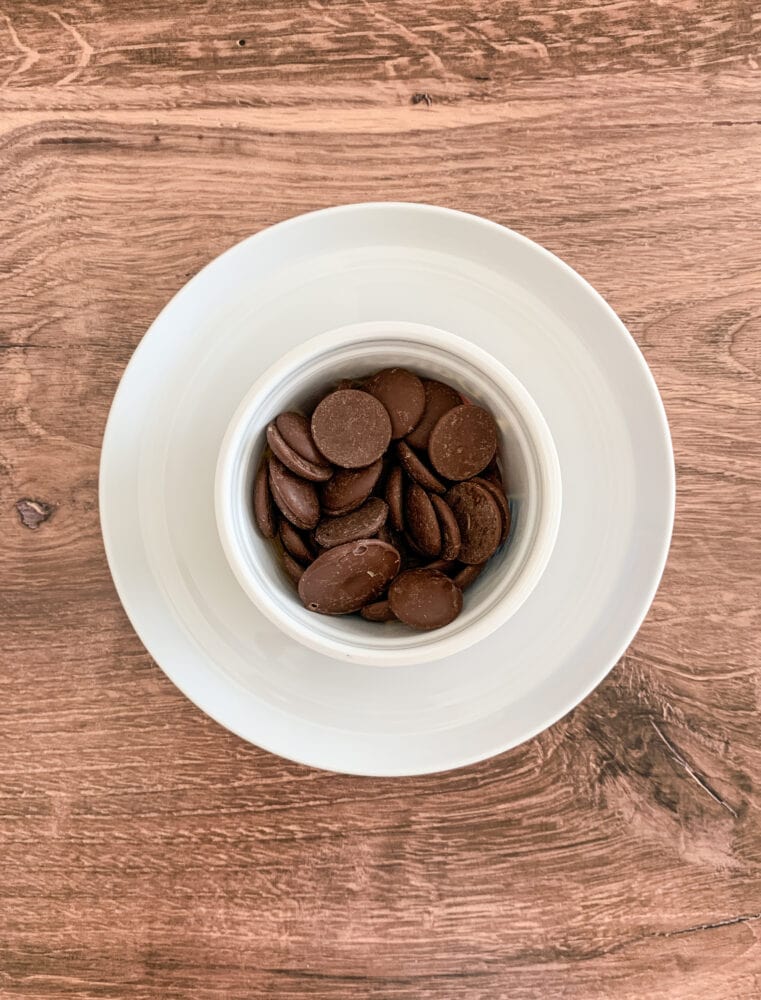 Once the chocolate is melted, dip each oatcake into the chocolate bowl. When lifting the oatcake out of the chocolate, allow the excess chocolate to drizzle back into the bowl. Then place each chocolate dipped oatcake onto a plate or cutting board lined with WAX PAPER.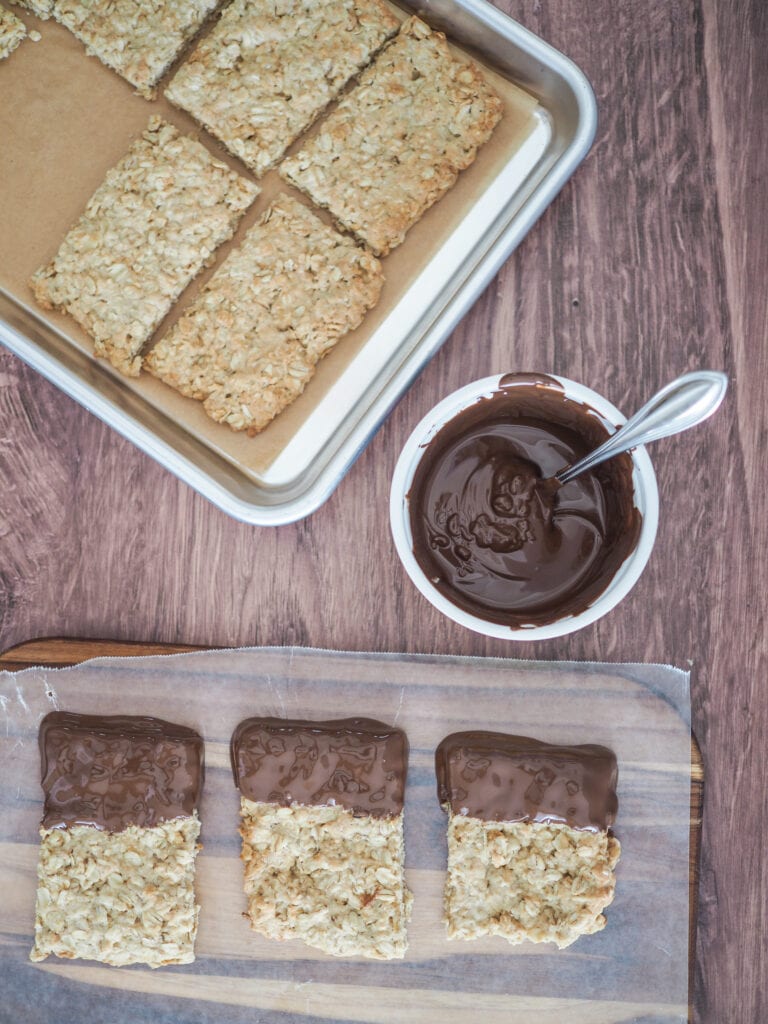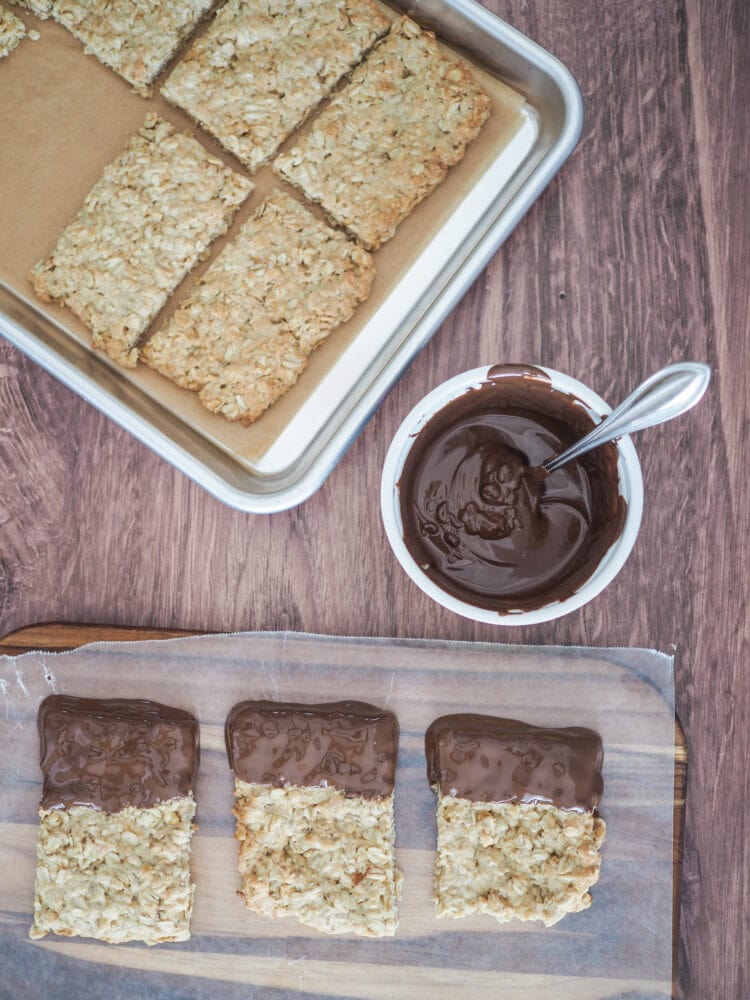 If you'd like to cover more of the oatcake with chocolate, use a teaspoon to scoop the chocolate and pour it higher on the oatcake.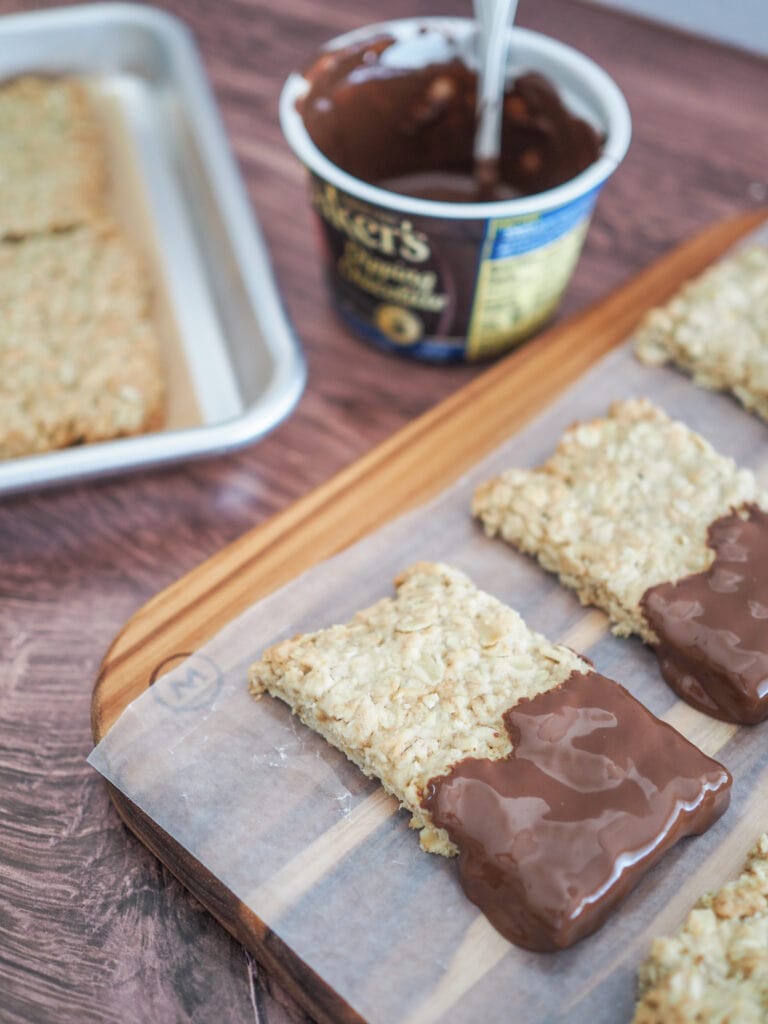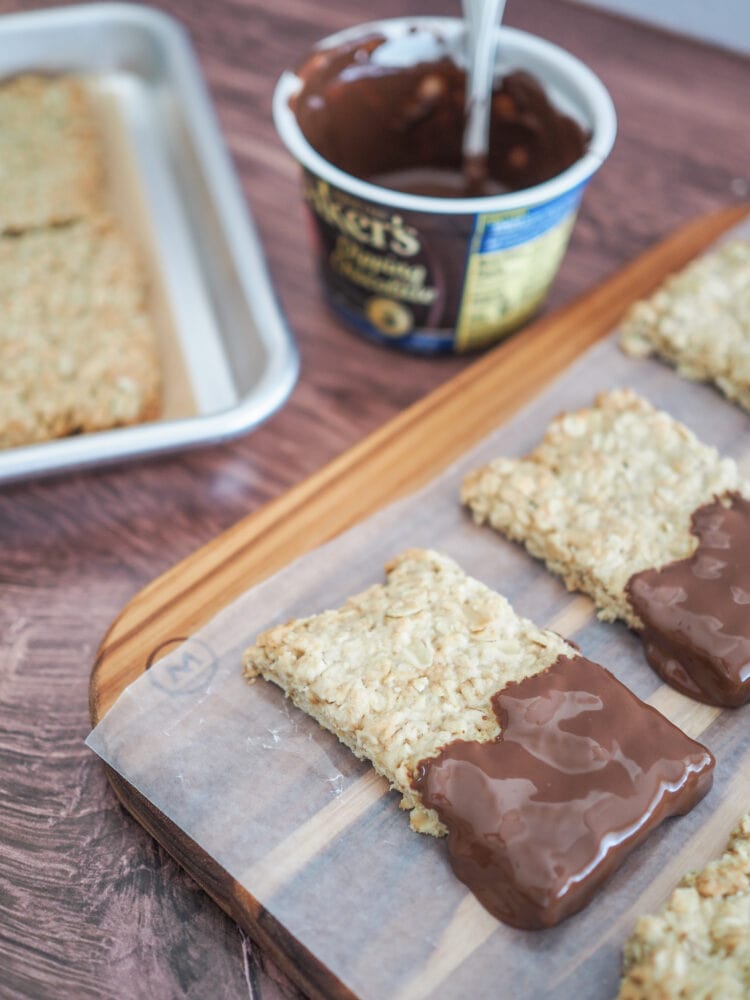 Place the board or plate lined with chocolate dipped oatcakes into the refrigerator for a minimum of 15 minutes to allow the chocolate too cool and harden. Once the chocolate sets, they're ready to serve!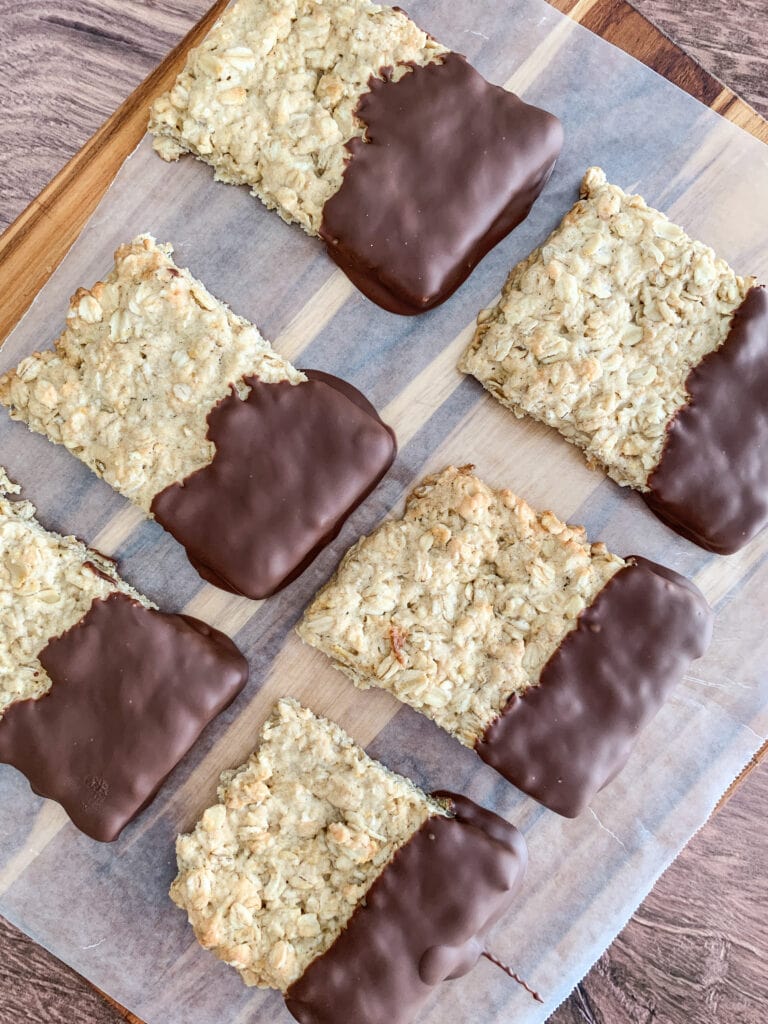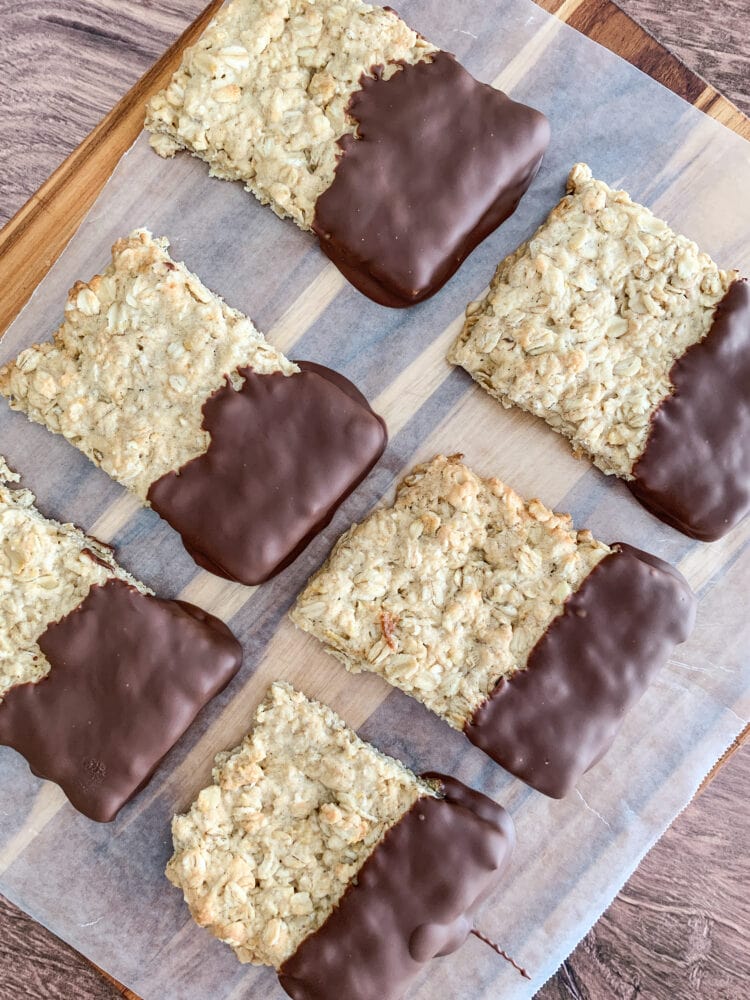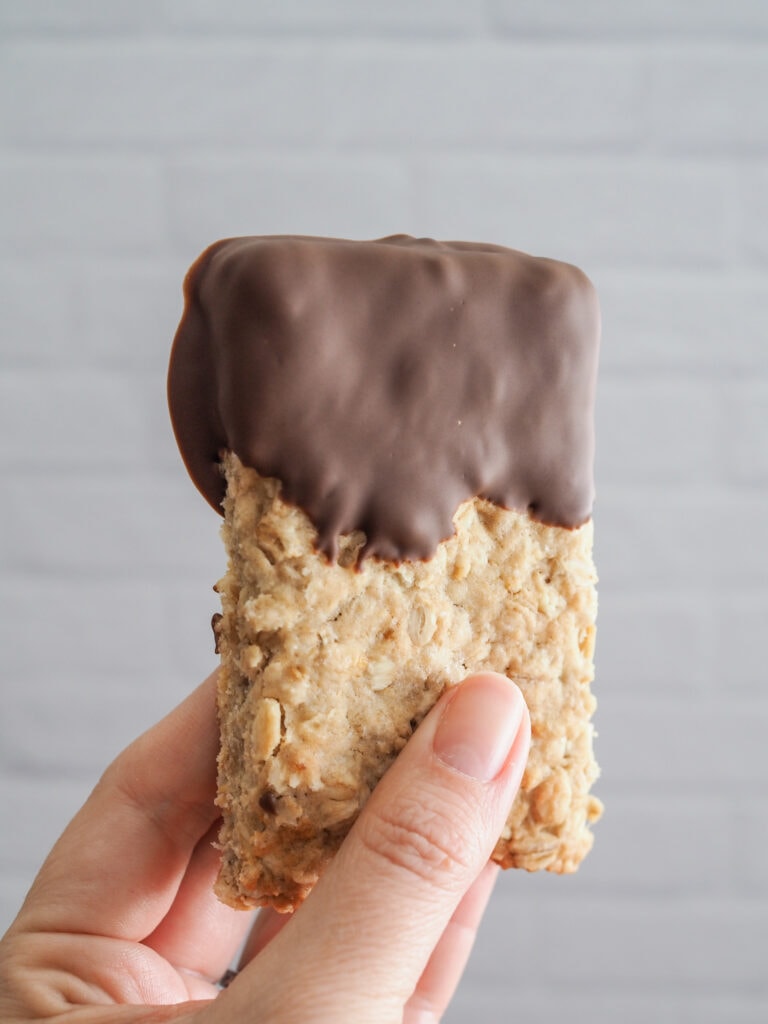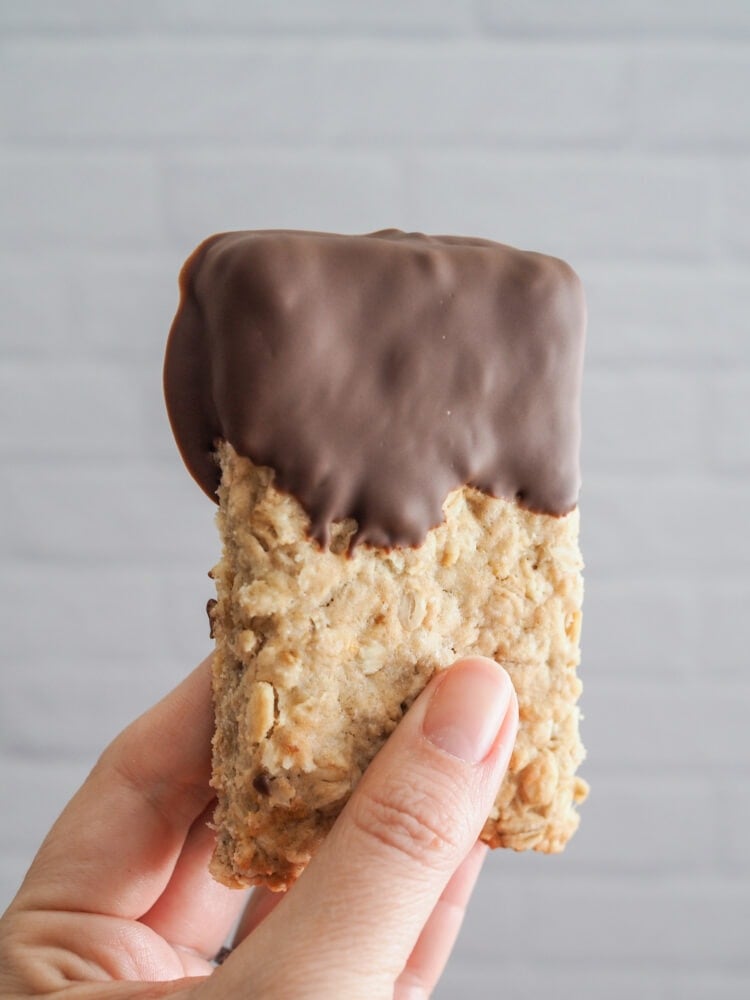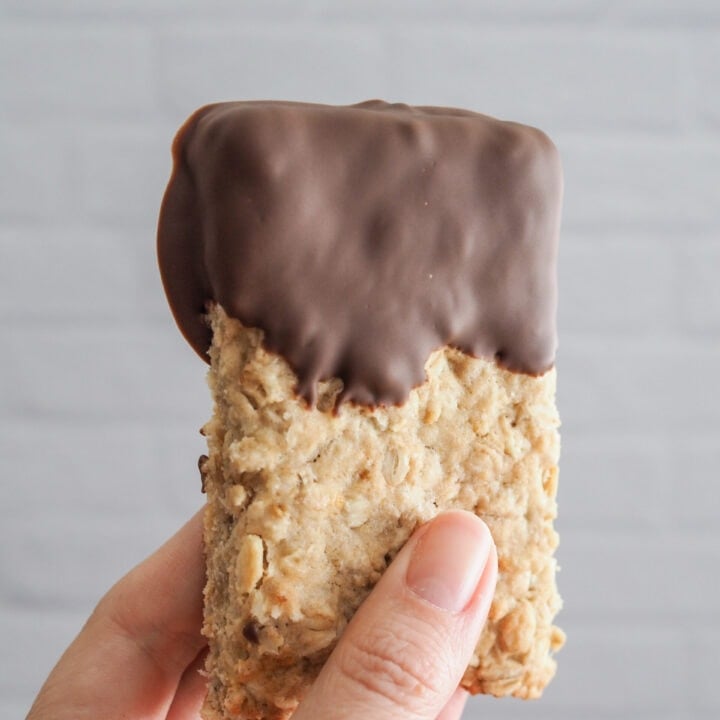 Chocolate Dipped Oatcakes
Additional Time:
30 minutes
Nova Scotia style oatcakes dipped in chocolate using an easy microwave chocolate method. Perfect for afternoon coffee or tea time!
Ingredients
2 Cups Oatmeal
1 Cup Flour
1/2 tsp Salt
1/2 Cup Vegetable Oil or Butter
1/4 tsp Baking Soda
1/2 Cup Brown Sugar
1/4 Cup Hot Water
1 Cup Dipping Chocolate
Instructions
Preheat oven to 400 degrees and line baking sheet with parchment paper.
Dissolve baking soda in hot water (add a little more water if needed).
Combine dry ingredients with butter, then add dissolved baking soda.
Using your hands, mold into a dough ball, then press it out onto a baking sheet. You can roll it out with a dough pin to make it thin as you want it to be about 1/4 inch thick.
Cover and chill for 10-15 minutes to firm up the dough, then remove and score down the middle and across to make 8-10 squares (you'll use these lines for clean cuts after it's done baking).
Bake for 12-15 minutes until they are golden brown. They should be crisp and crunchy, not chewy.
Separate the cakes along the score lines with a thin knife and then allow them to cool.
Heat chocolate in the microwave according to package directions.
Dip each oatcake into the chocolate and place onto a plate or cutting board lined with wax paper.
Allow the chocolate dipped oatcakes to cool in the refrigerator for 15-20 minutes to harden the chocolate.
More Recipes You'll Love