Before the trend of overnight oats, there was muesli. The OG of overnight oats, muesli is a Swiss creation of rolled oats, nuts, seeds, and fresh fruit, soaked overnight in milk or yogurt and served cold. This muesli recipe has a hearty and toothsome texture with the addition of grated apple. And it's topped with nuts and seeds to help fuel your day.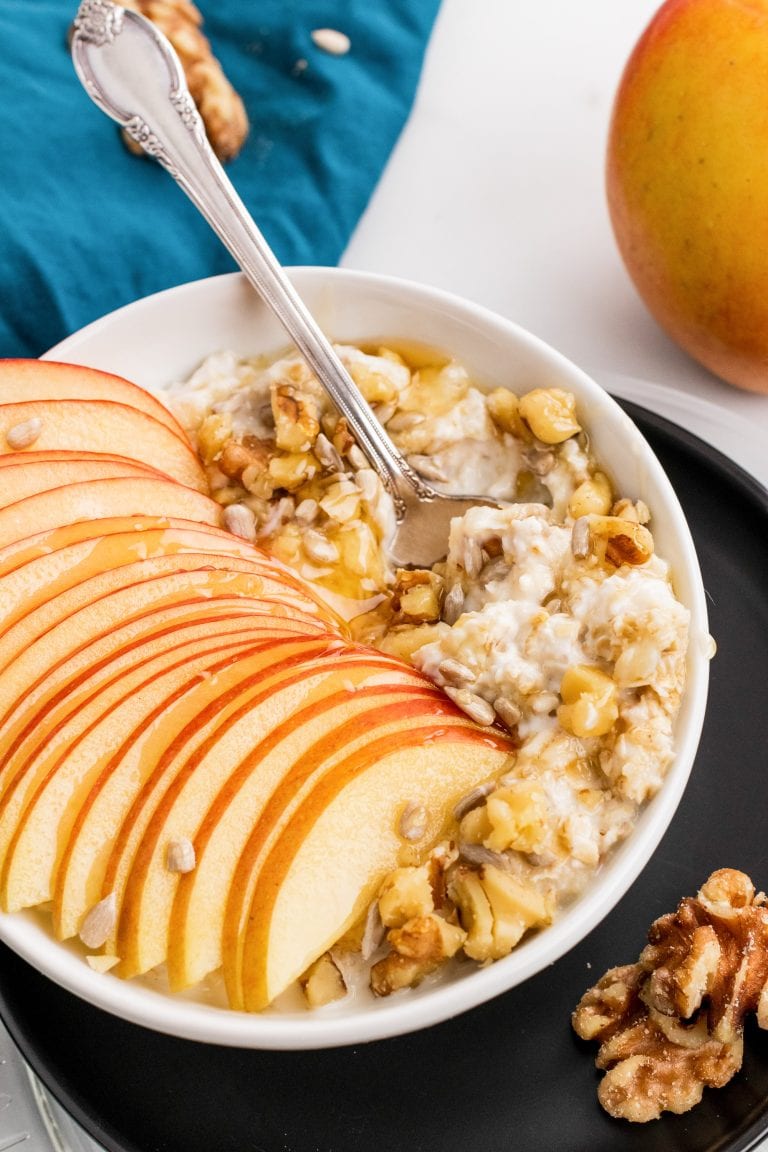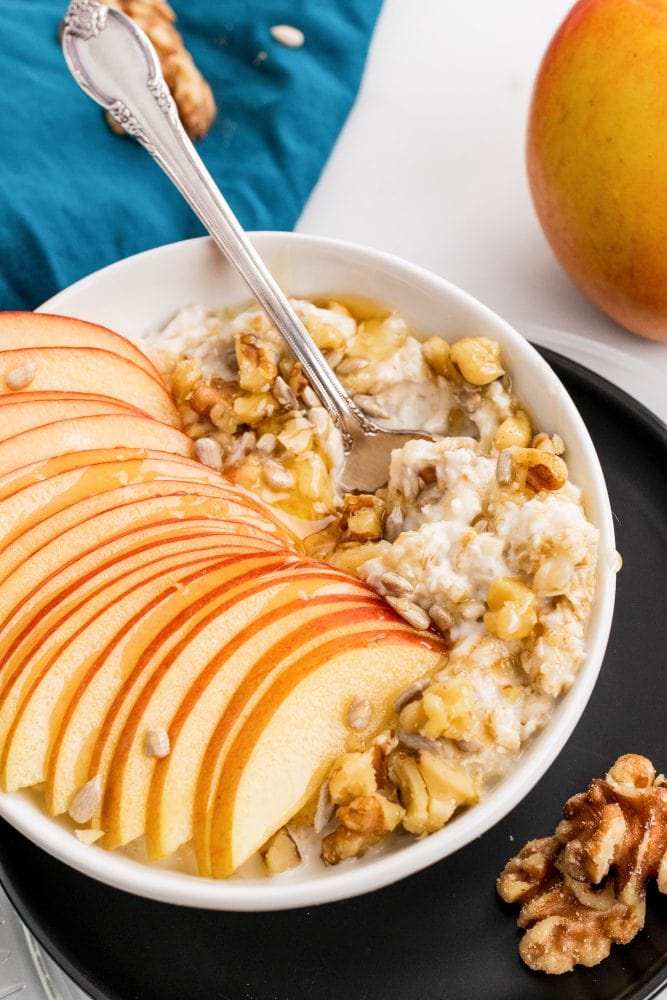 Brief History Of Muesli
Muesli is a Swiss creation, which isn't surprising since it's exactly the kind of breakfast you'd love to have before a day of hiking or exploring the outdoors. But it might surprise you that muesli originally wasn't made for breakfast. Instead, it was served as an appetizer, like bread and butter. (Honestly, I can't imagine being served a cold oatmeal dish before dinner … but I digress).
Bircher Muesli
You sometimes might see muesli called Bircher Muesli, especially when it is similar to the muesli recipe below. That's because it was developed by Swiss physician and nutritionist, Dr. Maximilian Bircher-Benner. Dr. Bircher swore grated apple, oats, nuts, lemon juice, and milk was the best diet for his patients. Muesli truly is a hearty, filling, and delicious meal.
Today, muesli is most often served for breakfast. During the summer, it's perfect for prepping the night before, similar to overnight oats, and serving cold. And during the winter, I've made muesli in the morning and just served it warm.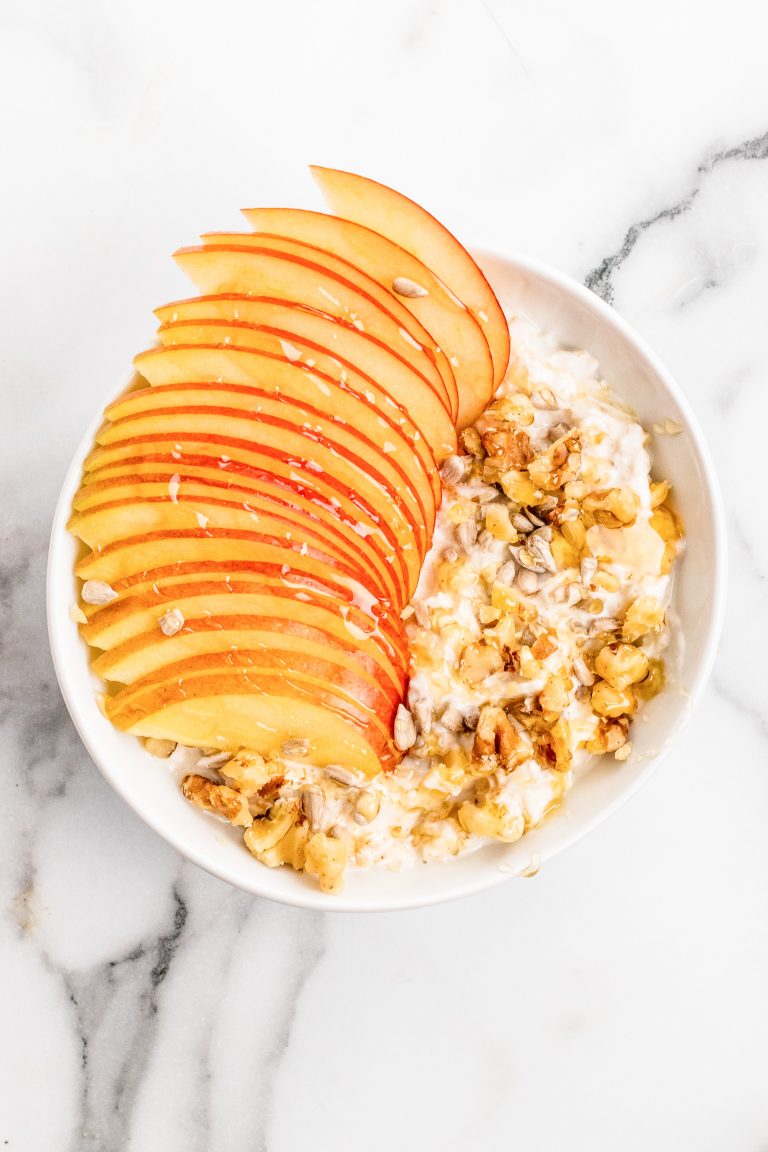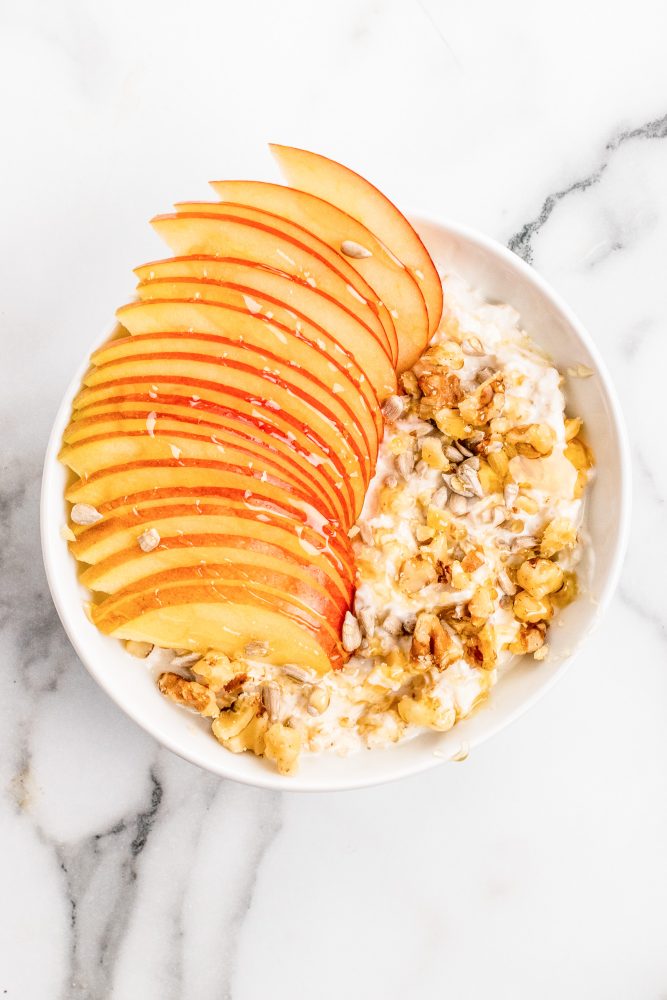 Swiss/German-Inspired Breakfast: Bircher Muesli Recipe
I've had muesli in Switzerland and Austria, and even though it's a Swiss invention, I noticed it most during my visits to Germany. One thing that I always saw available every morning for breakfast was a hearty yogurt mixed with oats, nuts, seeds, and fruit — muesli.
Germany sometimes gets a bad wrap when it comes to food. Sure, I certainly had my fair share of bread and beer (and damn, the bread and beer there is fantastic!) But, Germany also has a lot of plant-based dining and fresh farm-to-table restaurants. I mean, just take a look at this healthy and colorful spelt risotto with beets and goat cheese I ordered at a restaurant nearby my hotel. (I know, it's not a picture of muesli, but I had to share)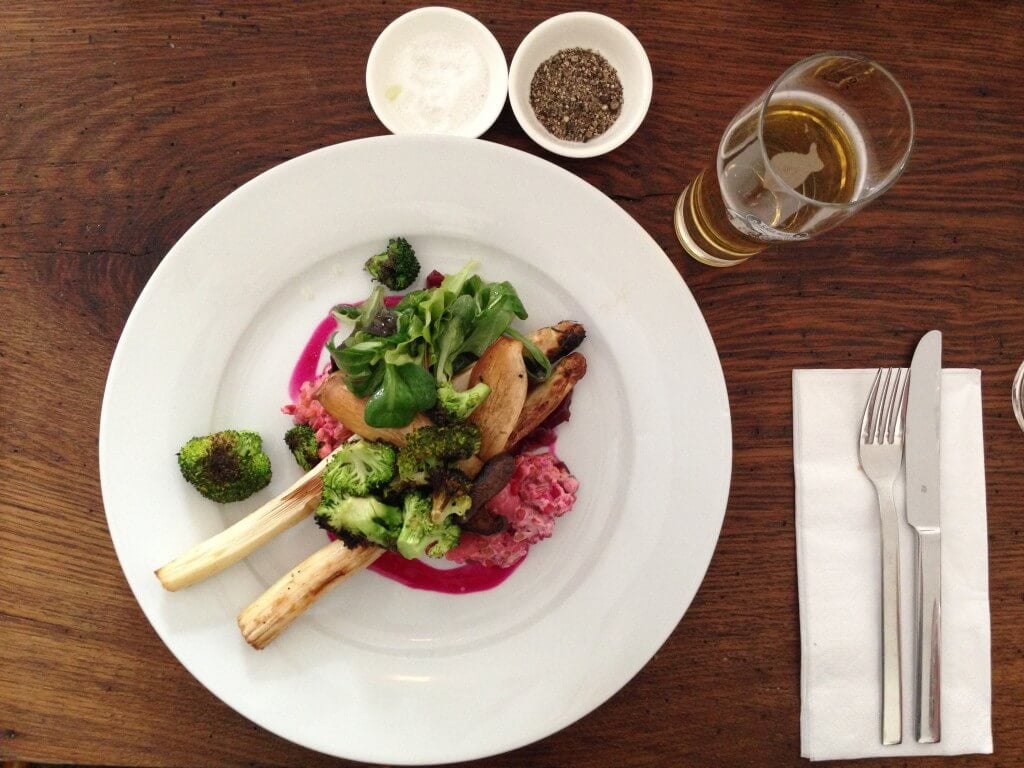 Inspired by my daily muesli at the Hotel MANI, I recreated this muesli recipe at home. Now, to be fair, Hotel MANI is capable of much fancier foods than this simple breakfast. But I found this dish the easiest to recreate in my own kitchen.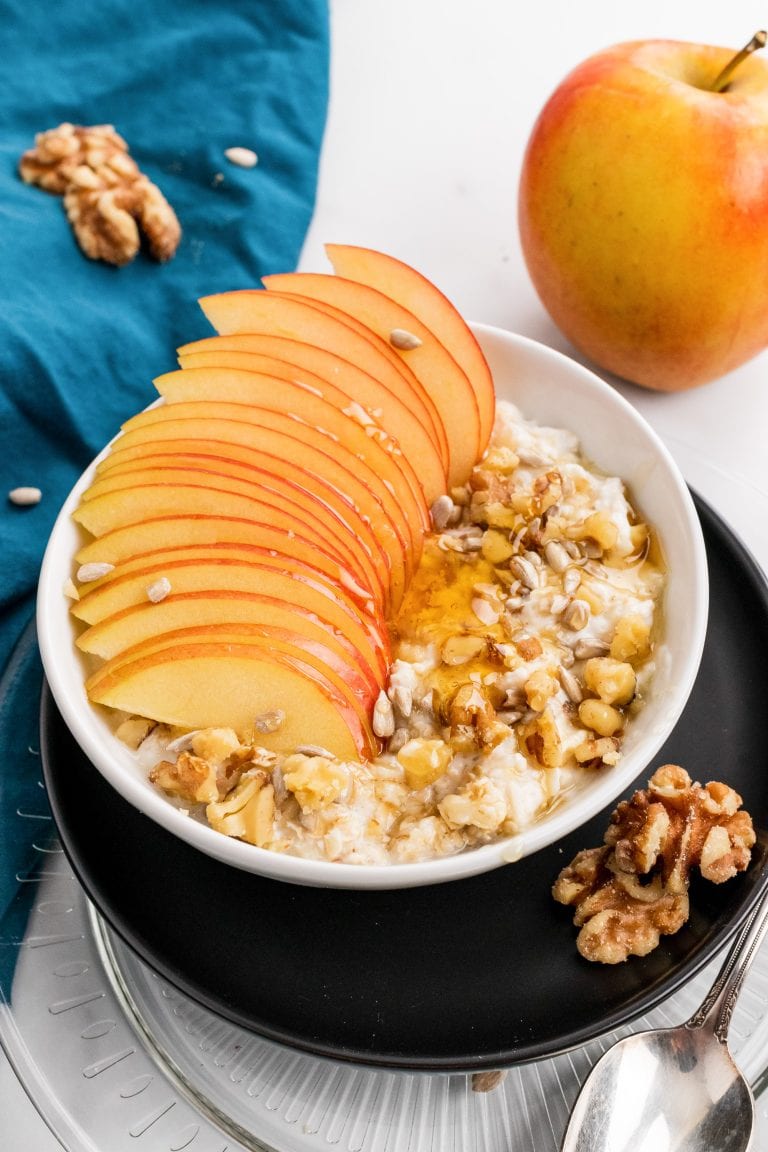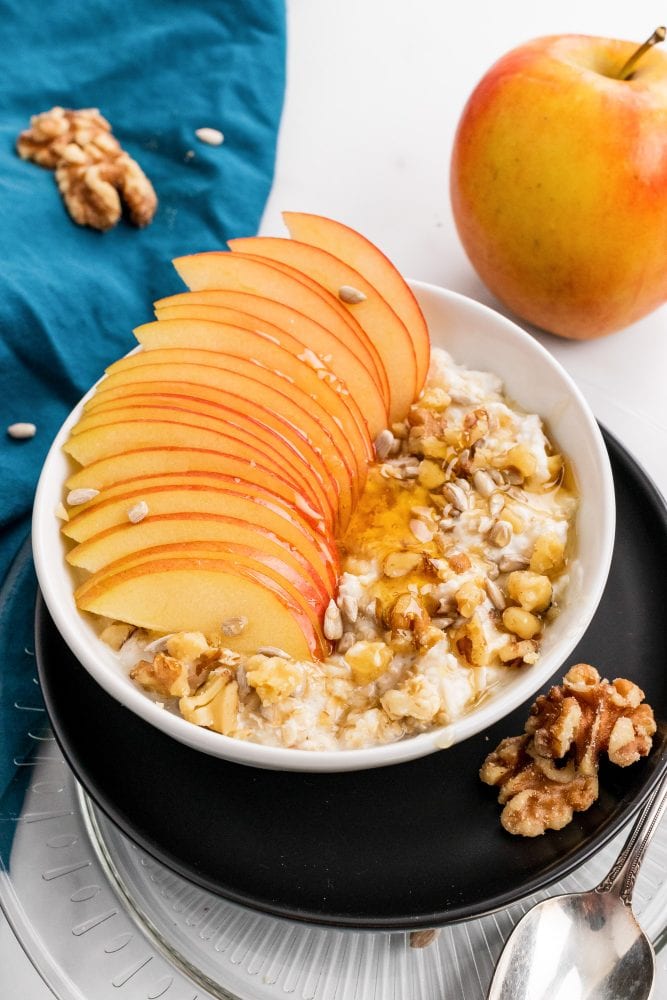 Ingredients For Bircher Muesli
To start the recipe, gather together the following ingredients. To make one serving of homemade muesli, you will need:
Rolled Oats: Rolled oats, or old fashioned oats, are a great source of energy and fiber. Quick oats and instant oats are not recommended as they are more processed than rolled oats so that they cook quicker. But this makes them too soggy when used in muesli.
Plain Greek Yogurt: Greek yogurt is a great source of protein and calcium. I like to use a plain Greek yogurt, but feel free to try a sweetened vanilla or fruit flavored yogurt to customize it to your liking.
Milk: Regular milk, or plant-based milk such as almond, oat, or coconut all work wonderfully in this museli recipe.
Honey: Honey is a natural sweetener used in authentic Bircher museli. But you could also substitute it with maple syrup or agave syrup.
Whole Apple: A whole apple is used in authentic Swiss-style Bircher Museli. You can grate it for texture, or chop it into small slices. In a pinch, as a substitution, you could also use apple sauce.
Chopped Walnuts:
Sunflower Seeds: Sunflower seeds are rich in healthy fats, vitamins, and minerals. Plus they add a nice texture and flavor to muesli. Seasonally, I'll sometimes substitute pepitas (pumpkin seeds) for sunflower seeds in the late summer or early fall.
Whole Lemon: The lemon is used for a bit of fresh squeezed lemon juice in the muesli recipe below. It adds a little bit of vitamin C, plus it slows down the oxidation of the apple in the muesli when preparing the recipe the night before use.
Instead of regular milk, you can also used a plant-based milk such as almond, coconut, or oat milk. Same for the yogurt. And for the apple, I recommend using one that is really firm for the best grated texture.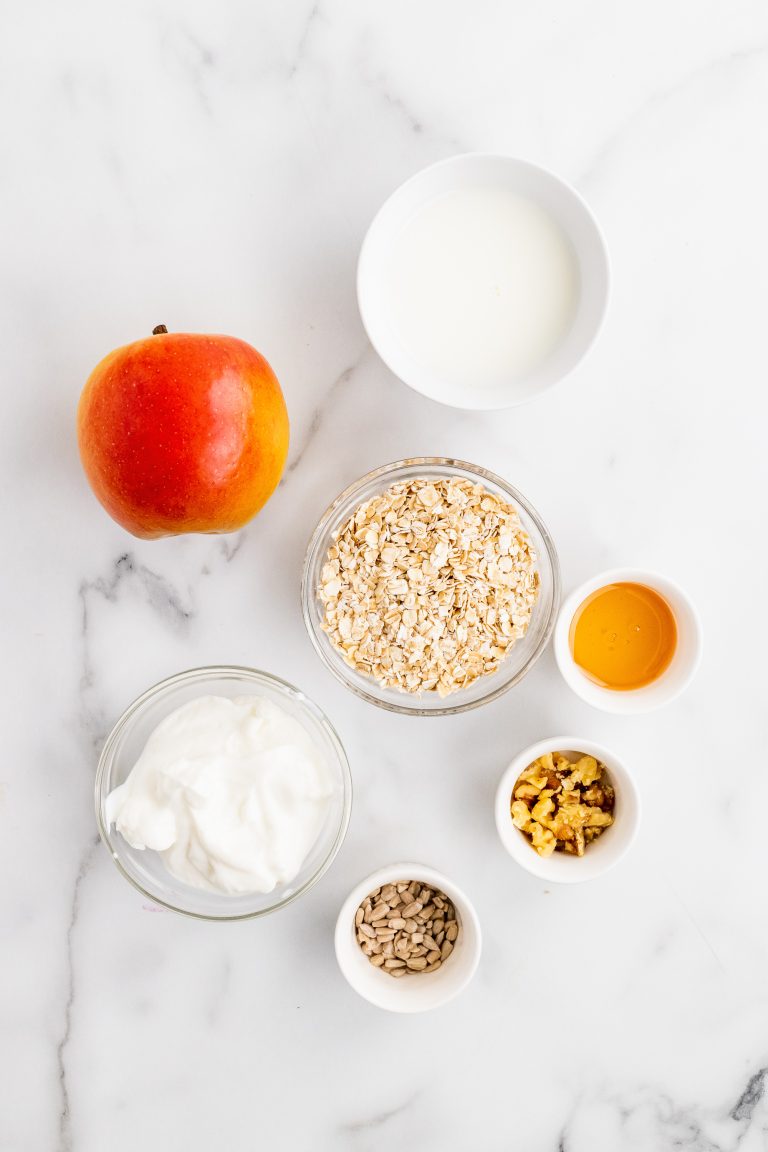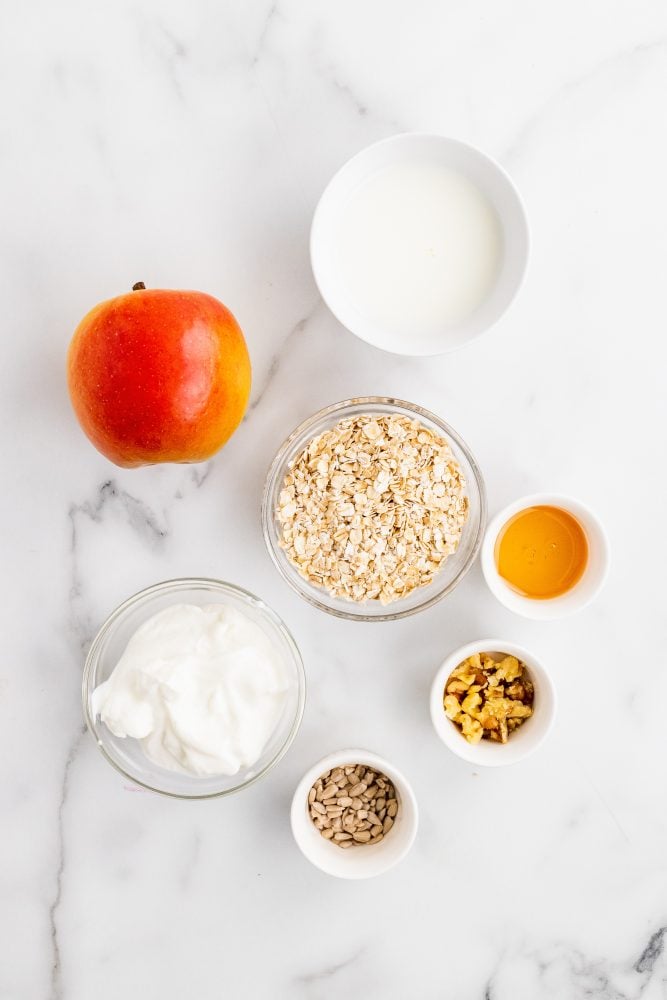 Muesli vs Granola
You'll notice the ingredients listed are very similar to what you'd use for granola. The main difference between muesli and granola is that granola is typically toasted with a sweetener, like brown sugar or honey. This helps the oats and seeds clump together in a very crunchy, take-it-to-go, snack-able way.
Museli, on the other hand, is more like a cold cereal. The ingredients used in this muesli recipe are raw instead of toasted. And the fruit is fresh instead of dried.
How To Make Museli
Soak the rolled oats in milk for at least 5-10 minutes if you plan to eat your museli immediately, or let it soak overnight if you're prepping museli for breakfast the next morning. If you have a dairy intolerance, or want to make the museli recope more plant-based, swap the regular milk for a nut-based milk such as almond, cashew, or coconut. Oat milk is another creamy and tasty milk alternative.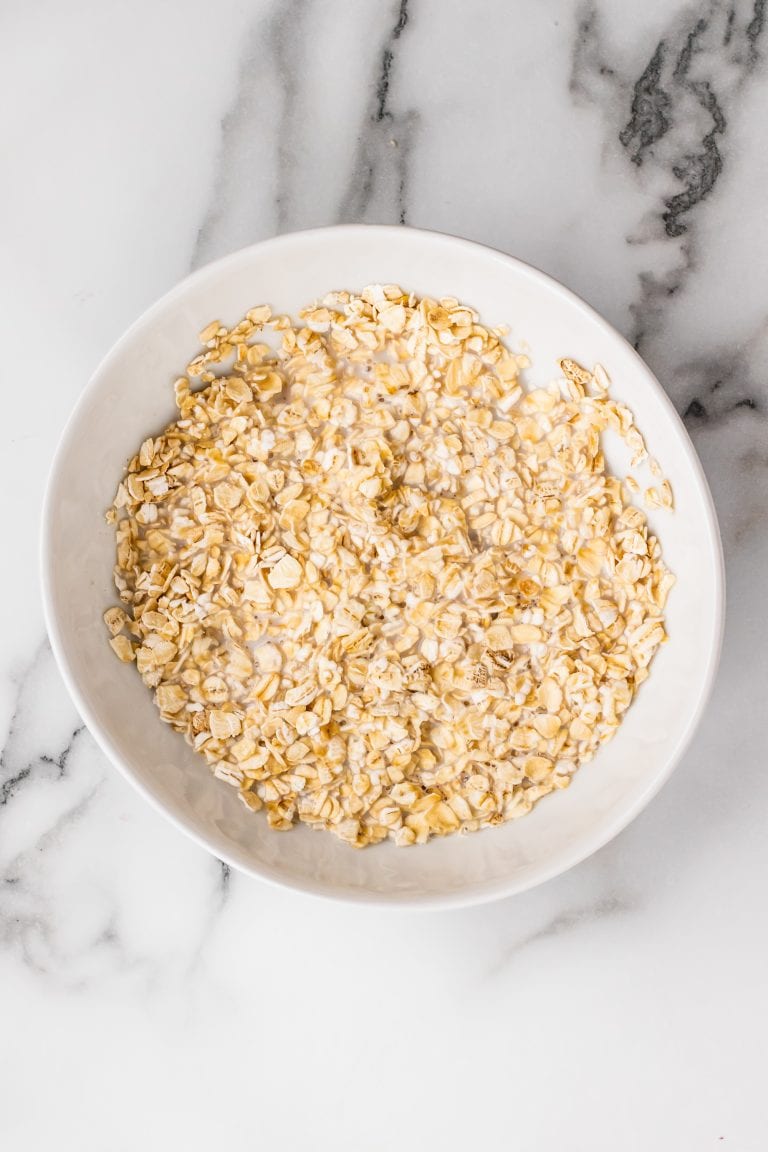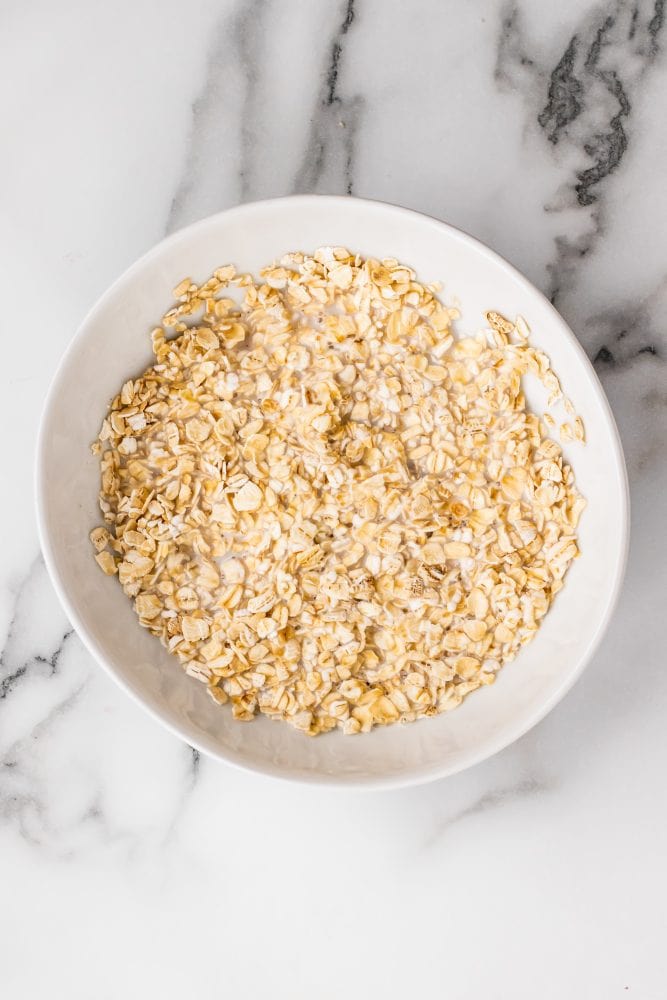 While the oats are soaking, grate half the apple using a large grater. Slice the remaining half of the apple into small chunks or slivers to use for topping. Then, squeeze a bit of fresh lemon juice on the apple to prevent the apple slices from oxidizing and browning.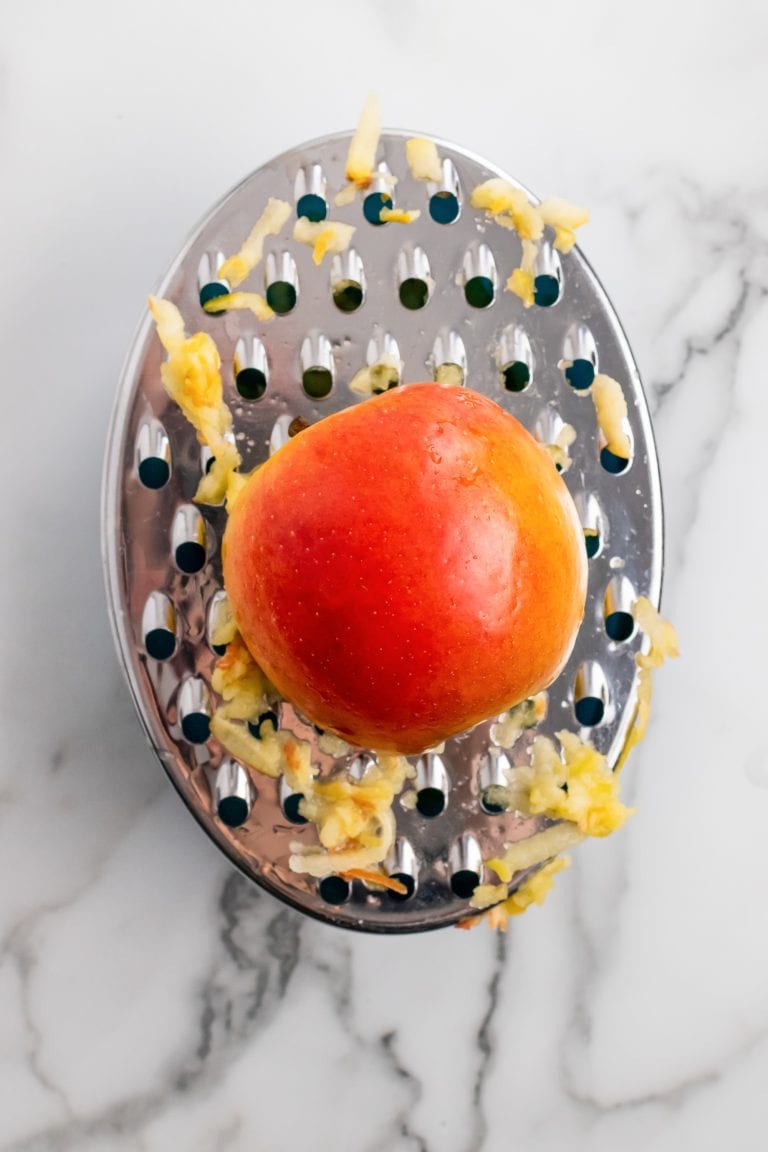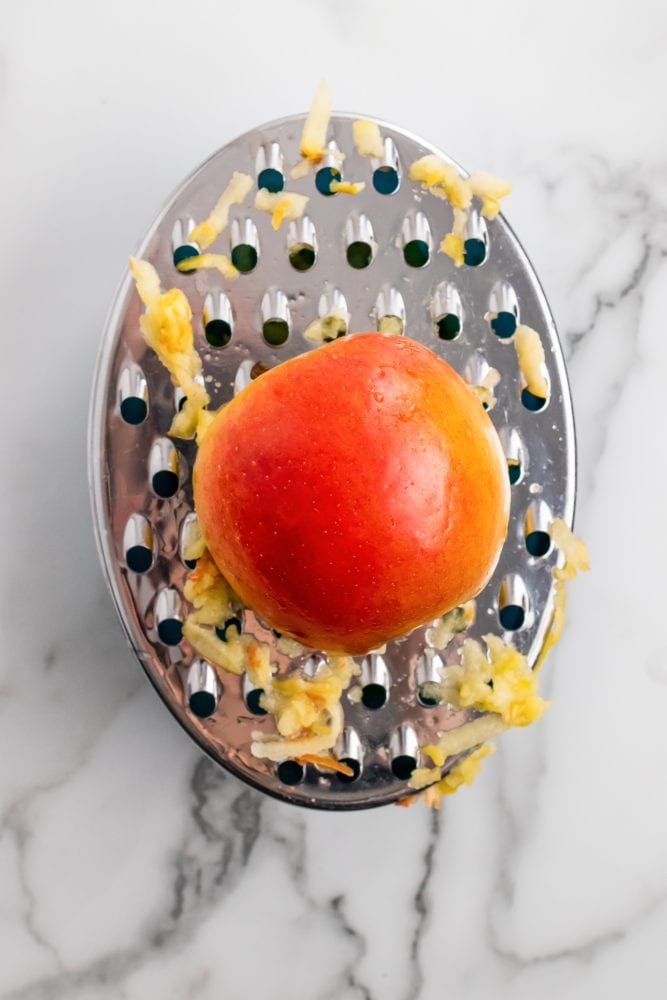 Next, add the shredded apple to the oats and mix the apples and oats together until well blended.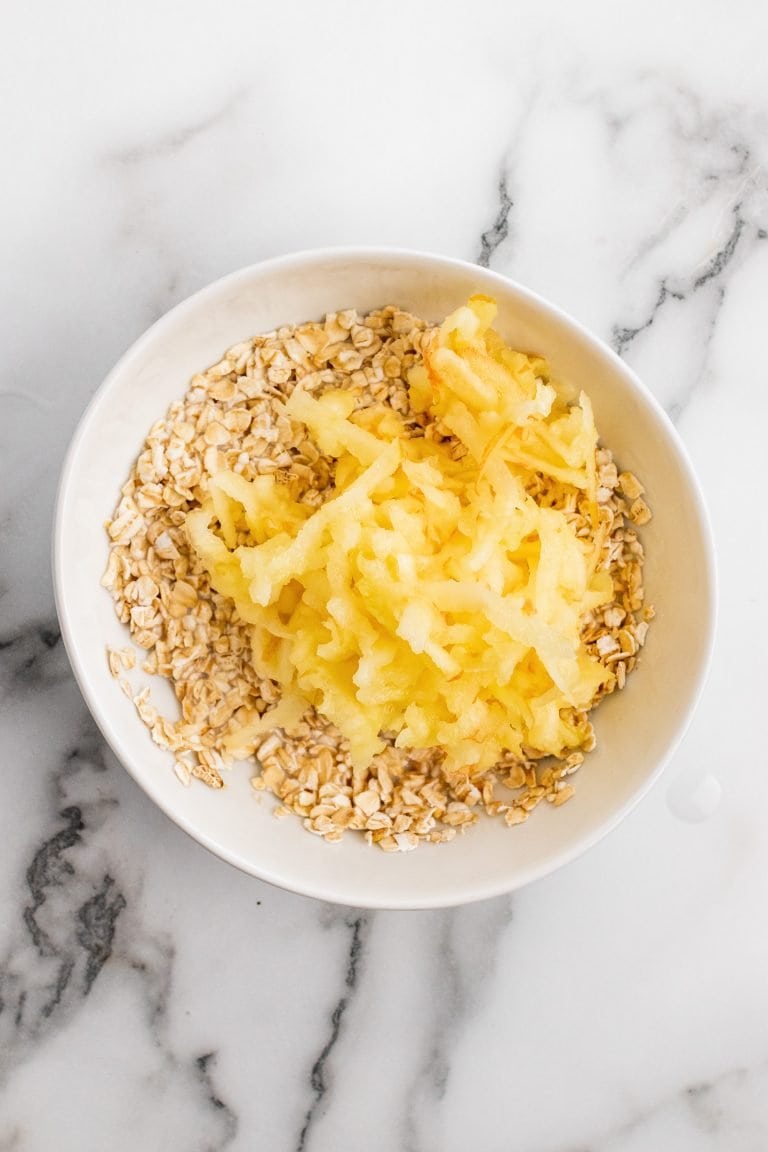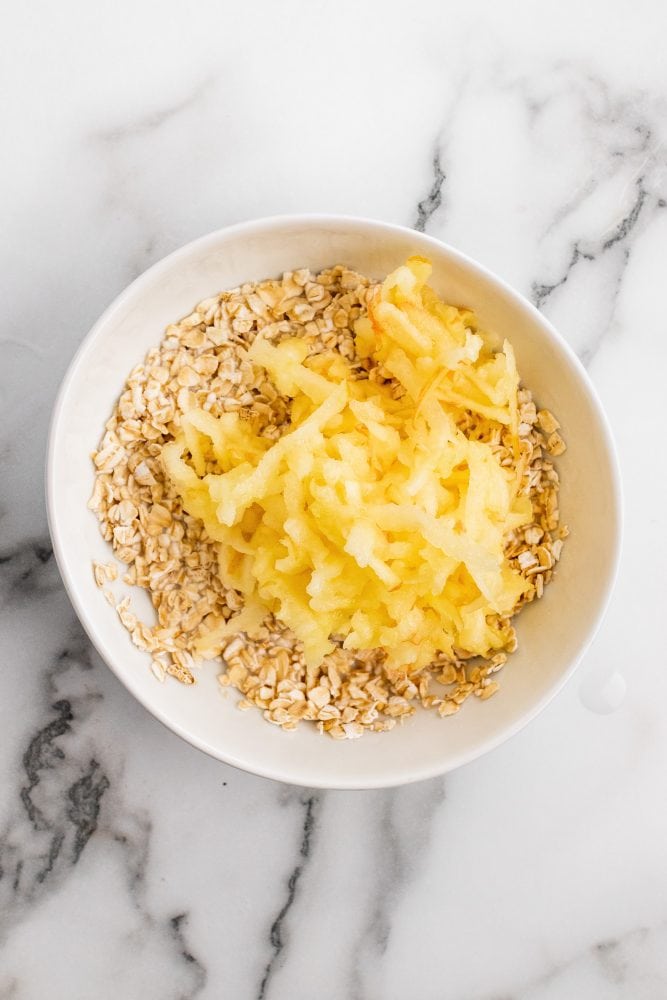 Then mix in the Greek yogurt. If you plan to let the muesli soak overnight, cover and refrigerate at this step in the muesli recipe. You'll want to add the toppings on right before serving so the nuts and seeds are still crunchy.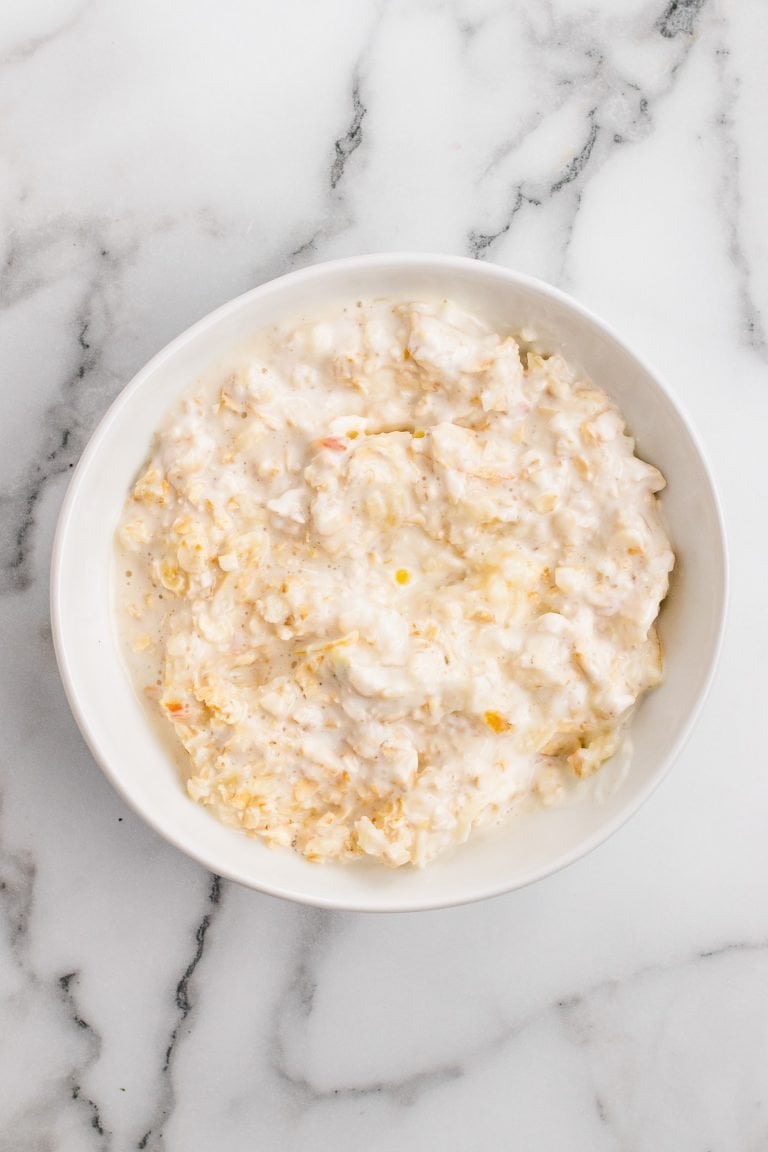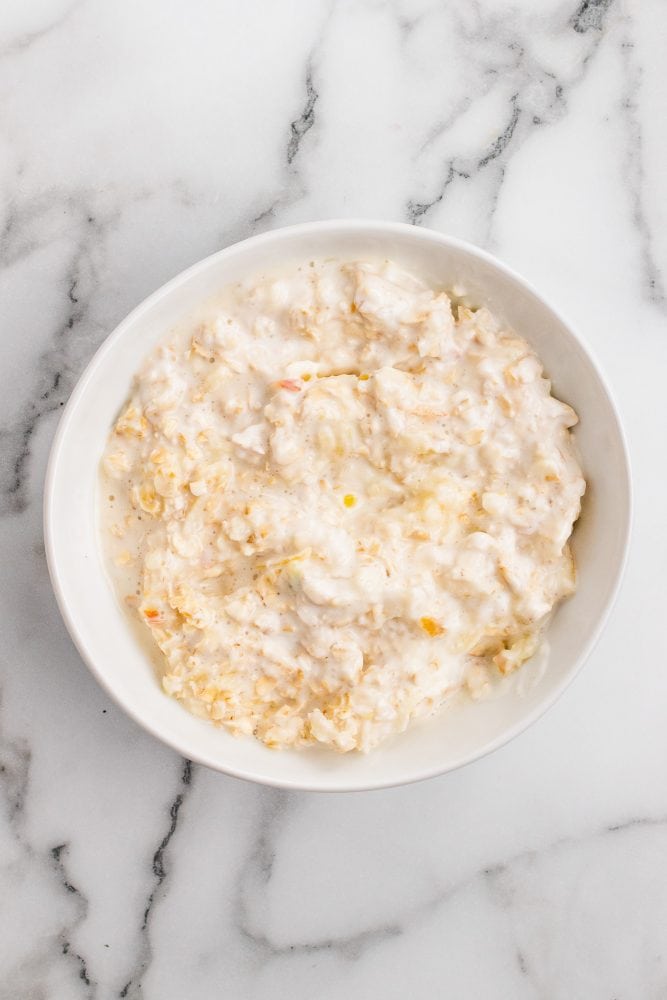 When you're ready to eat the muesli, top with walnuts, sunflower seeds, sliced apple, and a drizzle of honey.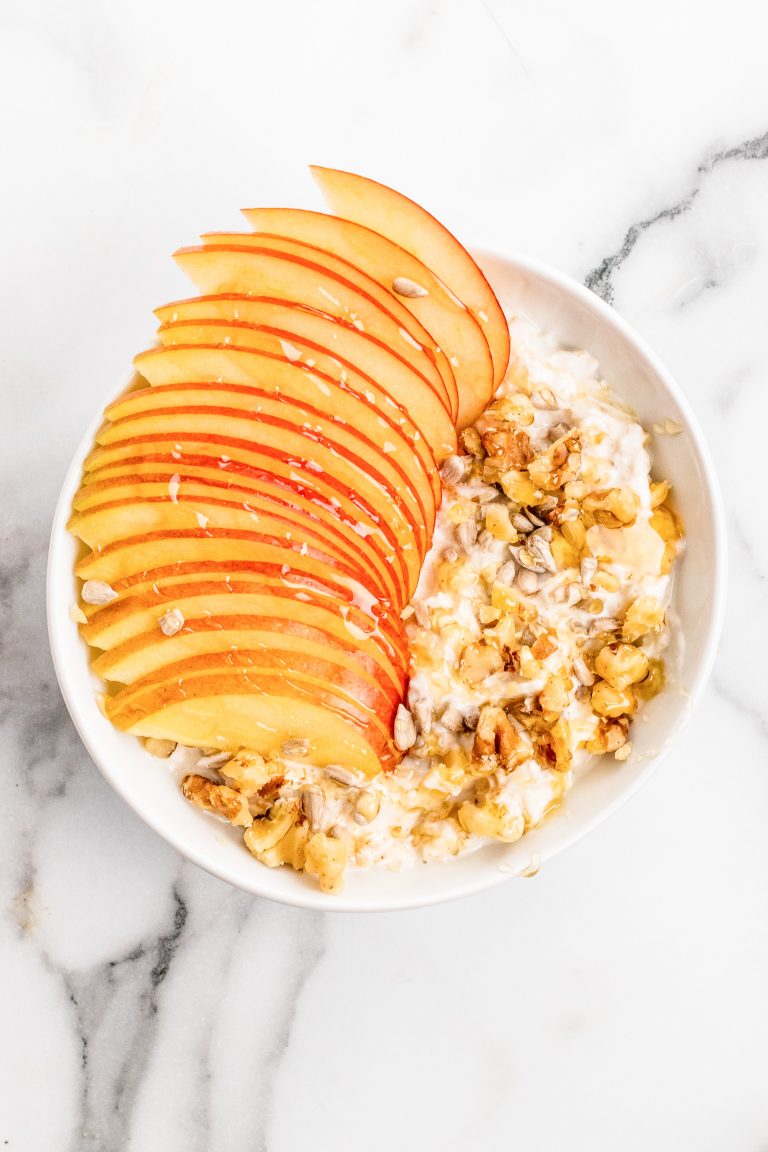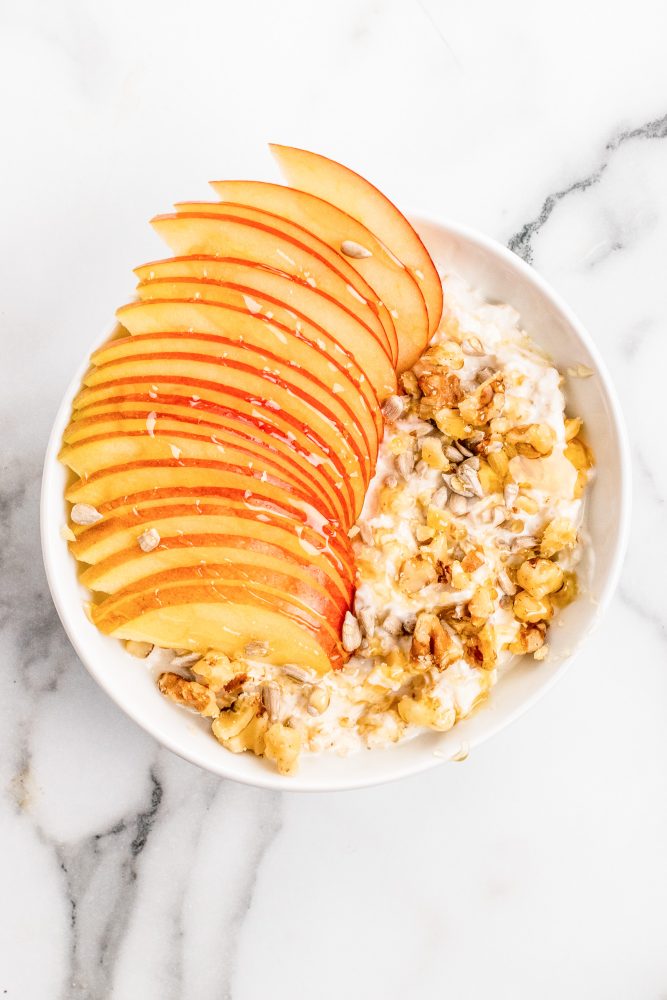 We hope you enjoy this muesli recipe! Feel free to make it your own by trying different nuts or seeds, or even flavored yogurt too.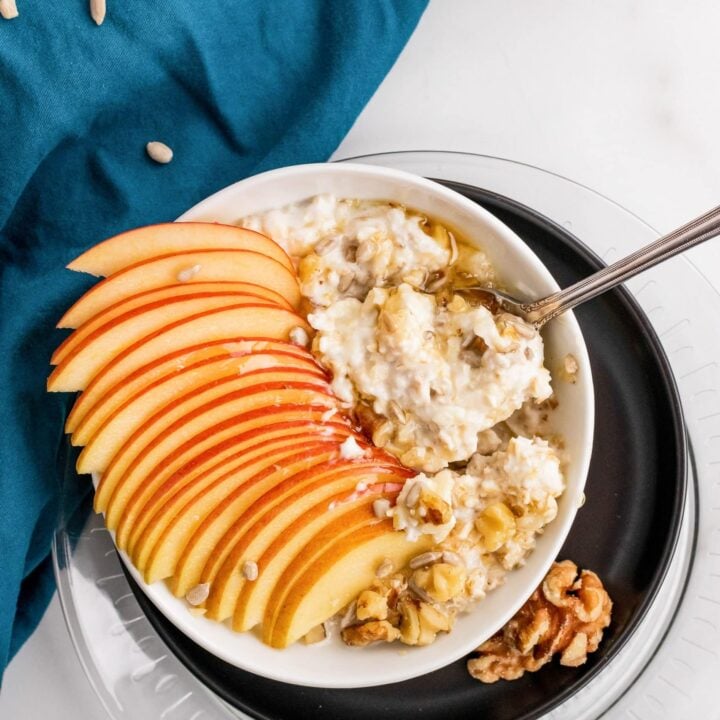 Homemade Muesli
This recipe is for one serving, but is easy to double up to make additional bowls ahead of time and chill in the refrigerator for breakfast.
Ingredients
1/3 cup rolled oats
1/3 cup plain Greek yogurt
1/4 cup milk
1 teaspoon honey
1 apple
1 teaspoon chopped walnuts
1 teaspoon sunflower seeds
Instructions
Soak the rolled oats in milk for about 5-10 minutes
While the oats are soaking, grate half of the apple using a large stand-up cheese grater and then add the shredded apple to the oats. Slice the remaining half of the apple into small chunks or slivers to use for topping.
Once the oats have soaked up the milk, mix in the Greek yogurt.
Drizzle with honey, and sprinkle the walnuts, sunflower seeds, and chopped apple on top. Cover and chill in your refrigerator for at least an hour, or let it sit overnight for breakfast the next morning.
TIPS: I swap out the regular milk for coconut or almond milk. Also, I recommend a tart variety of apple that is really firm, otherwise your grated apple will be more like applesauce. I also put just a little bit of honey at the bottom to counter the tartness of the yogurt.
Nutrition Information:
Yield:

1
Serving Size:

1
Amount Per Serving:
Calories:

324
Total Fat:

6g
Saturated Fat:

1g
Trans Fat:

0g
Unsaturated Fat:

4g
Cholesterol:

9mg
Sodium:

223mg
Carbohydrates:

56g
Fiber:

8g
Sugar:

28g
Protein:

15g
Nutritional Information Provided Is Only An Estimate
My stay at the Hotel MANI was sponsored as part of a press trip hosted by Visit Berlin. I loved it so much, I ended up staying there several more times on my own. As always, thoughts, opinions, and enthusiasm for travel and food are entirely my own.
MORE RECIPES YOU'LL LOVE
Originally Published May 28, 2014. Updated 2022.