I'm one of those strange health nuts that loves having oatmeal for breakfast. But it's just a little to hot in the summertime to enjoy a warm meal.  Since visiting Germany over the spring, I've been experimenting with the traditional muesli recipe, adding different ingredients and coming up with new combinations to keep it interesting.  This one is just a classic summer berry. Overnight oats are SO easy to make!  And as an added bonus, it tastes like dessert.  Enjoy. 🙂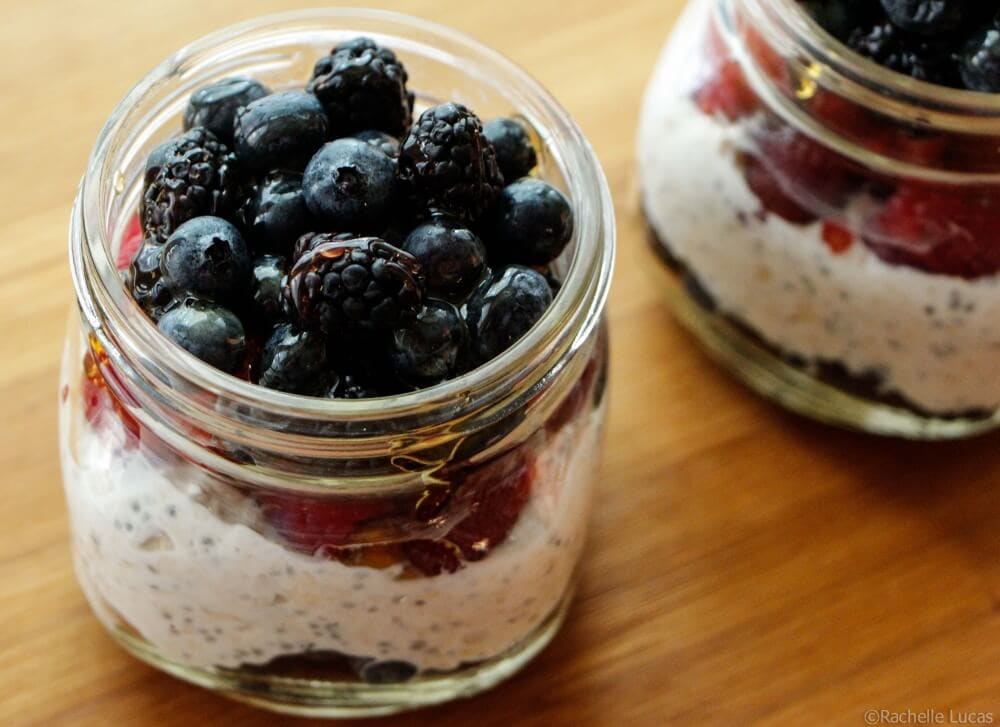 Chilled Berry Summertime Oatmeal – Overnight Oats Recipe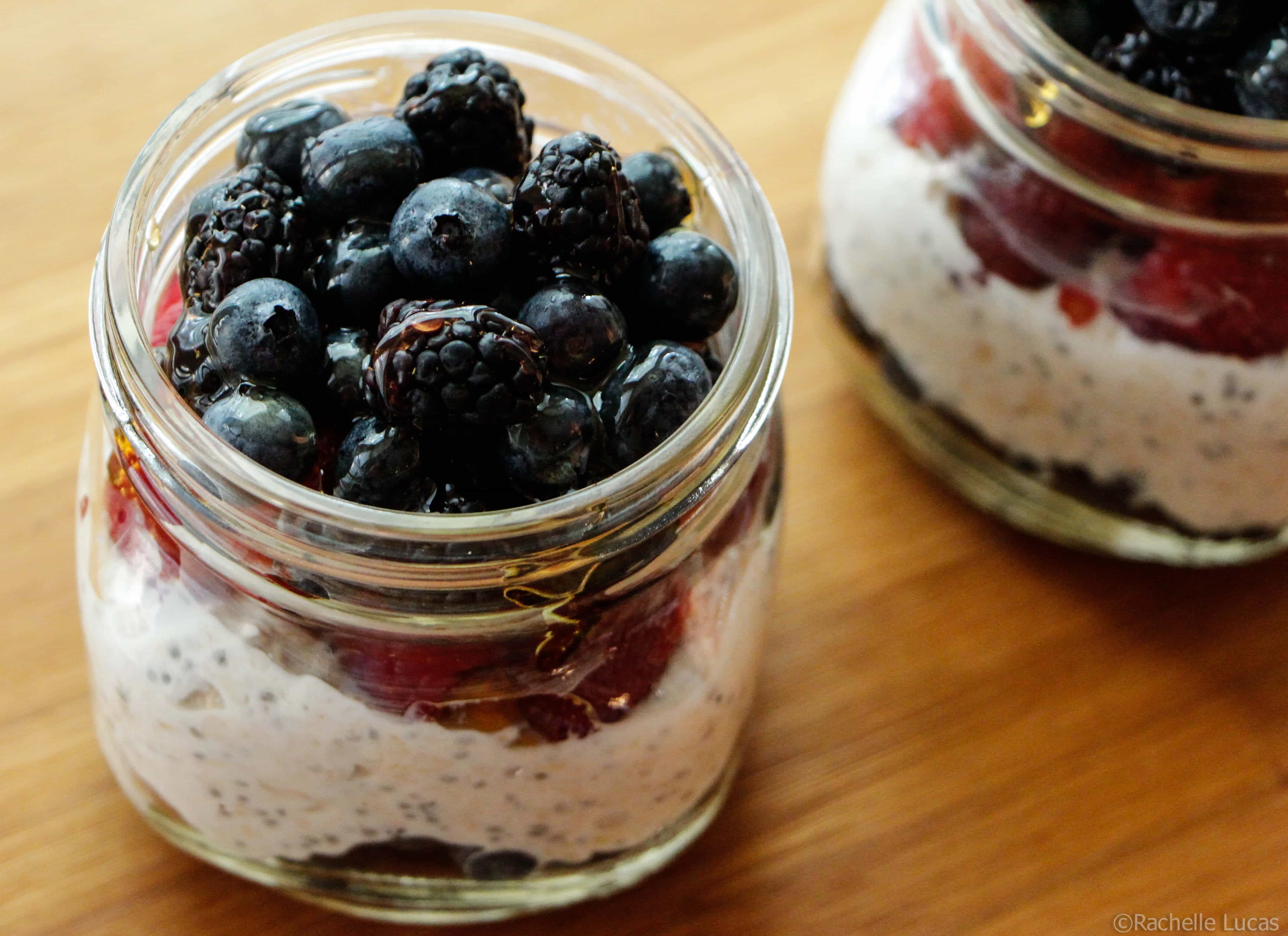 Recipe: Chilled Berry Summertime Oatmeal
These overnight oats are easy to make and are a great way to enjoy your morning oatmeal during the summertime.
Ingredients
1/3 cup oatmeal
1/3 cup plain Greek yogurt
1/3 cup coconut milk
1 tsp of chia seeds
1/3 cup blueberries
1 tsp Tupelo honey
Instructions
Prepare oatmeal as you normally would, adding just enough hot water to cover the oats. Allow them to soak and cool.
Next, mix in the coconut milk and chia seeds
Layer the oatmeal mix, yogurt, honey, and blueberries in a glass jar. You can add more honey and berries depending on how sweet you prefer it. You can also sprinkle in some almonds or walnuts for a bit more crunch and protein.
Cover and chill overnight to have ready for breakfast the next morning.
This recipe is for one serving. I typically make a big bowl of it, adding in 4x the amount in order to make multiple servings for the week.
You Might Also Like: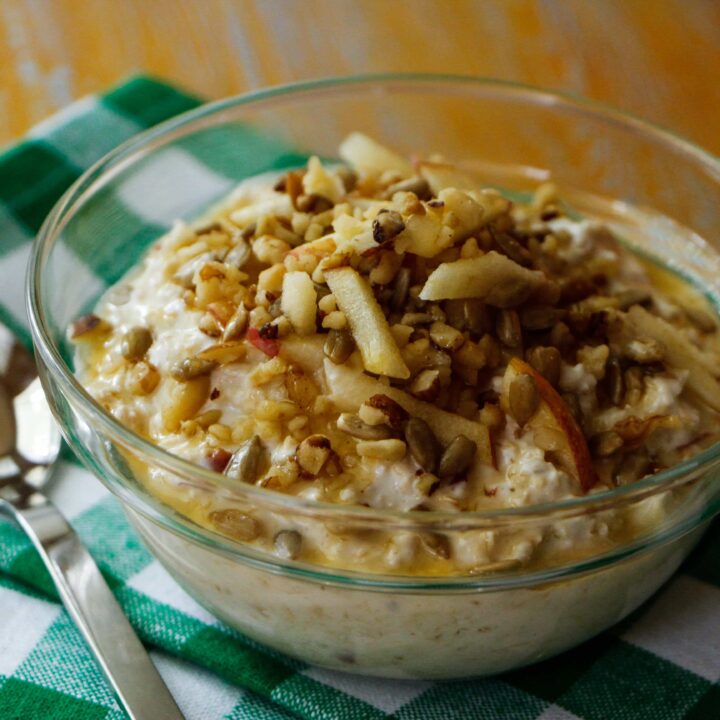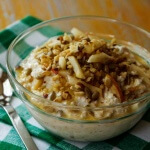 Recipe:  Traditional German Muesli
Germany gets a bad wrap when it comes to food.  Sure, I certainly had my fair share of bread and beer (and damn, is it good), but, for the most part, Germans eat pretty healthy.  One thing that I always saw available every morning for breakfast was a hearty yogurt mixed with oats, nuts, seeds, and fruit — muesli.  Inspired by my daily muesli at the Hotel MANI, I recreated it at home.  (More …)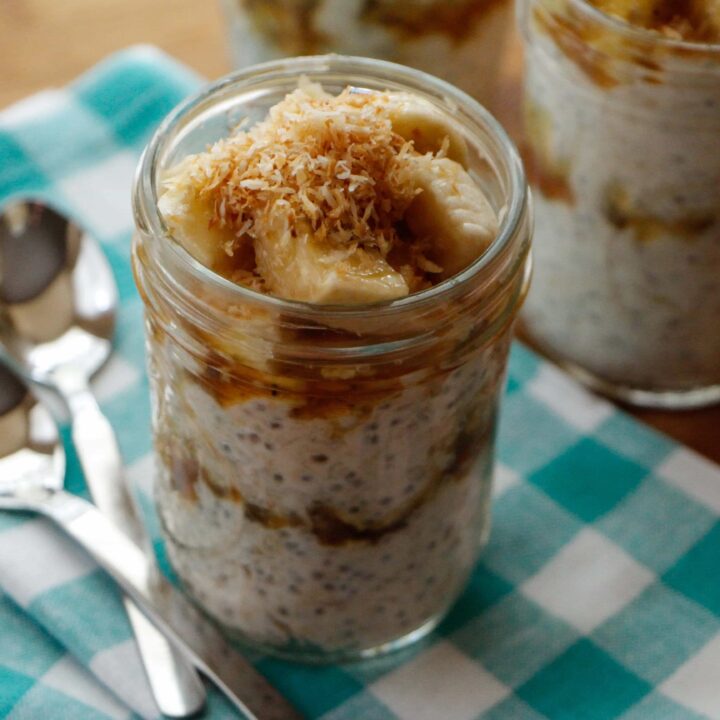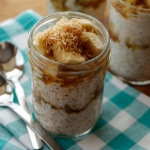 Recipe:  Toasted Coconut & Banana Summertime Oatmeal
This blend of plain Greek yogurt with toasted coconut, honey, and banana has plenty of sweetness without the sugary guilt.  Plus, throwing in a little chia seed will keep you full and energized until lunchtime.