I've been on a bit of a grain discovery kick lately, trying old recipes with new-to-me ingredients like farro and spelt. So I was excited to try this recipe for barley pancakes with blueberry sauce found in the new cookbook — FEAST: Recipes & Stories From A Canadian Road Trip.
The Story Behind The Recipe
I met the authors, Lindsay and Dana, on a trip up to Canada to dine underneath the northern lights. And while a blizzard adverted our adventurous dinner plans, we still had fun enjoying some delicious food and spa time spending 48 hours in Winnipeg. If you ever meet Lindsay and Dana in person, you'll instantly know that they are enthusiastic epicureans at heart as their eyes light up whenever they talk about food.
Their shared appreciation for all-things-delicious inspired Lindsay and Dana to spend 5 months traveling across Canada on the most epic of road trips, winning them "Best Culinary Travel Blog" from Saveur magazine for their quest to prove Canada wasn't just all poutine and maple syrup.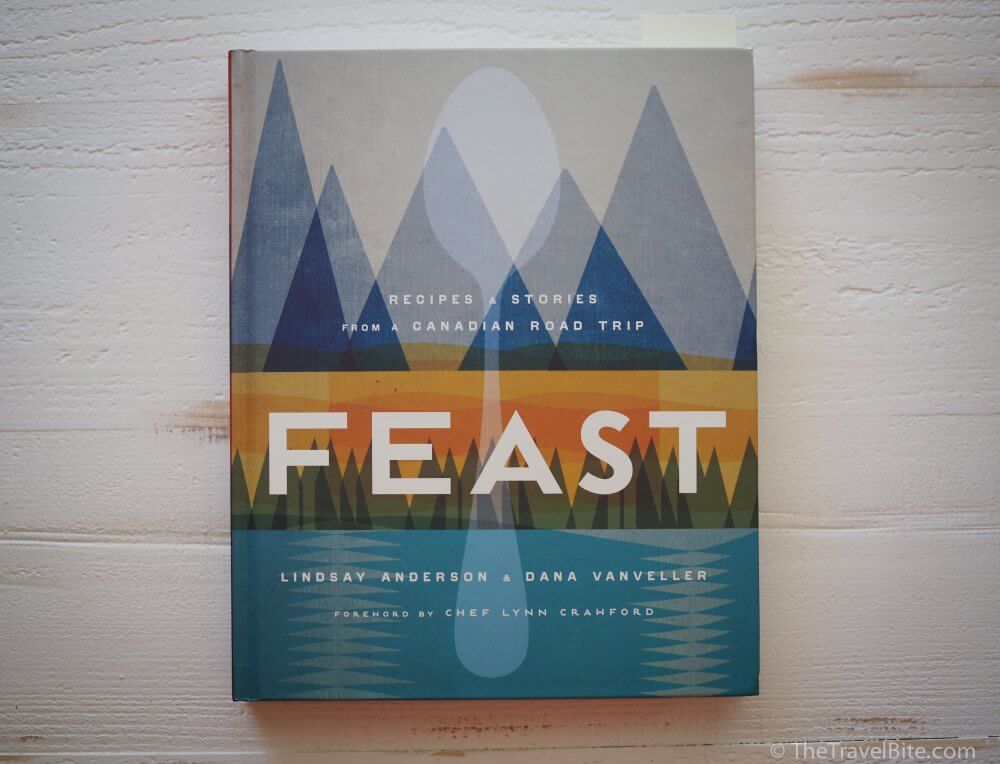 More about FEAST: A Canadian Cookbook
Some of the recipes in FEAST, like tourtiere (a savory minced meat pie), are familiar to me as my ancestors are French-Canadian and my grandmother makes a meat pie every year for the holidays. It was such a joy to discover so many other Canadian recipes, though, and I especially appreciated the stories and history behind each one. A few others earmarked to try — Maple Molasses Braised Pork Belly and Cape Breton Butterscotch Pie (you'll have to get the cookbook for that one, it's divine).
Barley: A Prairie Ingredient
I love how FEAST celebrates underrated prairie ingredients, like barley and saskatoons (a type of berry). I even stumbled upon spelt flour from Alberta while shopping for barley flour, though, I ended up having to order barley flour online since I couldn't find it at our local grocer. But it was so worth it for these hearty, nutty-flavored barley pancakes below.
Barley Pancakes with Blueberry Sauce
While barley and spelt are not gluten free, they are higher in protein and fiber compared to regular flour, which help keep you feeling full longer if you have a day of activites planned. These are a weekend favorite for us, especially when we have a Saturday morning run or bike ride planned. Hope you enjoy them as much as we do! And definitely check out the cookbook, FEAST: Recipes and Stories from a Canadian Road Trip.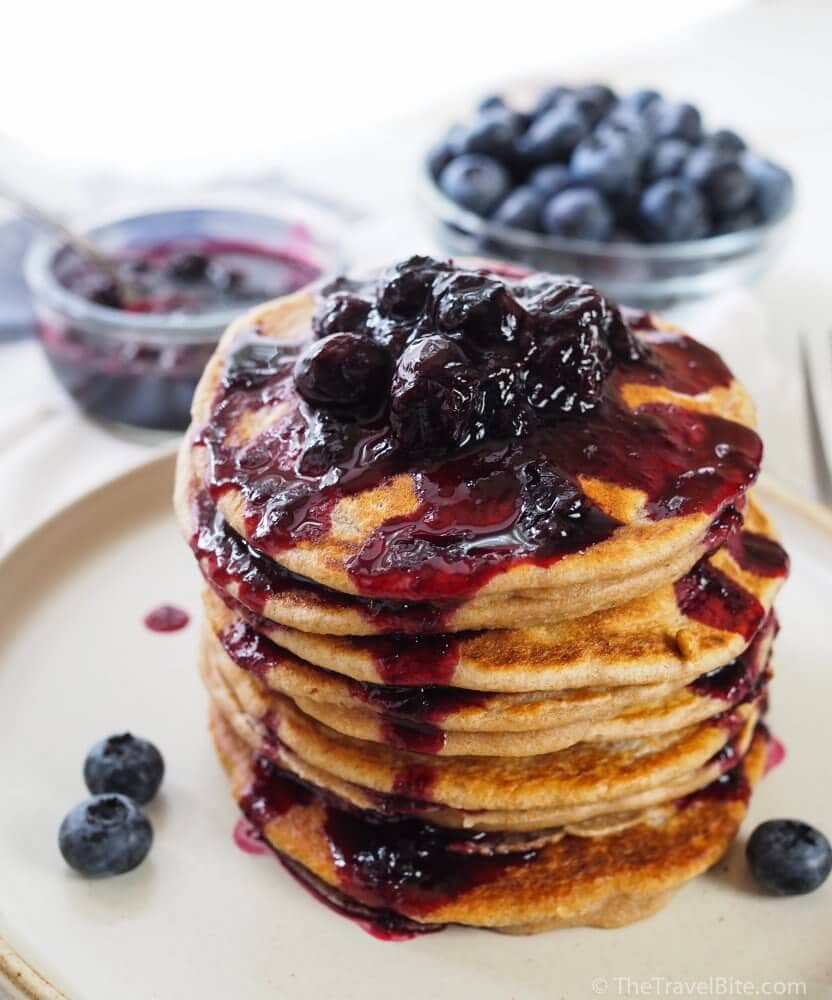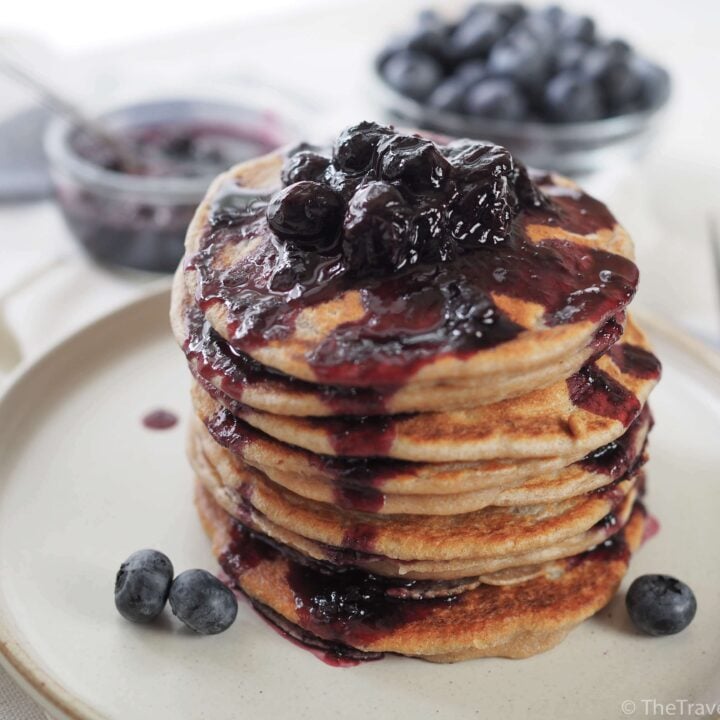 Barley Pancakes with Blueberry Sauce
Ingredients
2 cups barley flour
2 tsp baking powder
1/8 tsp salt
2 cups whole milk
1 egg
2 Tbsp canola oil
2 cups fresh or frozen blueberries
2 Tbsp white sugar
1 Tbsp freshly squeeze lemon juice
Instructions
Start by making the blueberry sauce. Add the blueberries and sugar to a small pot. Squeeze the lemon juice over the berries and simmer over low-medium heat until the berries pop, about 5 minutes. Add more sugar if desired.
Next, pour the dry ingredients (barley flour, baking powder, and salt) to a mixing bowl and whisk together. Crack the egg into a separate small bowl and whisk until the yolk and whites are blended. Pour the egg and milk into the flour mixture and stir until just combined.
Heat oil in a skillet over medium-high heat. Once pan is hot, turn heat to low-medium and pour about 1/4 cup of pancake batter into the pan. Cook until bubbles start to break through the surface, then flip and cook on the other side. Repeat with the remaining batter until you've made about 8 pancakes.
Serve pancakes with blueberry sauce.
Nutrition Information:
Yield:

4
Serving Size:

1
Amount Per Serving:
Calories:

475
Total Fat:

14g
Saturated Fat:

3g
Trans Fat:

0g
Unsaturated Fat:

9g
Cholesterol:

59mg
Sodium:

388mg
Carbohydrates:

78g
Fiber:

10g
Sugar:

20g
Protein:

14g
Nutrition information provided is only an estimate.
**Some of the links included above are affiliate links, so if you make a purchase, The Travel Bite®, will receive a commission.
More Recipes + Stories We Think You'll Love
Want to save this recipe for later? Pin it! 🙂