A holiday food favorite, I had to re-post this recipe for tourtiere from my old blog, InnTheKitchen.com.  What are your holiday food traditions?
You know how there are those certain foods your parents make you eat that you don't quite appreciate until your an adult?  Growing up, my grandmother used to make "meat pie" every year for Christmas. And not just one, but several so that we could freeze them and have it throughout January.  Back then, I used to wonder why our family couldn't eat something normal for the holidays such as ham or turkey. But now, I couldn't get through the winter without having a slice of tourtiere.  It's a nice change from hot chili, soups, stews to warm you up after a cold day.
Here's my grandmother, my "Mamere," teaching me to make meat pie.  Or how she and the French Canadian's call it, Tourtiere.
La Ingredients …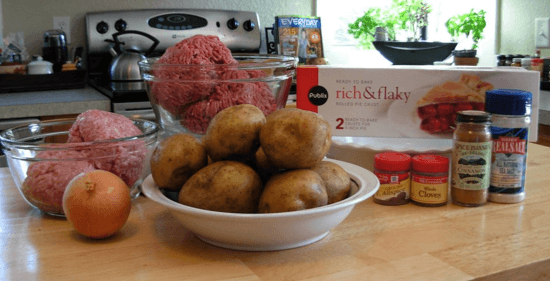 Before you begin … peel, cut and chop your potatoes. We used 3 pounds of potatoes, but when it was all said and done, we realized we could have added another pound. You could also use "instant" mashed potatoes if you need to save time, but taking this extra step makes for a better texture.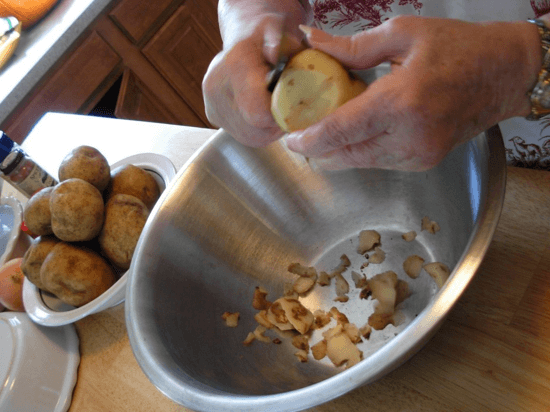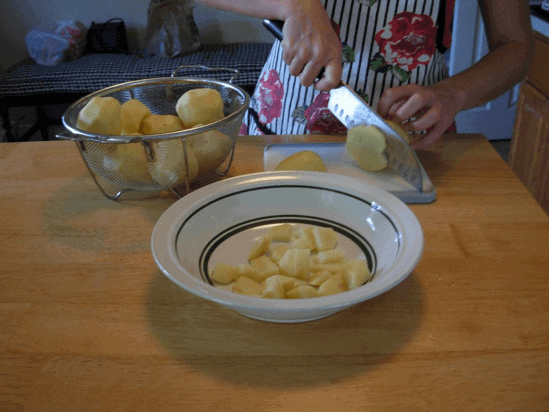 Add the meat to a large stock pot and set on medium heat.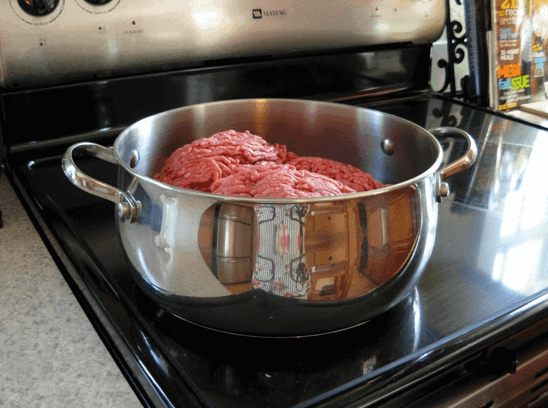 After the meat is fully cooked, drain the broth into a separate bowl for later use.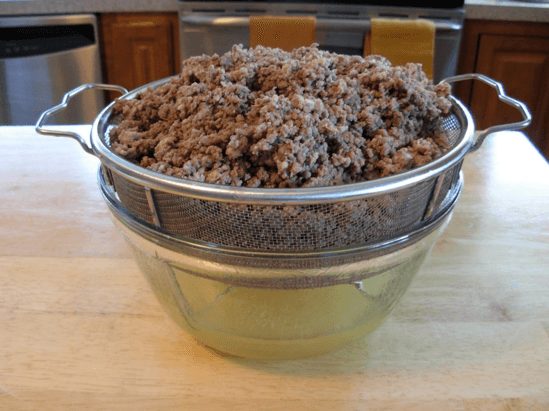 With the meat pie filling set aside, we added the potatoes and onions back into the same pot with some fresh cold water and a tinsy bit of the broth left over from the meat to add flavor.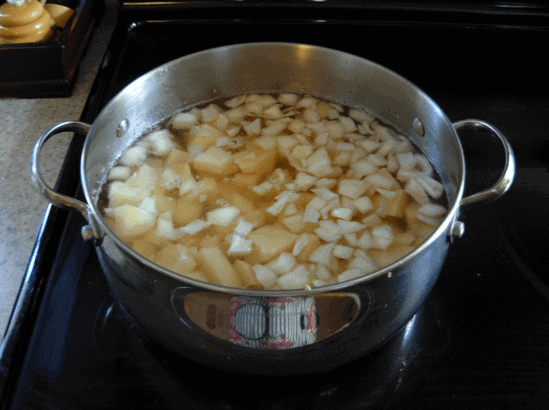 The spices … I only had whole cloves, so I used my mortar and pestle to grind them up. Mixing the dry spices together before adding to the meat pie filling helps make the flavor more even throughout the pie.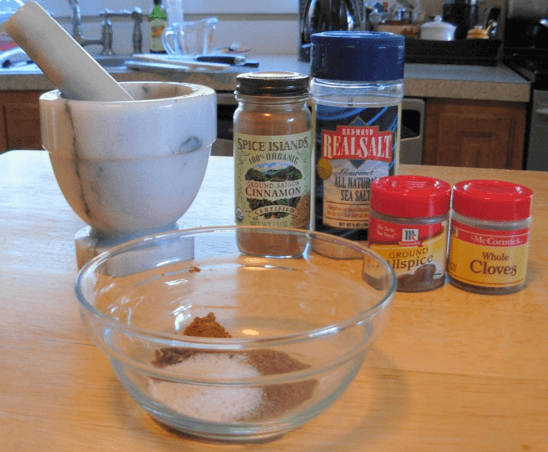 After the potatoes have cooked, drain them and add all the ingredients back to the pot.   Using a large spoon or a hand mixer, blend all ingredients together and add the spices.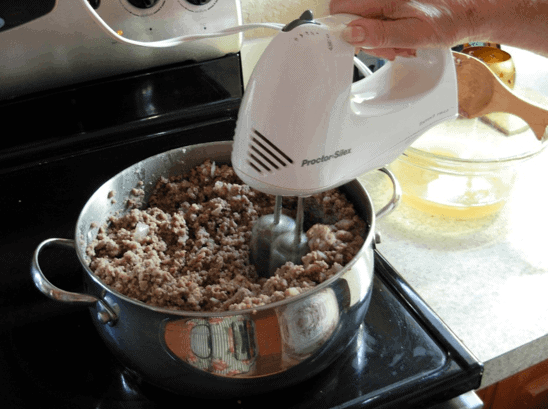 Add the filling to your empty pie crust shells.  This recipe makes two pies.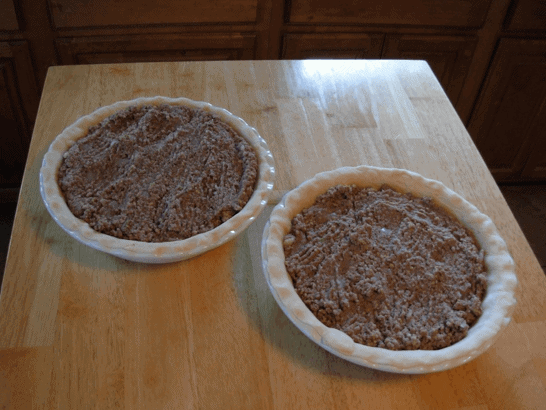 Using a little water, wet the edge of the crust before adding the top layer of pie dough.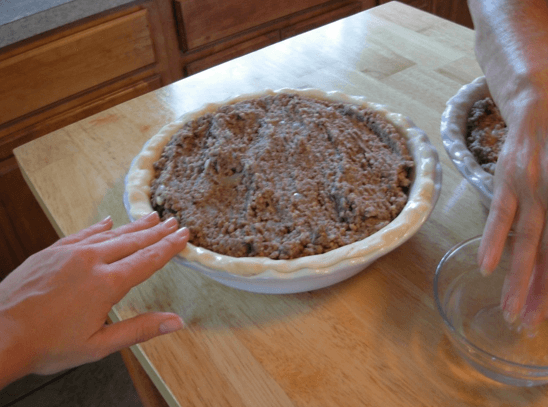 Create some vents either using a knife or shaped cookie cutter.  (Got my little nod to Canada there with a maple leaf shaped cookie cutter.)  Cover with foil and bake at 450 for 15 minutes, then remove foil and reduce heat to 400 degrees for 40 minutes.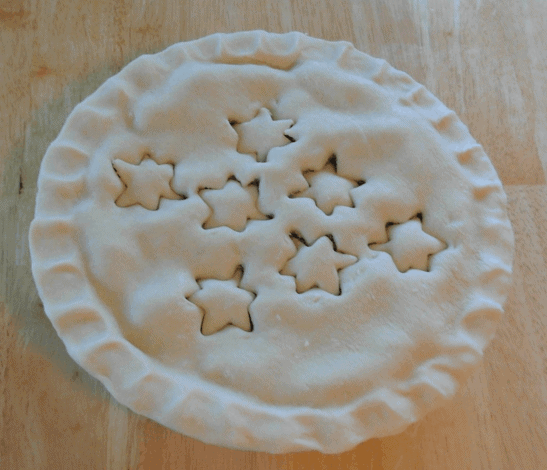 Voila!  Tourtiere …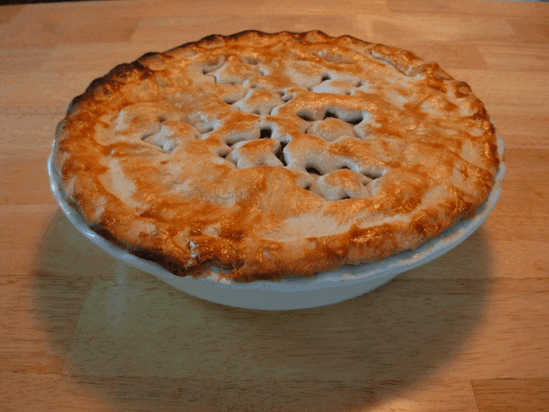 French Canadian Tourtiere
My Grandmother's Recipe
Ingredients
1 pound lean ground pork
1 pound lean ground beef
8 white potatoes, peeled & cooked
1 onion, diced
1/2 teaspoons salt
1 teaspoon cinnamon
1/2 teaspoon allspice
1/4 teaspoon cinnamon
1/8 teaspoon ground cloves
2 –  refrigerated 9 inch pie crust
Directions
Preheat oven to 450 degrees
Peel and chop the potatoes and boil for 20 minutes with chopped onion.  Drain and set aside.
In a large saucepan, combine pork and beef. Cook over medium heat and simmer until meat is cooked.  Drain the broth from the meat into a bowl for later use.
Add all ingredients (potatoes, meat & spices) to large bowl or pot and blend.
Spoon the meat mixture into the pie crust. Place top crust on top of pie and pinch edges to seal. Cut slits in top crust so steam can escape. Cover edges of pie with strips of aluminum foil.
Bake in preheated oven for 15 minutes, remove foil and return to oven at reduced heat of 400 degrees. Bake for an additional 30 to 40 minutes until golden brown. Let cool 10 minutes before slicing.