Have you ever tried Austrian potato salad? It's refreshingly light since it is vinaigrette based and dairy-free, relying on the starch from the potatoes to give the dressing a creamy texture. It's also low fat, but rich in flavor due to the mustard, broth, and vinegar! I took a cooking class with Andante Vienna during my recent trip with Avalon Waterways and learned how to make Austrian potato salad and have the recipe listed below.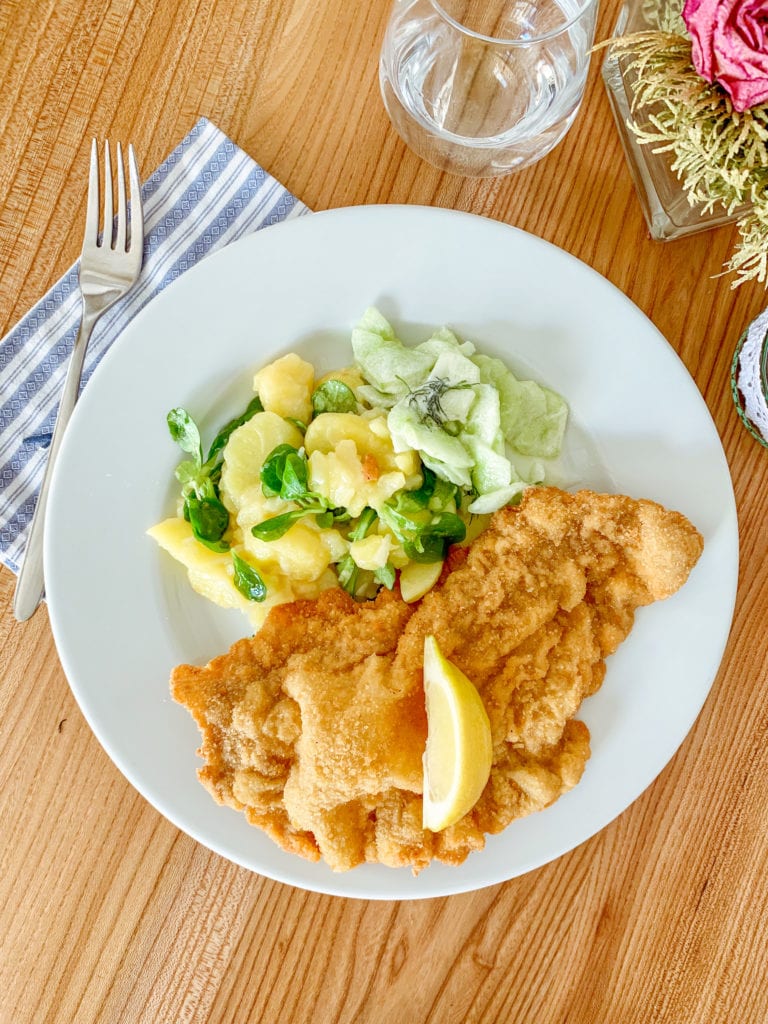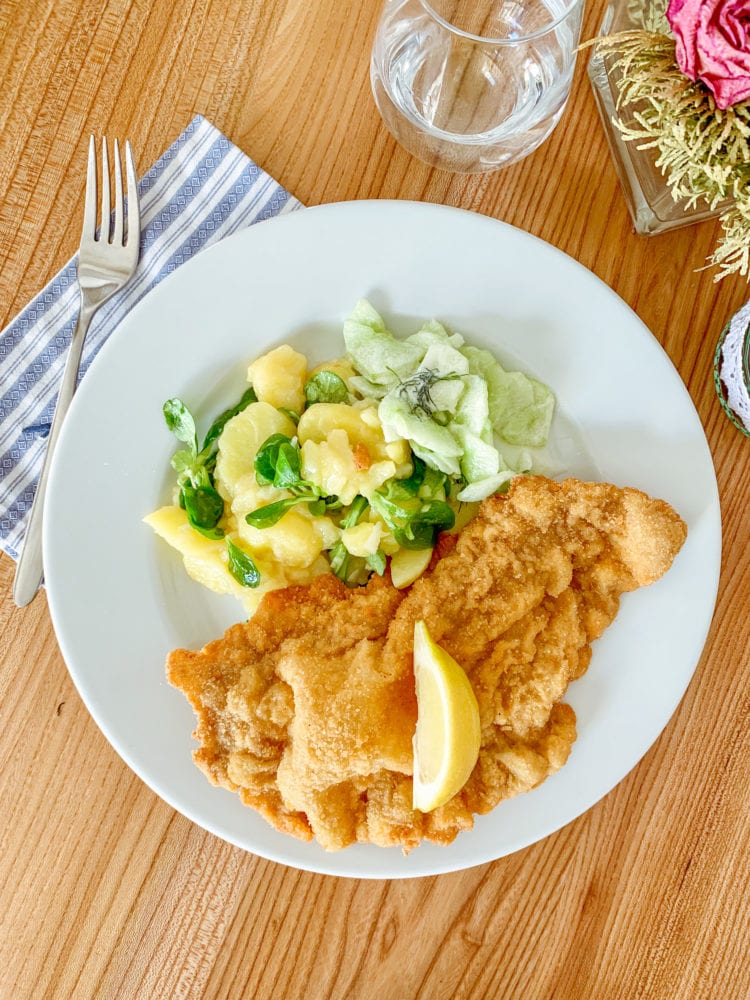 Cooking Classes On A Cruise
Usually, there's not enough time to take a cooking class when you're on a cruise. But Avalon Waterways offers Active & Discovery river cruises where you can choose among included excursions that are immersive and hands-on. So rather than rushing through each port, you have time to see all the sites AND do fun things like taking cooking classes.
Learning To Make Austrian-Style Potato Salad (Erdäpfelsalat)
The name of the cooking school, Andante, is actually a musical reference for a moderately slow tempo. And I can't think of a more befitting name for place where we spent a leisurely afternoon sipping wine and learning the basics of Austrian cuisine by making apple strudel, Wiener schnitzel, and Austrian potato salad.
Nabiel and Natascha made us feel at home in their kitchen, and I'm so thankful Avalon Waterways for coordinating this experience!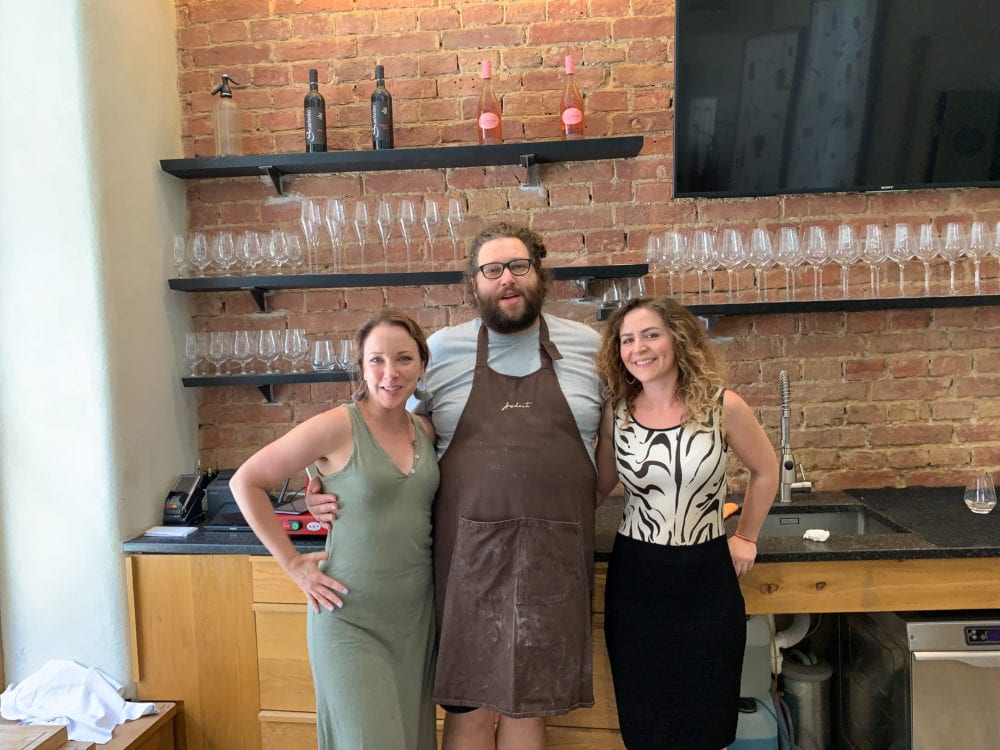 Austrian Potato Salad Notes
I've made this a few times since coming home from my trip, and there are two ingredients that were difficult to find in the US, so I've made some substitutions. The first is estragon mustard. You can find it on Amazon! Or you can add about a 1/2 tsp of tarragon to brown mustard or dijon. I've also made Austrian potato salad just using spicy brown mustard, as listed in the recipe below.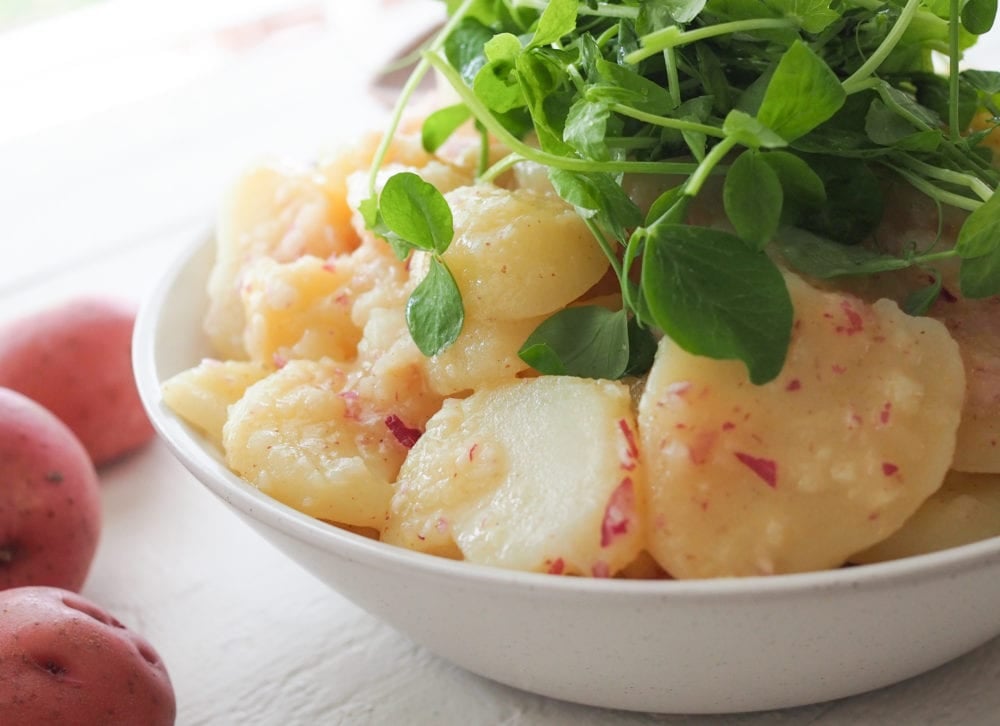 The second ingredient I couldn't find in the US was lambs lettuce (mache lettuce). It is slightly sweet and tangy and gives a wonderful crisp green freshness to the salad. If you live in the Northeast, you might have better luck finding it than in the south. Organic Girl does sell it, but alas, I couldn't find it at any of our local grocers. As a substitute, I've tried both Watercress (more spicy and peppery than sweet) as well as pea tendrils.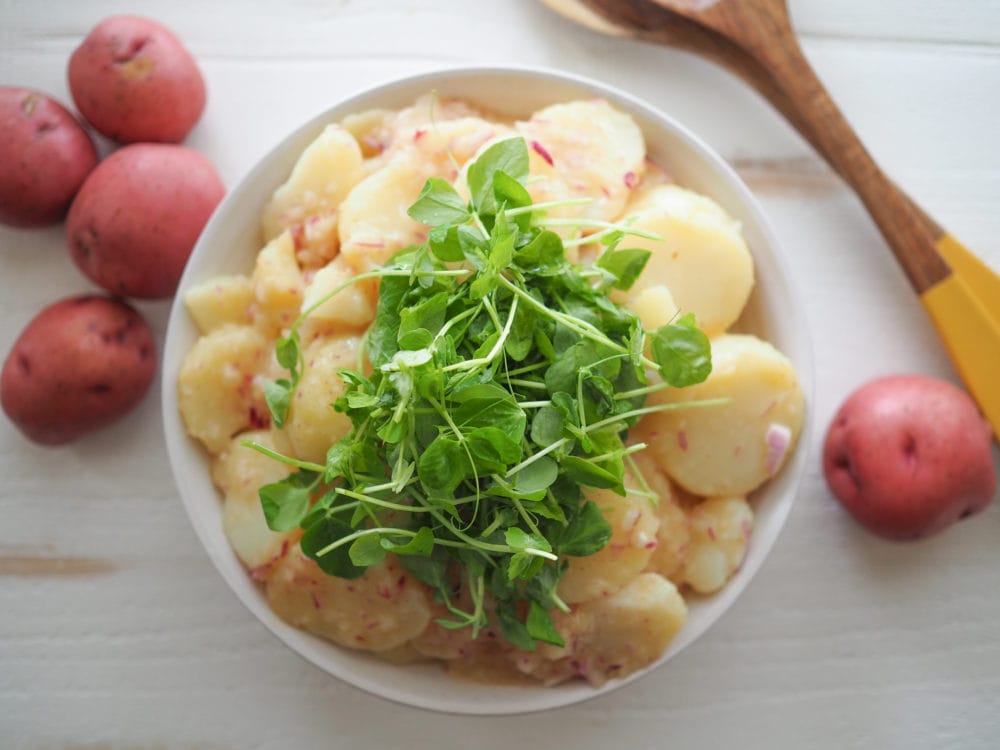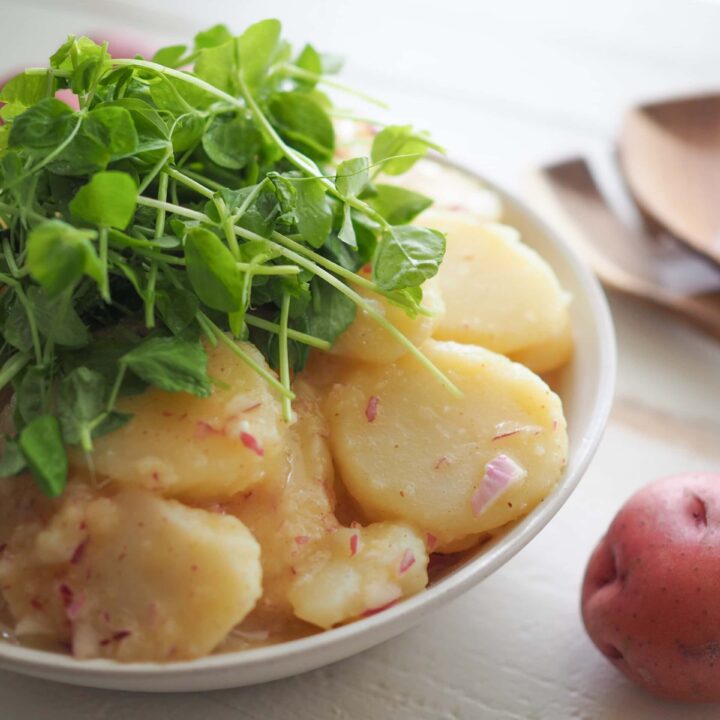 Austrian Potato Salad (Erdäpfelsalat)
Ingredients
2.5 pounds red potatoes
1/2 cup olive oil
1 red onion
1 cup vegetable or chicken broth
1 Tbsp brown mustard (estragon mustard, if you have it)
5 Tbsp apple cider vinegar
2 Tbsp sugar
salt and pepper to taste
1 to 2 cups mache lettuce or pea tendrils
Instructions
Cook the potatoes for about 20 minutes with their peel, remove peel and cut into thin slices while still warm.
Peal the onion and cut into quarters. Add to your food food processor or blender and pulse a few times until the onion is finely chopped.
Add the vinegar, mustard, oil, and onions to a small bowl and whisk together to make a vinaigrette.
Heat the broth and immediately pour it over the potatoes, following with the vinaigrette blend.
Season to taste with the sugar, salt, and pepper, and toss the potatoes with the vinaigrette until has a creamy consistency.
Top with lettuce and serve!
Notes
This recipe can easily be made vegan or vegetarian since it is dairy-free just by using vegetable broth.
Mache lettuce can sometimes be tricky to find, so you can use pea tendrils or watercress instead.
Estragon mustard (Austrian tarragon mustard) is available on Amazon! But a tip from one of my foodie friends, just mix a little tarragon into Dijon as a substitute.
Nutrition Information:
Yield:

8
Serving Size:

1
Amount Per Serving:
Calories:

304
Total Fat:

14g
Saturated Fat:

2g
Trans Fat:

0g
Unsaturated Fat:

11g
Cholesterol:

1mg
Sodium:

202mg
Carbohydrates:

39g
Fiber:

5g
Sugar:

8g
Protein:

6g
Nutrition information provided is only an estimate.
More Stories + Recipes We Think You'll Love!
Want to save this recipe? Pin it!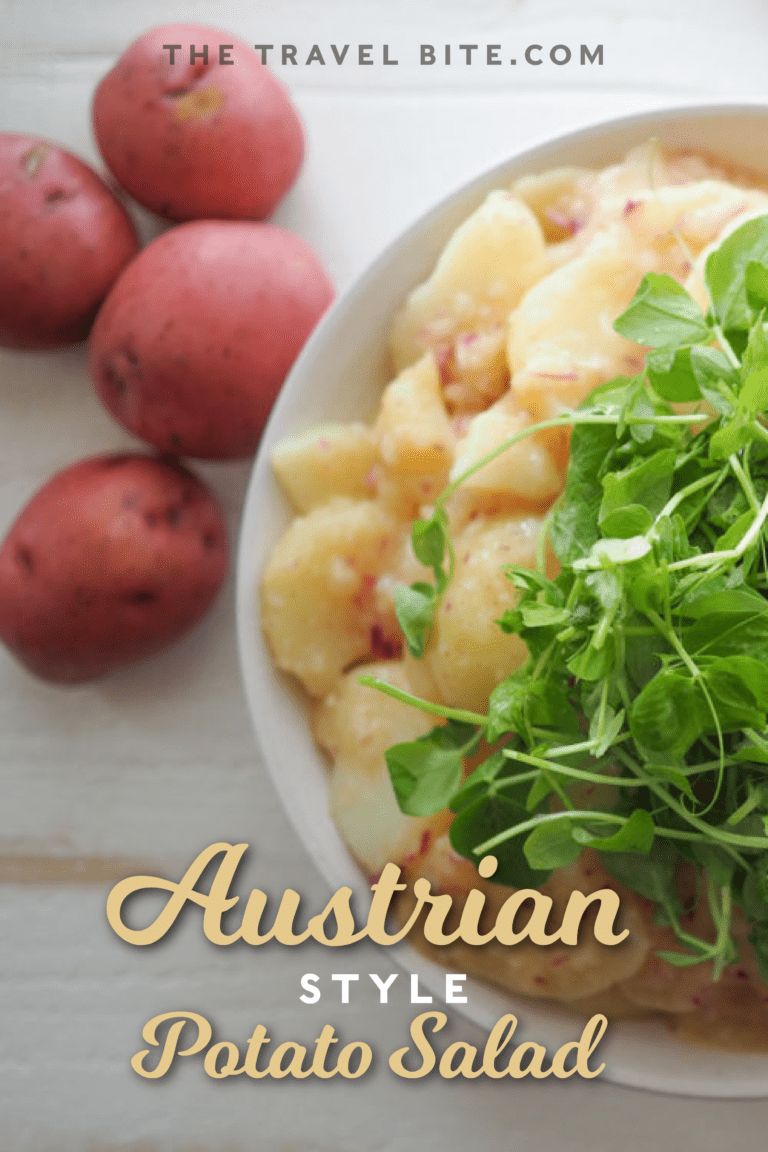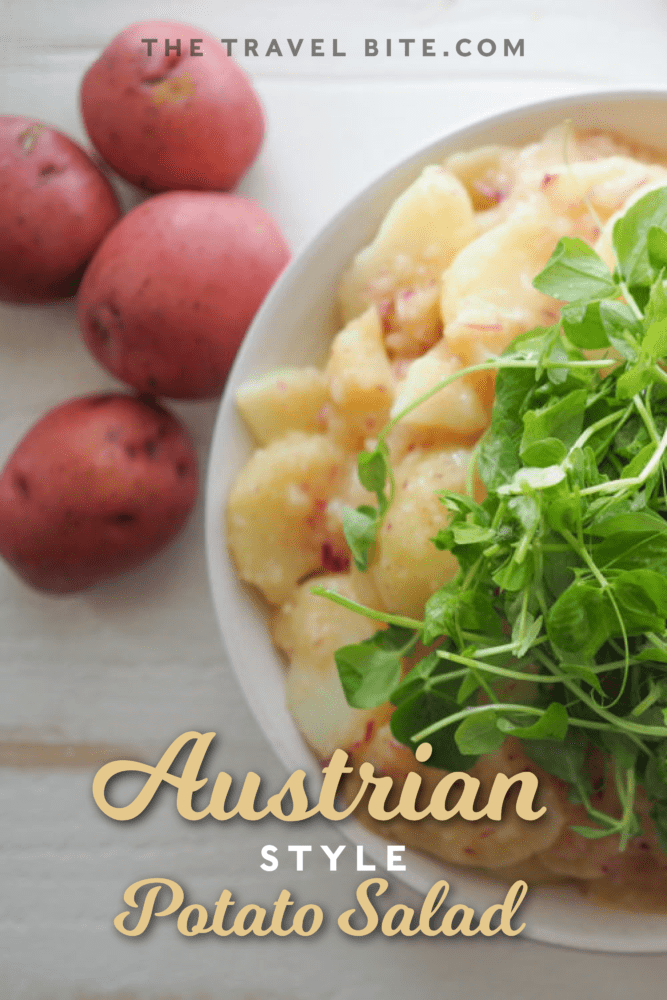 This post is part of the #AvalonAD campaign in collaboration with iambassador and Avalon Waterways. However, all views and opinions are my own.