Pete and I visited Kitzbuhel, Austria, last fall for the Social Travel Summit conference and afterwards spent some time in the mountains for an Austrian Alps farm house stay. The surrounding Alps were the perfect setting for a such a meeting of minds — a physical manifestation of getting a birds eye view on life and inspiration for setting goals. Being in the middle of one of the most scenic mountain ranges in the world, the air felt cool and fresh, making endless cups of coffee and fireside chats all the more inviting.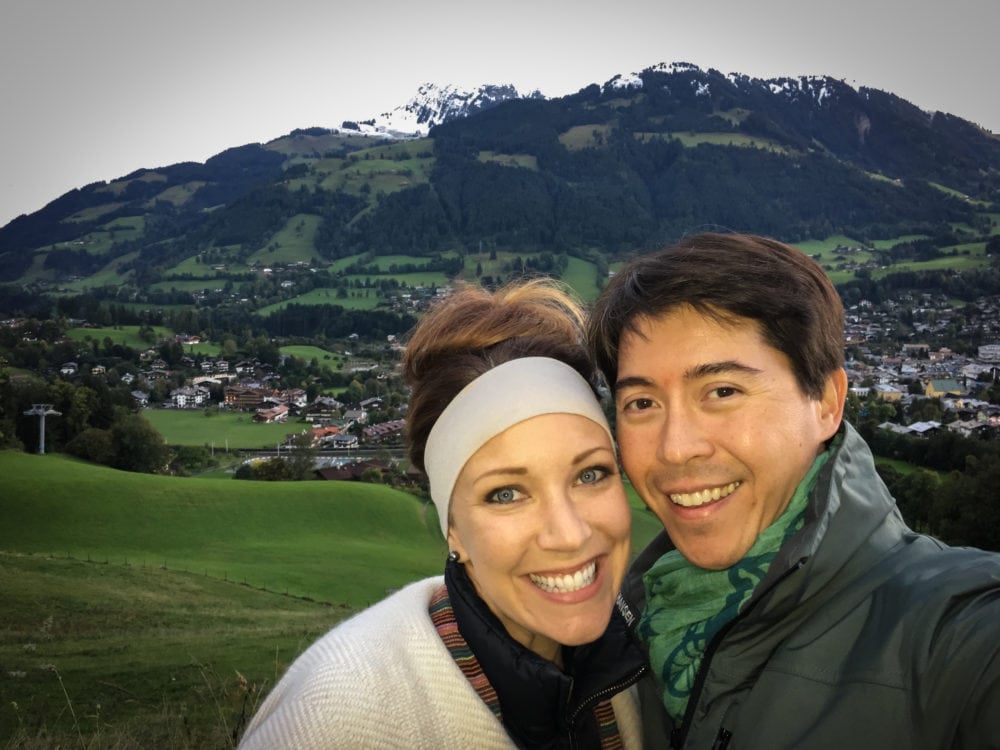 From Kitzbuhel we traveled to the Alpbachtal valley to explore more of Tirol and stayed in the small village of Reith in a historic wood farmhouse. We were so surprised by the fall cattle drive festival we experienced, as well as pushing our physical limits with hiking and biking tours that made the carb-heavy foods of Austria all the more comforting.
Here's more about Tirol, the autumn cattle drive festival, and fun activities in Alpbachtal valley.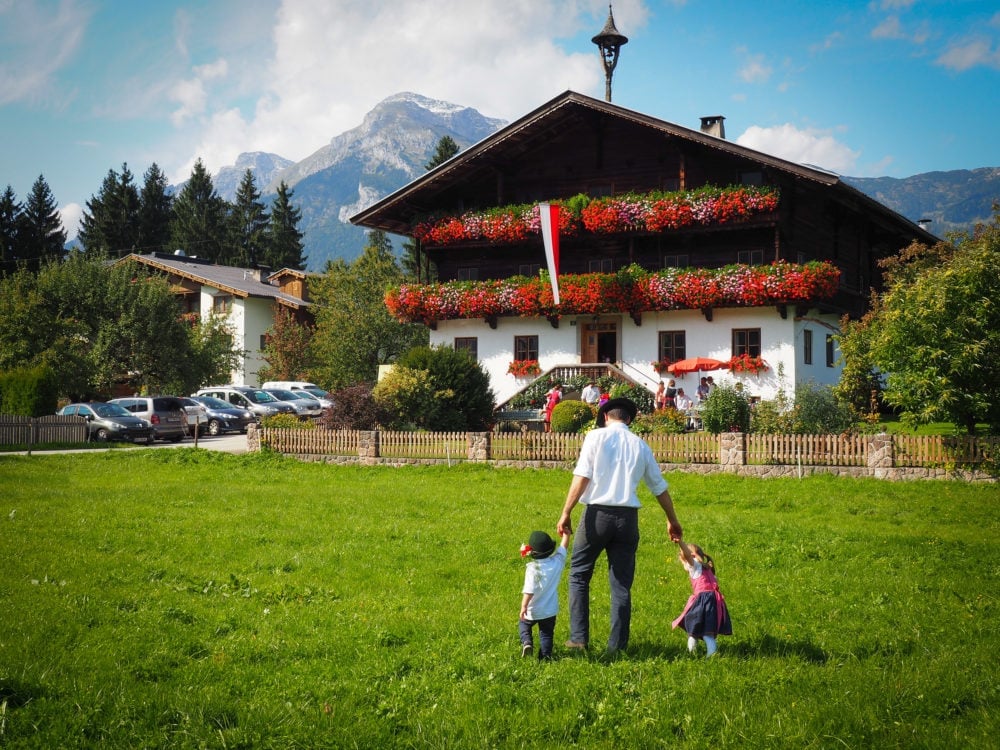 ABOUT TIROL AND ALPBACHTAL VALLEY
Tirol (or Tyrol) is a state within the country of Austria, with the city of Innsbruck at its center. The Alpbachtal is a scenic valley in Tirol with nine quaint villages adorning the foothills of the Alps. Located in the middle of the most scenic mountain ranges in the world, Alpbachtal is a great place for vacationing in the middle of nature and experiencing the Austrian countryside.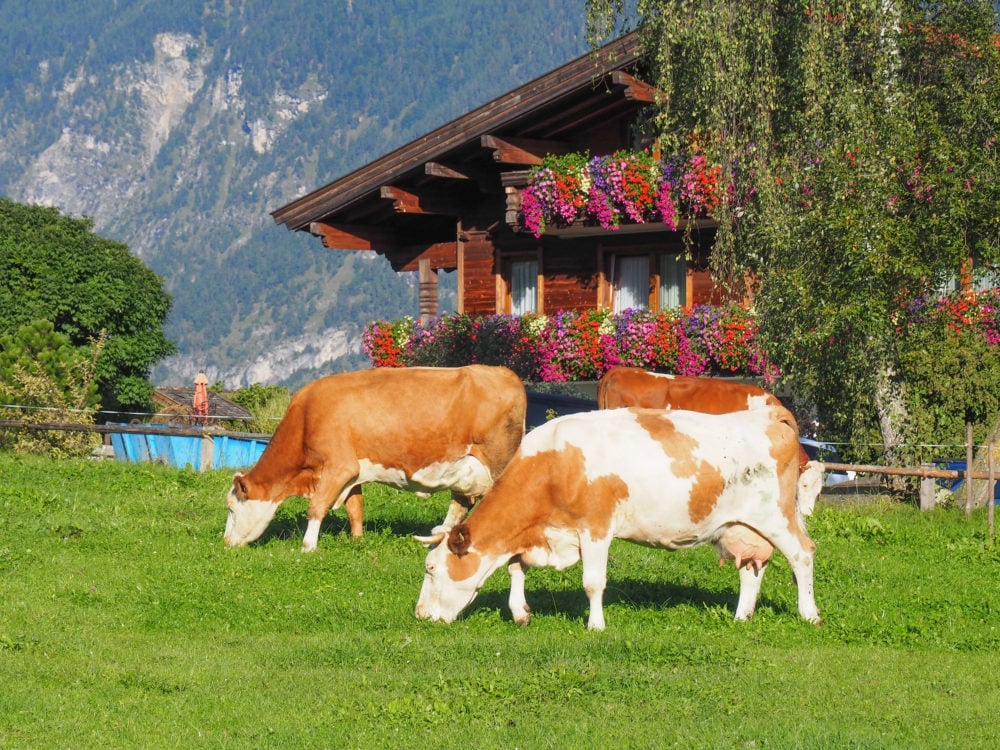 TIROL AUSTRIA CELEBRATES A CATTLE DRIVE LIKE NO OTHER
The phrase "when the cows come home" might be a popular idiom when you want to express a long period of time, but in Austria, it's a celebration. After a summer of grazing among the most lush green hills, cattle in Austria are adorned with elaborate flower headdresses and paraded back to town, much to the admiration of the entire village as well visitors.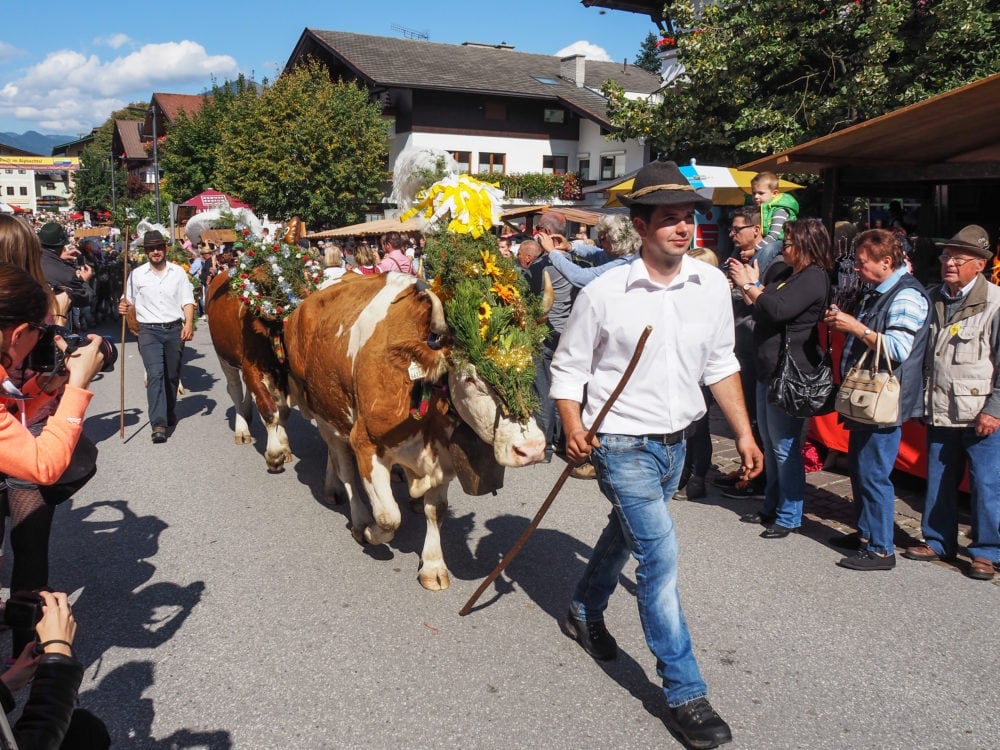 This traditional autumn Alpine celebration is festive, with food stalls, handicrafts, and live music too. And with most everyone dressed in lederhosen and dirndls, donning felt Alpine caps, it's easy to get the feeling that you've stepped back in time. The autumn cattle drive was such a fun surprise during our trip and is definitely an event to add to your must-see list.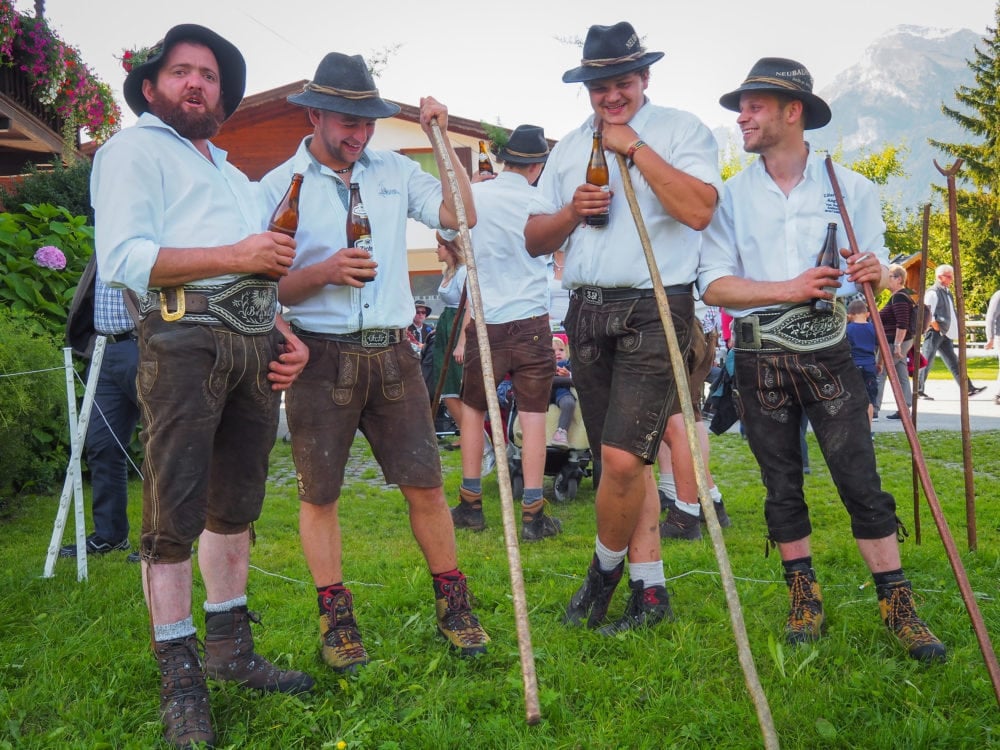 The celebrations usually take place at the end of September when the cows come home from summer grazing. Check Tyrol.com for dates to plan your trip around the festival.
ACTIVITIES & THINGS TO DO IN TIROL
Besides watching decorated cows parade through a village, there's plenty of fun outdoor activities in Alpbachtal. Here are a few ways to enjoy Austria's fresh mountain air (and a few delicious food experiences too).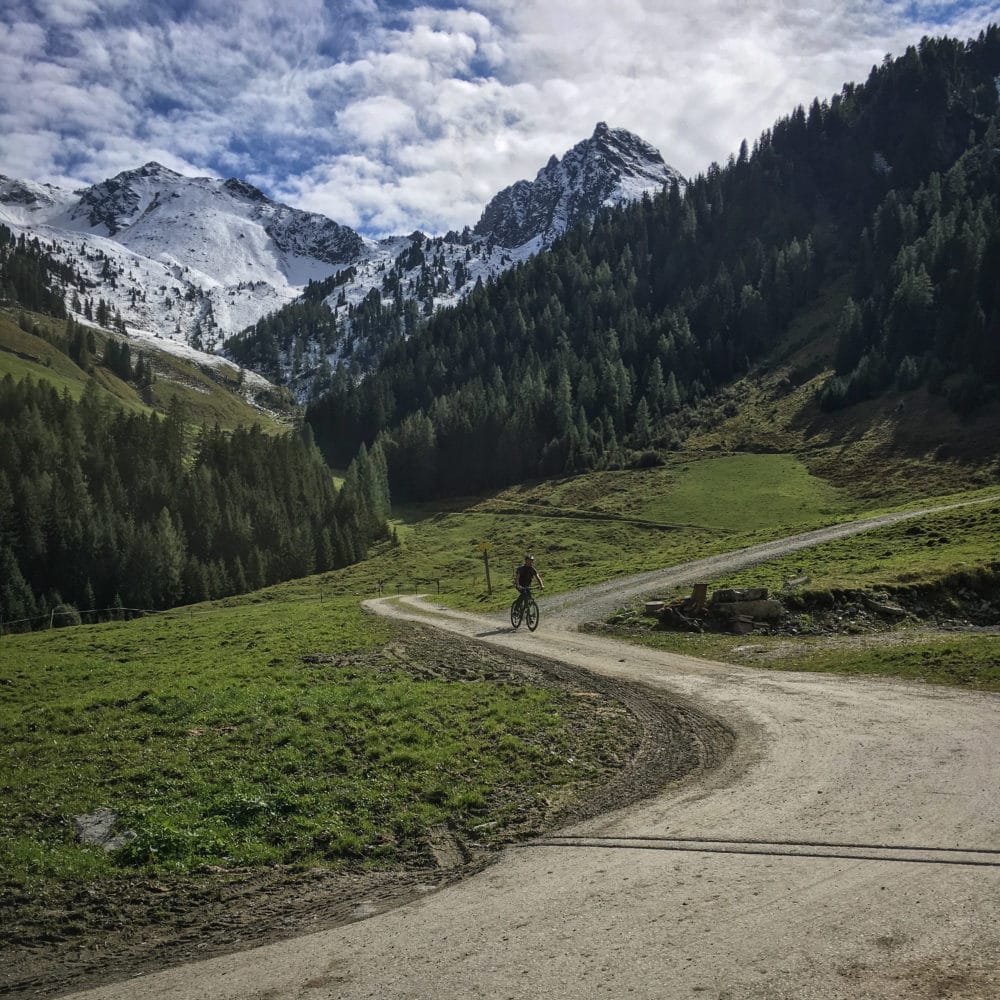 Hike Kaiserklamm Gorge – Kaiserklamm Gorge is a relaxing canyon hike along Brandenberg stream. It's an easy paced route that takes about an hour round-trip along a well-marked cliffside with protective railings. After a hike along the gorge, plan to indulge in a unique Austrian cake at Gasthof Kaiserhaus, located at the entrance to the hike.
Prugeltorte Baking Demonstration – At Gasthof Kaiserhaus Brandenberg near Kaiserklamm Gorge, watch and learn how traditional prugeltorte cakes are made. Prugeltorte is a lemon cake baked outdoors around a spit over an open fire. One person ladels the cake batter over the spit while another person continually rotates it. Once baked, it's sliced thin and served with berries and cream.
E-Bike Tour and Lunch At Farmkehralm – There are mountain biking trails for every skill level in Alpbach, with e-bikes to help power novice riders up some of the steep hills. We did one that included lunch up on the mountain at Farmkehralm. I do have to admit, I was a bit nervous (alright, I was scared senseless) coming back down the steep mountain roads. But it was worth the scenic lunch and the feeling of accomplishment once we finished. Make sure to check with your guide about the route to make sure it fits your skill and comfort level.
Museum of Tyrolean Farmhouses – All throughout Tirol you'll see timber farmhouses, some new and modern, and some centuries-old, but almost all decorated with brightly colored flower boxes along the balconies. Learn more about the history of these historic wood buildings and step inside some oldest preserved homes at the Museum of Tyrolean Farmhouses in Kramsack.
Wiedersberghor Peak in Alpbach – The Alps are famous for skiing, but the ski areas are fun to explore during summer and autumn too. Take the ski lift up for coffee with a breathtaking view and hike the mountaintop trails.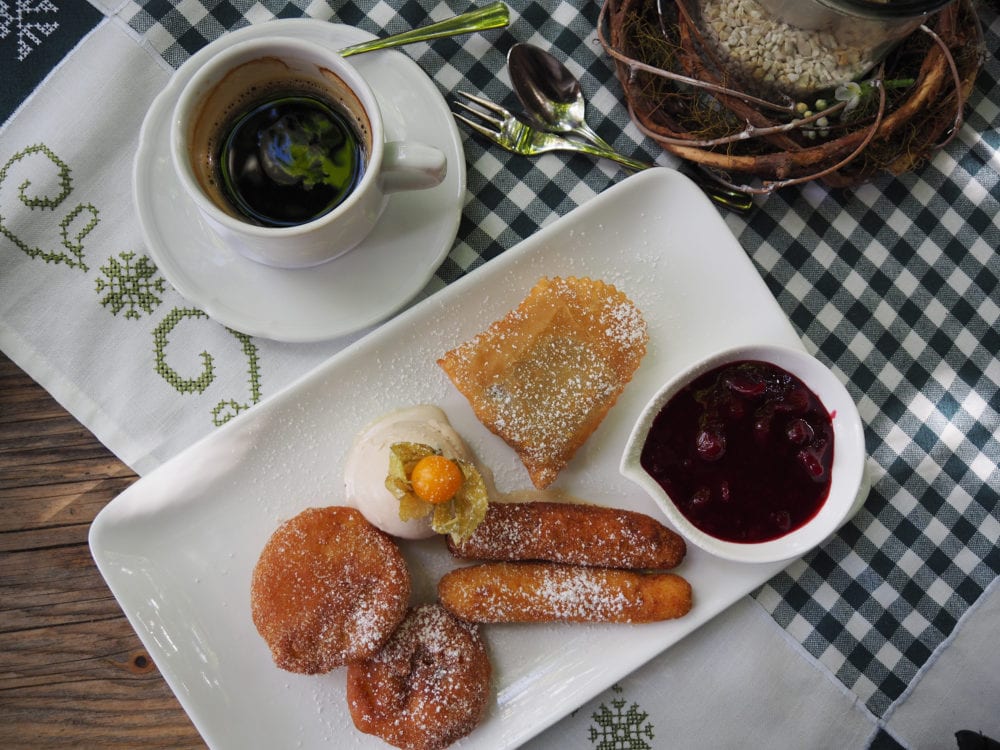 This trio of treats above was a taste of heaven, a sweet promise kept after a strenuous bike ride through the Alpbachtal valley. It's a plate full of fried apples, cinnamon ice cream, sweet semolina flour sticks, a pastry filled with poppy seeds, and a cherry sauce for dipping. A nice little break at the Museum of Tyrolean Farmhouses restaurant.
AUSTRIAN ALPS FARM HOUSE STAY
When visiting Alpbachtal, you can actually stay in an authentic Tyrolean farmhouse. Most are charming and rusting, with updated kitchens and bathrooms providing modern comforts. Something I didn't realize until staying in a farmhouse — the cows are under the same roof! There's a door in the center hall that goes back to the barn, which I'm sure is really convenient in the cold of winter.
We stayed at Ferienhous-Weberhof in Reith im Albachtal. Each morning, our host would deliver a bountiful breakfast basket with local breads, cheeses, yogurt, and jams. And in the evenings we'd walk to the village for dinner, then sit on the porch or in the modern kitchen and sip hot tea while chatting about the day's adventures.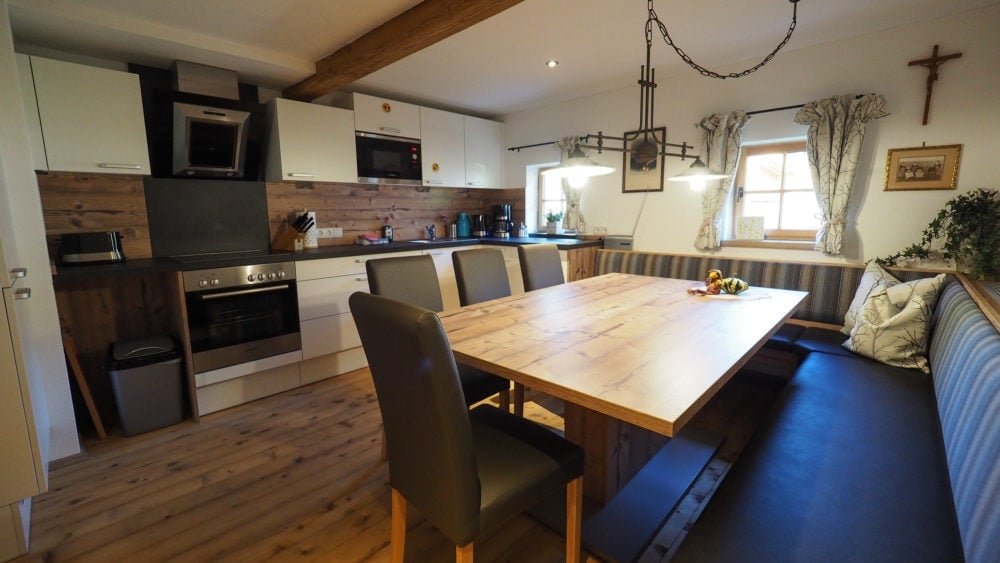 WHAT TO EAT
Of course, with all the cows, you're in for some cheesy treats! After a fun day playing outdoors, indulge in these Austrian comfort foods:
spätzle (a cheesy, gnocchi-like hand rolled pasta)
wienerschnitzel (a thin, breaded veal cutlet)
prugeltorte (lemon cake)
fritattensuppe (a beef broth with dumplings)
The original Neapolitan Manner Wafers with coffee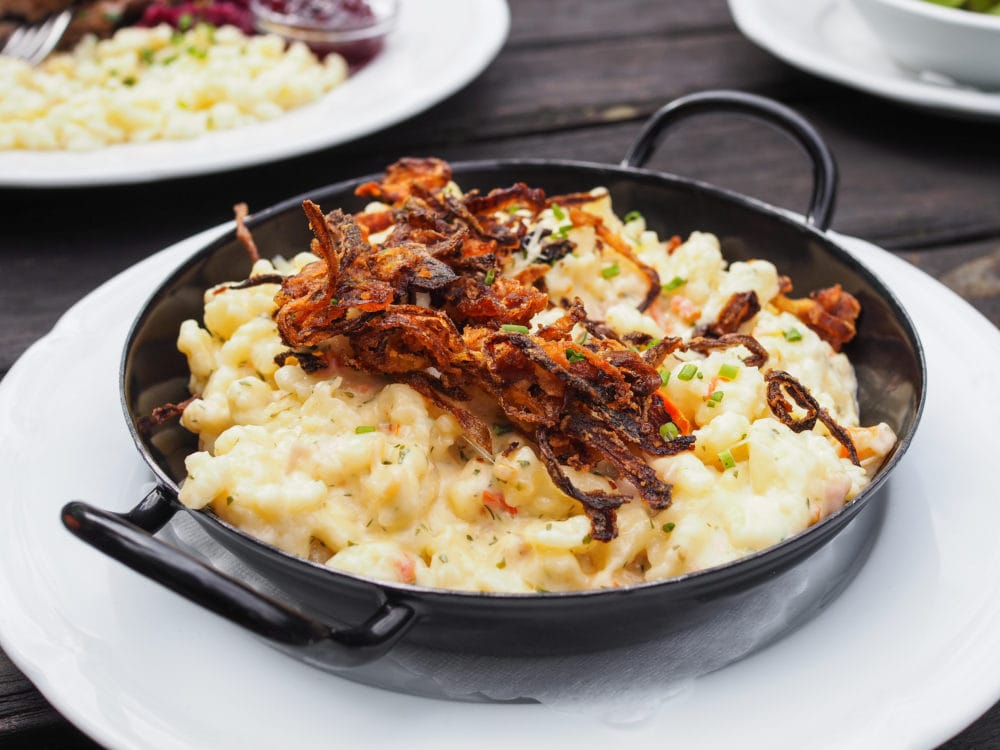 HOW TO GET THERE
Reith im Alpbachtal is located between Innsbruck and Kitzbuhel in the Alpbachtal valley. It's an easy drive from Munich airport, only 120km, or approximately 75 miles. It's also just a 40 minute scenic drive from Innsbruck.
Want to save this Austrian Alps Farm House Stay trip idea? Pin it! Also, there's a photo gallery below. 🙂
You Might Also Like
Photos Of Alpbachtal Farm House Stay