Meat pie is a Christmas tradition in our home. My mother's side of the family is French Canadian, and while in Canada this common Christmas dish is known as tourtiere, we just simply called it meat pie. It's a savory pie with minced meat, potatoes, and flavored with seasonal spices like cinnamon, allspice, and cloves. We'd typically serve it with a side of cranberry sauce or ketchup in our family, but I've heard of it being served with gravy too.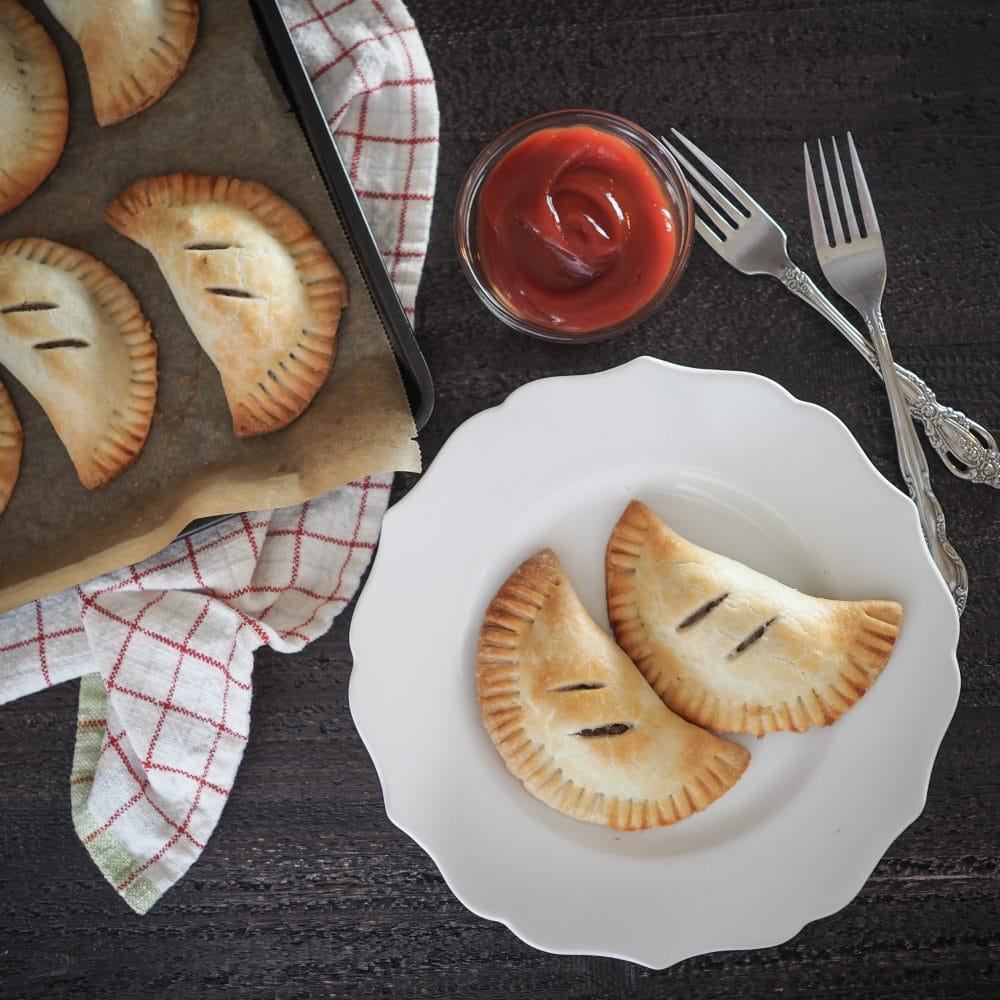 The history of meat pie dates back to the fifteenth century, and while I've seen some recipes for tourtiere get really gourmet and elaborate with the spices and meats, this one is actually from my grandmother and is more of a depression era recipe with simple ingredients and mixed with potatoes to make the meal big enough to feed a family.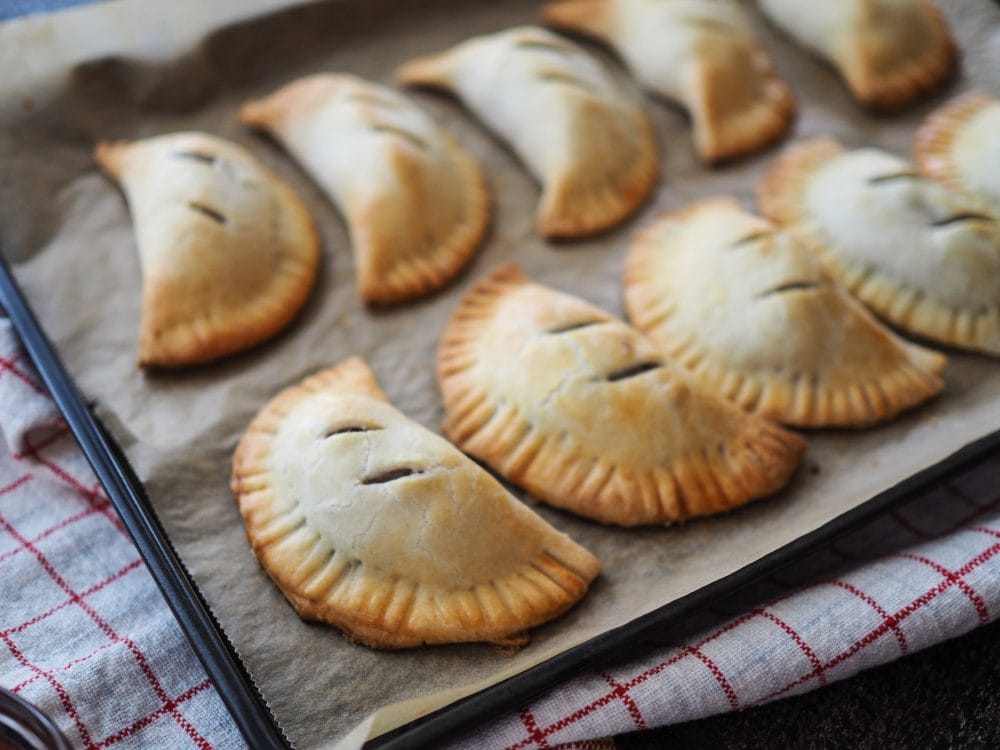 Speaking of family, my grandmother's recipe for meat pie is indeed, gigantic. Her original recipe for meat pie makes two large standard sized meat pies, or as I later found out endless amounts of hand pies. So for the meat pie recipe below, I've cut the ingredients down to half to make it a bit more manageable for a smaller hand pie.
What I love about these is that they're easier to wrap up individually and freeze if you make a big batch and have some left over. They're also a hearty appetizer for holiday parties.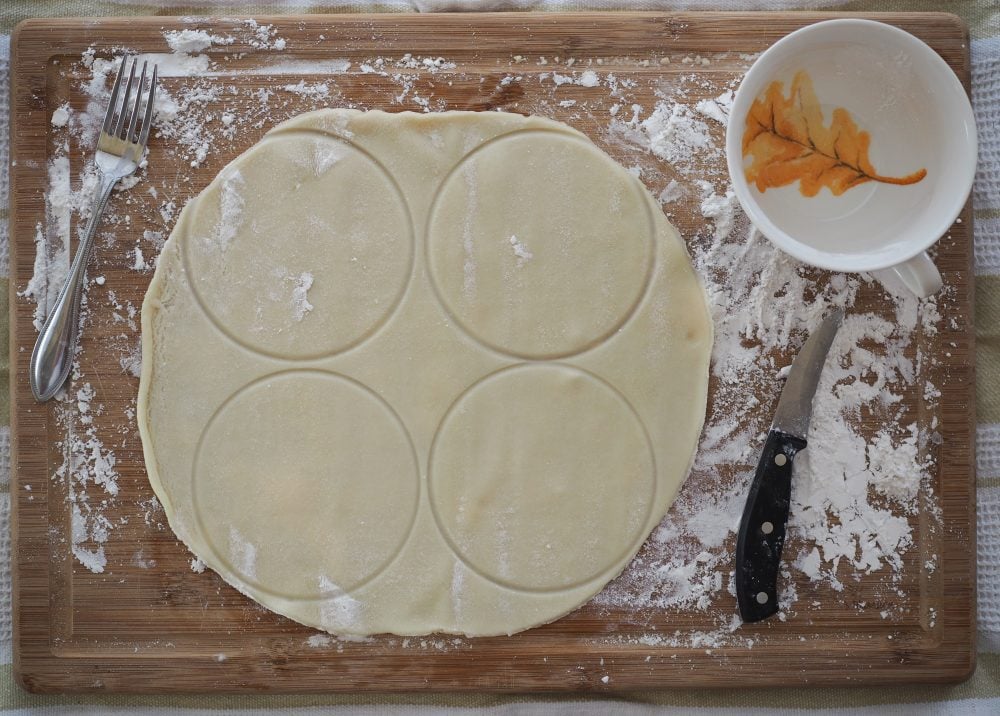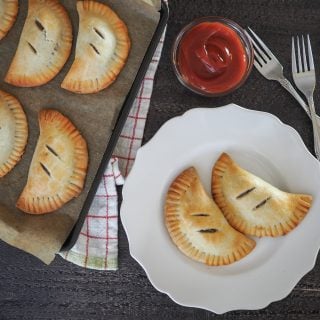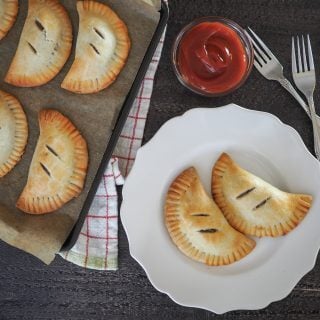 Meat Pie
Ingredients
1/2 pound lean ground pork
1/2 pound lean ground beef
4-6 small white potatoes (approx. 3 pounds)
1 large onion, diced
1/2 teaspoon salt
1/2 teaspoon pepper
1/4 teaspoon cinnamon
1/4 teaspoon allspice
1/4 teaspoon ground cloves
1/4 teaspoon nutmeg
4 refrigerated 9 inch pie crusts
1 egg
Instructions
Peel and coarsely chop the potatoes, then boil for 10 minutes with diced onion. Drain and set aside.
In a large saucepan, combine pork and beef. Season with salt and pepper and cook over medium heat and simmer until meat is cooked. Drain the broth from the meat into a bowl for later use.
Add all ingredients (potatoes, onion, meat & spices) to large bowl or pot and blend with a hand mixer. If mixture is a bit dry, add spoonfuls of the meat broth until you achieve desired consistency. If should be able to hold it's shape a bit, like a meatball.
Refrigerate overnight.
Preheat oven to 450 degrees. Prep two cookie sheets with parchment paper.
Remove pie crusts from refrigerator to soften, following the directions on the pie crust box.
Roll out pie dough and cut into 4 1/2 to 5 inch rounds. You can use a large cookie cutter, or just flip over a small bowl to guide you. Each pie crust should make four pies.
Spoon meat mixture (approx. 1-2 Tbsp each) onto one side of each pie round, leaving about a half inch dough framed around the edge of the meat.
Fold one half of the pie over the side with the meat, and seal the meat pies using the tines of a fork to crimp the edges together. Using a sharp knife, cut two slits on the top of each pie for venting.
Crack egg into small bowl and whisk the whites and yolk together. Brush the beaten egg on top of each pie. Loosely cover with tinfoil, and bake in pre-heated oven for 10 minutes. Remove the tin foil, reduce heat to 375, and continue to bake for an additional 10-15 minutes until crust is golden brown. Serve with a side of ketchup or cranberry sauce. Enjoy!
Feeds 6-8.