I have several variations of pancake recipes in my inbox and it occurred to me that I need to just post a basic easy pancake recipe. No, you don't need to run to your local grocer and buy some shake and pour. Everything you need is thankfully probably already in your cupboard! Take a look at how easy and simple it is to make a classic pancake.
Homemade Pancakes – What You'll Need
Grab the following items out of your pantry: Flour, sugar, salt, baking powder. Open your refrigerator door and pull out one single egg and your carton of milk. Get a big mixing bowl out of your cabinet, and a whisk or a large fork. Let's get started! This will take 5 minutes, tops.
Homemade Pancakes – Step-By-Step With Photos
First, pour all your dry ingredients into the bowl. About 1 1/2 cups of flour, 2 tsp of sugar, a pinch of salt, and 2 tsp of baking powder. Mix these together.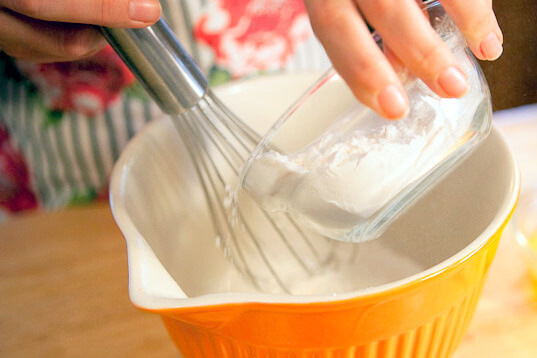 Then add the wet stuff — about 1 cup of milk and an egg. I keep an extra half cup of milk on hand to add in a bit more in case the batter is too thick.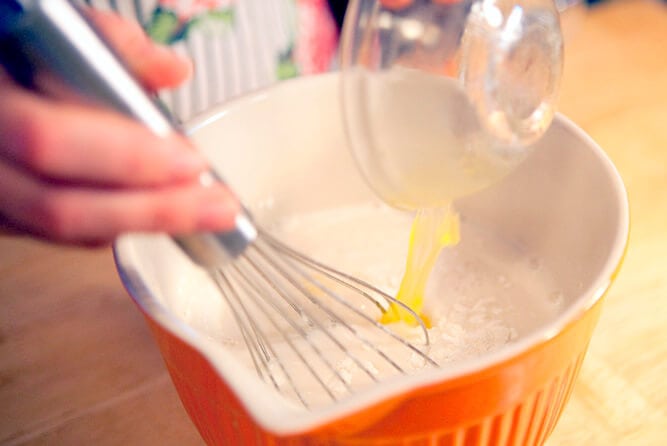 Before adding in the egg, beat it just a bit with a fork so that the yolk and egg whites are well mixed. It makes the pancakes a bit fluffier when you do this first. Plus it makes it easier to blend well with the dry ingredients.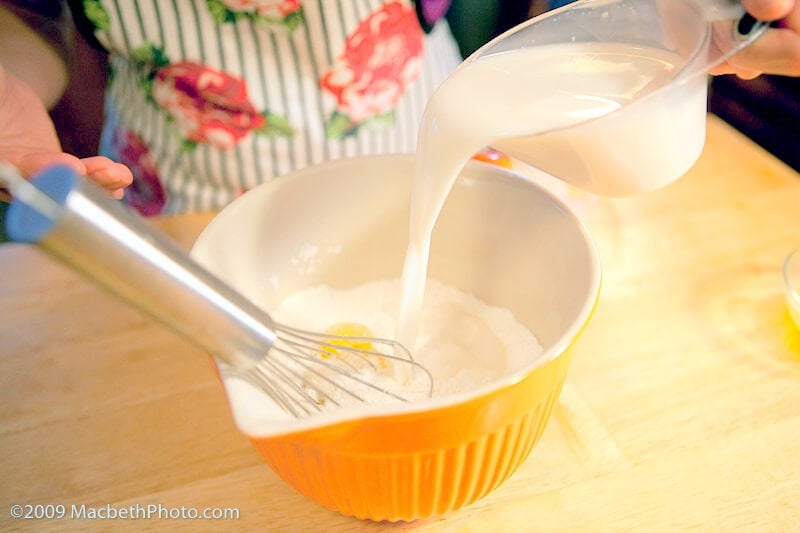 Mix everything together and pour onto a heated and greased/pam'd/sprayed griddle. In about 5 minutes, you'll have breakfast. Got your syrup ready?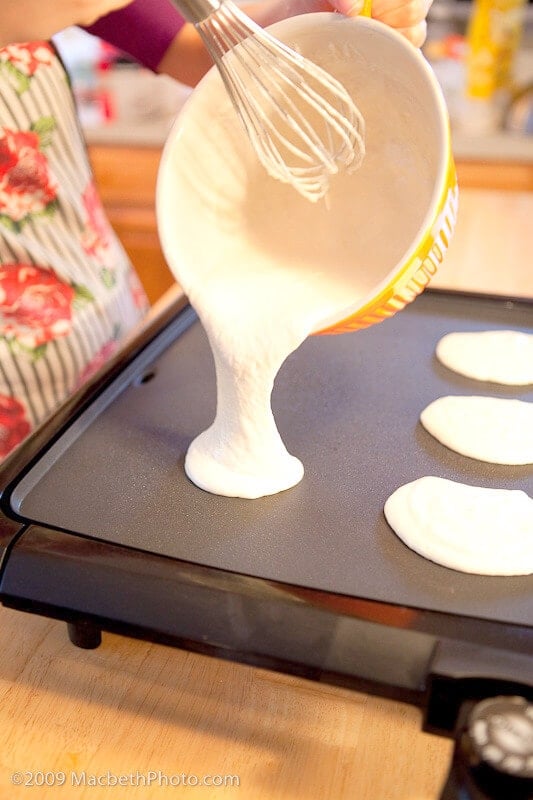 Let the homemade pancakes get a lot of bubbles coming up to the surface and slightly cooked and dry around the edges before flipping.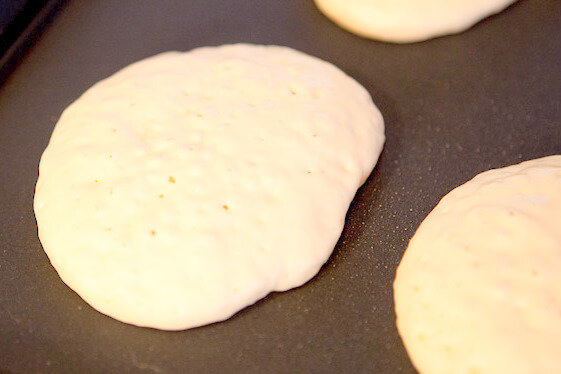 And there you go. Nice fluffy golden brown hot pancakes. There are many, MANY variations. You could add blueberries, walnuts, or sliced bananas. I'll always refer back to this basic pancake batter to start. After making these, try our barley pancakes with blueberry sauce or lemon pancakes too! And if you're in a festive spirit, there's also gingerbread pancakes.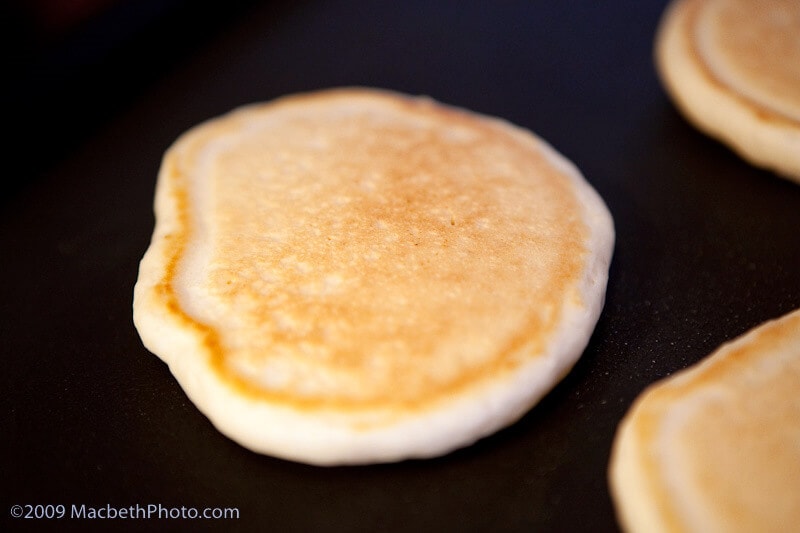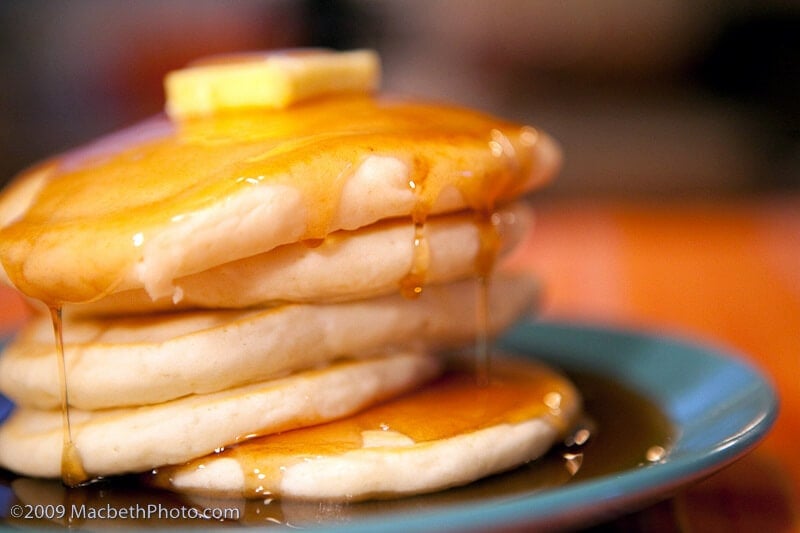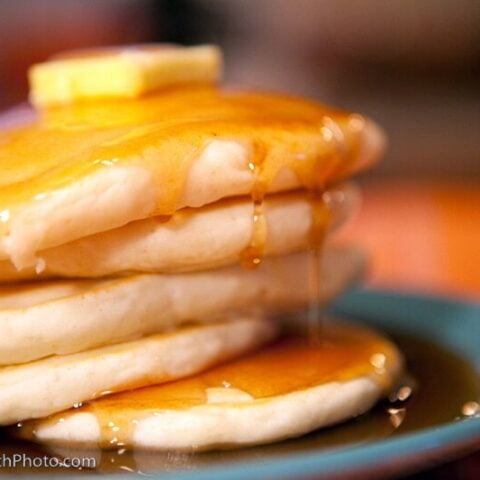 Easy Pancake Recipe
Ingredients
1 1/2 cups all purpose flour
2 tsp baking powder
2 tsp sugar
1/2 tsp salt
1 egg (beaten)
1 1/2 cup milk
**A note about flour. You can also nix the baking powder and use self rising flour for fluffier pancakes.
Instructions
Mix all the dry ingredients together in a large bowl. (Flour, baking powder, sugar, salt.)
Whisk egg in a small bowl and add to the above flour mixture along with the milk.
Stir together until well blended and pour onto a hot greased griddle.
Wait until pancakes are bubbling and cooked around the edges and flip.
More Breakfast Recipes You'll Love
Want to save this homemade pancake recipe? Pin it!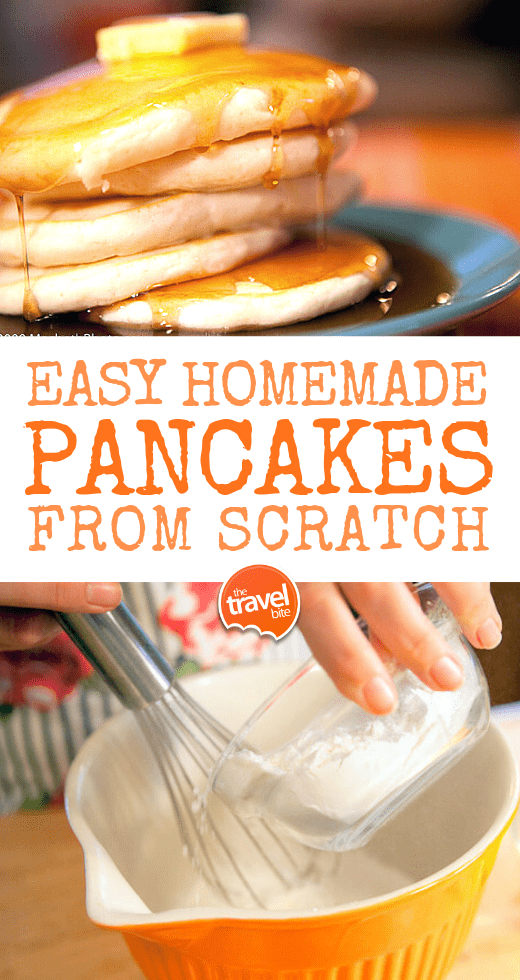 Originally published on Inn The Kitchen, Oct 4, 2009.