Have you ever tried to make homemade pancake syrup? It's actually easier than you might think. I once had my family over for brunch with some fabulous pancakes, but no syrup. Not even maple. So I learned how to make homemade syrup with a few pantry ingredients real quick!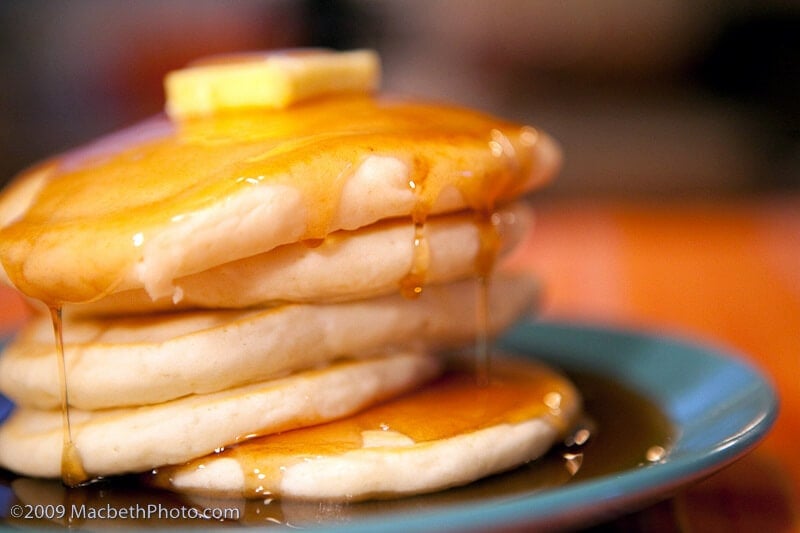 How could a breakfast girl like me not have syrup in the house? I'll tell you how — I used it all up when taking that photo pictured above and forgot to buy more when I went to the store!
So, I did what any cook in the digital age would do — I Googled it. There had to be a recipe for syrup online. I found a ton of recipes, but they were all fancy flavored and I was just looking for plain old regular brown-sweet-not-good-for-your-teeth homemade pancake syrup.
THE SEARCH FOR A GOOD HOMEMADE PANCAKE SYRUP
I found a recipe for homemade maple syrup, cocked my head to the side and furrowed my brow thinking, "homemade maple syrup, what am I gonna do, grow a tree in my kitchen? I'd love a pop-up tree with a spout!" Turns out it is sugar and maple flavoring. Bleh. My family is from New Hampshire, so I can't do fake maple. But, this recipe gave me some ideas for what ingredients to start with and build on.
I started with just brown sugar, granulated sugar, and cornstarch. Just those 3 ingredients plus water. But then, the syrup was too watery. So I modified. And modified some more. And ended up with a sweet and slow running homemade pancake syrup. Now that I know the ingredients don't have to include hydrogenated thingamajigies or Red Lake #20, I'll never buy store bought again. Unless, of course, it's authentic New England Maple Syrup.
THE HISTORY OF PANCAKE SYRUP
Speaking of maple syrup, did you know that Native Americans used to collect the sap from maple trees they called "sugar bushes" long before Europeans arrived to the United States? Of course, they weren't using it as a pancake syrup, but more of a sweet source of energy.
With all natural syrup pouring from tree taps, how'd American style pancake syrup get so popular? Turns out, it truly just comes down to cost. Producing maple syrup is labor intensive which makes it expensive. And the price-per-gallon of each is pretty much the only reason pancake syrup outsells maple syrup by volume. But now with this homemade pancake syrup recipe, you can make it from scratch.
Here's an EASY recipe for homemade pancake syrup with ingredients you probably already have in your pantry.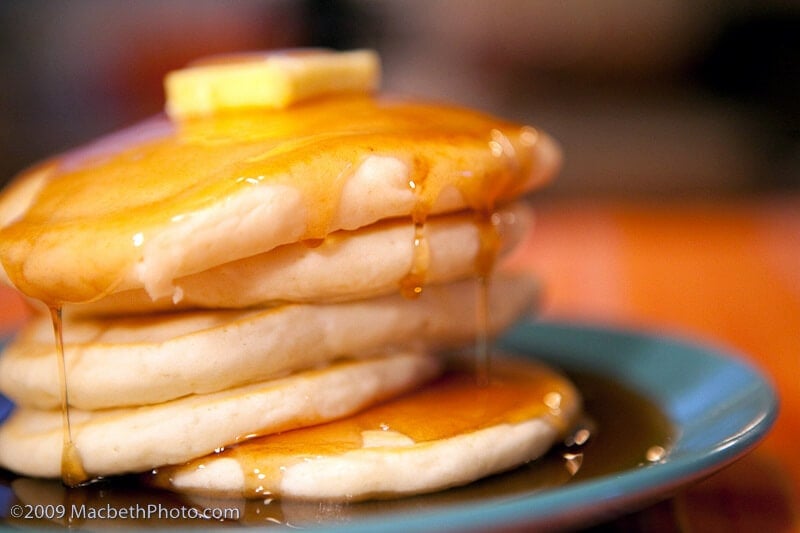 Homemade Pancake Syrup
Ingredients
1/2 Cup Water
1 Cup White Sugar
2 Cups Brown Sugar
1 tsp Pure Vanilla Extract
1 tsp Corn Starch
Instructions
Add cornstarch to white sugar and mix together. Then add all ingredients to a large saucepan on medium heat and bring to a boil.
Once it begins to bubble, turn heat down to low and stir until all sugar is dissolved.
Serve hot off the stove, or let cool for a bit and it will thicken up even more.
Want to save this recipe? Pin it!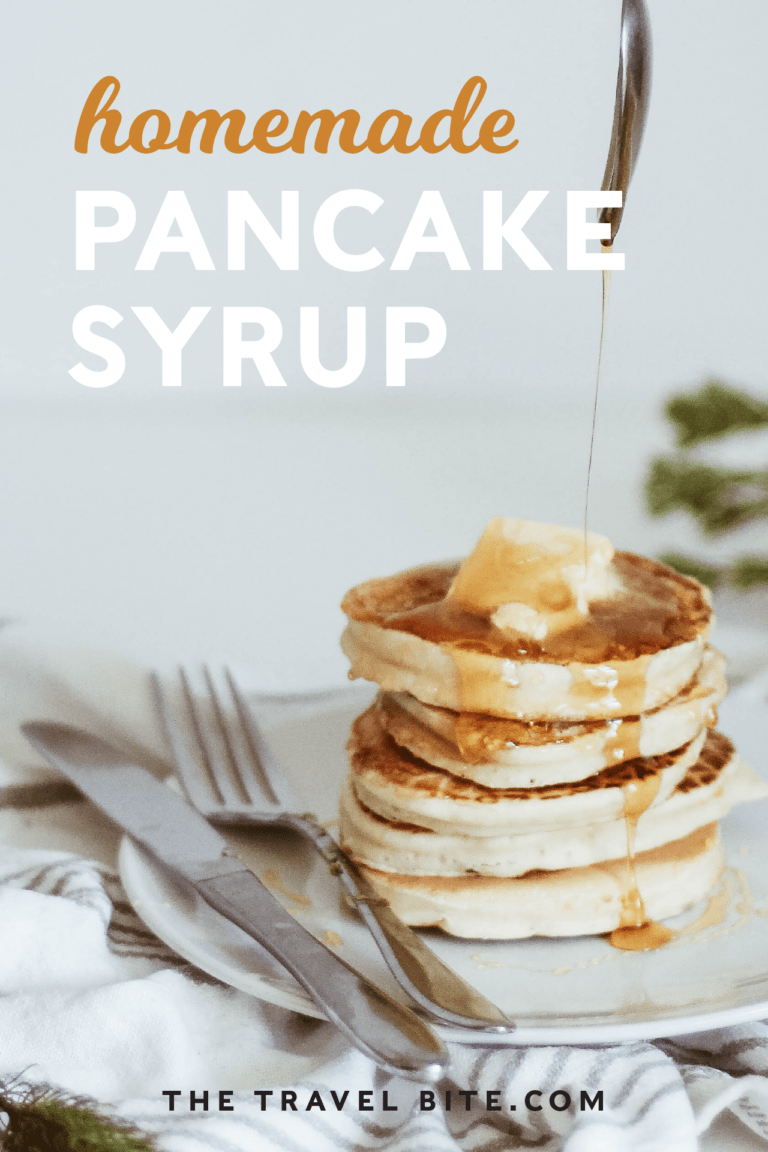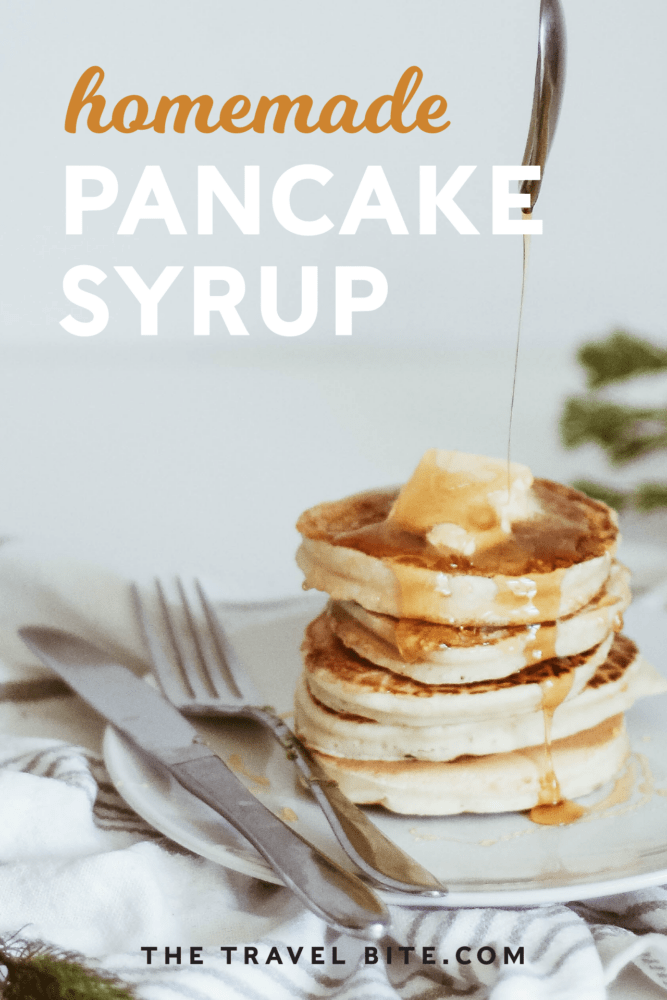 Originally posted Dec 30, 2009. Updated 2020.