This baked cinnamon French toast is one I've been making for a decade now. It has similar ingredient's you'd typically use for regular French toast. But baking it in a casserole makes it easier to serve everyone at the same time, rather than cooking up individual slices in a frying pan.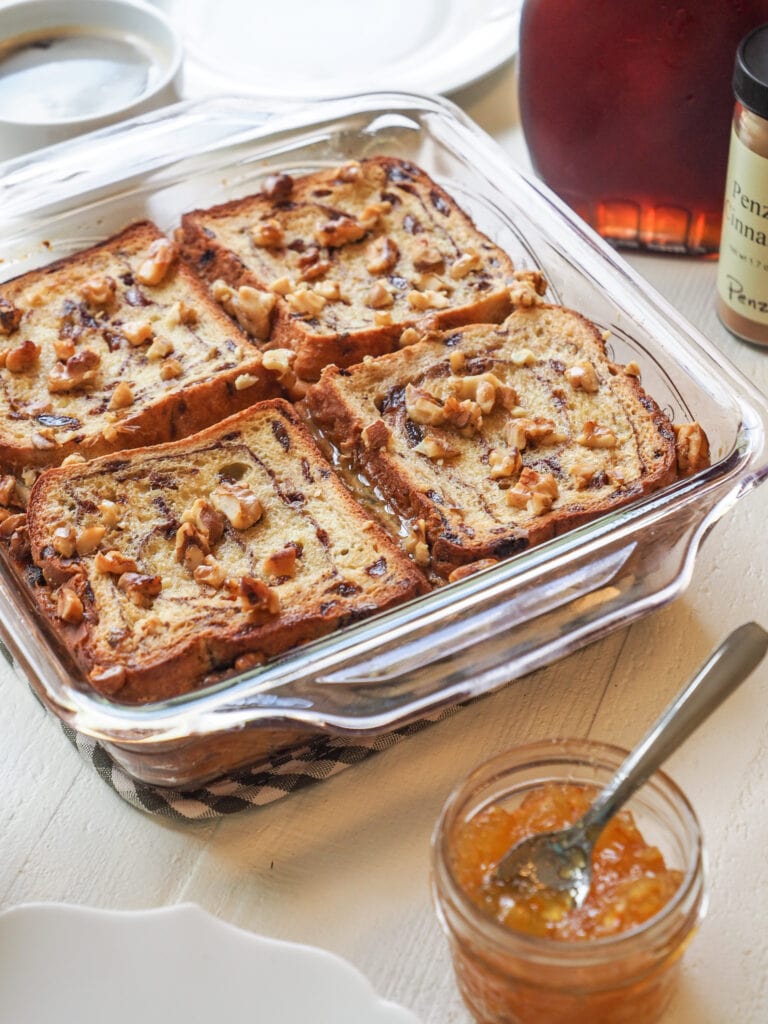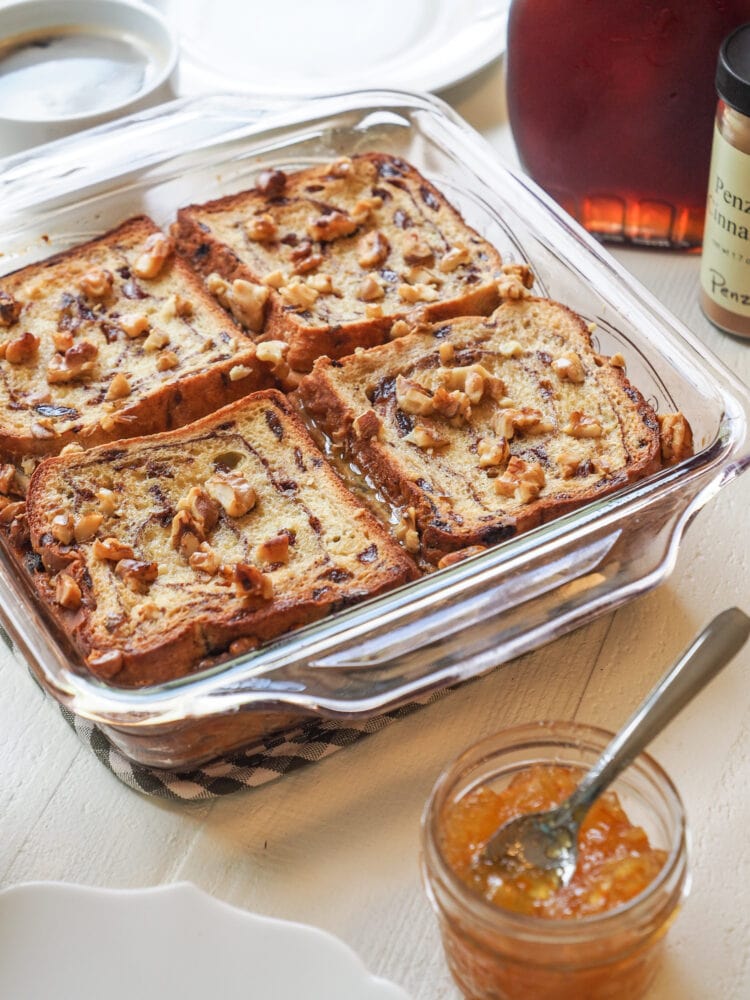 This recipe was one of my very first blog posts back when I had a bed and breakfast. Back then, this blog was called Inn The Kitchen. I'd reach out to other B&B owners for tips and recipes since I was new to the business (and a horrible cook when I first started!). I've since modified the recipe a bit, and edited some of the original story below.
The Secret To Delicious Baked French Toast – Liqueurs!
This baked cinnamon French toast comes to us from Harbour Ridge Inn located in Osage Beach, Missouri. The innkeeper, Sue, likes to cook with liqueurs. Is there really ever a better morning than one served with Grand Marnier or Chambord? Well, let me rephrase that. Drinking it straight up would be a rude awakening. And coffee is my preferred morning beverage. But either of these liqueurs baked into some yummy custardy goodness where you get just a hint of citrus or raspberry flavor is a great way to add a smile to your lips when you start the day.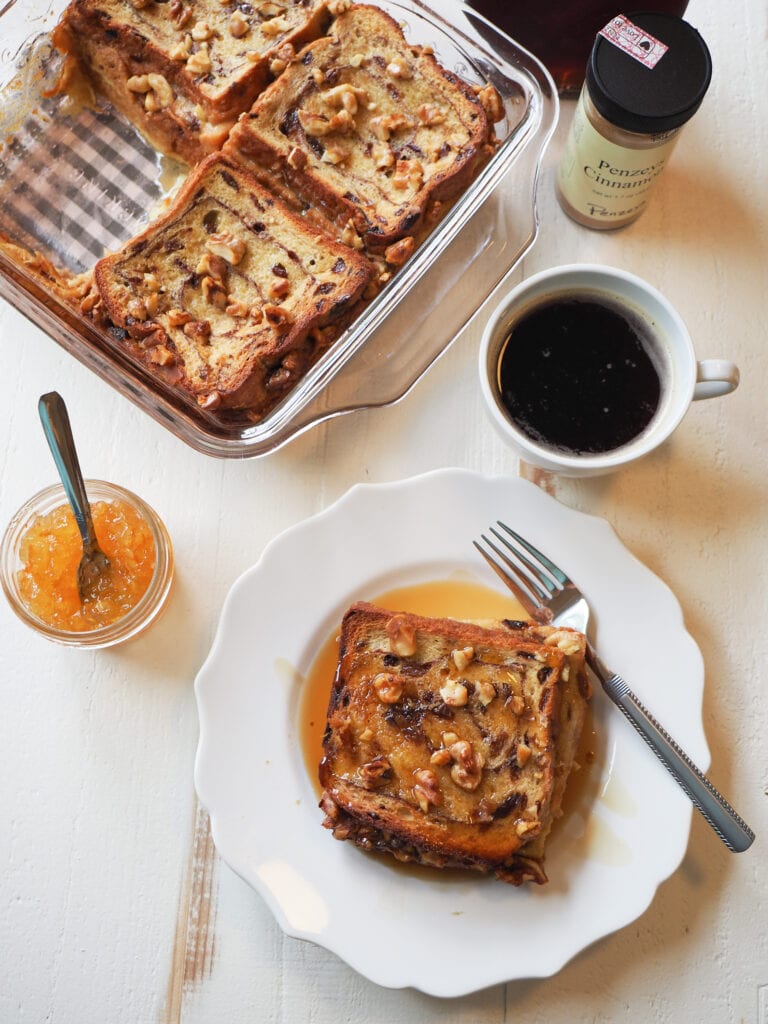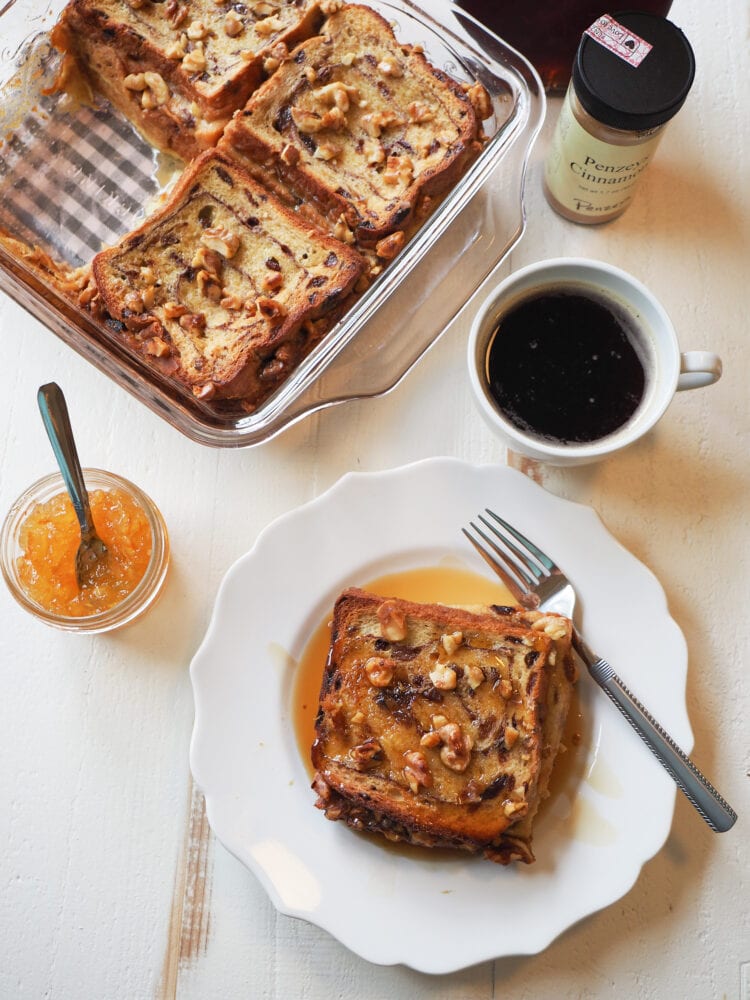 The Origin Story
This recipe below is not far off from what was the original recipe for French toast in the 1600's. According to the Oxford English Dictionary, back then it was made with day old bread, wine, orange juice and sugar. French toast is essentially a kind of bread pudding recipe to make stale bread more delicious and palatable.
A fun little side note here. I was in the middle of moving when we first did this recipe ten years ago, so I baked and photographed the french toast at a friend's house. Now, as I'm updating this post, we're in the middle of a move again! And this time, even though we're also in the middle of a worldwide medical crisis. Thankfully, our local grocer not only had Pepperidge Farm Cinnamon Raisin loafs, but they also had them listed on sale BOGO. Score!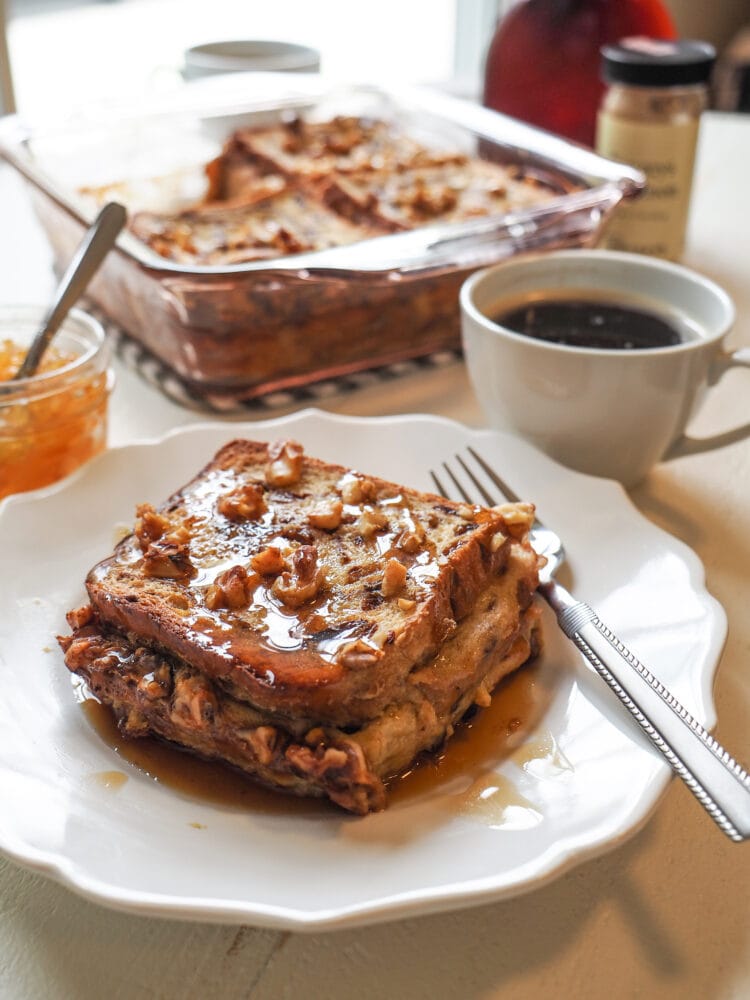 Recipe Tips
So, since you're baking this recipe, the bread doesn't get "dipped" as it would while making regular French toast. Instead, you're going to pour the batter into the baking dish to soak the bread. The first layer of bread goes into the baking dish naked. The second layer gets a schmear of butter.
DIFFERENT LIQUER IDEAS
The secret ingredient, the thing that makes this better than any other French toast you've ever tasted, is Grand Marnier. It adds some citrus flavor with a kick. But feel free to use any liqeur you have on hand. For example, a few liqueurs that add great flavor to a baked french toast are Chambord for a raspberry flavor, Disaronno for a hint of apricot, and even Baileys Irish Cream. All the nut-flavored liqueurs work well too, such as Amaretto for an almond flavor, Frangelico for a hazelnut flavor, or Trader Vic's for macadamia nut.
USE A BLENDER
Add all the wet ingredients (eggs, milk, sugar, liqueur, and vanilla extract) to a blender to get it nice and smooth. It's not only easy for prep and clean up, but whipping it all together in a blender or food processor will add some air and fluffiness to your baked French Toast.
LET IT SOAK
After blending, pour the mixture over the layers of bread. As you're pouring, gently lift up some of the layers to make sure batter is getting to the middle.
Cover the French toast casserole and let it sit for at least 30 minutes to allow time for the bread to soak in all the batter. If it seems like you have too much batter, give it five or ten minutes to soak a bit, then add some more once the liquid has gone down in the pan. My biggest tip would be to assemble this after dinner and refrigerate overnight to have it ready to bake in the morning.
IDEAS FOR WHAT TO SERVE ON THE SIDE
Of course, nothing is better than a simple and sweet maple syrup. No maple syrup, no problem. It's easy to make from
syrup from scratch
with a bit of sugar and corn starch.
You could also serve baked French toast with whipped cream or a side of fruit preserves. Pick a preserve or jam that matches the flavor profile of the liqueur you use. For example, I like to serve orange marmalade when I make this with Grand Marnier.
RECIPE CONVERSIONS FOR A 9X13 INCH BAKING PAN
The recipe below is for a 9×9 baking pan, similar to what you'd use to bake brownies. This easily serves four, but if you'd like to make more and bake it in a 9×13 inch pan, here's the converted ingredients for a larger baked French toast. The instructions are the same as the recipe below.
12 slices cinnamon swirl or cinnamon raisin bread (Pepperidge Farm)

1/3 cup butter or margarine

9 eggs

2 cups milk

1 cup sugar

For the vanilla extract and Grand Marnier, add 1 1/2 TBSP of each
Here Are More Recipes You'd Love!
Baked Cinnamon French Toast Casserole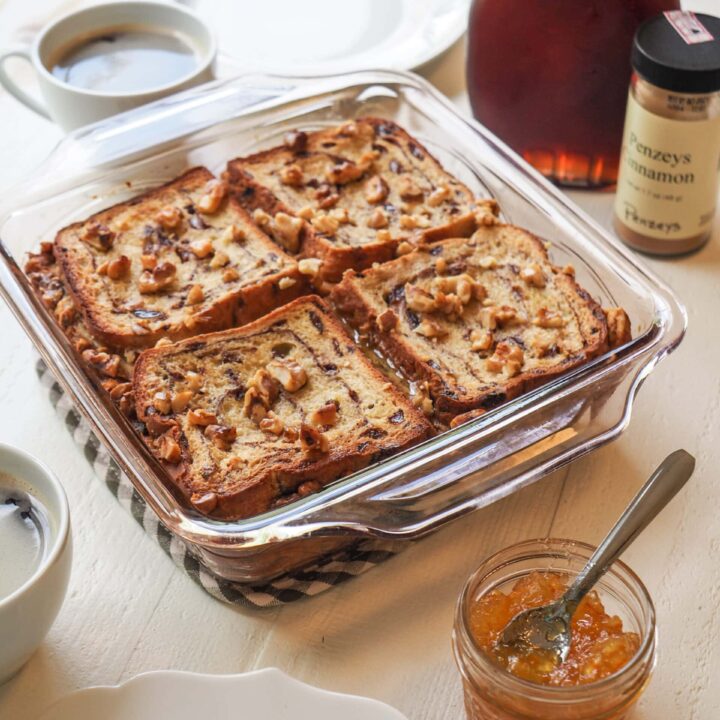 Baked Cinnamon French Toast
This baked cinnamon French toast is easy to make great for weekend mornings. Plus, baking French toast makes it easy to serve everyone at the same time.
Ingredients
1 loaf cinnamon swirl or cinnamon raisin bread (Pepperidge Farm is great!)
1/4 cup butter or ghee
6 eggs
1 1/5 cups milk (plant-based milks work great too)
1/2 cup sugar
1 TBS vanilla extract
1 TBS Grand Marnier
1/4 cup crushed walnuts or pecans
Instructions
Grease 9x9 baking dish. Add four slices of bread.
Butter remaining bread and place with butter side up over bread in pan.
In a mixing bowl or blender, beat eggs. Then and add milk, sugar, vanilla, and liquor. Mix well and pour over bread. Let soak for 30 minutes or refrigerate overnight.
When ready to bake, add the crushed walnuts. Then bake uncovered at 375 degrees for 40 minutes or until a knife inserted near the center comes out clean. The French toast will puff up and get a little brown and toasty.
Let stand for 10 minutes before serving.
Notes
If you're using just regular sliced bread (not cinnamon swirl), sprinkle 1/2 tsp of cinnamon in-between each layer of bread.
Originally Published May 5, 2010, Updated 2020.
Want to save this recipe? Pin it!