There's nothing more decadent than stuffed French toast. Recently, My friend Jaden and her family were in town and together we all spent the day with innkeepers Jim and Ana cooking, drinking endless pots of coffee, and just having fun. We indulged in an all-day-long breakfast where this recipe for ricotta and raspberry stuffed French toast was just the "2nd course." (You see, this is why I've taken up running as a hobby.)
Try out his recipe for ricotta and raspberry stuffed French toast from the Mount Dora Historic Inn and drool over the photos Jaden took of the process. And yes, it tastes just as good as it looks!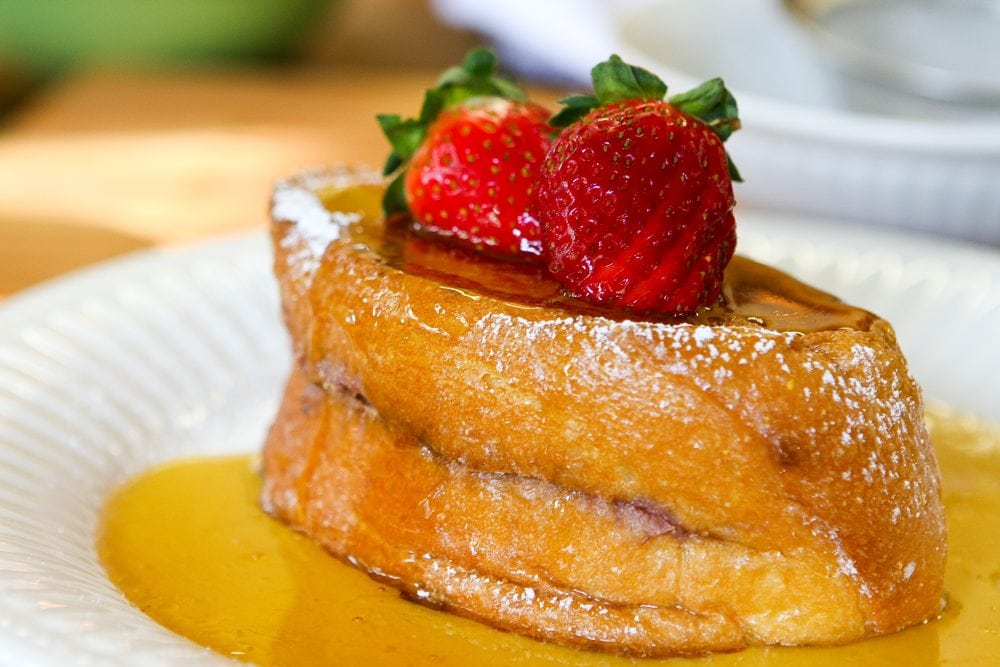 The Story Behind French Toast
French Toast was probably my favorite breakfast growing up. And recently I've been receiving lots of different recipe variations of this popular breakfast. Some with different fruits and spices, the classic pan-baked single slice, a family-style baked cinnamon French toast, and this stuffed French toast recipe here. It made me wonder, why do we call it "French" toast anyway? I know it's not really French, or is it?
Wikipedia's etymology says the earliest use of the term was in 1660 and was bread fried with wine, orange juice and sugar. I'll have to give that recipe a try! After doing a little more digging through Google, I discovered in French it is actually called "pain perdu" which translates into "lost bread." It was a popular recipe in many countries, not just France, as a way of making stale bread palatable. The English call it "gyspy bread" and I think I'd like to adopt that term from now on … sounds like breakfast with an adventurous edge!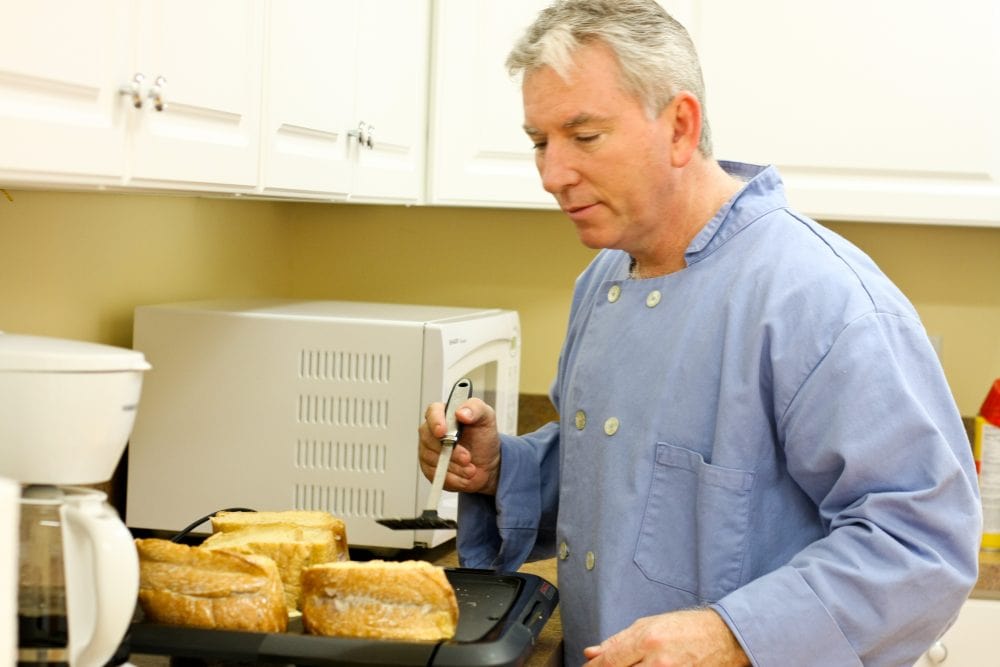 WHAT YOU'LL NEED
To make these extra thick slices of stuffed French toast, each loaf of bread makes 3 servings. So to serve six, you'll need two loaves of whole, unsliced bread.
2 Loaves Italian Bread
6 Ounces of Whole Milk Ricotta Cheese
4 Ounces of Red Raspberry preserves
8 large eggs
2 cups of half and half
2 teaspoons vanilla extract
USE WHOLE BREAD, NOT SLICED
I mentioned above that this stuffed French toast was the second course as we started the morning with an Italian Strata. But after looking at these photos I'm not sure how I even had the room in my tummy to move on to a 3rd course! (But I did finish the plate … every last tasty morsel. Then I ran 17 miles that evening. Ha!) Now, when Chef Jim said he was teaching us how to make "stuffed" French Toast, I imagined two thick slices of some soft bread sandwiched around ricotta and raspberry. But he actually "stuffs" giant slices of bread. So, pro-tip, when making this recipe, make sure your bread loaf is whole and not sliced.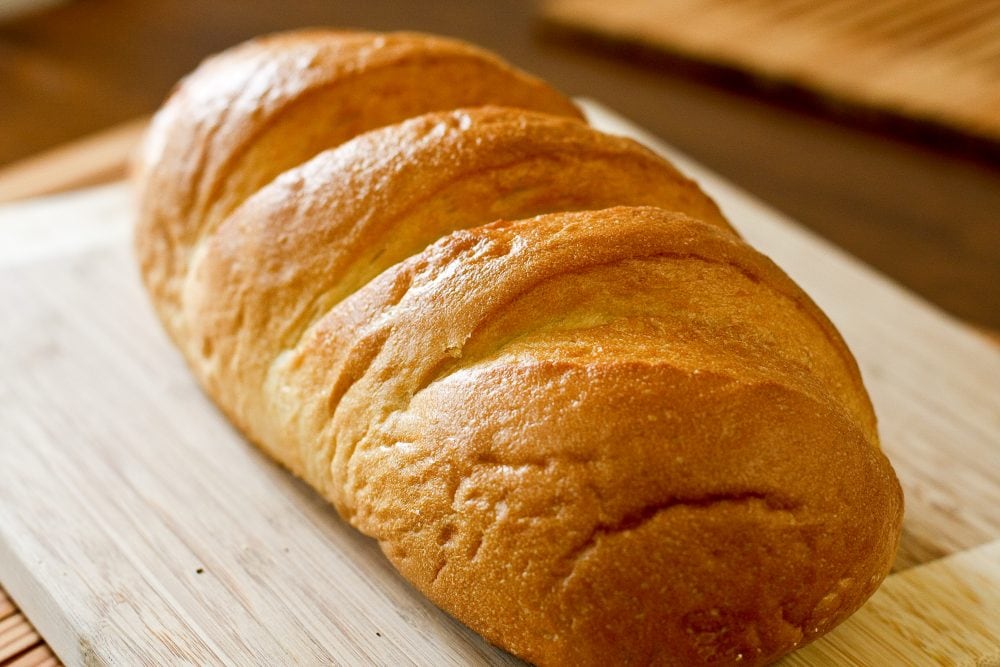 One loaf of bread made 3 servings. So the slices you need for this stuffed French toast are THICK. Now, Jim says he made this bread from scratch too. But I have to see that live and in person to gather photographic evidence to believe it. It's just too perfect. Gives me a baking complex. Personally, I purchase bread from our local grocer's bakery department.
My next question to Jim was, "how in the heck do you get it to cook all the way through?" To which is reply is, "watch and learn young grasshoppah!"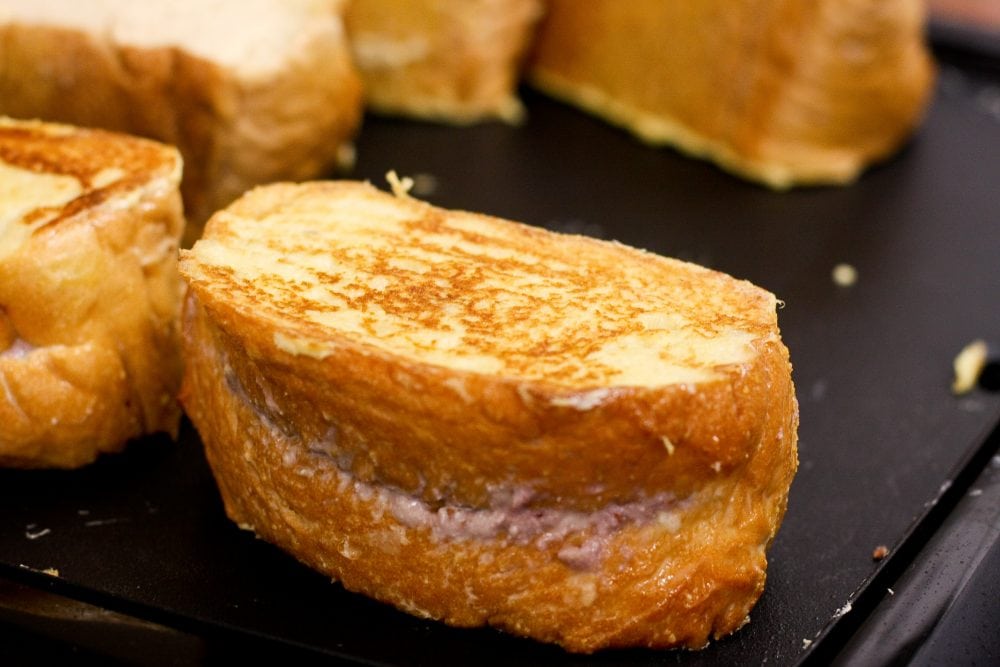 STUFFING EACH SLICE
To make the stuffed french toast, slice the bread into 6 thick slices. Then cut each slice only 3/4 of the way through the bread to make a sort of pocket. Then spread the raspberry and ricotta mixture inside. You can also experiment with different flavors too, but I recommend pairing a fruit with a cheese. (It's just SO good). You could even do a blueberry and cream cheese french toast too, (similar to our mini baked French toast recipe).
Once each slice is stuffed, dip them in the egg batter mixture. Be sure to coat both sides and add them to an aluminum foil lined sheet pan.
Tip: The recipe below, per Chef Jim's recommendation, is to allow them to soak overnight. To save some time, you can also just let them soak for an hour in the refrigerator before cooking.
FIRST SEAR, THEN BAKE
You'll start the stuffed French toast in a frying pan or griddle as pictured, making sure each side is evenly browned. But because the slices are so thick, you'll want to finish them in the oven. So have a lined cookie sheet ready to transfer them too.
The whole recipe and instructions are available to print below. Enjoy!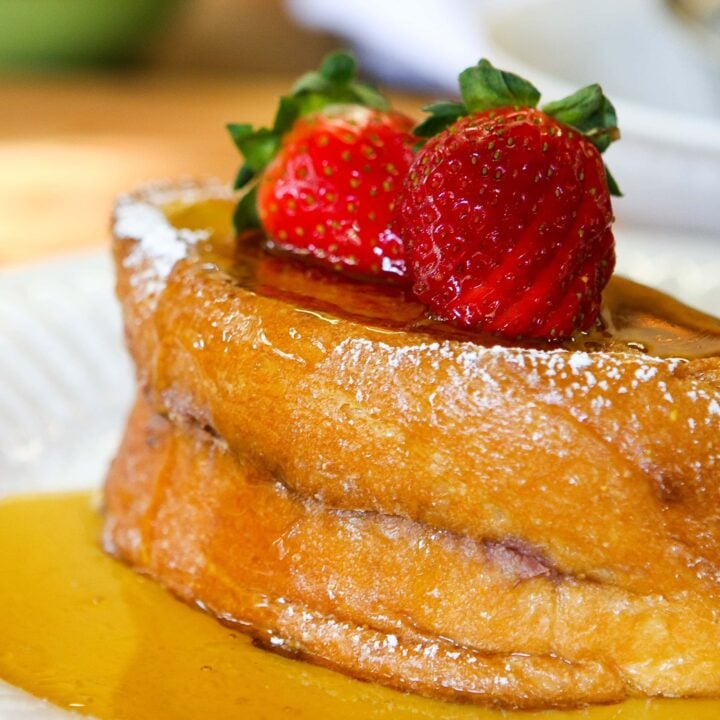 Stuffed French Toast
Ingredients
2 Loaves Italian Bread (not too crusty, more doughy)
6 Ounces of Whole Milk Ricotta Cheese
4 Ounces of Red Raspberry preserves
8 large eggs
2 cups of half and half
2 teaspoons vanilla extract
Instructions
Blend Ricotta and Raspberry preserves in a large bowl.
Slice the bread into 2 inch thick slices on a slant.
Cut a slit length wise across the top of each piece of bread (corner to corner), and place on a cookie sheet covered in tin foil for easy clean up.
Spoon ricotta mixture into bread pockets and set on cookie sheet so opening is facing up—this helps to keep filling from oozing out.
Using a large bowl, make cream mixture by whisking together the eggs, cream, and vanilla extract.
Roll each stuffed piece of bread in the cream mixture until just wet (do not over saturate) then place pieces on a cookie sheet (slit up), and drizzle remaining cream on top.
For best results, cover with plastic wrap and allow to sit overnight—this allows the bread to completely soak up the cream.
The following morning carefully unwrap your uncooked French toast and roll the tops in the remaining cream to wet—set aside.
Preheat a large saute pan or electric griddle (275 degrees). Also preheat your oven to 400 degrees.
After the griddle is preheated, coat with cooking spray.
Brown French toast -- about 3 minutes for the first side and 4 minutes for the second side. Check by tilting the French toast with spatula every minute or two to ensure they do not burn.
Place stuffed French toast on a cookie sheet covered with tinfoil and bake in oven (400 degrees) for 5 to 6 minutes per side.
Sprinkle powdered sugar on each plate, then add French Toast on top.
Serve with your favorite syrup and butter.
Notes
TIP: Double-layered cookie sheets (Baker's Secret)—are readily available at your local grocer and they prevent the bottom of your toast from burning. If you do not have a double-layered cookie sheet, use two cookie sheets nested one on top of the other.
As this dish is finished in the oven at 400 degrees for about 10 to 12 minutes, the outer surfaces of the stuffed French toast should be pastry-like (crispy, not burned) to the touch. If not, than it should be baked a bit longer.
Nutrition Information:
Yield:

6
Serving Size:

1
Amount Per Serving:
Calories:

319
Total Fat:

19g
Saturated Fat:

10g
Trans Fat:

0g
Unsaturated Fat:

8g
Cholesterol:

291mg
Sodium:

211mg
Carbohydrates:

22g
Fiber:

0g
Sugar:

13g
Protein:

15g
Nutritional information is only an estimate.
Want to save this recipe? Pin it!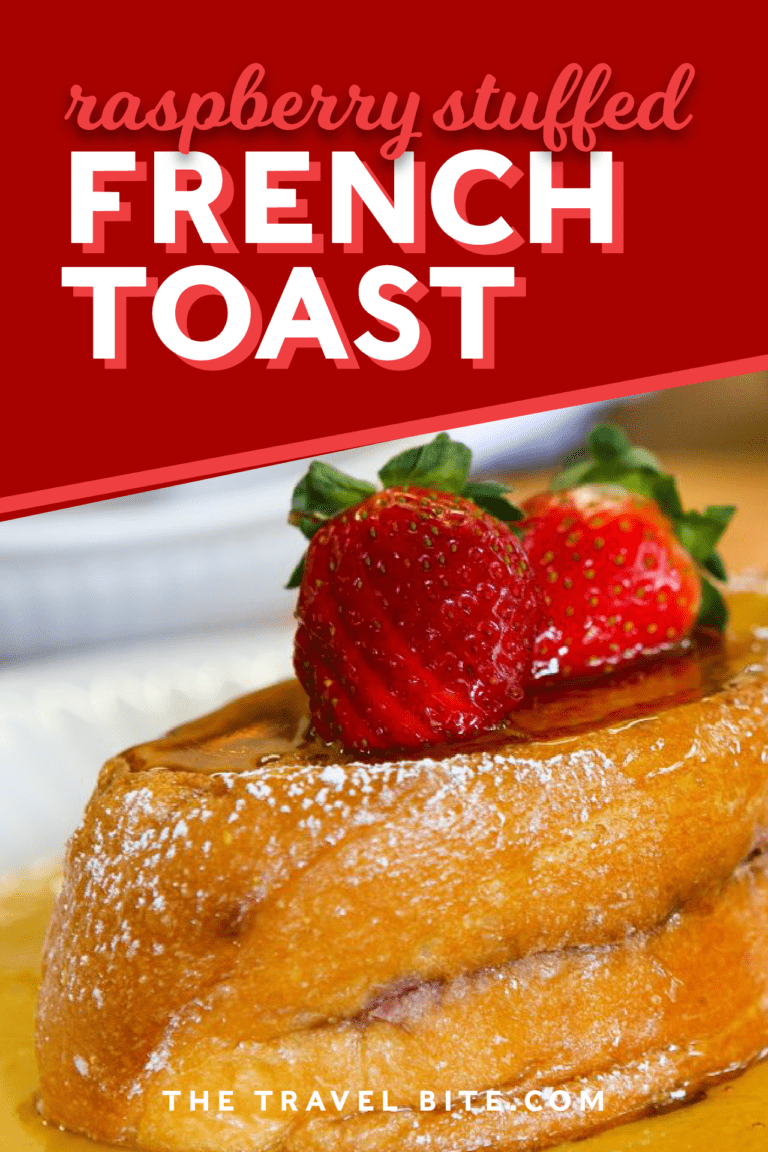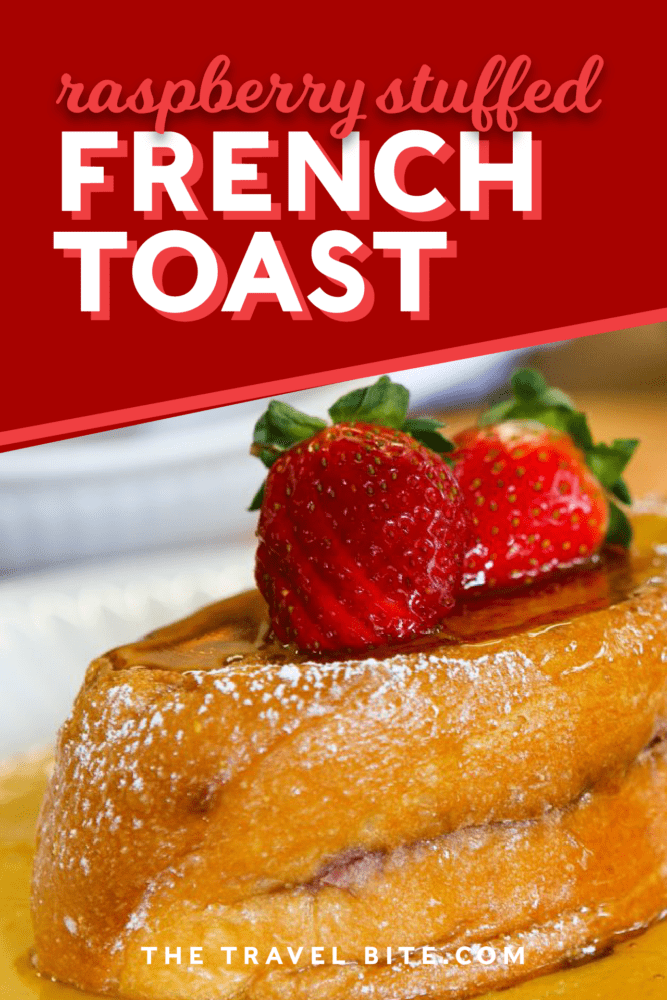 [This post originally appeared on my very first blog, Inn The Kitchen, about what it was like to be an innkeeper. Enjoy!
MORE BREAKFAST RECIPES