This cream cheese stuffed French toast recipe comes from my days as an innkeeper. It's perfect for when you have family or guests visiting, or if you simply want to pre-make breakfast for the week! But it can also be a delightful breakfast for two on special occasions.
Two things I love about this cream cheese stuffed French toast recipe: it can easily be made with items already in your pantry and freezer, and it is portioned into individualized servings. Hit the "jump to recipe" button above if you're ready to make it! Or scroll through to learn about how we found this recipe and additional cooking tips.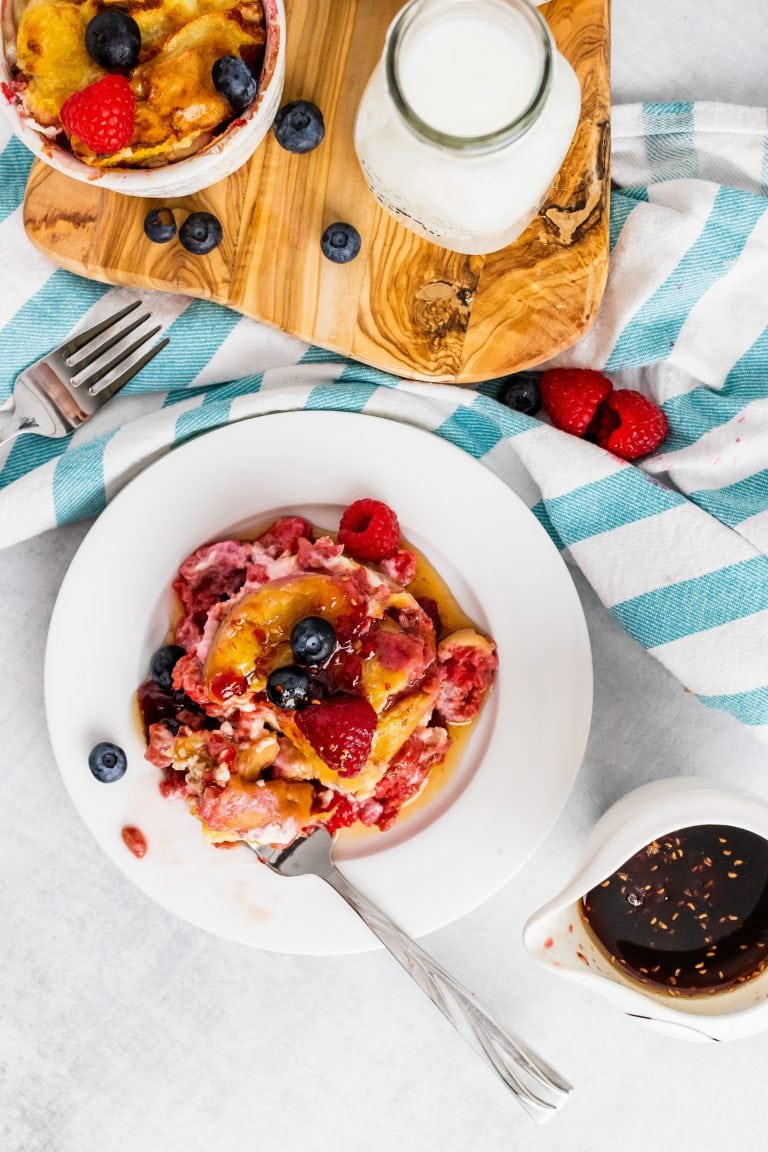 The Recipe Story …
I met a couple in Mount Dora that were taking a vacation from the vacation business. They were the innkeepers at the Penny Farthing Bed & Breakfast in St. Augustine. So, naturally, when we were driving through St. Augustine last week we had to stop in for a cup of coffee and say hello.
I have to confess, I was a little confused about who "Penny" was and I kept adding an extra syllable to the end of their name as in "Farthing-ton." I've since been enlightened and learned that a Penny Farthing is a type of bicycle.
Marie (not Penny), gave me a fantastic recipe for a cream cheese stuffed French toast that remind me of individual bread puddings. I love breakfast made in a ramekin since you end up with nice little individual servings of goodness. And if you have extra, you can just put a lid on it and save it for later.
Since berries aren't in season at the moment, I used a mix of fresh raspberries and also a frozen mix of blueberries and blackberries. I had to elbow a few people at the grocery store to even get my hands on a pint of raspberries!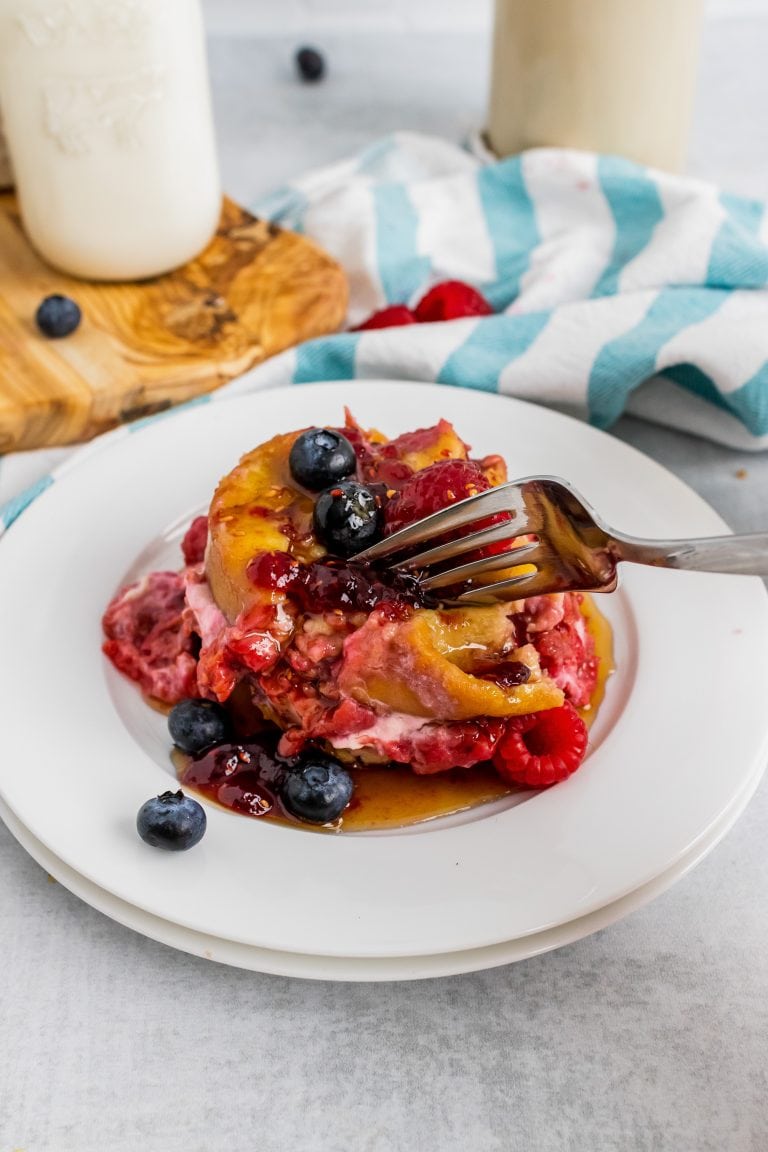 Cream Cheese Stuffed French Toast With Berries
First, begin by gathering together your ingredients. I recommend using small ramekins or baking dishes to bake these. Here's a list of what you'll need to gather from your refrigerator and pantry, or pick up at your local grocer:
Ingredients
French bread
Fresh or frozen berries (a mix of raspberries, blueberries, and blackberries work well)
cream cheese
eggs
milk
maple syrup
raspberry preserves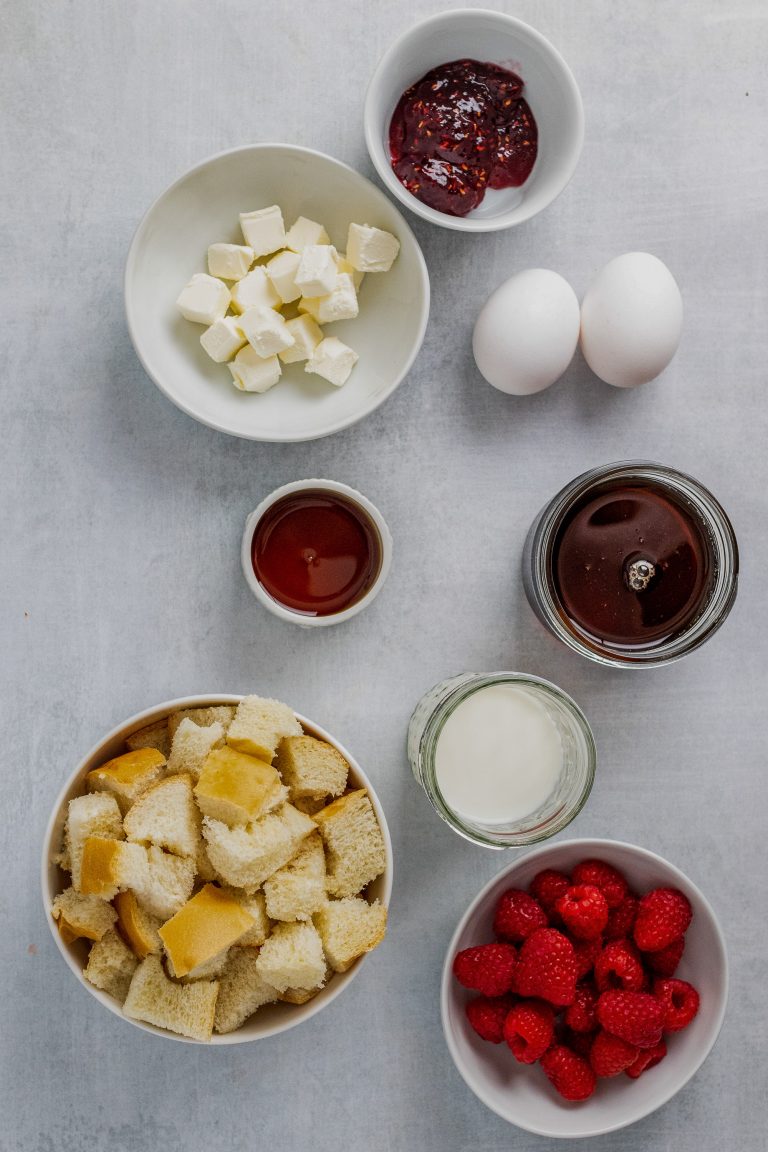 French bread, berries, and cheese all remind me of a picnic in Paris. And French toast is the perfect way to use up some old bread. After you gather your ingredients, chop or tear the bread into one inch pieces. Spray or grease the sides of four ramekins with either cooking spay or butter. Then fill each ramekin half way with the bread pieces.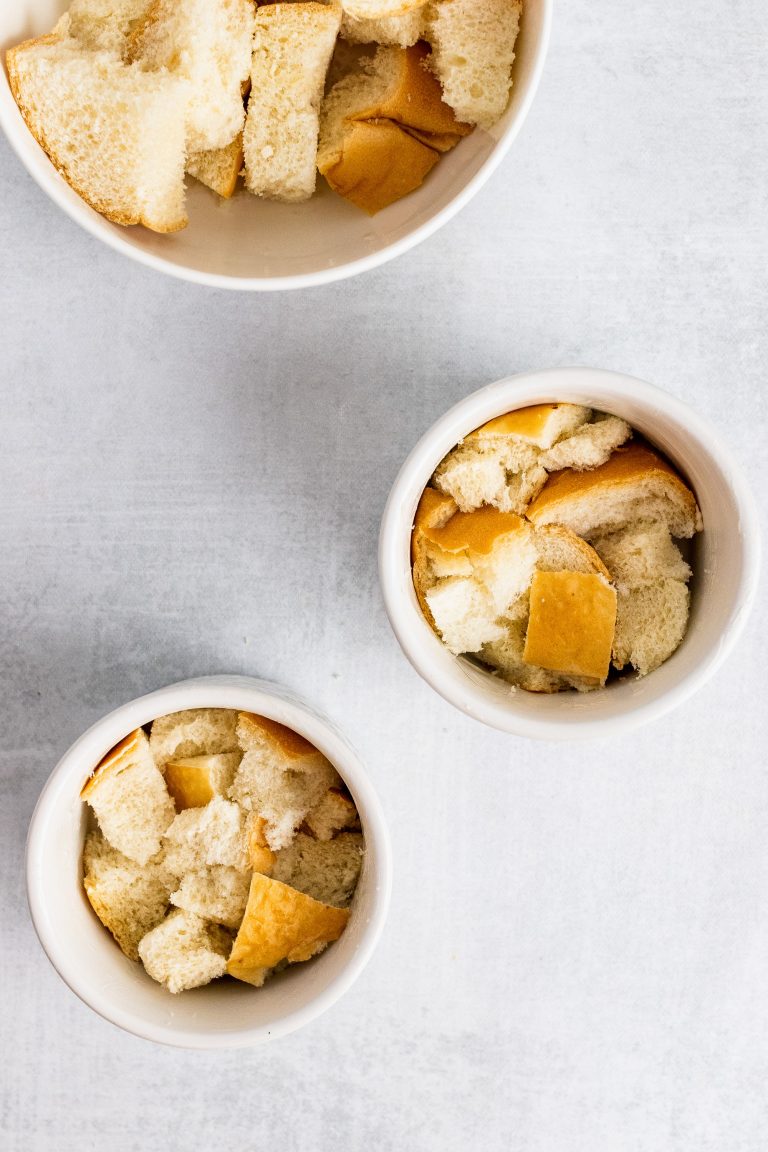 Next, chop the cream cheese into small half inch cubes and fill each ramekin with cream cheese and berries until almost full.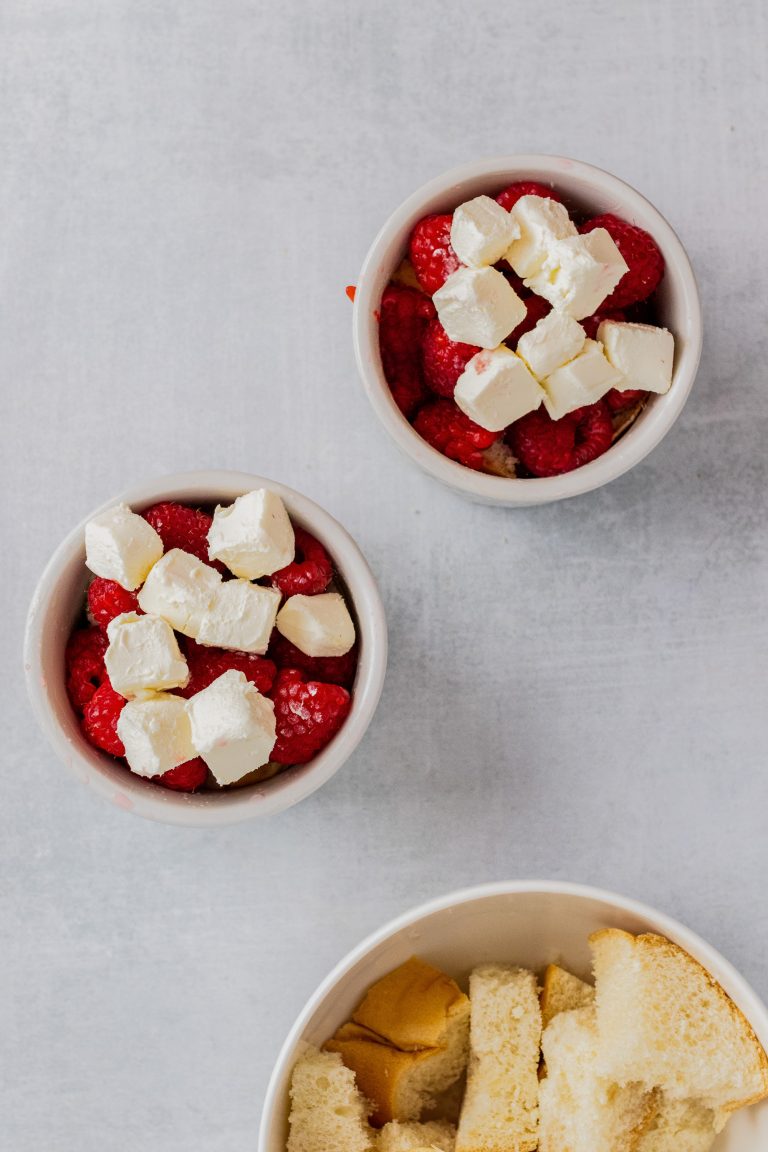 Top each ramekin with the remaining bits of bread and then prepare the eggs.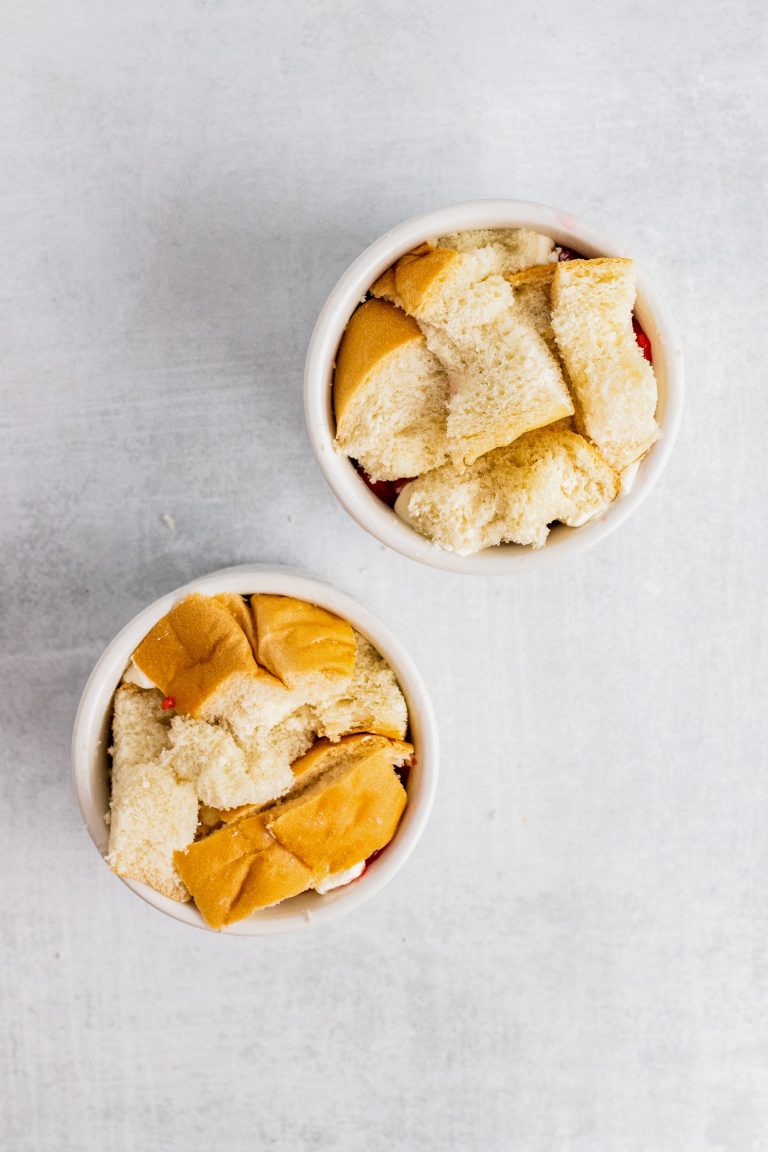 In a medium bowl or measuring cup, whisk together the eggs, 3 tablespoons of maple syrup, and milk. Stir until will combined.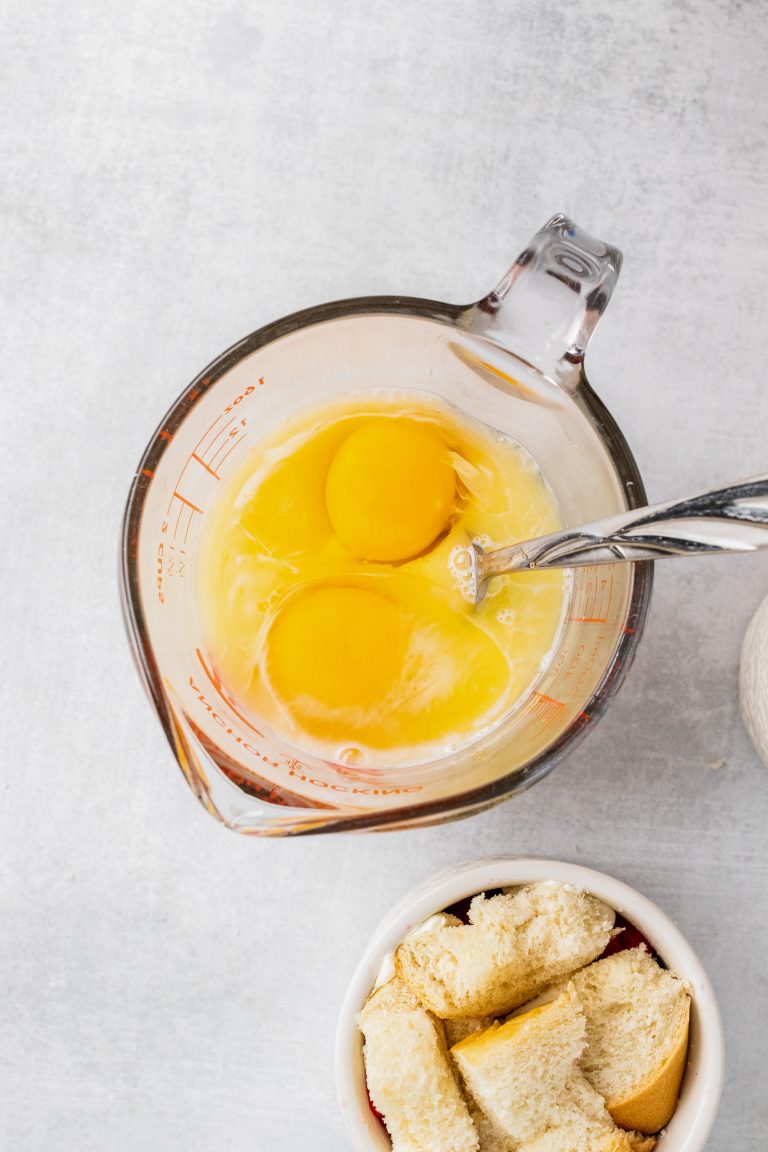 Carefully pour egg mixture over the layered bread, cream cheese and berries, dividing the mixture up evenly between the individual servings.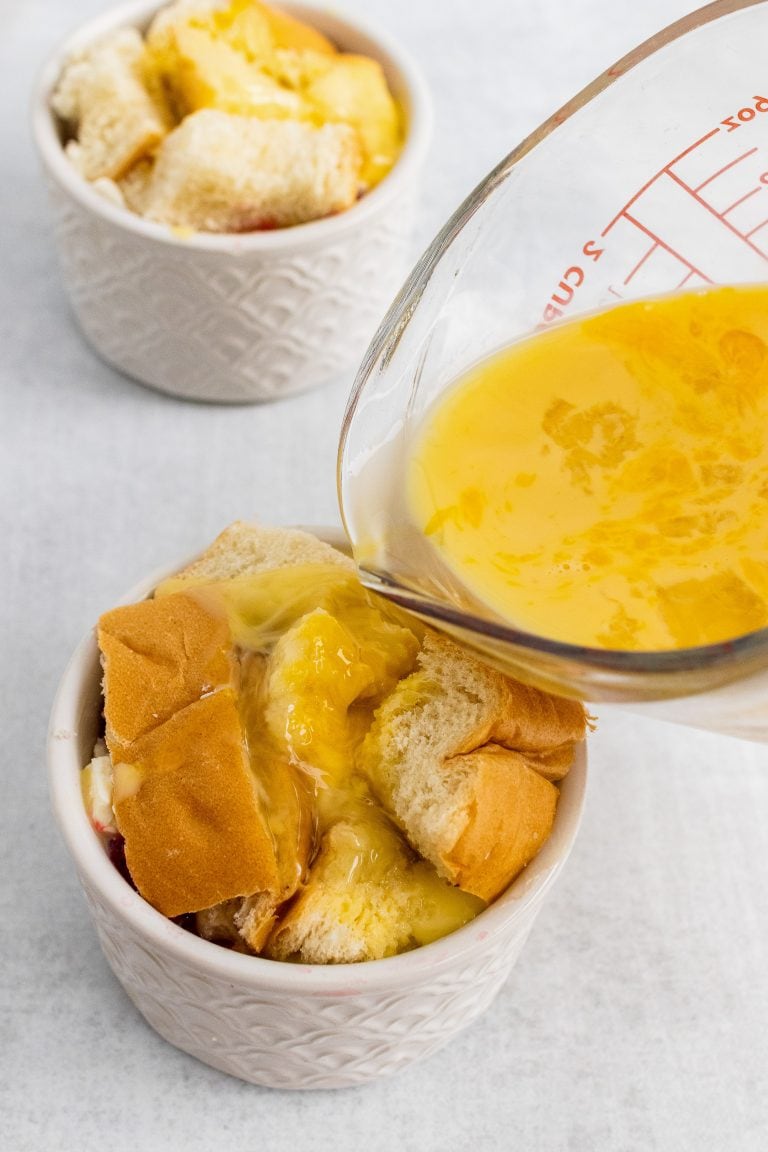 At this point you could bake them, but if you have time, cover and let them soak overnight to allow the bread to soften and absorb the whisked eggs and milk.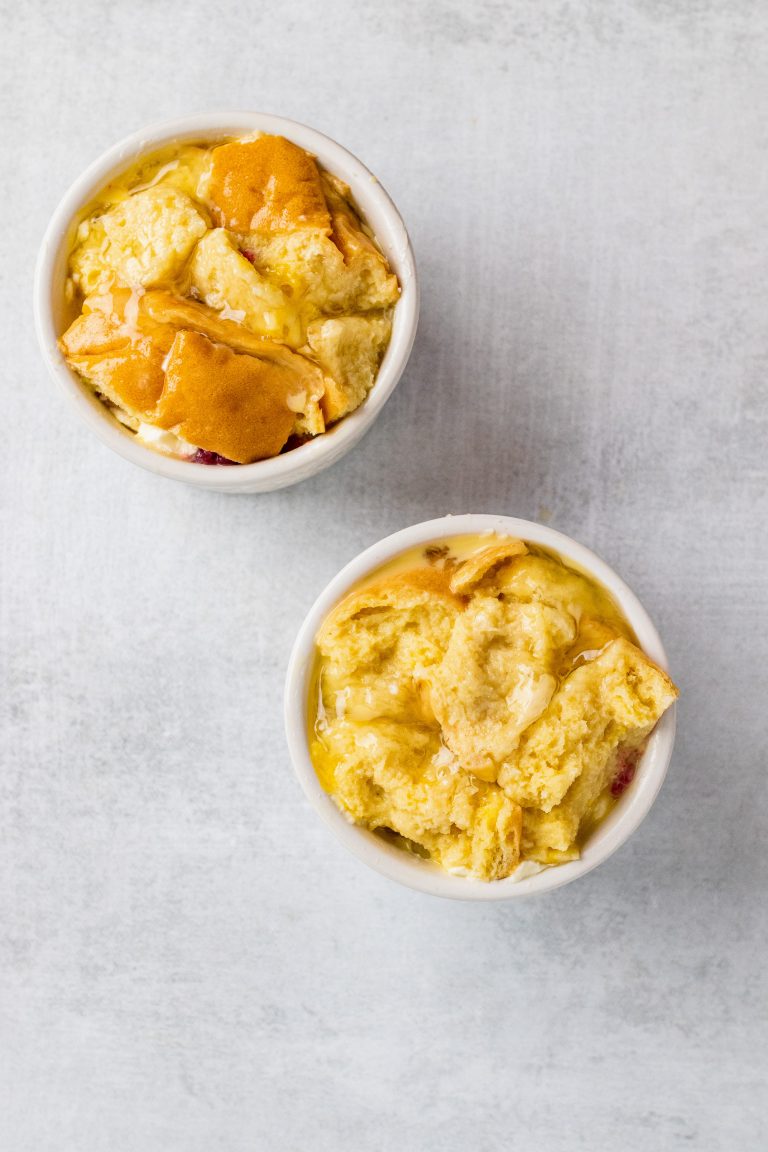 When ready to serve, bake at 350 for 25 to 30 minutes. I find it helpful to place the ramekins on a cookie sheet to make it easier to place them in the oven. Once they're done baking, you can serve them inside the ramekin. Or, carefully loosen around the edges with a butter knife and flip them out onto a plate.
Making The Raspberry Sauce
In addition to maple syrup, you can also whip up a special raspberry sauce to serve with these cream cheese stuffed French toast casseroles. It's only two ingredients, and a quick and easy extra step, but it make such a difference in flavor. The raspberry sauce pairs so perfectly with the cream cheese.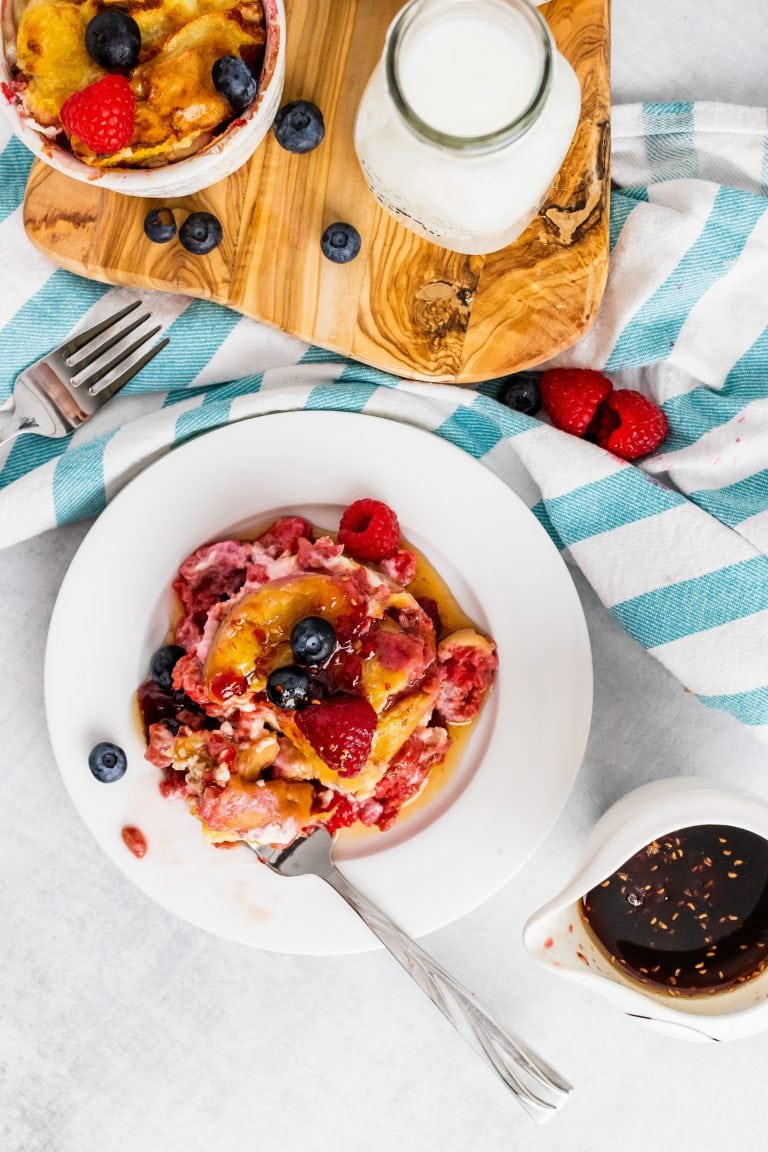 To make a special raspberry sauce to pour on top, simple whisk together 1 cup of maple syrup with 2 tablespoons of raspberry preserves. Serve raspberry sauce and maple syrup on the side along with a cup of coffee and enjoy!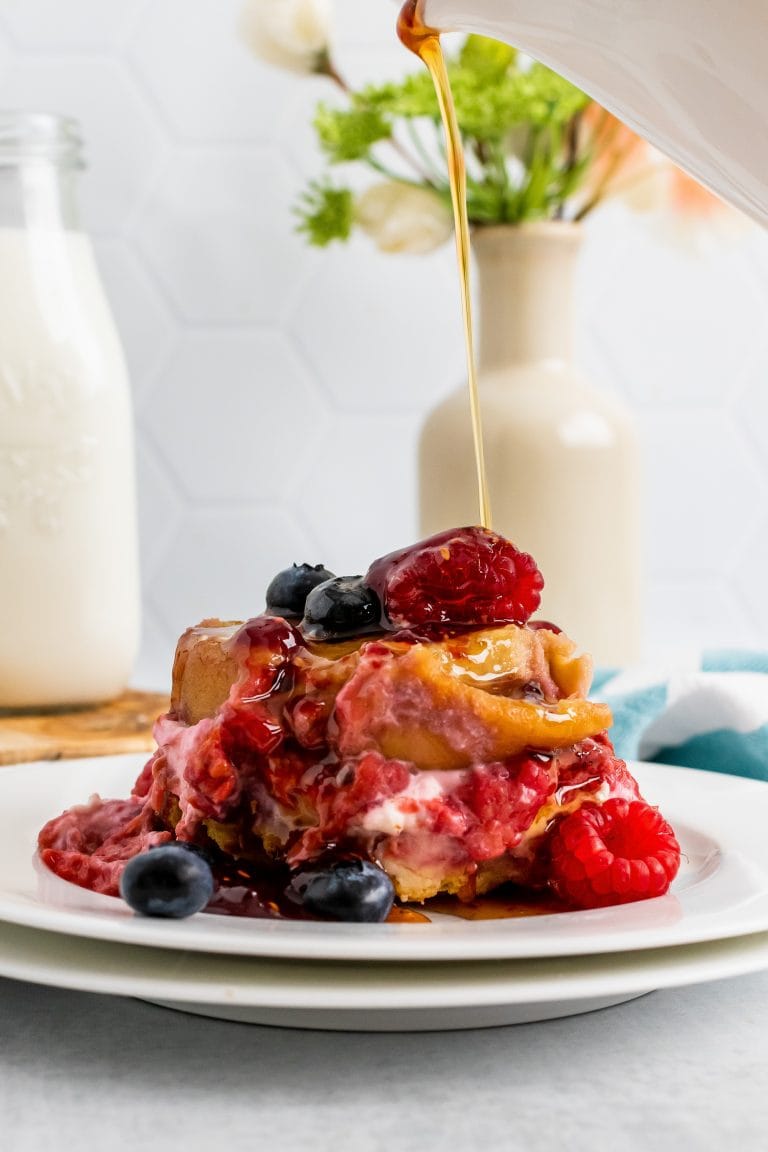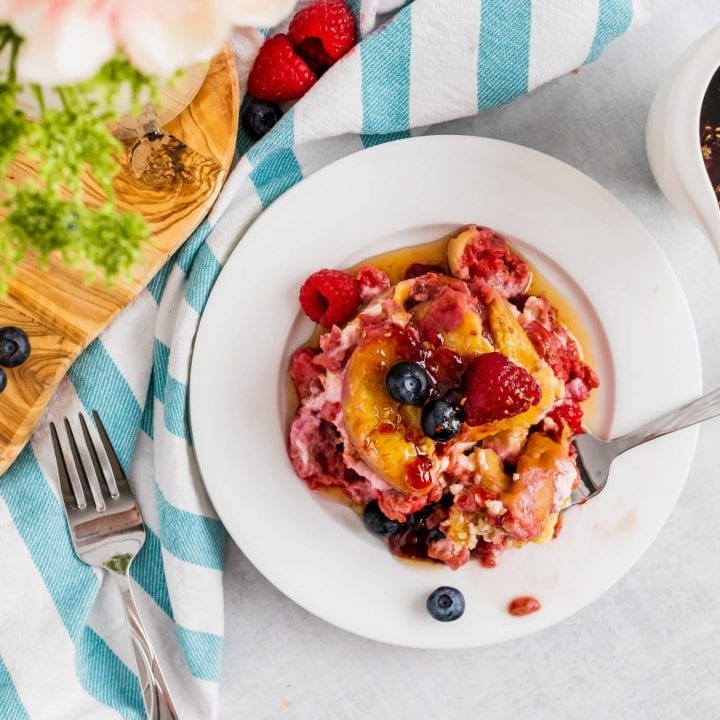 Cream Cheese Stuffed French Toast
Two things I love about this cream cheese stuffed French toast recipe: it can easily be made with items already in your pantry and freezer, and it is portioned into individualized servings.
Ingredients
4 slices of French bread cut in 1/2 inch cubes
3/4 cup raspberries or blueberries
2 ounces of cream cheese cut into 1/2 inch cubes
2 eggs
3/4 cup milk
3 Tbsp maple syrup
Instructions
Grease four ramekins and line with half the bread cubes.
Cover with raspberries or blueberries (or both!), top with cream cheese and cover with remaining bread.
Beat together eggs, milk and just 3 tablespoons of maple syrup.
Pour egg mixture over bread/cream cheese/berry filled ramekings and place in the refrigerator over night.
In the morning, bake at 350 for 25 to 35 minutes.
Cut round the edge of the ramekin and turn the French toast over onto a plate, or serve directly in the ramekin.
Serve with maple syrup or raspberry sauce (instructions on how to make the sauce in the notes).
Notes
For the raspberry sauce, whisk together 2 Tbsp raspberry preserve and 1 cup maple syrup.
Nutrition Information:
Yield:

4
Serving Size:

1
Amount Per Serving:
Calories:

407
Total Fat:

11g
Saturated Fat:

5g
Trans Fat:

0g
Unsaturated Fat:

4g
Cholesterol:

111mg
Sodium:

652mg
Carbohydrates:

63g
Fiber:

4g
Sugar:

15g
Protein:

16g
Nutrition information provided is only an estimate.

More Breakfast Recipes You'll Love!
Originally posted in 2009. Updated in 2021