Earlier this month, I shared a recipe for a honey lavender sugar scrub and mentioned my love for lavender. My husband, Pete, however, doesn't share this love. Ha! While I think lavender is refreshing and floral, he thinks lavender tastes like soap. Okay. That's fair. I can't blame him.
So, when I tried one of the other recipes in the handmade lavender booklet I picked up on my trip to New Mexico, I left out the lavender. The recipe needed a few other tweaks for our taste (like a little less butter and a little more hazelnut), so I tested and re-tested a recipe below until we had a perfectly nutty and sweet hazelnut crumb bar.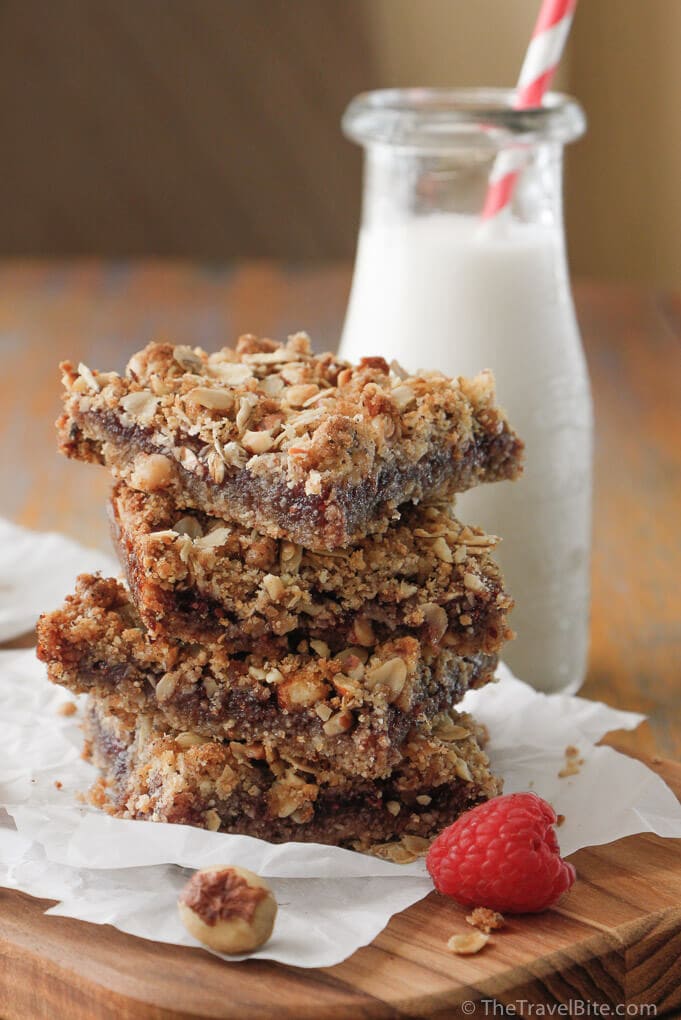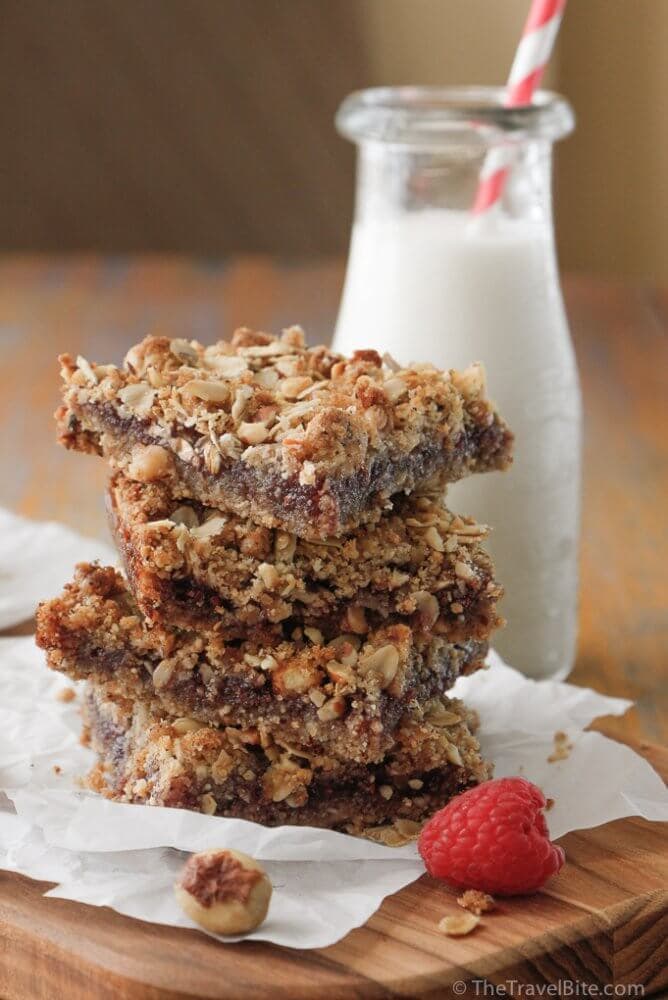 A few tips before you get started. First, since this recipe uses a 9×9 baking pan, flip the pan over to measure the parchment paper. This makes it easy to cut the exact size you need.
Second tip, the recipe called for chopped hazelnuts. Have you ever tried to chop hazelnuts? Let me tell you what could happen, they could end up ricocheting all over your kitchen. Instead, pour the hazelnuts into a quart-sized Ziplock sandwich bag, zip it up, and whack the heck out of those hazelnuts with the back of a wooden spoon. If you've had a stressful week, this part is especially cathartic.
This recipe makes 9 delicious hazelnut crumb bars, a perfect little energy snack for an afternoon hike or coffee break. And since they're made with hazelnut flour, they're gluten free. So, if you ignore the butter and count the jam as a "fruit," these are totally healthy. Enjoy!
Hazelnut Crumb Bars With Raspberry Jam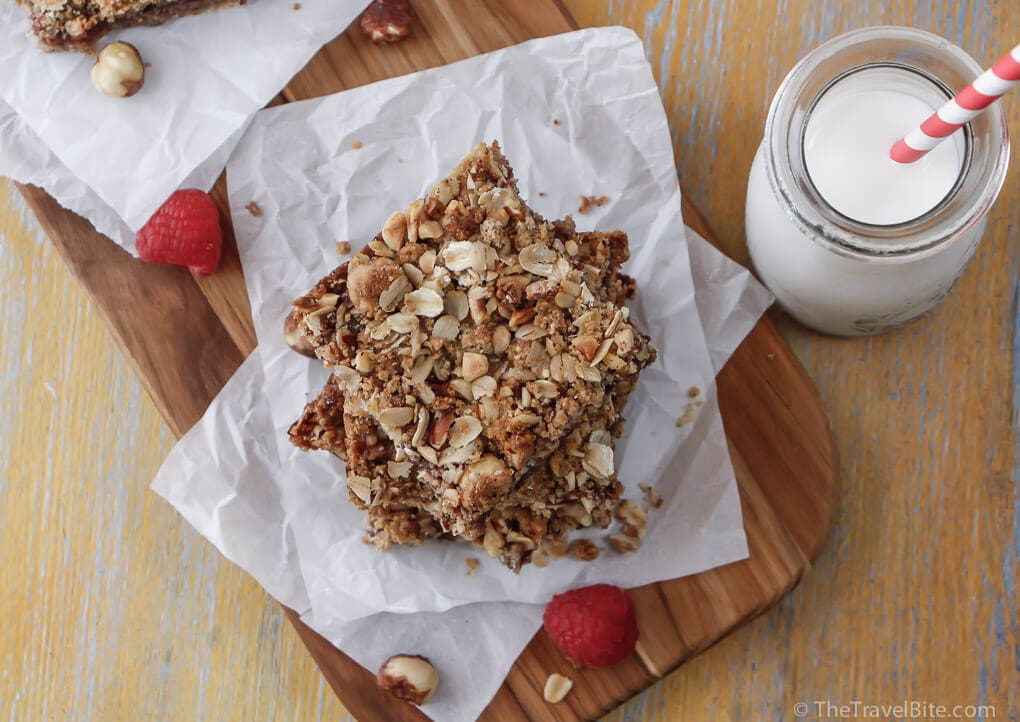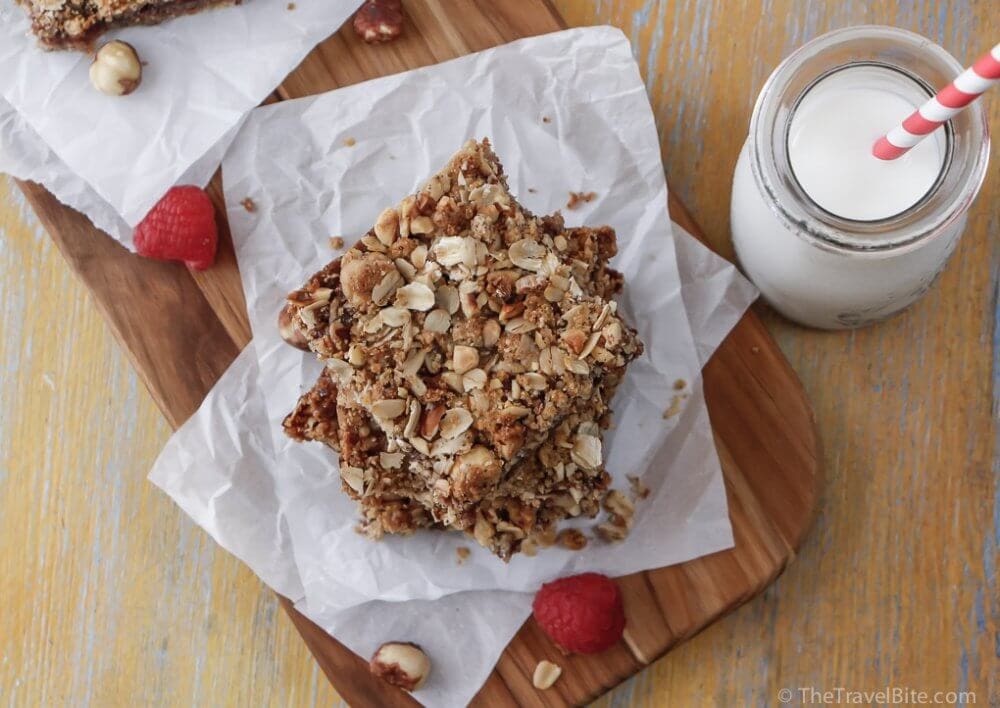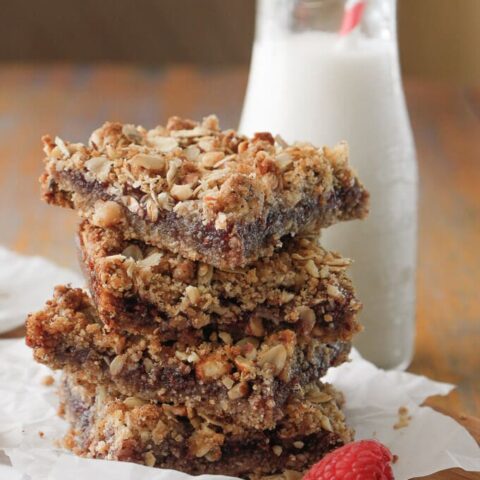 Hazelnut Crumb Bars With Raspberry Jam
Ingredients
1 1/2 cups hazelnut flour
1/4 cup brown sugar
2 Tbsp butter, melted
1/4 tsp salt, divided
1 cup raspberry jam
1/3 cup hazelnut flour (for topping)
2 Tbsp chilled butter, chopped in small cubes (for topping)
3 Tbsp packed light brown sugar (for topping)
1/3 cup rolled oats (for topping)
1/3 cup hazelnuts (for topping)
Instructions
Preheat oven to 350 degrees and line a 9x9 inch square baking pan with parchment.
Stir together the hazelnut flour, brown sugar, melted butter, and 1/8 tsp salt.
Press the mixture into the bottom of prepared pan and bake until toasted, about 10-12 minutes.
While the crust is baking, pour the whole hazelnuts into a plastic sandwich bag, seal the bag, and crush the hazelnuts with the back of a wooden spoon. Set aside.After the bottom of the bars are toasted, let it cool for 5 minutes, then spread the raspberry jam over the base. Be sure to leave about a quarter inch space between the jam and the edge of the pan as the sugar will burn and stick to the edge.
In a medium sized bowl, press the 1/3 cup hazelnut flour and chilled butter together with a fork or pastry cutter until it resembles crumbs.
Add the sugar, oats, and crushed hazelnuts and mix together.
Scatter the crumble over the raspberry jam. Reduce heat to 300 and back for another 25 to 30 minutes until golden.
Let cool for 30 minutes, then cut into 9 square bars.
Nutrition Information:
Yield:

9
Serving Size:

1
Amount Per Serving:
Calories:

365
Total Fat:

22g
Saturated Fat:

5g
Trans Fat:

0g
Unsaturated Fat:

17g
Cholesterol:

14mg
Sodium:

119mg
Carbohydrates:

40g
Fiber:

3g
Sugar:

27g
Protein:

5g
Nutritional information provided is only an estimate.