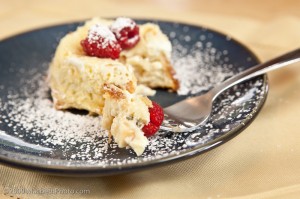 We recently enjoyed a whirlwind weekend in San Francisco. It's a lot to see in only four days, but I'm really happy that we squeezed in drive out to Napa Valley where we met with the innkeepers at the Glass Mountain Inn, a gorgeous inn located in St. Helena.  My friend Vanessa and I were talking about what surprised us most about Napa Valley.  And that was … well … it was so brown!  It is Fall.  And I guess we both had visions of vineyards like the movie A Walk In The Clouds with rolling green hills full of vines and picturesque as-far-as-the-eye-can-see panoramic mountain vistas.  But we're both optimistic happy girls.  So rather than focusing on the quick feeling of disappointment from an unfulfilled expectation, we focused on the glass being half full … with wine!  And wine is something that California does really really well.
After driving through the valley, the town of St. Helena was a sweet surprise.  It was green.  The town was reminiscent of a movie set … only more real and organic.  And the road to Glass Mountain Inn was uphill, winding, and every turn had another view of a sparkly vineyard.  Yay!  And I do mean "sparkly" in the literal sense of the word.  The vines have little metallic tags that I suppose are there to scare away birds.  But I like to think of them as vine bling.  After all, something as magnificent as a pinot noir should come from something that sparkles.
Alrighty.  On to the good stuff!  How about a little Grand Marnier with your breakfast?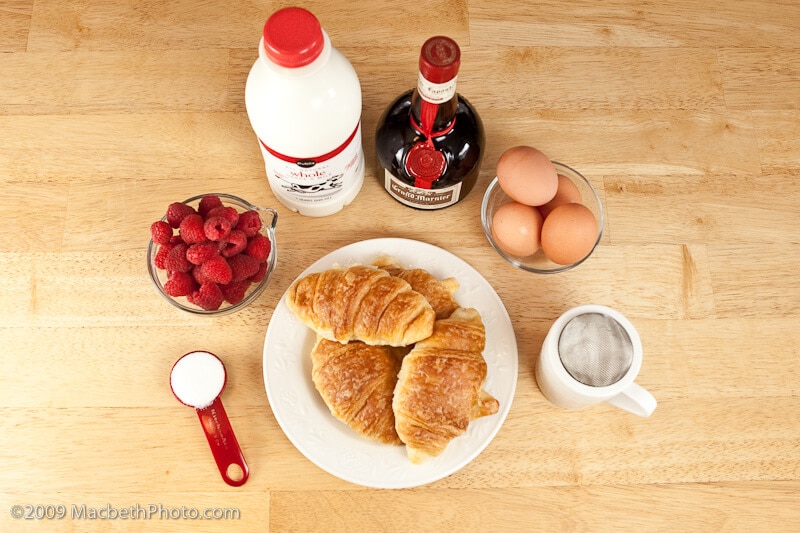 What I love about this recipe is how easy it is to make … but it tastes oh-so-good and is easy to fancy schmancy it up.  I've already made it now half a dozen times this month when we had friends or guests over for breakfast (or dessert!)  The ingredients are simple and easy to remember if you're running quickly through the grocery story to pick up a handful of things.   All you need is some croissants, sugar, milk, eggs, Grand Marnier, and berries and powdered sugar for garnish.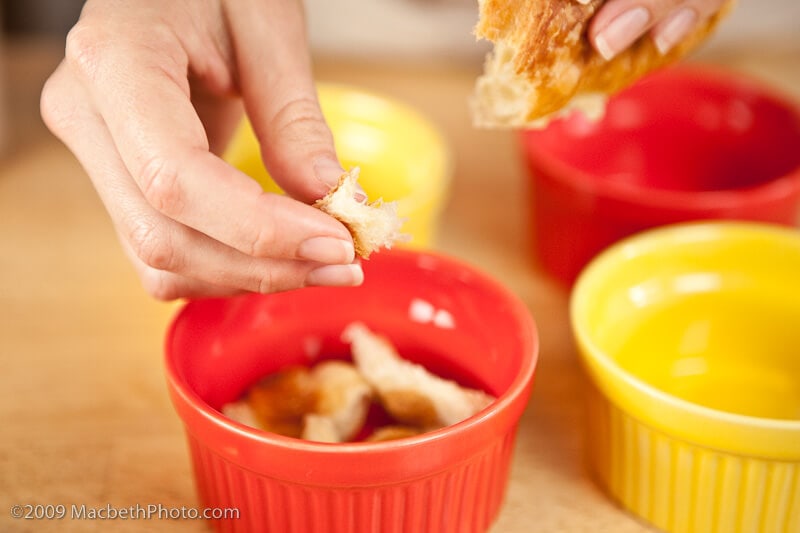 Spray your ramekins with some non-stick spray and tear your croissants into bite sized pieces, filling each ramekin as you go.  Place the ramekins on a cookie sheet or some other edged pan to catch anything that spills.
Next, mix your other ingredients in a large bowl (excluding berries and powdered sugar)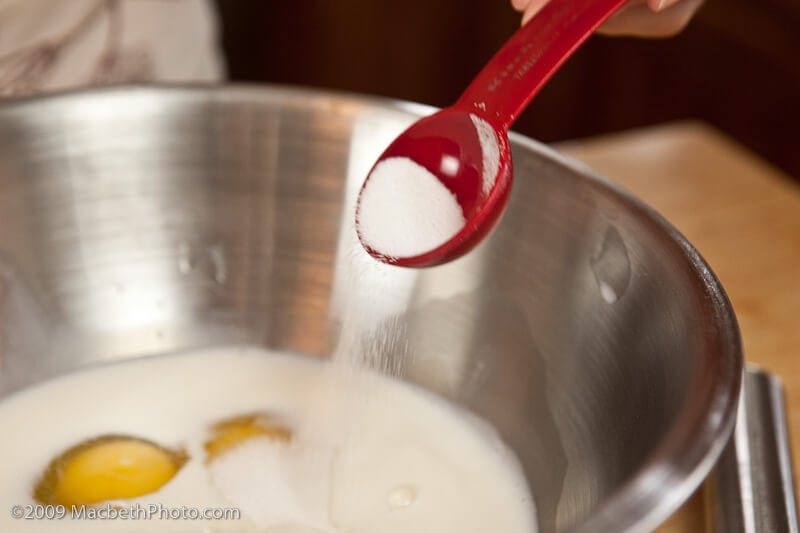 The Grand Marnier has an interesting effect to the milk.  Start bubbling and making all sorts of fun swirls.  This sparked my curiosity to find out what in the heck was the cause of this little chemistry experiment. I Googled it and found 3 possible answers.
1) "I'd say that when you add the milk-coffee mix to alcohol the concentrated alcohol must be able to denature the milk proteins initially (similar to acid in cheese making but a different mechanism – hydrophobicity), alcohol added to coffee/milk must not ever be concentrated enough to do this." Uh-oh!

2) Then someone said it was "curdling" … but then wouldn't we have a bunch of cheesey White Russians served in bars?  Baileys and milk don't seem to have the same effect.
3) Then I found this random strange video "milk to alcohol" where someone turned milk into alcohol.  It's really bizarre.  With a train going by several times in the background sound, someone adds sugar, yeast and milk together in a cup and pours it from one cup to another. After awhile it turns orange and then a cat comes up to drink the milk.  WEIRD!
I'm totally off subject now.  Damn internet and it's endless supply of useless trivia.  Back to the recipe …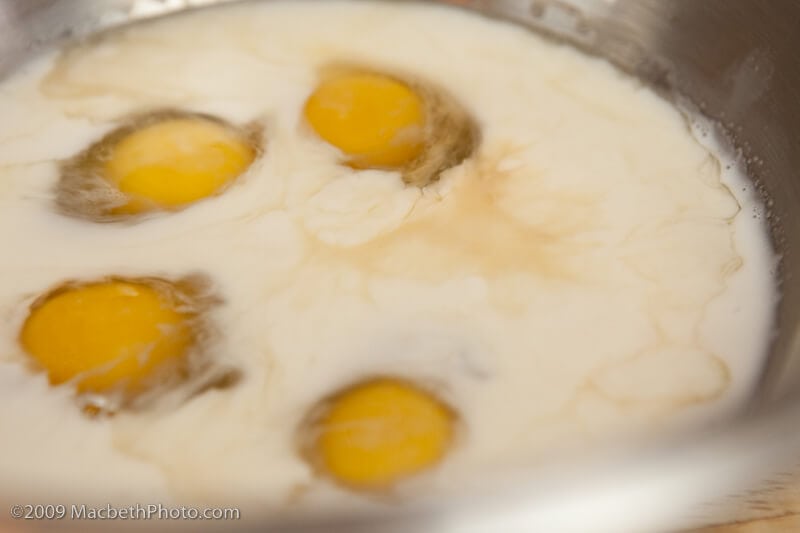 Whisk everything together …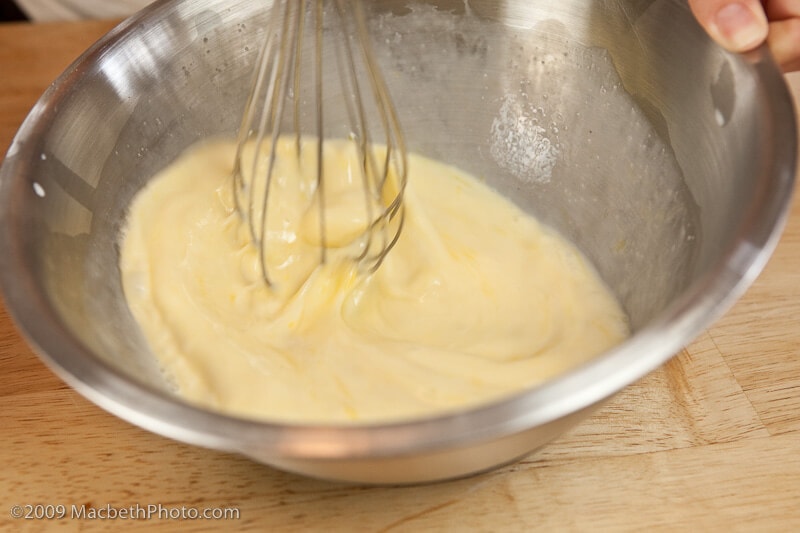 And pour on top of croissants.  Soak em good.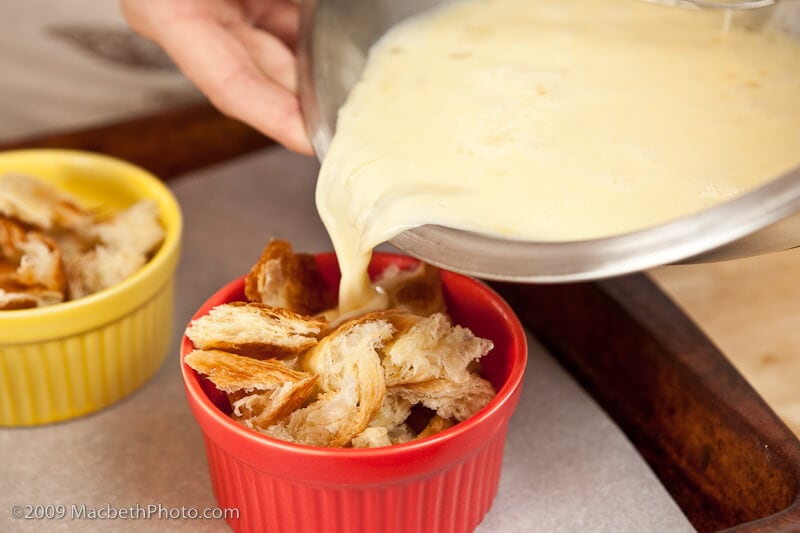 Let them ist for at least 15 minutes so the bread can soak up all the liquidy egg mixture.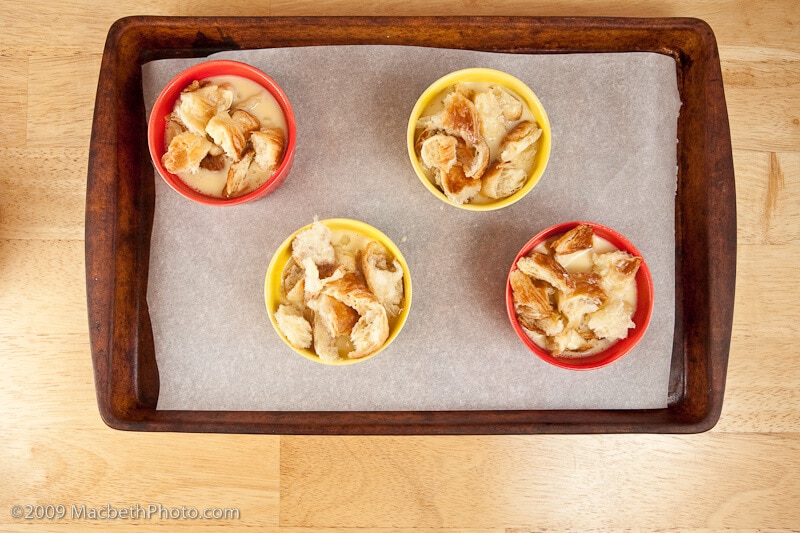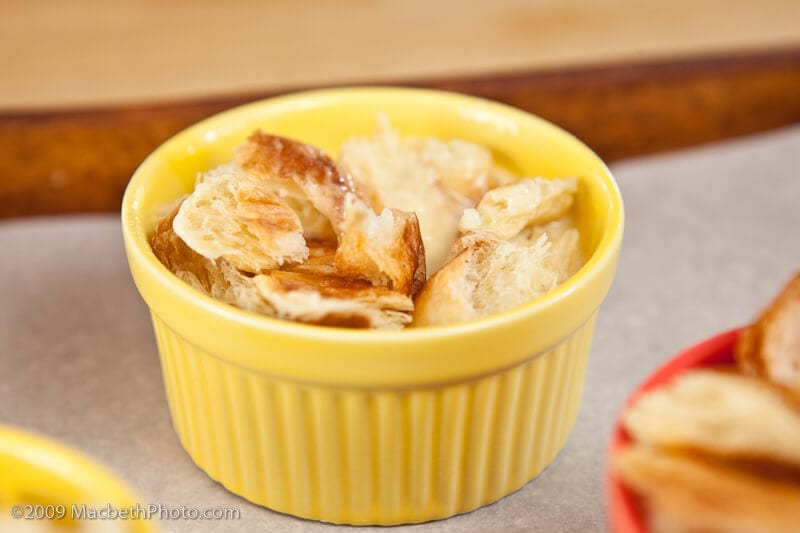 Bake at 400 degrees for 20 to 25 minutes.  Mine took just a tad longer since I put them on a baking stone.  That think absorbs heat like nobody's business.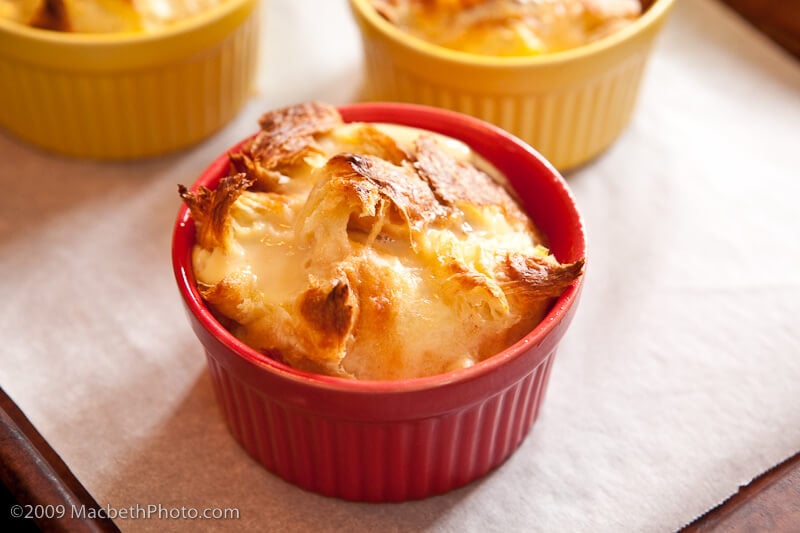 After they've cooled for about 5 minutes, take a knife around the edge to loosen them up and then turn over onto a plate.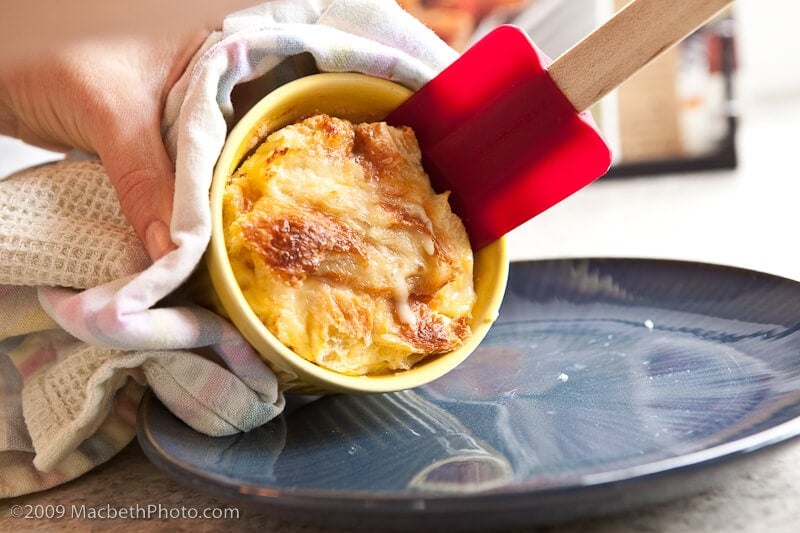 Mmm.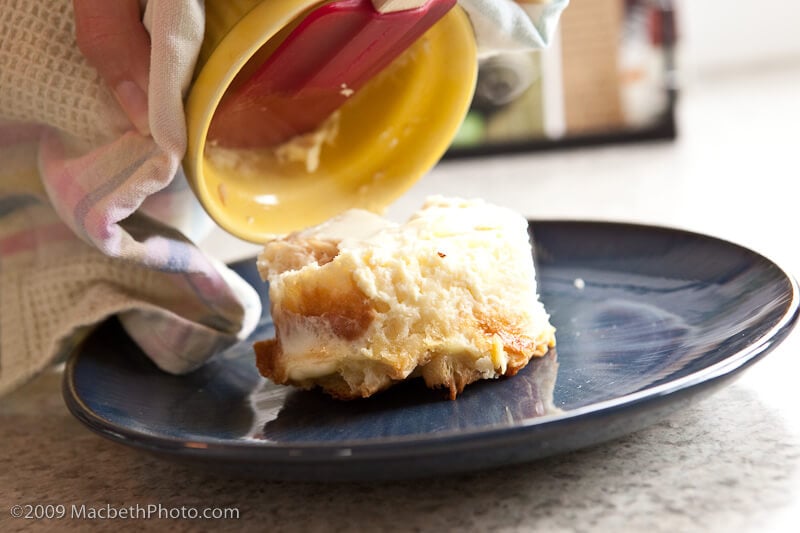 Garnish with raspberries and sprinkle with powdered sugar.  Take a bite.  Pause.  Make Mmm noises.  Enjoy!
Whole recipe from Julie at Glass Mountain Inn is listed below.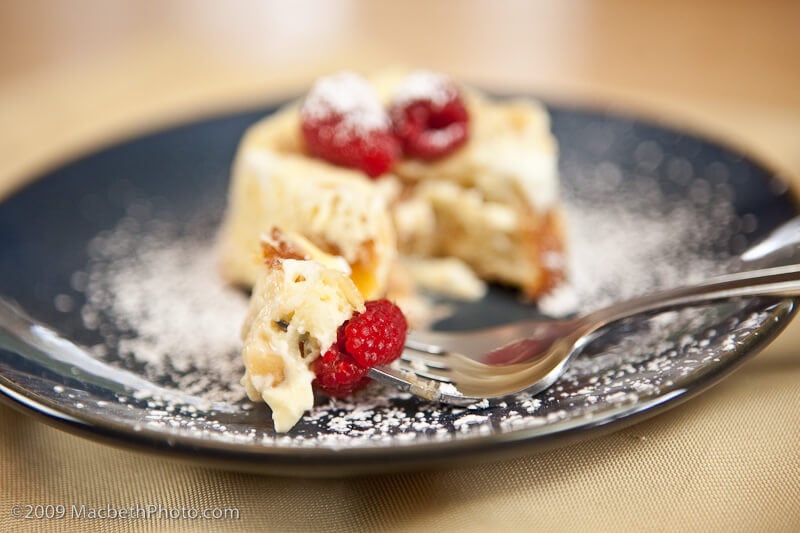 Julie's Croissant Bread Pudding
Glass Mountain Inn
St. Helena, CA
Print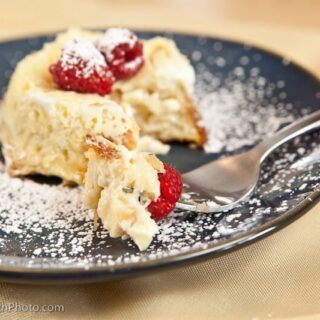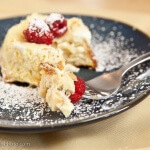 Croissant Bread Pudding
---
Author:

Prep Time:

30 mins

Cook Time:

20 mins

Total Time:

50 mins

Yield:

8

1

x
Scale
Ingredients
8

store bought croissants, torn into medium-sized pieces

8

whole large eggs

1 1/2 cups

milk

2 Tbsp

Grand Marnier liquor

1 Tbsp

superfine sugar
---
Instructions
Preheat oven to 400 degrees. Generously spray 8 ramekins with vegetable oil. Add one torn croissant to each ramekin.
Whisk eggs, milk, sugar and liquor in a bowl. Pour egg mixture into each ramekin, making sure there is enough liquid to soak bread. Let ramekins sit for 15 to 20 minutes to allow bread to soak up egg mixture. Place ramekins on parchment covered baking sheet, preferably a jelly roll pan with sides to avoid sliding.
Place ramekins in preheated 400 degree oven and bake for 20 minutes until golden and puffed. Using an offset spatula, gently turn out each bread pudding on a serving plate. Top with powdered sugar and fresh berries. Chicken-apple sausage or bacon is a perfect accompaniment to this dish.
---
Category:

Breakfast

Cuisine:

American
Want to save this idea for later?  Pin it! 🙂