With our combined love for the outdoors and delicious food finds, San Francisco feels like our spirit city. There's such an exciting entrepreneurial vibe and always something new to discover, but there are also few classics you just can't miss.
Pete and I have been to San Francisco several times now on business trips and always manage to sneak in a "bleisure" day or two to go sightseeing. When it comes to food recommendations, I'm definitely going to leave those to the locals as the culinary landscape in the bay area is constantly growing and evolving. However, if you're a first-timer, here are our recommendations for things to do (and taste!) when visiting San Francisco for the first time.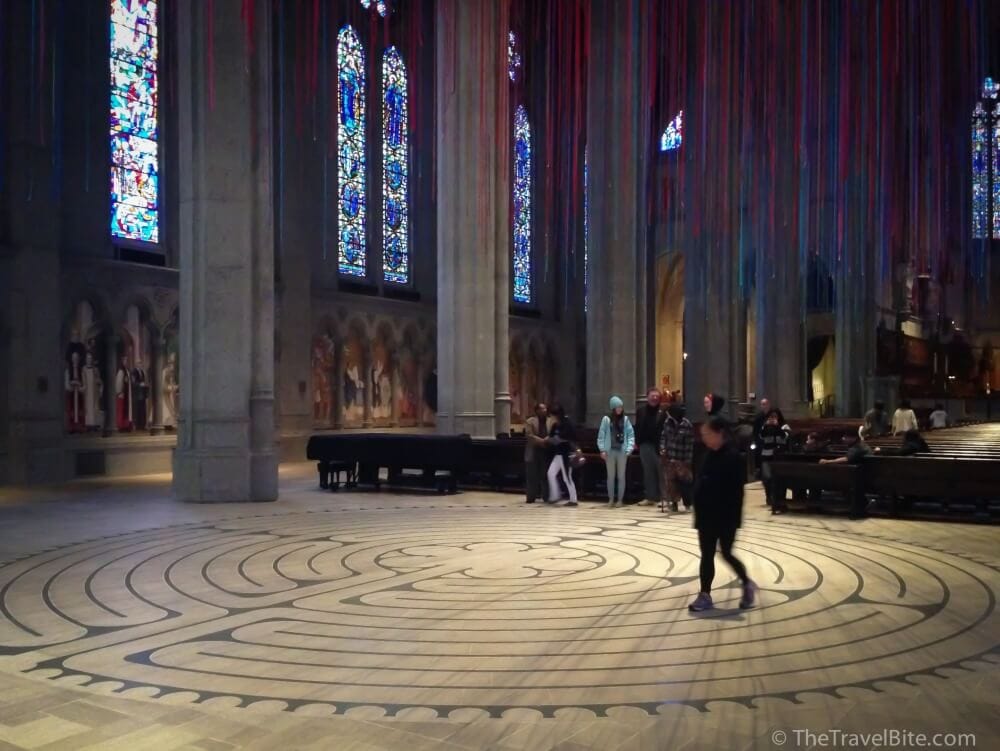 1 – Grace Cathedral
I never see this one on travel lists and never figured out why because it's a definite must-see! The architecture and stained glass windows are breathtaking and there's a meditation labyrinth inside Grace Cathedral that's modeled after Chartres Cathedral in France. I highly recommend their yoga in the labyrinth or one of the candlelight walks if you can plan your schedule around it. Also, if you're in the mood for a little walk and conquering San Francisco's impressive hills, nearby the cathedral you'll find Chinatown which is a great spot for grabbing dim sum and souvenirs.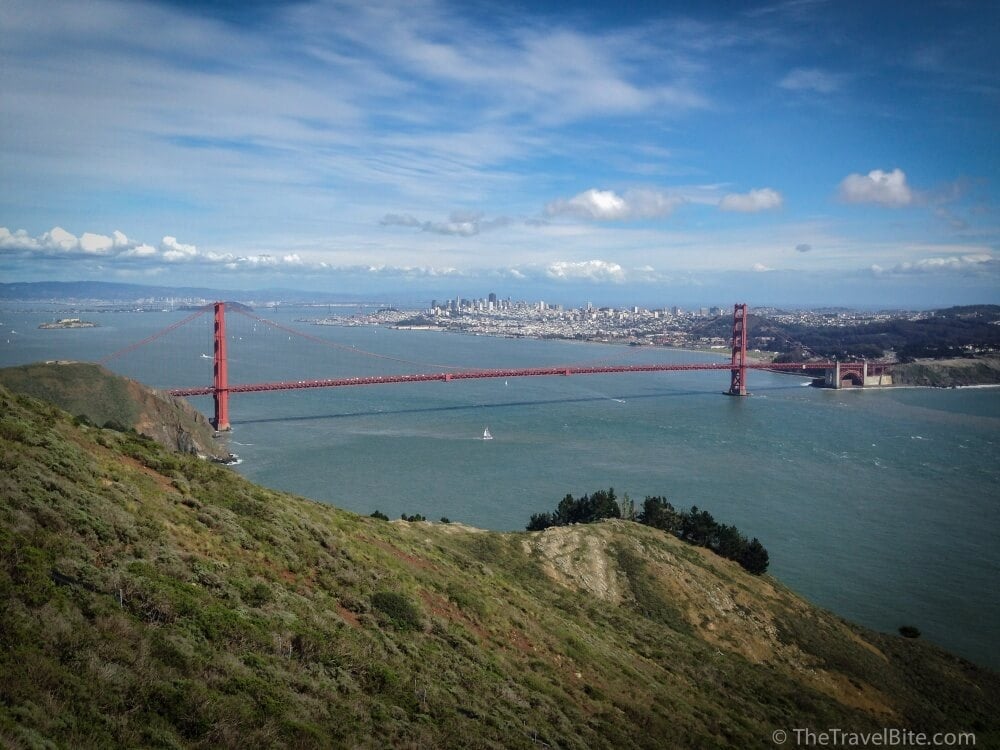 2 – The Golden Gate Bridge
This one is obvious, but take some notes here from our tips for the best viewing. The Golden Gate Bridge is such an icon, it just beckons you to walk closer and closer to it no matter where you are in the city, and before you know it you've walked 10 miles for a better picture. Ha! (Don't do as I did the first time which was log 7 miles wearing my wellies. Talk about sore feet!)Here's three spots sure to get you that postcard view you're looking for. I recommend taking an Uber to get to a good starting point, capture your pictures, and THEN going for a walk.
Battery Spencer at Fort Baker: This is actually on the other side of the bridge, opposite the city, and will give you a different perspective of the icon with panoramic views of both Golden Gate & San Francisco.
Address: Conzelman Rd, Sausalito, CA 94965
Golden Gate Bridge Welcome Center: If you're on a time crunch, or just don't want to walk too far, this is the address to plug into your GPS. It will take you right to the edge of the bridge where you can walk the short paths around the historic artillery batteries, see both sides of the bridge, and even walk up on the bridge if you're feeling brave!
Address: Golden Gate Bridge, San Francisco, CA 94129
Fisherman's Wharf: This area can be very crowded and touristy, so I recommend going for a walk here in the peace of the morning when it's more quiet and serene. If you're wearing the proper shoes, you can walk all the way to the Golden Gate Bridge (It's about 4.5 miles/1 hour walk, 2 hours if you're stopping to take pictures), and then just Uber back. Stop by Boudin Bakery to grab a quick breakfast to-go and taste some of San Fran's famous sourdough bread.
Address: Boudin Bakery & Cafe, 160 Jefferson St, San Francisco, CA 94133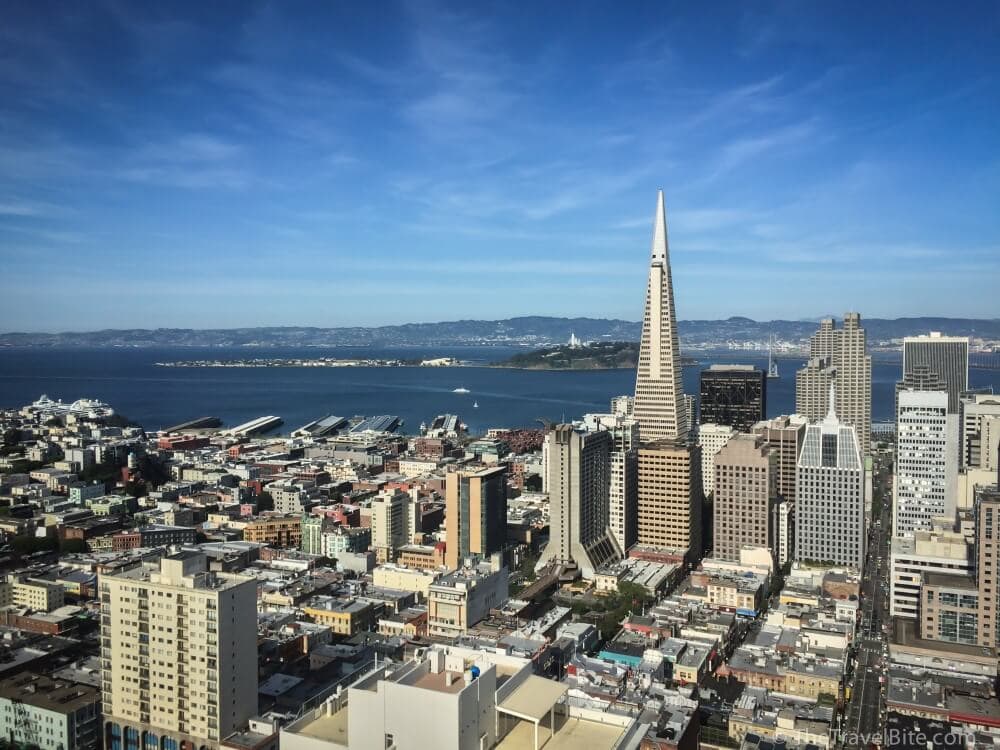 3 – The Tonga Room (And A Few Good Eats)
While the food here might not be worth writing home about, cocktails at the legendary Tonga Room in The Fairmont hotel are a must! It's a quirky tiki-themed bar reminiscent of the 1950s and it's kitschy to the max. One of MGM's leading set director's from the 1940's designed it, and because of its history, no visit to San Fran would be complete without sipping a cocktail here. If you want to follow that up with dinner and a view, head over to The Cliff House to watch the sunset in another eclectic historic building.
There's also a great little Italian place nearby the Tonga Room. We really love the Tuscan style pasta over at Nob Hill Cafe which is easily walking distance from both The Fairmont and The Ritz Carlton. The food here is amazing, so there's typically a bit of a wait. After adding your name to the waitlist, spend your time walking up the hill to Ina Coolbrith Park for a great view of the city.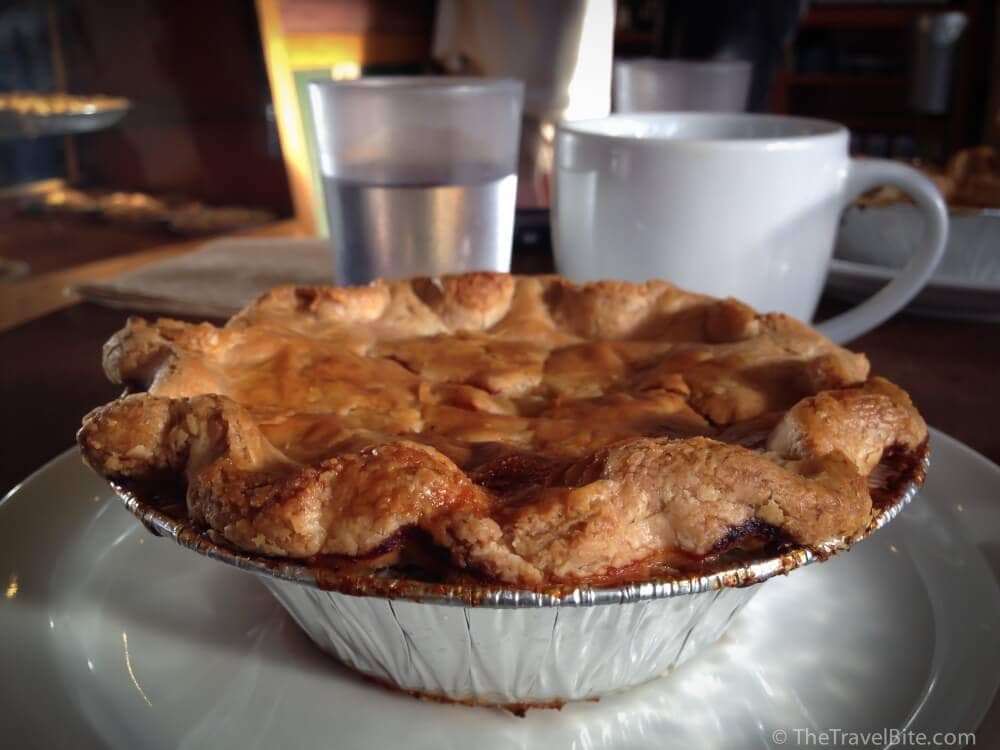 4 – The Mission District
This area definitely a bit off the beaten path, but it's worth a visit if you're into food. Our favorite place there is Mission Pie for a cup of locally roasted coffee and a seasonal sweet treat. Everything is handmade from scratch with locally sourced seasonal ingredients. When we were there, we couldn't get enough of their rhubarb pies!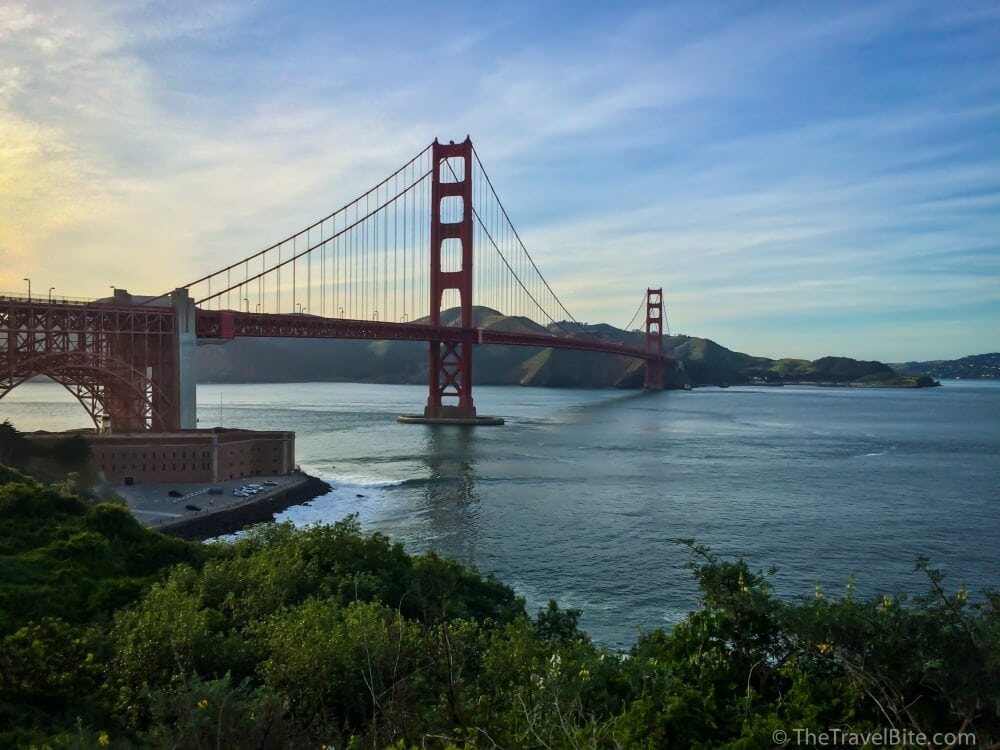 5 – The Ferry Building Marketplace
This is a must-stop for any foodie. From artisan cheese shops to a village market with local produce and fresh baked goods, the Ferry Building Marketplace is the perfect place to stop and pick up edible souvenirs for home or to pack a picnic on your way to Napa Valley.
6 – Coffee Houses
As the hub for a lot of creative companies like Twitter, Timbuk2, and AirBnB, you better believe these young entrepreneurs demand a daily dose of amazing coffee. From Blue Bottle to Stumptown, Ritual Coffee Roasters, and Sightglass just to name a few, San Francisco is definitely a city for coffee-lovers. Be sure to pop in and try some of these locally roasted grounds and check out Thrillist's list of Best SF Coffee Shops for a few more to add to your list.
7 – Day Trips Outside Of The City
Being so close to wine country and some epic hikes, I had to add a few quick trips from the city that are definitely worth your visit. You could spend just the afternoon at each of these locations, a whole day, or plan a weekend around them after visiting San Francisco.
Muir Woods — Over the Golden Gate Bridge and about a 35 minute drive away is a redwood forest worth exploring – Muir Woods. The fresh scent of pine, the towering shade of ancient trees, the the soft roar of the Pacific makes this the perfect afternoon digital detox. Once you get on the trail you won't find much of a cell signal, but you wont be looking for one either. Pack a lunch to-go and spend the morning here before it gets to crowded, then stop by Fort Baker (mentioned above) to see the Golden Gate Bridge on your way back into the city.
Yountville — Continuing on past Muir Woods, the world famous Napa Valley wine country is just about an hour and a half drive outside of San Francisco. If you're planning a weekend escape, we recommend staying in the small town of Yountville. Named after George Yount, the man who planted the first vineyard in the Napa Valley. Yountville is known for its "passeggiata – the art of the stroll" as everything is easily walking distance once you're there. We loved going on a self-guided bike tour of Yountville wineries as we could take our time and enjoy the scenery. Be sure to stop by Cliff Lede Vineyards for a tasting and to learn more about their Rock-n-Roll inspired wine blocks. And for places to stay, we recommend North Block Hotel and Bardessono.

Livermore Valley

– If you're short on time, but want to experience California wine country during your visit to San Francisco, Livermore Valley is accessible by BART (San Francisco's Public Transportation). Just take the BART to the Dublin/Pleasanton station, and then Livermore Valley wine country is just a short 15 minute Uber from there. Probably the most notable winemaker in the valley is Wente Vineyards (their Morning Fog Chardonnay is one of my personal favorites.)
Want to save these tips for later? Pin it! 🙂