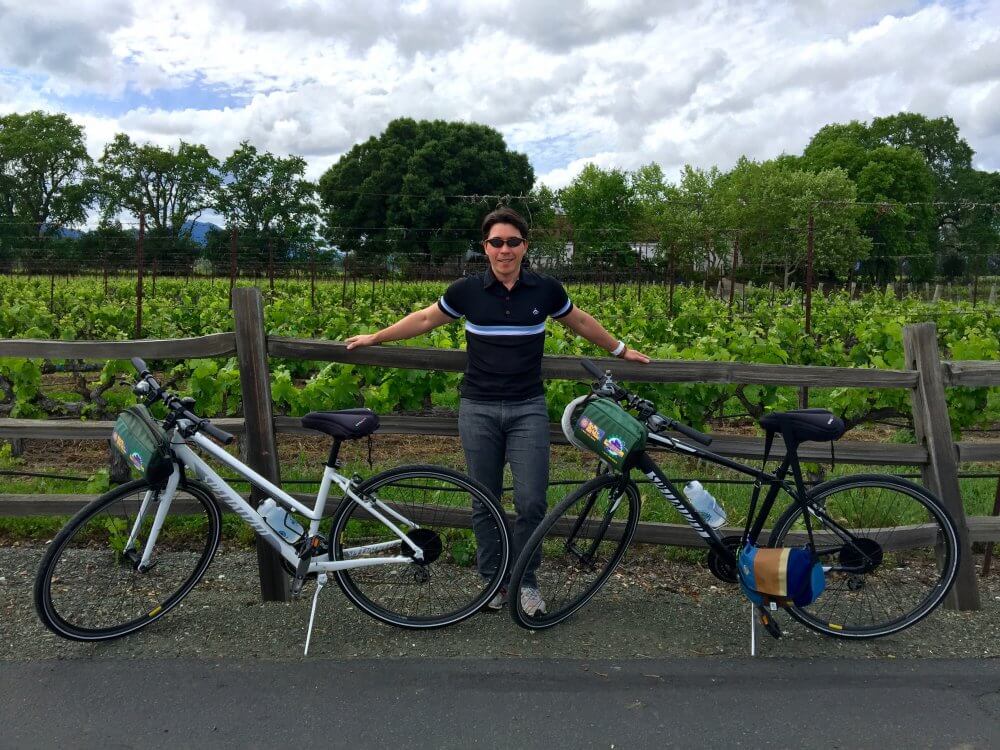 Life moves at a different pace while cycling.  Whether you're mashing for primes in a criterium or running errands on your townie, you're still traveling at a slower rate than cars hustling on the highway.  If you want your transportation to maximize the opportunity to enjoy the journey just as much as the destination there are few vehicles as well suited as a bike.  This was our mindset when we contacted Napa Valley Bike Tours to rent a pair of hybrids and set out exploring Yountville wineries by bike.
Before arriving in Yountville we contacted Napa Valley Bike Tours to make our reservation.  Once there, Tom provided an orientation on the bikes and discussed the route based on the wineries we wanted to visit.  He also gave a brief overview of the layout and topography of the region and made a note of our lunch selections before walking us out to make some minor fit adjustments on the bikes.  Once he felt confident that the bikes fit us well and we had a good sense of where we were going, he rode us out to the Napa Valley Wine Trail that runs north and south along the west side of town and bid us safe travels.
Cliff Lede Vineyards was the first winery on our schedule but I had asked Tom about a scenic route to add a few more miles to our journey so we rode out north of town down smooth, deserted backroads passing acre upon acre of vineyards.  It was, in my best estimation, a typical early-summer day: warm in the sun and cool in the shade.  There was ample shade from tall trees overhead and a handful of clouds.  Riding past those endless rows of vines proved almost hypnotic and we stopped a few times to take pictures for the scrapbook.
We eventually came upon the highway and figured if we double-backed toward town and rode east, we should arrive right on schedule for our first wine tasting.  The roads were very lightly traveled and reasonably well-marked.  We stopped a coupe times to check the GPS to make sure that we hadn't missed a turn or overshot the mark.  After riding across a small bridge still heading east, we finally saw the sign for Cliff Lede Vineyards on our right. There was a good amount of parking both for cars and bikes so we used the cable lock stored in the handlebar bag to lace up our bikes to the rack and went inside.
If this post were about the wineries themselves, I would gush on with an endless string of superlatives about how gorgeous, charming, vibrant, etc. they were and even then, I would probably be understating it a bit.  Needless to say, you don't have to be a wine lover to have a good experience here but it certainly does help.
After we had sampled a delightful selection of wines and taken a brief tour of the grounds we set out again, this time heading west back to town. We took a slightly different route back cutting in through the east side of town before turning south and working our way toward the center of town.  From there, we rode due south until we exited town and saw the sign for Bell Wine Cellars on the left.  We were running a little late at that point having enjoyed ourselves longer than expected at Cliff Lede. A man was sitting at a picnic bench in front of Bell eating his lunch when we arrived.  I asked him if it would be alright to leave the bikes by the front door and he said it would be fine.  I later found out the man eating lunch by himself out front was Anthony Bell, the owner and winemaker of Bell Wine Cellars.
We started with a tour of the grounds at Bell before nestling in to the tasting room for an education on all things grapes and wine.  Our lessons included some botany, genetics, geology, meteorology, and chemistry before we put those lessons to use in tasting a variety of exquisite wines.  Toward the conclusion of the tasting we were informed that our lunch was waiting for us on the north patio.  Much to our delight, Tom had delivered lunch from Yountville Deli in a large cooler complete with sandwiches, snacks, and drinks.  We had our own private picnic with a view of the vineyard.  This experience alone would have made the trip worthwhile but toss in a couple deluxe wine tastings and a scenic ride through the countryside and we'll be talking about this for years to come.
I can't say we finished lunch but we finally stopped eating.  The food was tasty and there was more than enough in the cooler to feed three or four people.  Something about that perfect California weather and a view that would never get old had us grazing past the point of common sense. The sun had shifted while we sat there eating, drinking, and talking. By the time we hopped on the bikes and started back toward town we were met by Tom driving his van who was on his way to Bell to check on us and to retrieve the cooler.  We laughed.  We told him of the great times we had at Cliff Lede and Bell and riding out north of town to do some sightseeing.  Tom smiled.  I suspect this wasn't the first time he had folks lose track of time while riding around Yountville. We chatted for a while before Tom asked if we would like a ride back. And miss a chance at riding a few more miles in Yountville?  Absolutely not.
By now we had a good sense of the roads and the layout of town. Something about riding a bike will do that for you; you'll have the time to look at street signs, recognize buildings and landmarks, and even chat with pedestrians and other riders if the opportunity arises.  It seemed like just a few turns of the pedals before we were back at Napa Valley Bike Tours and turning in our rentals. The bikes, a men's Specialized Sirrus and women's Specialized Vita, proved perfect companions for the day's journey with an evenly spaced range of gears and a good riding position for seeing the sights while keeping a moderate pace. Kudos to the in-house bike mechanic as we experienced no major mechanical issues with either bike which is always a concern when renting. Special thanks to Tom for his patience in answering all of our questions before we set out that day and making the reservations with the wineries.  If you'd like to explore Yountville and the surrounding areas, I can think of no better way to make the most of this experience than to park your car and enjoy the ride.
Want to save this travel tip? Pin it! 🙂