French Toast was probably my favorite breakfast growing up and recently I've been receiving lots of different variations of this popular morning food.  Some with different fruits and spices, some stuffed, some layered, the classic single slice and family casserole style.  It made me wonder, why do we call it "French" toast anyway?  I know it's not really French, or is it?
Wikipedia's etymology says the earliest use of the term was in 1660 and was bread fried with wine, orange juice and sugar.  I'll have to give that recipe a try!  After doing a little more digging through Google, I discovered in French it is actually called "pain perdu" which translates into "lost bread."  It was a popular recipe in many countries, not just France, as a way of making stale bread palatable.  The English call it "gyspy bread" and I think I'd like to adopt that term from now on … sounds like breakfast with an adventurous edge!
While there are many different adaptations, the basics remain the same.  A simple batter of eggs and milk.  And I like to add a dash of vanilla, the way my Mom always made it.
This recipe comes from Diane at Kenniston Hill Inn Bed & Breakfast in Maine. She likes to make her French Toast with shell or heart shaped homemade biscuits. In lieu of biscuits, I used some Texas sized bread.
Here's what you'll need:
The basics … milk, eggs, bread, butter
Add to that a dash of vanilla, some sugar, walnuts, strawberries, and maple syrup.
You can do this same recipe with whole slices of bread instead of heart shapes.  Or, if you're like me, next time you walk through the baking section of your store and see all the cookie molds you'll dream of French Toast in the shape of flowers, butterflies, kittens, birds, musical notes and the State of California.  (That last one was random, I know)
If' you're going to make it into a shape, cut your bread first …
Then add the milk, eggs, sugar and vanilla to a large bowl and mix well.
Pour mixed batter into a shallow bowl for dipping.
Then start layering into a 13×9 inch baking dish.
Slice your strawberries and layer on top of the bread.  Isn't this starting to look like a lovely Valentine's Day breakfast?
Next, put a layer of bread on top of the strawberries, sort of like a sandwich.
I poured the extra batter over top to fully soak them in eggy goodness.
Sprinkle with walnuts and add a dab of butter to the top of each toast.
Bake at 325 for about half an hour.
And you'll have plenty of left over crust to make bread pudding … or feed the ducks.
When they're finished, slice around the edge of the hearts with a knife and serve individually with strawberries and maple syrup.
Doesn't it look like it's sticking it's tongue out?
That is, if French Toast could sass back and actually had a  tongue.
Mmm.  Delish.
Heart Shaped Strawberry Stuffed French Toast
Kenniston Hill Inn Bed & Breakfast, Boothbay Maine
Print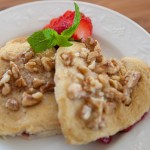 Heart Shaped Strawberry Stuffed French Toast
---
Author:

Prep Time:

15 mins

Cook Time:

40 mins

Total Time:

55 mins

Yield:

6

1

x
Scale
Ingredients
12

slices of thick bread

1 cup

milk

4

eggs

1 teaspoon

vanilla

1 tablespoon

sugar

1/2 cup

chopped walnuts

1 cup

sliced strawberries
pinch of salt
butter
maple syrup
---
Instructions
) If using cookie cutter to make shapes, prepare and slice bread.
) In a medium sized mixing bowl, whisk together eggs, milk, vanilla, sugar and salt. Pour mixture into a shallow bowl for dipping bread.
) Soak bread in egg mixture and add one layer into greased baking pan.
) Cover first layer of bread with sliced strawberries. Next, dip remaining bread in egg batter and add on top of strawberries like a sandwich.
) Sprinkle chopped walnuts on each piece and add a slice of butter.
) Bake at 325 for 30 to 40 minutes.
---
Category:

Breakfast

Cuisine:

American