During the fall, I'll typically post several different variations of pumpkin flavored treats — but pumpkin bread has to be my favorite. Not only is it a classic fall recipe, but baking pumpkin bread fills the house with the scent of the autumn season. The best part about his delicious recipe is that it can be made using just one bowl, so you'll have less to clean and more time to enjoy the beautiful autumn weather.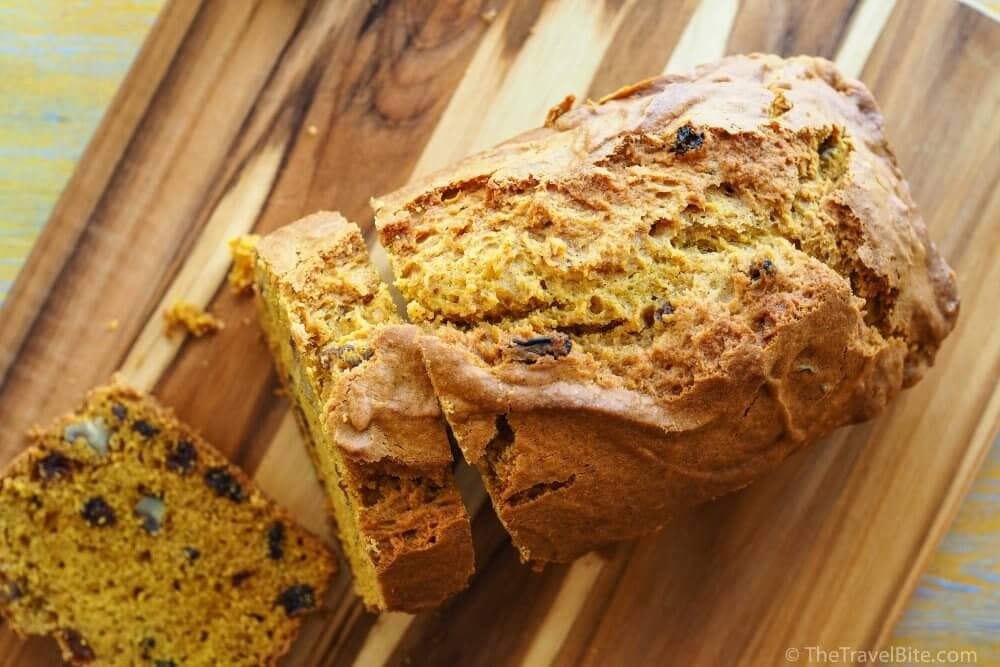 Inez with Christopher's Inn (located in Mount Dora, FL) gave this recipe to me a few years back. Her inn sort of becomes a factory for these things in October as she bakes them for her family, friends, church and anyone smart enough to take a loaf.
It has to be one of my favorite recipes because it's so easy. Mix all the ingredients in one bowl and you've got a rich moist pumpkin bread without a whole lot of clean up. I used to buy pumpkin bread mix at the store and just doctor it up with a few ingredients — no more! Once you try this recipe and see how easy it is you'll add it to your seasonal holiday recipes too.
Here's what you'll need: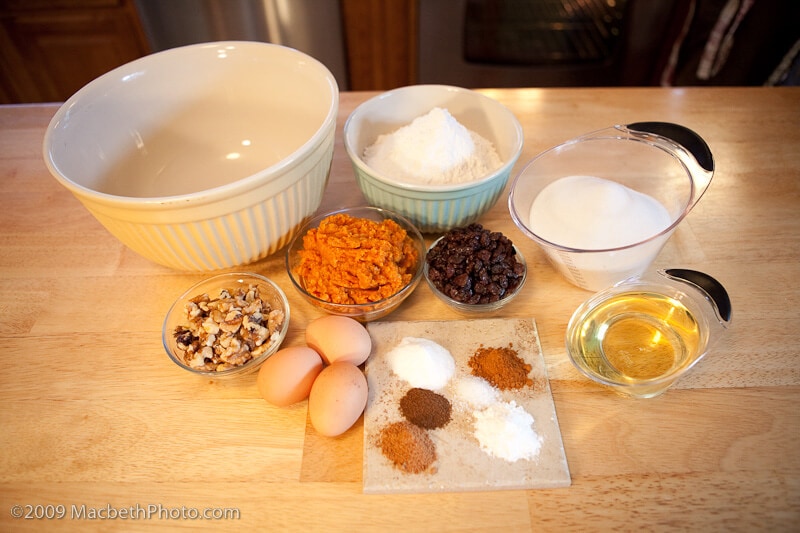 One can or about 14 ounces of pumpkin, 1 cup of oil, 3 cups of sugar (yes, I said 3 cups. I didn't say this was healthy!),
3 1/2 cups of all purpose flour, 3 eggs, 2 teaspoons of baking soda, 1 teaspoon of baking powder, 1 teaspoon of ground cinnamon, 1 teaspoon of nutmeg, 1/2 teaspoon of salt, 1/2 teaspoon of cloves, one cup of chopped walnuts and one cup of raisins.
Mix it all in one big bowl. Start with the dry stuff — flour and sugar.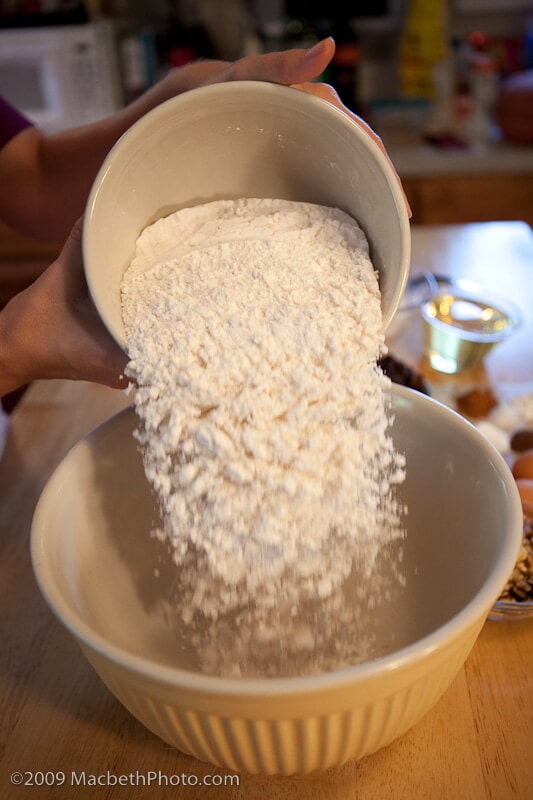 Then the fragrant pumpkin bread spices … cinnamon, nutmeg, and clove. I also have baking soda, baking powder, and a bit of salt on this trivet.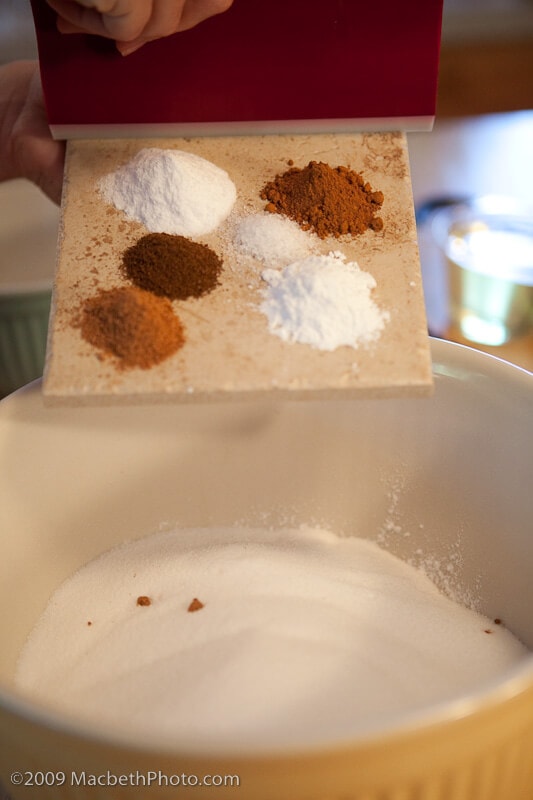 Next add your wet ingredients – the eggs and the oil. For the eggs, it helps to whisk them a bit in a measuring up before adding them in.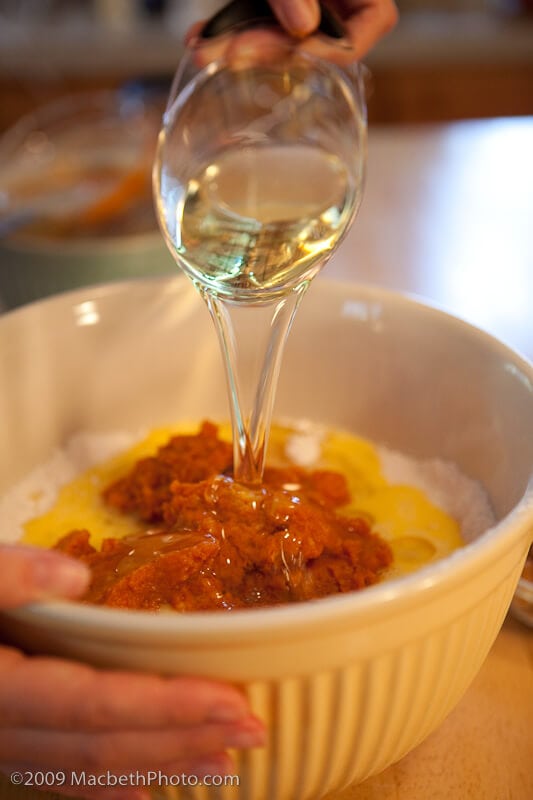 Mix all your ingredients together before adding the walnuts and raisins.
They're a little chunkier, so we'll fold them in.
I like to scrape the side with a spatula to make sure it's well blended and there are no powdery bits hanging out on the edge.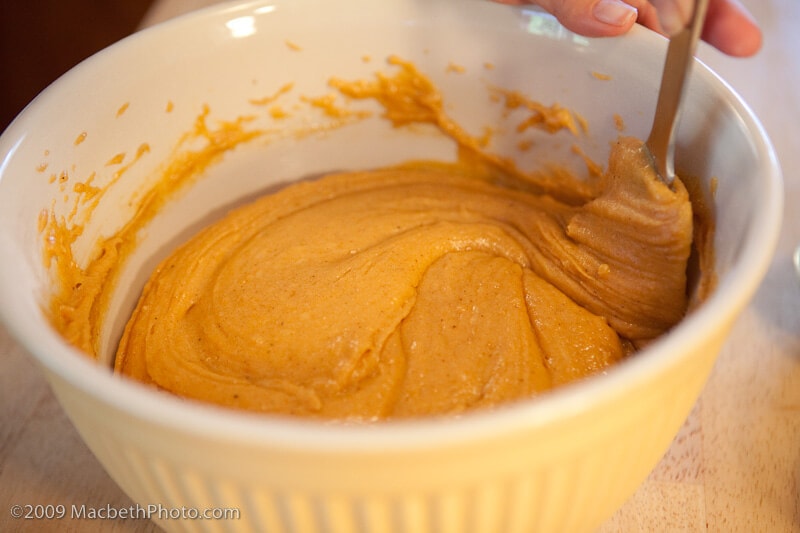 Next, add in your crunchy chunky bits … the raisins and walnuts. You can omit the raisins and add chocolate chips instead if you like.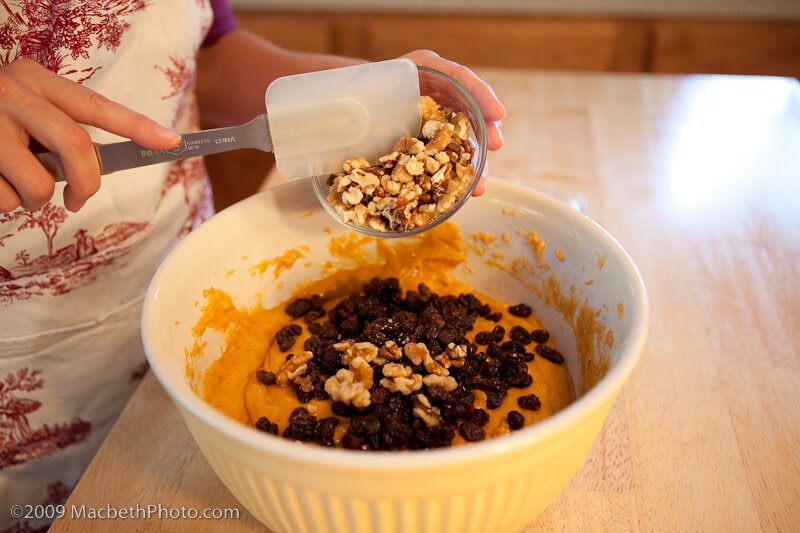 Some may be asking … what exactly is "folding." Well, basically you scoop up the batter from the bottom and bring it up to the top/middle and squish it in.
Repeat. Repeat. Repeat.
Until the raisins and nuts are pretty evenly dispersed.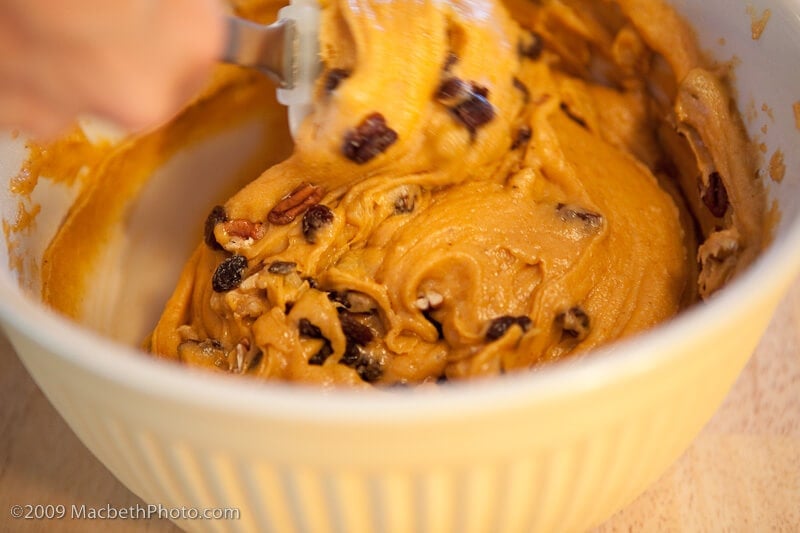 Next, scoop into greased/floured bread pans.
I used one large bread baking stone and two little tin bread pans (3 total loafs). If I were only using the tin pans, it would make 4 loafs.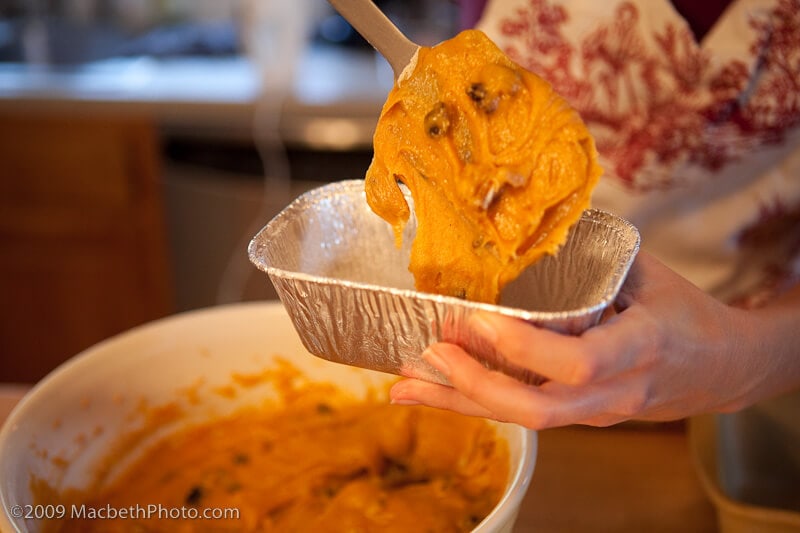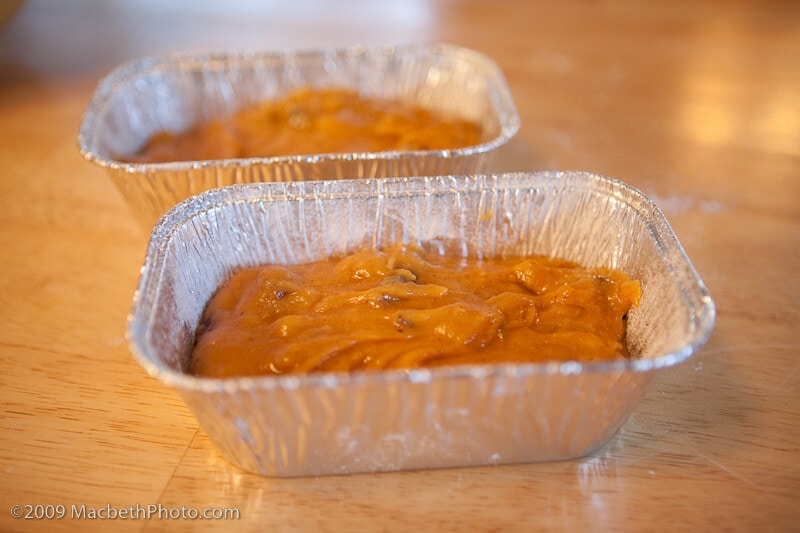 Good thing I had some help in the kitchen today 'cause my "big ole bowl" was a bit to heavy to lift when full of batter.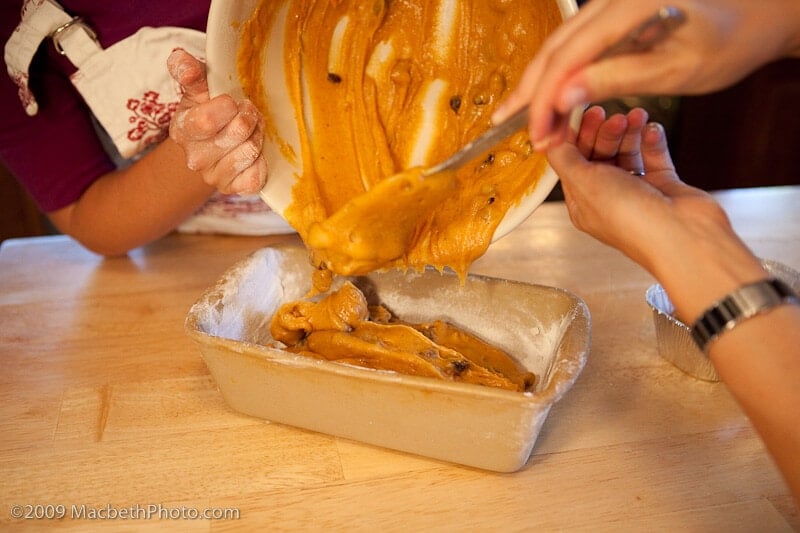 Bake at 350 degrees for about 1 hour.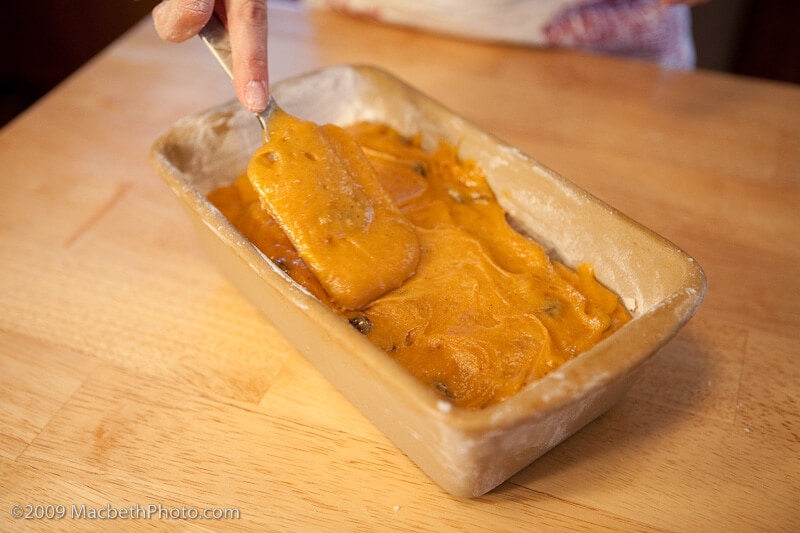 This is the best part. Singing loudly to Van Halen and "pre-washing" the bowl and utensils.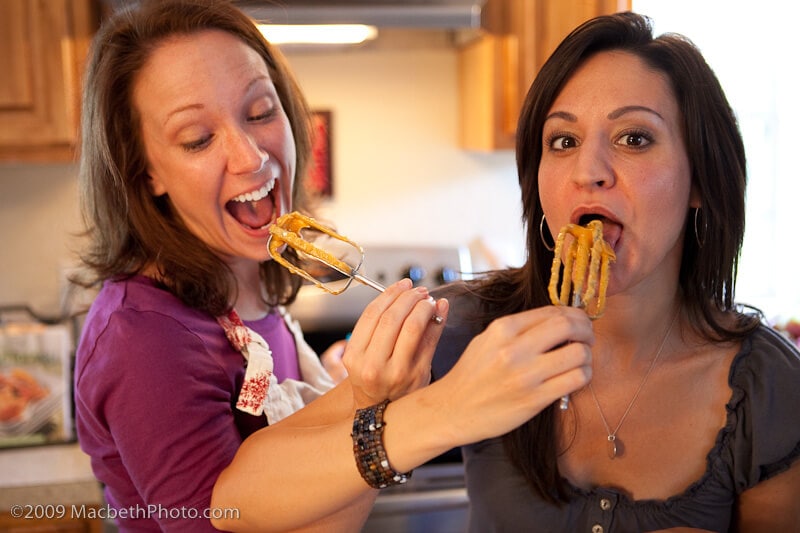 This is me catching my friend Beth stealing the spatula and keeping it all to herself.
What a mischievous little kitchen helper. Or, she could just be flirting with her husband … he's the one behind the camera.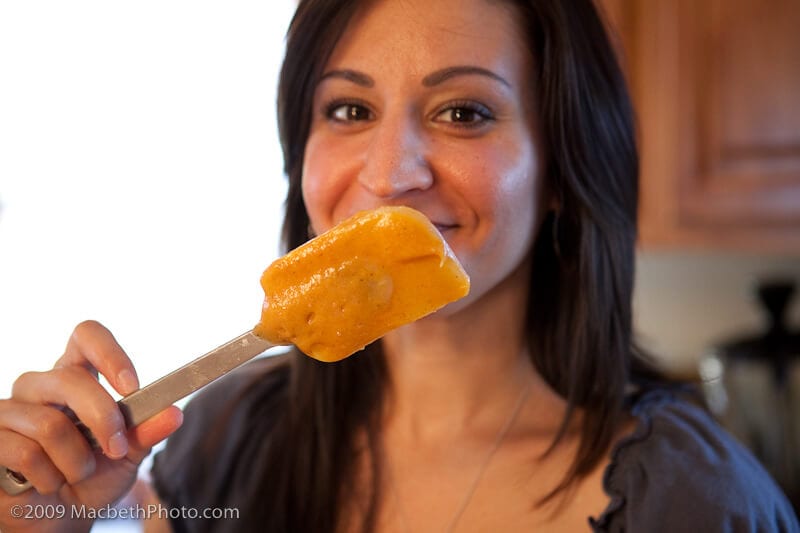 This is my baby girl also doing a "pre-wash" of the floor. No wonder she's turned into such a beggar!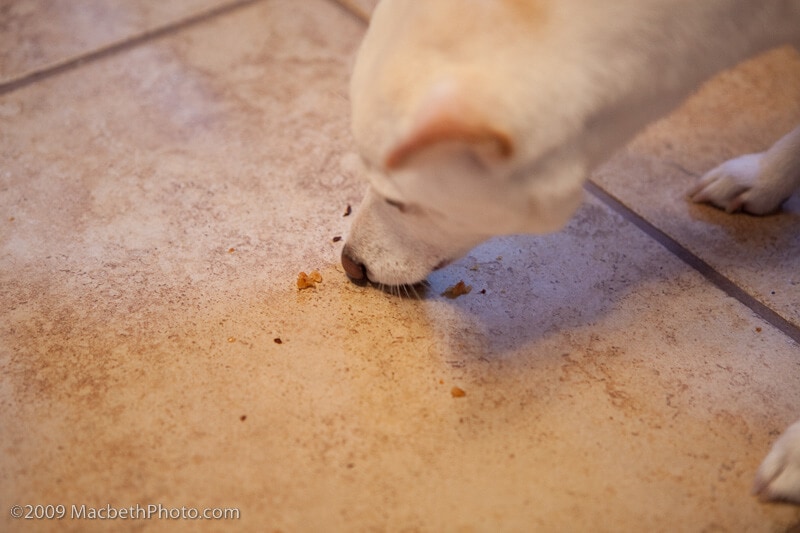 After baking, let cool on a wire rack. Slice thick portions and serve with butter. I've got the printable recipe for you below as well as a pinnable if you'd like to save it to your recipe box on Pinterest.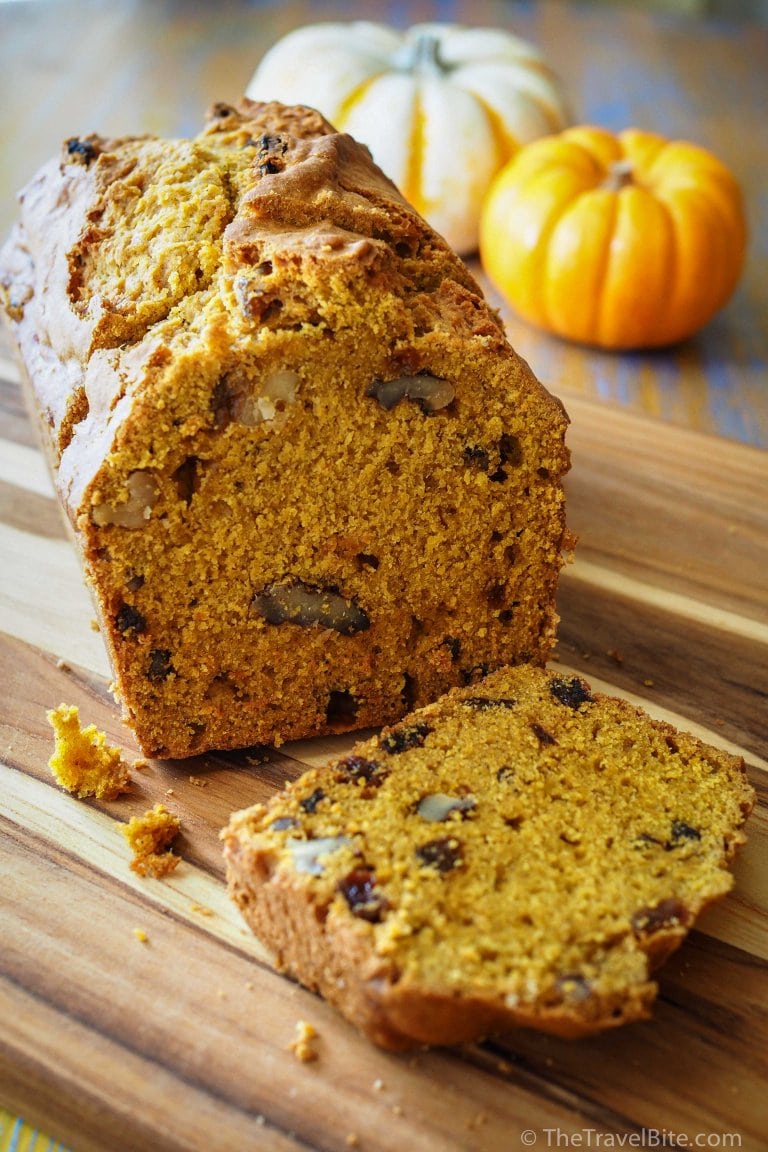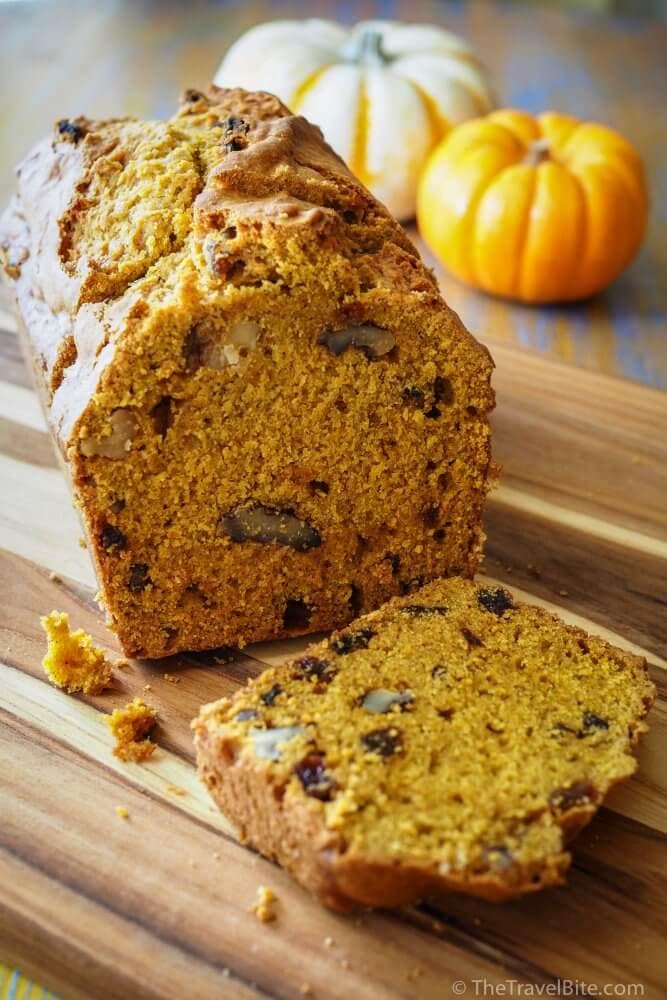 One Bowl Pumpkin Bread Recipe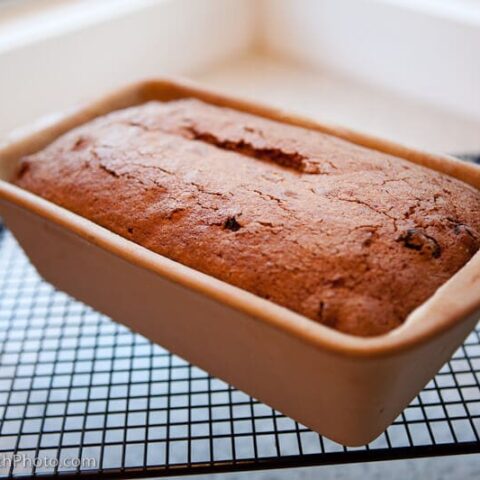 One Bowl Pumpkin Bread
Total Time:
1 hour
10 minutes
Ingredients
2 8x4" bread pans
1 15 ounce can unsweetened pumpkin
1 cup of oil
3 cups of sugar
3 large eggs
3 1/2 cups of all purpose flour
2 teaspoons of baking soda
1 teaspoon of baking powder
1 teaspoon of ground cinnamon
1 teaspoon of nutmeg
1/2 teaspoon of salt
1/2 teaspoon of cloves
1 cup of raisins
1 cup of chopped walnuts
Instructions
Set aside the raisins and walnuts.
Pre-heat oven to 350 degrees.
Add the dry ingredients and spices to a large bowl and mix well.
Next, add the wet ingredients and blend into the dry ingredients either by hand or with a mixer on low speed until blended. (Do not over blend)
Using a spatula, fold the raisins and walnuts into the batter
Spray bread pans with non stick spray, then divide batter between 2 loaf pans
and bake at 350 degrees for 55 minutes.
**You can substitute chocolate chips for the raisins above.
Save this recipe for later and pin it. 🙂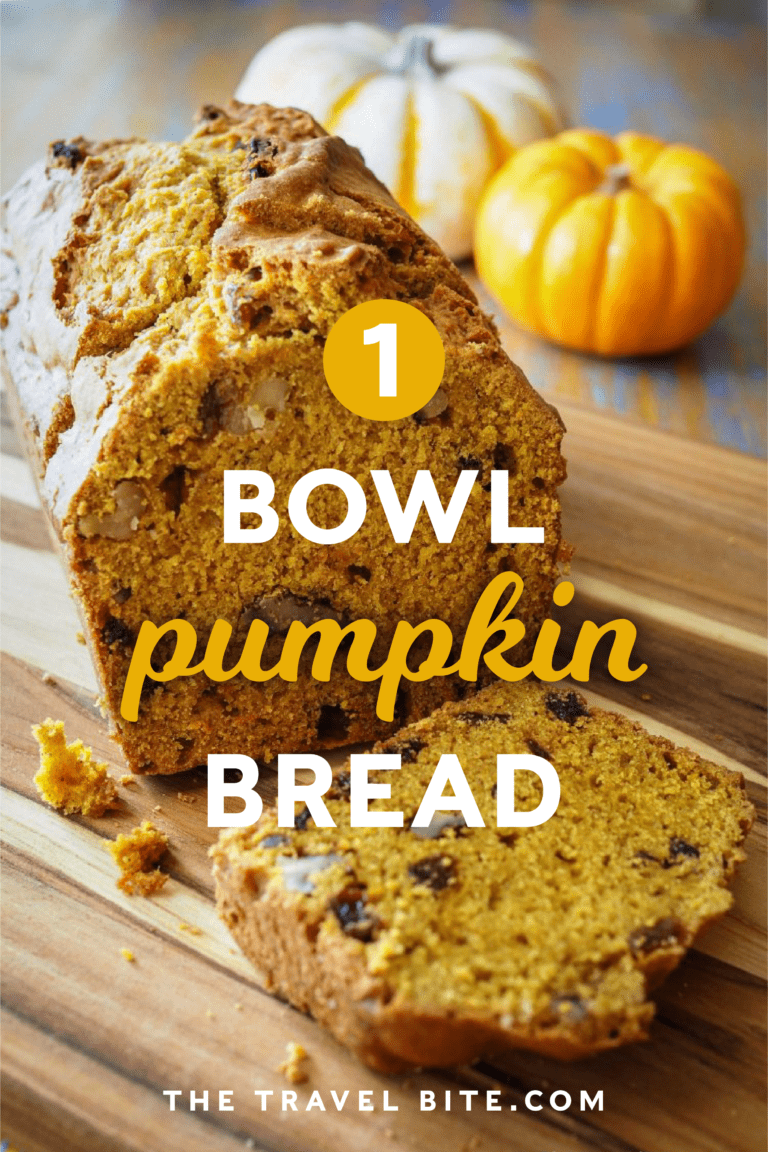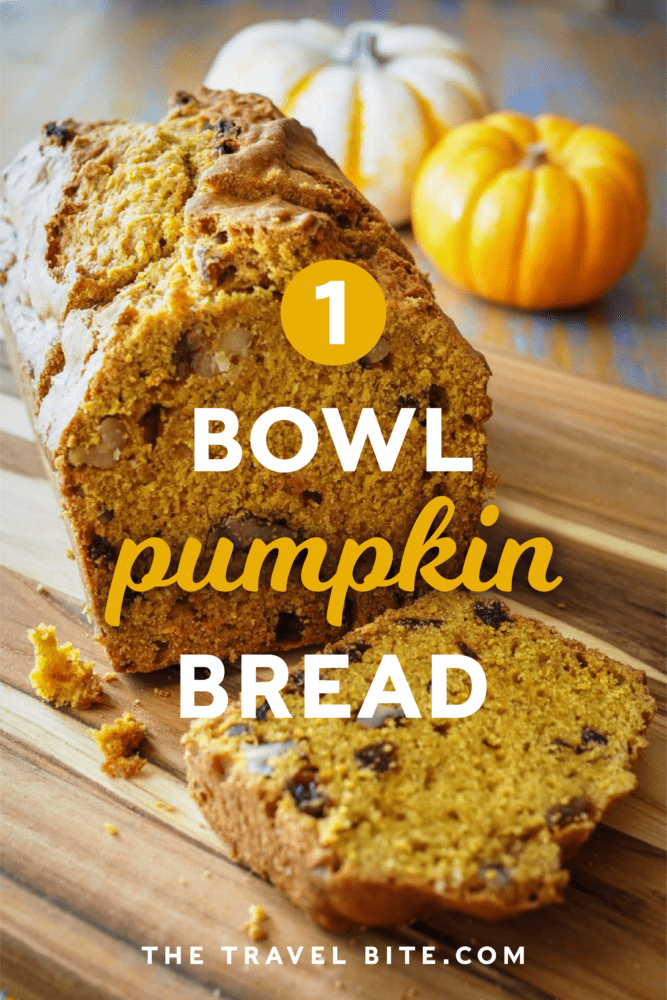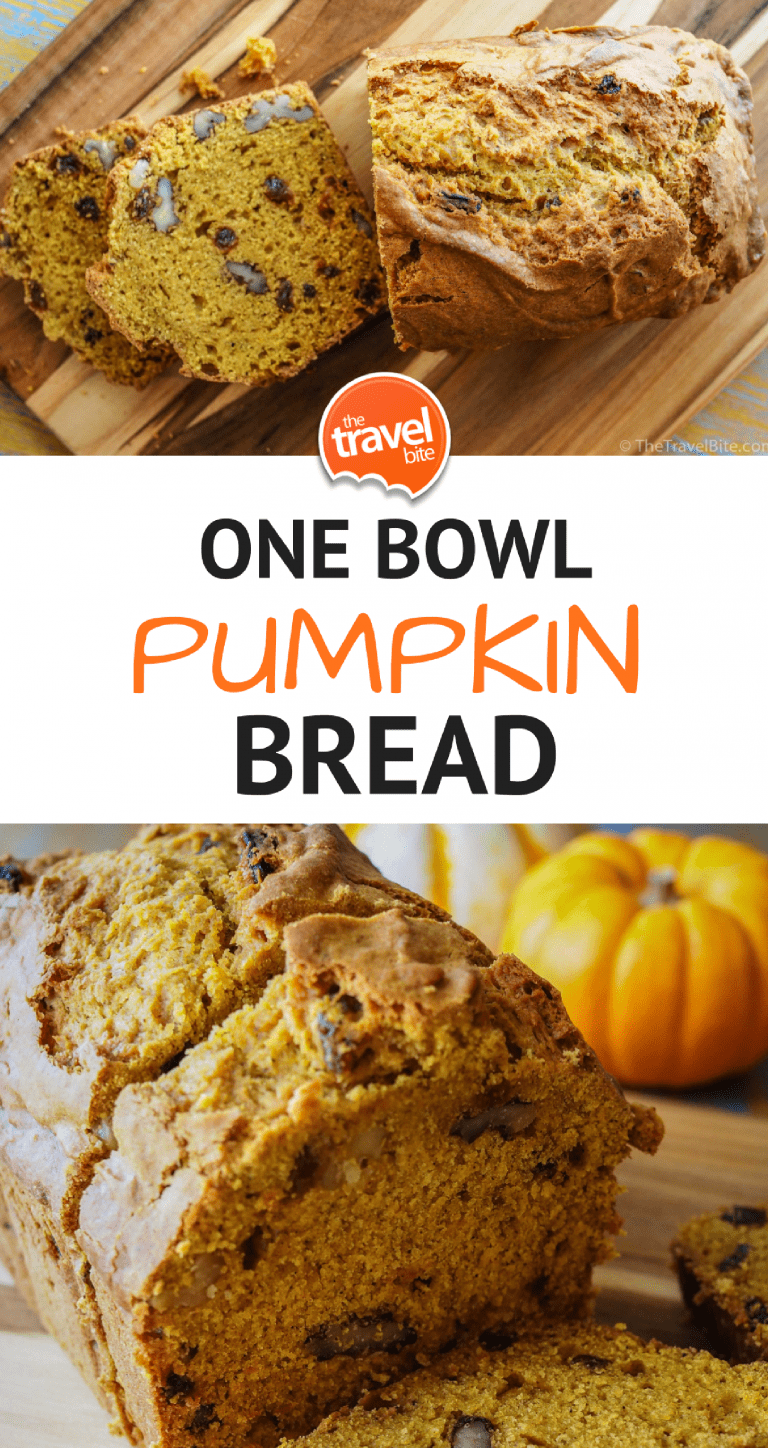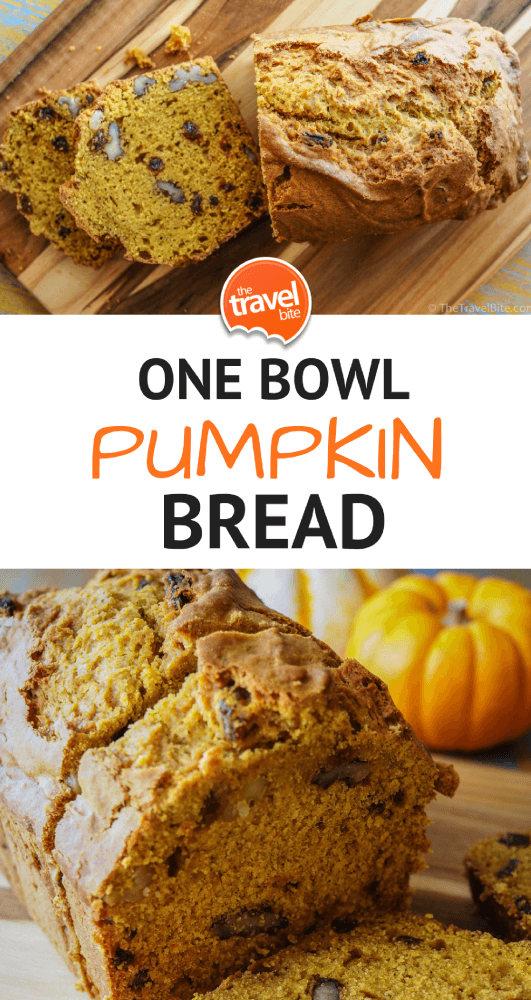 **This post was originally published on Inn The Kitchen, Sep 14, 2009.