This spiced apple bread recipe is a perfect for breakfast in the morning or enjoying with an afternoon tea to warm up on a cold day. It's one of my favorites to bake throughout the holidays, from the first nip of autumn all the way through Christmas.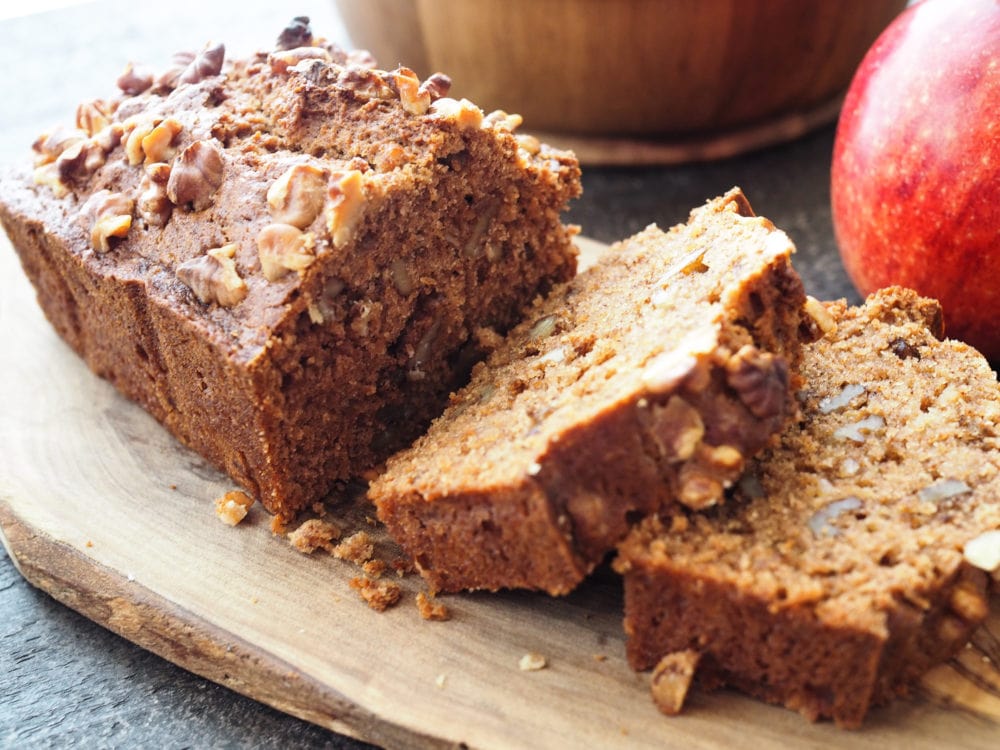 But, oddly enough, this cozy autumn recipe comes from the warm tropical island of Key West and the innkeepers at
Grand Guest House
. Innkeepers really do now how to bake up some hospitality, no matter the weather, so you're going to love this apple bread!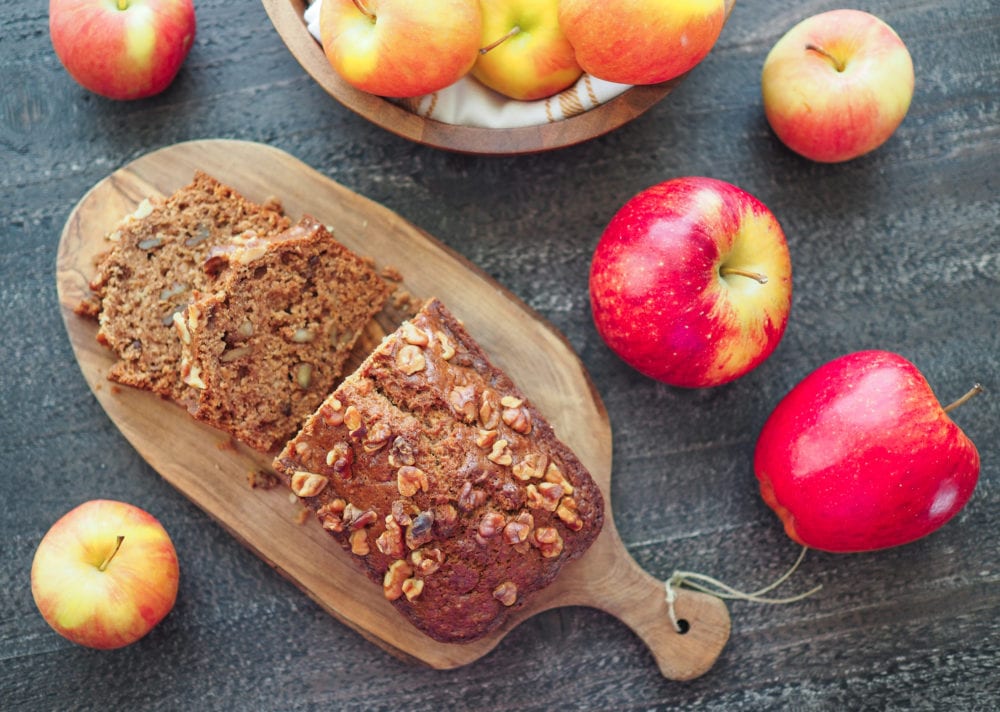 The applesauce gives it great flavor, while the bits of shredded apple and walnut create an irresistible texture. Serve the apple bread warm with butter and a cup of your favorite beverage and enjoy!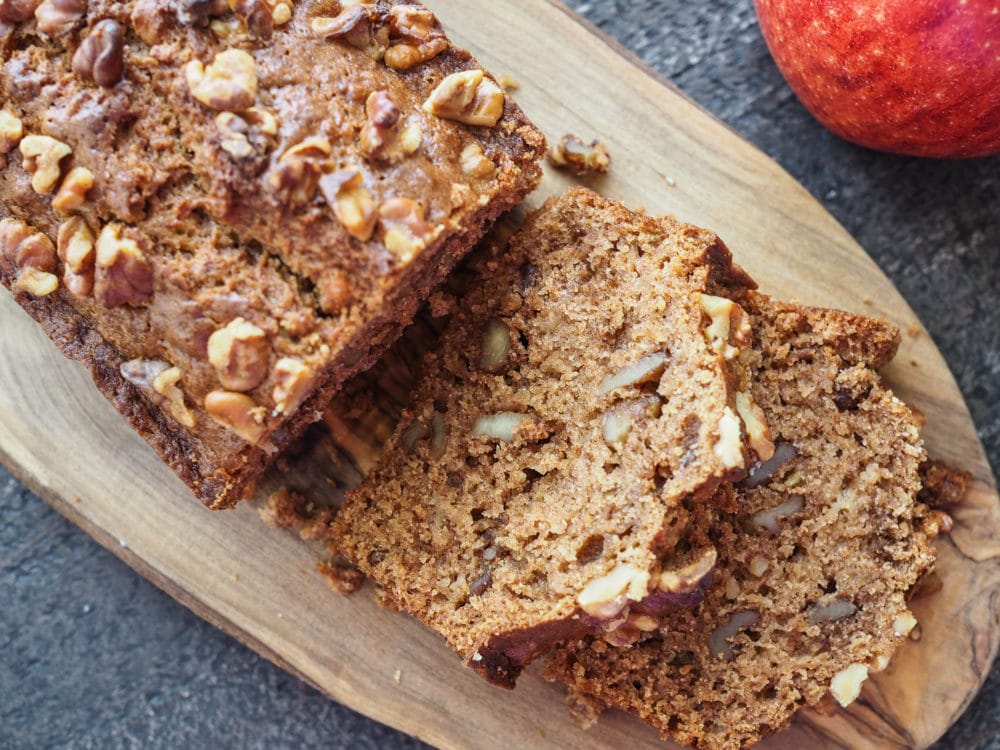 Make It More Like Dessert
This apple bread recipe can easily go from breakfast bread to dessert with one simple little change — sprinkle the whole pan with sugar!
When prepping the bread loaf pan with oil, add a handful of sugar and shake it around over the sink until all the sides are covered. Once baked, the sugar will create a nice sweet crust around the edges.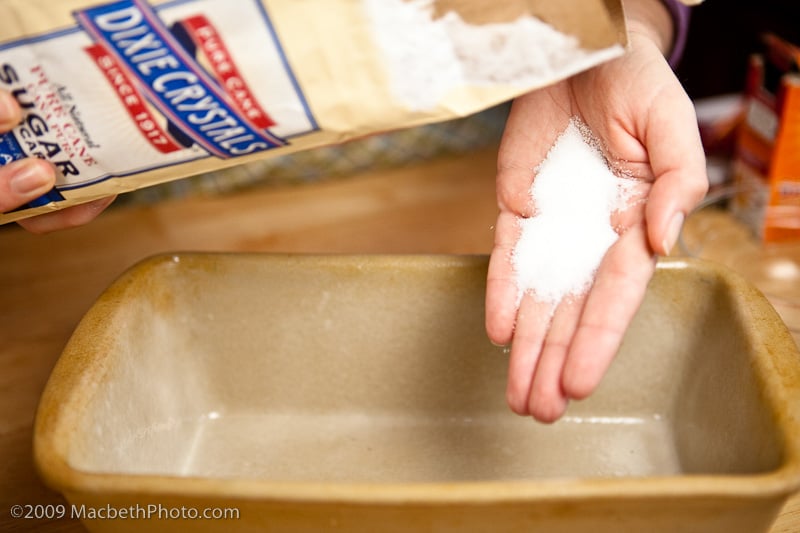 A Funny Story About Sugar
I had a cat named Dixie Crystals once. Just like the sugar brand. She was a pretty white Siamese with blue eyes. I was working in marketing for agriculture at the time and had a meeting with some sugar farmers.
She was a little kitten they had on the farm, so they named her Dixie Crystal and called her Sugar for short. During the meeting, she kept jumping into my lap, so they thought I should take her home. My apartment at the time didn't allow me to keep her, so my parents adopted her.
Once my parents took her home, she climbed curtains, bookcases, tv stands, and even human legs if she could get her claws into your pants. She's been re-named Punky. I shall start my own food brand one day, I just might have to create a cool cat logo and call it Punky in her honor.
And, yes, that is a polka-dot apron and knee-high striped socks that you see in the photo below. I guess I was just having a "Punky" kind of a day. Not normal for me at all. I'm usually more of a neutrals kinda gal. On with the apple bread …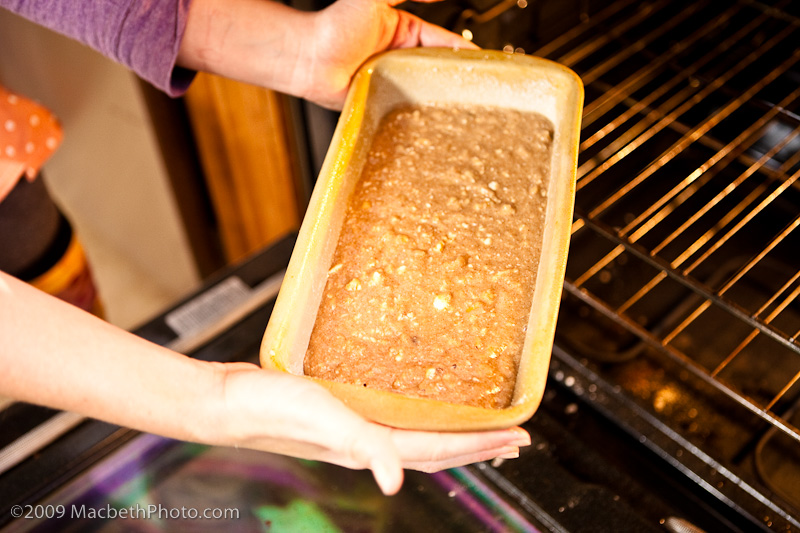 Mmm … warm, butter-meltin, spiced apple bread.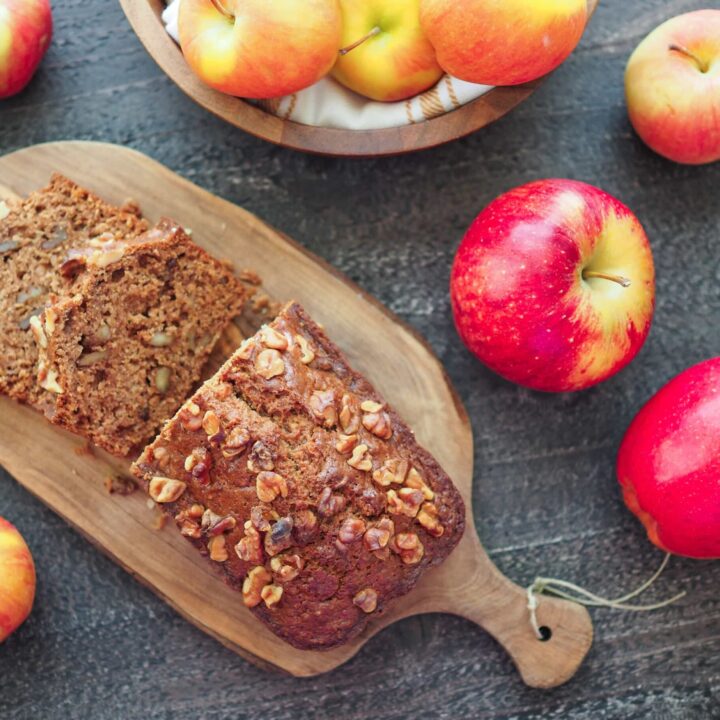 Apple Bread
Total Time:
1 hour
15 minutes
Ingredients
1 1/2 cups unbleached all-purpose flour
4 tsp cinnamon
1 1/2 tsp allspice
1 tsp baking soda
1/2 tsp salt
1 cup sugar
1 stick unsalted butter, melted
2 large eggs
1 cup applesauce
1 1/4 cup walnuts
1 large apple, grated
2 Tbsp Turbinado Sugar
2 8 x 4 inch bread loaf pans
Instructions
Preheat to 350 and make sure rack is in center of the oven. Prep loaf pans by spraying with non-stick spray oil and lining bottom with parchment paper.
Wash apple and carefully grate pulp and skin into a small dish. Measure about approximately 1/2 cup of grated apple.
Whisk together all the dry ingredients in a small bowl. This includes the flour, baking soda, sugar, and spices.
In a separate bowl, whisk the eggs, then add all the wet ingredients including the apple sauce, butter, and fresh grated apple.
Fold the wet ingredients in with the dry ingredients using a spatula or large spoon. Add 1 cup of walnuts. Stir together by hand until blended.
Pour batter into prepared loaf pans. Sprinkle top with remaining walnuts and lightly press them into the batter with your fingertips. Sprinkle tops with one Tbsp turbinado sugar, each.
Bake until toothpick inserted in center comes out clean, about 55 to 60 minutes. Leave in pan for 15 minutes, then turn onto a wire rack to cool completely.
Notes
If you have an abundance of apples for the fall season, you can exclude the apple sauce and just use 1 1/2 cups of fresh grated apple.
More Recipes You'll Love
Easy Weekday Microwave Oatmeal
Want to save this apple bread recipe? PIN IT! 🙂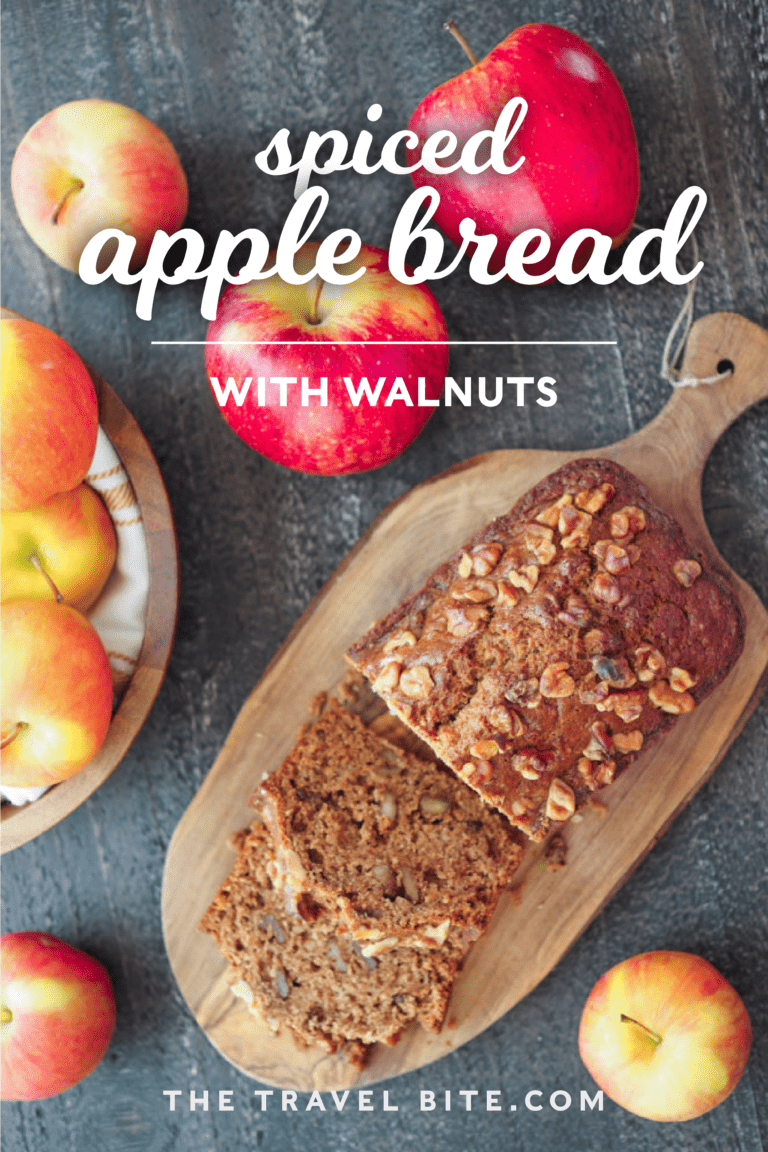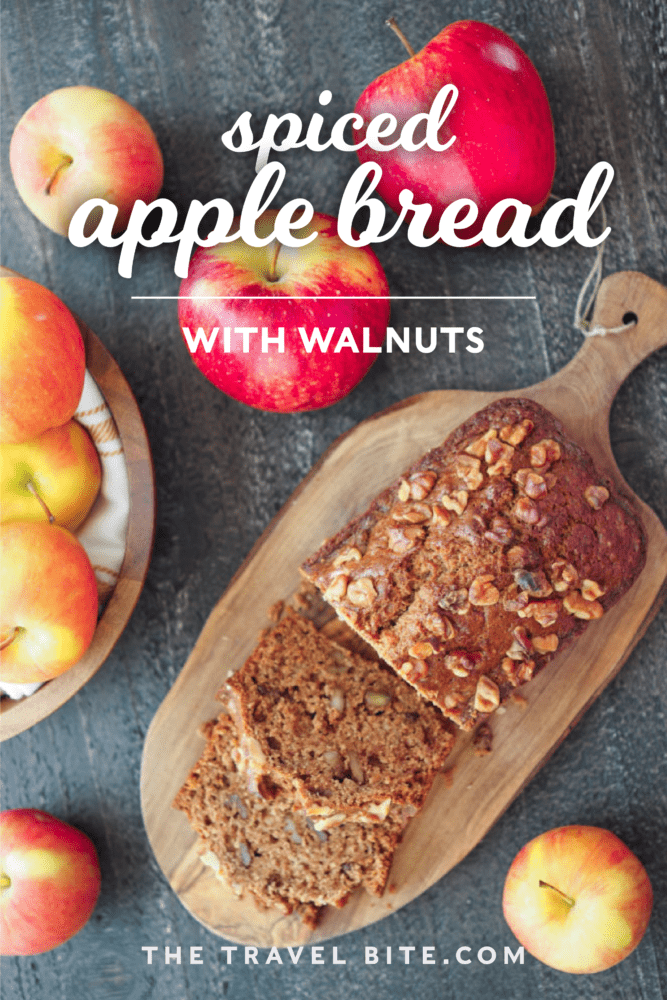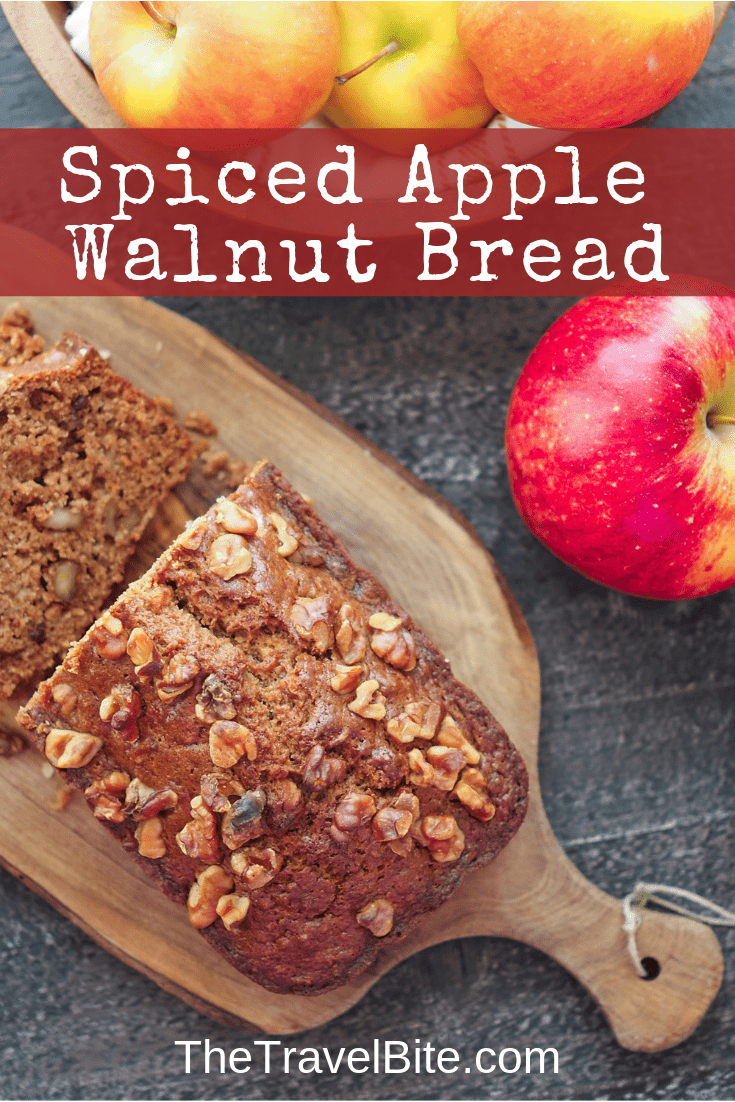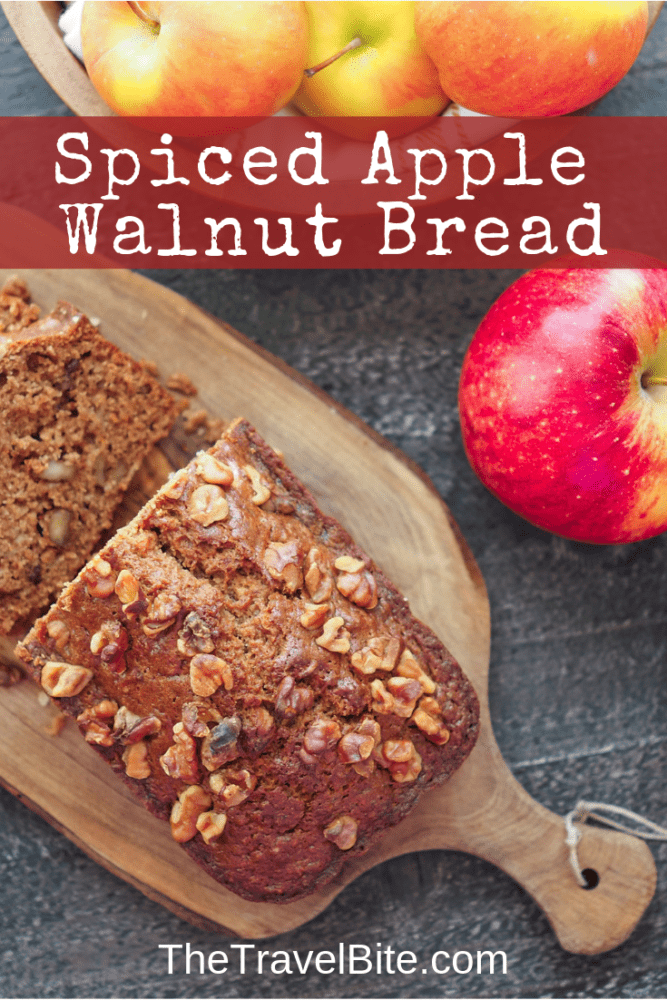 Apple Bread Recipe Originally Published on Inn The Kitchen Dec 24, 2009. Updated 2018.