I travel frequently, so in-between trips and meeting writing deadlines, I like to make a pineapple kale smoothie. It's fast and pretty easy to make with a few freezer prep tips I have below. This recipe is one I make on a regular basis that I've nicknamed my "jet lag juice."
It's full of Vitamin C, antioxidants, anti-inflammatories, and a ton of other great benefits for travelers. I'm no doctor, but I feel like the ginger settles my stomach and the pineapple gives me a bit of an immune boost. You can make it spicy or sweet, and I have directions for both below.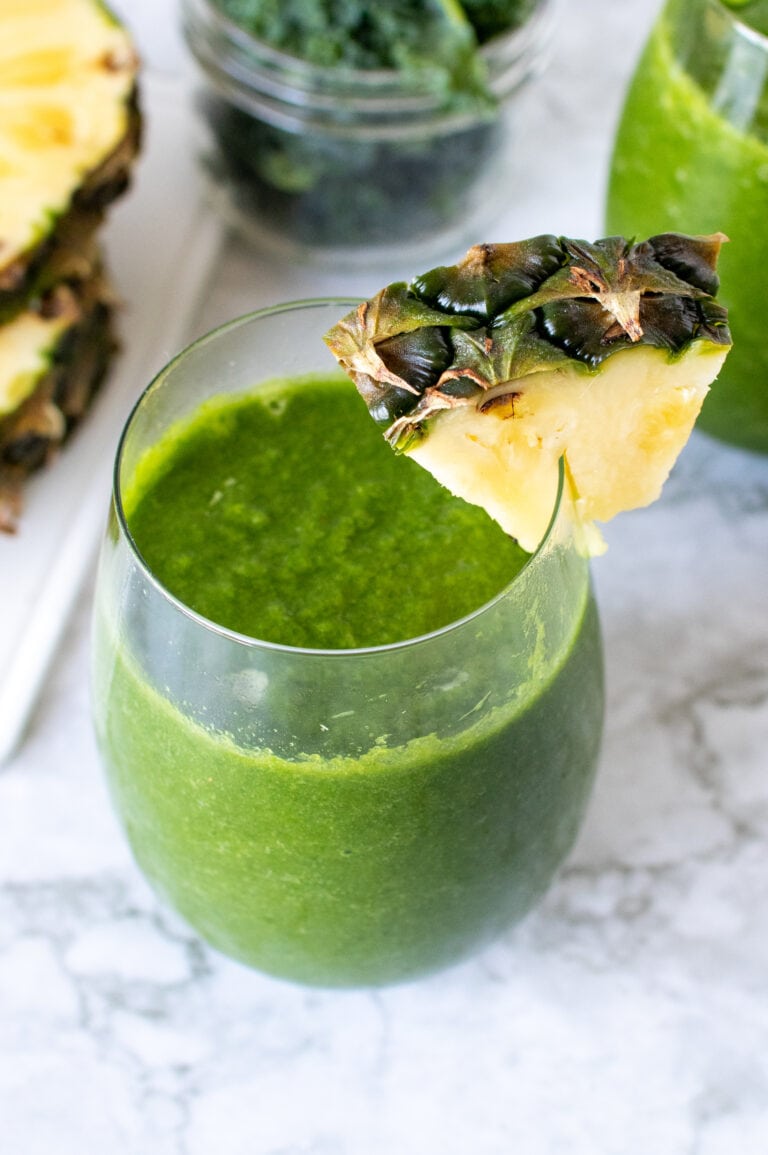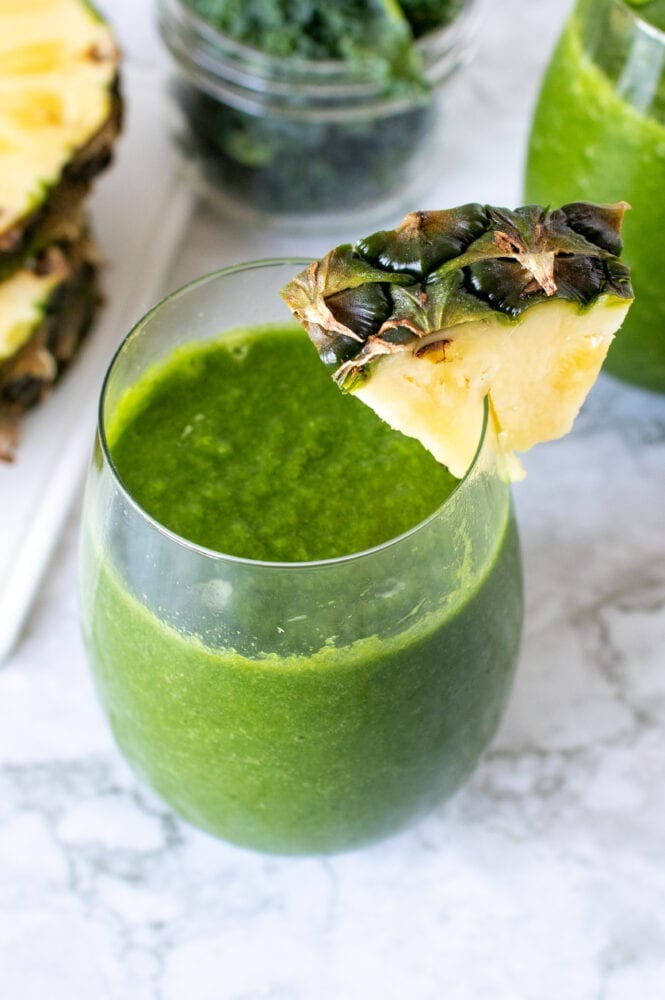 When you travel a lot, the freezer becomes your best friend in the kitchen. Prepping ingredients and freezing them reduces food waste and helps ensure you have a few food essentials on hand when needed. I keep my freezer stocked with all kinds of smoothie fixings so they're readily available when I'm busy packing or when I'm tired having just returned from a trip.
I'll shop for all of these ingredients in bulk once a month. Then I'll wash and prep the ingredients to stock my freezer with everything I need to make my favorite green smoothie. It's convenient having it organized in individual quart-sized freezer bags.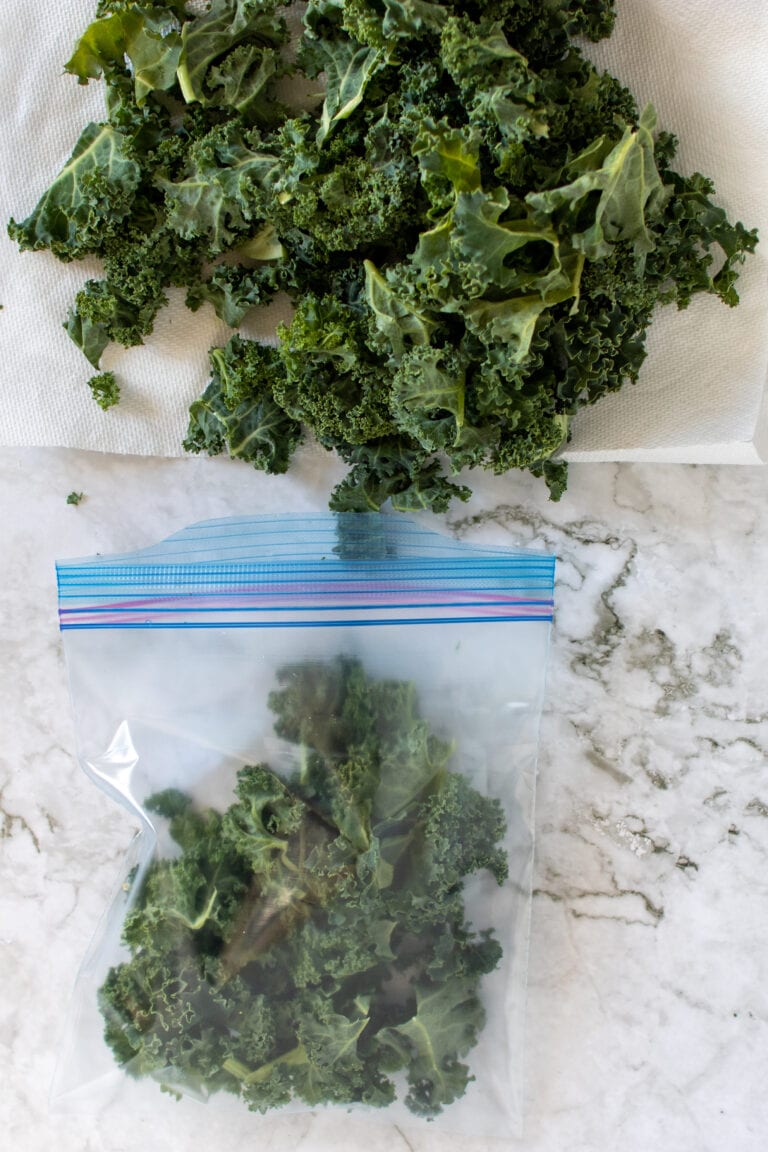 Since I'm not a doc or a nutritionist, I've added links below so you can do a little of your own arm-chair research into the health benefits of these ingredients. They're not affiliate links, just there for your information and convenience. Personally, I feel energized and like I've done something good for myself when sipping this smoothie. It's like a salad in a glass, only it tastes like a frozen pineapple drink with a little ginger zing.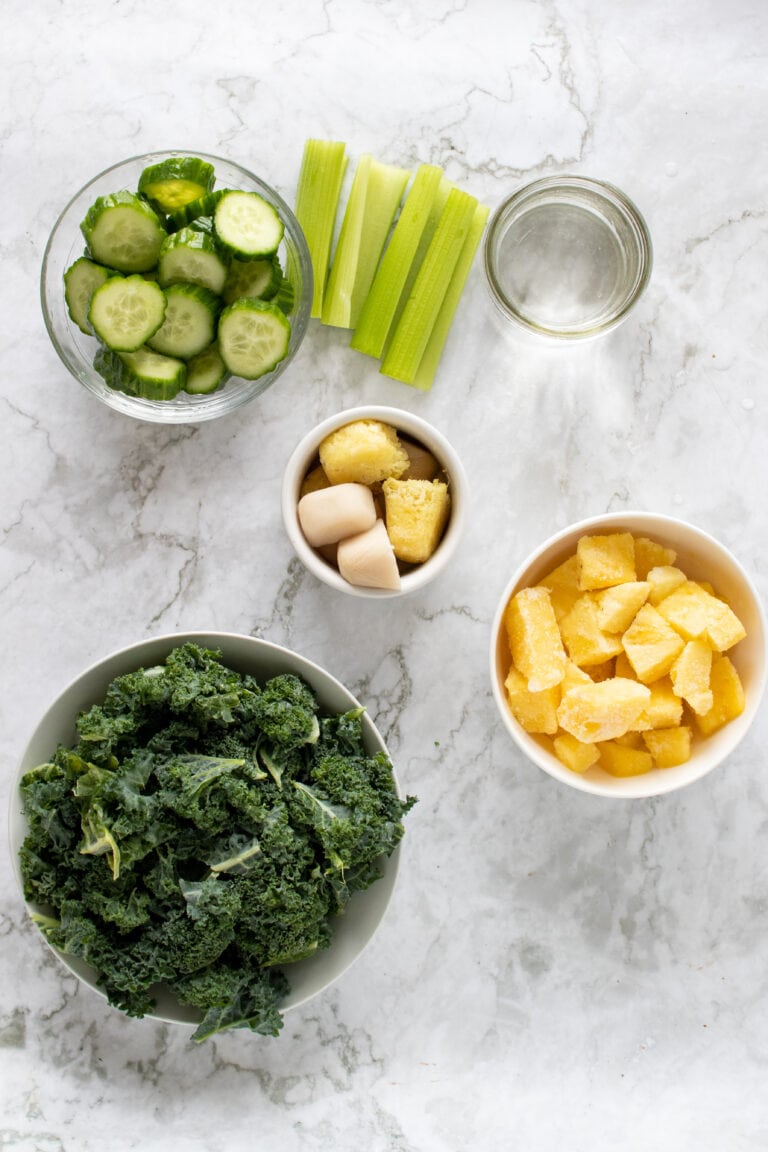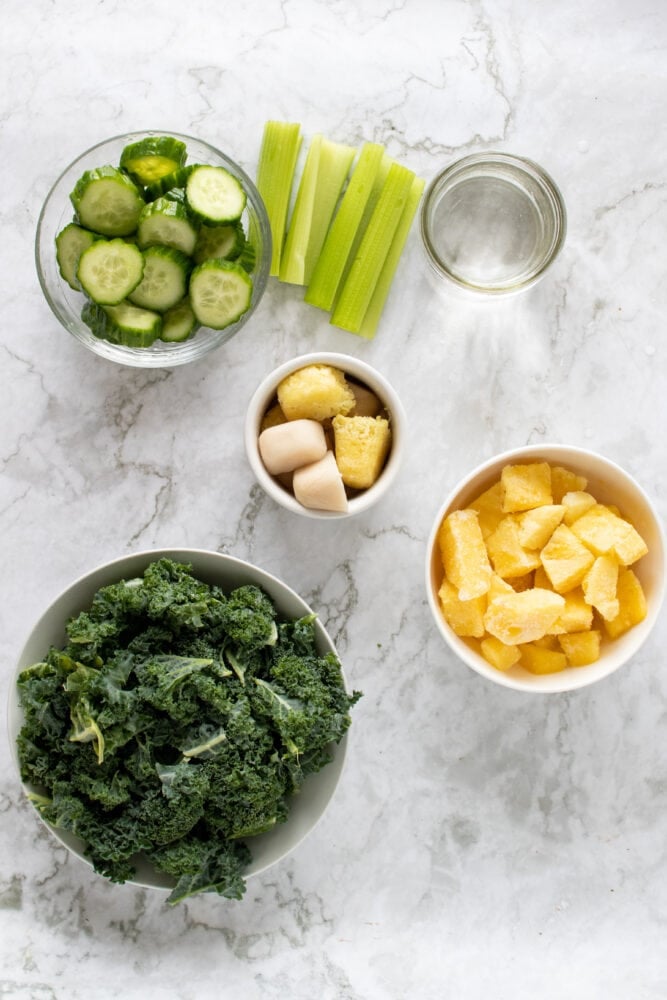 KALE SMOOTHIE INGREDIENTS – FROM FRESH TO FROZEN
Here's a list of all the ingredients I use in my kale smoothie. I've included individual tips for each on how to save money with food prep.
GINGER — Fresh ginger can get expensive. Look for a local Asian market near where you live as they'll typically have fresh ginger at a much better price than a big chain supermarket. We'll get a big piece of ginger root, usually about the size of my hand or bigger, and prep and freeze it for use.
KALE — Kale can be scary to non-juicers, but don't let the leafy green scare you. The flavor is light, and it packs quite a nutritional punch as it's full of calcium. Look for a bag of pre-washed organic kale at your local grocer. If you want add a little more veg to your smoothie, a handful of fresh spinach is another great addition and it doesn't add any flavor.
PINEAPPLE — I purchase pineapple chunks in the frozen foods section of our local grocer. Easy peasy, no prep required. Having some frozen fruit mixed in the kale smoothie adds some sweetness and makes it nice and cold. Plus, pineapple has lots of vitamin C!
CELERY — Surprisingly, celery adds a bit more than flavor. It can help with headaches, reduce fluid retention, and even promotes relaxation. Sounds a bit too good to be true for this understated veg, I know. But this is straight from WebMD. (Check out the health benefits of celery.)
DAIRY — As much as I love cheese, dairy sometimes messes with my tummy, so I go for plant based dairy alternatives like cashew milk, almond milk, and even coconut milk. There several brands of these you can choose from and I usually go with Silk since they fortify it with a bit more calcium.
PROTEIN POWDER — If you're making this for breakfast or as a meal replacement, add a little protein powder or a teaspoon of chia seeds to make it more filling. I like to use collagen protein since it is flavorless.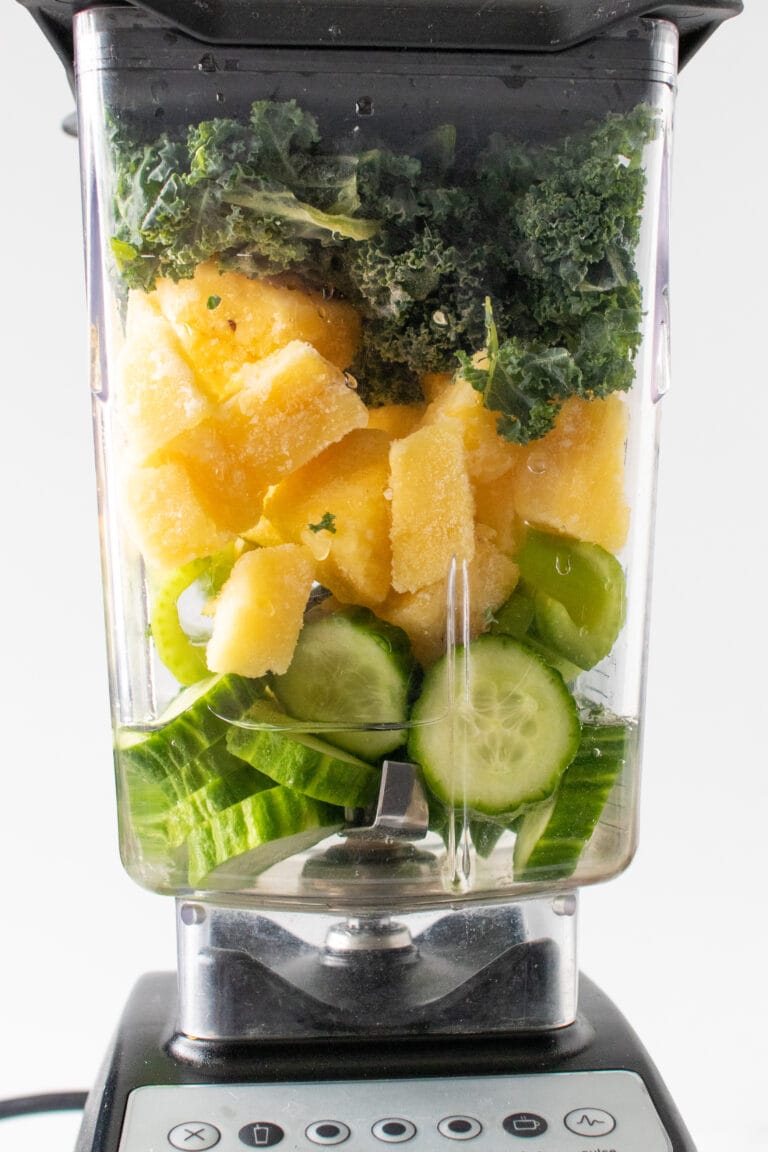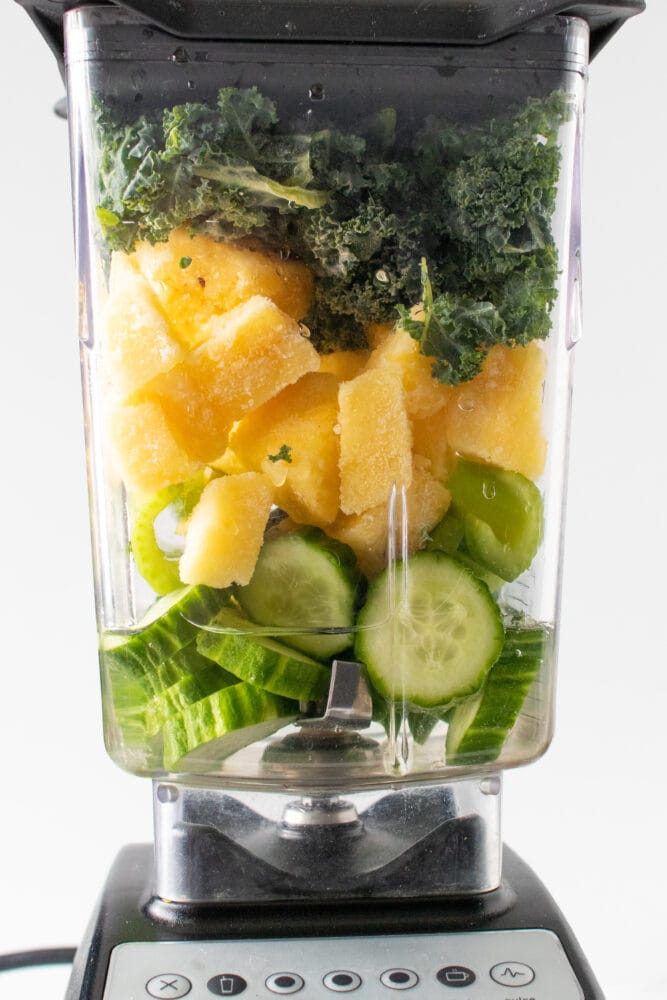 HOW TO PREP GINGER TO FREEZE
First, peel the skin off the ginger using a carrot peeler and chop into smaller chunks. Add the chunks of ginger to a food processor and blend until it's become a paste. You might need to add a 1/4 cup to a 1/2 cup of water to get a good consistency.
Then, spoon the ginger paste into an ice cube tray, add a little water to each to fill each cube, then freeze overnight. The next morning, remove the frozen blocks of ginger and put them in a labeled freezer bag. (Check out the health benefits of ginger.)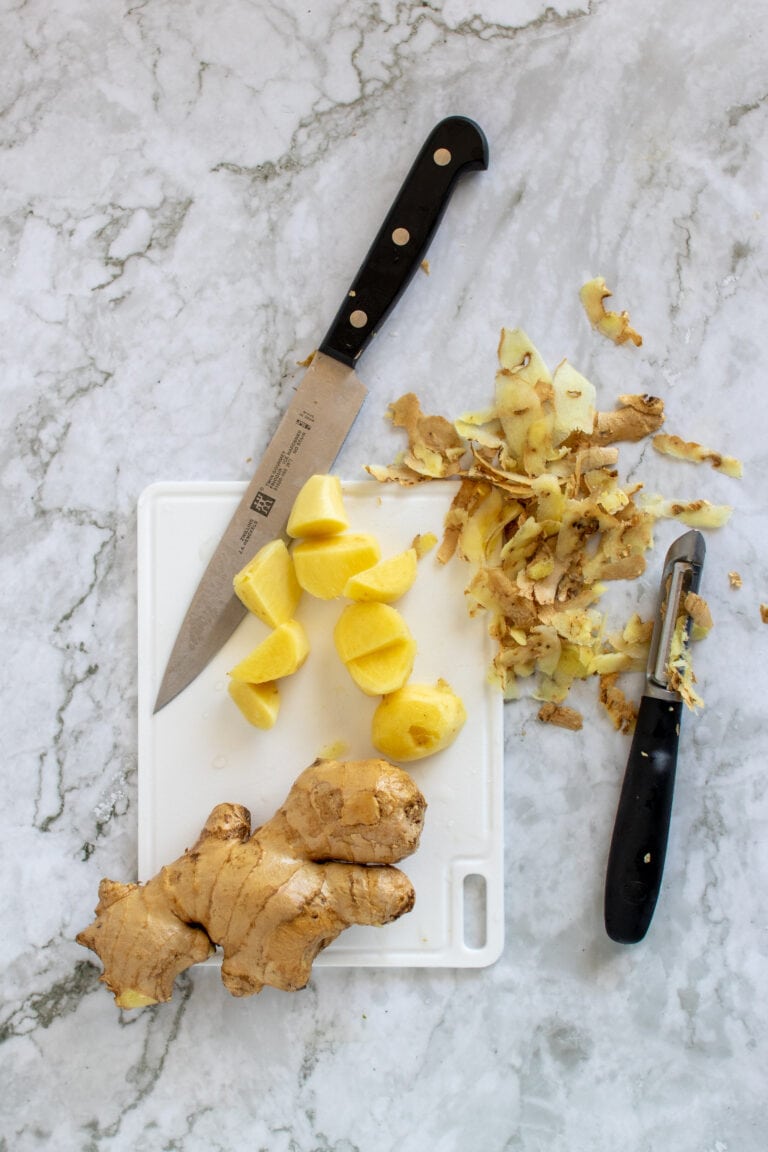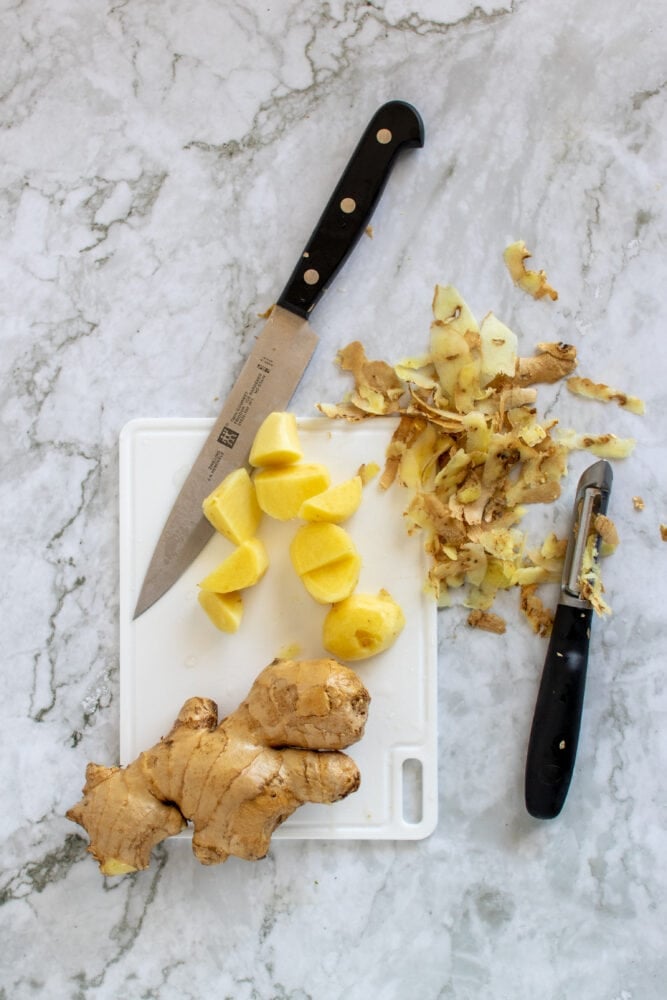 HOW TO FREEZE KALE
If you get a big bag of kale and want to freeze some of it for your smoothies, it's quite easy to do. Make sure the kale is washed and dried so that no ice forms on the leaves. Then, simply fill 4 to 6 quart sized bags full of kale and freeze them. You'll need just one quart sized bag of kale per smoothie for the recipe below. (Check out the health benefits of kale.)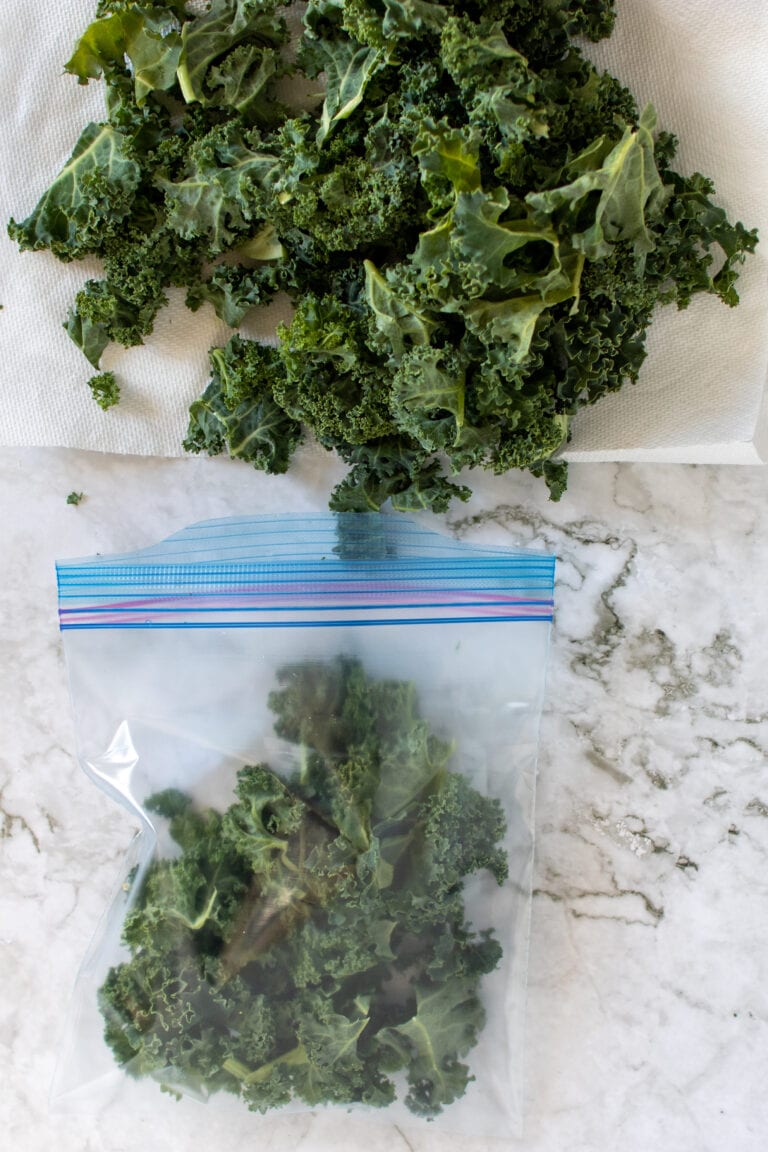 Pineapple Ginger Kale Smoothie Recipe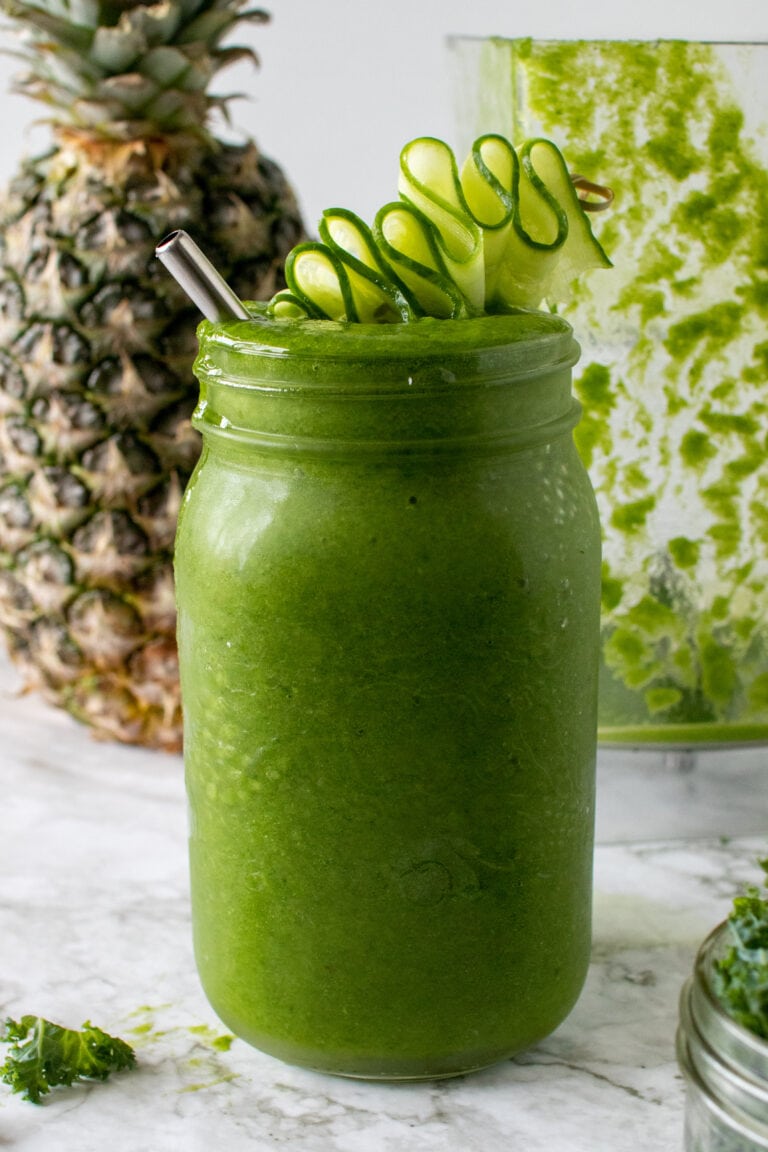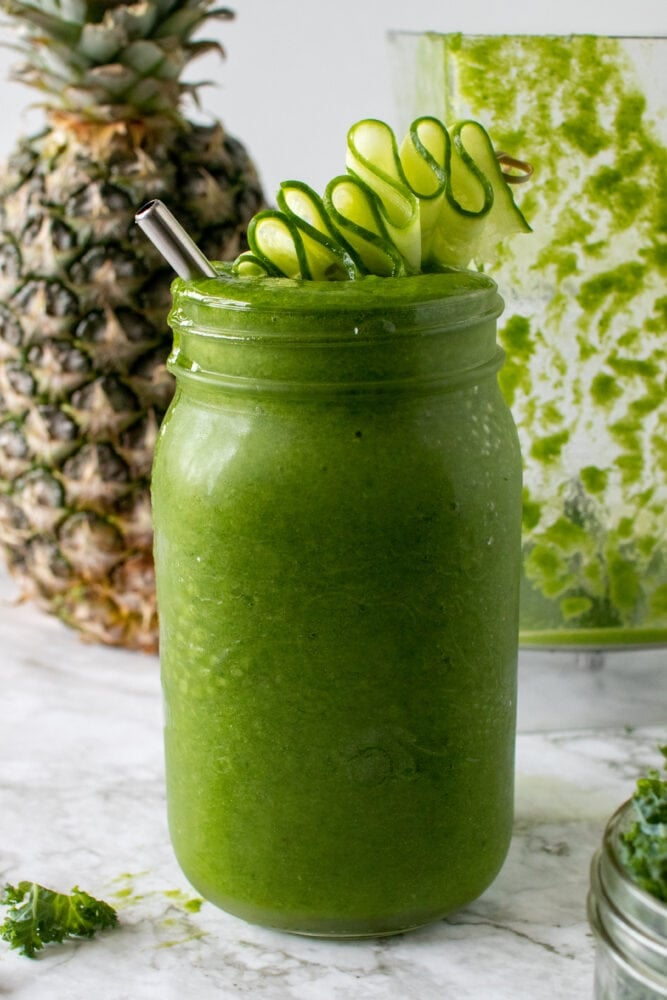 OTHER RECIPES + STORIES YOU'LL LOVE!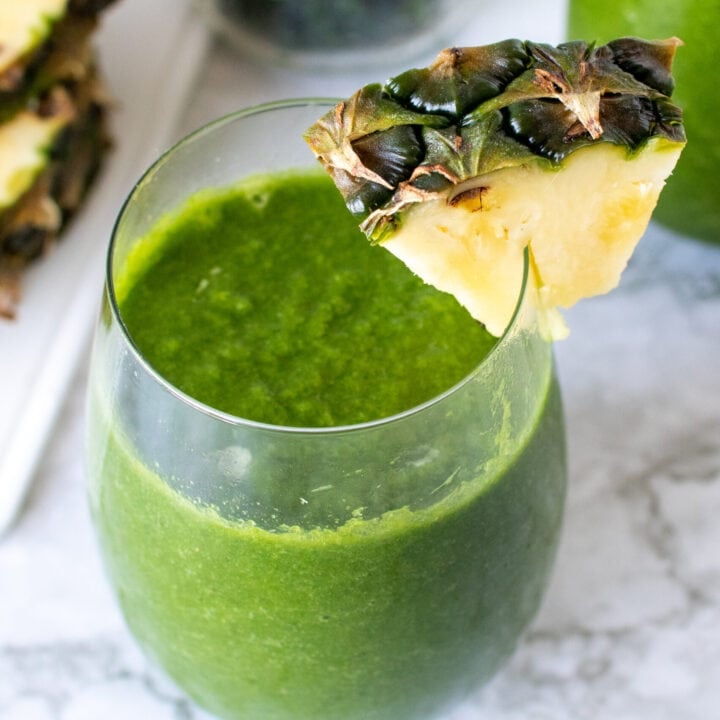 Kale Ginger Green Smoothie
Ingredients
1 cup frozen pineapple (1/2 cup more if you like it sweet)
1 quart frozen kale
2 celery stalks
1 medium cucumber
1 frozen ginger cube (2 if you like it spicy)
2 frozen cashew or almond milk cubes
1 cup filtered water
Instructions
Prep your ginger to freeze. Start by peeling fresh ginger and pureeing it in a food processor until it becomes a paste, adding a 1/2 cup of water if necessary. Spoon the fresh ginger paste into an ice cube tray and freeze overnight. The next morning, transfer the frozen ginger cubes to a plastic bag or container to keep fresh and ready-to-use in the freezer.
Meanwhile, prep your kale to freeze overnight too. I'll typically buy a bag of organic kale, chop it into chunks, then stuff quart sized bags and put it in the freeer overnight. You'll need one quart of frozen kale for this smoothie.
Prep the cashew or almond milk (your preference) by pouring into an ice cube tray and freezing overnight.
If you have fresh pineapple, chop this into chunks and freeze overnight. I usually buy frozen pineapple chunks ready-to-go in my local grocer's freezer section.
Add all the above ingredients to a high powered blender starting at a low speed, and slowly increasing to a high speed. Keep it on high for one to two minutes until all the ingredients are well blended.
Pour into two 12 ounce jars or cups and enjoy.
Notes
Make your kale smoothie into a meal by adding a scoop of protein powder or a teaspoon of chia seeds to make the green smoothie more filling. When it comes to protein powder, I like to use collagen since it has no added flavor.
If you want to add more veggies to your smoothie, a handful of fresh spinach is a nice addition to this recipe.
Nutrition Information:
Yield:

2
Serving Size:

1
Amount Per Serving:
Calories:

243
Total Fat:

4g
Saturated Fat:

0g
Trans Fat:

0g
Unsaturated Fat:

3g
Cholesterol:

0mg
Sodium:

95mg
Carbohydrates:

50g
Fiber:

8g
Sugar:

35g
Protein:

10g
Nutrition information provided is only an estimate.
Want to save this recipe? Pin it!
Originally published 2017. Updated 2021.