[This post originally appeared on my first blog, Inn The Kitchen. It was about life as an innkeeper, and if I only knew back then how big "smoothie bowls" would become. Ha! Enjoy.]
During busy weeks, sometimes my breakfast is fast and on the go.  I'll tear open a highly processed carbohydrate in a foil wrapper, and, if I plan well, it will at least accompany an apple or banana. But this is a much better way to enjoy fruit in the morning – a cool refreshing peach soup. It's kind of like a smoothie, except this is meant for a leisurely morning savored slowly, seated at a breakfast table and sipped with a spoon instead of a straw. (But you can sip it to-go if you really want to and just call it a peach smoothie bowl.)
At the Bloomsbury Inn, this peach soup is the first course in a three part breakfast.  Yes, their morning includes an appetizer, entree and dessert.  Isn't that divine?  Though this is the first course, it could certainly be dessert for me.
Kathleen, Innkeeper at the Bloomsbury, said that she finds it to be a challenge to find new, exciting, unique fruit options.  (I need to send her a link to my Caribbean fruit breakfast!) Her cold fruit soup recipe is definitely a fun and different way of adding fruit to your morning meal.
Let's get started with cooking.  Or in this case, I should say mixing.  I think you'll be pleasantly surprised with how simple this is to put together.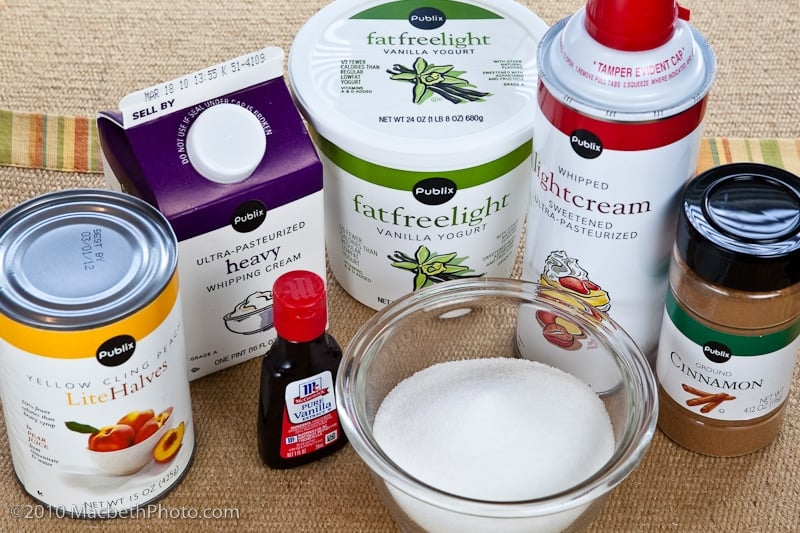 Notice that I picked "fat free" yogurt, "light" whipped cream and "lite" peaches and placed them right next to the "heavy" whipping cream. Ha!
The recipe Kathleen gave me leaves the option open for choosing the fruit.  From berries to mango and even honeydew.  But I decided to have a peachy morning since it's the state fruit for where she's from — South Carolina. Unfortunately, peaches are not in season at the moment, so I used canned.  But you better believe I'm going to try this recipe again in the spring with some fresh peaches.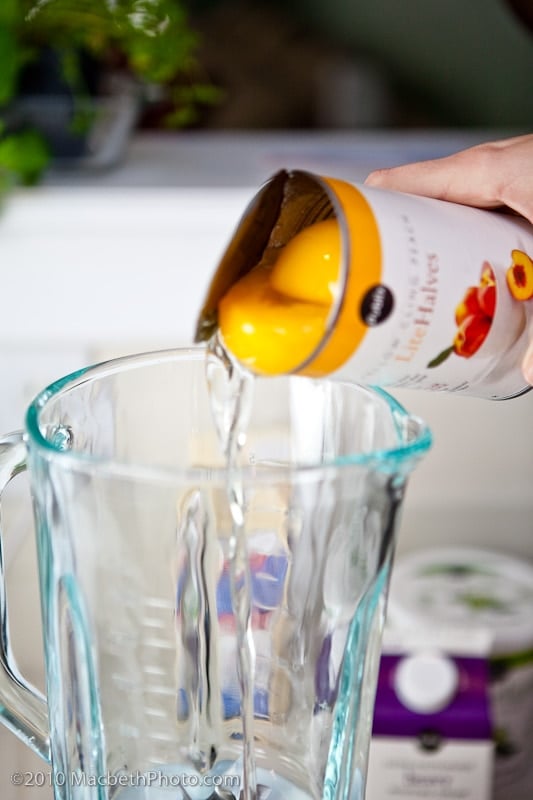 Next the sugar … or how my Carolina relatives would say … "shugah." If you wanted it a little less sweet, you could reduce the amount of sugar added or eliminate it altogether.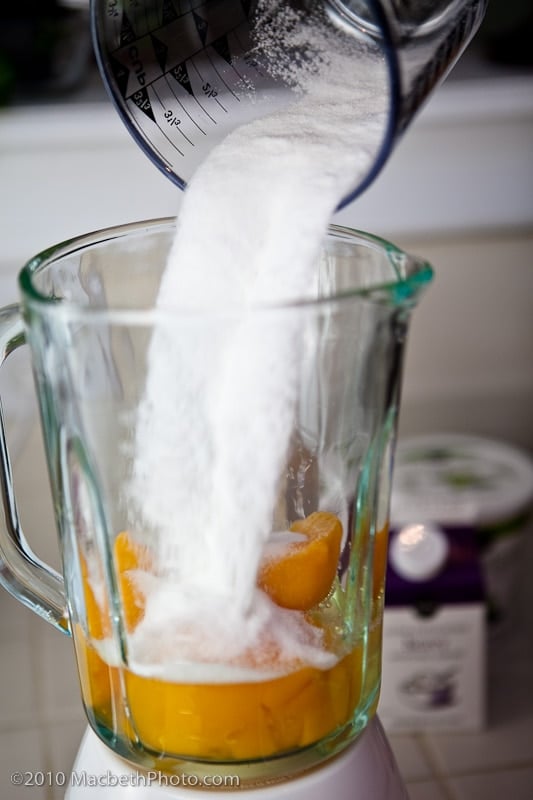 Next, a couple of dollops of yogurt.  The recipe calls for 6 ounces.  I had a big 'ole tub of it … but figured that 6 ounces was equivalent to about 6 spoonfuls.  If you use vanilla bean yogurt, the extract is optional and probably not necessary unless you want a stronger vanilla flavor.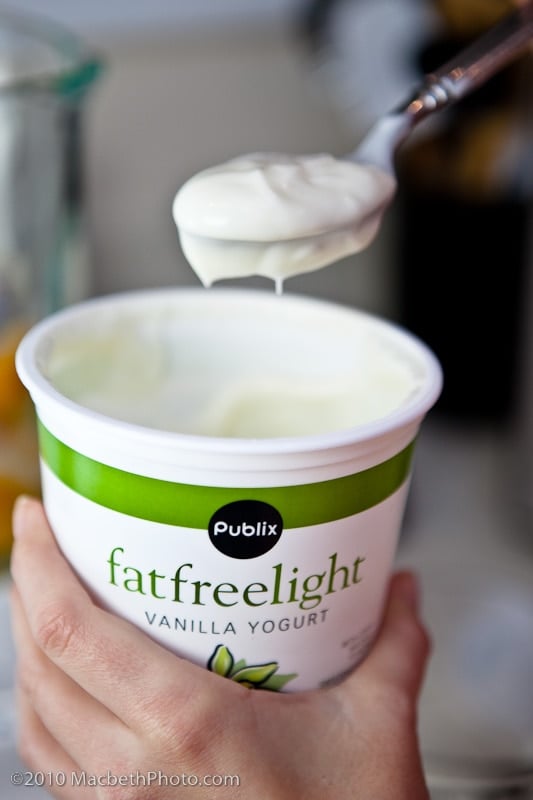 A dash of cinnamon. Blend. Then chill.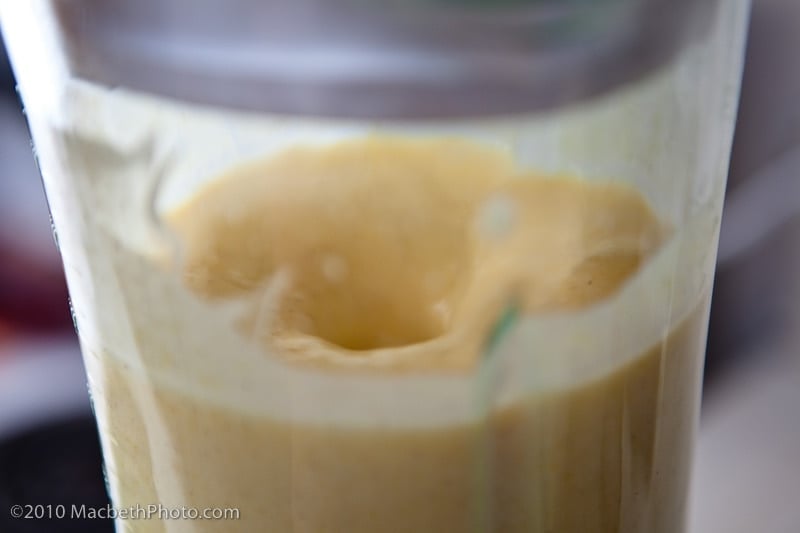 Serve and enjoy!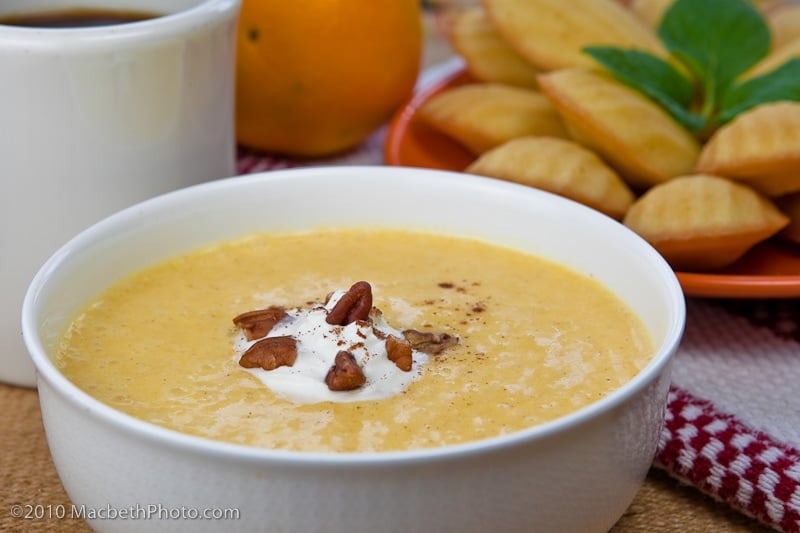 Bloomsbury Cold Fruit Soup
from the Bloomsbury Inn, Camden South Carolina
Total preparation time: 15 minutes, plus chilling time
Serves: 6-8
Print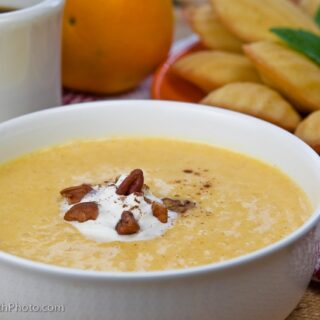 Peach Soup (aka Smoothie Bowl)
---
Author:

Prep Time:

15 mins

Cook Time:

5 mins

Total Time:

20 mins

Yield:

6

1

x
Scale
Ingredients
2 cup

s fruit (peach, cantaloupe, honeydew, mango…any

one

of these works well…fresh is better, but canned or frozen will work when well drained)

½ cup

sugar (sugar to taste depending upon natural sweetness of fruit)

1

 (6 oz) vanilla bean yogurt

1 tsp

vanilla extract if you use plain yogurt (extract flavor based upon fruit: vanilla, cinnamon, rum)

¼ cup

heavy cream (add cream to determine consistency desired)

1 tsp

cinnamon (optional)
---
Instructions
Directions:
If you are using fresh fruit, carefully clean, peal, and place in the blender.  Add all remaining ingredient and blend until smooth. Chill for at least 8 hours.  Garish with whipping cream, candied/sweet-flavored nuts, fresh mint or whole fruit slices.  Serve very cold.
Category:

Breakfast

Cuisine:

American