This baked portobello mushroom breakfast recipe with eggs and spinach is super easy to make and loaded with flavor including garlic, butter, and Italian seasoning. It comes from back in my innkeeping days 10 years ago. We would host travelers from all over the world and exchange recipes, and this is one of them.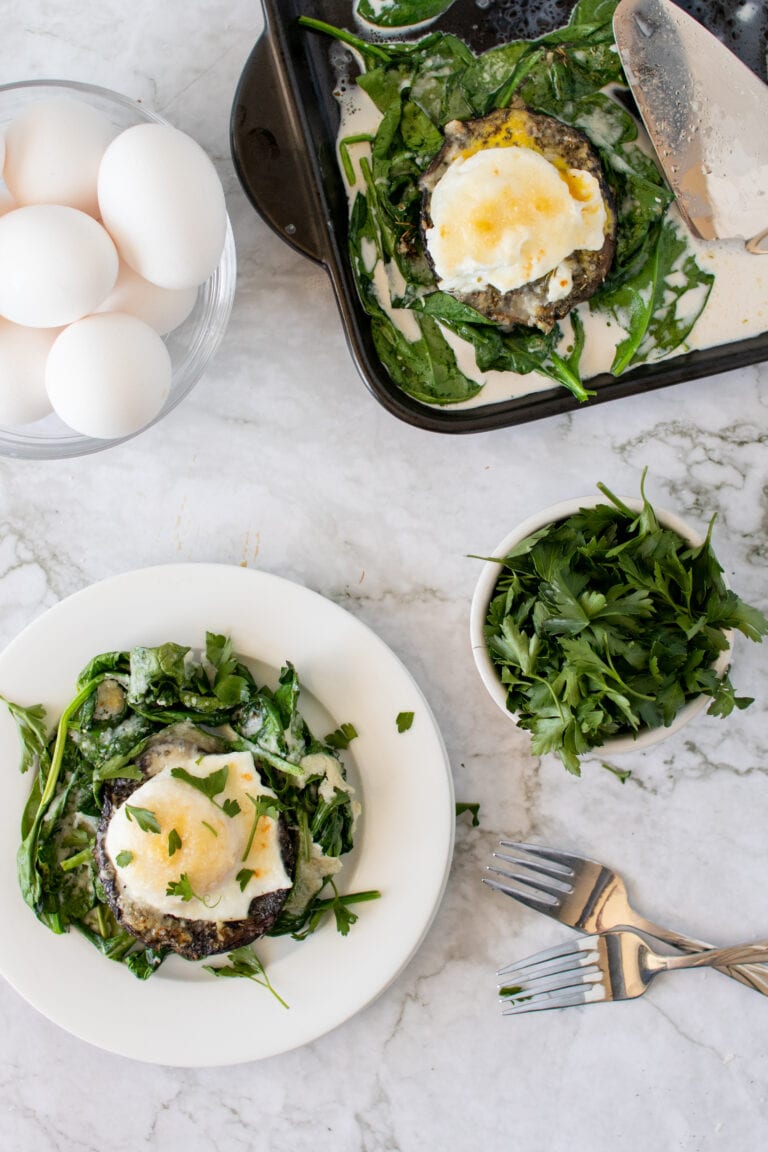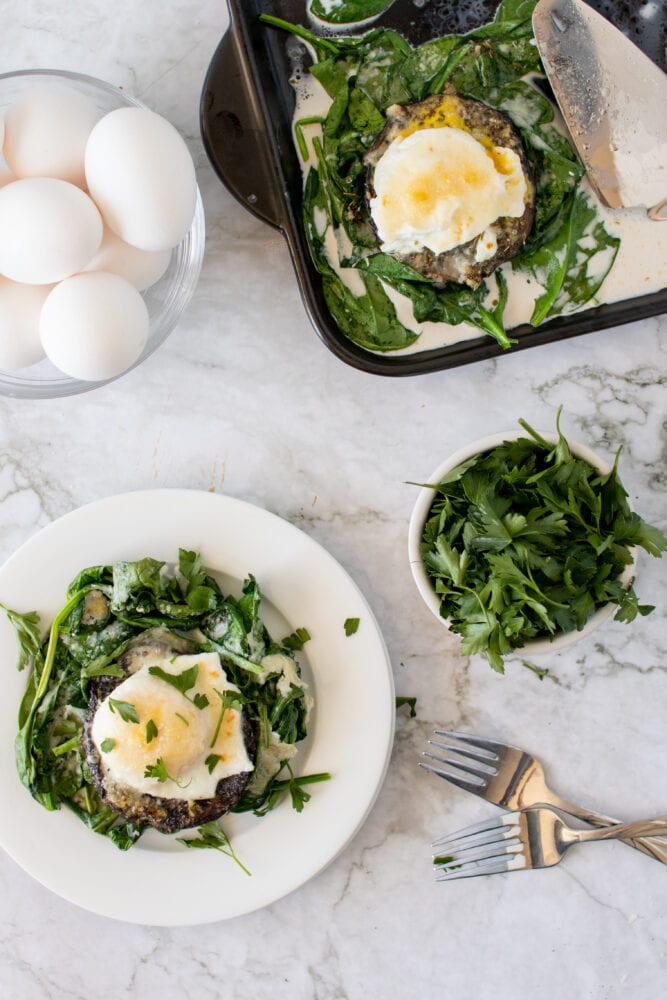 WHAT YOU'LL NEED FOR THESE BAKED PORTOBELLO MUSHROOMS
The baked portobello mushroom recipe below is perfect for two, but can easily be doubled if you're feeding your family. The general rule is one egg and one mushroom cap per person. Also, the sauce if very rich tasting with heavy cream. But the cream can be swapped for something lighter such as whole milk, or even a nut milk alternative. Personally, I find cashew milk to be the creamiest substitute for a recipe like this.
Eggs
Portobello Mushroom Caps
Garlic Clove, minced
Italian Seasonings
Melted Butter
White Vinegar
Spinach
Heavy Cream
Grated Parmesan
Parsley for Garnish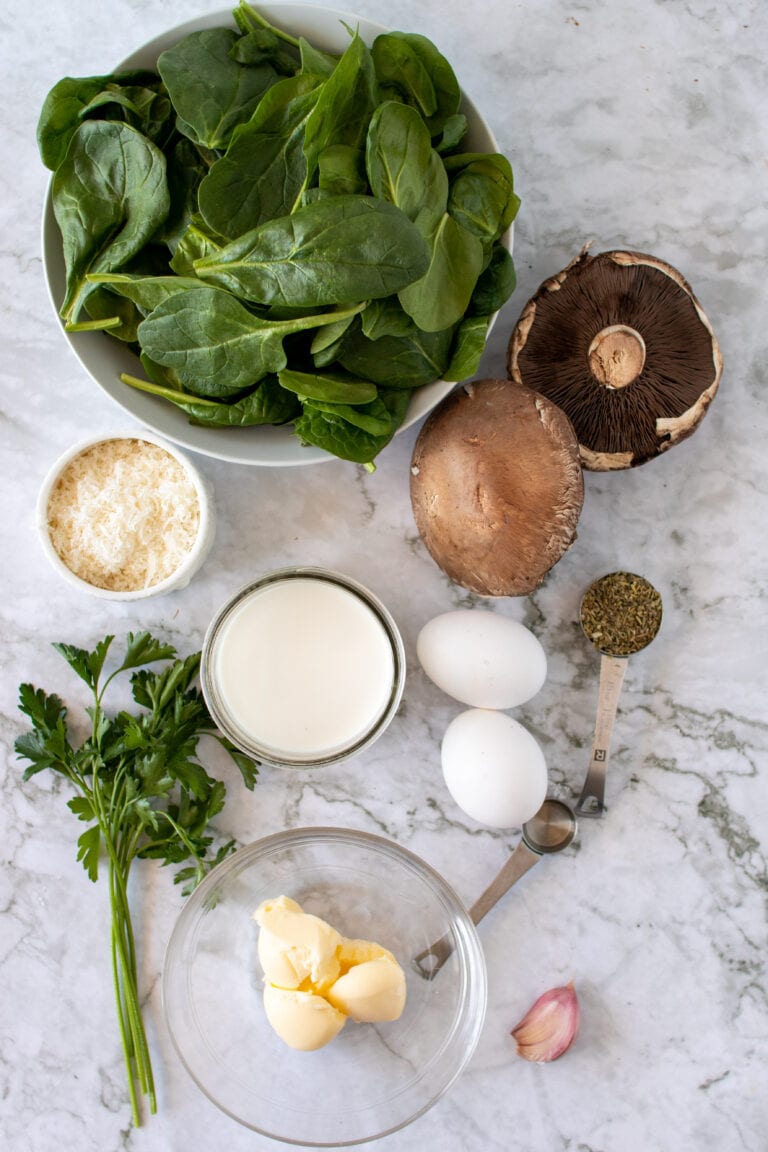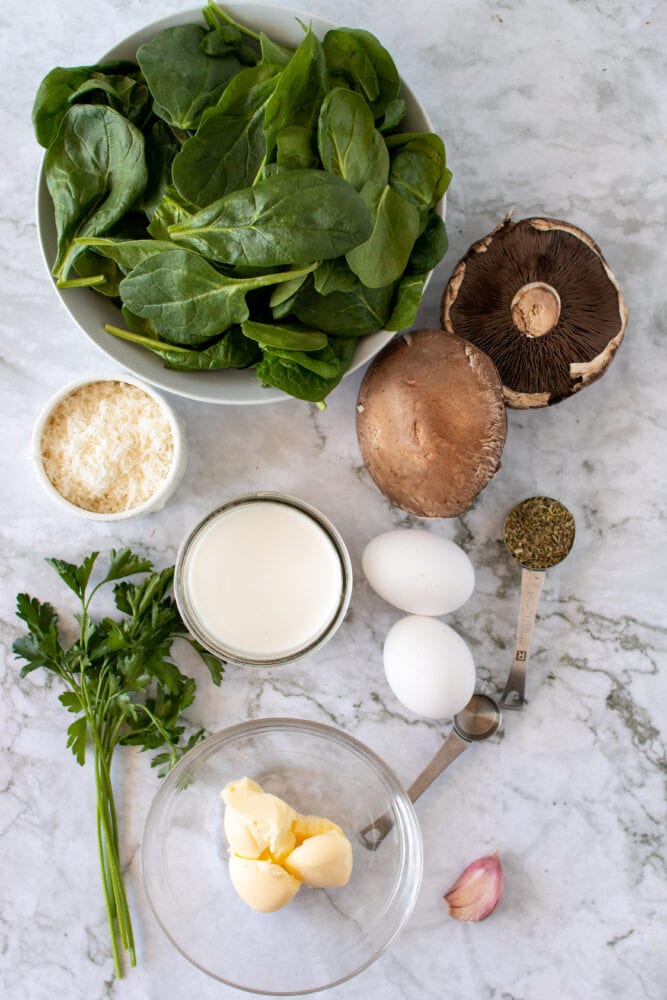 THE STORY BEHIND THE RECIPE
(Some of you know that I got my start with blogging as an innkeeper in the quaint town of Mount Dora. Just for memories sake, I kept the story here. But feel free to jump to the recipe (button above) if you're ready to get to cooking.)
Here in Florida, since the weather stays warm, the only way to know if the season has changed is when the store fronts change their displays. And since orange and black and purple Halloween stuff is around every corner I turn when shopping, I know we must be entering into my favorite season — FALL!!! I'm glad all the stores have their stuff out early because the month of October seems to fly by too fast. Better to get started sooner rather than later, even if it's still 90 degrees out.
Fall brings with it many big festivals to our quaint little town and one I'm really looking forward to this year is the 25th Annual Craft Fair. The sweet smell of kettle corn, funnel cakes and cinnamon brooms. The buzz of the crowd. And the many really cool artisan crafts lining the streets.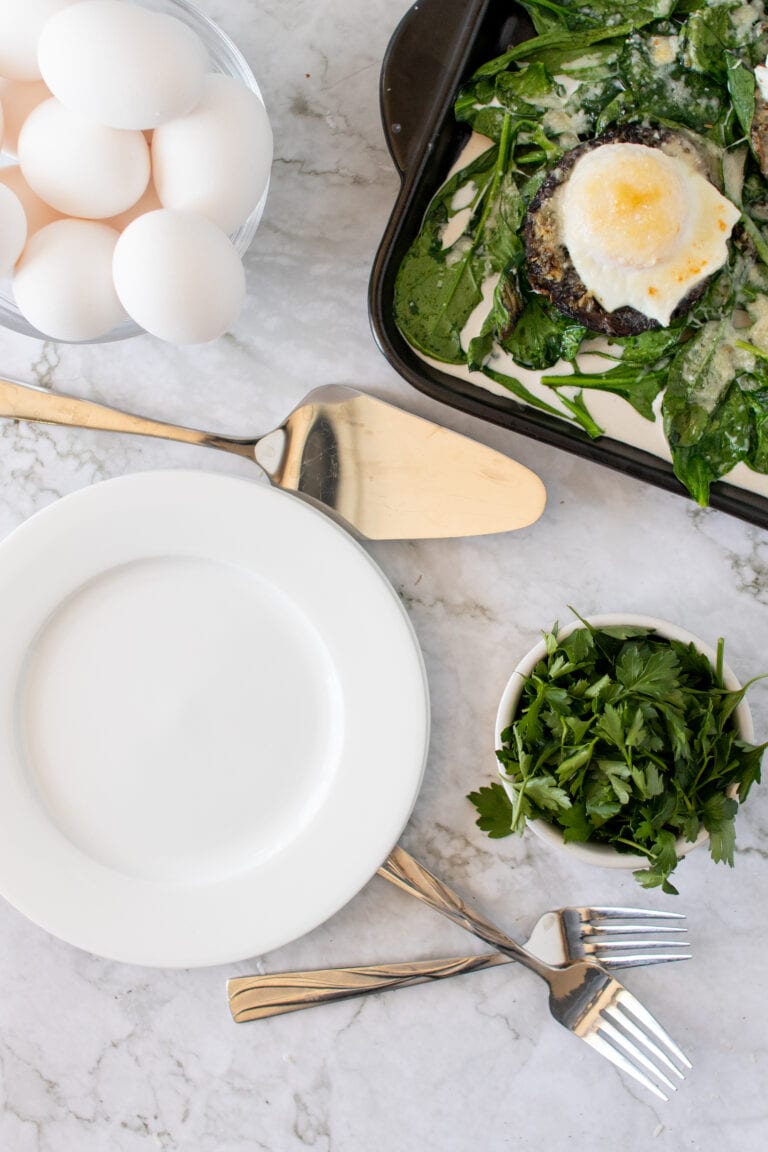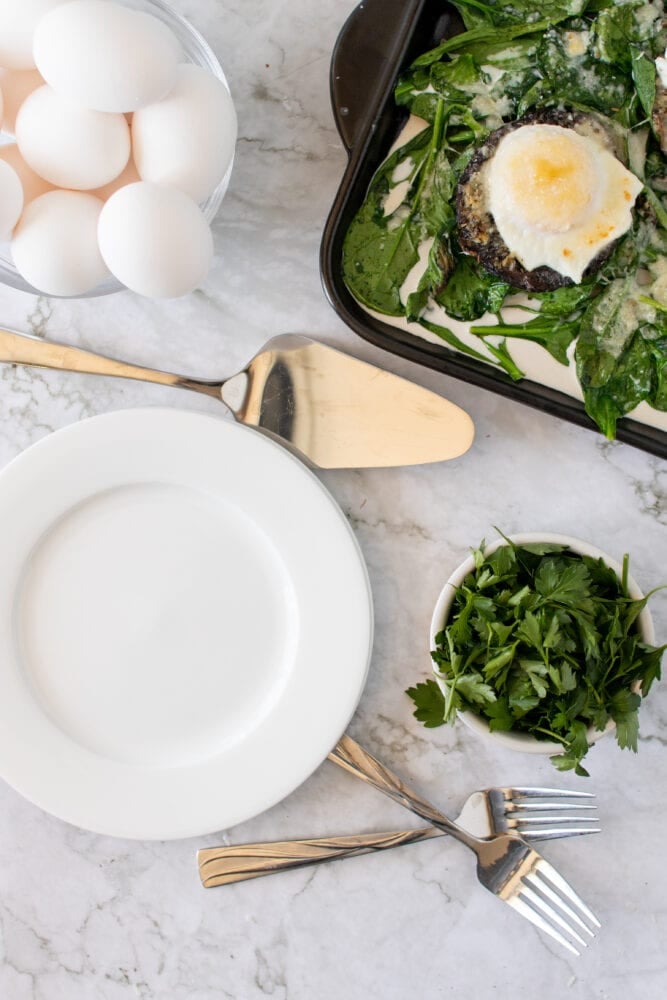 BREAKFAST BAKED PORTOBELLO RECIPE FROM A B&B IN TAHOE
During our last festival, I had the opportunity to meet Teresa Haun, craftsman artist and creator of Mind's Eye Journals. She stayed at our cottages during Mount Dora's Annual Art Festival and we instantly became buds while sharing travel stories and philosophies on life around a fire pit while roasting marshmallows and making smores.
Teresa resides in Tahoe, but has spent the last year with her husband innkeeping at the Silver Inn located in Montana between art shows. Being an innkeeper has given them both the opportunity to express their creative side in the kitchen mixing ingredients and and flavors.
Teresa recently sent me two of their favorite recipes, and this one below is the perfect thing to wake your senses out of any Halloween-candy-sugar-induced coma you may find yourself in during the coming months.
I trimmed the recipe in half since I was just cooking for two. But it can easily be adjusted to feed a family or a crowd of friends.
SPINACH AND EGG BAKED PORTOBELLO MUSHROOMS – STEP-BY-STEP PHOTOS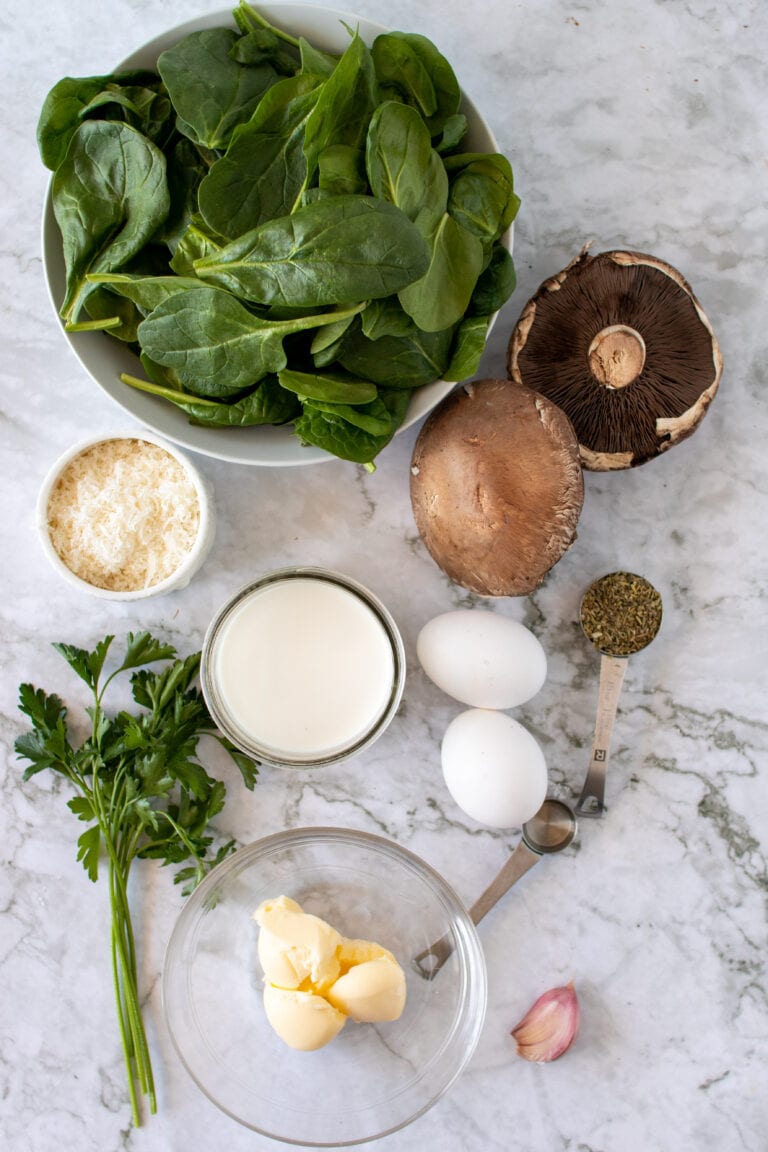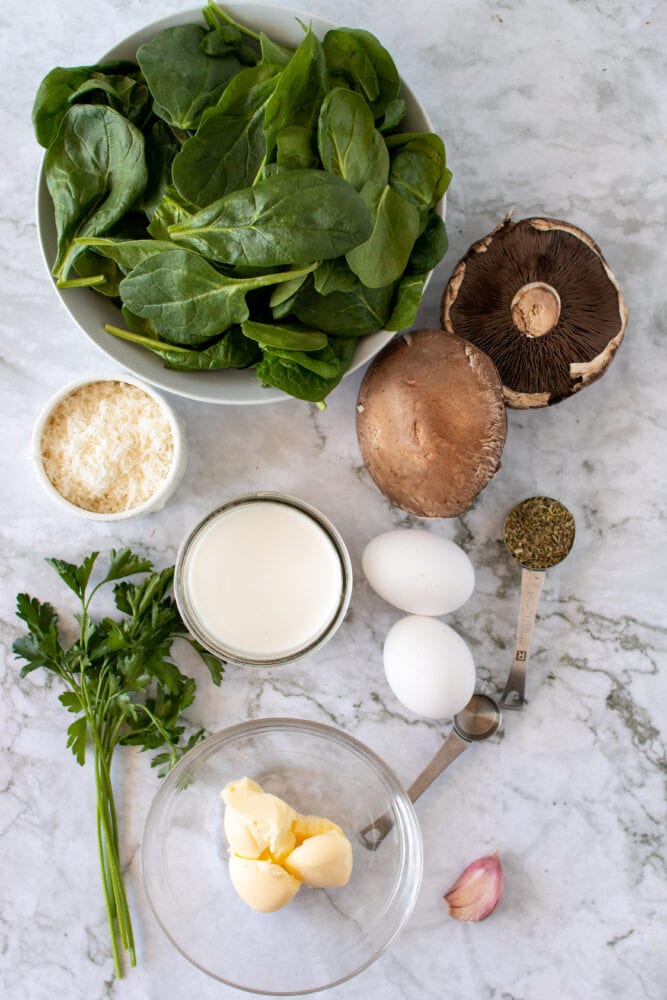 Italian seasonings include marjoram, thyme, rosemary, sage, oregano and basil and are very fragrant. Usually you can find this in a gourmet spice blend. Once you add them to the simmering butter the aroma will lure people into your kitchen asking, "whatchya makin'?" Meaning, "I'm going to get to taste this, right?"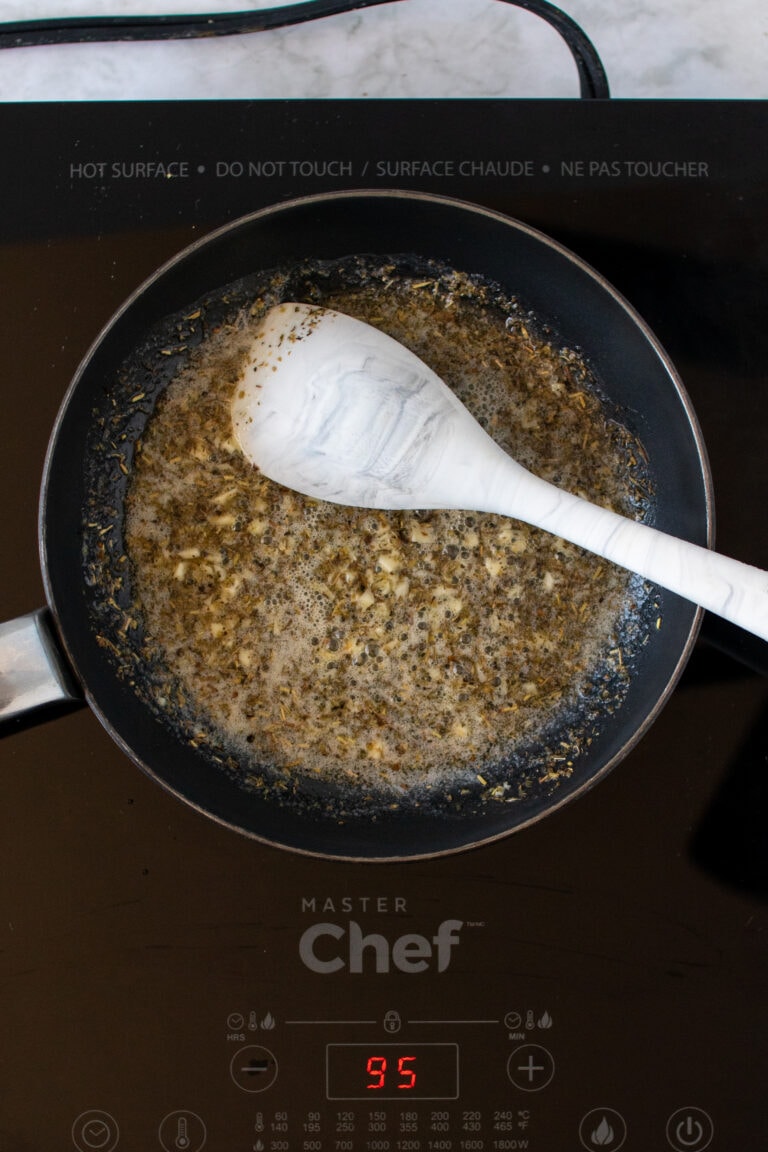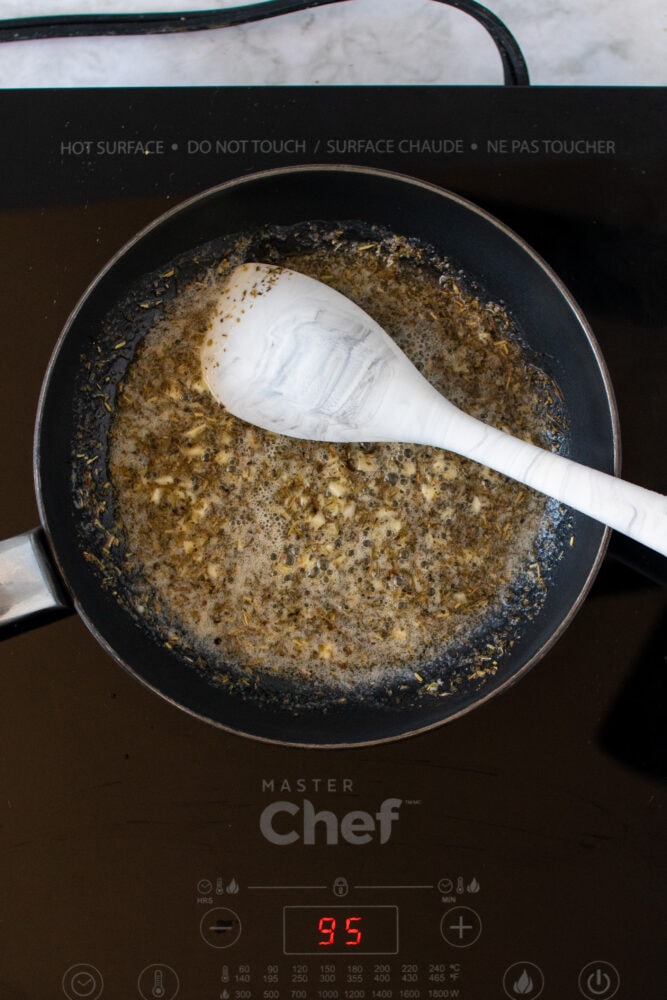 Melt the butter in a sauce pan and add the spices and crushed garlic. The garlic crusher takes two hands for me (it was a big clove) but no vampires will be lurking around here for Halloween with this recipe for sure! Set your oven to 350 degrees to start warming up. Garlic, spices and melted butter — is anyone hovering over your shoulder making "Mmm" noises yet? I recommend doing this on low heat so that the butter doesn't bubble or burn.
While your waiting, wash your mushrooms and place them in a cake pan or cookie sheet with edges gill side up with the stems removed. When the butter is fully melted and the spices have simmered for a minute or two, evenly divide the mixture in all the caps. Bake the caps for about 20 minutes at 350 degrees.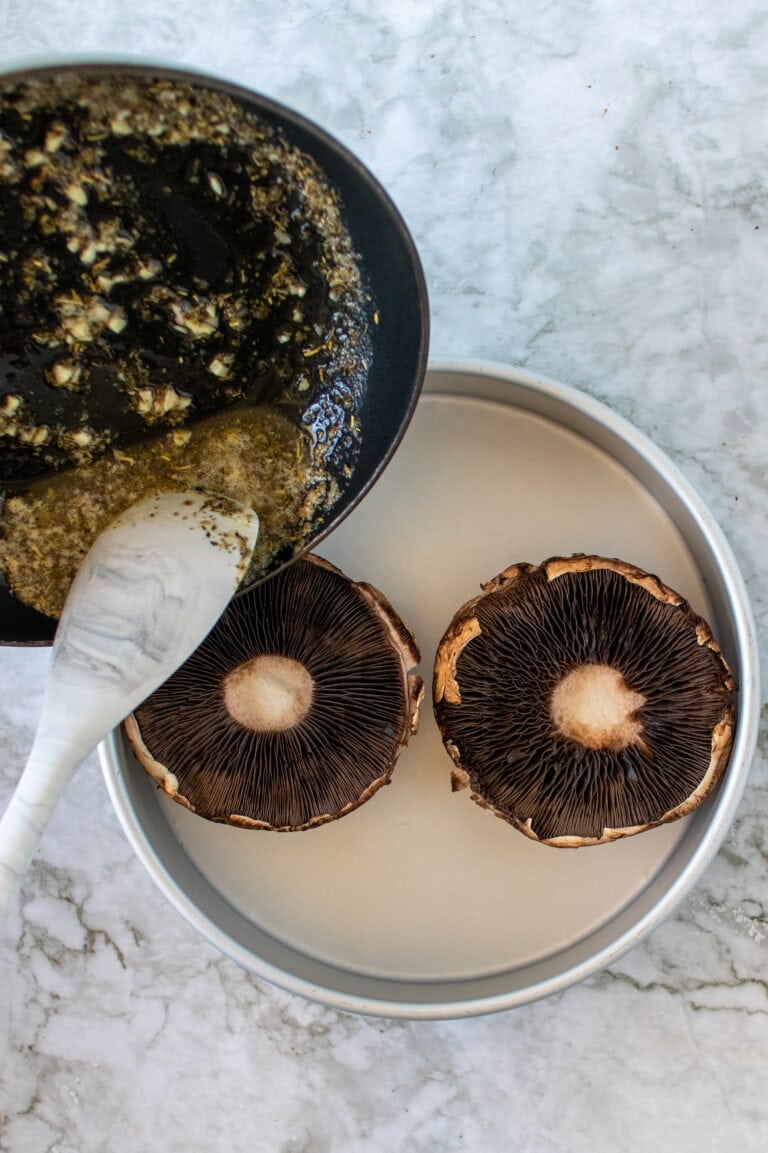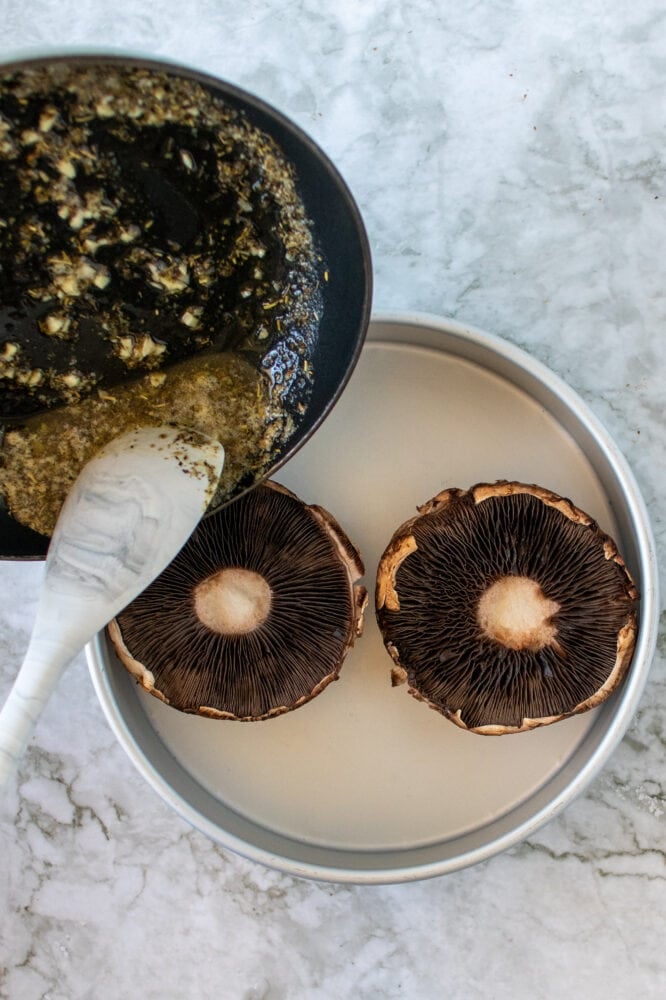 While your portobello mushroom caps are baking, get ready to start poaching your eggs. "I don't have an egg poacher," you say. No problem! You can poach eggs without an official egg poacher. My first tip, bring the water to a boil, then turn down the heat so it is more of a simmer and not a rumbling bubbly boil.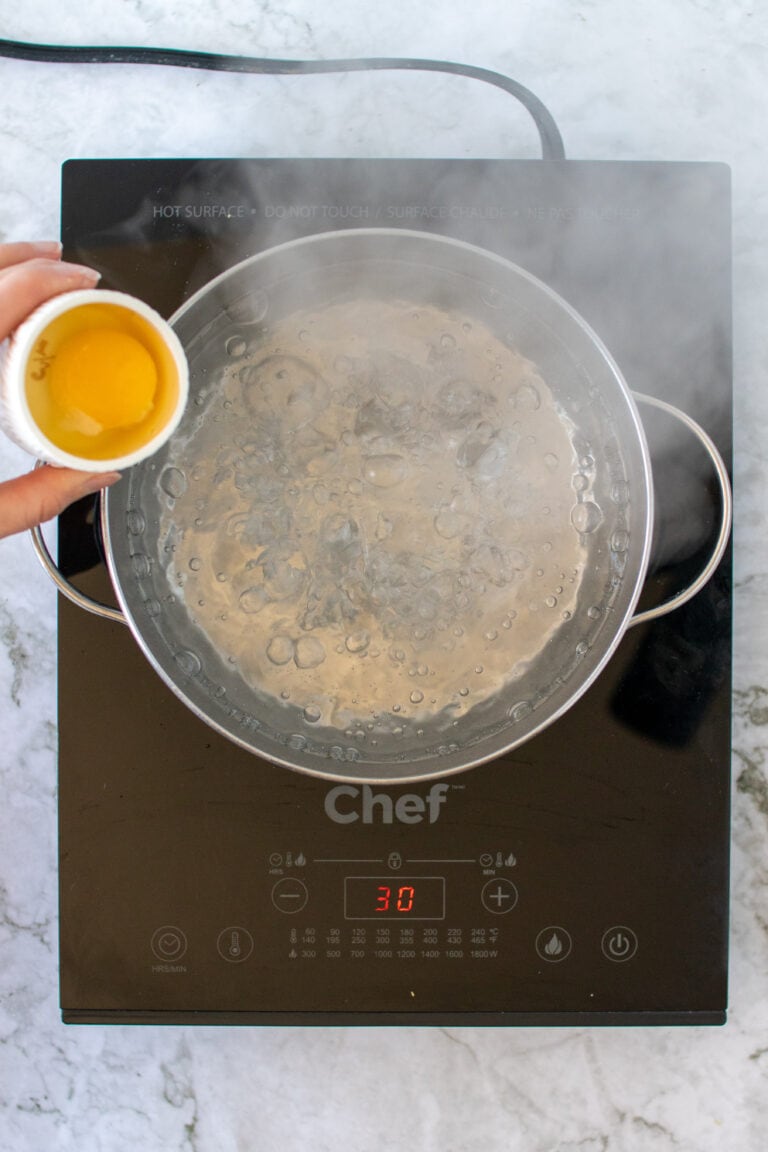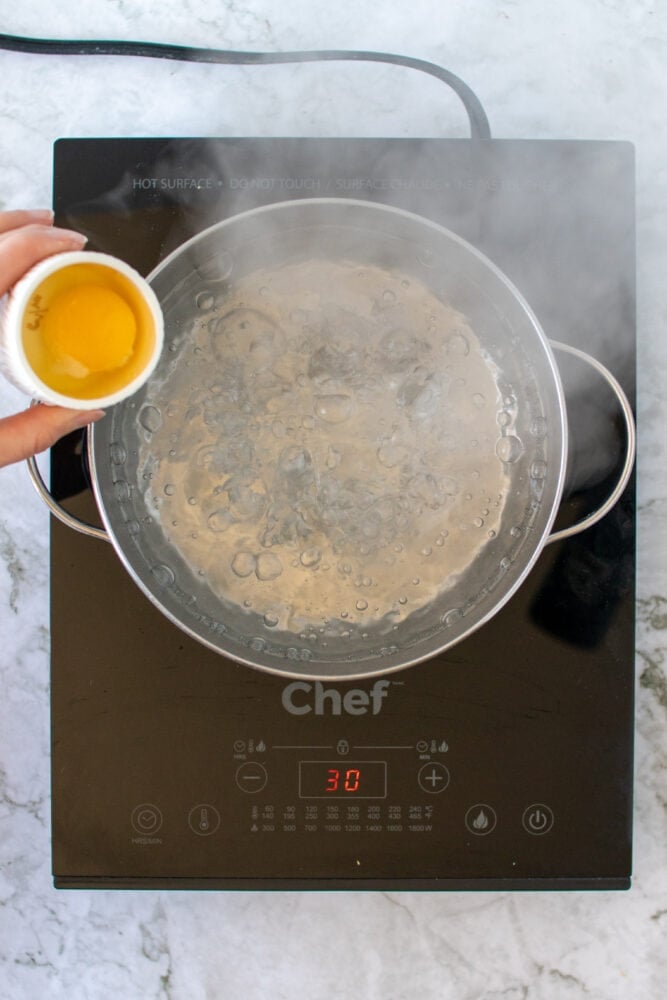 Then, add a teaspoon (maybe a dash more) of white vinegar to the water. This helps the eggs stick together as one piece instead of making a stringy egg drop soup. Next, crack your eggs into a small bowl and slide the egg from the bowl to the water. This helps them stay in one piece as opposed to plopping into some stringy Saturn-shape.

The eggs will take about 3 to 5 minute to cook depending on the firmness you like. I would start the process when your caps are almost complete. If you need to, you can add your eggs to an ice bath to stop the cooking process while you're preparing other things. We'll warm them up again in the oven with the mushroom caps.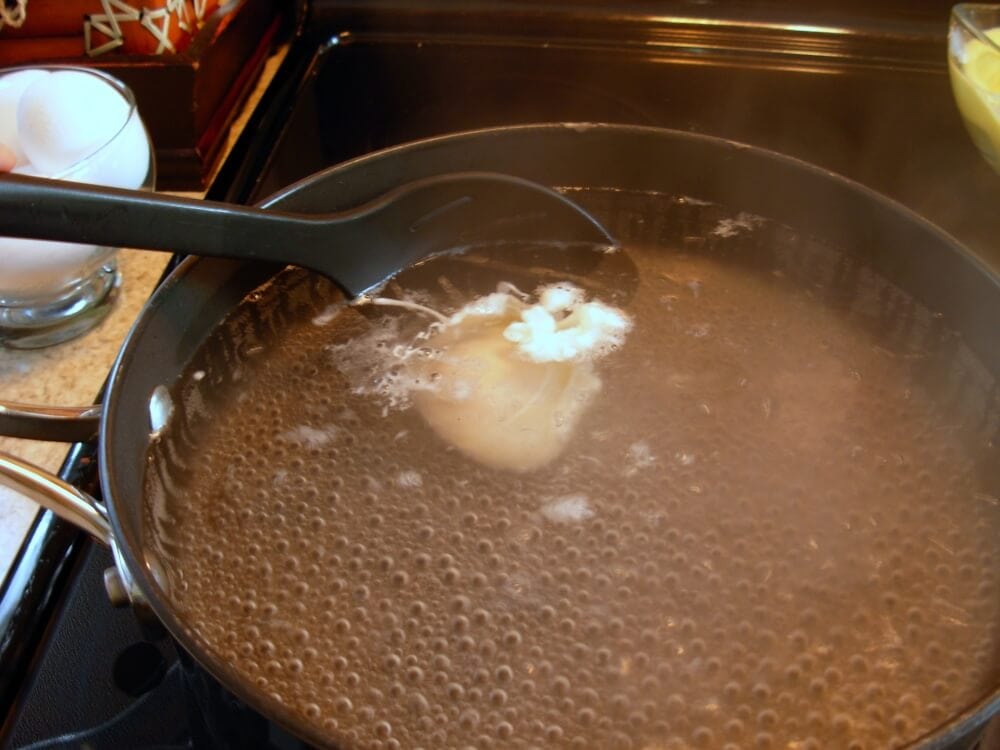 You can use a slotted spoon to corral the egg when you first slide it into the water. Cover and cook for about 3 to 4 minutes. For this recipe, be sure not to over-cook the eggs as you're gonna add them to the oven as well.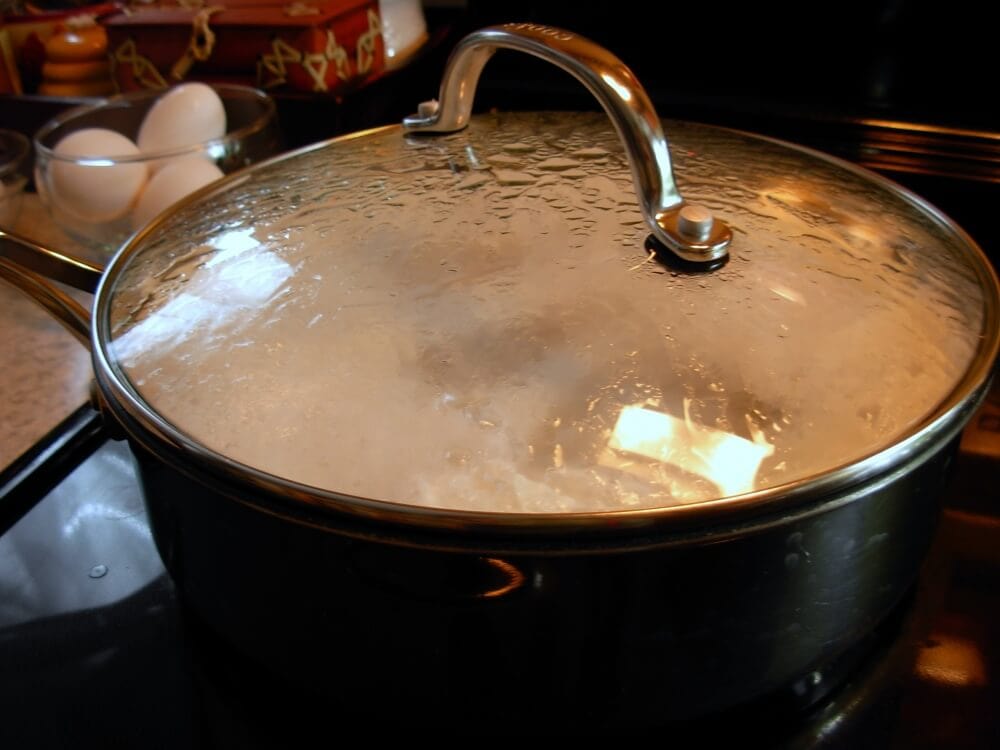 While your eggs are cooking (and this is going to happen quickly, so don't be like me and wait until the last minute to get your spinach out of the fridge), saute/steam your spinach in another frying pan with a little olive oil and water. This should also only take about 3 to 4 minutes. We'll be flash broiling all the ingredients together in a little bit.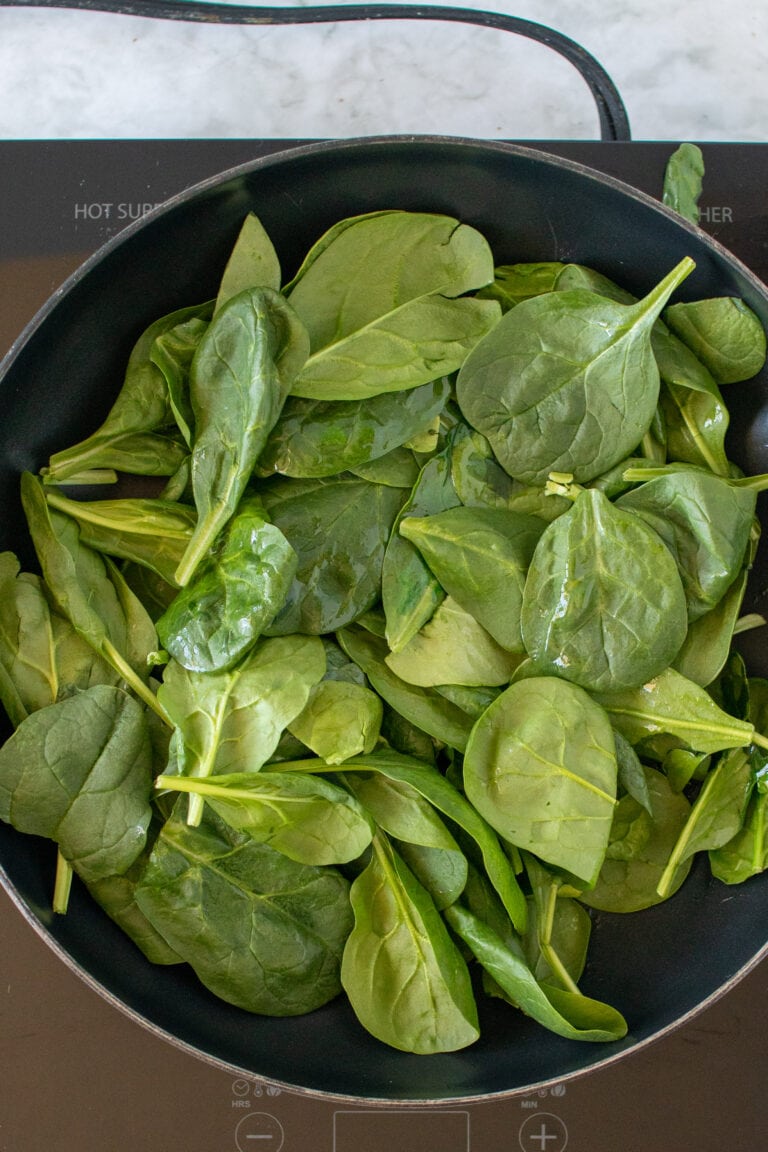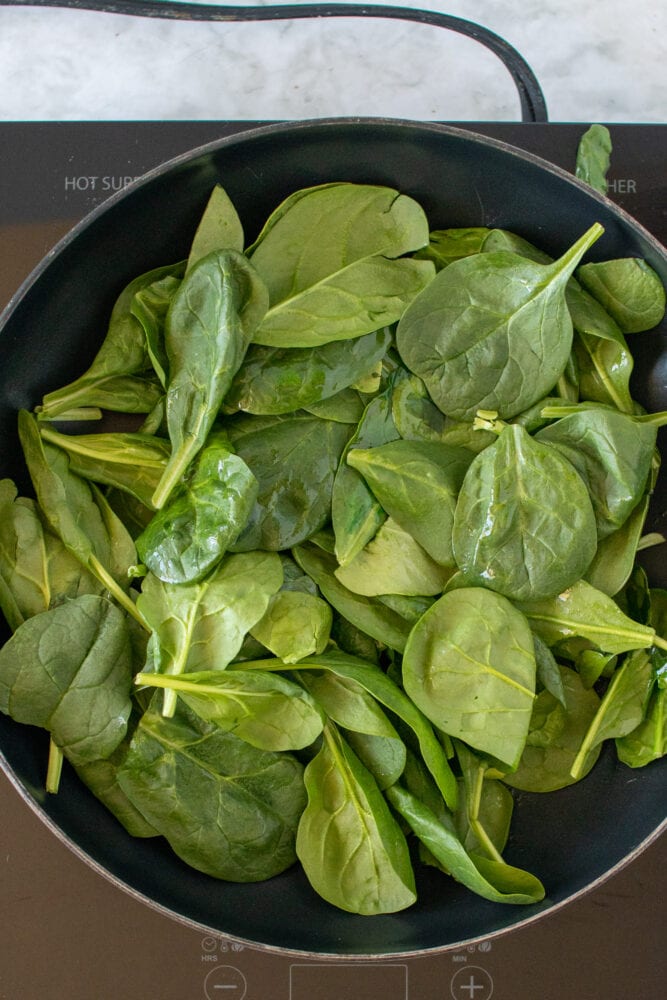 At this point, your baked portobello mushroom caps should be done. Take them out of the oven and switch the temperature on the oven from 350 to Broil.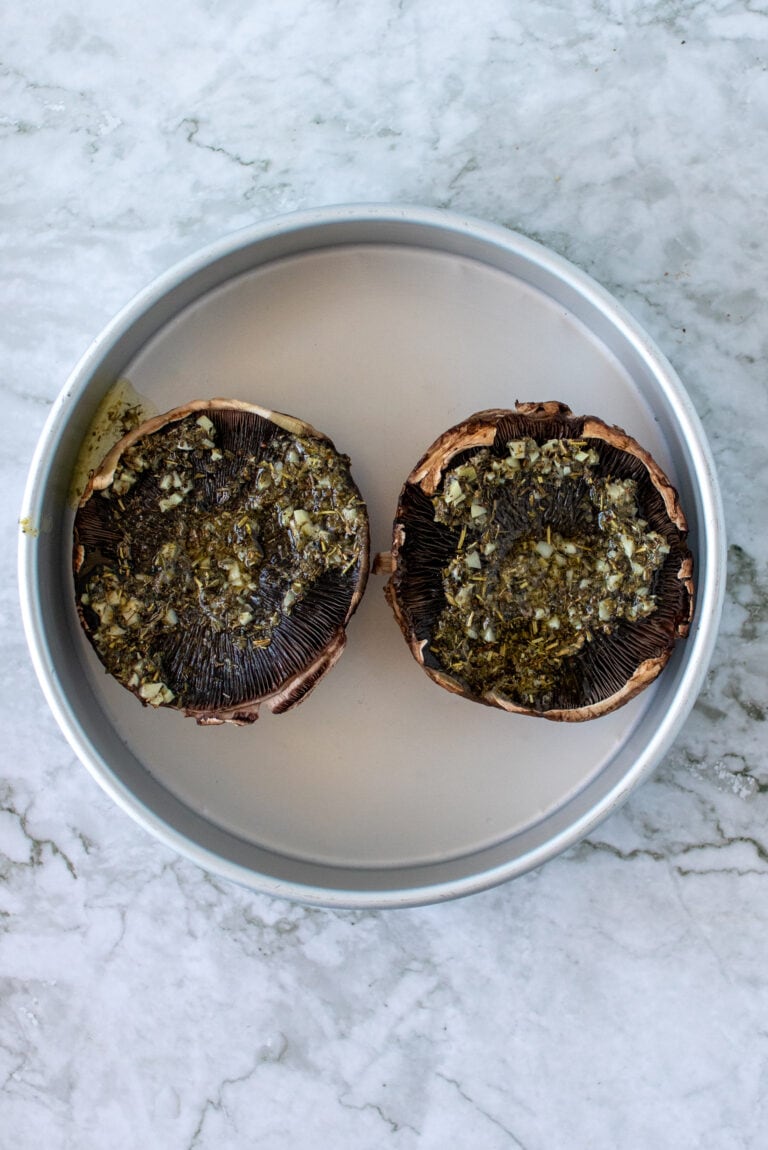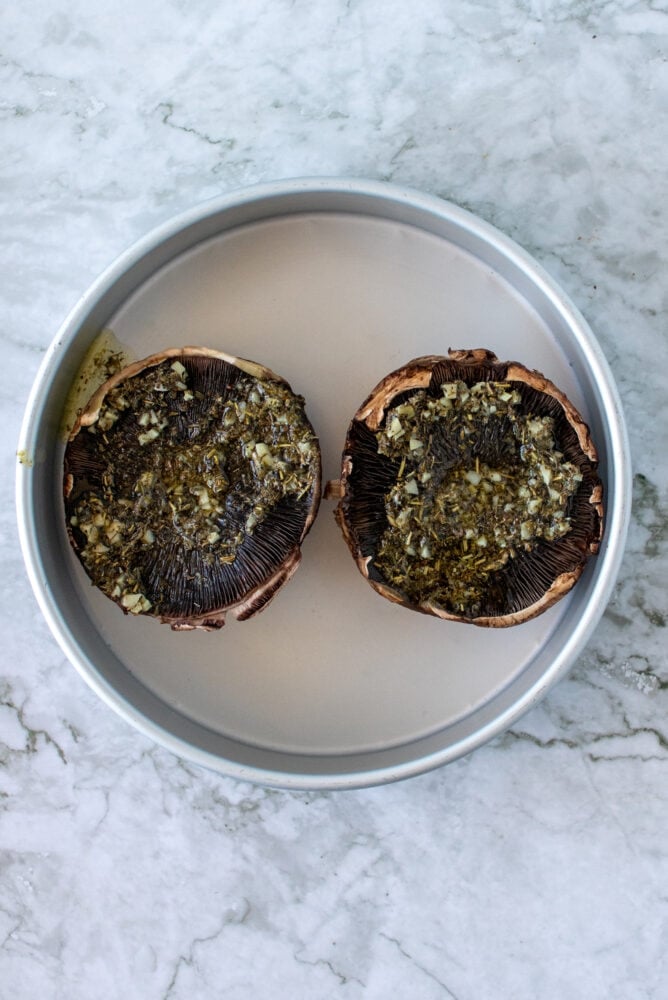 Arrange your spinach onto oven safe plates and gently slice your mushroom caps onto the spinach.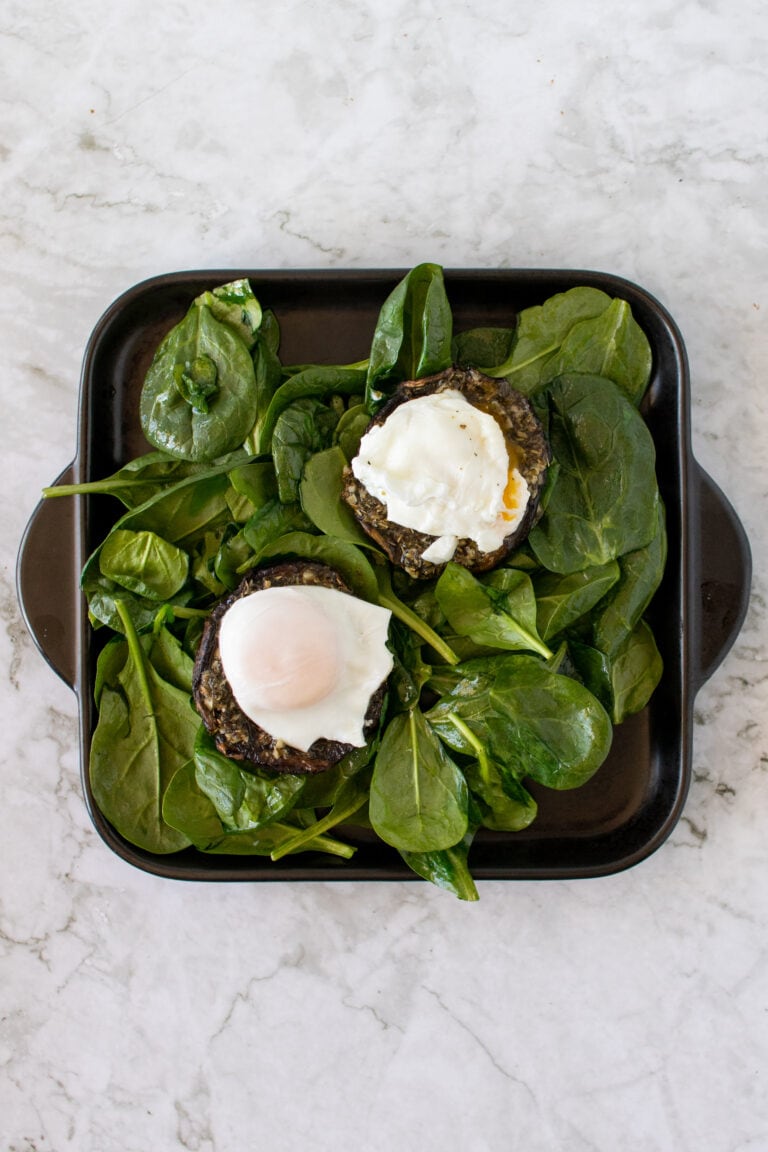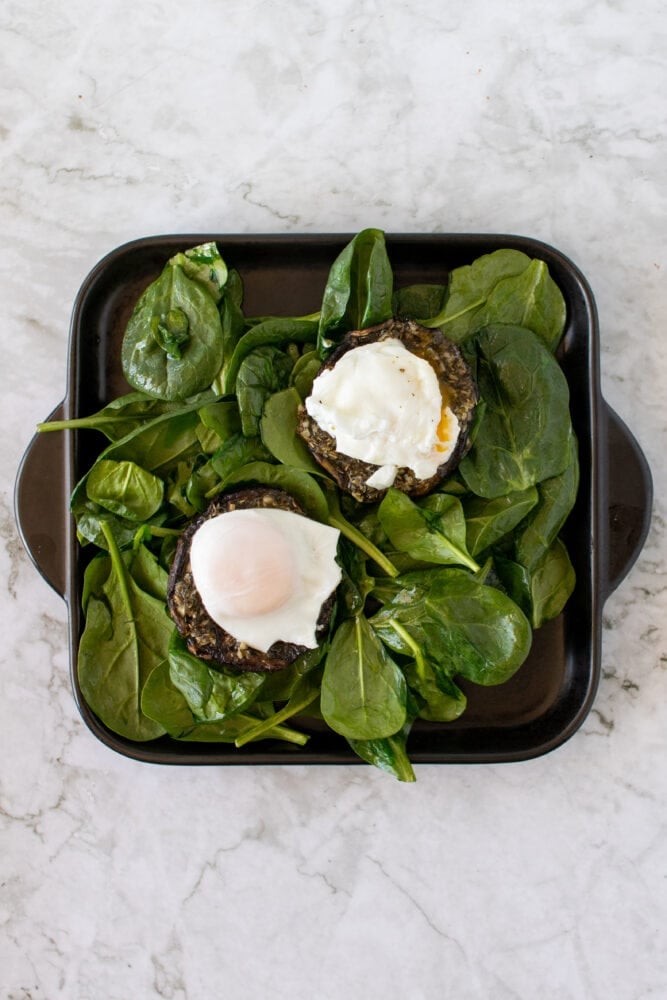 Next, you'll add the cream. I was a goof and forgot to divide the cream in half when I was reducing the recipe for two people. So, I have a pint. And at least I can use what's left over to cream my coffee. If you are baking 4 mushroom caps, then a pint is perfect. If you're only baking two, then a pint will drown them so don't add the whole thing.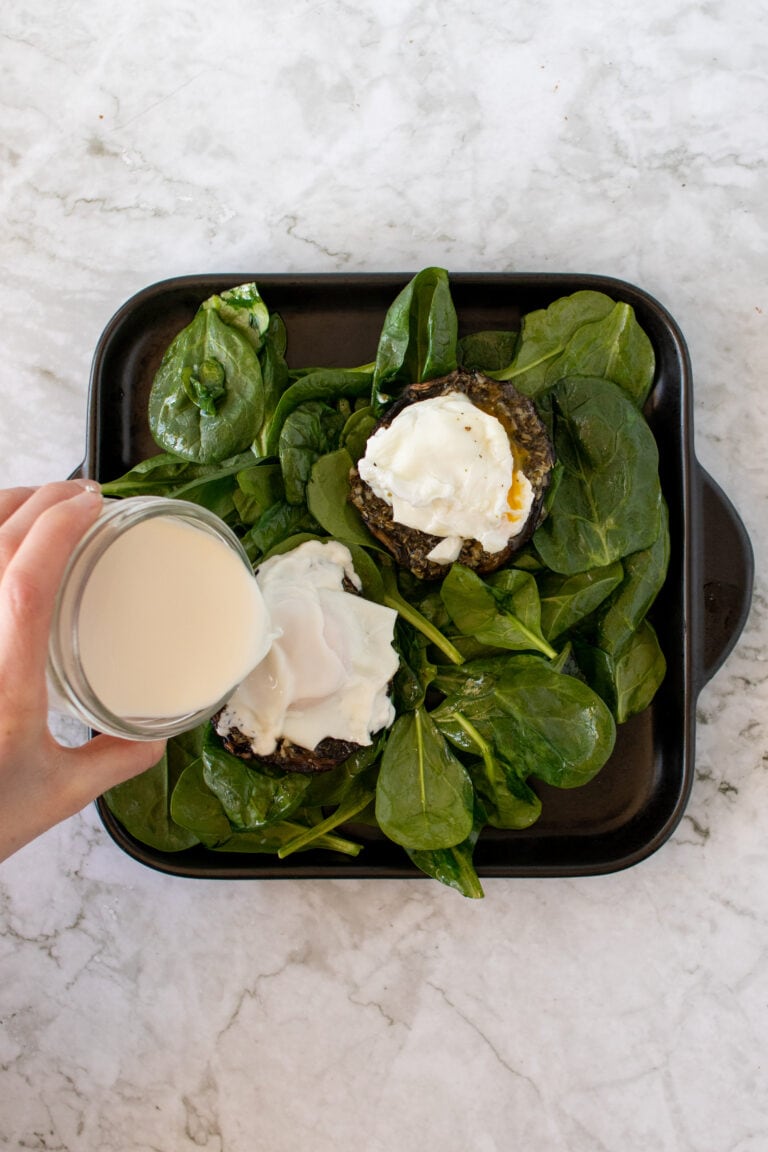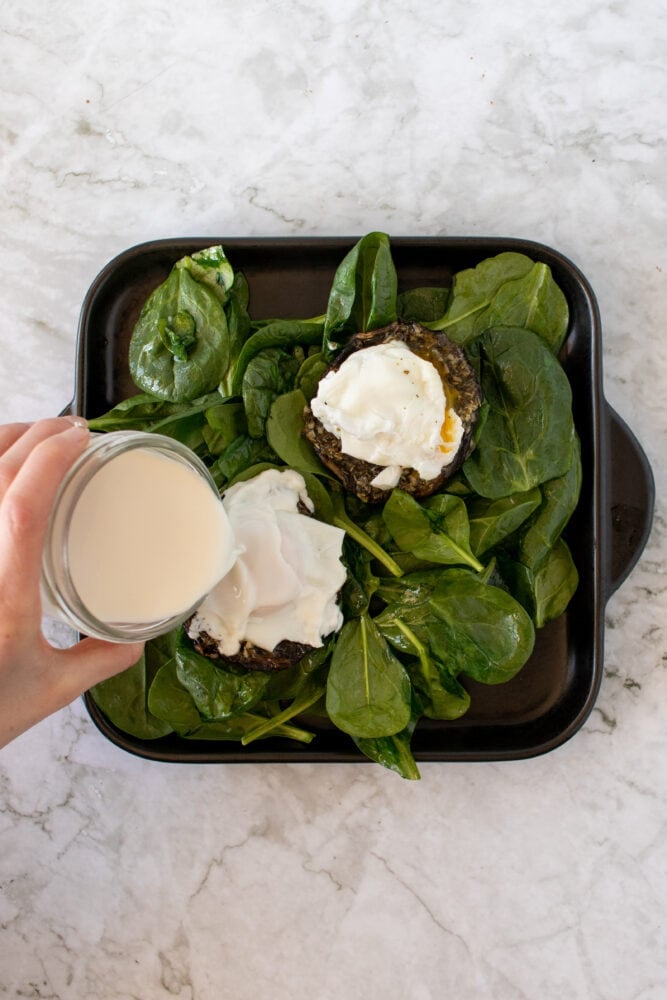 Add two eggs to each cap and then drizzle with a cream. The cream will blend with the butter, garlic and seasonings and create a rich savory sauce. Then sprinkle with grated Parmesan.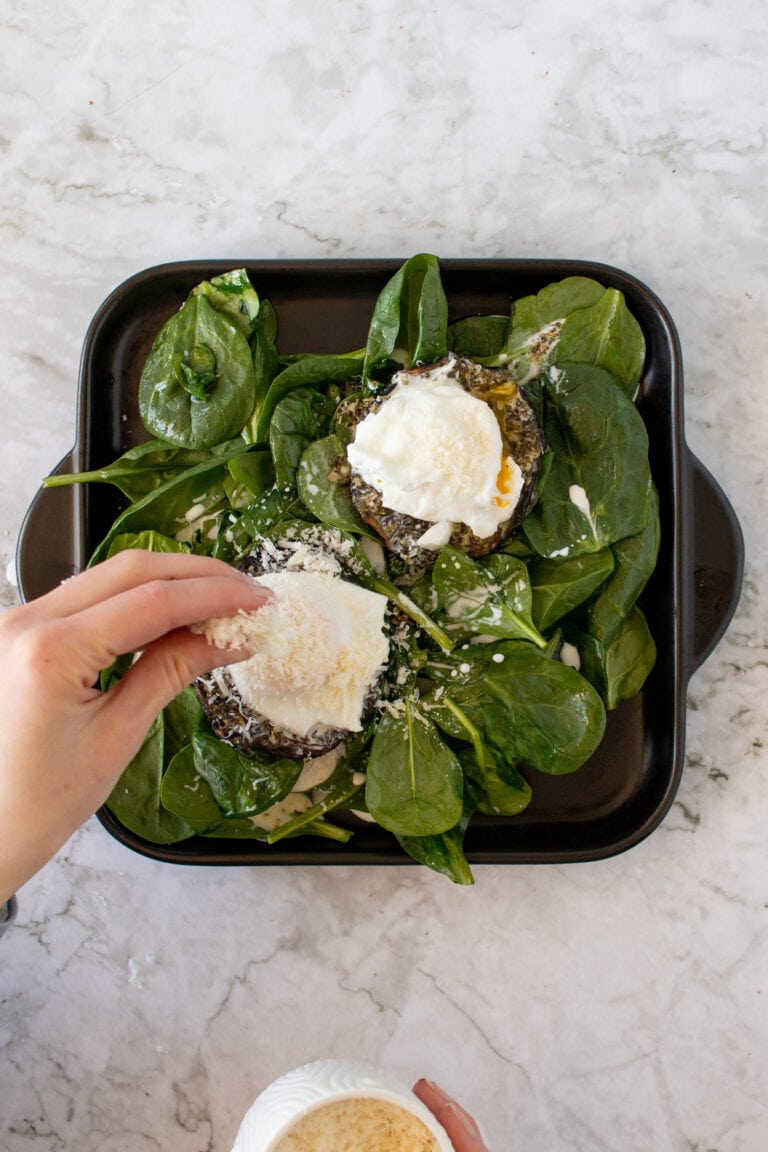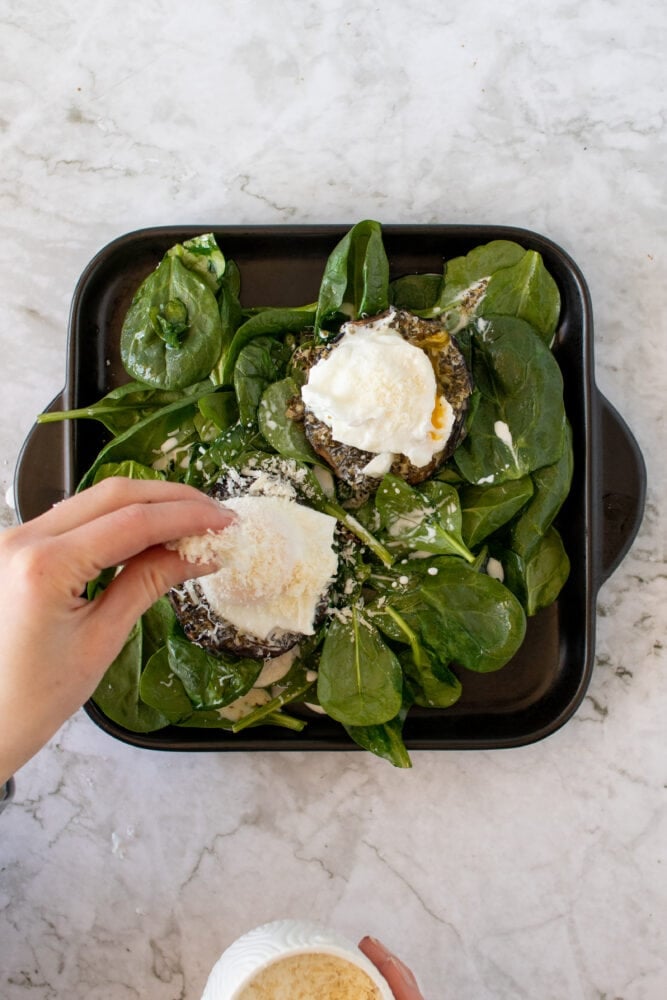 Cover with foil and broil (didn't mean for that to rhyme) for about 3 to 4 minutes. Just enough for the cheese to melt.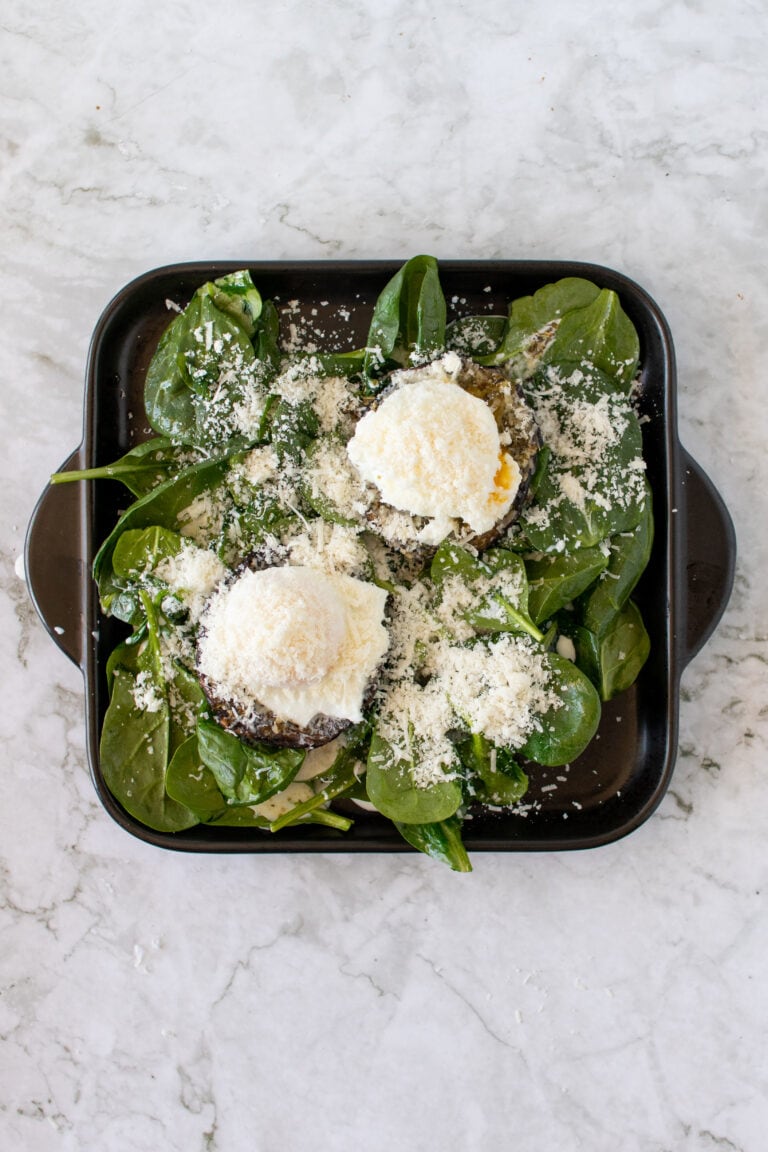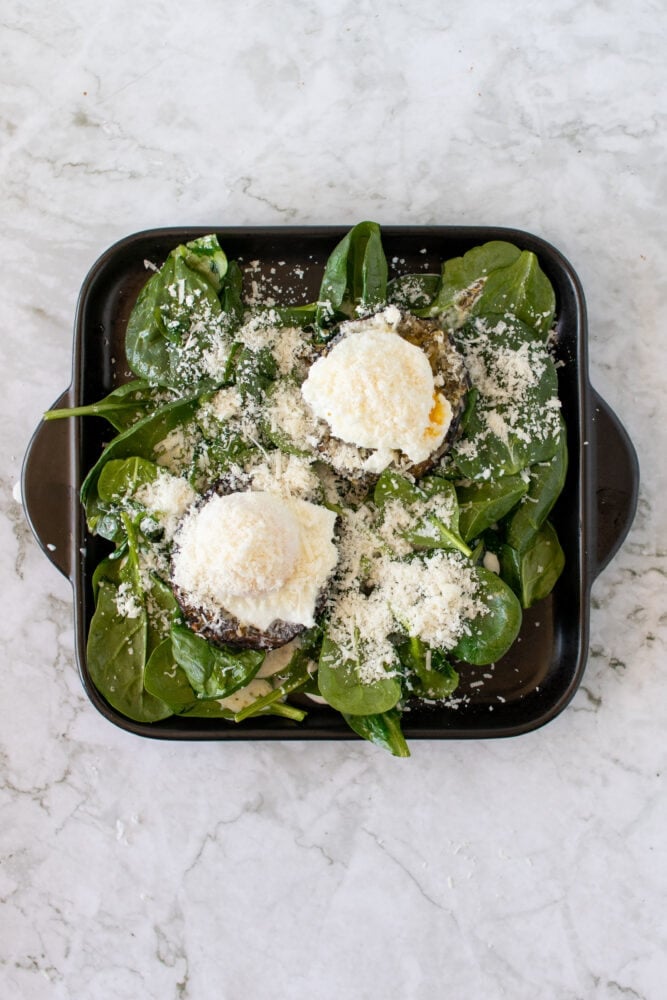 Mmm. Delish. When you remove from the oven, sprinkle with chopped parsley and enjoy! Be sure to add the plates to a charger for a moment as they will be hot!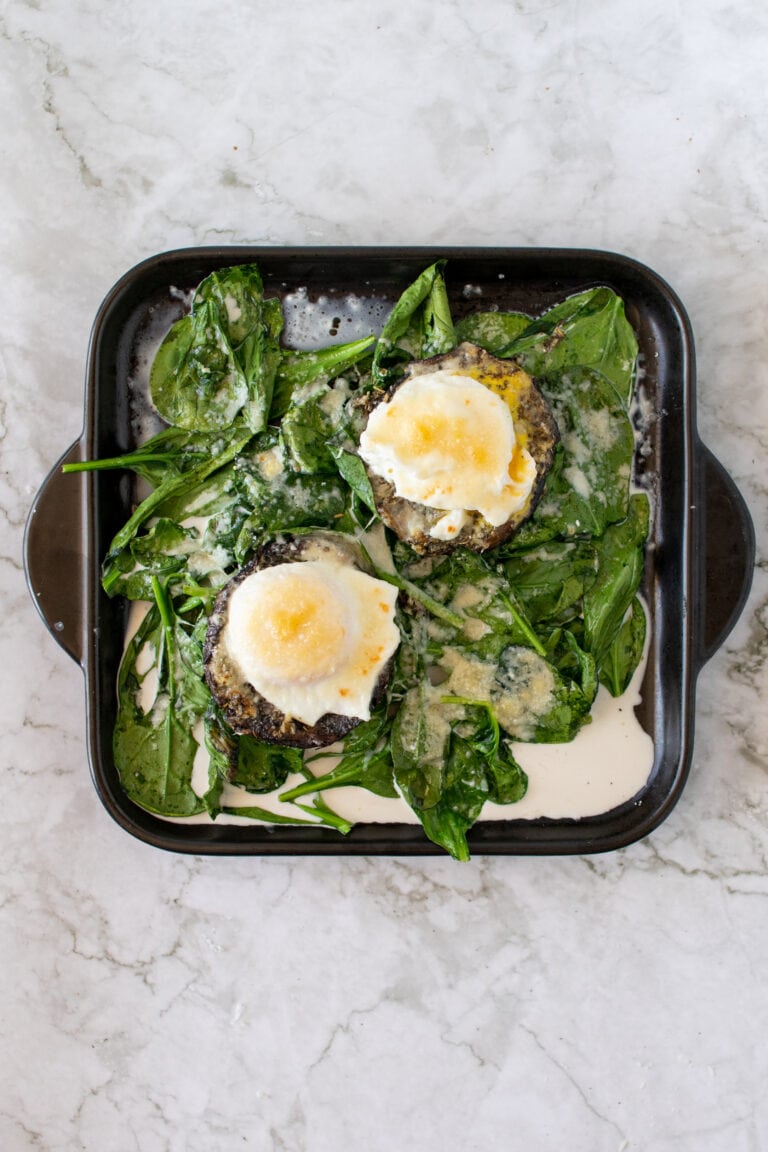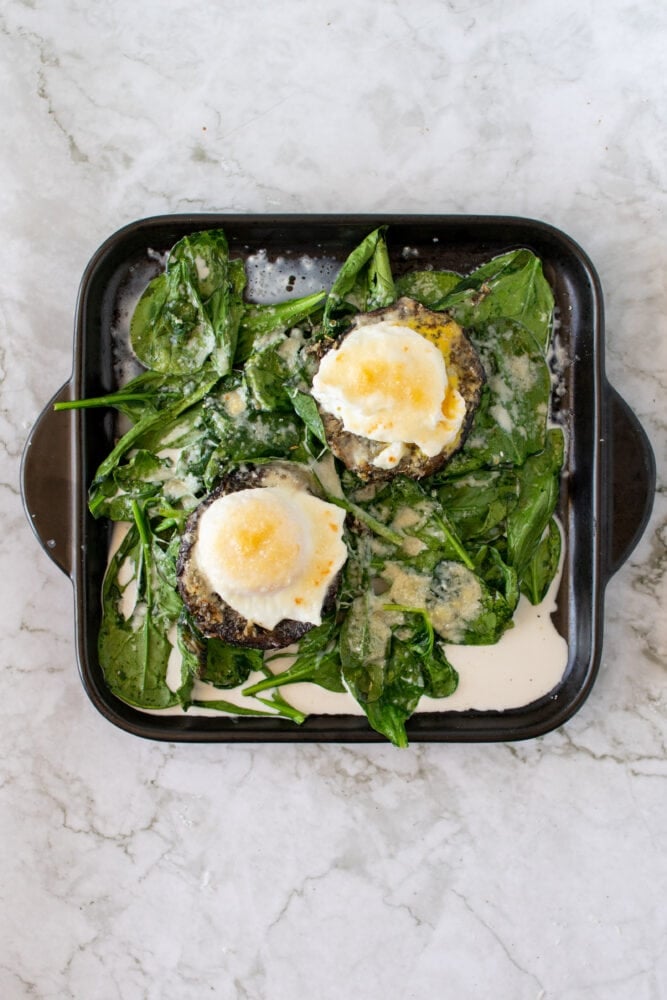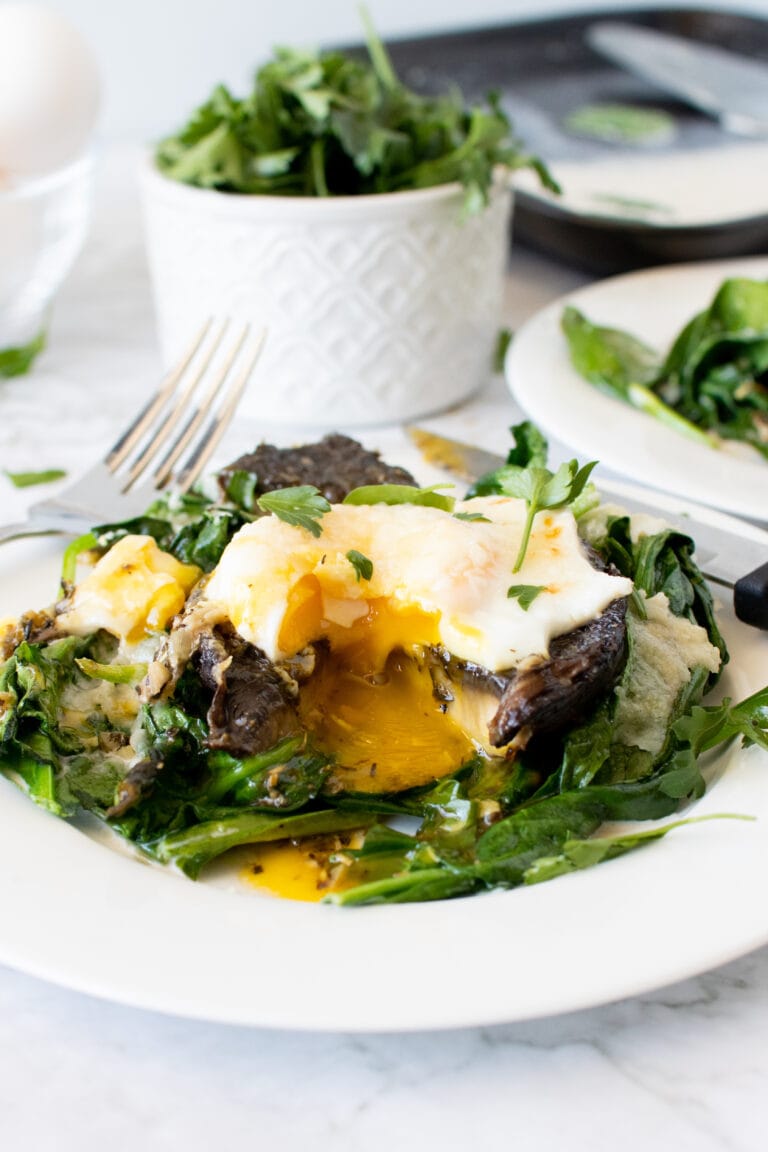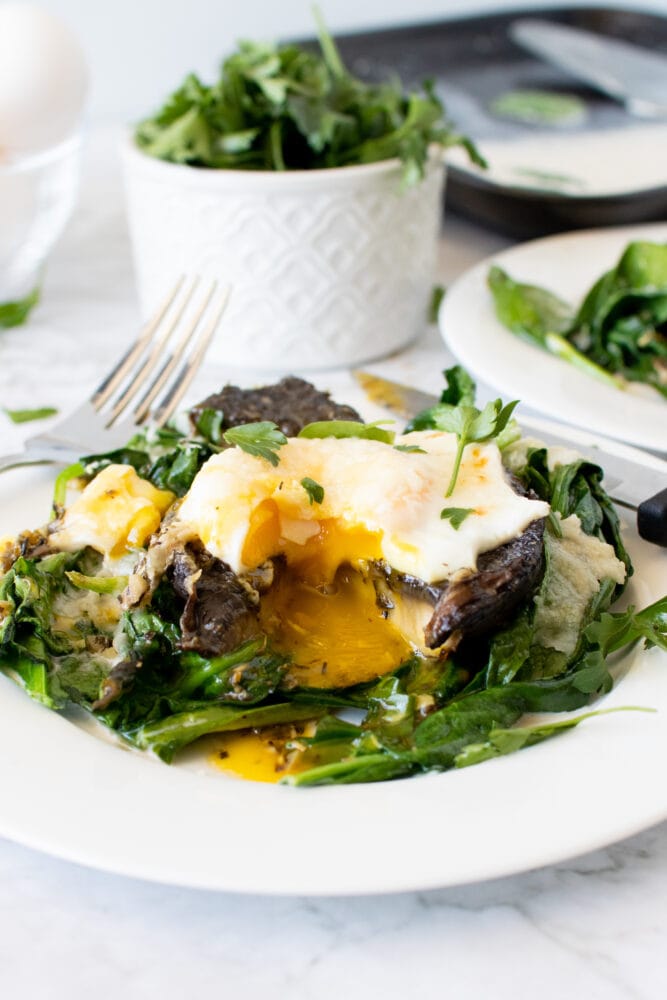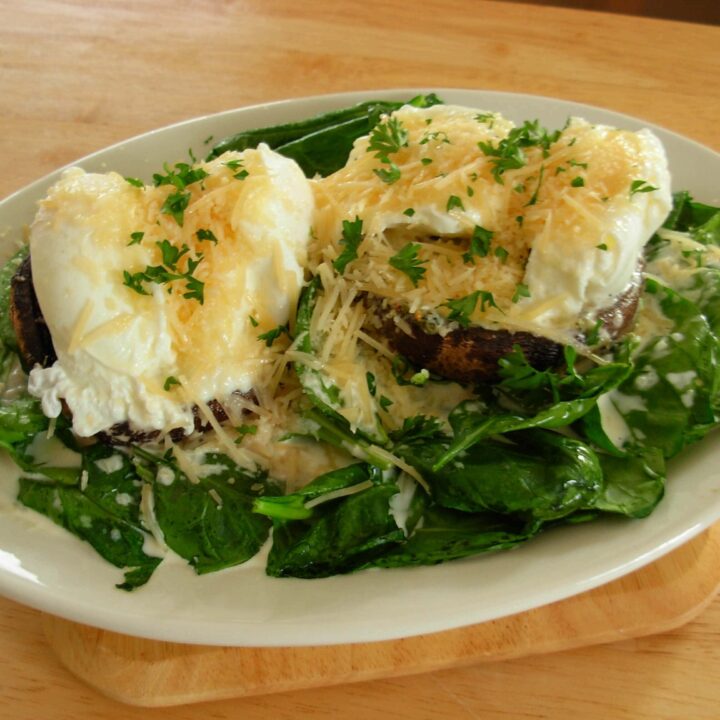 Breakfast Baked Portobello Mushrooms
A delicious low-carb breakfast that's easy to make. Baked portobello mushrooms with parmesan, garlic, spinach, and eggs.
Ingredients
2-4 Portobello Mushroom Caps
2-4 Eggs
1 Garlic Clove
1 tbsp Italian Seasonings
3 tbsp Melted Butter
1 tsp White Vinegar
4 cups Spinach
1/2 pint Heavy Cream
1/2 cup Grated Parmesan
Parsley for Garnish
Instructions
1) Preheat oven to 350 degrees
2) Melt the butter, add the crushed garlic and Italian seasonings. Using a cake pan or cookie sheet with edges, place the caps gill side up and without the stem. Equally divide the butter mixture between caps and bake for about 20 minutes. Caps should be cooked but not shriveled, firm to the touch and just a little light color left. When the caps are done, remove them and cover with foil. Turn the oven up to broil.
3) While caps are cooking, start your poached egg water. It should almost be at a boil, but not a rolling bubbling boil. Add a teaspoon of white vinegar to the boiling water to help bind the eggs. Crack the eggs one at a time into a small bowl, and slide the egg from the bowl to the water to poach your eggs. This helps contain the egg better and prevent it from spreading out and getting stringy in the water. The eggs should only take about 4 minutes depending on the firmness desired.
4) In a separate large frying pan, sauté your spinach in just a touch of olive oil and a little water. About a teaspoon of each.
5) Arrange spinach on oven safe plates. Place 1 mushroom cap on each bed of spinach. Then place an egg on each mushroom cap. (Feel free to add two eggs if you'd like!)
6) Drizzle with heavy cream over the whole plate. (This mixes with the butter mixture and creates a rich sauce.) Sprinkle with Parmesan and cook under the broiler for 1-2 minutes, just enough to melt the cheese a little.
7) Garnish with chopped parsley and serve.
Notes
Mushroom cap sizes (and appetites!) can vary, so feel free to add two eggs per mushroom.
Nutrition Information:
Yield:

4
Serving Size:

1
Amount Per Serving:
Calories:

465
Total Fat:

39g
Saturated Fat:

23g
Trans Fat:

1g
Unsaturated Fat:

13g
Cholesterol:

287mg
Sodium:

514mg
Carbohydrates:

14g
Fiber:

6g
Sugar:

4g
Protein:

19g
Nutrition information provided is only an estimate.
More Breakfast Recipes From My Innkeeping Days:
Originally posted Sep 8, 2009. Updated 2020.