This has to be the easiest and healthiest breakfast I've made in a long time. Little ramekins filled with a keto salsa egg bake. Simple ingredients, fabulous flavor. It was given to me by the Grandison Inn located in Oklahoma City and it is their most requested breakfast dish among guests. They call it their signature "salsa and eggs."
KETO SALSA EGG BAKE STEP-BY-STEP PHOTOS
Once you make it for the first time, it's the kind of recipe that stays in your head that you can whip up quickly without even thinking twice about it. Don't ya just love those? All you need are a couple of small ramekins, eggs, diced ham, cheese, bell peppers, and salsa. I've got the step-by-step photo instructions and printable egg casserole recipe at the bottom of the post. Enjoy!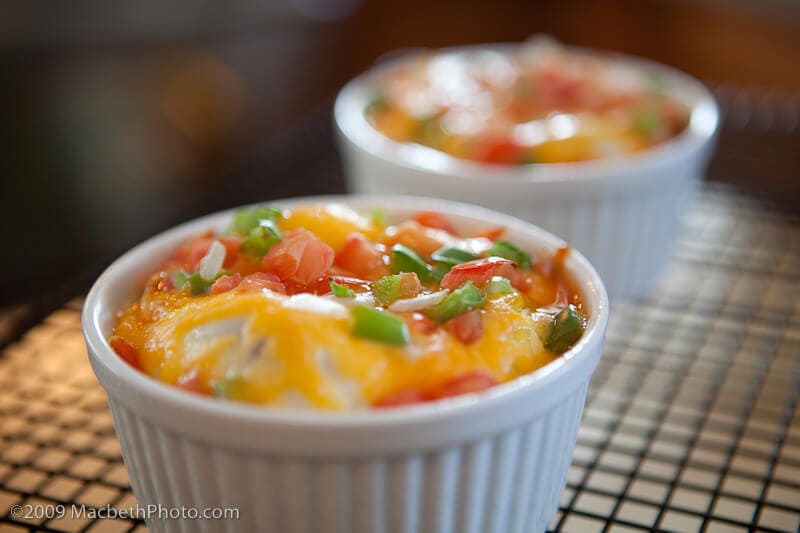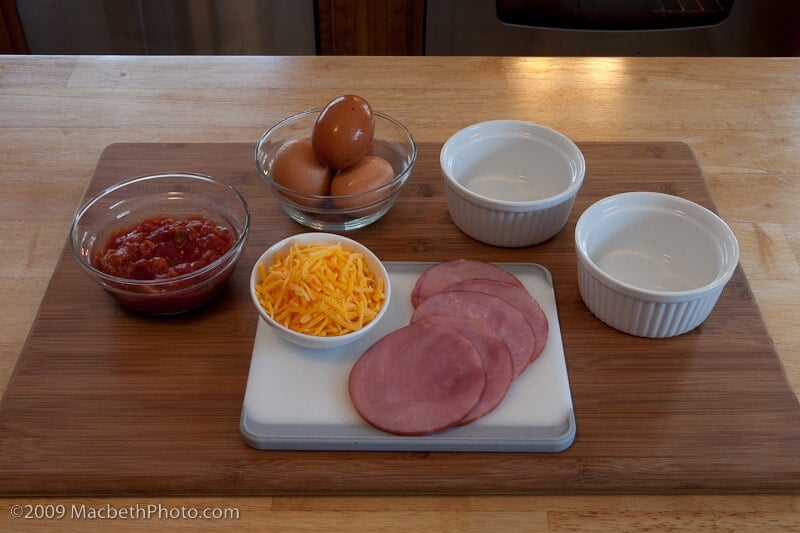 I don't know about you, but anything with cheese is divine in my book. For the ham, I contemplated just layering it into the bottom of the ramekin whole, it just fit so nicely. But it's much easier to eat and mix with the other flavors if you slice it.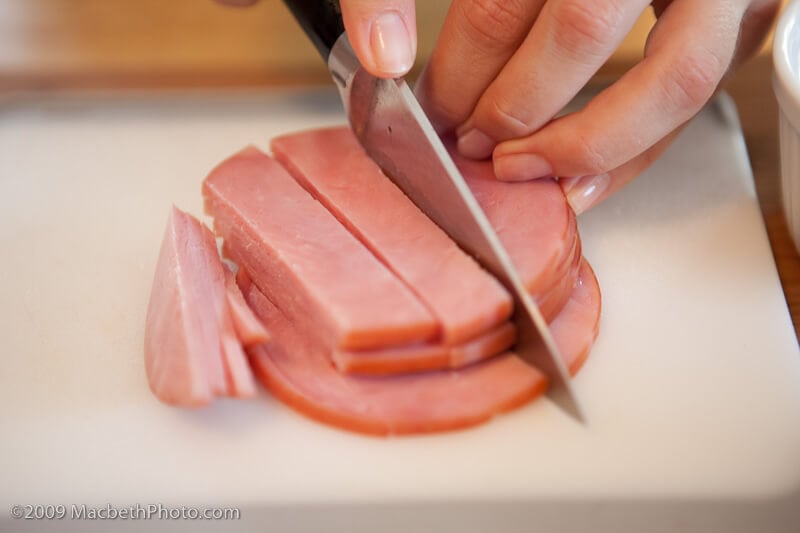 PUTTING IT ALL TOGETHER
Layer your ham first, then salsa, then crack your eggs and add them whole without breaking the yolk.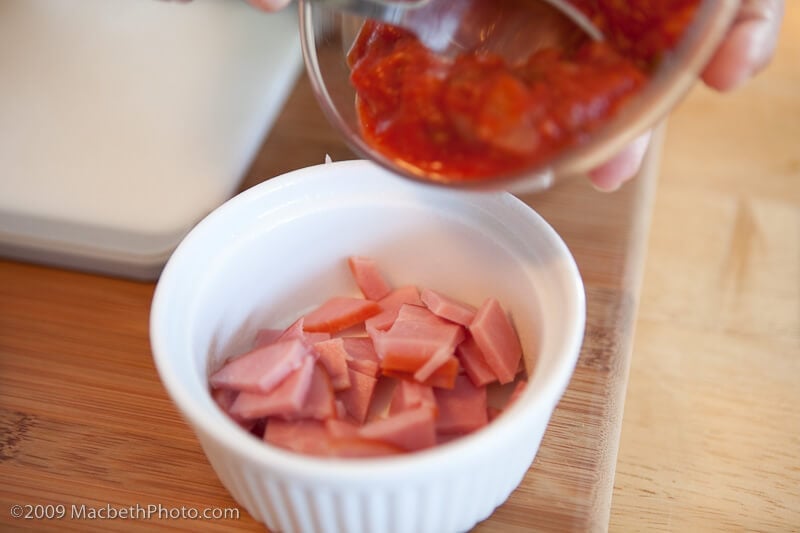 Yes, I said whole eggs, not scrambled. I have to admit, when I read this part on the recipe I thought it was a little strange. I had to resist the urge to scramble them and mix all the ingredients together. But the end result is yummy, trust me.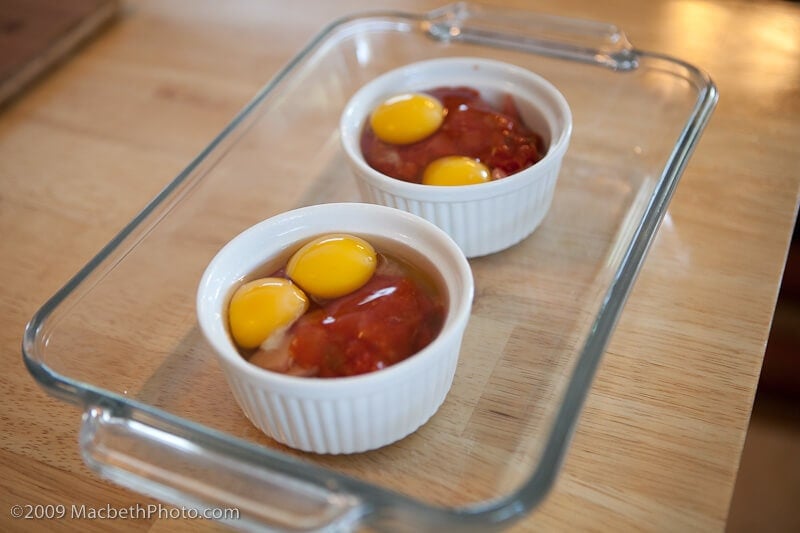 Place your ramekins on a cookie sheet or baking dish in case of spillage, and then bake for 20 minutes at 400 degrees.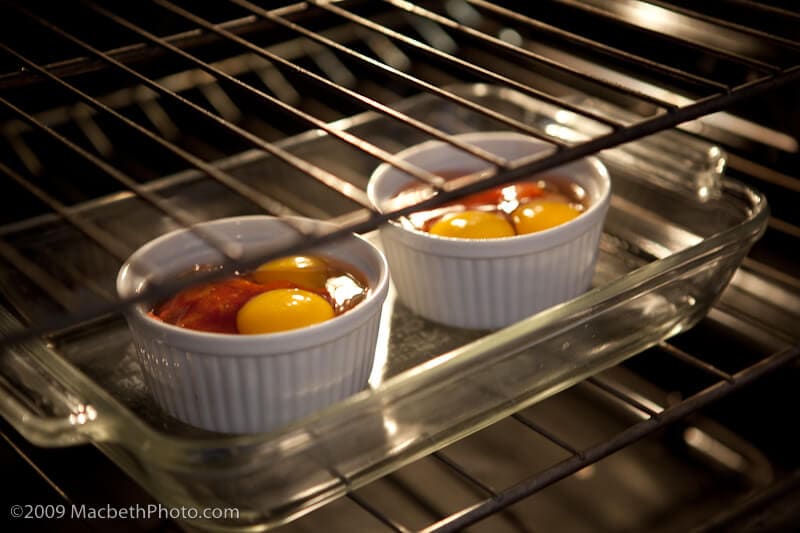 When the eggs have just started to turn white, remove from the oven and sprinkle on the cheese.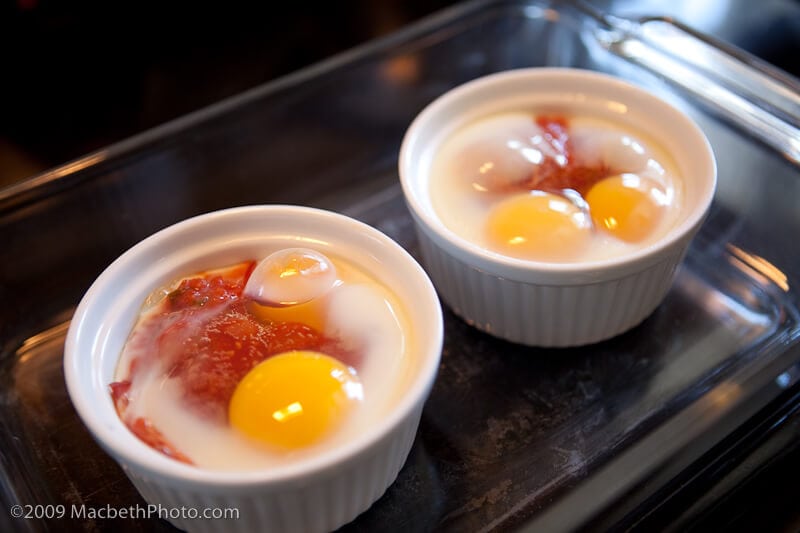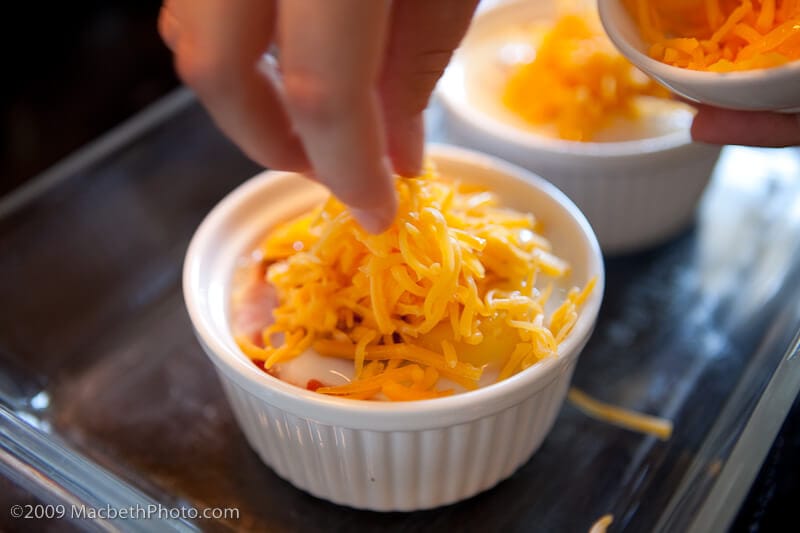 BEHIND THE SCENES
This is me … making a funny face … because I nearly forgot an ingredient. I'm notorious for this. I could have a "Where's Waldo" contest of finding the missing item in all of my ingredient photos. It was on my counter top, just not included in the "ingredients" photo above. But I have a good excuse for this one. This is something I added that was not in the original recipe … hence … it wasn't written down.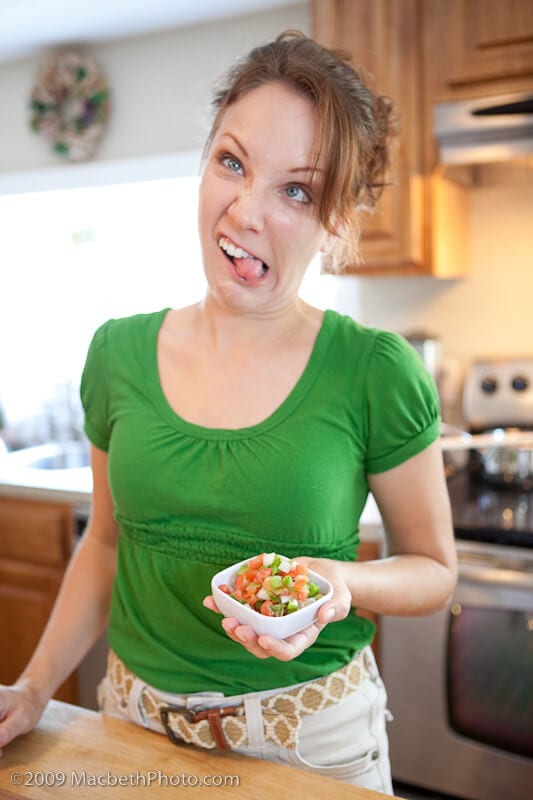 It's a cup of fresh cut green peppers, tomatoes and onions to add a little color and crunchiness to the dish. You can usually find these pre-diced in the produce section of your local grocer to save some prep-time.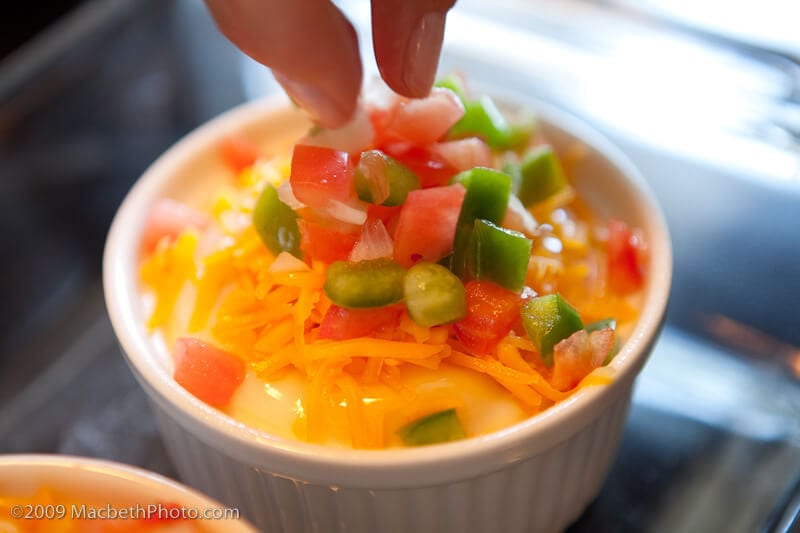 Add back to the oven and bake until the cheese is melted. Watch closely … don't walk away to check email (or Facebook) The cheese melts quick.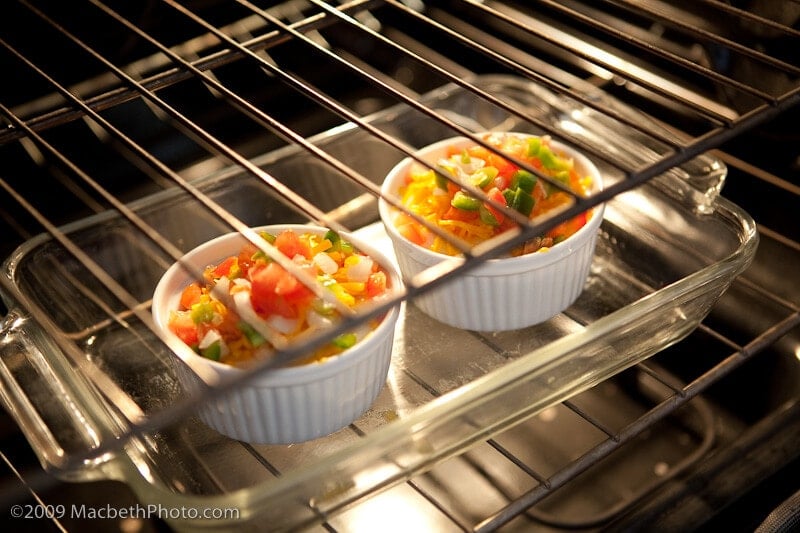 Once the cheese has melted, remove from the oven and let cool for 3 to 5 minutes before serving. Doesn't it look delish? Happy little healthy breakfast!
You might also be interested in a few of our other diet-friendly recipes: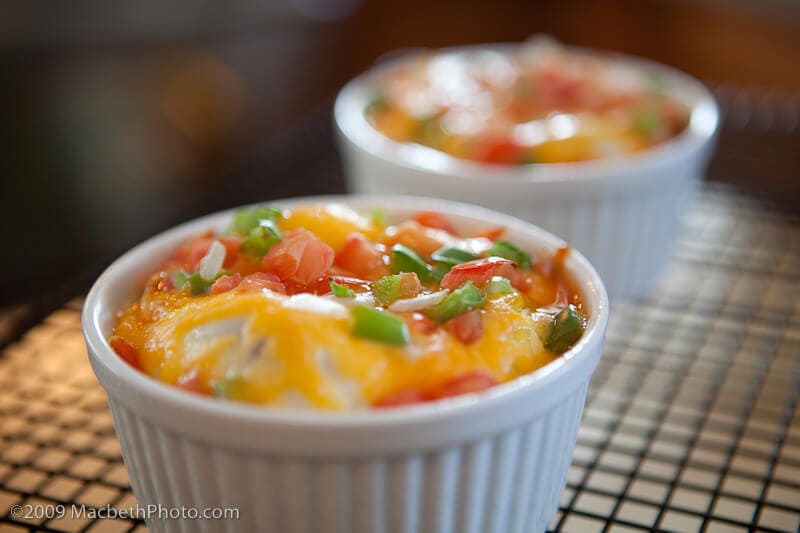 Keto Salsa Egg Bake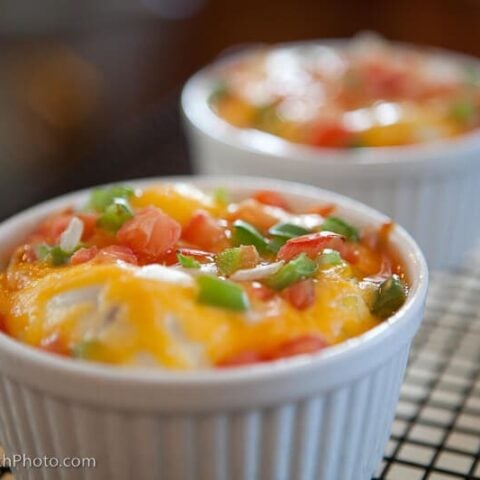 Keto Salsa Egg Bake (Mini Egg Casseroles)
Ingredients
8 eggs
1/2 cup mild salsa
8 ounces diced ham
1/2 cup grated cheddar cheese
1 green pepper, diced
1 small onion, diced
1 small tomato - diced
Instructions
Preheat oven to 400 degrees and coat 4 ramekins with cooking spray.
Line the bottom of each ramekin with ham, then one or two spoonfuls of salsa on top of ham.
Break open 2 eggs into each ramekin to go over salsa. DO NOT stir the mixture together.
Bake in oven for 20 minutes or until the white of the egg is beginning to set. Start watching closely after 20 minutes. Remove from oven.
Layer the grated cheddar and diced peppers, onions, and tomatoes over each dish and return to the oven and bake until the cheese is melted and a light golden brown on some places.
Let cool for 3 to 5 minutes and then serve.
Want to save this recipe? Pin it!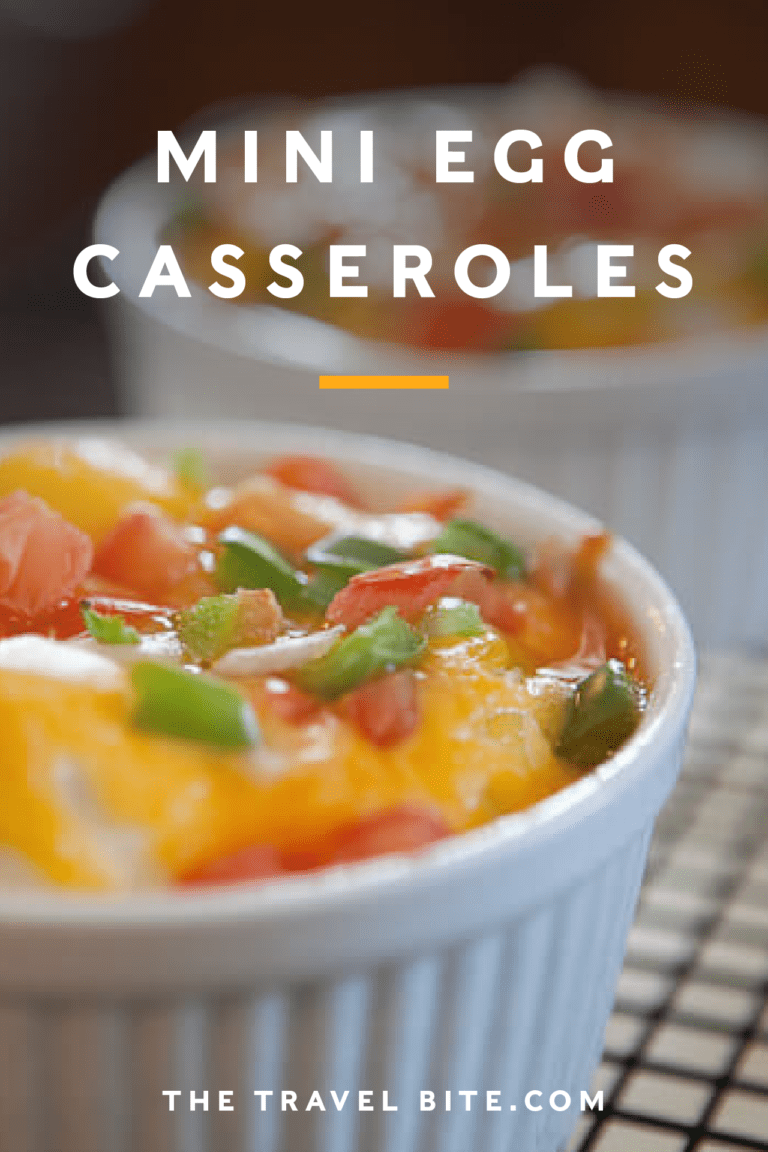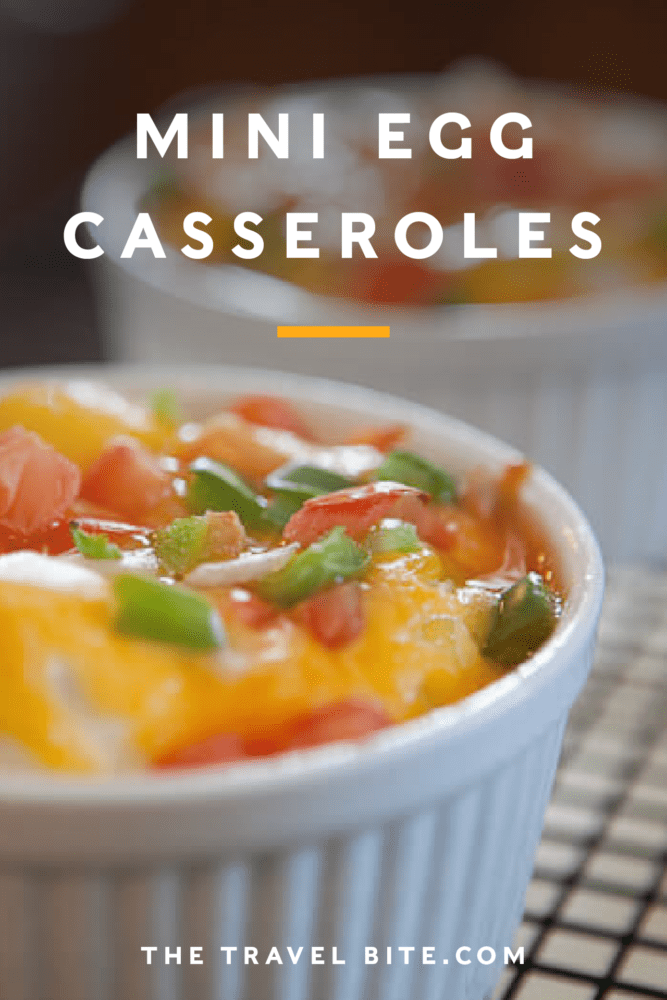 Originally Published Aug 27, 2009. Updated 2020.