Yes, I've been on a Whole 30 kick lately. And this recipe for a Whole 30 Beef and Broccoli is one we've been enjoying. You've likely seen me posting more recipes like Whole 30 compliant pizza bowls and bacon burger bowls. What can I say, I still like my comfort foods while going on a diet in-between travels.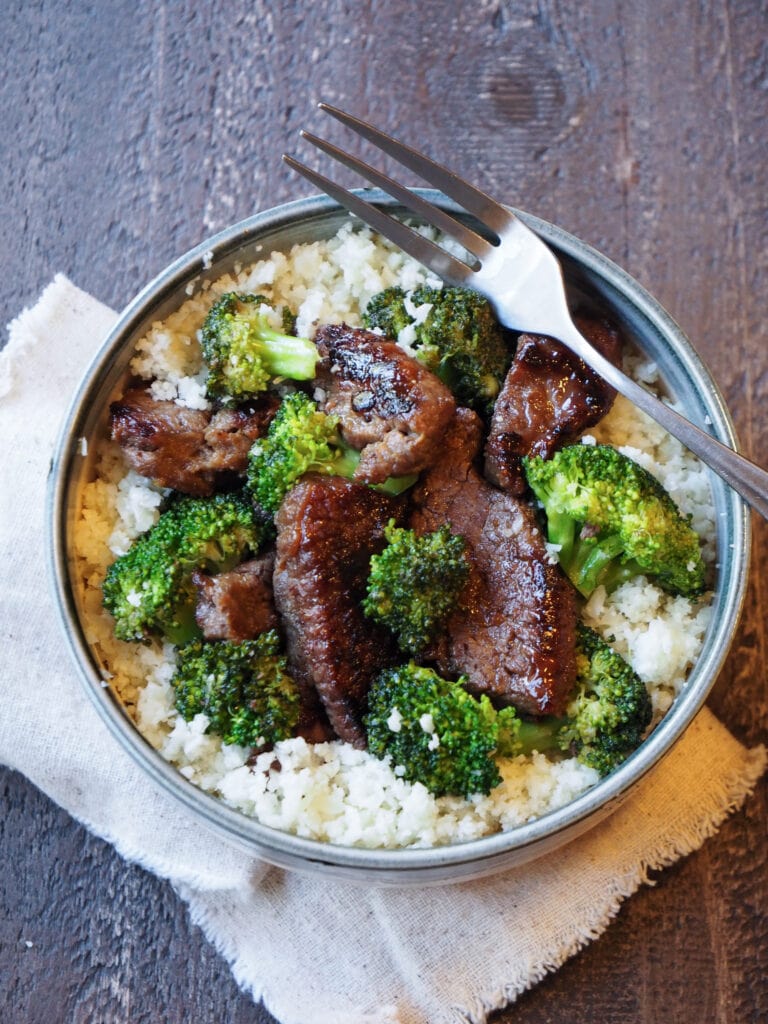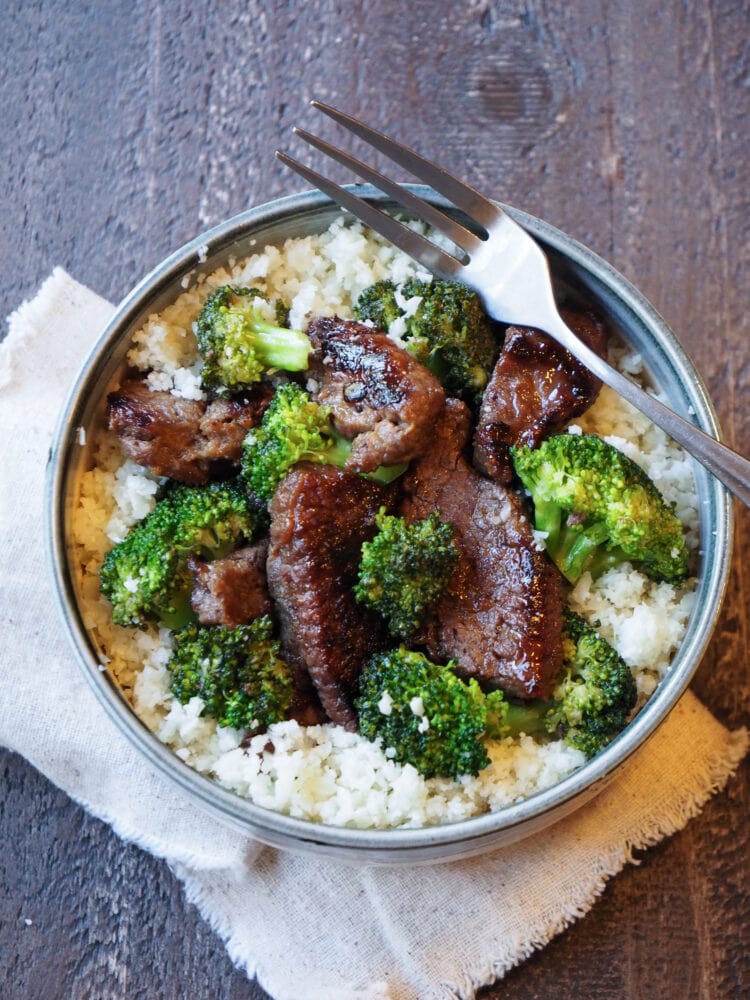 Soy Free Beef and Broccoli
One of the ingredients on the Whole 30 "no-no" list is soy, and that one can sneak up as an ingredient in sauces and many Asian recipes. As a swap, this soy free beef and broccoli recipe below includes coconut aminos! It's like soy sauce or liquid aminos, just without the soy.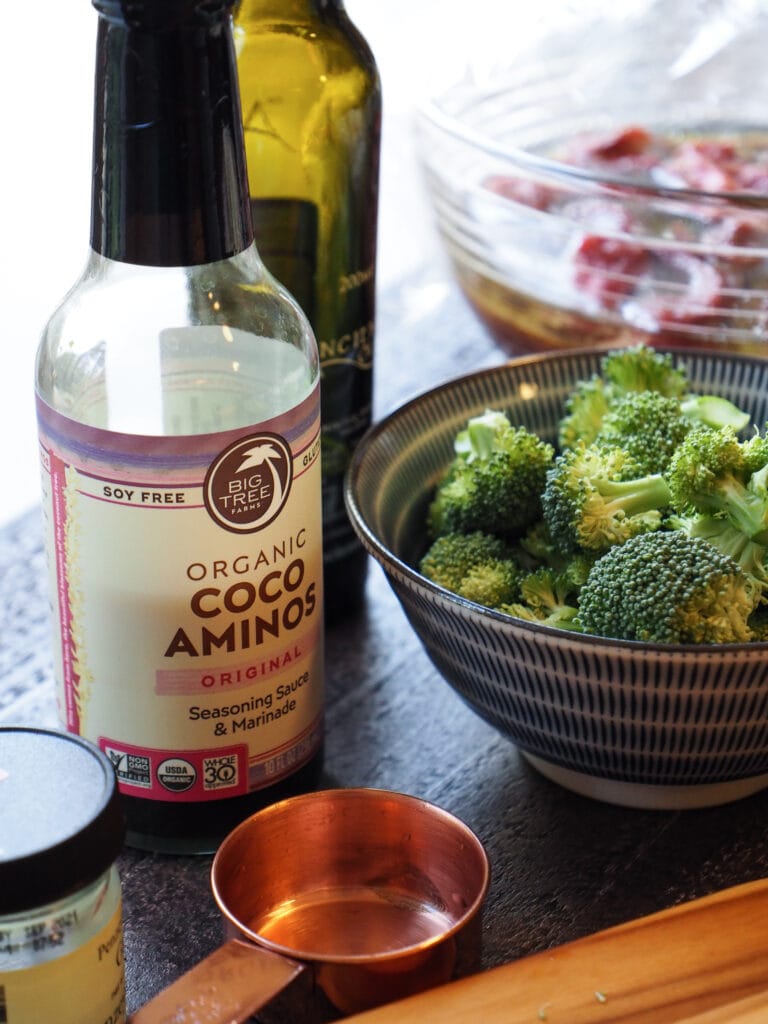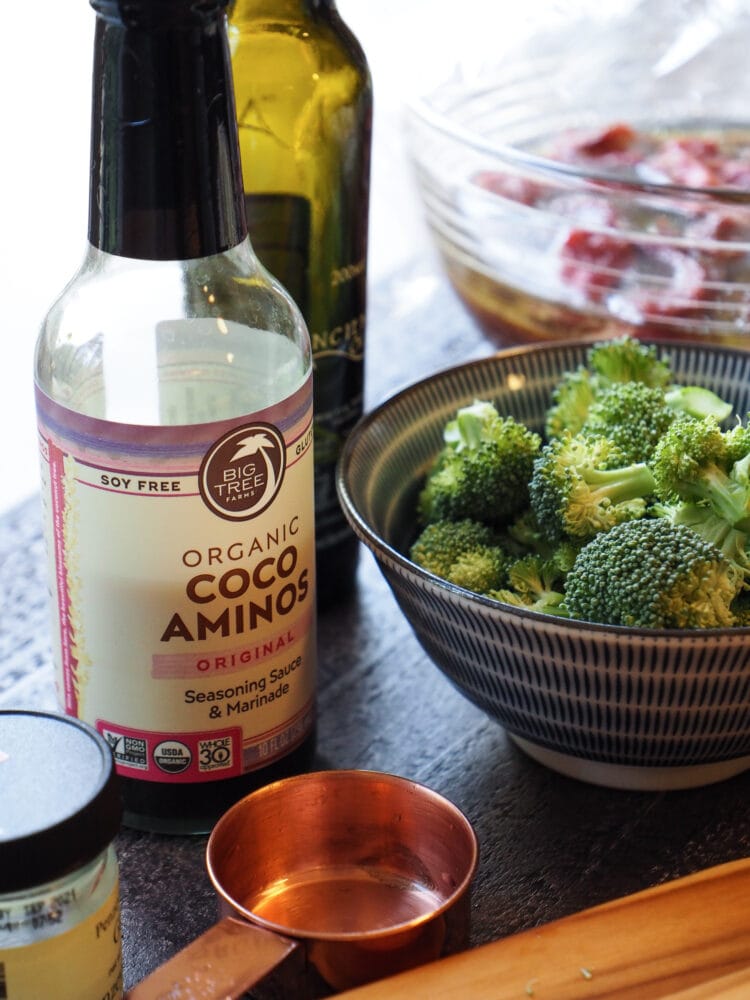 Tenderize With A Citrus Marinade
As for stir-fry beef, it can be a little tough without a marinade. So I've tested a few different marinade variations to make the beef tender and delicious. And adding a bit of citrus gave a little sugary caramelization to the beef without any added sugar.
This Whole 30 beef and broccoli marinade combines coconut aminos with orange juice, olive oil, and spices to create a flavorful fork-tender beef. I recommend marinating for a minimum of 30 minutes, but overnight if you can. The longer it marinates, the better.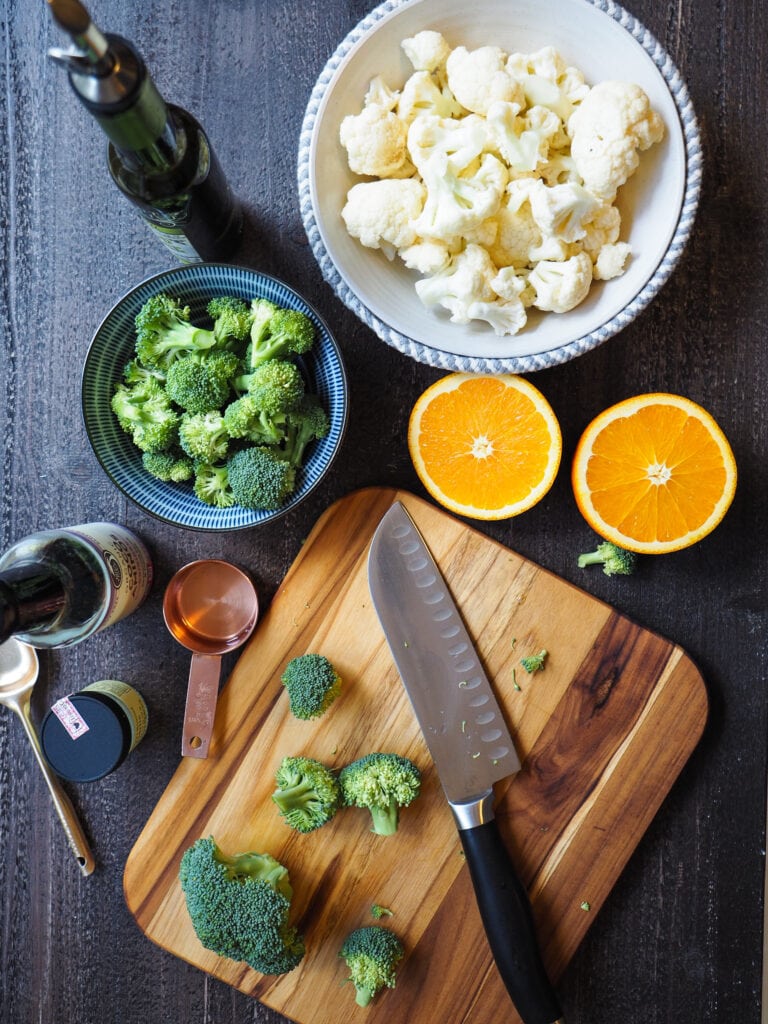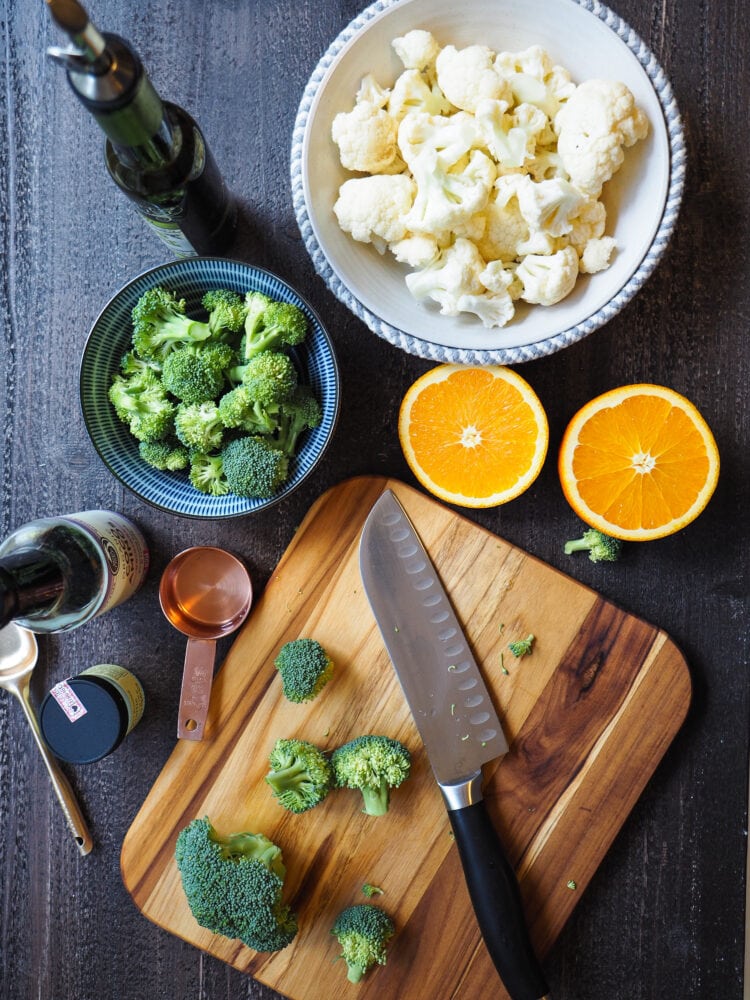 Go Low-Carb With Cauliflower Rice
You can serve this Whole 30 beef and broccoli without rice. But if you want to make it extra filling while also being Whole 30 compliant, I recommend making a side of cauliflower rice. Of course, you can save time and buy cauliflower rice pre-made in most grocery stores. I've found it in the produce section as well as frozen foods.
Though, making cauliflower rice from scratch is really easy and will save you money too. In order to make it, cut the main stem off a head of cauliflower and chop it into large 1-2 inch chunks. Add the cauliflower florets to a food processor and pulse until it has reached the consistency of rice. That's it! Super easy.
To cook cauliflower rice without it getting too mushy, I recommend sautéing it with just a teaspoon of olive oil on medium heat for about 4-5 minutes.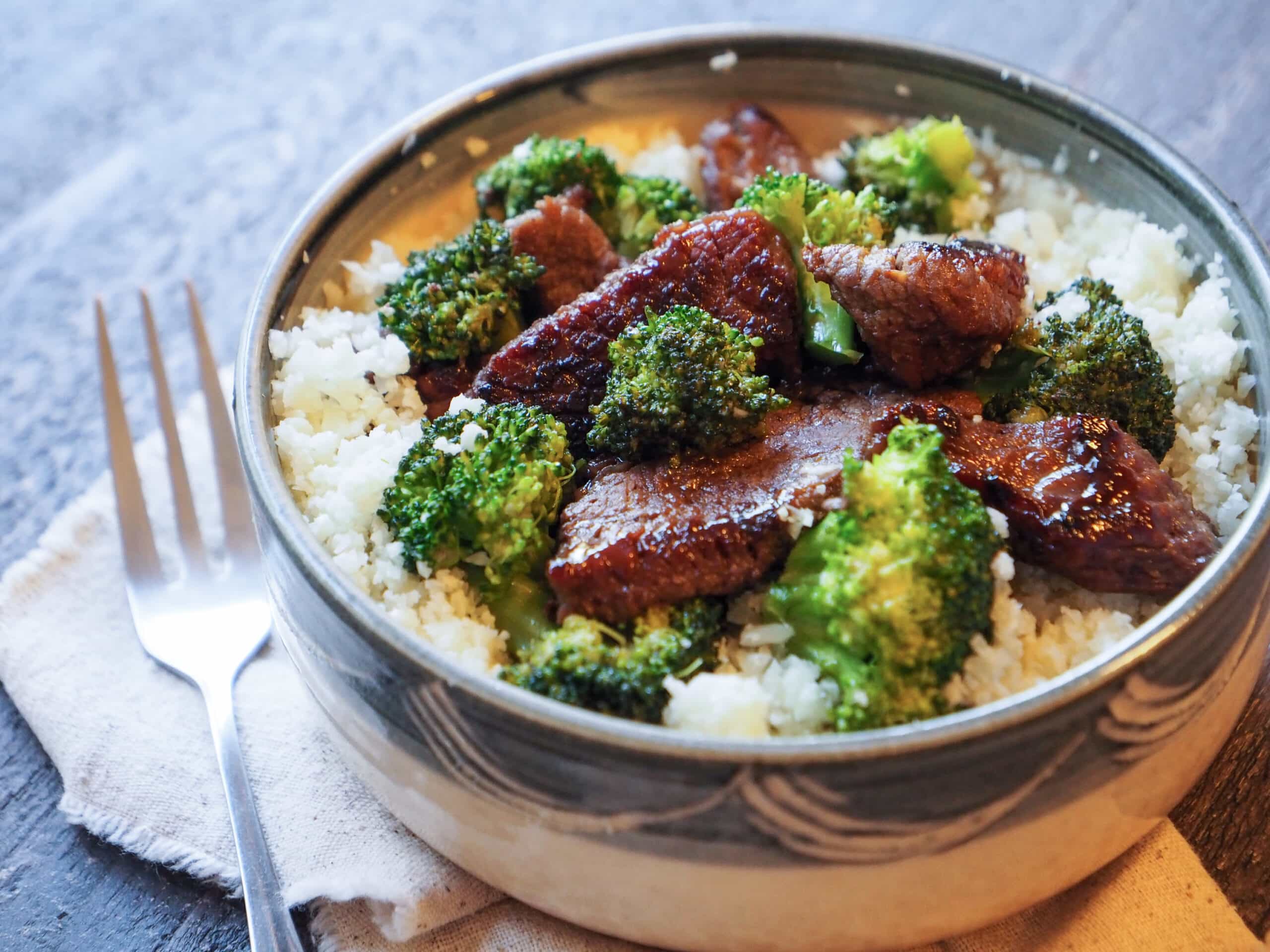 Whole 30 Beef and Broccoli
Ingredients
1/3 cup coconut aminos
1/2 cup olive oil
1 1/2 Tbsp garlic powder
1 orange, juiced (approx. 1/2 cup)
1 pound flank steak or stir fry beef, chopped into strips
2 whole broccoli florets (approx. 2 cups chopped)
1 Tbsp olive oil
Salt and Pepper
Instructions
Add the coconut aminos, olive oil, garlic powder, and orange juice to a large bowl and whisk together until well blended.
Place the beef into the bowl of marinade, cover with plastic wrap, and marinate for a minimum of 30 minutes.
While the beef is cooking, prep the cauliflower rice. Chop the florets into 2-3 inch pieces, then pulse in a food processor until it has the consistency of rice.
In a large sauté pan, heat the olive oil on medium/high heat.
Add the beef and brown on all sides. Cook for 3-4 minutes, letting the beef sit without stirring so that it gets a bit of caramelization from the aminos and citrus.
Once the beef is browned, add the broccoli, and cook for 3-4 minutes until it's bright green.
Heat a separate sauté pan to medium heat. Add the cauliflower "rice" and cook for 3-4 minutes, stirring occasionally.
Once the beef, broccoli, and cauliflower rice are done, assemble your bowls. Add about a half cup of rice to each bowl, then top with beef and broccoli.
Season with salt and pepper. Serve with coconut aminos on the side to add more of that "soy sauce" flavor without the soy. Enjoy!
Notes
The longer it marinates, the better! I like to prep the marinade in the morning and then let it marinate throughout the day so it's ready for dinnertime.
Tip for browning the beef ... let it sit in the pan for 2-3 minutes without stirring. This helps get a good sear and caramelization on the outside. And that makes it more flavorful!
I recommend cooking the cauliflower "rice" dry, so no oil, butter, or salt.  This helps keep it firm instead of mushy.