You are going to love these Whole 30 Bacon Cheeseburger Bowls. Did I say CHEESE and Whole 30 in the same sentence? You bet! And I'll show you how to make a dairy-free Whole 30 compliant cheese sauce below.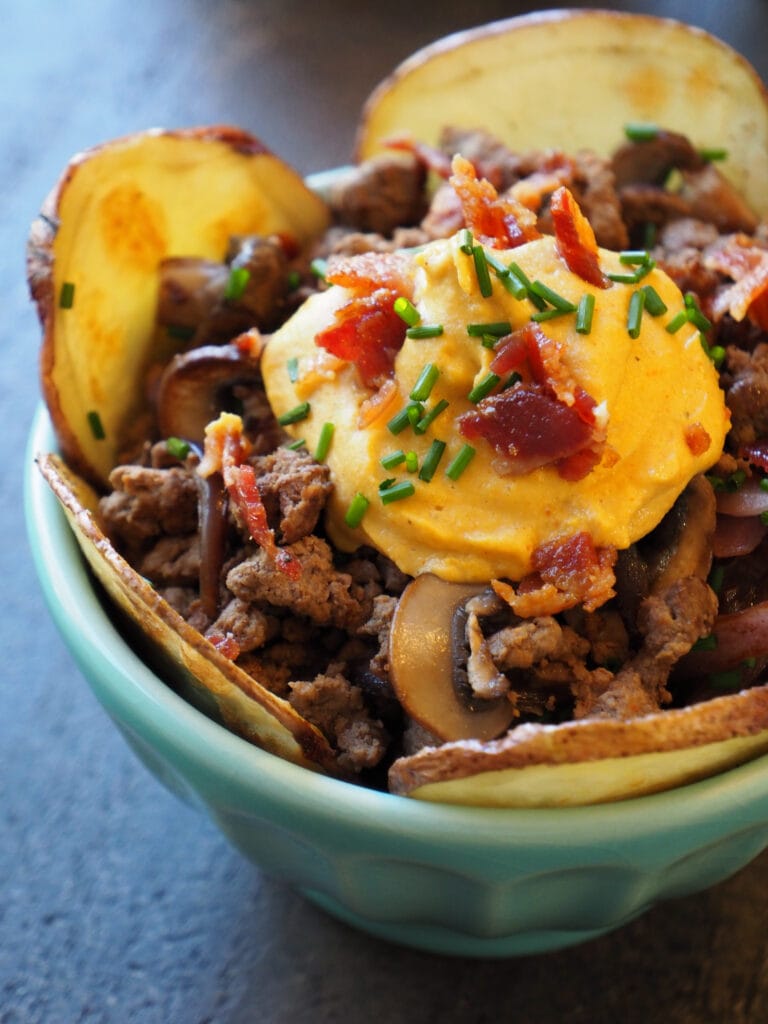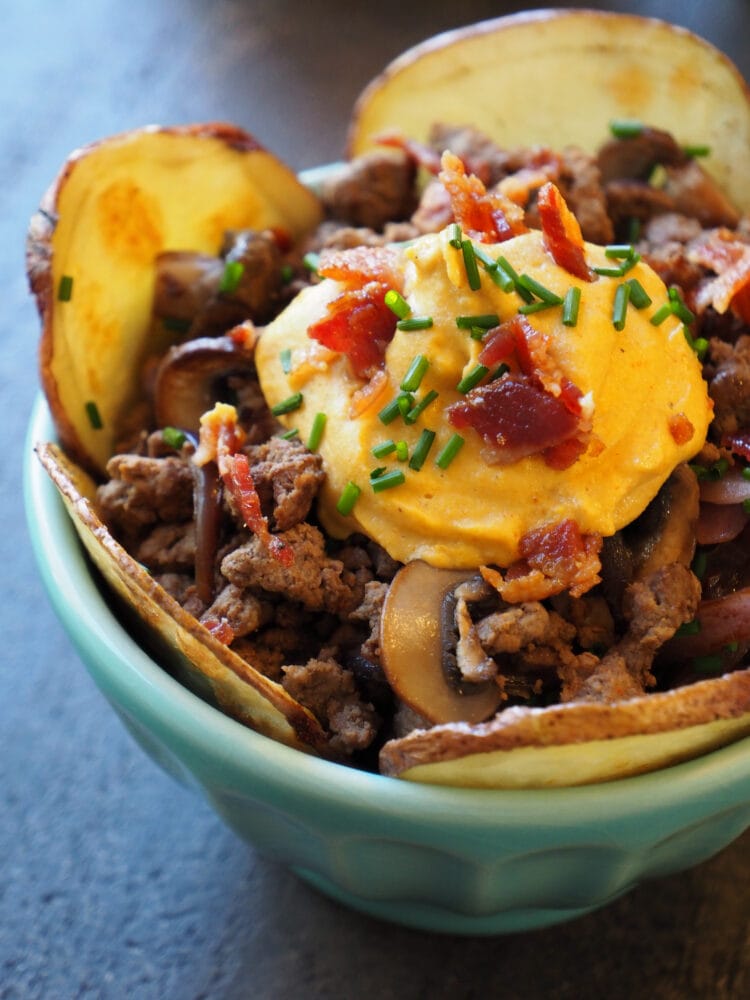 In order to add "cheese" to a Whole 30 diet is you gotta make it from scratch in order to know that all the ingredients are compliant. It's a little extra work, but worth it since you only have to be strict about it for 30 days. Plus, you'll have some left over cheese sauce. So you can use it on more than just these bacon cheeseburger bowls!
Dairy Free Cashew Cheese Sauce
This dairy-free cashew cheese sauce recipe is modified from one my Mom gave me. She is vegan, so this sauce is her go-to for a lot of recipes. Normally, though, it is spicy and flavored with jalapeño. I changed it up a bit for this bacon cheeseburger bowl below.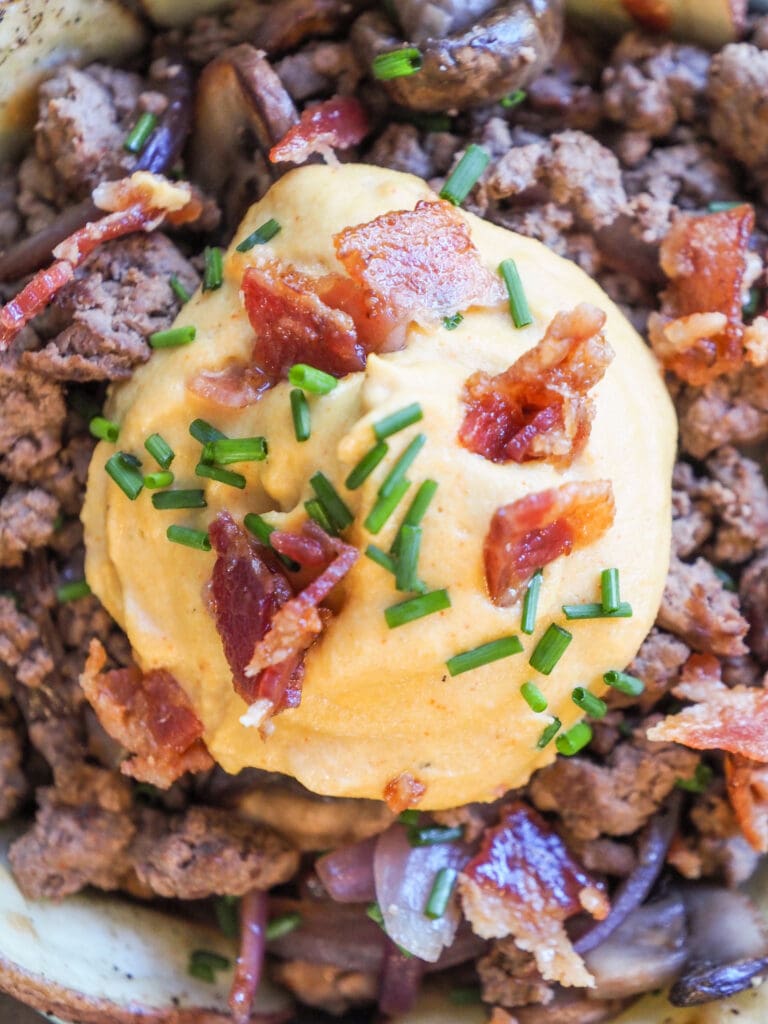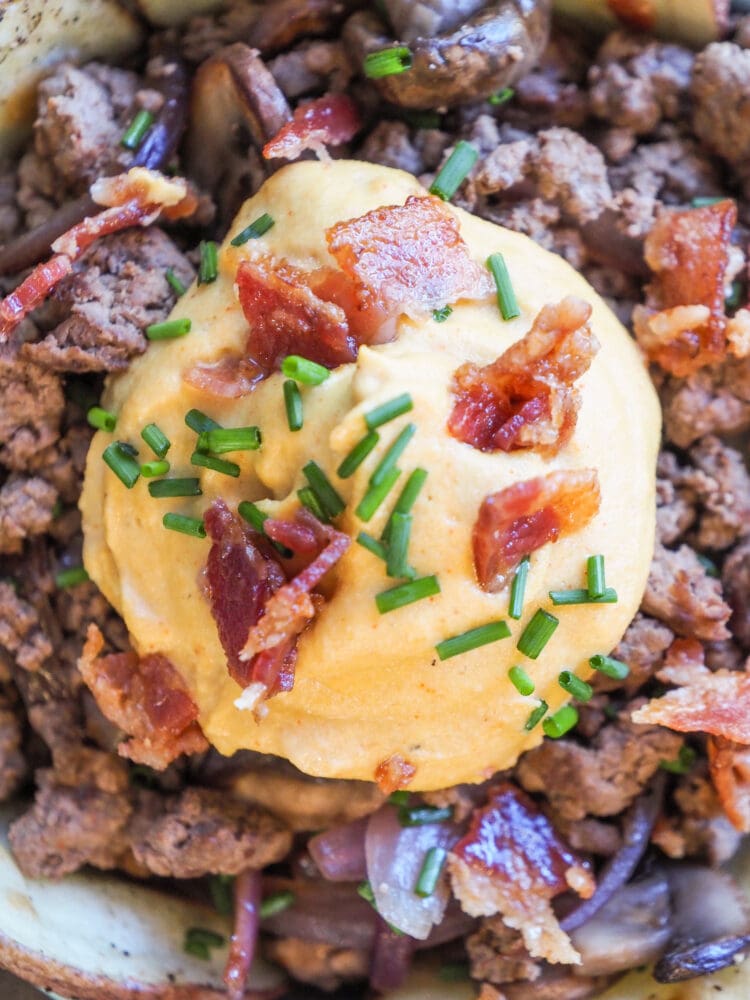 Also, I feel like I should say upfront that I'm not at all vegan. Instead, I more-or-less follow Michael Pollan's philosophy of everything in moderation. My mom was excited that I was interested in a vegan recipe, and then just a tad disappointed when she learned I was putting it on hamburger. 😉 But everything in moderation, right?
The cheese sauce has all compliant ingredients: cashews, nutritional yeast, cashew milk, and spices. If you haven't yet tried nutritional yeast, I think you're in for a pleasant surprise. It truly does taste like cheese!
Whole 30 Bacon Cheeseburger Bowl Recipe Tips
Overall this recipe comes together really quick if you're looking for a fast weeknight meal. But I do have a few tips to help you save some time.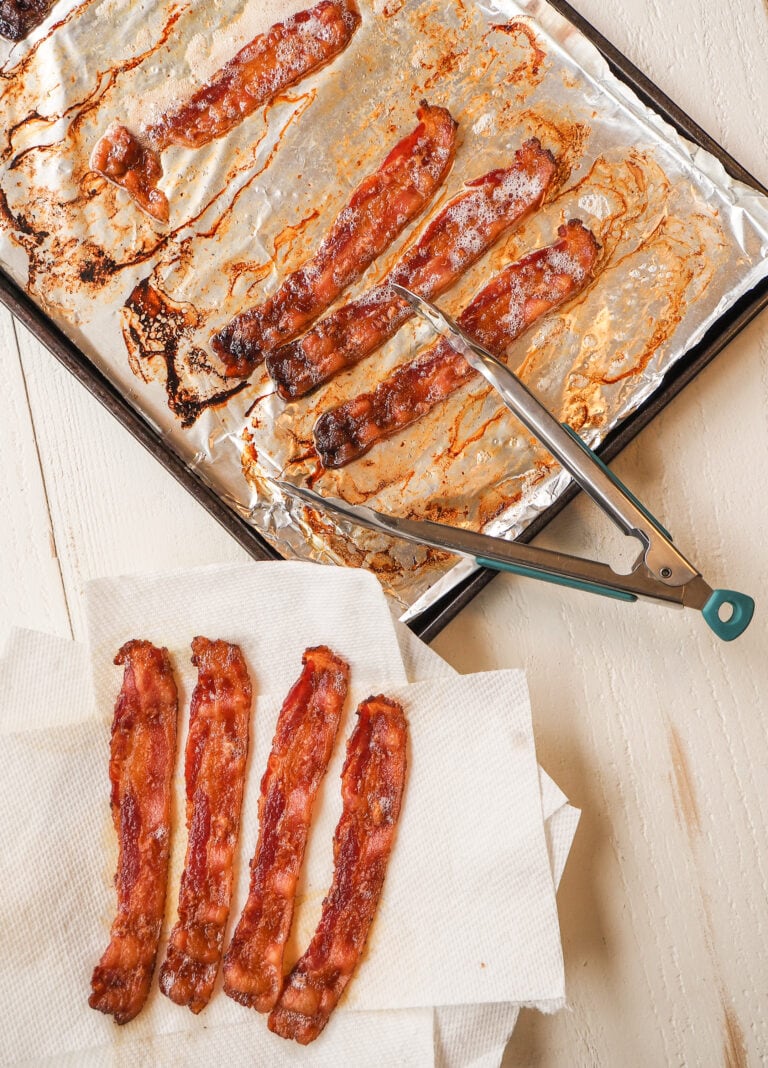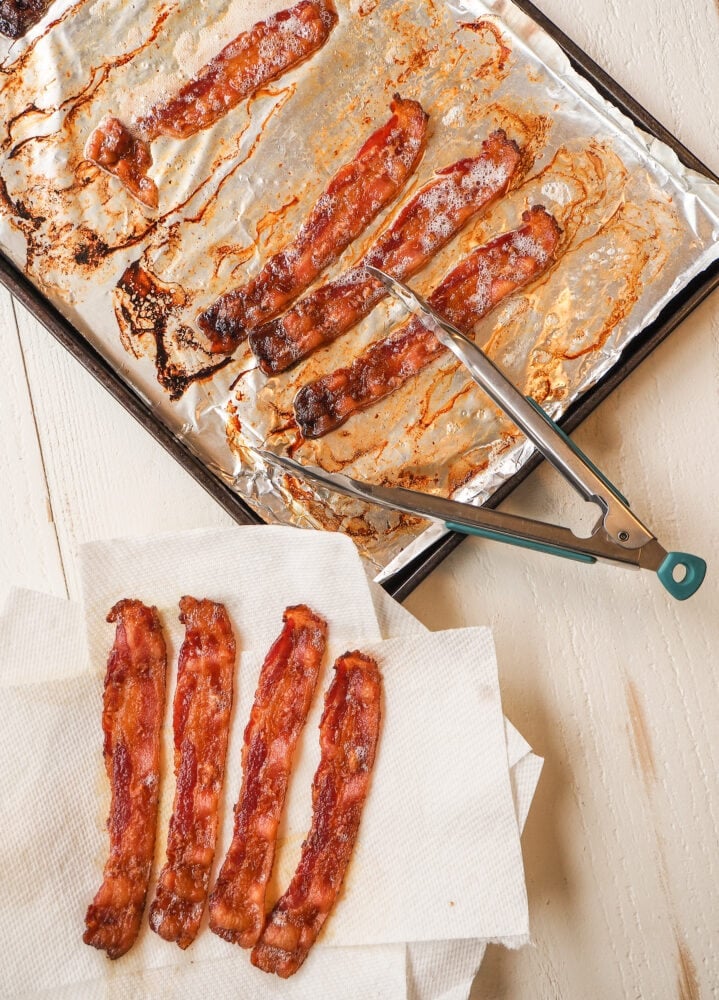 Steam the cashews and carrots in a pressure cooker if you have one. This will save you some time and get them nice and soft for whipping into a cheesy consistency. Just follow your pressure cooker's manual instructions for steaming carrots. You could also steam them on a stovetop with a vegetable steamer.
Make the cashew cheese ahead of time. This recipe below will make enough to fill a __ ounce jar and will last up to 2 weeks. When you're ready to serve it, just warm it up for a minute in the microwave to get a "saucy" consistency.
Bake the bacon. How do you usually cook bacon? Are you Team Sheet Pan or Team Skillet? If you've not baked bacon before, I've included the instructions below. I like to bake bacon on a sheet pan while I'm cooking the other things on the stovetop. It saves a lot of time!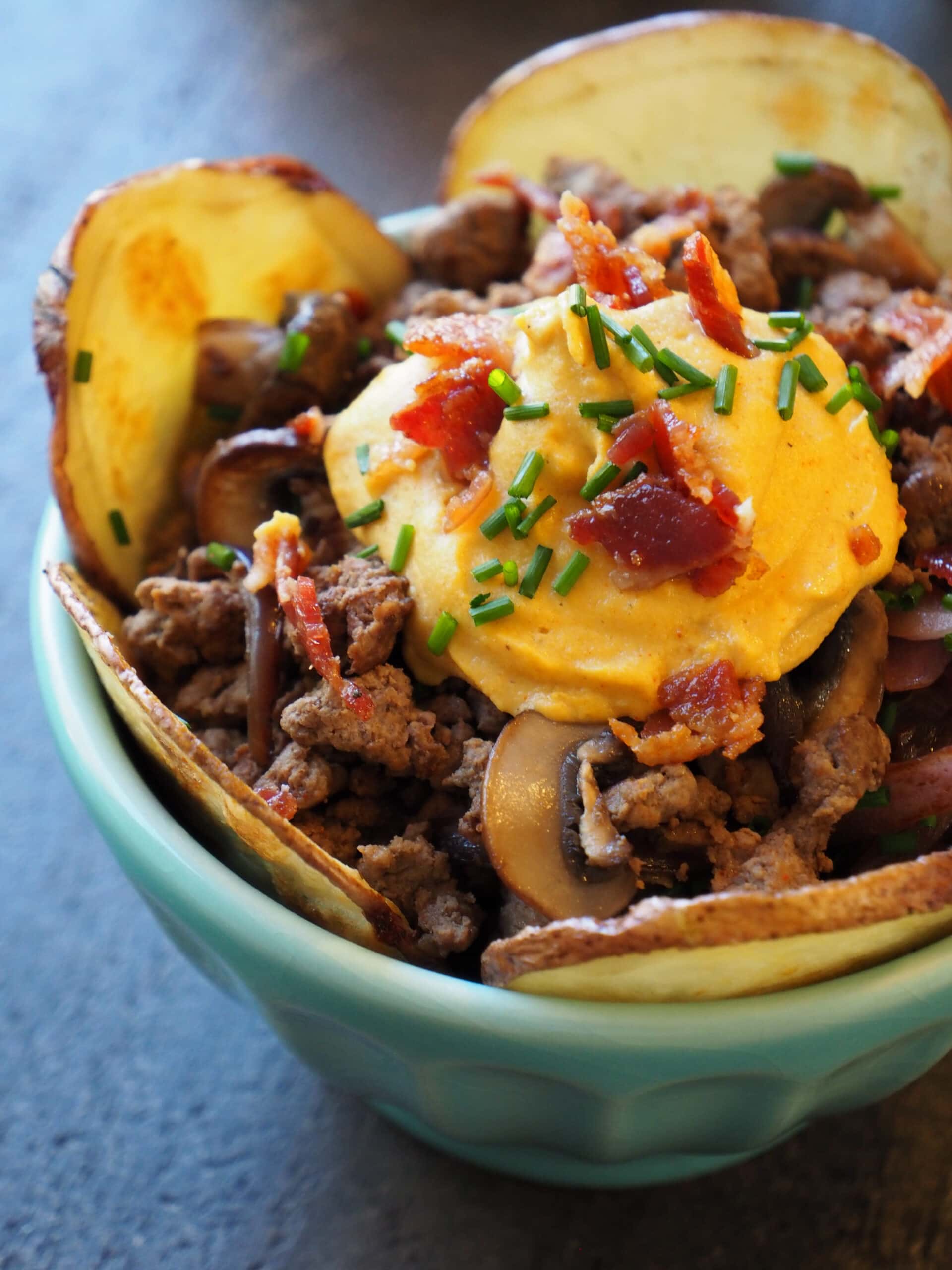 Whole 30 Bacon Cheeseburger Bowls
Ingredients
1 8 oz pack uncured bacon
1 1/2 cups raw cashews
1/4 cup nutritional yeast
1 cup unsweetened cashew milk
2 tsp smoked paprika
1 tsp garlic powder
10 baby carrots
1 lb ground beef
4 medium red potatoes, sliced
1 medium red onion, sliced
8 ounces mushrooms, sliced
1 Tbsp olive oil
1 Tbsp Ghee
1/4 cup chives, chopped
Olive oil spray
salt and pepper to taste
Instructions
Heat oven to 400 degrees and line two sheet pans with parchment paper.
BACON AND POTATOES: Arrange sliced potatoes on one of the sheet pans and coat them evenly with the olive oil spray. Season with salt and pepper. Arrange bacon on other lined sheet pan. Bake both the bacon and potatoes together for 20-30 minutes, flipping the potatoes halfway through to ensure even browning.
DAIRY FREE CASHEW CHEESE: While bacon and potatoes are in the oven, prepare your cashew cheese. Start by steaming the cashews and carrots. Bring water to a boil in a sauce pan. Add carrots and cashews to a steamer basket and steam over the boiling water for 20 minutes.*
Once the cashews and carrots are finished steaming, add them to a blender along with the nutritional yeast, cashew milk, 1 tsp paprika, garlic powder and blend on high until smooth. If you'd like a thinner sauce, add more cashew milk a tablespoon at a time until consistence desired is achieved.
BURGER BOWLS: While the cashews and carrots are steaming, heat olive oil and ghee in a medium sauté pan to cook the onions, mushrooms, and beef.
Once ghee is melted and pan is heated, add onion slices and cook for 1-2 minutes until they start to look translucent.
Add the mushrooms to the onions and continue to cook until browned.
Remove mushrooms and onions from the pan and save them on a plate. Then add the ground beef to the sauté , breaking up the beef into smaller pieces as it cooks. As the beef begins to brown, continue to break the meat into smaller pieces. Once beef is cooked (4-5 minutes), add 1 tsp smoked paprika.
Next, add the mushrooms and onions back to pan and stir together with beef.
Once everything is done cooking, assemble your bacon cheeseburger bowls. Layer a bowl or plate with 3-4 sliced potatoes, about a half cup of burger and mushrooms, top with dairy free cashew cheese, crumble a slice or two of bacon on top of each, and finished with chopped chives.
Notes
* Cut your cook time in half by pressure cooking the cashews and carrots. Just follow the manufacturers instructions that came with your pressure cooker for either steaming or pressure cooking carrots. The cashews will soften in about the same amount of time.
You Might Also Like These Other Whole 30 Recipes!