If you're looking for an easy weeknight meal, you're going to love these Whole 30 Hamburger Bowls. I'm not typically a follower of most fad diets, but Whole 30 seems to work for me. Especially as a sort of digestive "reset" in-between traveling and holidays. (Because, I hate to admit, I love dairy, but dairy doesn't always love me.)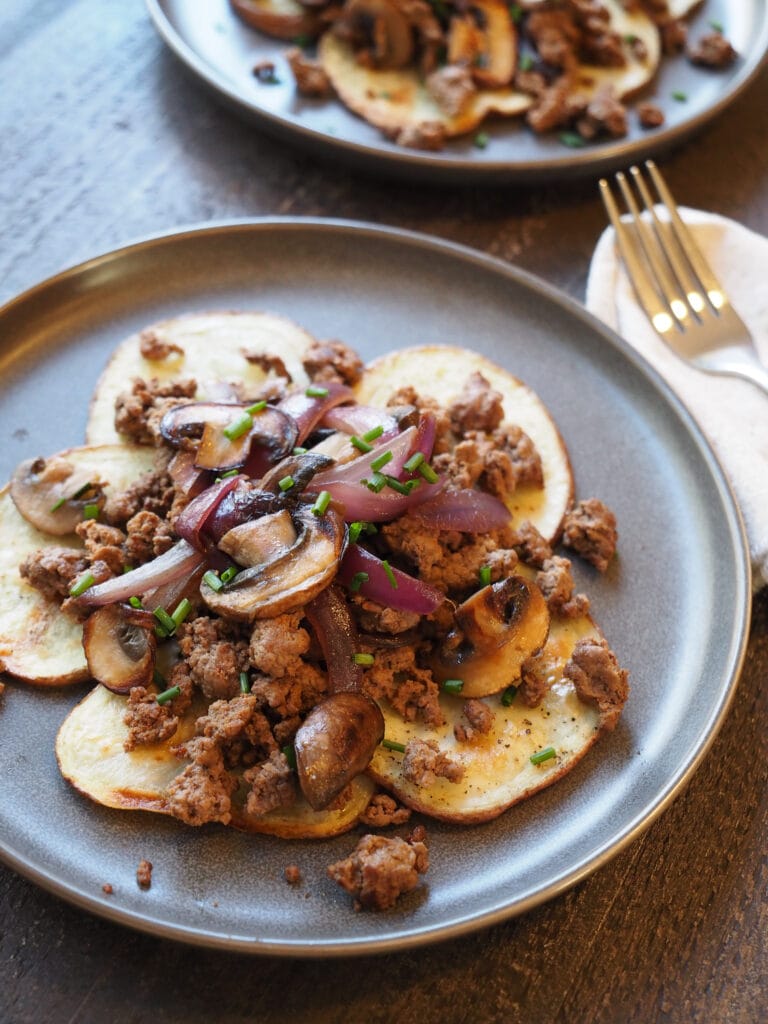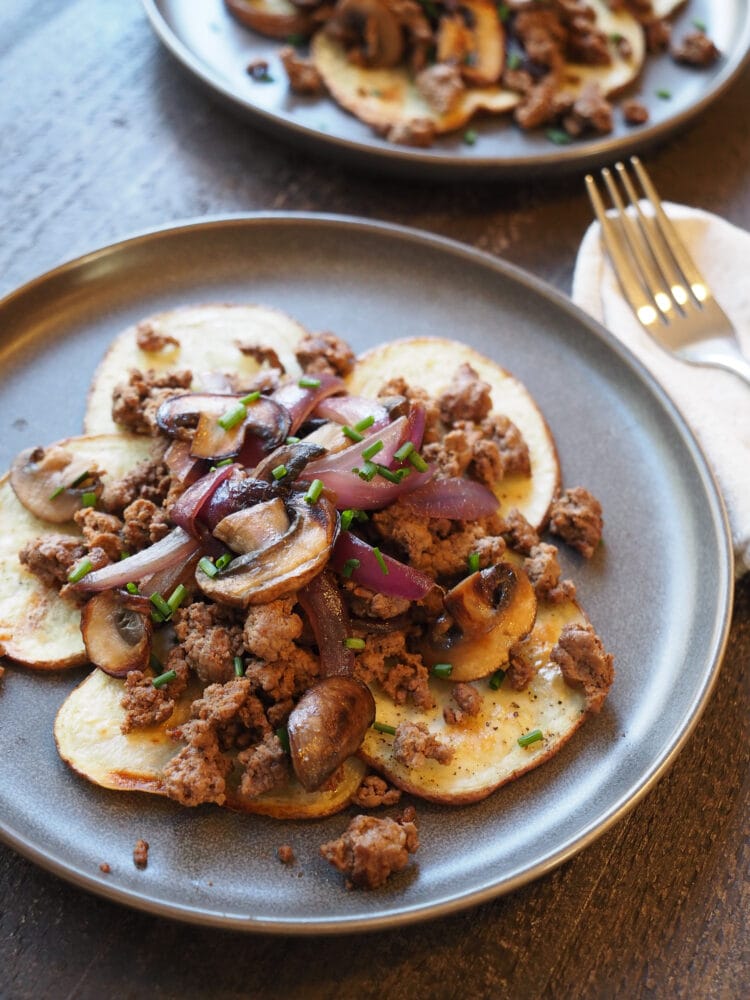 The Quick Scoop On Whole 30
Are you familiar with Whole 30? Basically, it's focusing on eating whole foods for 30 days. It's not too restrictive as it includes vegetables, fruit, meats, nuts, and even potatoes! Just no sugar, alcohol, grains, legumes, soy, and dairy. Typically, I'll do an omelette or egg cups baked with veggies for breakfast. Then something like salad nicoise for lunch. For snacks, I'll usually have some apple slices with almond butter. And then dinner is where I mix things up with recipes like this one or Whole 30 pizza bowls.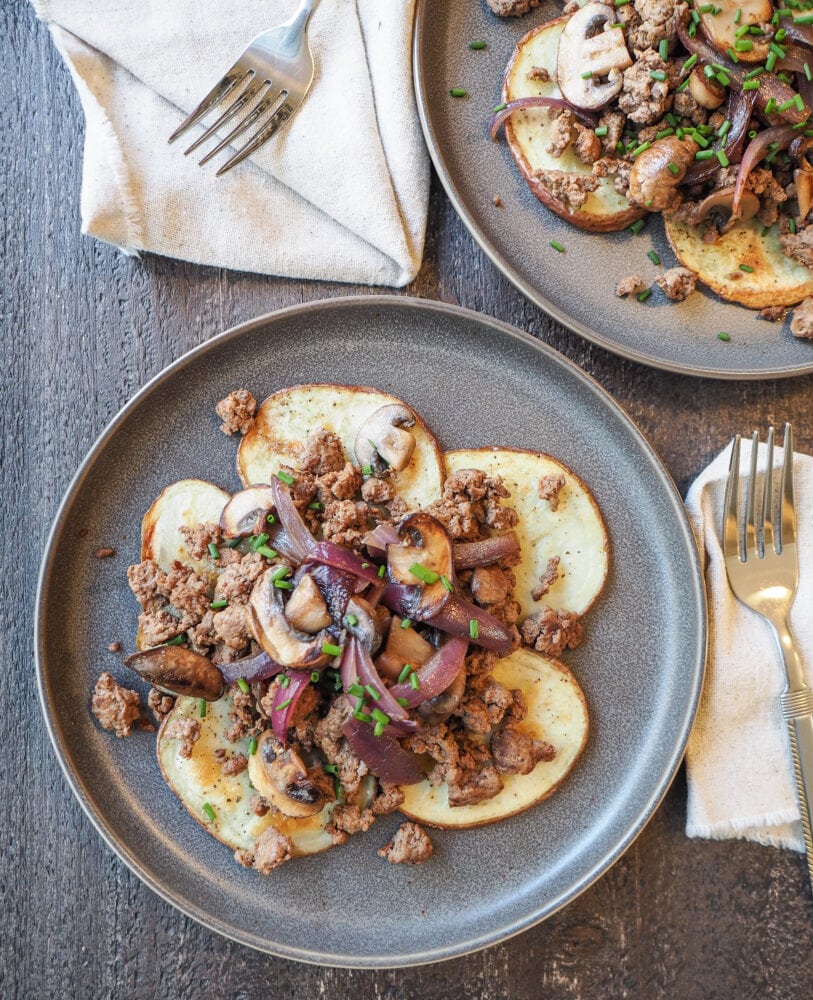 Whole 30 Hamburger Bowls
When I'm home, I'm typically writing travel stories or doing television appearances at HSN. So with a hectic schedule, I'm a big fan of a fast meals. And these hamburger bowls are really easy to put together.
First, I slice up the potatoes and put them in the oven. Once they're baking, I cook up the mushrooms, onions, and hamburger. Adding a bit of smoked paprika really gives it a nice grilled flavor too.
Top with chives and/or bacon bits, and it's a meal!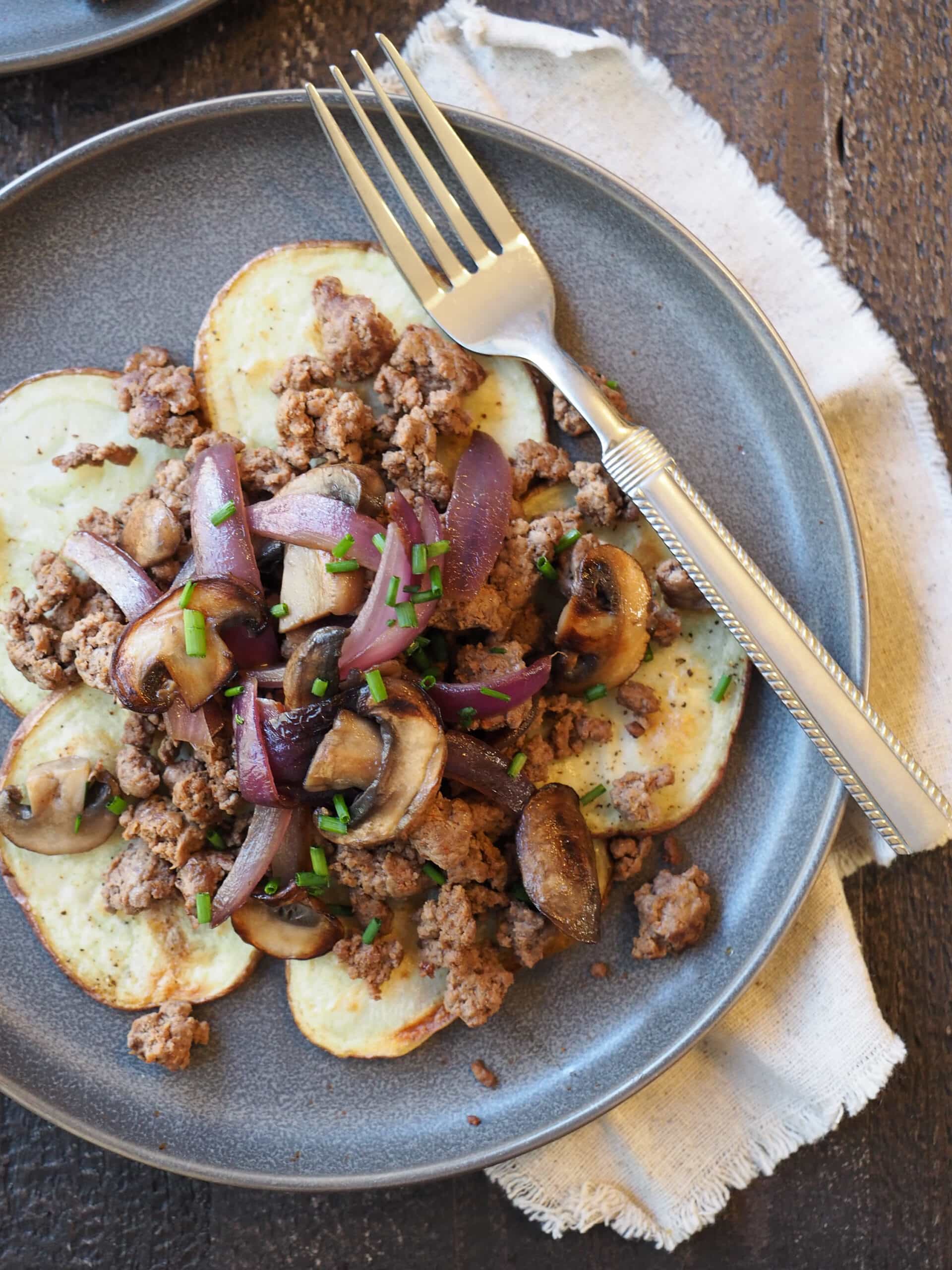 Whole 30 Hamburger Bowls
An easy weeknight meal that'll give you the flavors of a weekend barbecue, while also being Whole 30 compliant.
Ingredients
4 medium red potatoes, sliced
1 medium red onion, sliced
8 ounces mushrooms, sliced
1 pound ground beef
1 tsp smoked paprika
1 Tbsp olive oil
1 Tbsp Ghee
1/4 cup chives, chopped
Olive oil spray
salt and pepper to taste
Instructions
Heat oven to 400 degrees and line sheet pan with parchment paper. Spray parchment paper with olive oil.
Arrange sliced potatoes on the sheet pan and coat them evenly with the olive oil spray. Season with salt and pepper. Bake for 20 minutes, flipping them halfway through to ensure even browning.
While potatoes are baking, heat olive oil and ghee in a medium sauté pan. Once ghee is melted and pan is heated, add onion slices and cook for 1-2 minutes until they start to look translucent.
Add the mushrooms to the onions and continue to cook until browned.
Remove mushrooms and onions from the pan and save them on a plate. Then add the ground beef to the sauté , breaking up the beef into smaller pieces as it cooks. As the beef begins to brown, continue to break the meat into smaller pieces. Once beef is cooked (4-5 minutes), add the paprika.
Next, add the mushrooms and onions back to pan and stir together with beef.
Once potatoes are done cooking, remove them from oven and let them cool for 2-3 minutes.
Assemble your Whole 30 Hamburger Bowls by layering a bowl or plate first with the sliced potatoes, then topping with the burger and mushrooms.
Finish with chives for garnish.
Notes
If you don't have olive oil spray, simply add the potatoes to a small bowl and toss with 1/4 cup of olive oil.
TIP:  To get your mushrooms to brown, spread them evenly in the pan and let them cook for 2-3 minutes before stirring them.