Salad Nicoise (pronounced nee-swahz) is a classic French salad. But do you know how it got it's name? Nicoise, (or niçoise) translates to "in the style of Nice," a city in France along the coast of the French Riviera. The ingredients are always crisp and fresh, typical of what you'd find in a local market. Find out more about salad nicoise below including its history and how to make it.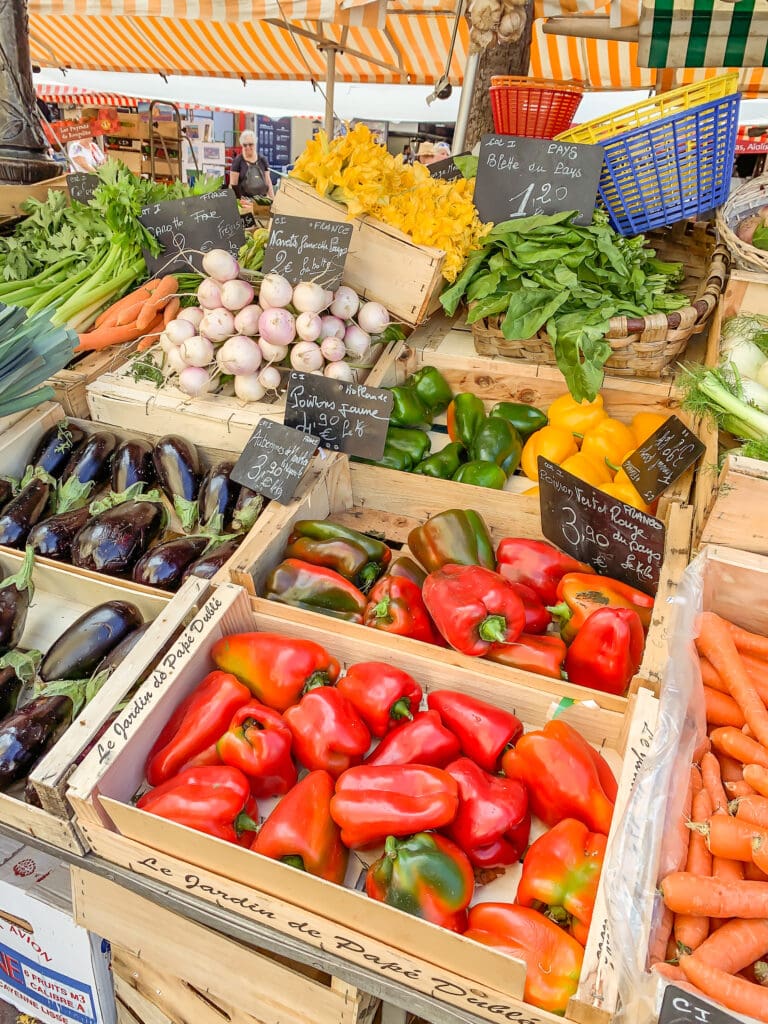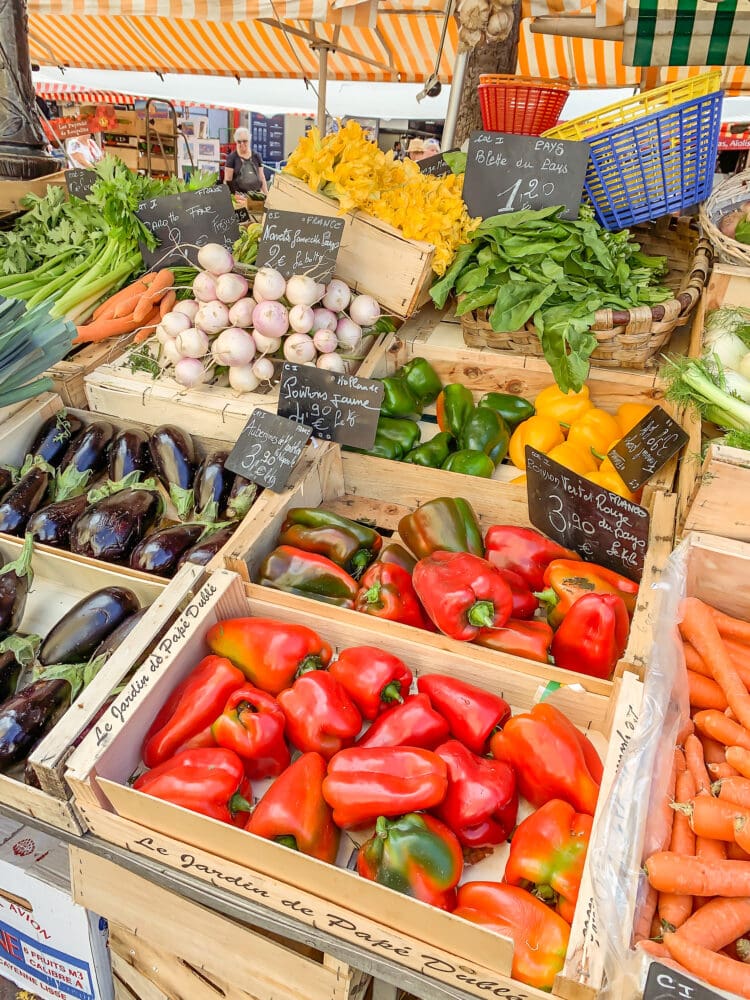 ABOUT NICE
First, a little about Nice. Located on the Mediterranean, Nice is the second largest coastal city in France and is only a short distance away from the small country of Monaco and the French-Italian boarder. Nice's pebbled beaches are a popular vacation spot, and historically it was once home to the famous painter Henri Matisse.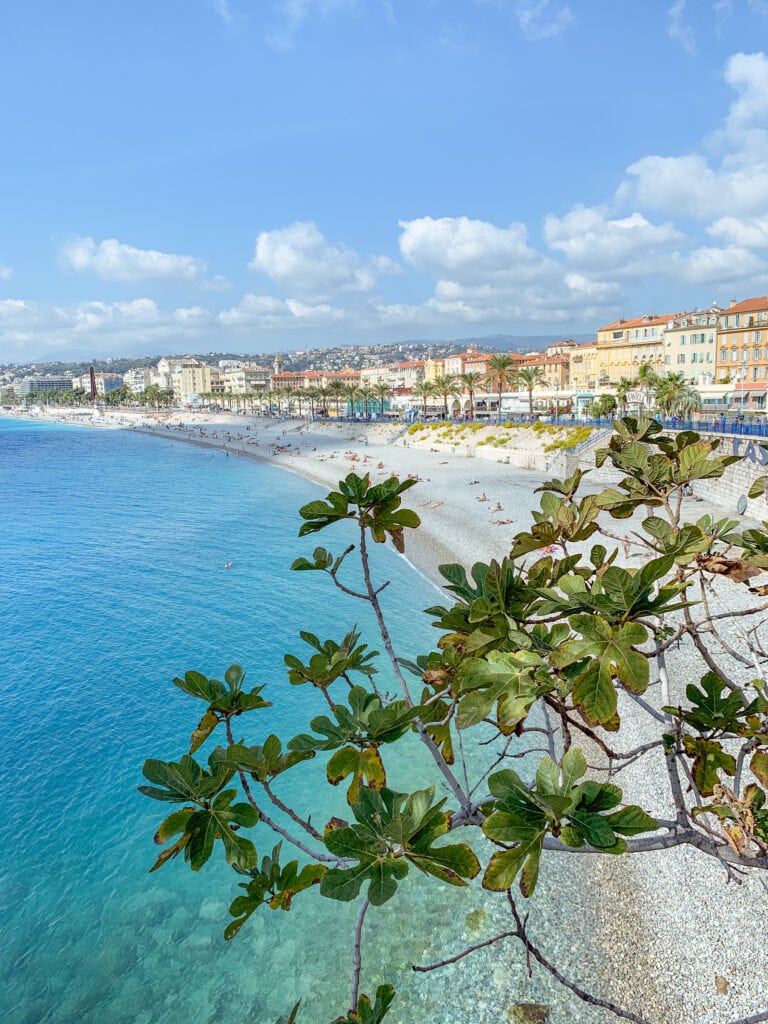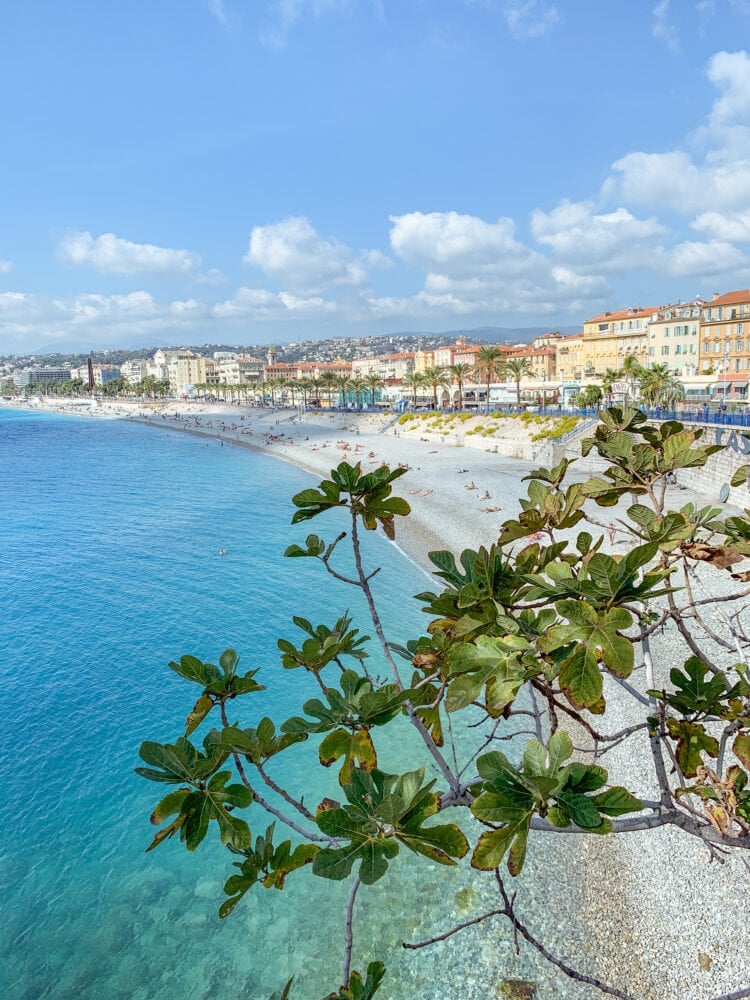 We visited Nice after a trip to London and a food tour of Paris. So a couple of warm relaxing days on the Mediterranean was the perfect way to end our trip. And with multiple afternoon teas in London and eating every pastry in site in Paris, I was CRAVING a salad after carb loading on tea cakes, croissants and baguettes.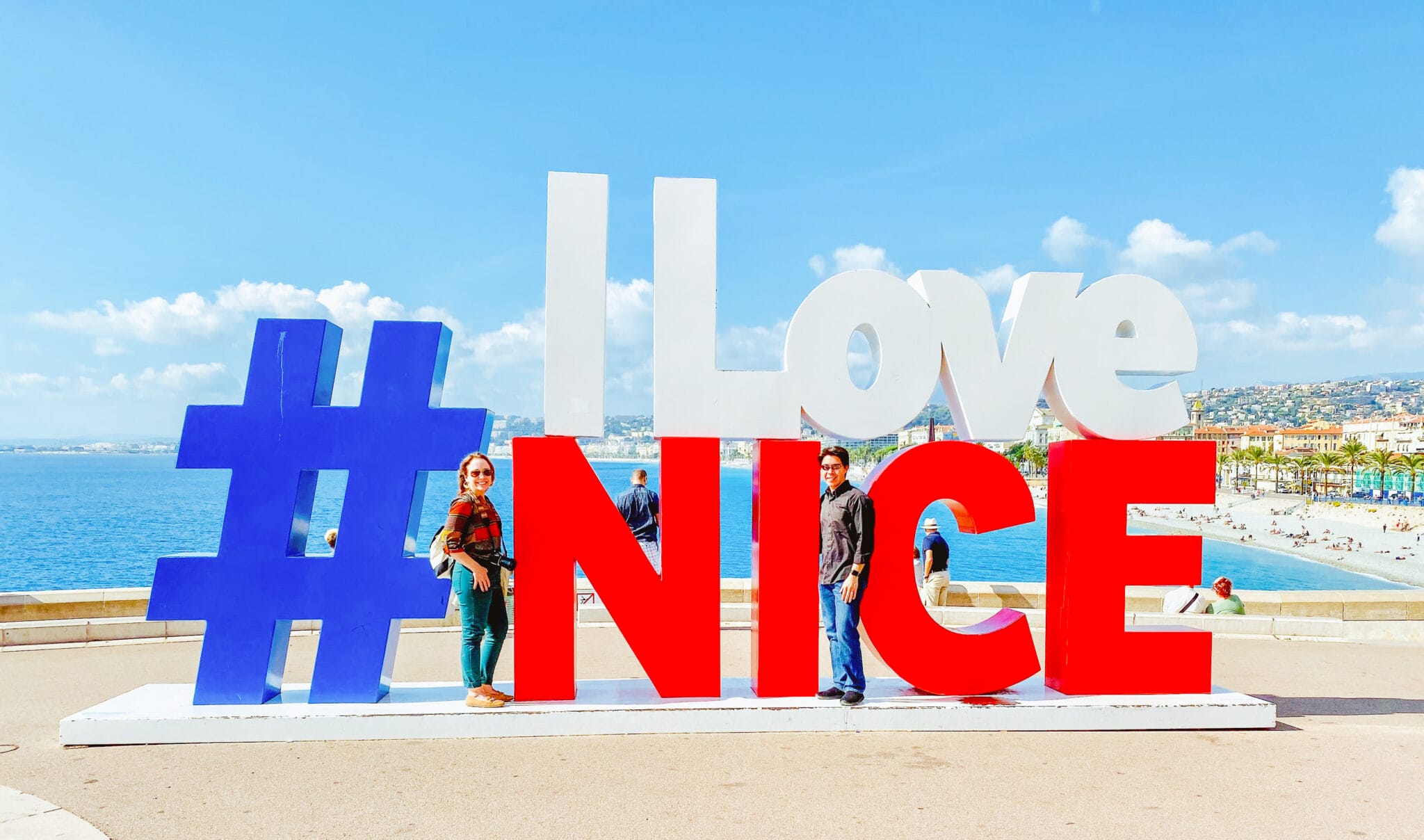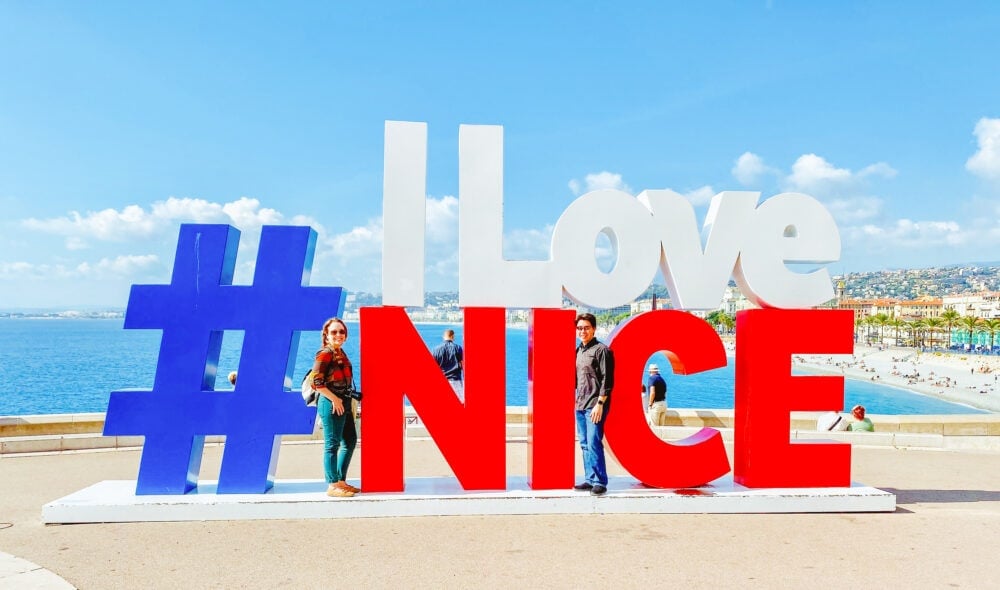 A LOCAL EXPERT'S RECOMMENDATION
We asked our local Monograms guide for restaurant recommendations and if there were any foods we must try or places we have to see. She told us not to miss the local flower market in the morning, gave us a lovely restaurant recommendation for Nicoise food (included below).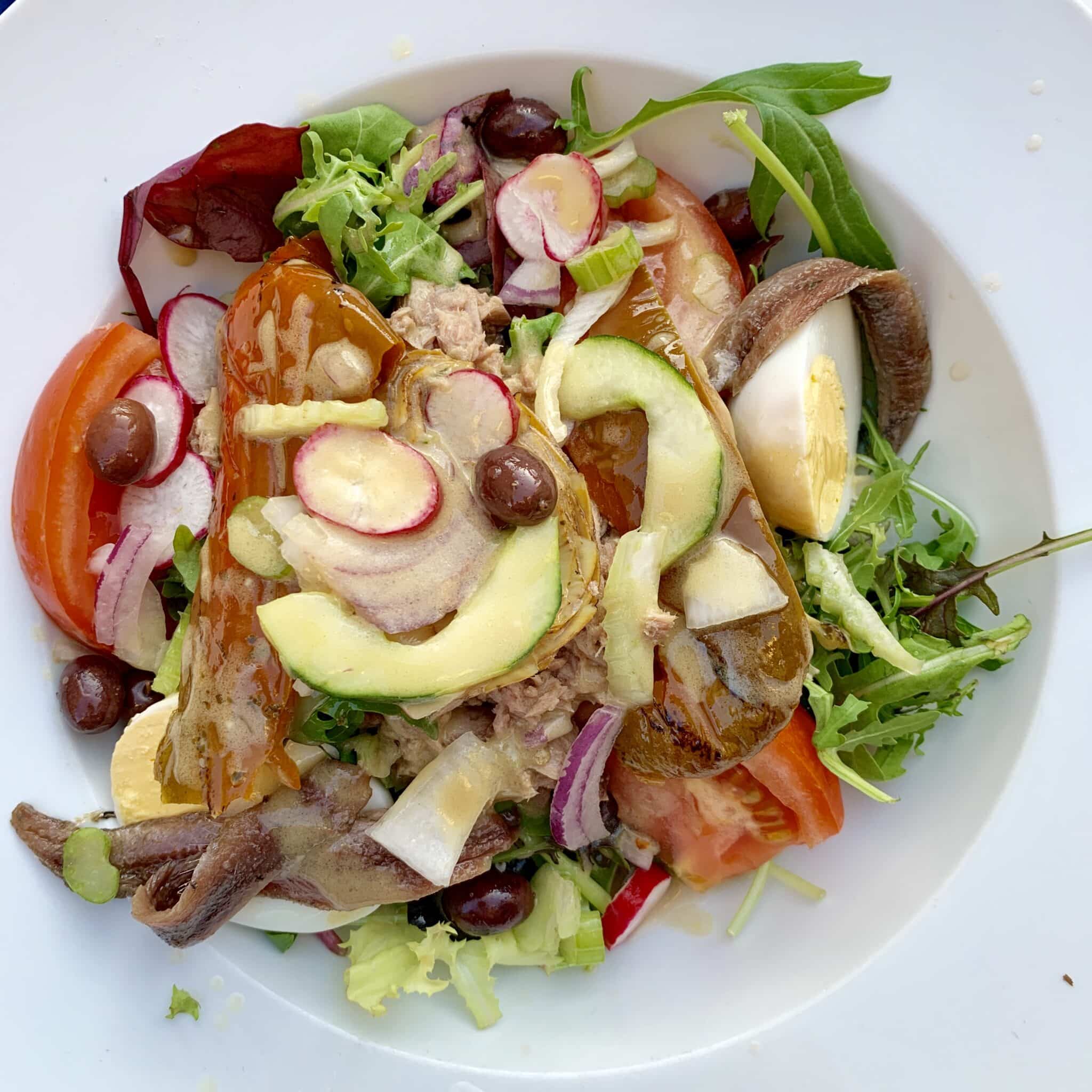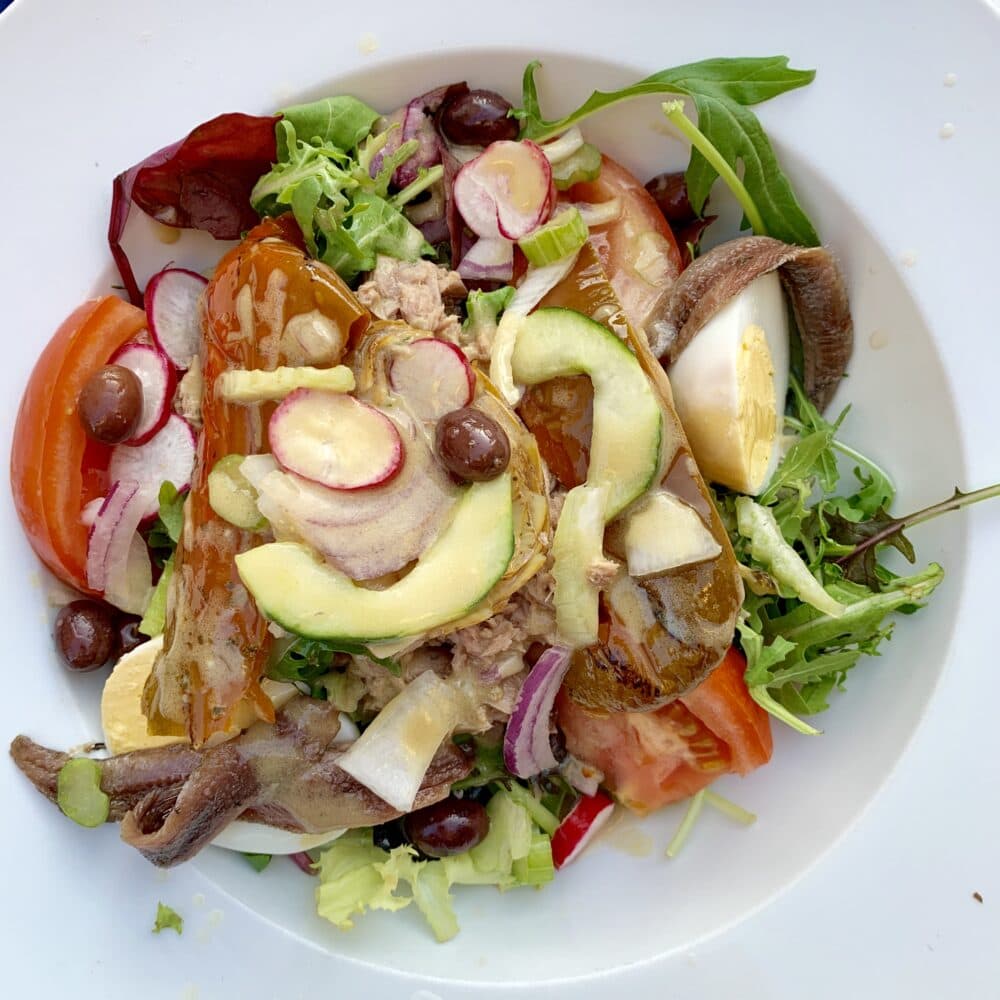 Our guide also added that under no circumstances would potatoes and green beans be found in salad nicoise. (Seriously, she even shook her finger "no" in that firm, but polite way that French women do.) It seemed important to her that Americans know this, and if you do any search for it online, you'll see it's a hot debate.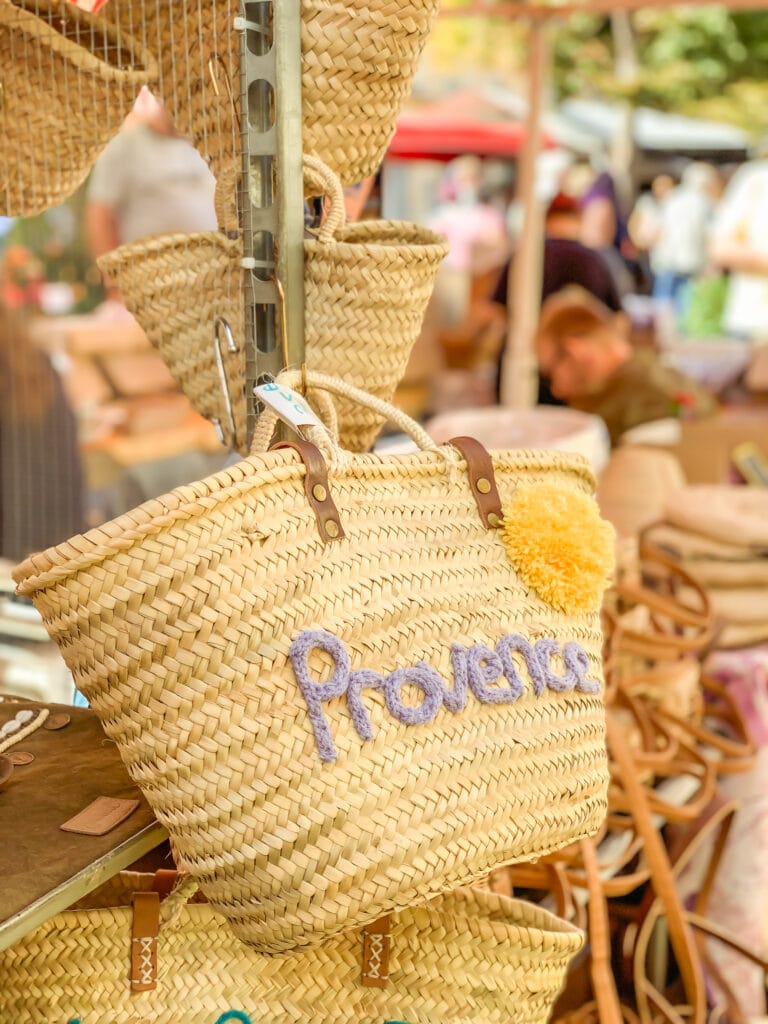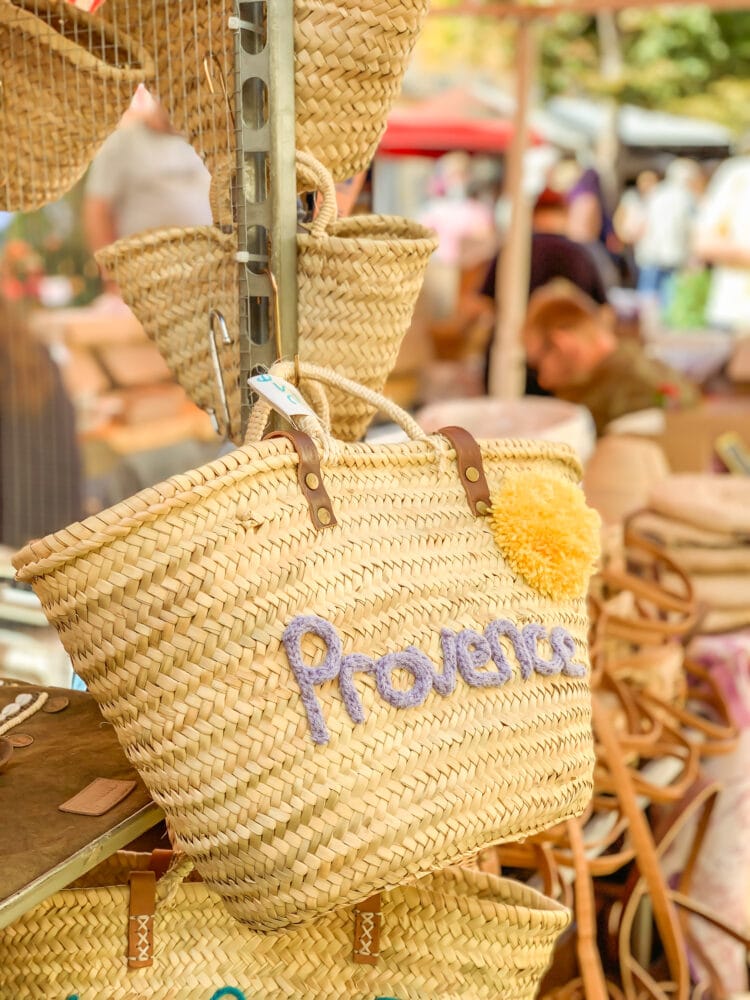 HISTORY OF SALAD NICOISE
Typical nicoise salad is made with fresh ingredients you'd find at the local market in Nice. The original salad was a simple meal for poor people with only three ingredients — tomatoes, anchovies and olive oil. Then, other Mediterranean ingredients were added, such as olives, herbs from nearby Provence, roasted red peppers, cucumbers, and radishes.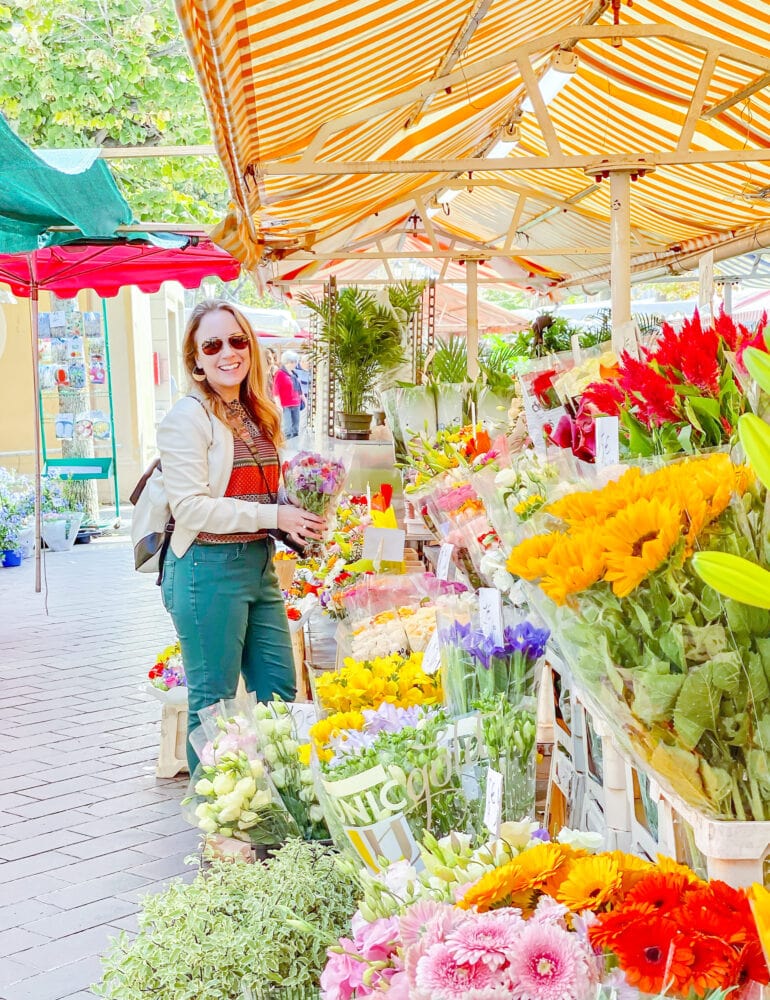 Eggs were also added to nicoise salad, as well as canned tuna and anchovies. But the one thing that stirs a hot debate is the addition of potatoes and green beens, with some French saying it's "a massacre of the recipe" and a "sacrilege."
NICOISE RESTAURANT RECOMMENDATIONS
If you are traveling to Nice, we have a great restaurant recommendation for you. We had a l lovely meal at La Tapenade on Rue Ste Reparate. It was recommended to us by our Monograms guide for rustic, local Nicoise cuisine. And it's more than just salad! With the Italian border so close, there's actually a nice fusion of French and Italian foods too. (Italy actually ruled over the city until 1861.) We found a nice selection of local roses, and even homemade gnocchi.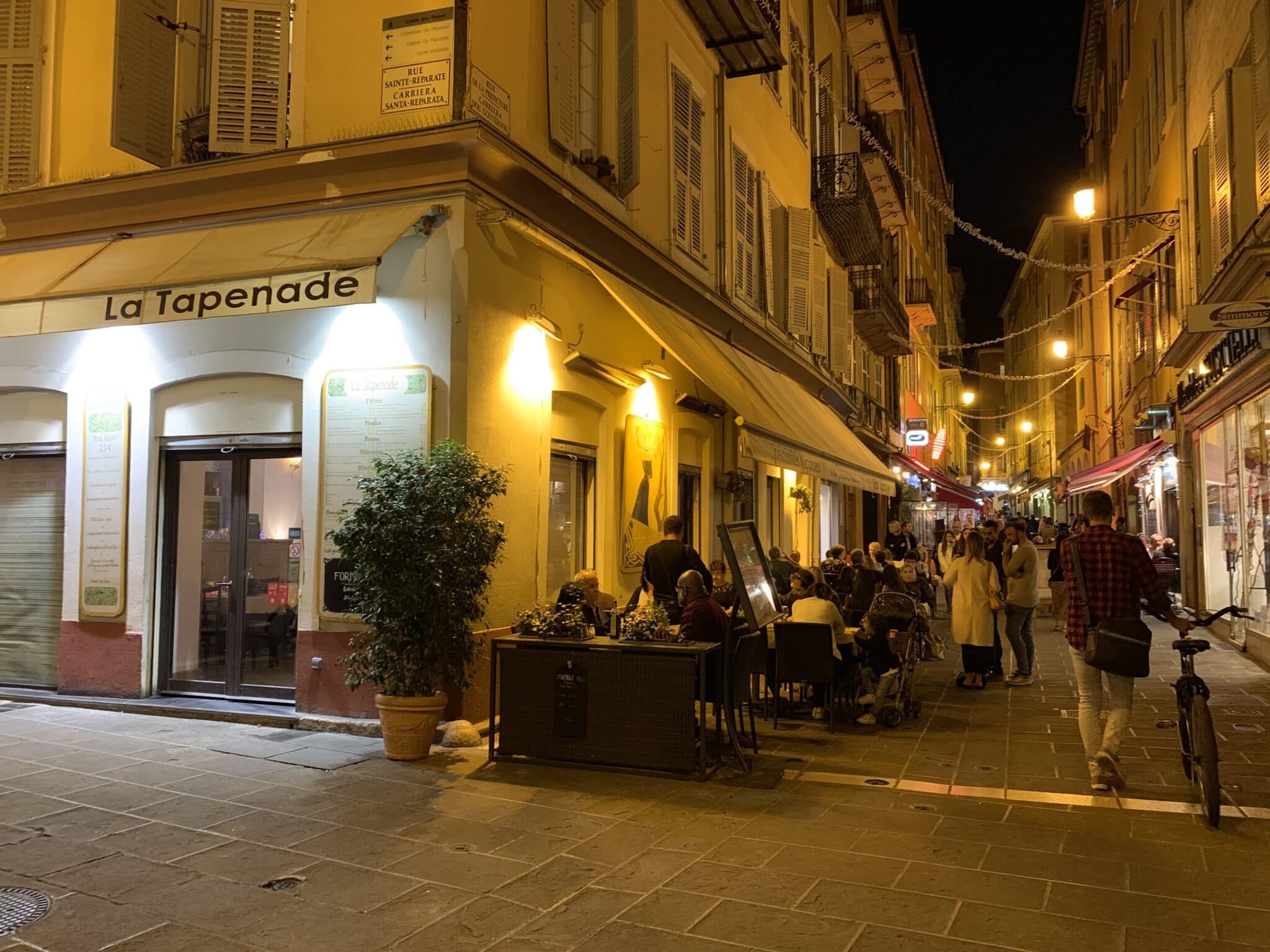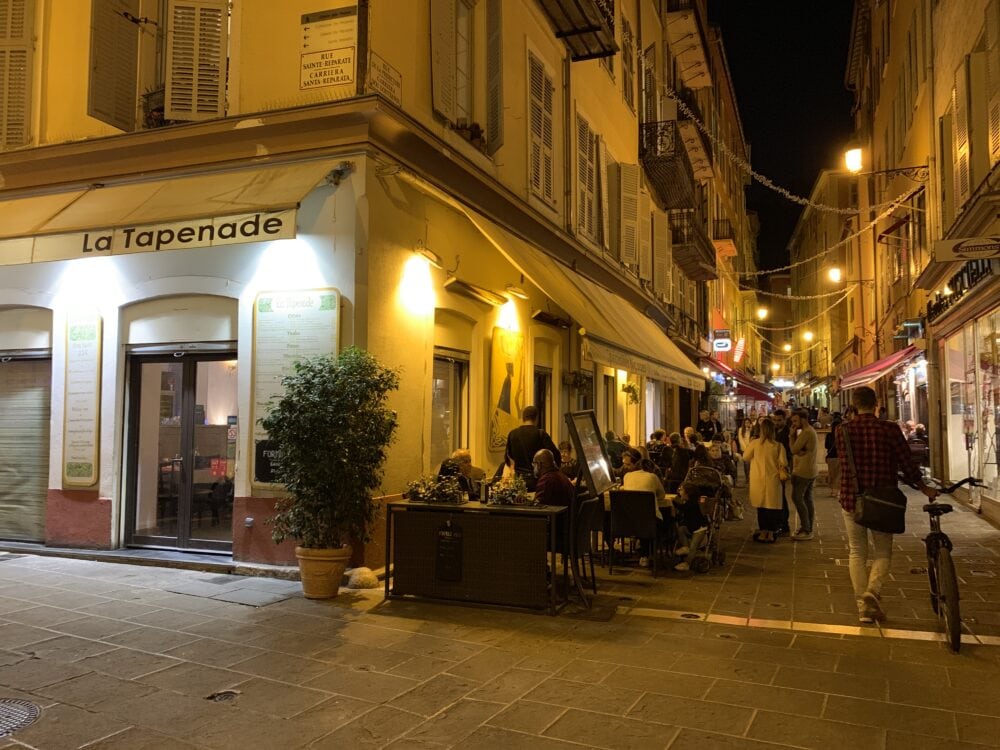 There's also a popular gelataria around the corner from La Tapenade called Fenocchio. Save room for dessert and walk there for a scoop of gelato made with local ingredients. Fenocchio has over 100 flavors, from classics like vanilla to more unique flavors like thyme, or vanilla pepper.
SALAD NICOISE RECIPE
And now, create a little taste of Nice at home with this recipe Nicoise Salad. Here are some of my notes and tips: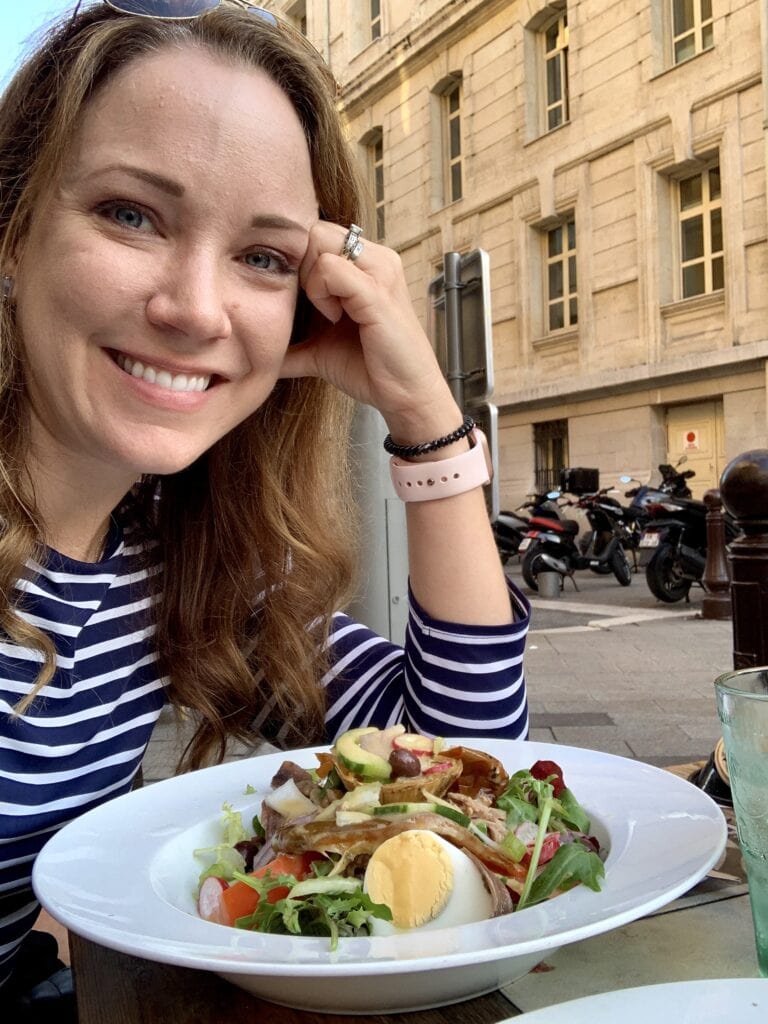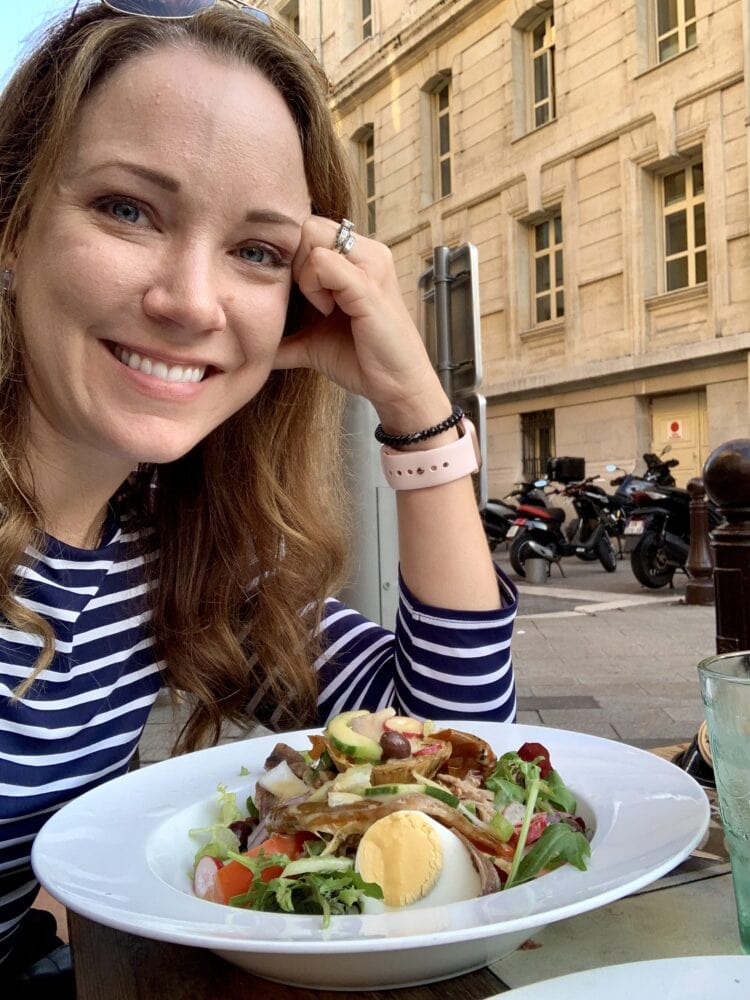 You can use either raw bell peppers or roasted, either one is fine. There is a link in the recipe below to show you how to roast red peppers at home. Roasted red peppers are also found canned in most grocery stores.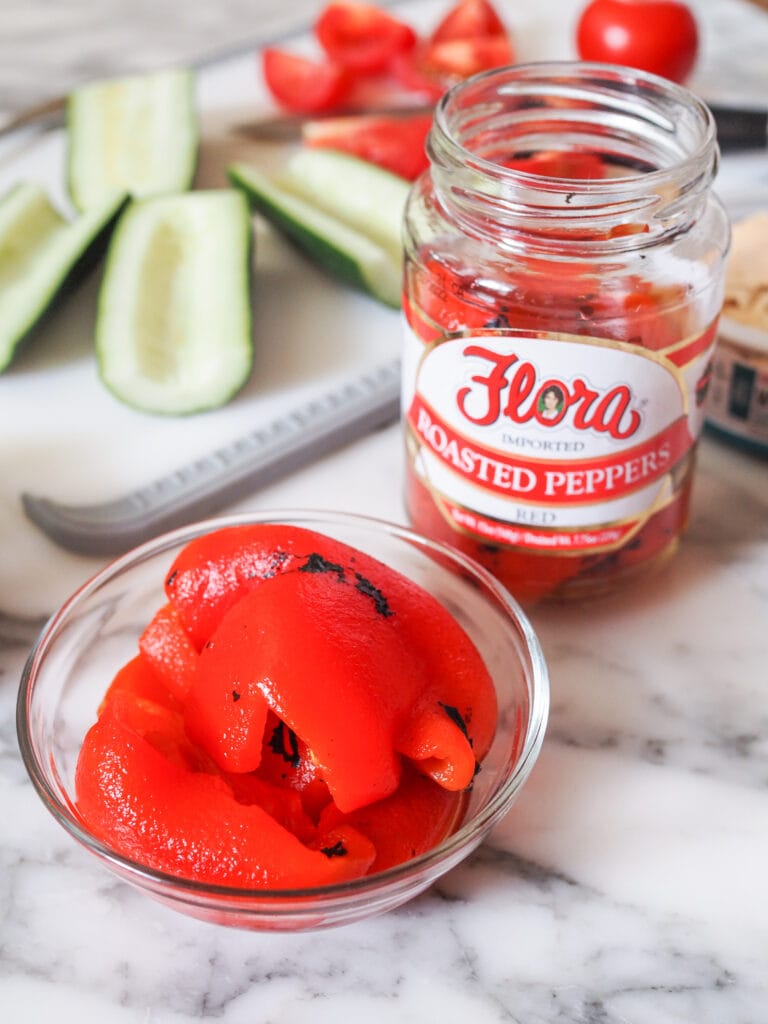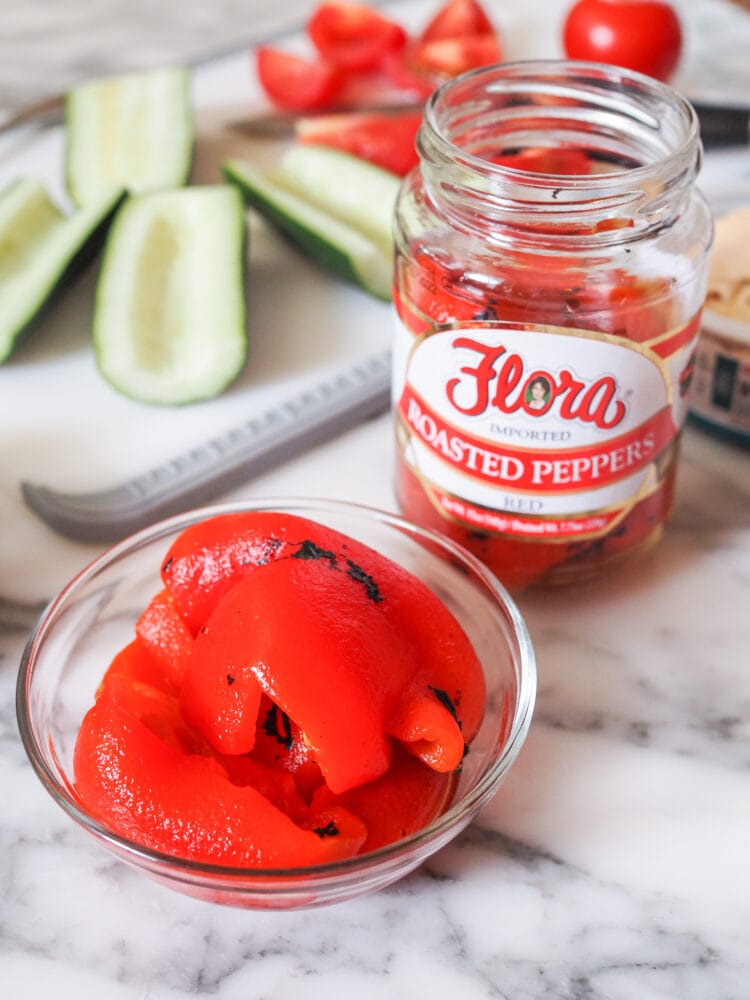 For the onion, you can choose to serve raw slices, or pickle them. Personally, I like to have them pickled as it takes a bit of the sharpness out of the onion. I've included instructions in the recipe for quick pickling onions as it is fairly easy to do and won't take much time.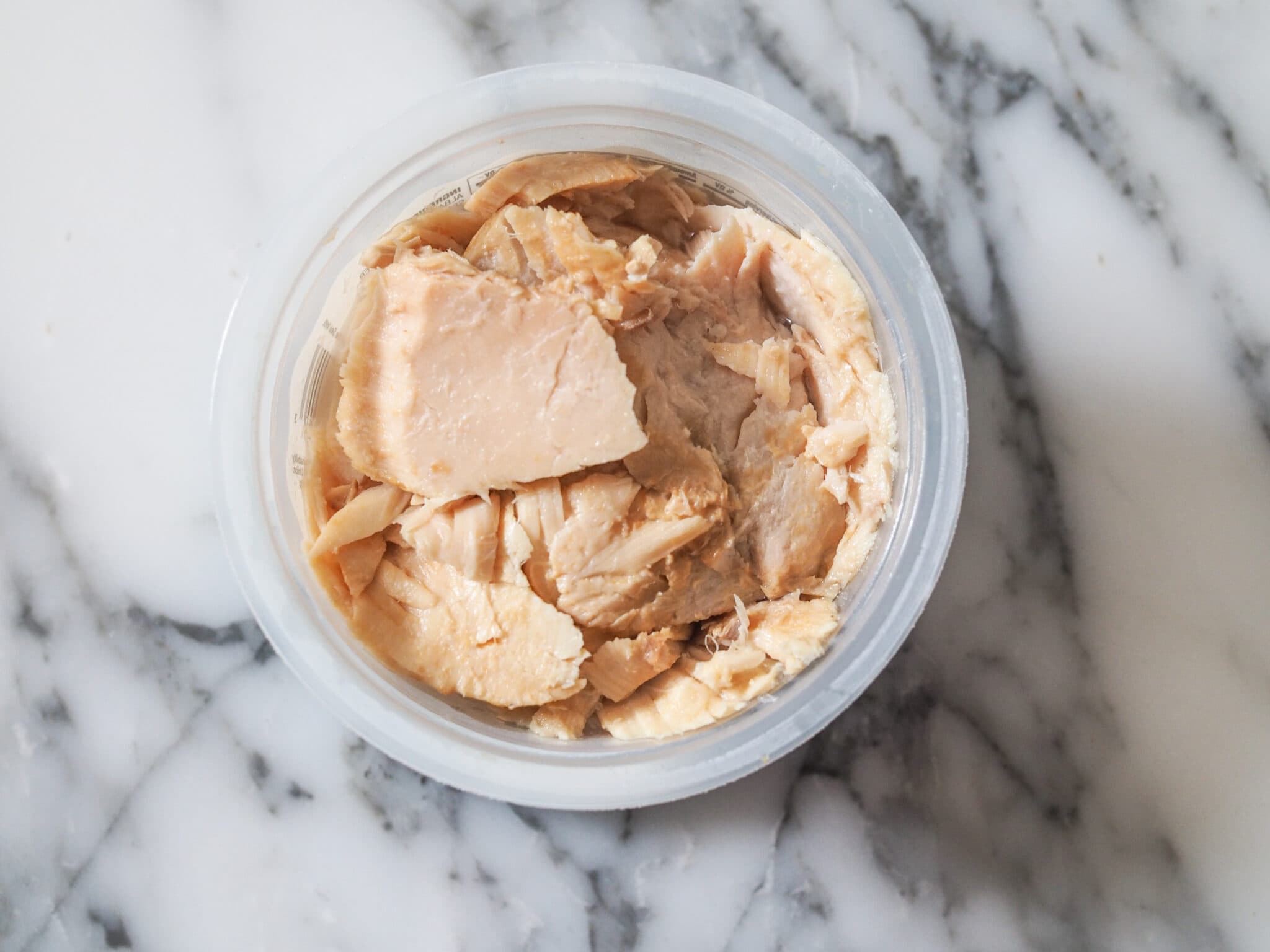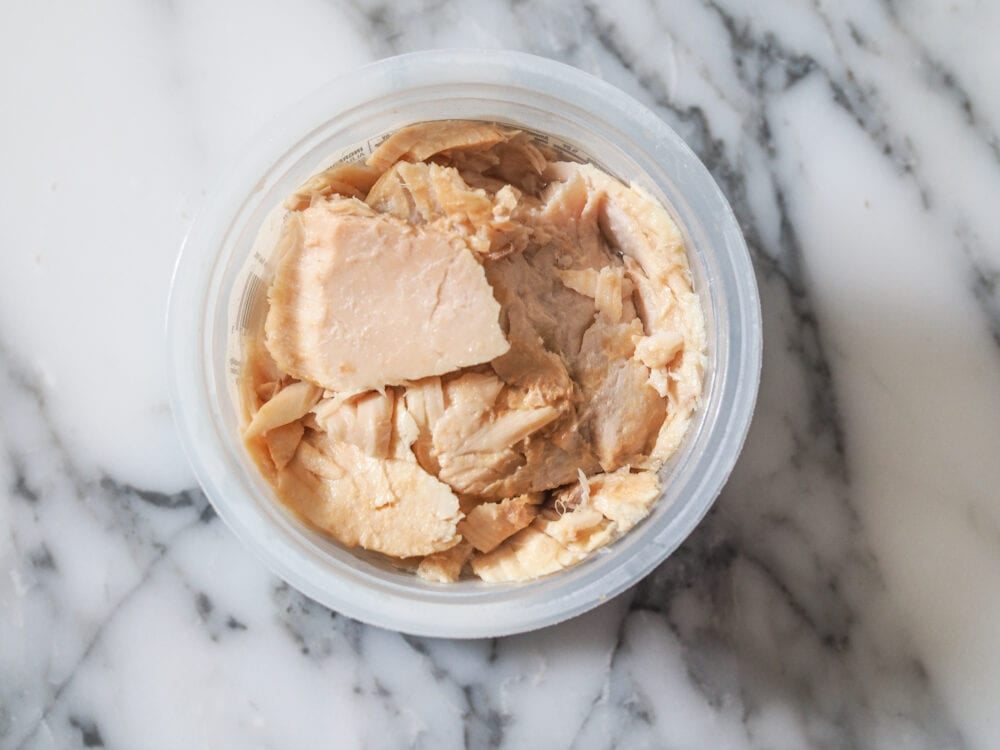 Anchovies or tuna — that's up to you! We don't have many choices for good anchovies at my local grocer, so I opt for canned tuna. Look for a chunky white albacore tuna that's marked as sustainably caught.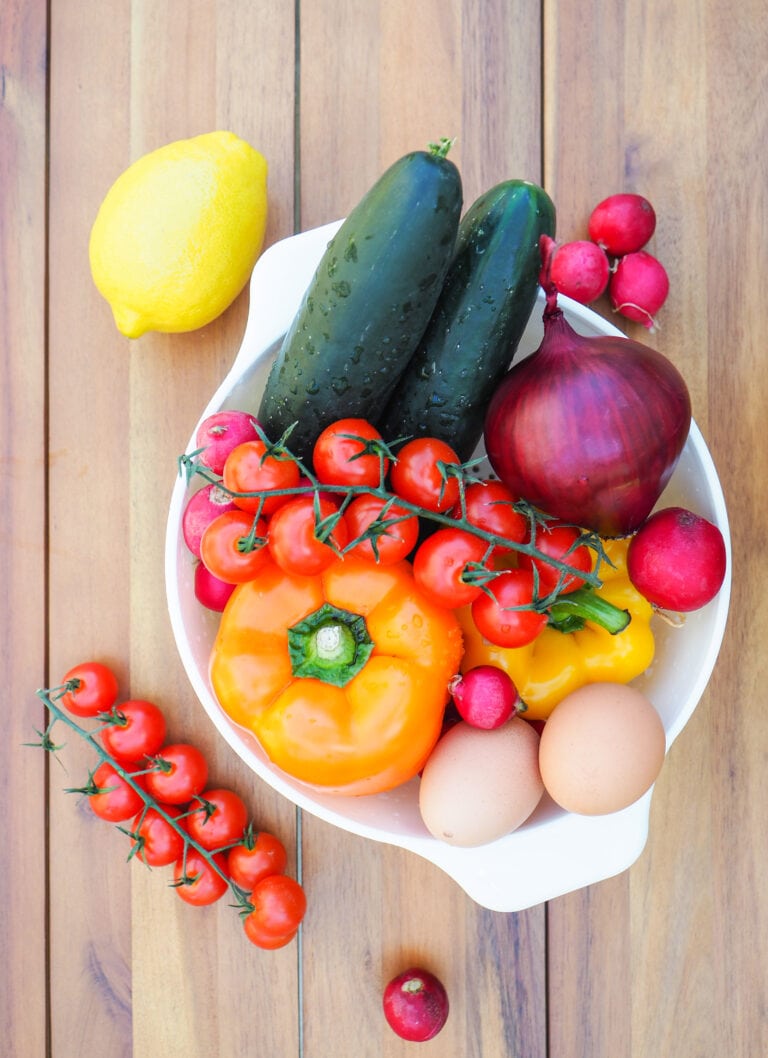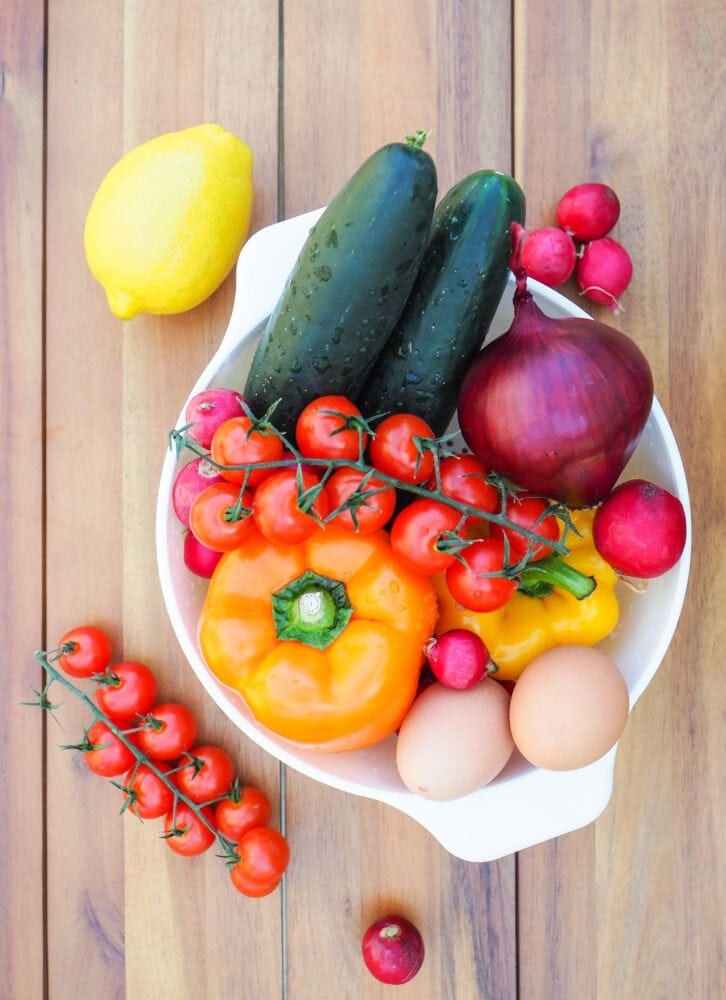 This trip was done in collaboration with Monograms Travel and iAmbassador. As always, though, all thoughts and opinions expressed are our own.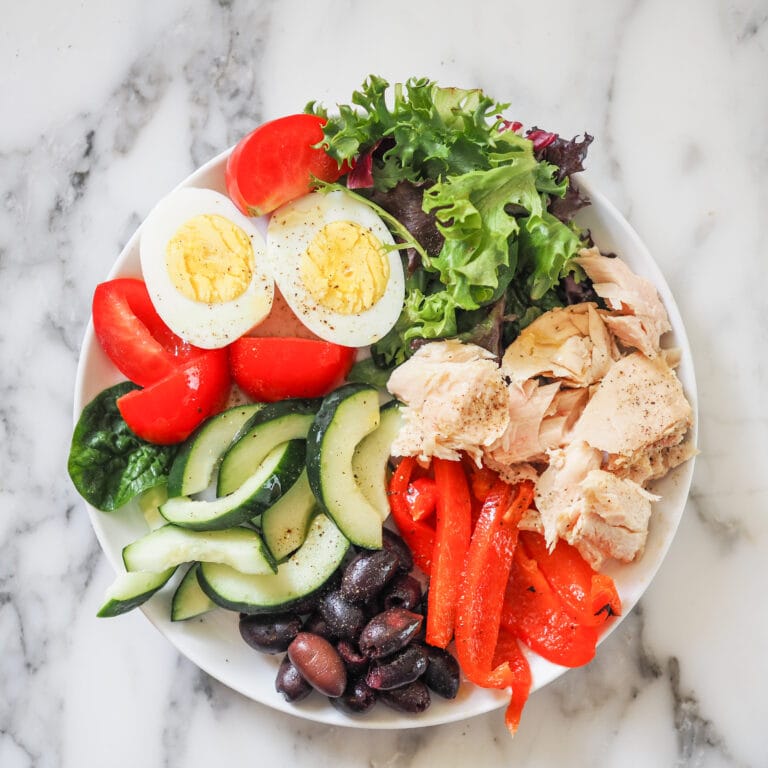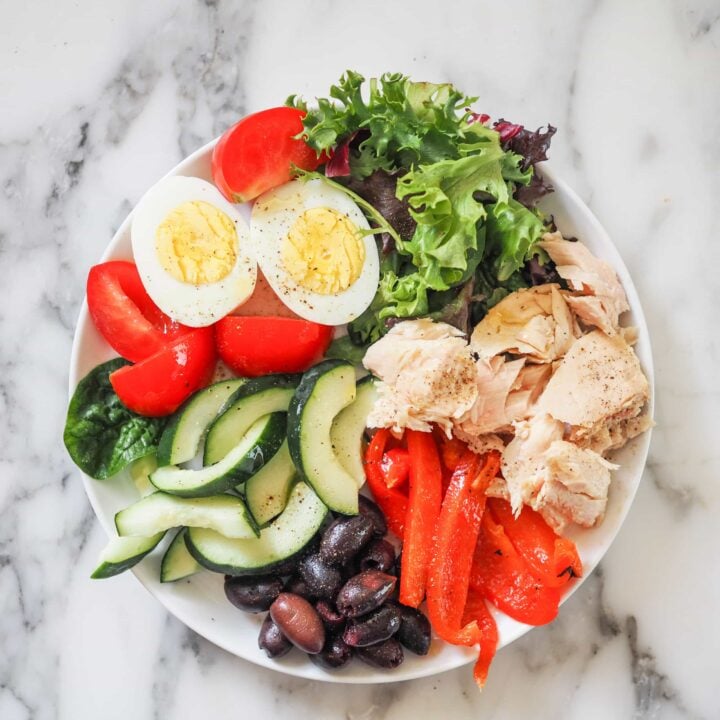 Nicoise Salad Recipe
This easy salad is a taste of the French Riviera with fresh ingredients that will remind of summertime.
Ingredients
4 hardboiled eggs
1 large cucumber, sliced
1/4 cup radishes, sliced
1 red onion, sliced
1 cup roasted red peppers, sliced
tomatoes
3/4 cup white vinegar
2 tsp sugar
2 cans of tuna
1 cup of black olives
4 cups spring mix or frisée lettuce
1/4 cup red wine vinegar
1/2 cup olive oil
1 Tbsp Herbs de Provence
1 tsp Dijon mustard
1 lemon
salt and pepper to taste
Instructions
Bring a small pot of water to boil and gently add four eggs.
While the eggs are cooking, wash and prep the vegetables.
Start with the red onion, using a sharp knife or mandoline to thinly slice.
In a small bowl or jar, stir together the white vinegar and sugar. Then add the sliced red onion for quick pickled onions. Let them soak in the vinegar while you prep the rest of the salad and wait for the eggs.
Prep the rest of the vegetables, cutting the tomatoes into quarters and slicing the cucumbers, radishes, and red pepper.
To make the dressing, add the red wine vinegar, olive oil, Herbs de Provence, and mustard to a mason jar. Close the lid tightly and shake until the ingredients are well blended.
Once the eggs are done, add them to an ice bath to let them cool for 3-5 minutes. Peel the eggs, then cut each in half.
Assemble your salad and serve with your homemade dressing.
Notes
You can skip pickling the red onion and choose to add it raw if you prefer.
You can use raw or roasted red peppers (or both!)
Nutrition Information:
Yield:

4
Serving Size:

1
Amount Per Serving:
Calories:

481
Total Fat:

37g
Saturated Fat:

6g
Trans Fat:

0g
Unsaturated Fat:

29g
Cholesterol:

206mg
Sodium:

470mg
Carbohydrates:

17g
Fiber:

5g
Sugar:

7g
Protein:

22g
Nutrition information provided is only an estimate.
More Stories + Recipes You'll Love