You are going to be shocked and pleasantly surprised at how easy it is to make roasted red peppers at home. I always thought it was some mysterious chef-y chef thing, but it is really quite simple to make them. So rather than buying the expensive imported jarred roasted red peppers, you can make your own with fresh bell peppers from the store. You'll need only two ingredients to roast red peppers — red peppers and oil. That's it!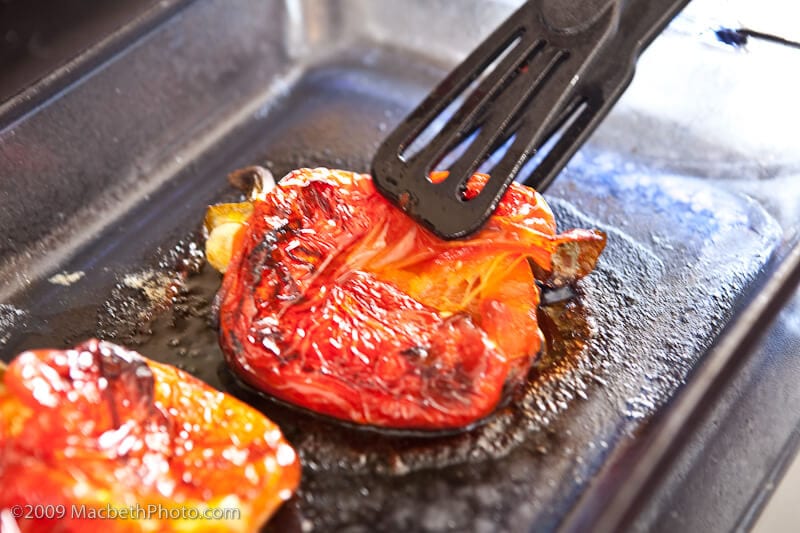 What You Need To Roast Red Peppers At Home
I'll go over several different methods for roasting red peppers below. But by far, the easiest most hassle-free way is to bake them in the oven. And to give you an idea of what they'll look like as they're baking so you'll know when they're done, there are step-by-step photos too. Here's what you'll need to gather in your kitchen:
baking dish
tongs
5-6 red bell peppers
1 Tbsp olive oil
container for storage
As for the baking dish, a glass 9″ x 13″ pan works great. But you could also use a cookie pan or baking sheet too. If you use a metal pan, just line the bottom with parchment paper.
Type Of Oil For Roasting Peppers
Now, the type of oil you use can enhance the flavor, such as olive oil. But you could also use regular vegetable oil or canola oil. Whatever taste you prefer. And you can do all kinds of fancy things with with the roasted red peppers in recipes after you've made them. But this is just the basic "how to make roasted red peppers" instructions.
How To Make Roasted Red Peppers: Step-By-Step Photos
First, wash your peppers and then coat them in oil. Smother them. Make them glisten and shine.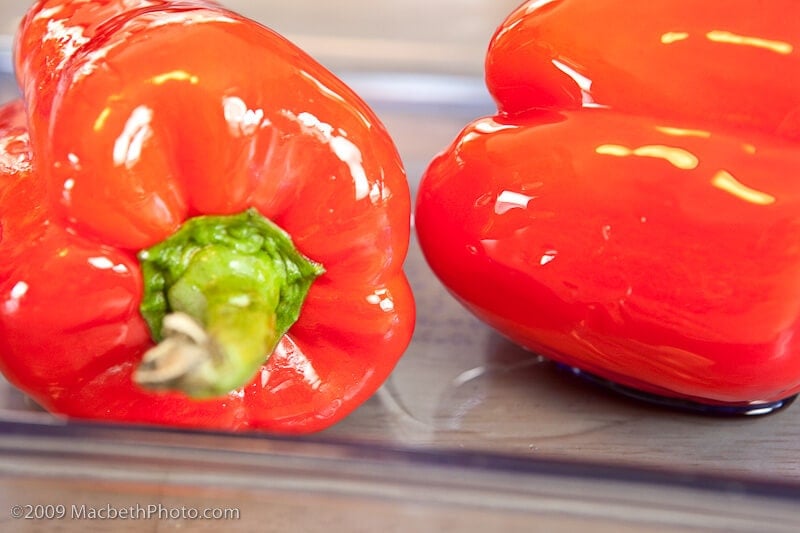 Place the red peppers on a baking dish. Make sure every little inch is covered in oil. You could use a pastry brush for this, but I was going for the multi-tasking-hand-moisturizing-manicure-while-cooking. Some recipes say to just pop 'em in the oven or on the grill plain without oil, but I think this gives the red peppers a softer texture and better flavor.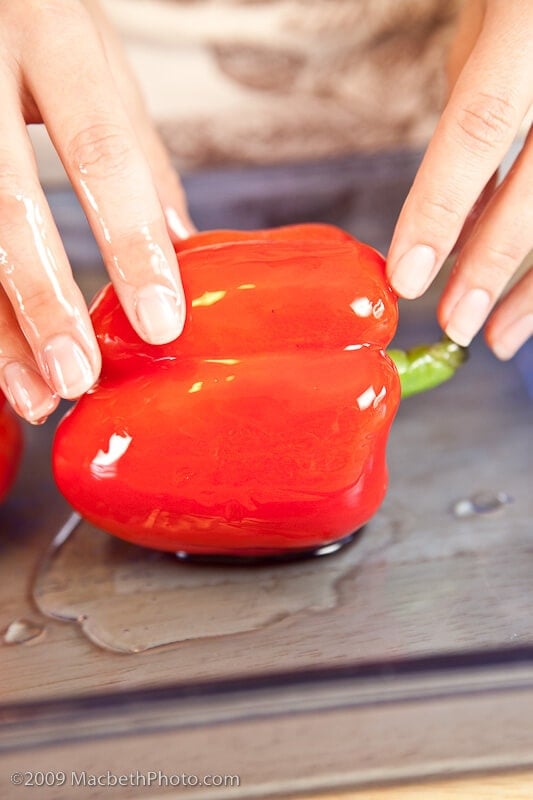 The red peppers will need to cook for about 45 minutes, but keep a watchful eye on them! The goal is for the skin to char and carmelize a bit. When it does, you'll need to rotate the red peppers with tongs.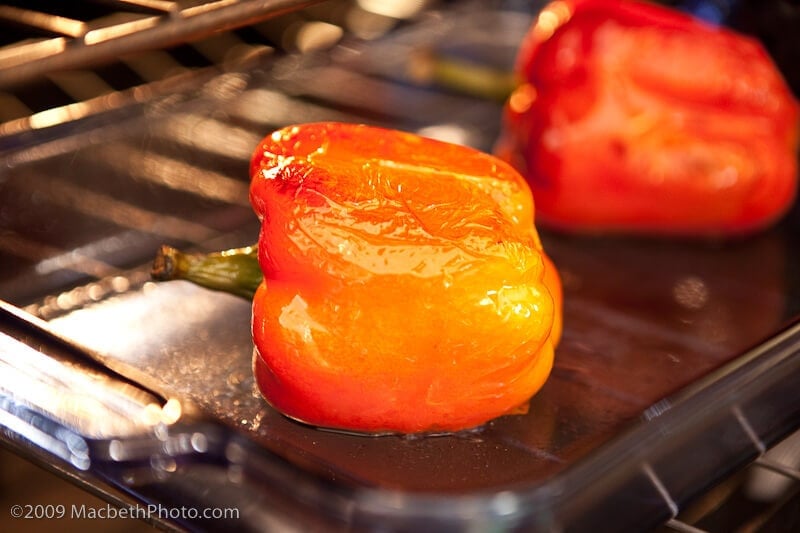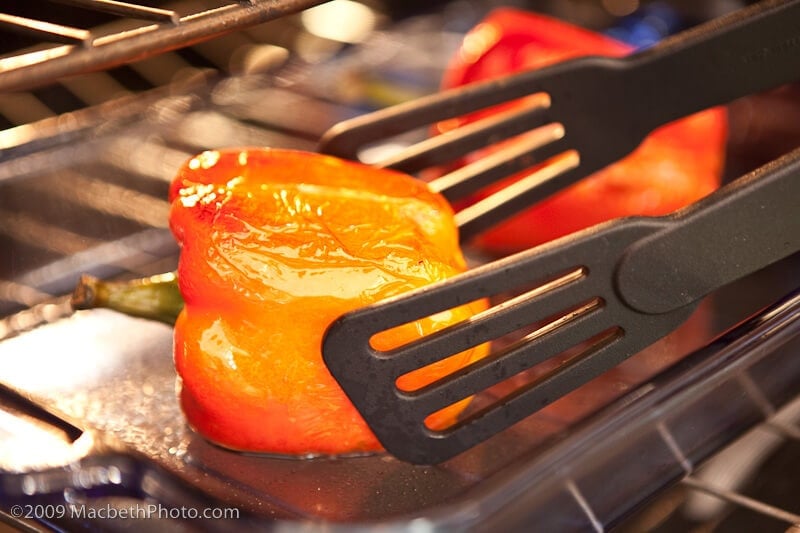 These look just about done …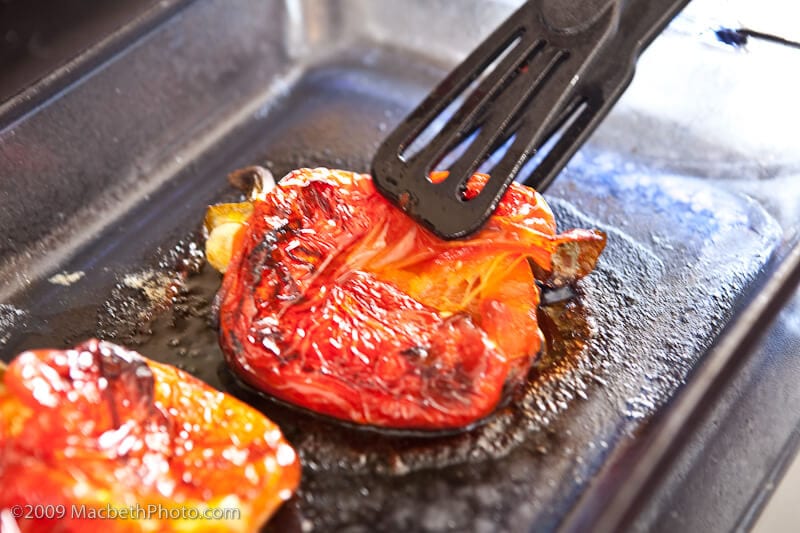 When you first take them out of the oven, place them in a sealed container to let them "steam" themselves a bit more to make removing the skin easy. Be careful of any liquid that drips from them … it will be scorching hot!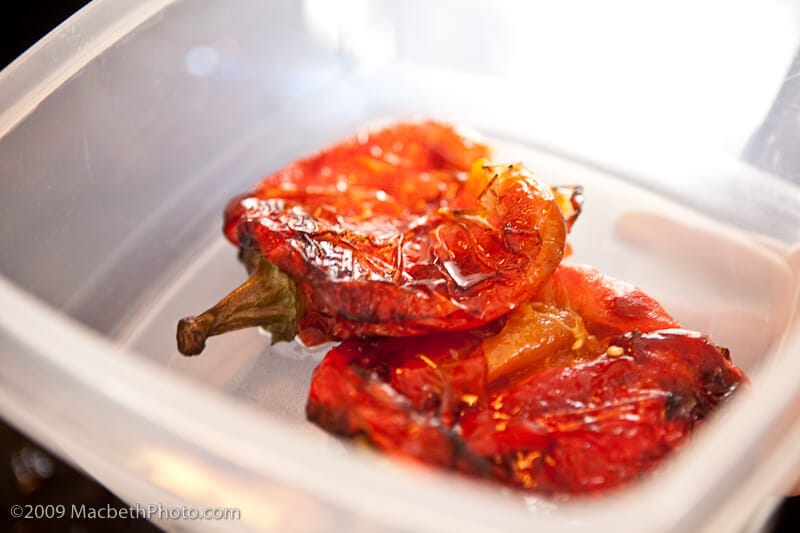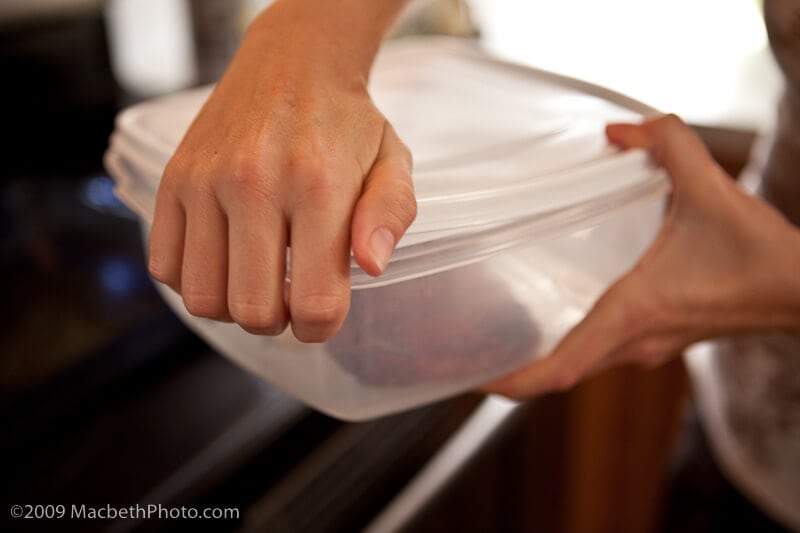 After they've cooled (about 15 to 20 minutes) you can remove the skins. They should peel off easily.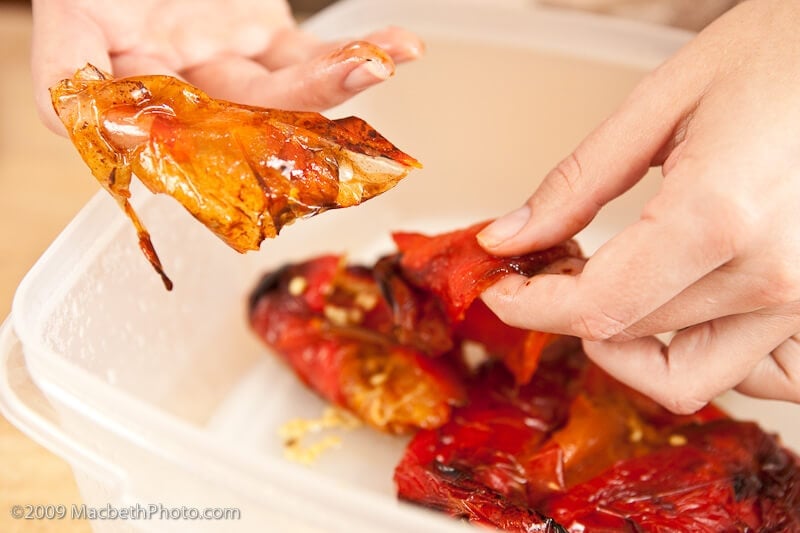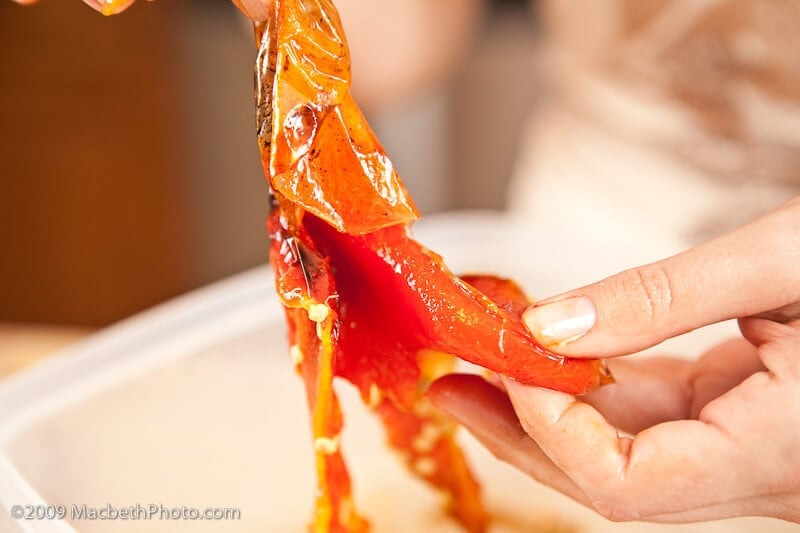 Brush off the seeds, remover the stems, slice up and serve!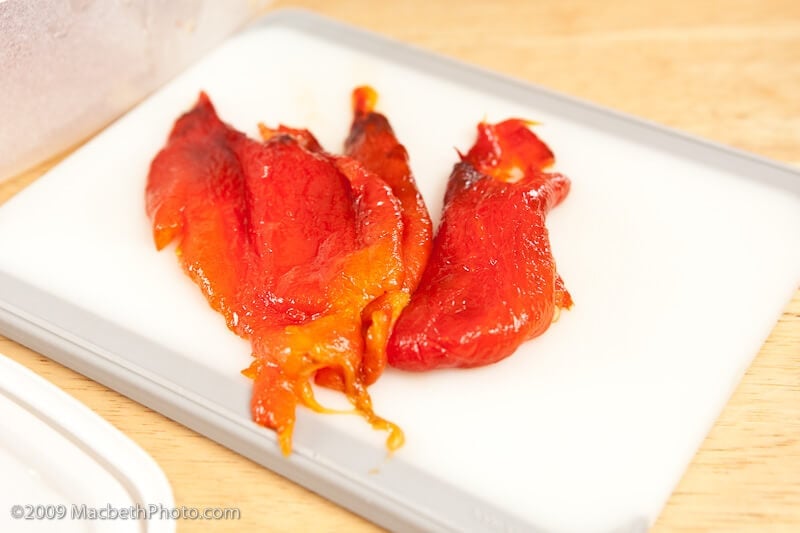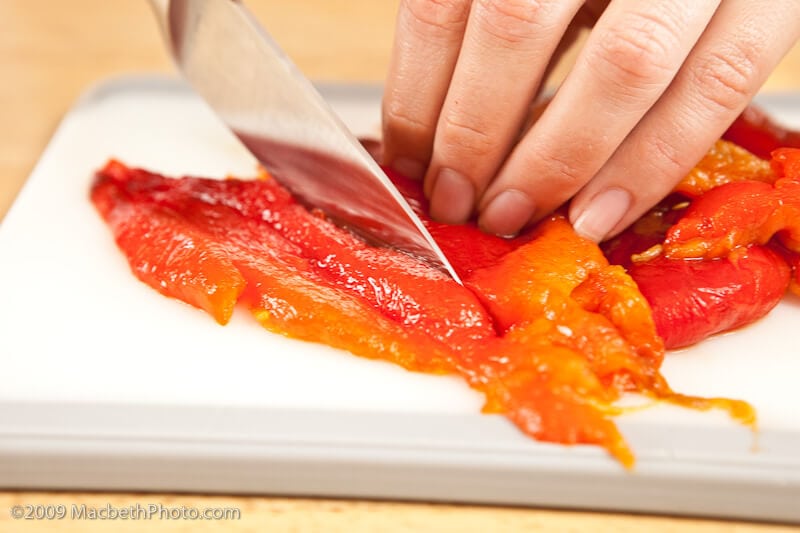 Roasting Red Peppers On A Stovetop
I prefer the oven roasted method since you can do a big batch at once. But if you just want to do one or two red peppers for a recipe, the stovetop works great too.
To roast red peppers on your stovetop, you'll need a large sauté pan, 1 Tbsp of olive oil, tongs, and how ever many red bell peppers you'd like. Here's how to pan roast them:
Add the oil to the pan and cook the peppers on medium heat. Turn them with tongs to make sure they're evenly cooked and browned on all sides.
Once the peppers have shrunk in size a bit and the skin seems to be peeling away from the pepper when you turn them with tongs, they're done!
Place in a bowl and cover with plastic wrap for 10-15 minutes to allow any residual steam to help separate the skin from the pepper.
Once they've cooled, peel and throw away the charred skin. Now your stovetop roasted red peppers are ready for your recipe, salad, soup, or sandwich!
Grilling Red Peppers
In addition to oven baked and pan roasted, you could also grill red peppers. Grilled red peppers do get a bit more smokey flavor added to them that makes it worth the extra time. Typically, when grilling peppers for a barbecue, you'll only cook them for 10-15 minutes. Enough to get a char, but they still have a bit of form and texture.
But if you want them to be that soft, Italian-style roasted red pepper used so frequently in charcuterie boards and salads, you'll need to grill them for about 45 minutes or more.
Coat two red peppers in oil.
Measure out a piece of aluminum foil large enough to cover the peppers, and then double the size of that piece of foil so you can fold it in half and make a sort of loose foil bag.
Place the red peppers in the foil and pinch together the sides of the foil to seal it. If you'd like for them to pick up a bit of smoke flavor, poke the foil on both sides once or twice with a fork.
Put foil bag of peppers onto your grill and cook for 20-25 minutes.
Carefully turn over the foil bag and cook for an additional 20 minutes.
Let the peppers cool for an additional 20 minutes. Carefully open up the foil bag, remove the peppers, peel away the skin, and they're ready to serve.
How To Use Your Homemade Roasted Red Peppers
Roasted red peppers are great to have on hand for salad and sandwich toppers throughout the week. And they're even great rolled and stuffed with cheese or as an accompaniment to a quick and easy at-home charcuterie board too. Here are a few recipes I like to add my roasted red peppers to:
Store Your Roasted Red Peppers
I like to store my peppers in a glass mason jar. But there are some cute jars out there if you're making a big batch for gifts! Here are my Amazon picks: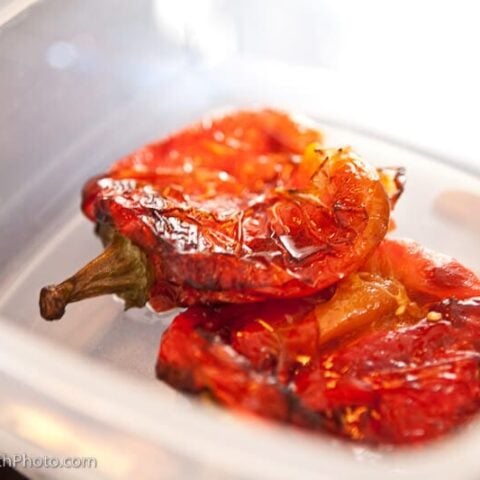 How To Make Roasted Red Peppers
Total Time:
1 hour
5 minutes
Ingredients
2 to 8 bell peppers
2 Tbsp of olive oil
Instructions
Wash and dry the bell peppers, making sure to remove any produce stickers.
Coat the bell peppers in olive oil and add to a baking pan or cookie sheet.
Bake for 30 minutes.
Then, using tongs, turn the red bell peppers over and bake for an additional 30 minutes.
Once the red peppers are done, place them in a container and cover them with plastic or the container's lid. Let them cool for 15-20 minutes to allow the steam to help separate the skin from the pepper.
After the red pepper have cooled, peel away the skin and they're ready to serve!
You can store the roasted red peppers in a sealed container in your refrigerator for up to a week.
Notes
This recipe can be used for any color bell pepper - red, orange, yellow, or green.
Nutrition Information:
Yield:

4
Serving Size:

1
Amount Per Serving:
Calories:

123
Total Fat:

7g
Saturated Fat:

1g
Trans Fat:

0g
Unsaturated Fat:

6g
Cholesterol:

0mg
Sodium:

5mg
Carbohydrates:

15g
Fiber:

3g
Sugar:

6g
Protein:

2g
Nutrition information provided is only an estimate.
More Tips + Recipes We Think You'll Love!
Want to save this tip? Pin it!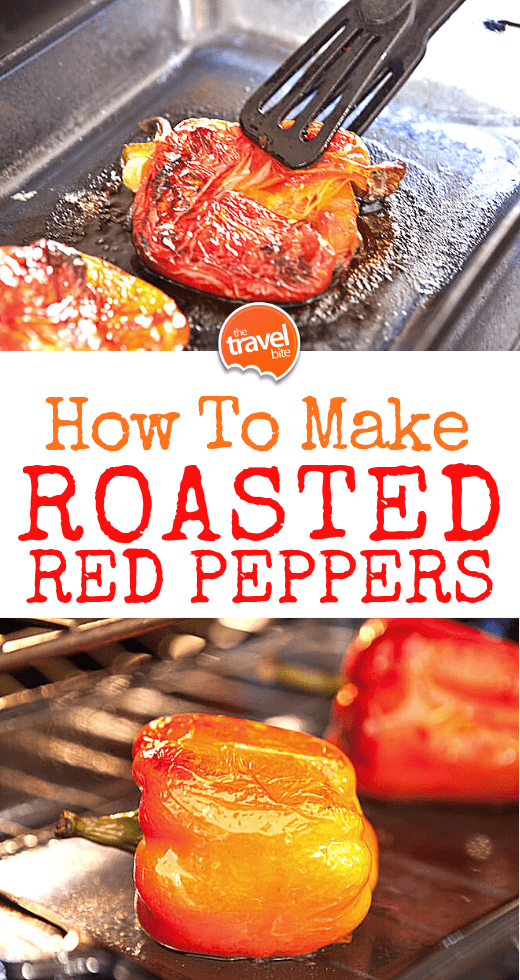 Originally posted in 2009. Updated in 2020.