If there were an Olympics for food, Spain would definitely take the gold medal.  Since everyone raves about French food, and Italian, and Greek (myself included), Spain really took me by surprise.  Unfortunately, in the States the closest we get to Spanish foods are spicy Tex-Mex and traditional Cuban.  However, I think that's all about to change!  As the birthplace of modernist cuisine and the home to El Bulli and Cellar De Can Roca, the Costa Brava region is most definitely the next Big Thing.
World renowned chef, Ferran Adria told me and a group of bloggers, "If you eat well, if feeds your soul."  Well, both my soul and my belly were abundantly fed in this beautiful country.  So much so, that after just a week I don't think I could button my pants.  (I may have overindulged just a little.)
Rather than describing the top 10 things I think you should taste in Spain, I'll just let you have a look-see.
This post is pure food porn.  Enjoy!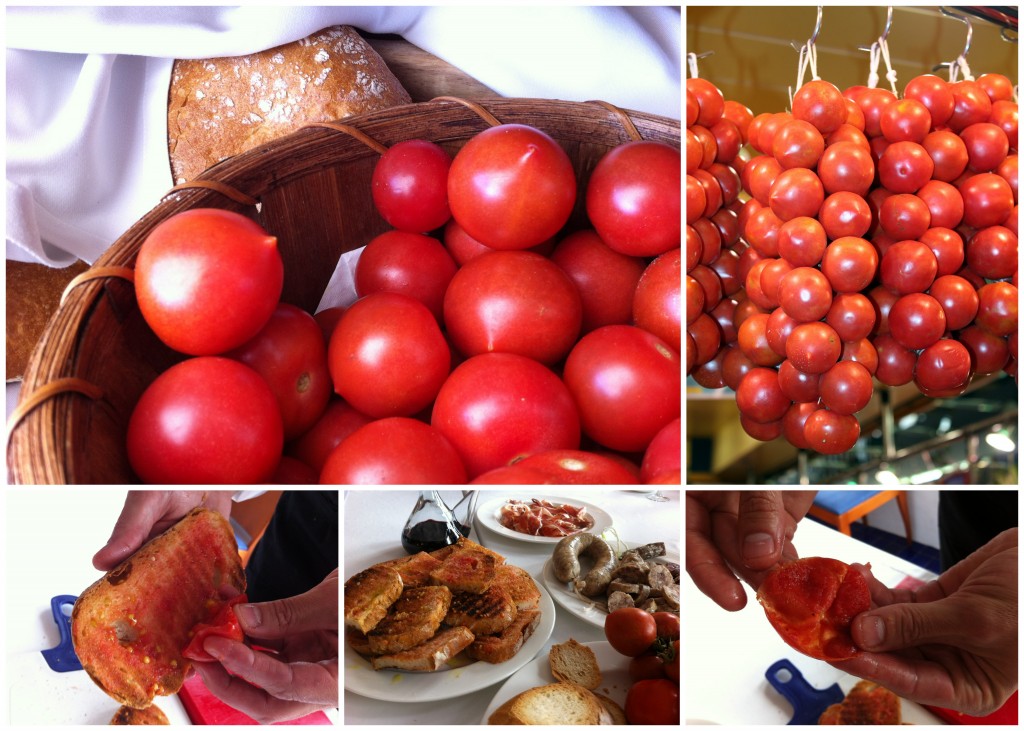 2. Fresh Sea Snails Dipped In Olive Oil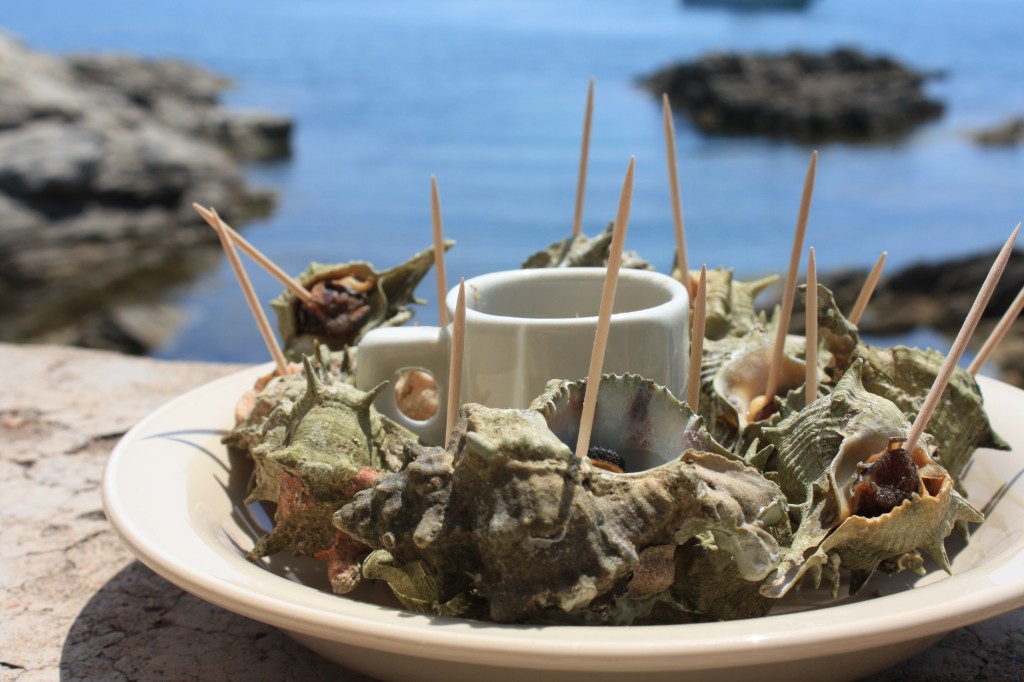 3. Gelato at Rocambolesc
Rocambolesc is a new funky ice cream parlor by one of the Roca brothers in the heart of Girona.  This is their sheep's milk ice cream with caramel and cotton candy.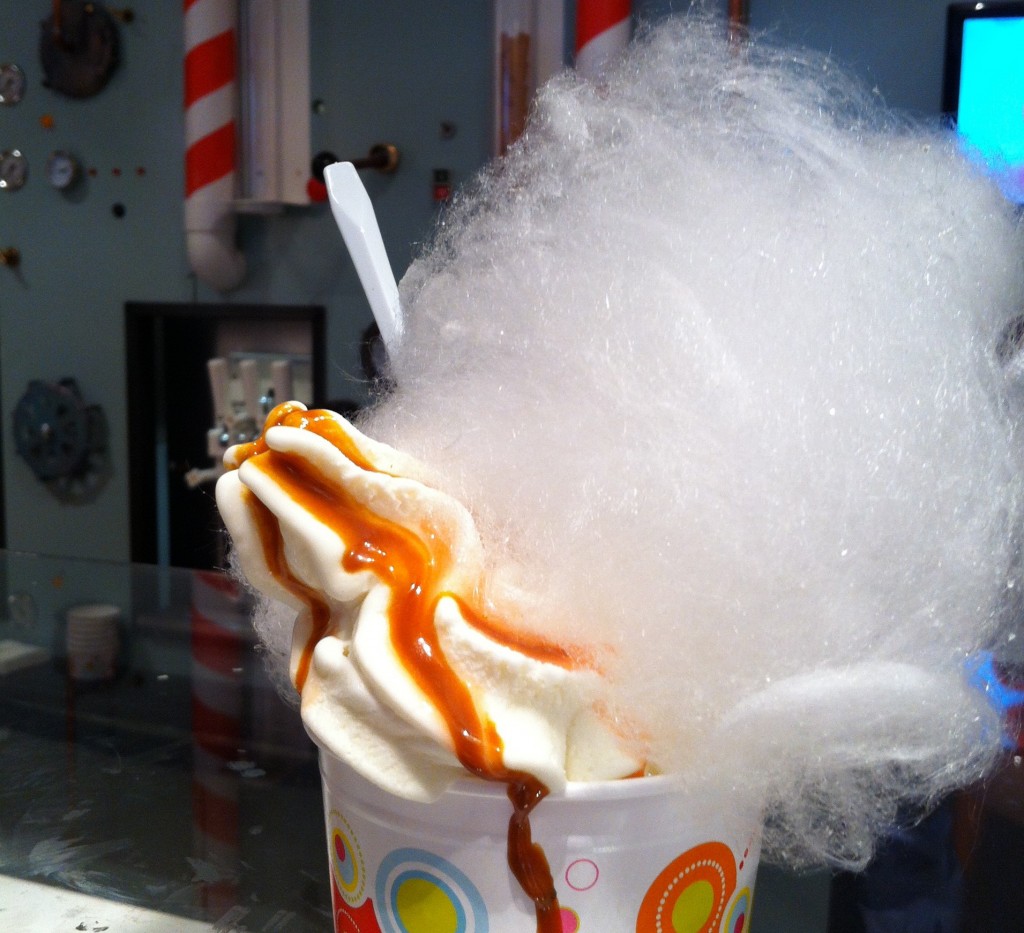 4.  Real Aioli
There is no mayonnaise in it.  Just garlic and olive oil.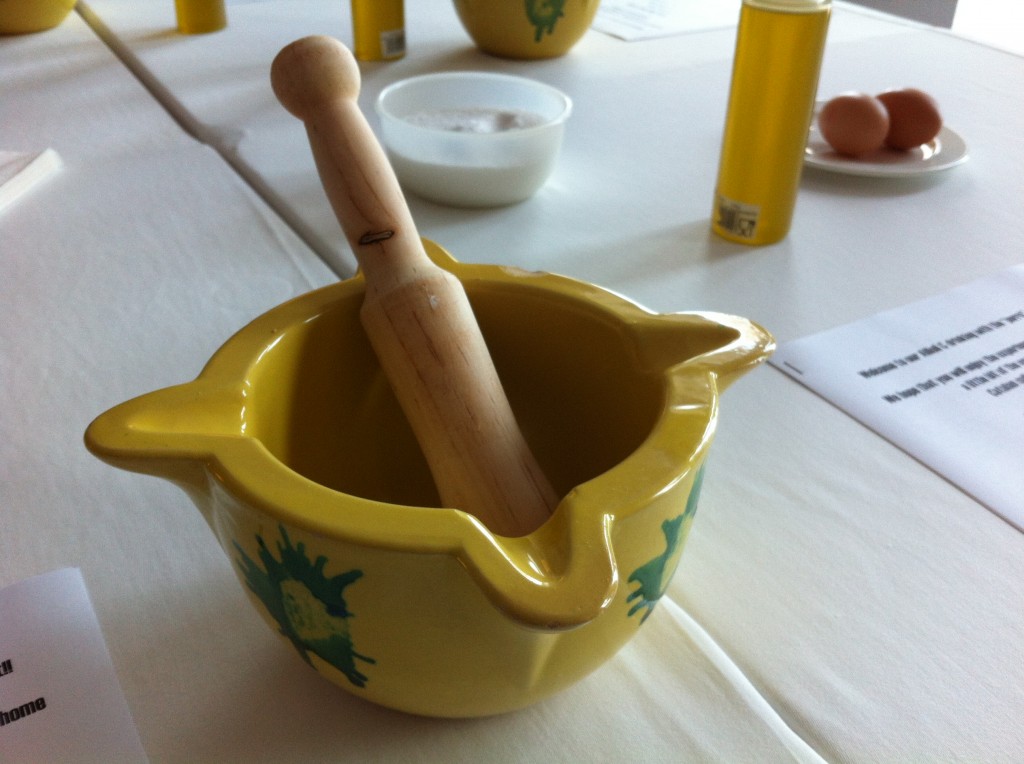 5. – 8.  Beverages
Okay.  A little note about these.
First, Estrella Beer.  It's smooth and refreshing.  I'm not typically a beer girl but I downed two glasses of these lickity split.  It's THAT good.  Look for the bottle with the star on it.  And drink a second one in my honor since I can't get it here in the states.
Second, Vermouth.  The Spaniards drink sweet vermouth as a pre-meal apéritifs.
Third,  Cava .  It's Spanish/Catalan sparkling wine produced in the traditional méthode champenoise and aged in caves.
Finally, Gala de Flors.  This locally made beer is named after Dali's wife, Gala, and is made with flowers as well as barley malt, oatmeal, and hops.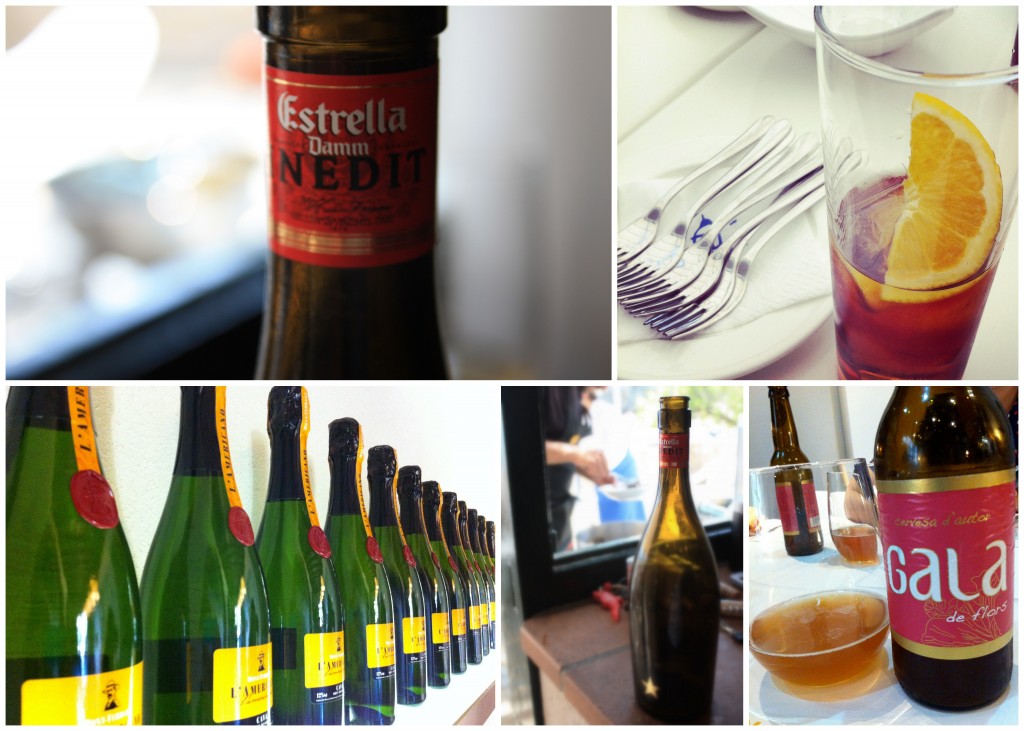 9.  Drinking Wine From A porró.
In plural, these are called Porron, which I think is appropriate since you can quite literally "Pour" it "On" yourself.   It's quite a clever way to share wine and makes for an even more interesting drinking game.  I didn't partake … I was wearing a pretty shirt that day.  So this pic is of Michael from GoSeeWrite.com.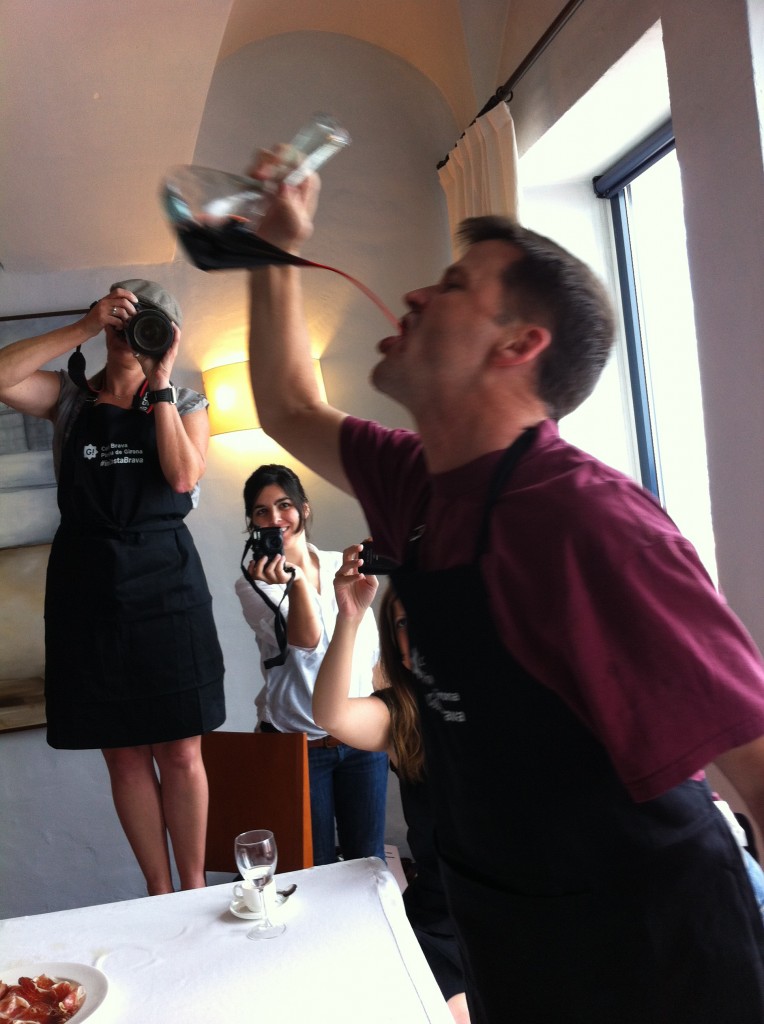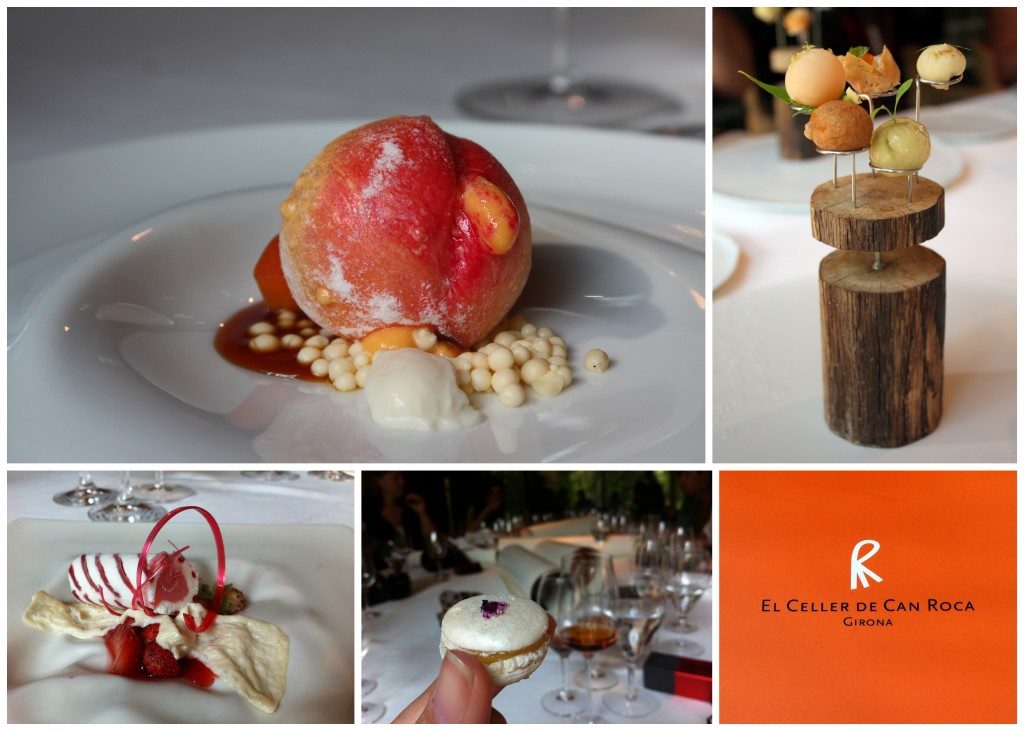 Honorable mentions not included in photographs above …
Fuet … a delicious pork sausage.
Crema Catalan … like creme brulee, only creamier.
**My trip to Spain was sponsored by Costa Brava Tourism.  Opinions are entirely my own.