Traveling in Madrid or Barcelona and wondering what to eat in Spain? The list of delicious Spanish food can be endless. And Spain is most definitely one of the top destinations in the world for culinary travel. Let this be your quick list of must-try Spanish foods while vacationing in Spain. But definitely be adventurous and try more!
What To Eat In Spain – 13 Spanish Food You Must Try
World renowned chef, Ferran Adria told me and a group of writers, "If you eat well, if feeds your soul." Well, both my soul and my belly were abundantly fed in this beautiful country.
The Costa Brava region is birthplace of modernist cuisine and the home to El Bulli and Cellar De Can Roca. Of course, there's also Basque country in north, offering pintxos and cider. And the airport code for Barcelona, BCN, practically spells "bacon," which I think is appropriate for a city with so many cured meats on the menu. Here's our list of Spanish foods we think are a "must try" when visiting this delicious country. Which ones would you add to our list?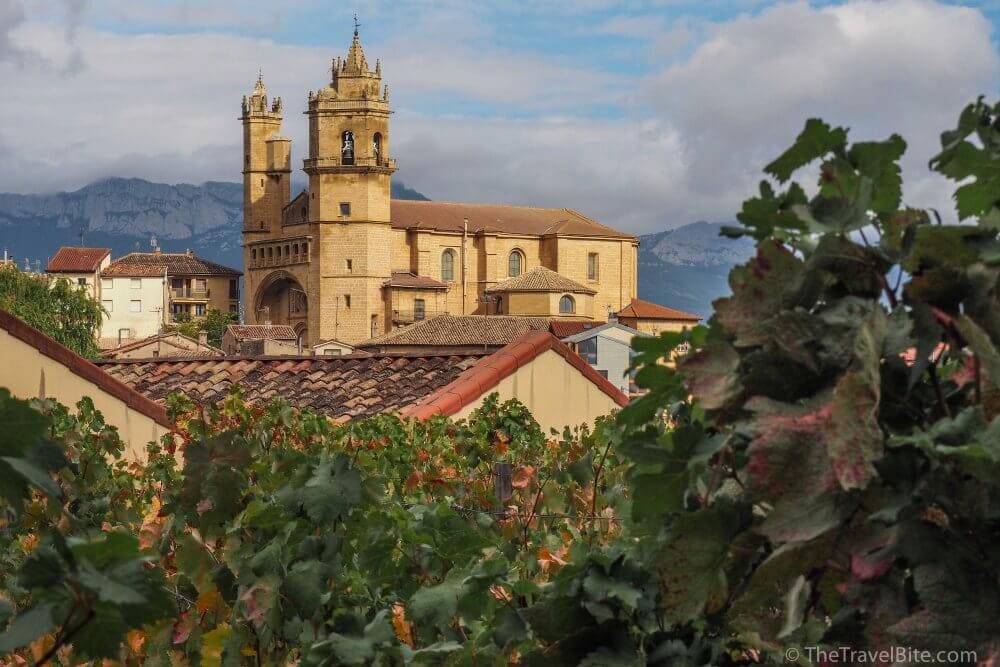 Pa amb Tomàquet (Toast rubbed with tomatoes)
Let's start with breakfast! In the southern part of Spain, pa amb Tomàquet (or pan con tomate) is a traditional dish you'll see at breakfast, or served in the afternoon as tapas with wine. It's essentially toast with tomato, olive oil, and sea salt, but there's a specific method to it.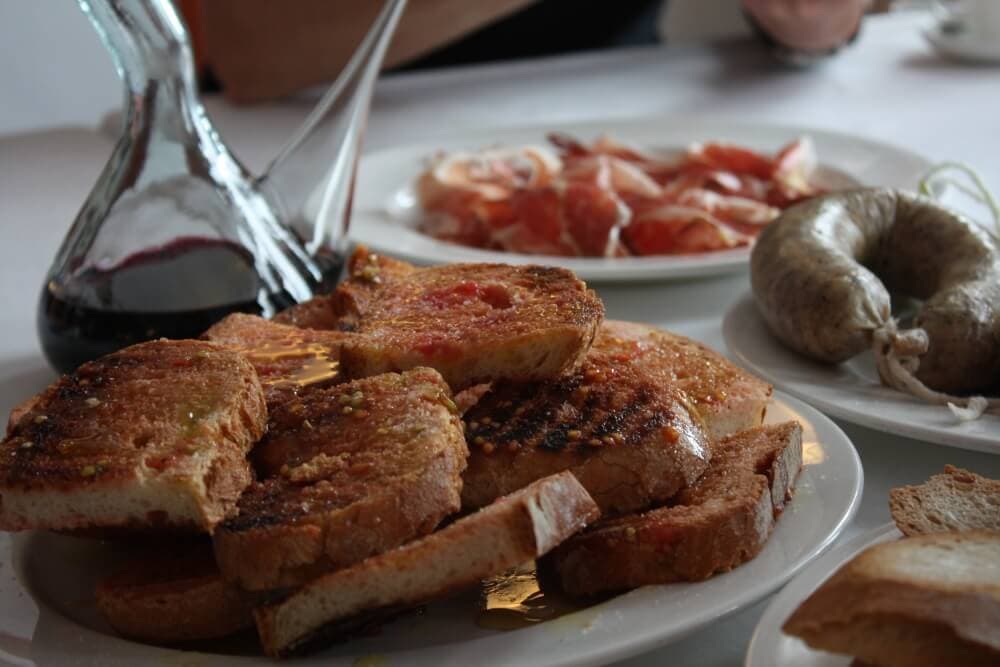 Pa amb tomàquet is made with a fresh baked crusty bread, such as sourdough. The tomatoes are small and still on the vine, with lower acidity and an intense flavor. If you see a pa amb tomàquet at a cafe or hotel breakfast buffet, simply take a slice of bread and toast it if preferred. Then cut one or two tomatoes in half and rub the pulp onto the bread until all your left with is the tomato skin. Discard the skins, then drizzle with olive oil and sprinkle with sea salt. That's a pa amb tomàquet!
Spanish Omelette
Also called tortilla Española and tortilla de papas, a Spanish omelette is thicker than a traditional French style omelette and is layered with potatoes and onions. It's a bit tricky to make, as we learned at a cooking class in Barcelona during our food tour of Spain, as the whole omelette is about the size of a quiche and needs to be flipped over in a pan to cook on both sides. It can be served hot or cold and is typically cut into triangular slices like a pie.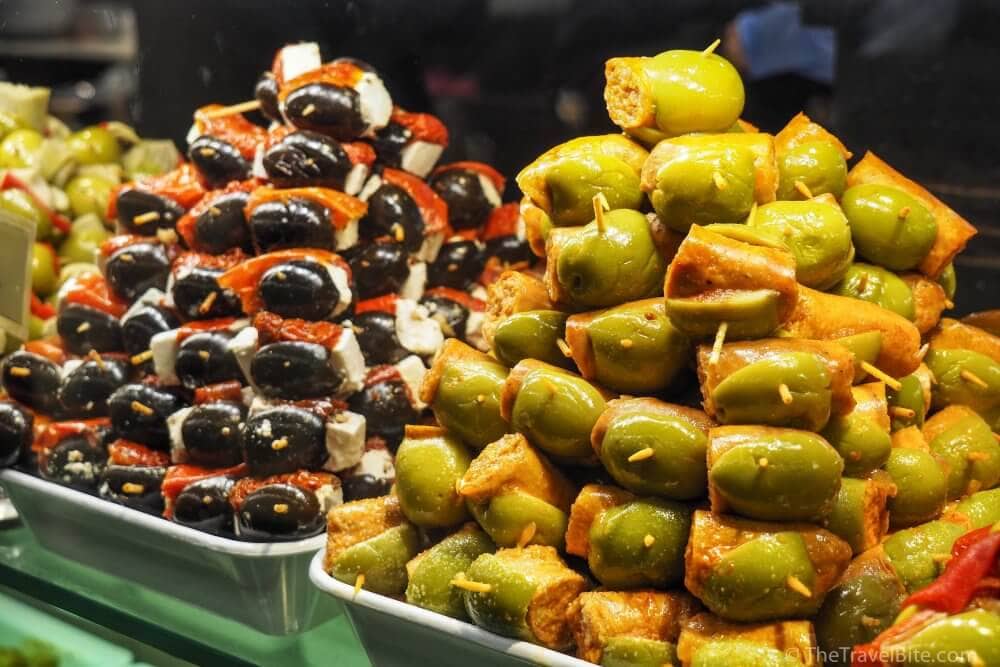 Gazpacho
A classic in Spanish cuisine, gazpacho is a cold soup made with pureed vegetables including tomatoes, cucumber, celery, bell peppers, and onion, then spiced with garlic, olive oil, and lime juice. Sometimes you might even find it made with watermelon. Gazpacho is cool and refreshing on a hot summer day.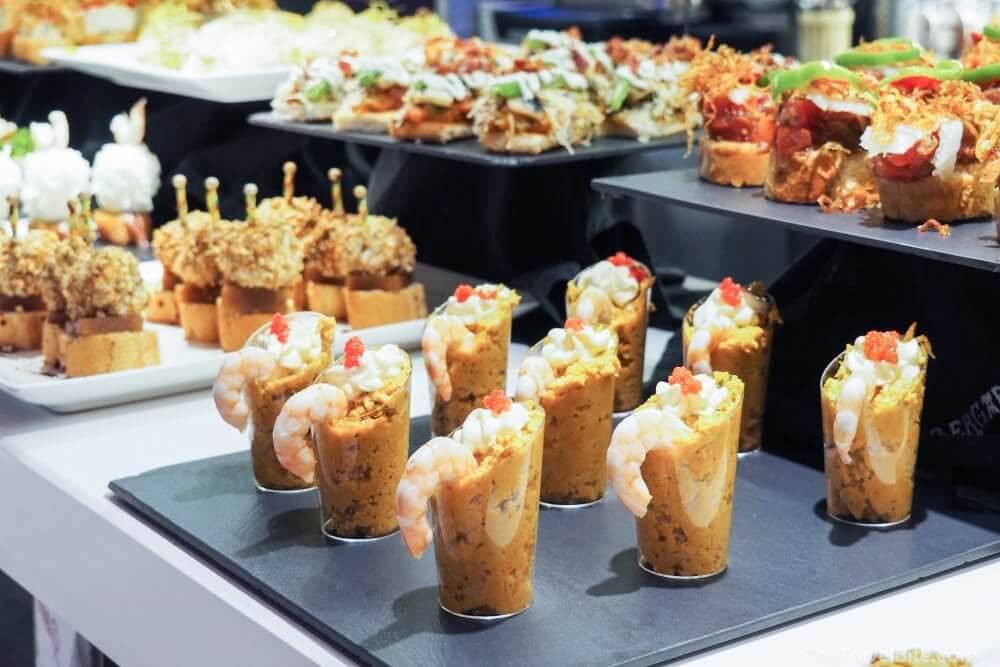 Pintxos and Tapas
When it comes to what to eat in Spain, pintxos and tapas are a must! They're very similar in that they're both fresh made bite sized bar food. Pronounced like "pinchos," pintxos are so named as they used to be "pinched" or held together with a toothpick to keep the food on top of the bread. Pintxos come from the Basque region of Spain, while you're more likely to find tapas in the south. Both can be any type of appetizer or small sharable portion, from bar food to more sophisticated dishes too. One that you definitely must try is patatas bravas if you see it on a menu.
In Spain, dinner is usually quite late, around 9:00 to 11:00 in the evening. So, pintxos and tapas are a great little snack to hold you over before dinner.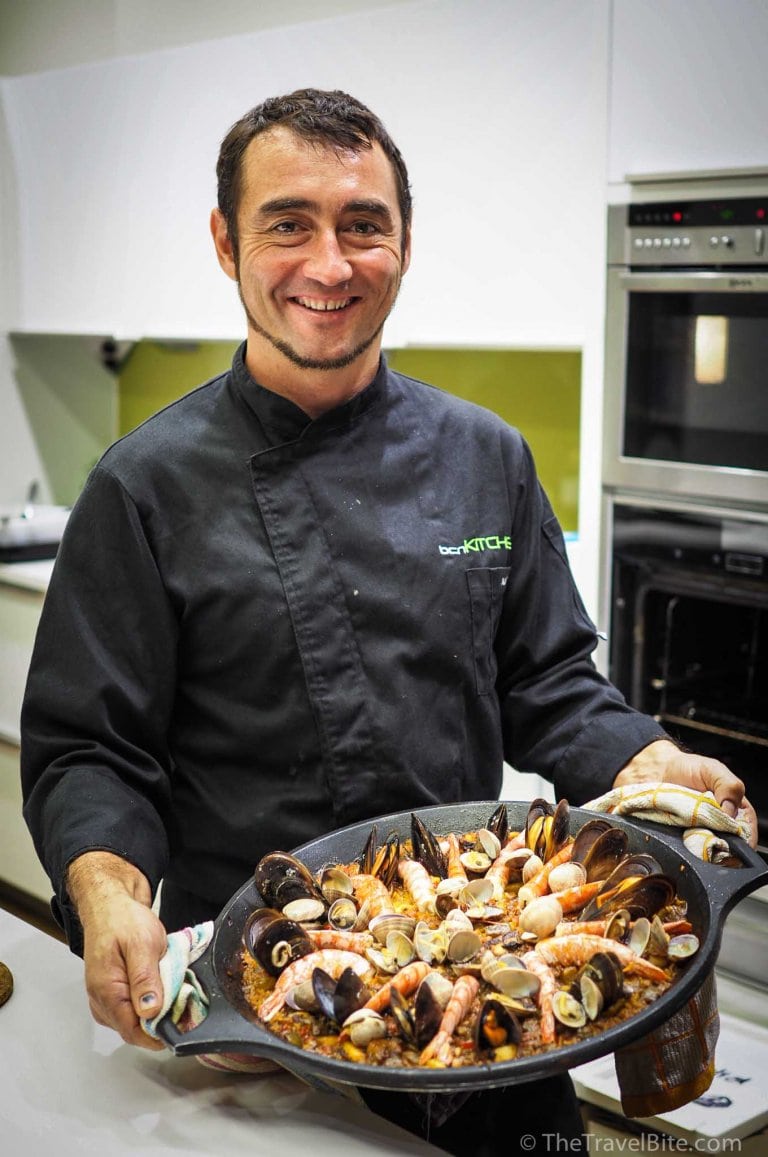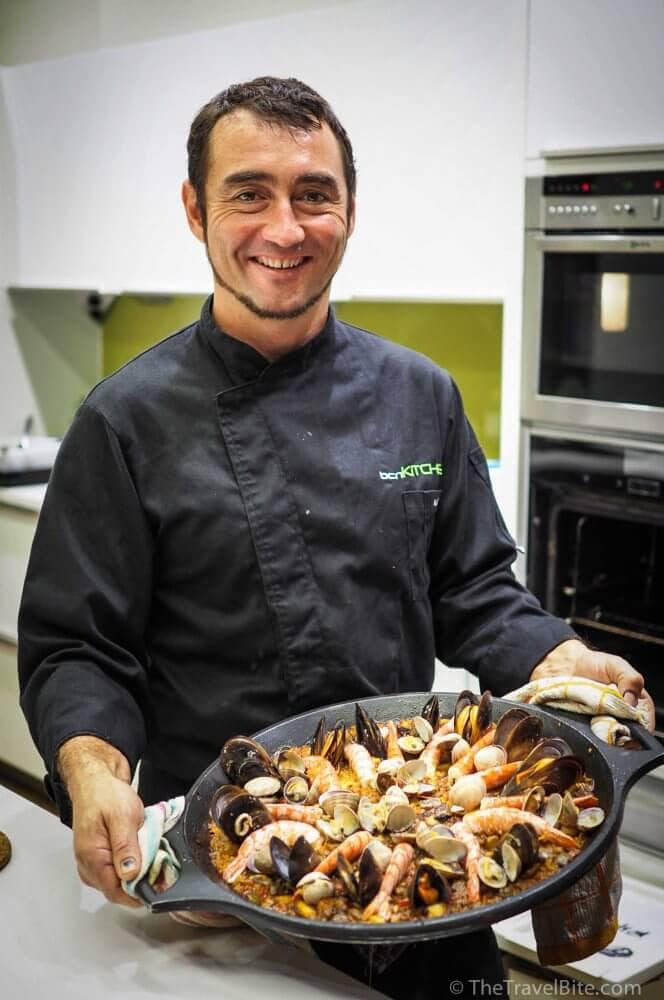 Paella
Probably one of Spain's most recognizable dishes, paella is rice cooked with saffron and mixed with various vegetables and meats in a large paella pan or shallow skillet.
Originally from Valencia, traditional paella was made with green beans, rabbit, and butter beans. But today you can find so many variations, the most popular being with mixed seafood. If you get a chance to take a cooking class while visiting Spain, definitely learn how to make paella!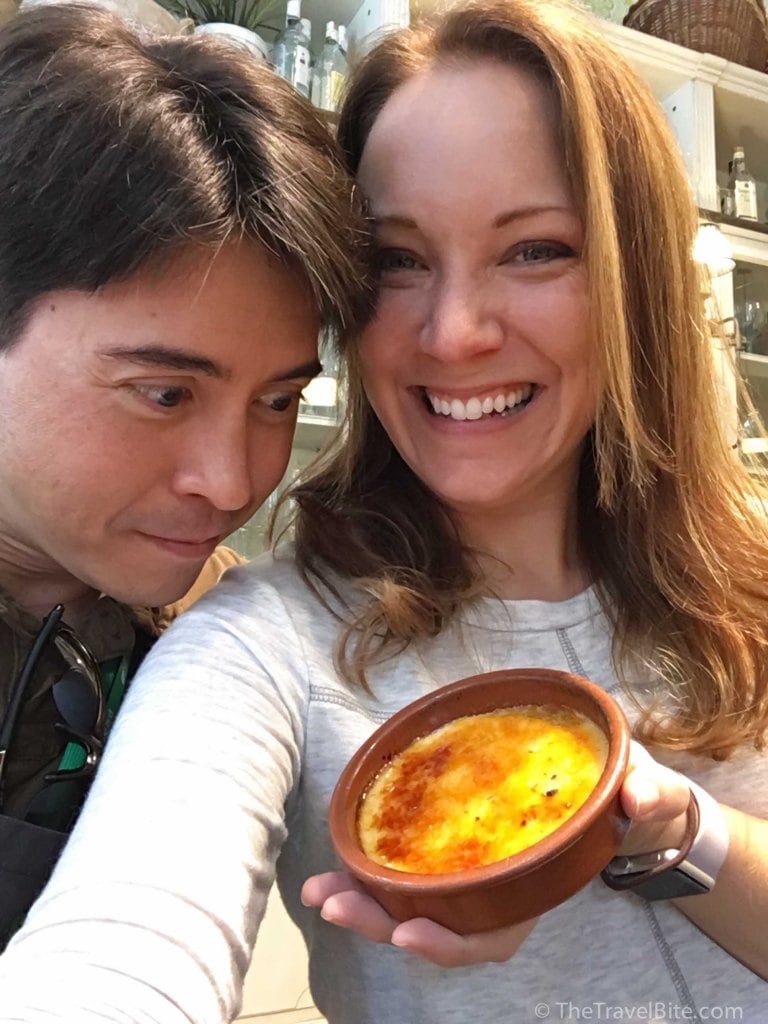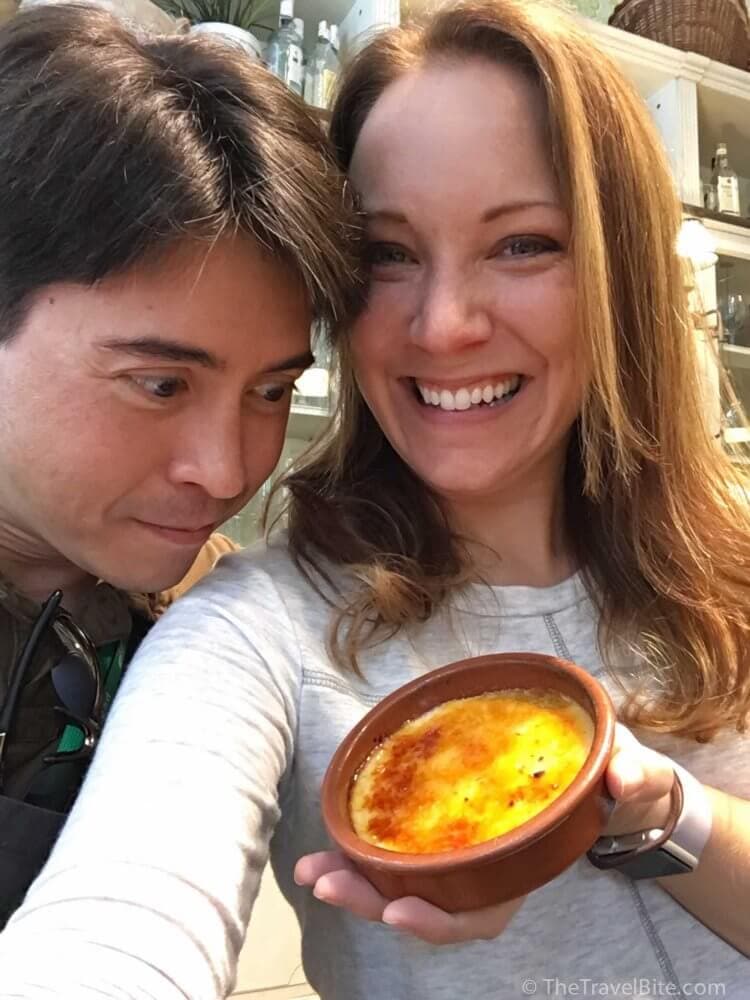 Crema Catalana
When it comes to what to eat in Spain, of course we have to include a few desserts! This sweet custard dish is similar to creme brûlée, but is a bit lighter and is flavored with cinnamon and lemon peel. The lemon and cinnamon give it such a refreshingly different flavor. Enjoy crema Catalan with a coffee or espresso!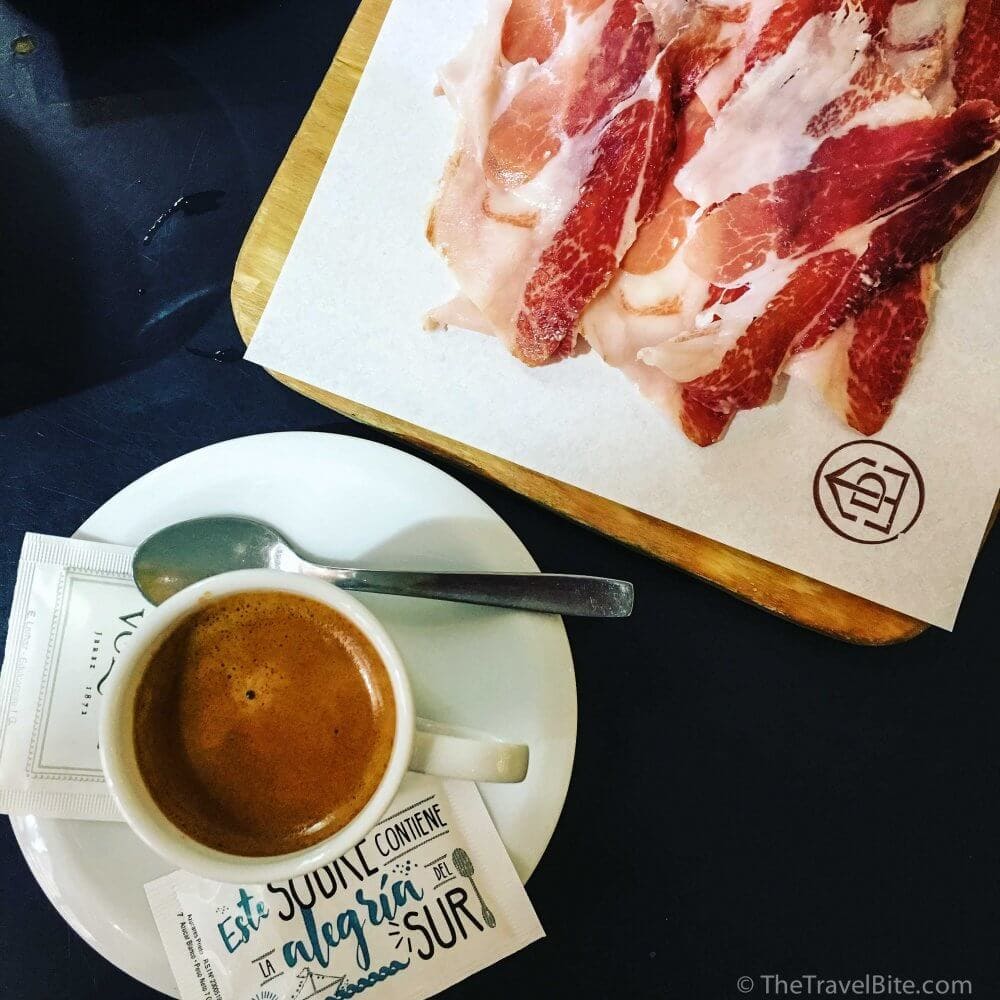 Jamon Imberico
This is the "prosciutto of Spain" and there are many contested debates as which is better — prosciutto or jamon imberico. Personally, I'd choose jamon. But don't tell my Italian friends. Look for iberico de bellota, made from acorn-fed Iberico hams which develop a wonderful nutty flavor.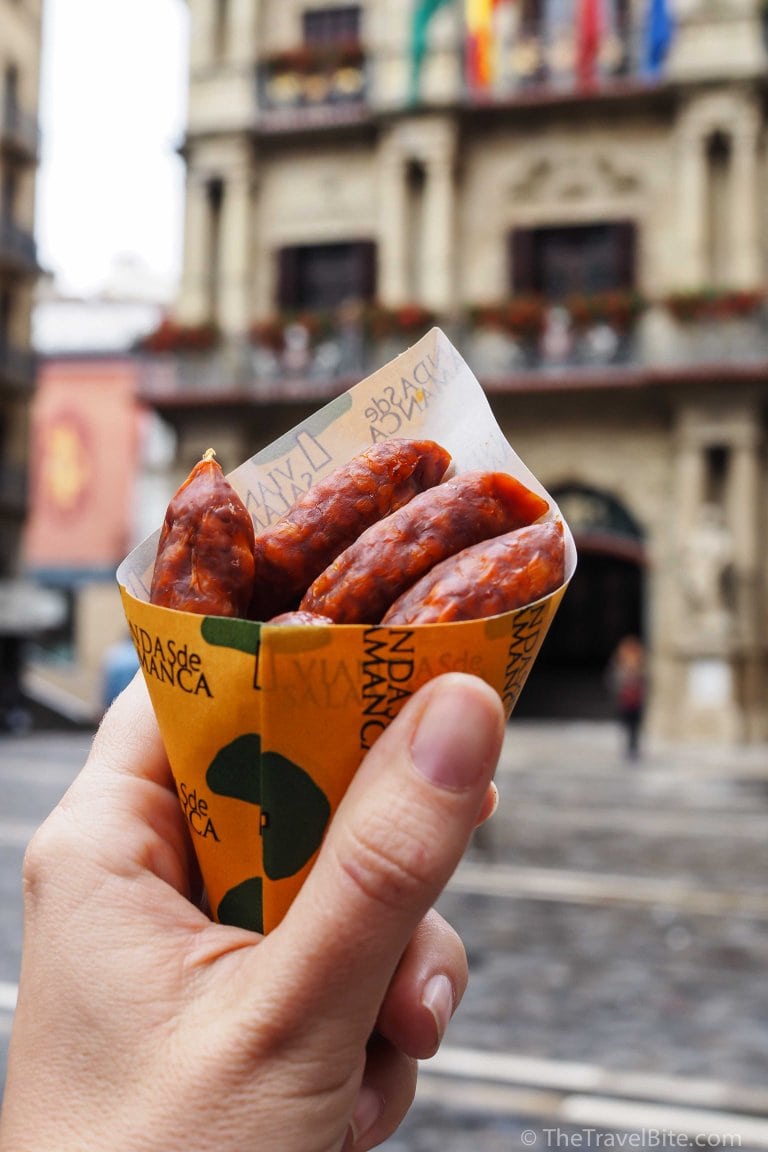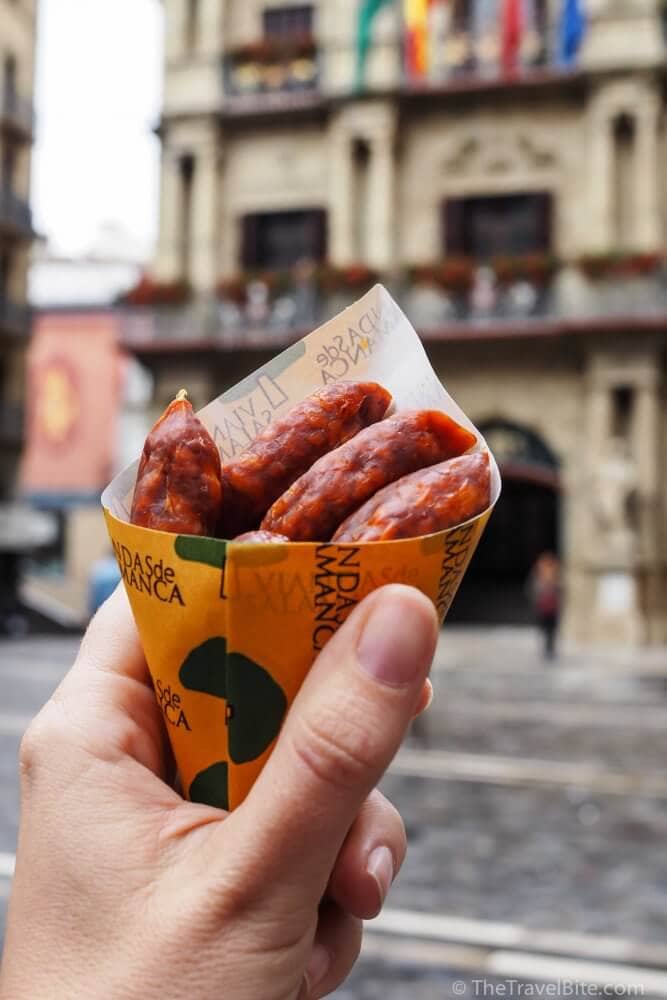 Chorizo
Chorizo is a type of pork sausage you'll find all over Spain, from sweet (dulce), to spicy (picante), and even bite-sized and served in a cone. The one thing you'll notice about Spain, is they really love their cured meats.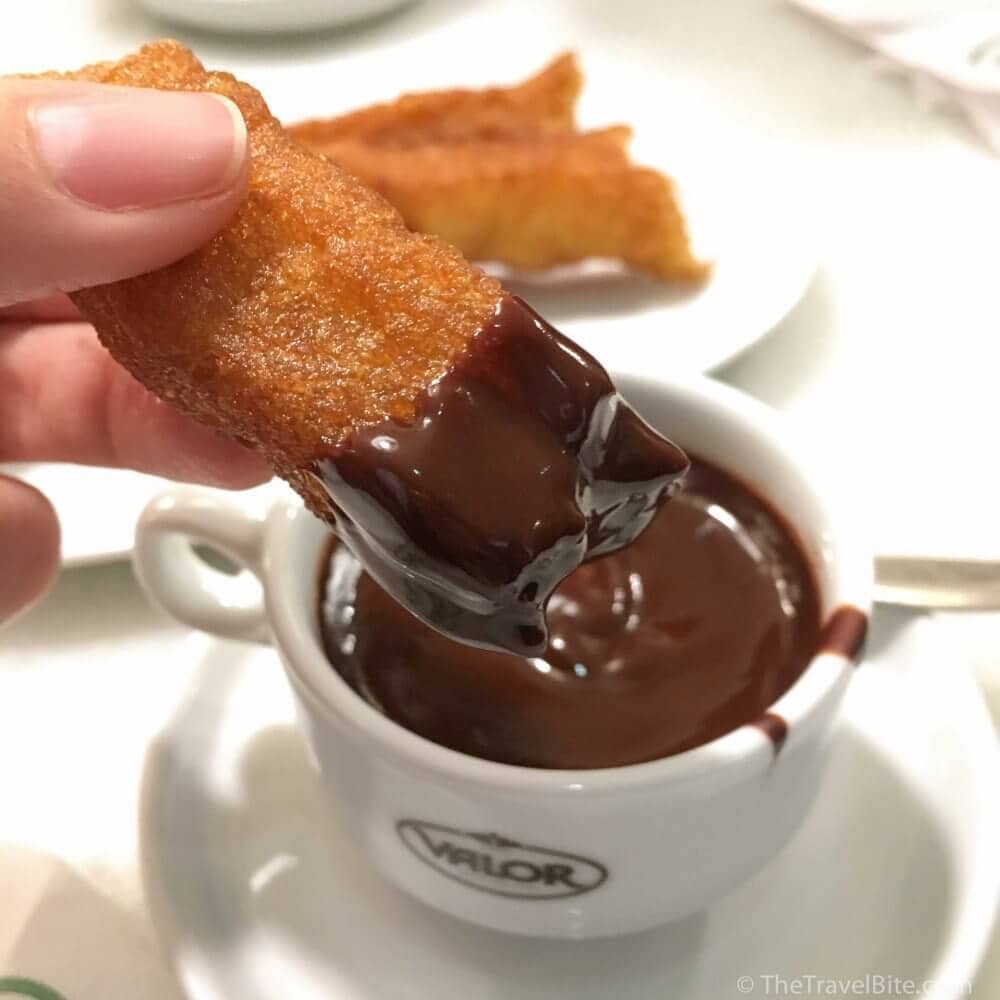 Churros con Chocolate
You probably recognize churros, the crispy fried dough sticks covered in cinnamon sugar. They're traditionally from Spain and Portugal where you'll find them looped in a more tear-drop shape and served with thick chocolate to dip them. The best churros we've ever had were in Pamplona, Spain, at Chocolates Valor near Plaza del Castillo.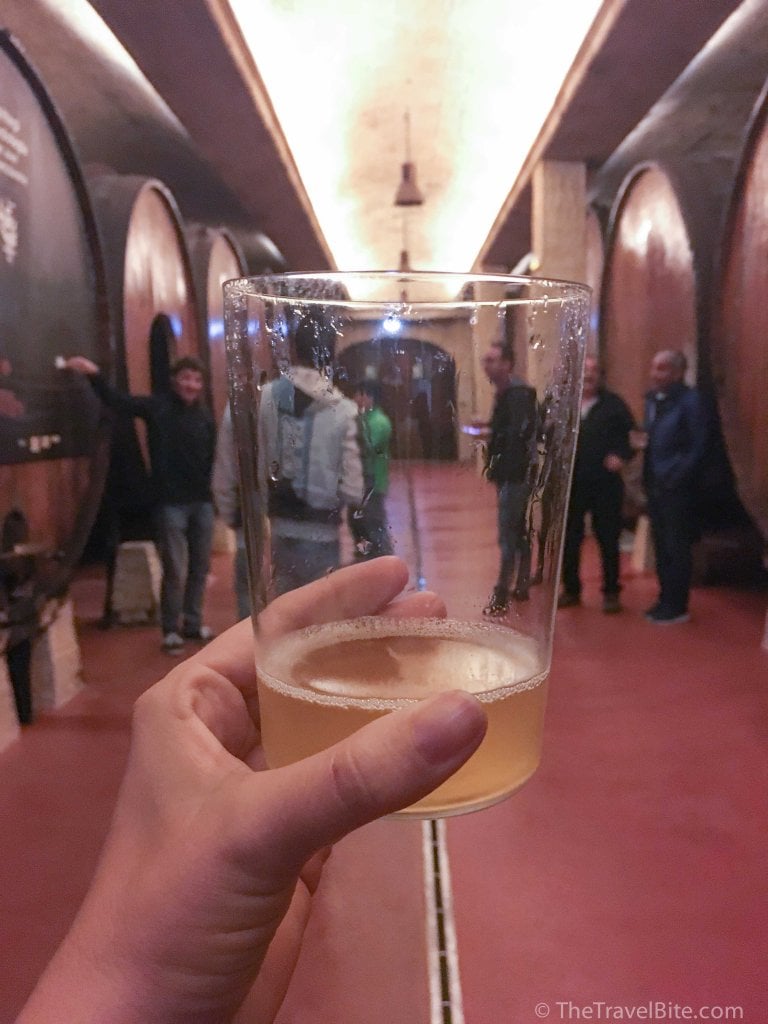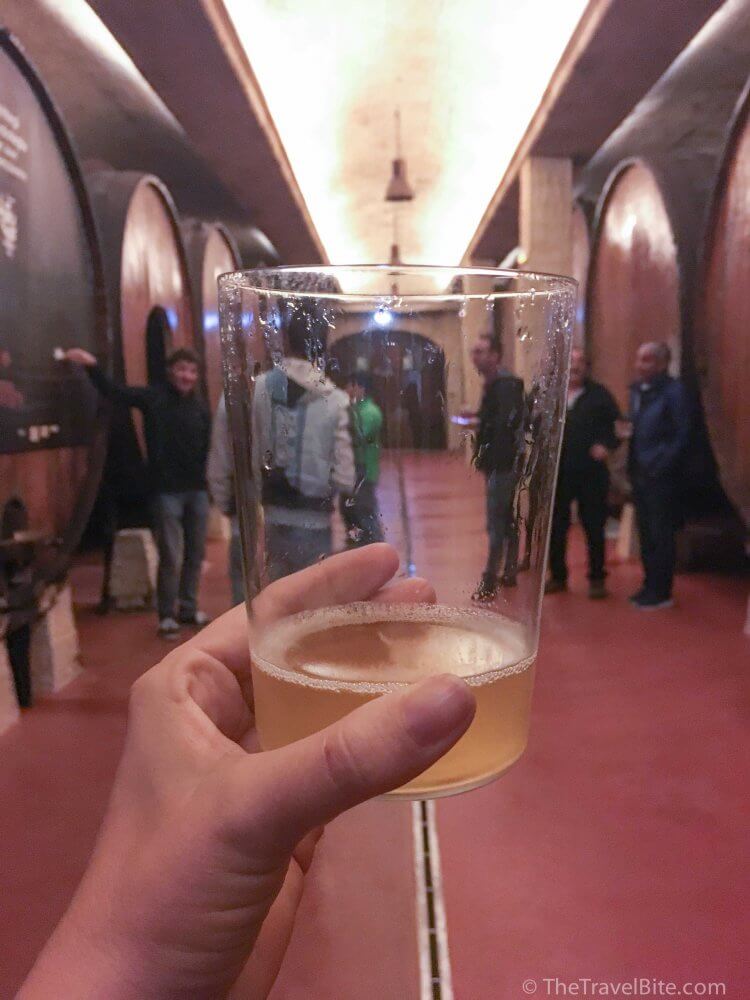 Cider
Spanish cider is unique from other ciders of the world in that it is a bit cloudy, not very effervescent, and the flavor is a bit tart and sour. You'll typically find Spanish ciders at sagardotegi (cider houses) in the Basque region, which are quite fun. Think of it like a Spanish pub, where cider is poured from large barrels and a rustic meal of fresh baked bread and cod omelettes are served family style along large wood tables where strangers become friends. Even if you don't particularly care for this style of cider, the cider house experience is fun and worth it.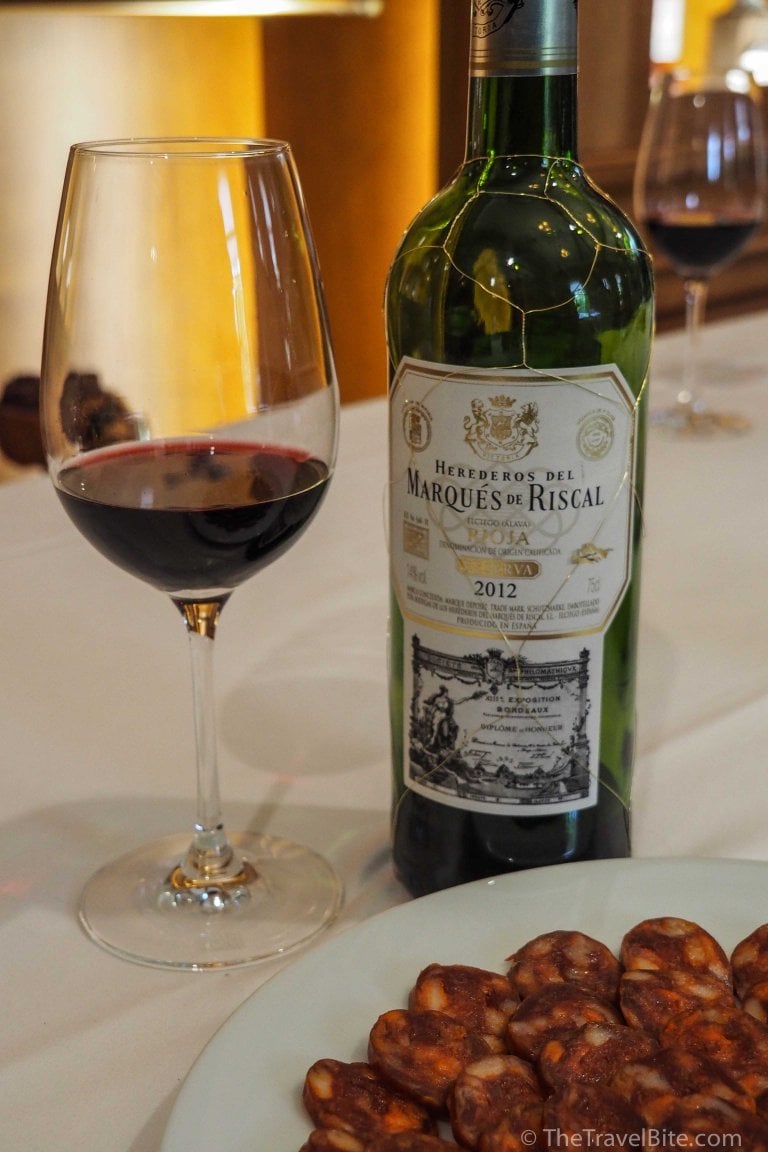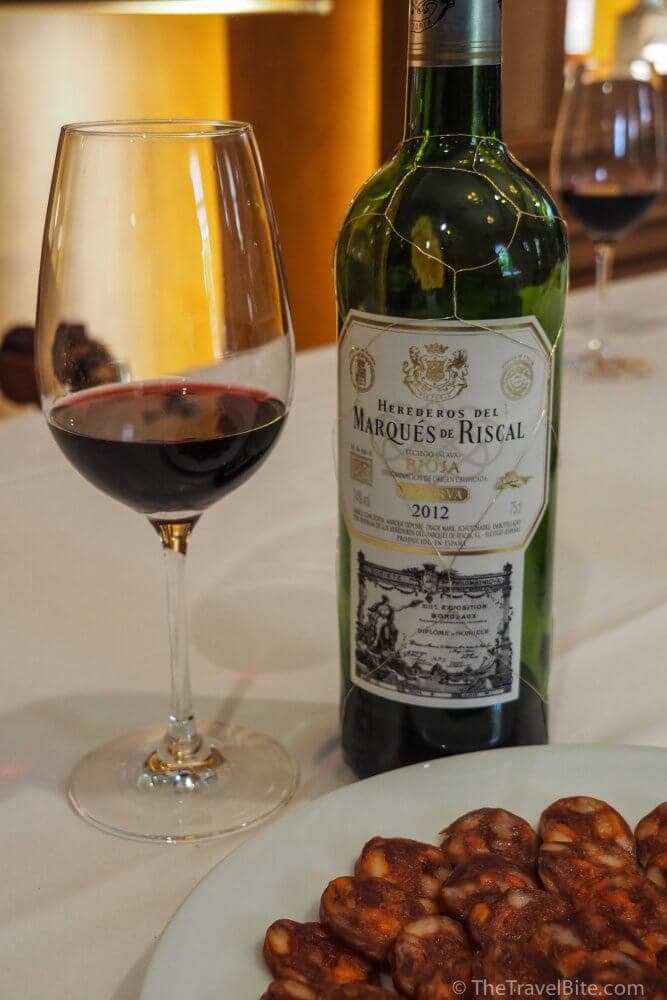 Rioja
I can't mention cider without also mentioning wine. Rioja is one of Spain's most popular wine regions with grape varieties including Tempranillo, Garnacha, and even Cabernet Sauvignon and Merlot. While visiting Spain, definitely plan to visit a few wineries. Our favorite was Marques de Riscal, one of the oldest Rioja wineries.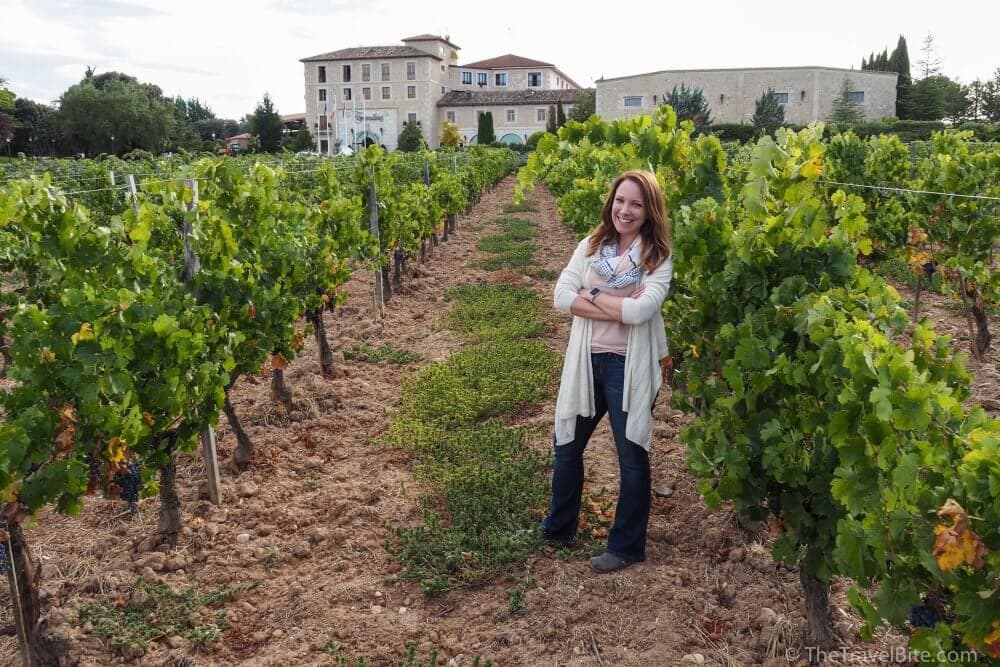 Cava
Cava is Spain's sparkling wine, made using the traditional method champenoise, just like Champagne. Unlike Champagne, however, cava can be made with a variety grapes including, Macabeu, Parellada, Xarel-lo, Garnacha, and Pinot Noir. Produced in the Catalonia region, cava got it's name from how the wine was traditionally stored in caves.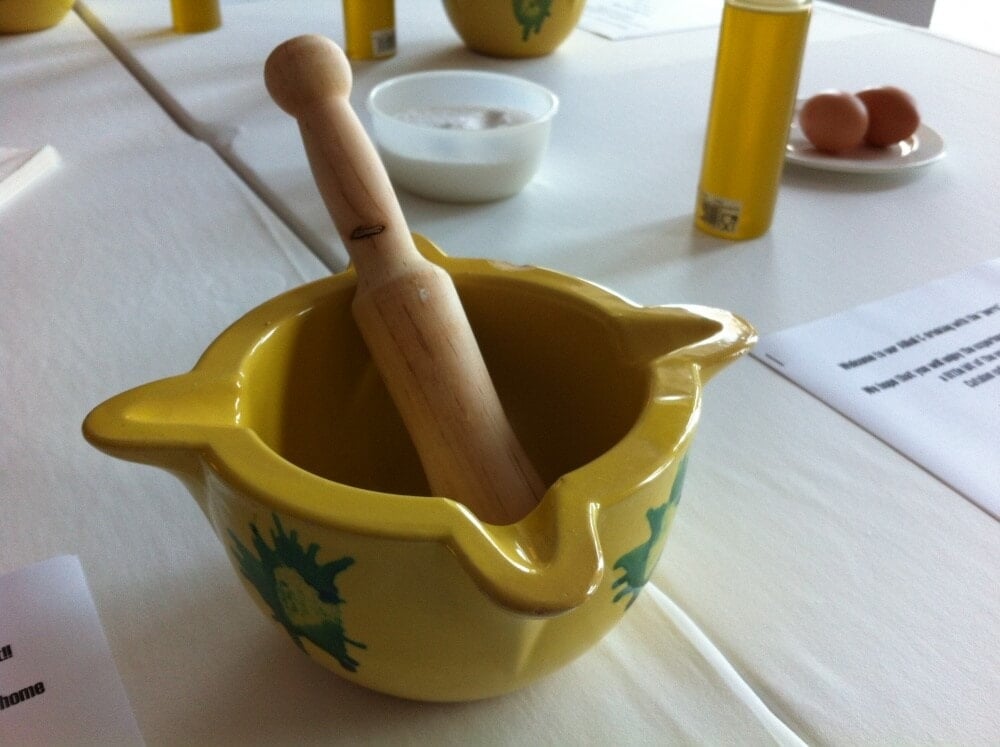 Aioli
I've talked about food, I've talked about drinks, now it's time for condiments. When it Spain, be sure to try real aioli. There's no mayonnaise in it, just simply garlic and olive oil. And an aioli bowl is a great souvenir to take home too.
Want to save this list of Spanish Food for your trip to Spain? Pin it to your travel board!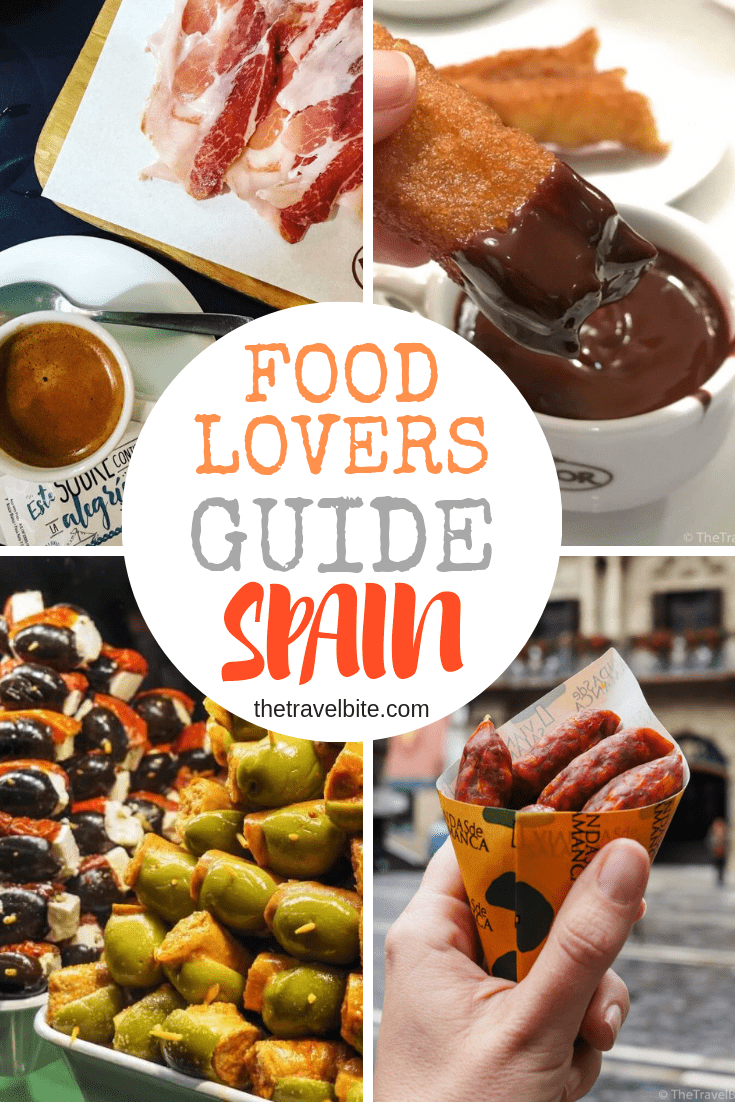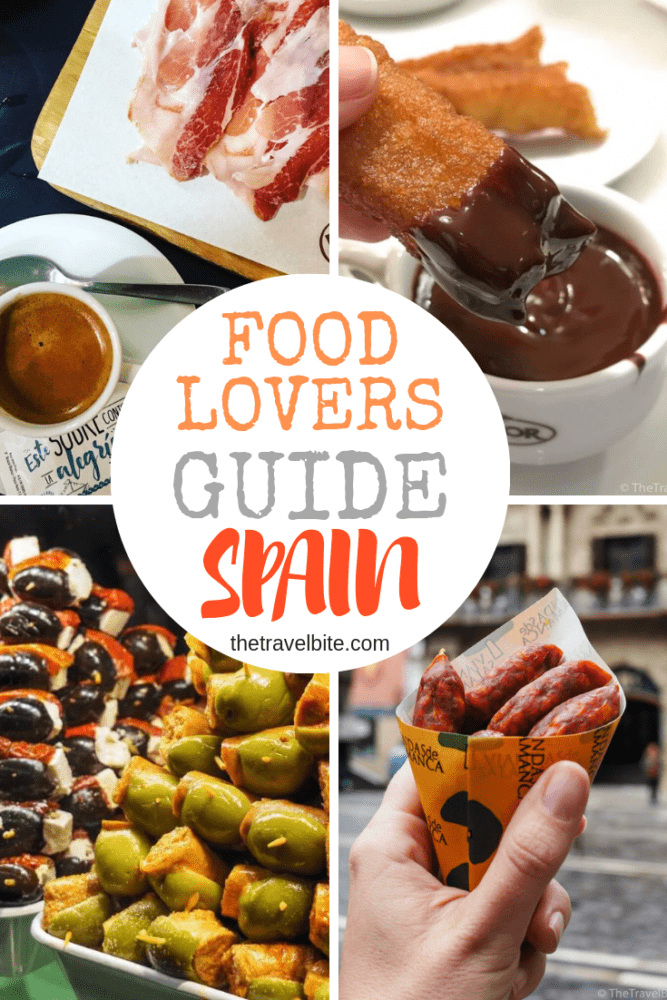 Originally Published Aug 10, 2012, Updated 2018
Want to save this list of what to eat in Spain? Pin it!