What's it like to dine at one of best restaurants in the world?  How about THE best restaurant in the world?  At first, a little intimidating.  Of course I'm well versed in proper dinner etiquette and know what fork and knife to use and when. (After all, I have seen the movie Pretty Woman about a million times.)  But I'd soon discover that type of pretentious formality is unnecessary at Celler De Can Roca where the experience is more about sharing a love for food through an imaginative menu and creative artistic expression.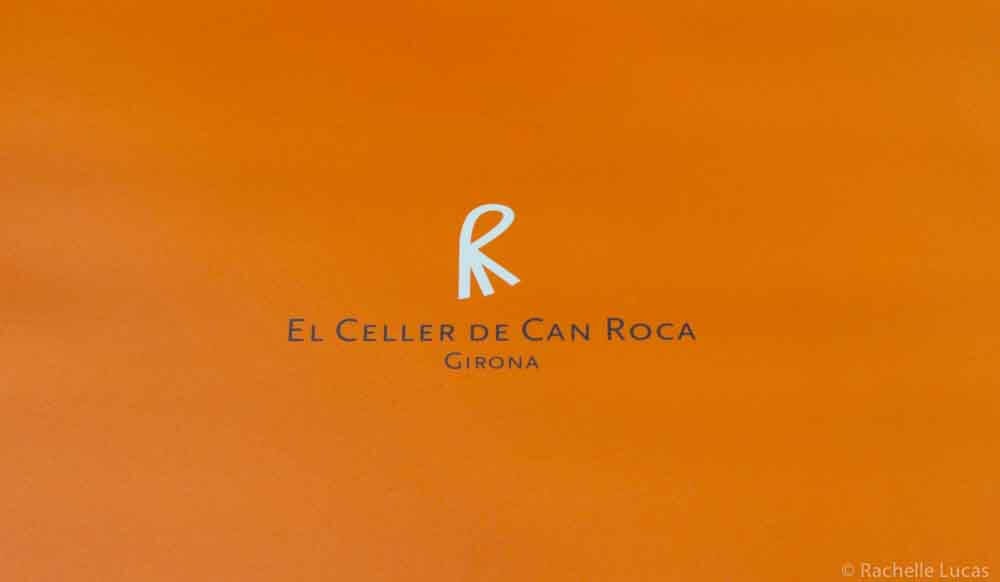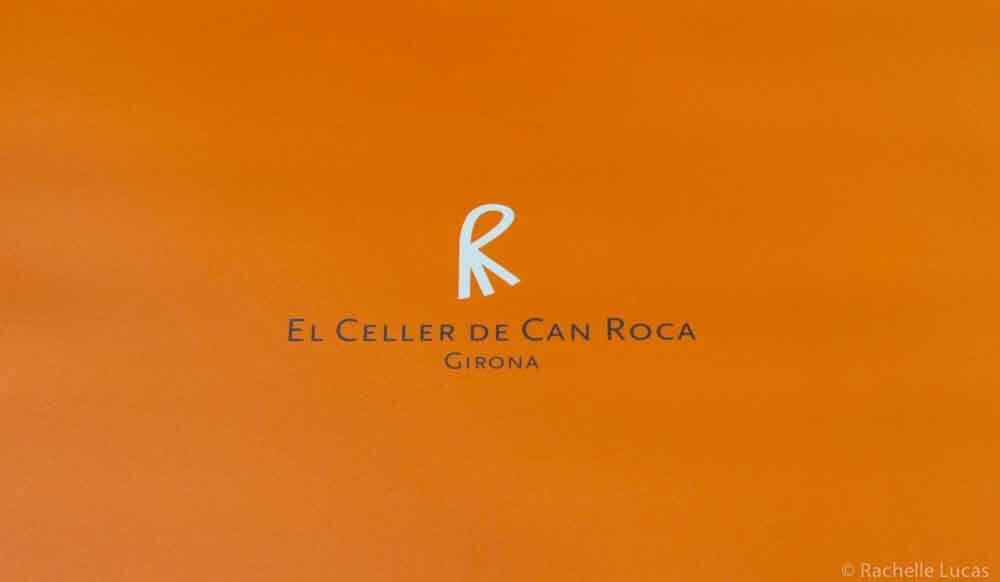 What It's Like To Dine At One Of The Best Restaurants In The World
Arriving to a regular ordinary street in Girona, Spain, surrounded by condos and a small parking lot, the mystique of this world renowned restaurant is hidden behind a tall rustic wall. Upon walking through the entrance and under a small canopy of trees, the first thing I noticed was a Spanish Mission style estate with soft green grass, stone walkways, and a patio with diners picking olives off of bonsai trees.  It was as if we walked into someone's backyard and crashed their patio party.  The decor was clean and minimalist, but also warm and inviting.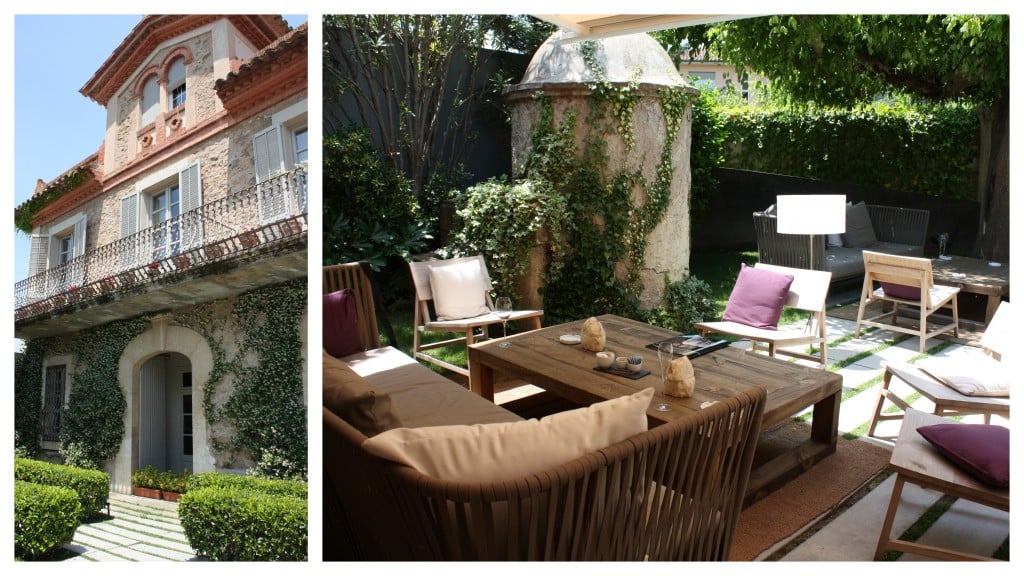 Then we met Joan Roca, with his genuine smile and soft eyes.  He invites us back to the kitchen for a tour, but I feel as though he's just welcomed us into his home.  Immediately all my previous tension about formality melted away.  We watch as the culinary team moved in a swift synchronized fashion creating tiny works of art.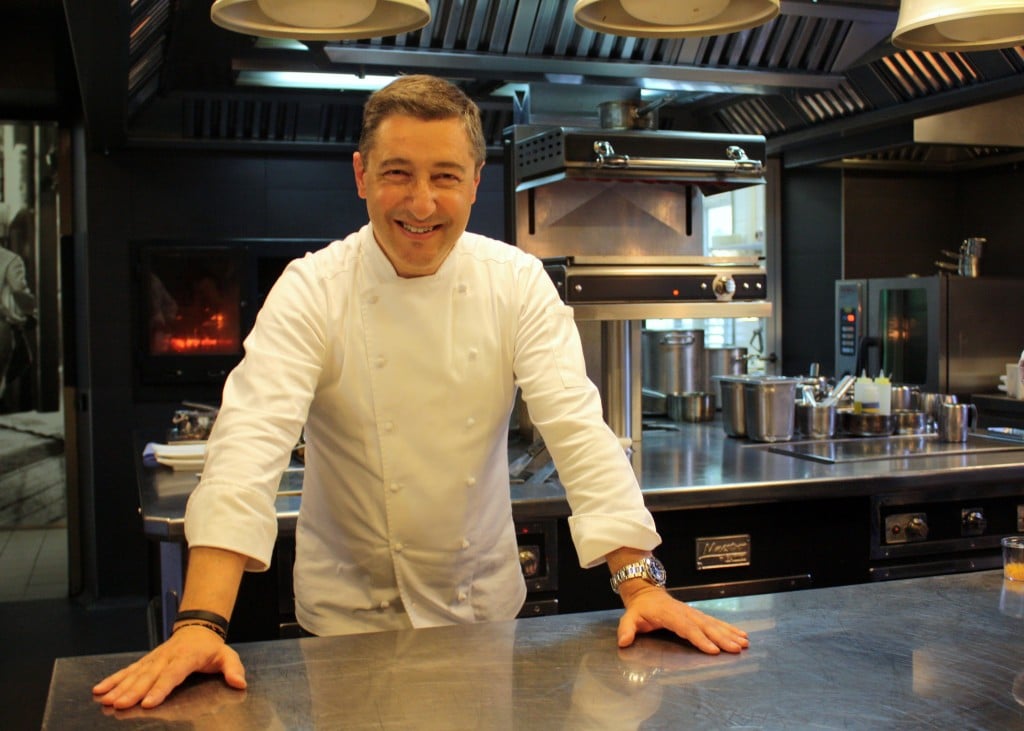 The size and scale of the food is one of the first things I noticed that is so different than most kitchens.  Each dish looked like a bite sized sculpture.  I'd later be thankful for the miniature meals.  After 5 hours, 14 glasses of wine, and 17 courses … I couldn't imagine having American-sized portions.  Nor would it have been as playful and fun!  There's plenty you can read about the numbers at Cellar de Can Roca, and it's just as impressive as their Top 50 Best Restaurants Of The World Award.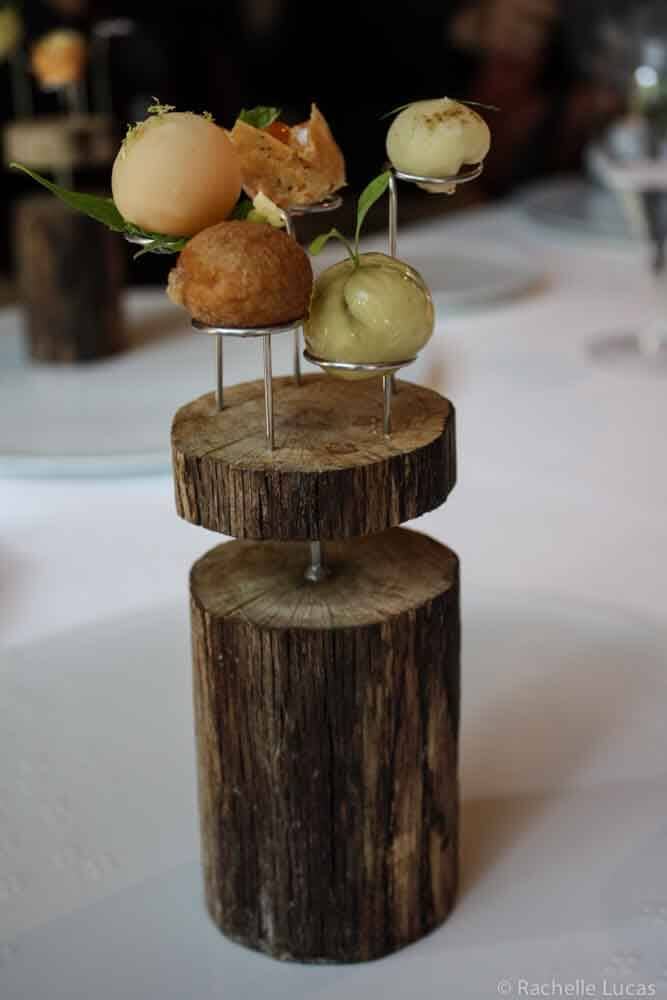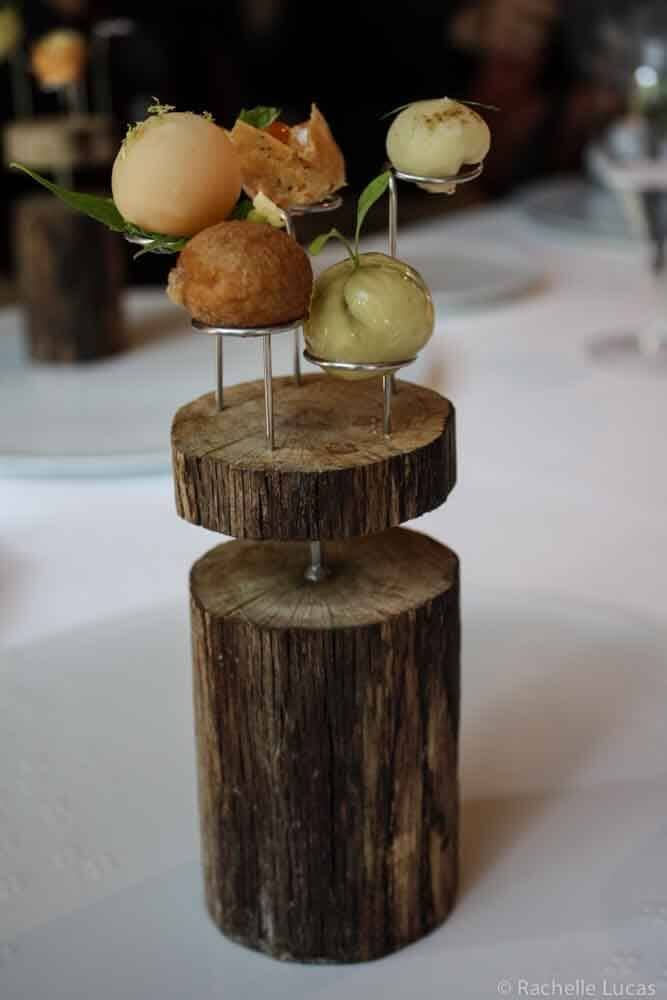 Celler de Can Roca
Each of the Roca brothers has a specialty.  Joan is cuisine, Josep is wine, and Jordi is pastry and desserts.  Together, they make an incredible team.  It's obvious to all who visit that they love what they do and have a passion for creating new food experiences.  In the US, most celebrity chefs are too busy working the media to be in the kitchen anymore.  These guys, however, with their black chef's coats, tightly fitted designer jeans, and stylish leather shoes — you can tell that their kitchen is their stage.  It's where they come to be creative and play.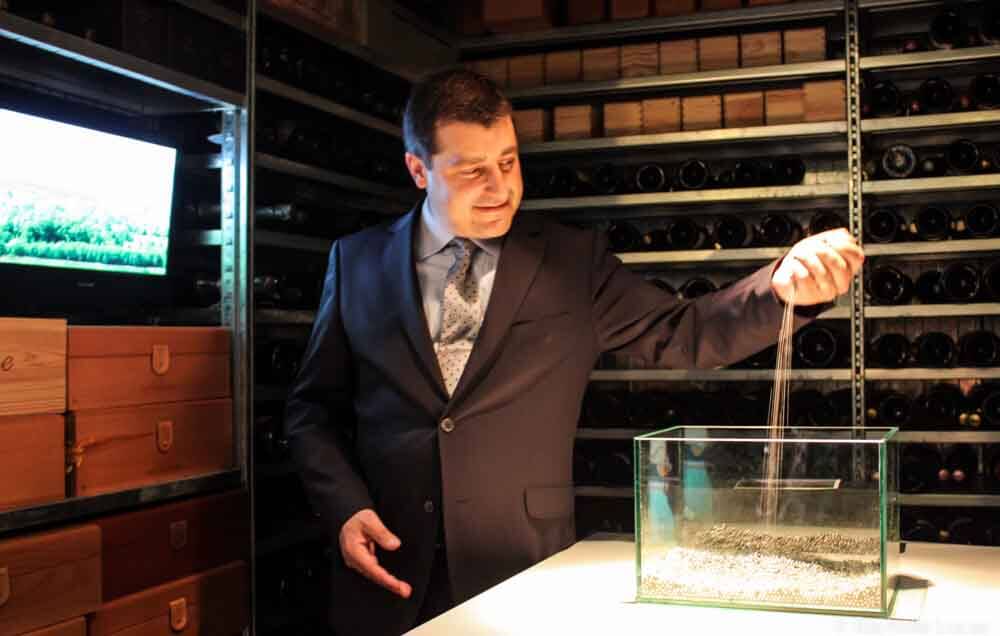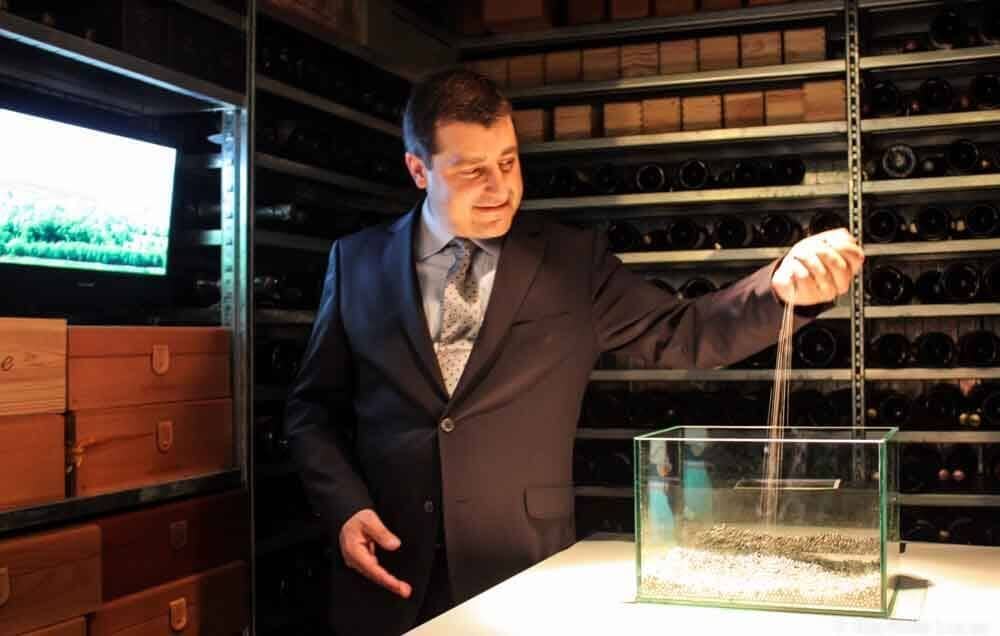 Josep walked us back to the cellar to share with us their wine collection.  This was unlike any wine tour I'd ever experienced.  Each type wine was presented in it's own room with music, textiles, and video all representative of the history of the grapes and the feeling of the wine.  The cool caress of a soft silk scarf and an equally smooth melody to complement a chardonnay.   A thousand metallic beads cascading through your hands and clattering into a bowl like the crisp bubbles of a fine champagne.  This is where it begins.  I felt the soft hair on the back of my neck rise and a tingle on my lips.
I realized …
I was on a date … with food.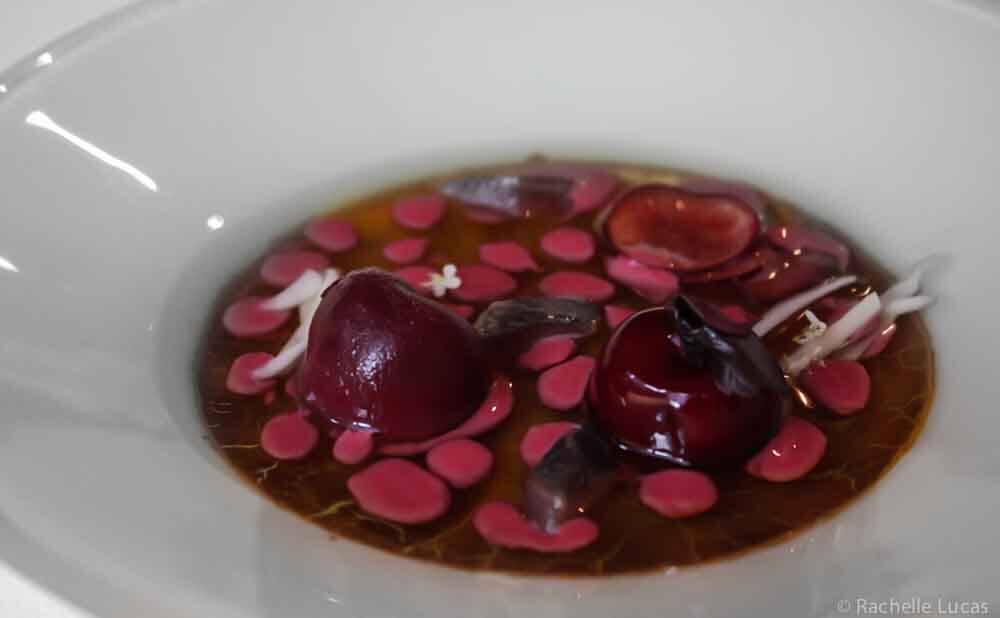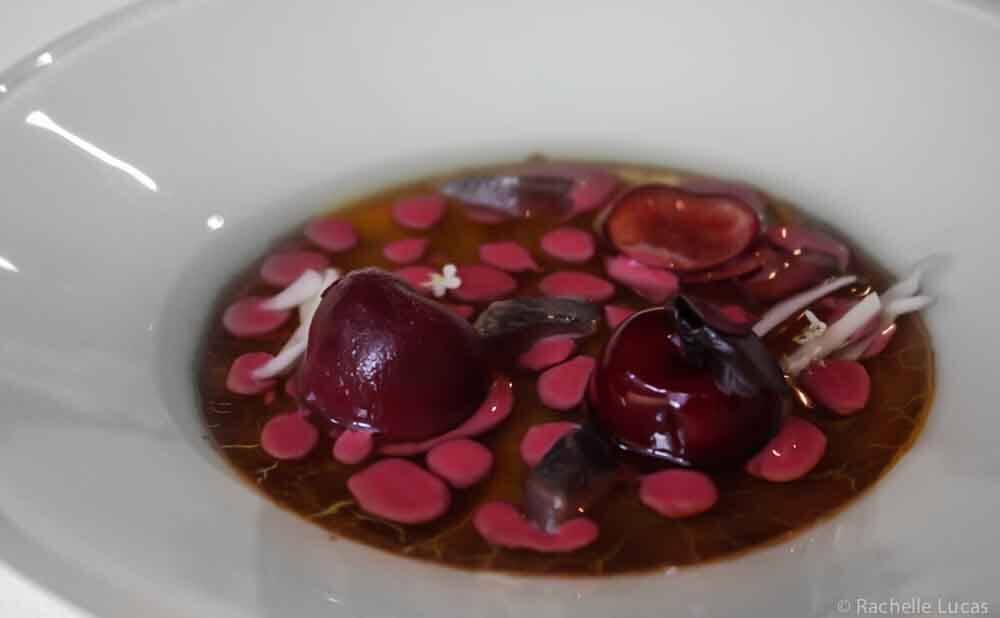 A meal here is like a slow and sensual seduction of all the senses.  Sight, sound, touch, scents, and finally … taste.  It felt visceral, yet innocently fun.  Like being on a first date and the excitement of discovering someone for the first time.  Except, I was rediscovering my own palate during a multi-sensory food adventure.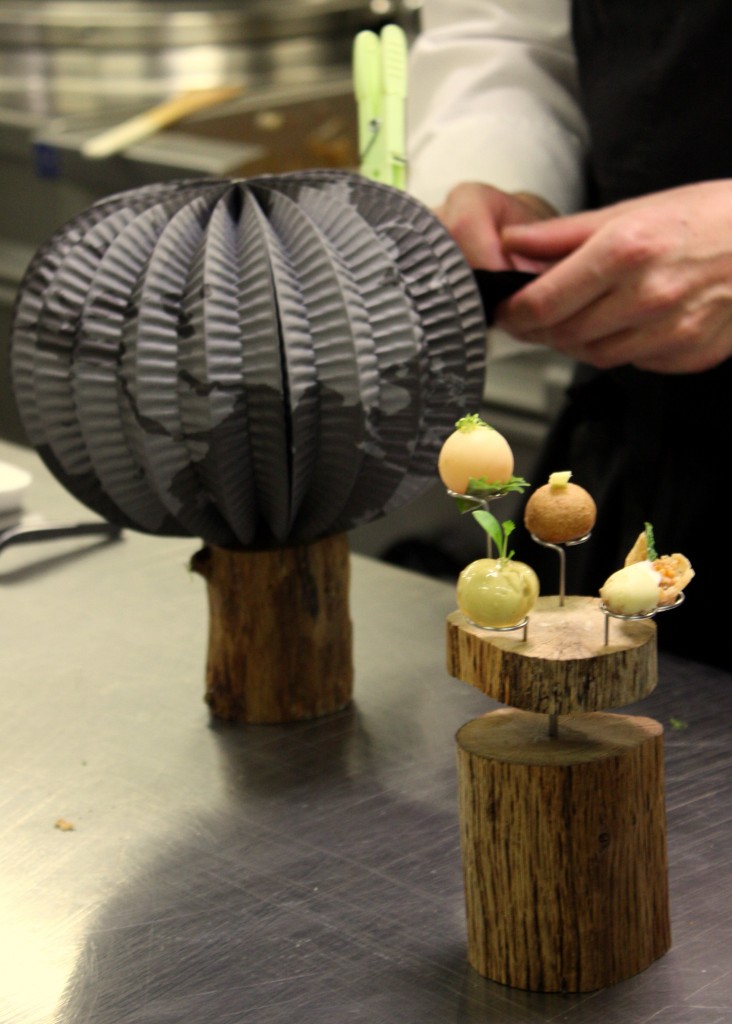 The first course is presented in a paper globe opening a 'world of flavor' to you.  (And what first date doesn't start with Mr. or Ms. Charming offering the world to you, heh?)  As you bring a morsel to your lips, your teased, and asked to recognize the spices and name the country you taste.  This is quite a quiz for a travel blogging foodie.  After closing your eyes and imagining Mexico, Peru, Lebanon, Morocco and Korea on the tip of your tongue, the menu brings you right back to Spain, showcasing their variety of local cuisine and delicious seafood throughout 17 courses.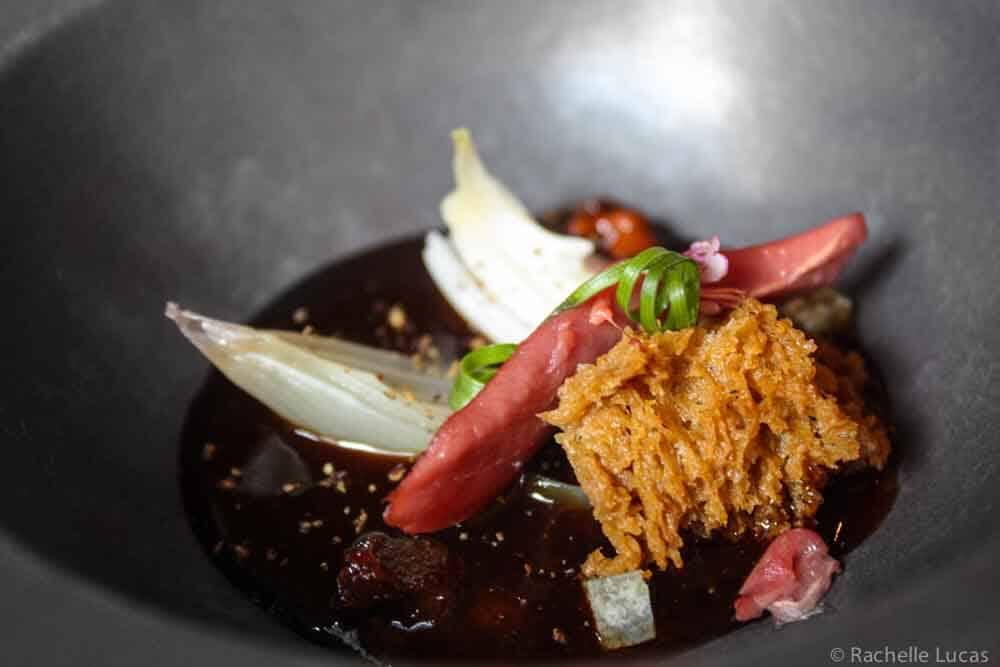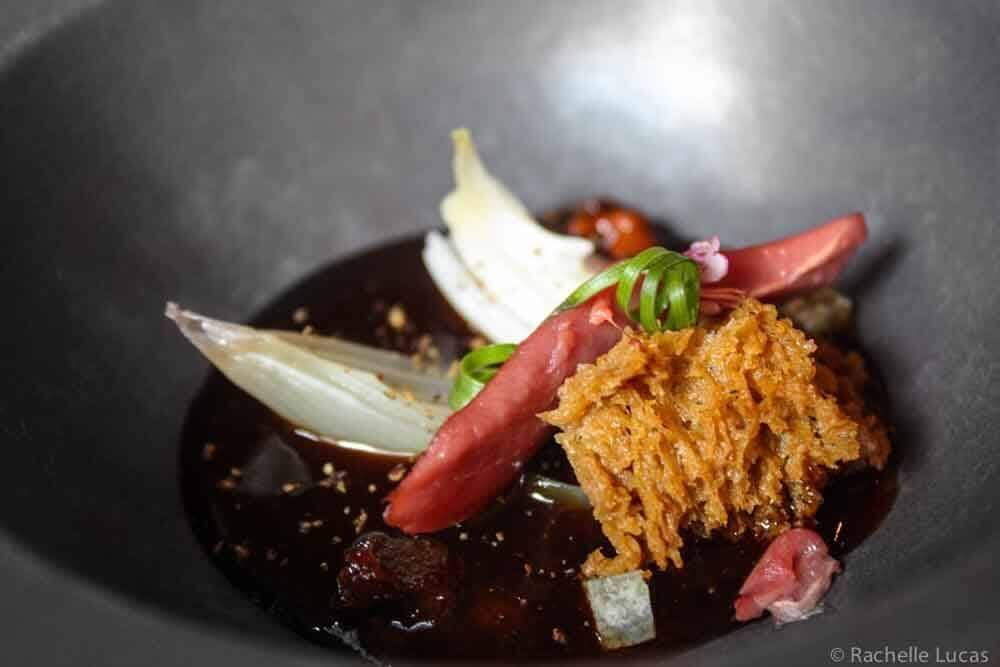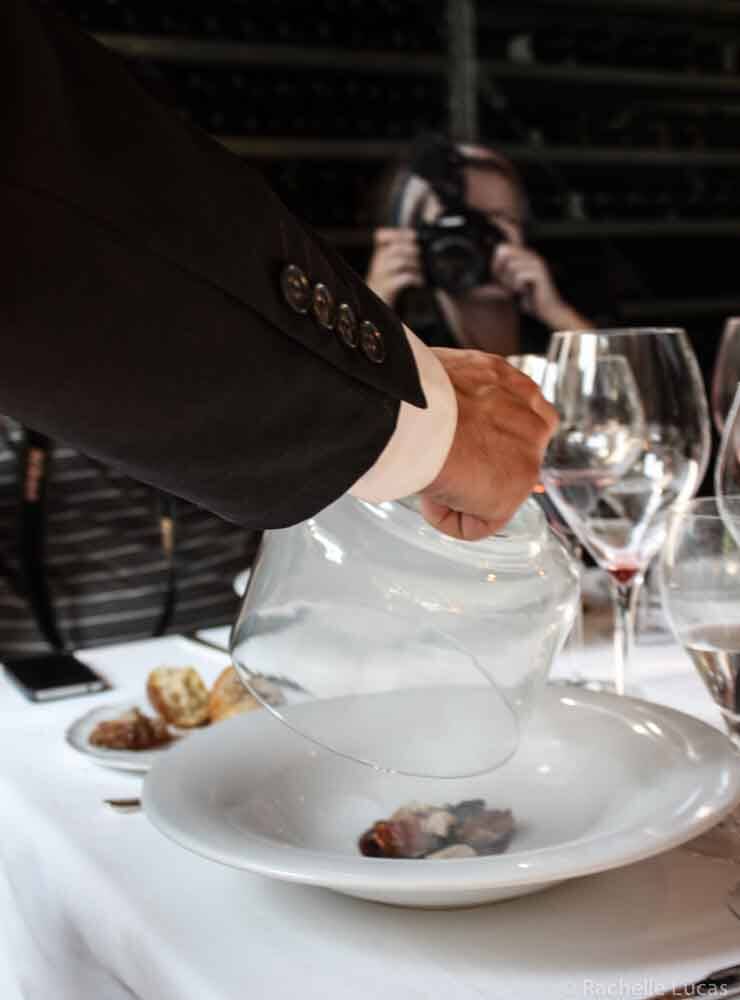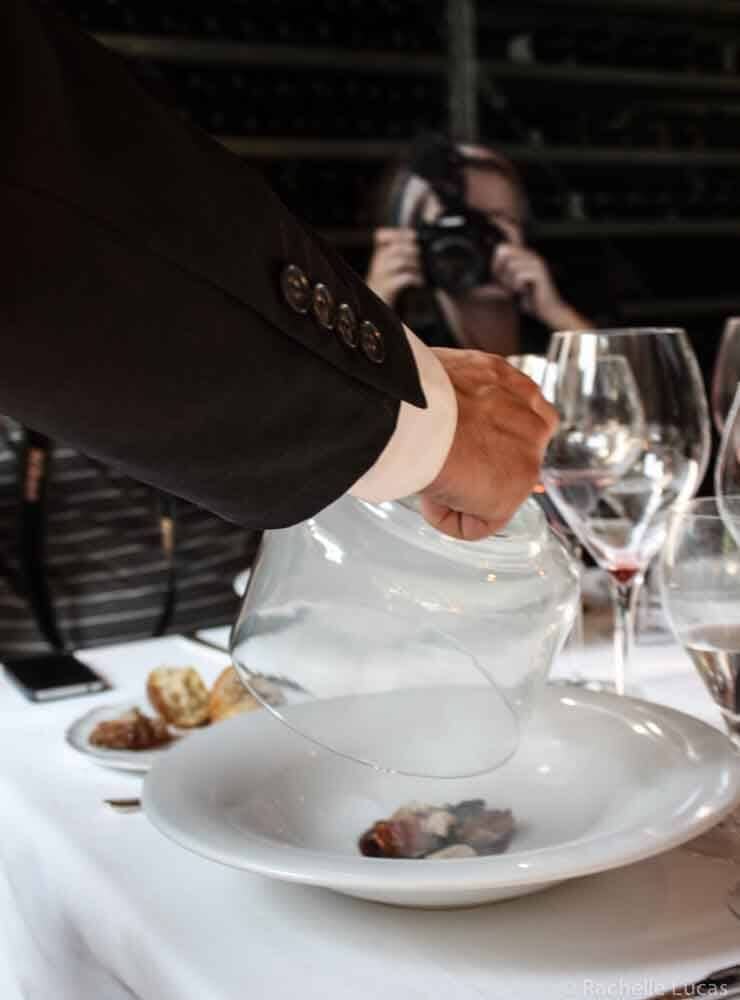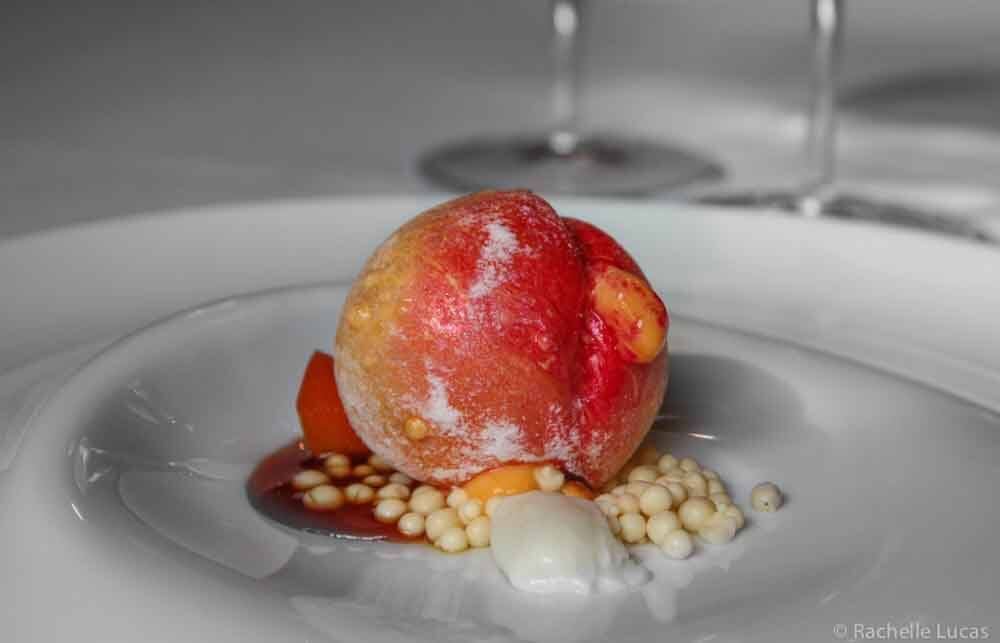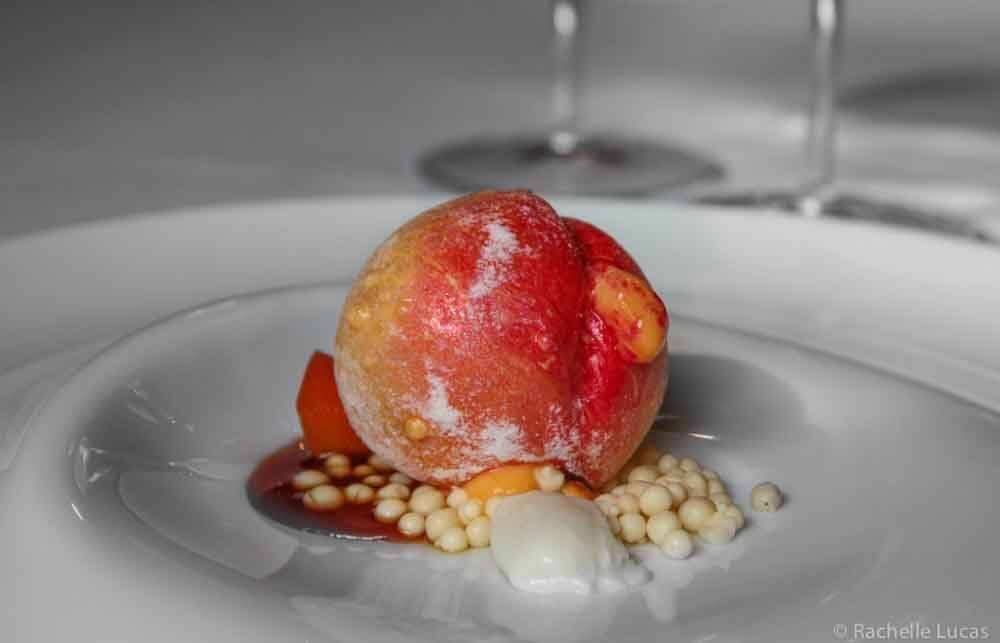 And just like a fun date, when it nears the end, you feel like you should leave … but you don't want the experience to end.  You hesitate, lingering for a moment, waiting for that kiss goodnight, or in this case … a gold dusted hazelnut chocolate truffle.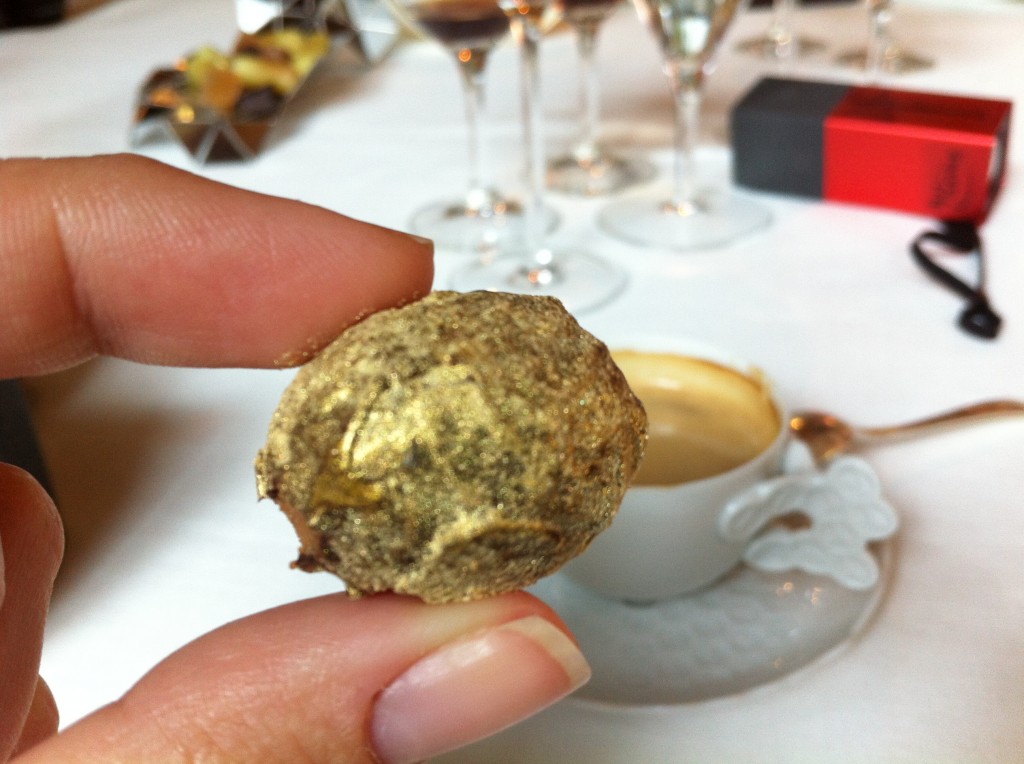 IF YOU GO
Make reservations WELL in advance.  Check out their website for more information: 

Cellercanroca.com

Don't eat much before arriving.  Maybe some tea for breakfast.  That's it.  Seriously.
Be prepared to be amazed!
**Disclosure:  My trip to Girona was sponsored by the Costa Brava Tourism Board.  However, experiences and opinions are my own.