Looking for some of the best pasta recipes? I don't know about you, but I'm missing travel right now and seeking comfort in my kitchen. And my favorite comfort food, hands down, is pasta. It's alike a warm hug in a bowl, it's filling, and there's always a box of it in my pantry.
So, since we can't travel right now and we're all cooking a bit more, how about a little kitchen table travel with a new recipe? In case you get tired of the same plain old boring pasta recipe, I've got OVER 175 OF THE BEST EASY PASTA RECIPES listed below from some of the most talented food bloggers I know.
Each one of these recipes below is not only tried and true, but by clicking through and giving it a try, you're supporting a blogger and their small family business without having to spend a dime.
Have scroll through below and see what ingredients you have on hand to whip up a new pasta dinner tonight. You'll find everything from quick and easy meals, to handmade pasta from scratch for when you have extra time.
I've divided them up into categories to help you more easily find a pasta recipe that matches the ingredients in your pantry, refrigerator or freezer. The pasta recipes are categorized in alphabetical order as follows: Bakes & Casseroles, Bolognese Style, Cheesy, Chicken, Diet Friendly, Easy Pantry Favorites, Global Flavors, Instant Pot Pastas, Lemon, Mushroom, One-Pot Pasta Meals, Sausage, Seafood, Spaghetti, Vegan, and Vegetarian. Enjoy!
BAKES & CASSEROLES
Vegetable Pasta Bake: A vegetable pasta bake so hearty, no one will even care that it's meatless. Flavorful roasted vegetables and pasta are tossed in a rich pesto marinara sauce, then smothered in mozzarella and Parmesan cheese before baking. This casserole is sure to become a family favorite.
Chicken Bacon Ranch Pasta Casserole: This chicken bacon casserole will warm you up from head to toe. It smells oh so good and with all that melted cheese and topped with crispy bacon what's not to love?
Easy Pizza Casserole: This recipe is a family-favorite meal that is kid tested and husband approved! It's a great main dish to feed a crowd, only takes 10 minutes to prepare, and is made with 9 ingredients!
Spinach and Ricotta Pasta Shells: When it comes to cooking for a crowd, Spinach and Ricotta Pasta Shells are a dish that is always popular. A great make-ahead meal.
Pizza Tortellini Skillet Casserole: Only 6 ingredients in this cheesy pizza tortellini skillet dinner that the whole family will love!
Chicken Alfred Roll Ups: Amazing delicious dinner fix with this Chicken Alfredo Lasagna Roll Ups. Freezes well,serve whenever you want and enjoy the amazing combination of alfredo and lasagna.
Baked Ham Penne Pasta: A family favorite for any night of the week. Penne pasta, savory ham and a rich and creamy garlic – cheese sauce is a hearty and delicious meal perfect for leftover ham!
Cheesy Baked Pasta with Chicken: A delicious baked pasta that will satisfy your entire family. This baked pasta is comfort food at it's finest. It is filled with chunks of chicken, penne pasta, chopped tomatoes all wrapped up in a creamy cheese sauce.
Easy Cheesy Tuna Casserole: This hearty warming Cheesy Tuna Casserole recipe is an easy pantry staple dinner you can whip up in less than an hour. It is great for meal prep and freezer friendly too.
Easy Creamy Chicken Pasta Bake: Leftover chicken, smoky bacon and pasta all coated in a simple 2 ingredient cheese sauce.
Bolognese Pasta Bake: Tired of spaghetti bolognese? Then try this Bolognese Pasta Bake for a different twist on this classic dish!
Turkey Pasta Bake: This creamy turkey pasta bake is made with leftover turkey (or chicken) and has a bunch of mushrooms and spinach throughout the pasta. The creamy cheese sauce has an extra kick of flavor from white wine.
Baked Mac and Cheese: Perfectly cheesy, creamy, and gooey baked mac and cheese topped with bacon crumb topping. A perfect, simple combination of cheeses makes this mac and cheese texture smooth and flavorful.
Baked Chicken & Tarragon Pasta: This savory casserole that will easily feed a family of four. It's a little on the spicy side, but oh so yummy!
BOLOGNESE STYLE PASTAS
Authentic Bolognese Ragu: A traditional Bolognese sauce with red wine, ground pork, beef, and sausage. Serve on tagliatelle or any pasta noodle you have on hand.
Vegan Lentil Bolognese: Deliciously rich and hearty lentil bolognese is the perfect meatless comfort food! Ready in under an hour and made with everyday, simple ingredients, this healthy vegan bolognese sauce will be a hit with the whole family.
One Pot Fettuccine Bolognese: One Pot Fettuccine Bolognese is an easy recipe for pasta that's brimming with beef, carrots, celery and onions. A sauce of diced tomatoes, tomato sauce, red wine and seasonings forms as it cooks with the pasta in the same pot.
Bacon Puttanesca Pasta: A classic pasta puttanesca with a special bacon twist! Easy to prepare and will satisfy your comfort food cravings.
Ground Turkey Bolognese This ground turkey pasta gets a rich depth of flavor from porcini mushrooms. A delicious, lightened version of an Italian classic.
Easy 5 Ingredient Bolognese: A quick and easy pasta made with only 5 pantry ingredients that the family will love.
Easy Vegan Bolognese: All you need is 20 minutes and a love of Italian food with this vegan Bolognese. Gently simmered with classic Italian herbs, fragrant garlic, and roasted tempeh "meat" this is sure to become your favorite vegan spaghetti sauce!
Traditional Pasta Sauce: Traditional Pasta Sauce recipe that doesn't pull any stops to bring you the most flavor you can get from this Italian classic. From fresh tomatoes to your plate, you are going to get some of the freshest and most delicious pasta with this recipe.
CHEESY PASTA RECIPES
Caramelized Onion Pasta with Gorgonzola: If you love comfort food, this caramelized onion pasta is the perfect cozy pasta dish for you! It is slightly sweet from the caramelized onions and tangy from the addition of the gorgonzola cheese.
Broccoli Cheddar Pasta in Instant Pot: Rich, creamy and cheesy, this Broccoli Cheddar Pasta is comfort food at it's best! This family-friendly one-pot meal is everything a Broccoli Cheddar soup promises, and more.
Fettuccine Alfredo: This classic Italian pasta dish has been called an adult macaroni and cheese. It's easy to make and oh so delicious!
Slow Cooker Beef & Pasta: Made in a crock pot with Tomatoes, Cheddar cheese soup, shredded Cheddar cheese, and mushrooms.
Stovetop Mac and Cheese: Forget the boxed mac and cheese. Try this simple recipe and make it from scratch with ingredients from you pantry. Dinner in 25 minutes! This amazing creamy pasta requires only 5 simple ingredients.
Italian Macaroni and Cheese: Take Mac and cheese to the next level with this delicious Italian Macaroni and Cheese dinner! Tomatoes, seasoned breadcrumbs and a baked, crunchy top make this a new family favorite
Jalapeño Cheddar Vegan Mac and Cheese: Creamy and cheesy with a spicy kick, this Jalapeño Cheddar Vegan Mac and Cheese will blow your mind! Stovetop ready in 25 minutes!
Air Fryer Mac and Cheese: How to air fry mac and cheese so that it tastes better than any baked mac and cheese that you have ever tried. Using 3 main ingredients air fryer mac and cheese is a game changer and an addiction you will soon follow.
CHICKEN PASTA RECIPES
One Pot Chicken Penne Alla Vodka:One-Pot Chicken Penne Alla Vodka is a 30-minute dinner that's made with juicy, lean chicken breast and sun-dried tomatoes in a light vodka cream sauce.
Crockpot BBQ Chicken Pasta This pasta recipe is drippin' in all kinds of yumminess with a savory and sweet sauce, shredded cheddar cheese, and penne pasta, all topped off with chopped green onions. An absolutely mouth-watering pasta creation!
30 Minute Chicken Parmesan: Cook dinner in under 30 minutes with this easy and quick chicken parmesan pasta.
Slow Cooker Chicken Alfredo: This is an amazingly easy, creamy, delicious slow cooker Chicken Alfredo crock pot recipe that the whole family is sure to enjoy! Throw in some broccoli or your favorite vegetable(s) to make it a complete weeknight dinner!!
Easy Chicken Marsala Pasta: This Easy Chicken Marsala Pasta recipe is simple and savory. It's a great weeknight dinner and also makes the perfect romantic dinner for two!
One-Pot Creamy Chicken Pasta: This creamy one-pot chicken pasta recipe takes just 30 minutes to cook. With spinach, mushrooms, and a creamy sauce, everyone in the family will love this easy one-pot meal.
Bacon Ranch Chicken Pasta: The perfect meal for dinner, picnic or barbecue! Packed with veggies and flavor, it's a great option any time of year!
Creamy Instant Pot Chicken Florentine Pasta: A delicious one-pot meal! With chopped chicken breast, farfalle pasta (aka bow tie pasta), fresh spinach, and a white wine cheese sauce.
Cobb Pasta Salad: It's the classic Cobb Salad turned up a notch! Featuring perfectly cooked pasta, crisp bacon, ripe tomatoes, cubed chicken, chopped eggs, creamy avocado, and blue cheese dressing. Delish!
Cheddar Ranch Pasta: Tempt your taste buds and clean out your pantry, this pasta is super easy to make and delivers big on taste It's comfort, inexpensive and allows you to take charge of ingredients in your pantry!
DIET-FRIENDLY PASTA RECIPES
Healthy Leftover Creamy Ham Pasta With Peas: Use up that leftover ham and leftover mascarpone cheese with this Healthy Leftover Creamy Ham Pasta & Peas recipe! It's a quick, easy and delicious leftover ham recipe in 30 minutes!
Copycat Cheesecake Factory Skinnilicious Chicken Pasta: The Cheesecake Factory really does have the most gigantic menu of any restaurant! This Skinnilicious Chicken Pasta will satisfy you for sure and still leave room for a little splurge on dessert.
Weight Watchers Friendly Creamy Lemon Chicken Pasta: This is a lightened up version of Healthy Creamy Lemon Chicken Pasta with fresh lemon, broccoli and peas. And it's still super creamy with only 10 WW smart points (blue plan), including the pasta!
21 Day Fix Pumpkin Pasta with Sausage: This Pumpkin Pasta with Spicy Sausage is creamy, savory, and oh so delicious! Make it in your Instant Pot or Stovetop!
Instant Pot Enchilada Pasta: All the flavors of your favorite Beef Enchiladas, this Instant Pot Enchilada Pasta is the perfect weeknight pasta dish for the whole family! (21 Day Fix and WW Points Included)
EASY PANTRY FAVORITES & QUARANTINE COOKING
Bucatini Cacio e Pepe: This Italian browned butter Bucatini Cacio e Pepe (pepper and cheese) is one of the easiest pasta recipes you'll ever make!
Easy Salmon Pasta Recipe: Salmon Pesto Pasta topped with homemade pesto, peas, Parmesan cheese and canned salmon. This pasta makes a great use of your pantry ingredients.
Walnut Sauce Pasta: You'll be amazed how this creamy and flavorsome walnut sauce will coat your pasta! It's easy, ready 10-minutes, it requires minimal ingredients and tastes delicious.
Light and Flavorful Broccoli Pasta: This amazing Broccoli Pasta is a one-pot wonder made with just 6 ingredients in minutes! Use staples, fresh or frozen ingredients to whip up this delicious dish.
Homemade Sweet Potato Pasta: This Homemade Sweet Potato Pasta from scratch is not only super easy to make, it is a great hidden vegetable recipe for picky eaters!
Pasta Aglio e Olio: Light and flavorful three ingredient Aglio e Olio, a traditional Italian dish! The perfect weeknight dinner made with pantry ingredients in just ten minutes.
Creamy Garlic Pasta A delicious one-pot meal that you can make any time of the year! Nut-free and egg-free, everyone will love this easy dish!
5 Ingredient Tuscan Pasta Salad: You only need FIVE ingredients to make this awesome and easy Tuscan pasta salad!
Pasta with Chickpeas and Sautéed Onions: A quick and simple pasta dish made with ingredients from your pantry. It's called 'pasta con ceci' in Italian.
Tomato and Tuna Pasta: A gloriously simple recipe that packs in an enormous amount of flavor. I'll not tell anyone how easy this is if you don't!
7 Ingredient Creamy Tomato Pasta: Super easy 15-minute creamy tomato pasta made with just 7 ingredients! This plant-based quick dinner is so easy to make, and perfect for busy week-night dinners!
Quick Angel Hair Pasta Salad: A quick, 15 minutes easy pasta salad recipe packed with flavor including coriander, garlic, chilli and lemon. Sooooo goooood!
Simple Pasta with Peas: Pasta with peas is a tasty 1-pot 10 minute midweek dinner that's bursting with fresh taste! It's a delicious, hearty and family friendly Italian dish (pasta e piselli). Plus it's so easy!
Creamy Pumpkin Pasta Sauce: Deliciously creamy this pumpkin pasta sauce is a perfect option for all your pasta needs – pair it with noodles or use it as the sauce in your favorite lasagna recipe!
GLOBAL PASTA FLAVORS
ASIAN STYLE PASTAS
Indian Style Macaroni: This is a tasty macaroni recipe made Indian style with onion, tomatoes, mix vegetables and spices.
One Pot Thai Peanut Veggie Pasta: This pasta recipe includes whole wheat spaghetti and plenty of veggies in a flavorful Thai peanut sauce. It's on the table in under 30 minutes!
Asian Garlic Butter Noodles: Garlic Butter Noodles- Umami Butter Garlicky goodness that you won't be able to get enough of! Only 5 ingredients with a delicious Asian twist.
20 Minute Thai Peanut Noodles: These 20-Minute Thai Peanut Noodles are full of veggies, covered in an easy peanut sauce, and topped with a fried egg. The recipe serves 6 and costs just $6.16 to make!
Sweet & Spicy Garlic Noodles: Quick and easy, ready in 15 minutes. They're vegan and super tasty. The asian garlic sauce has only 5 ingredients! It's the best quick noodle bowl.
Masala Pasta Recipe: This easy Masala Pasta comes together in about 30 minutes and is the perfect weeknight dinner! This Indian style desi pasta features tender penne pasta coated with flavorful, Indian spiced creamy tomato sauce, lots of veggies, Italian seasoning and fresh cilantro.
Peanut Noodles: These are crazy good, slightly spicy and drenched in the best peanut sauce ever! and ready in 15 minutes!! This Thai inspired noodle dish makes an easy vegan meal or snack any day of the week. Delicious served hot or cold.
GREEK PASTAS
Pastitsio (Greek Pasta Casserole): A layered Greek pasta casserole dish, made with tubular pasta, meat sauce and topped with béchamel sauce
Greek Pasta Toss: Make this quick and easy healthy Greek pasta dish with Mediterranean flavors like spinach and feta cheese in under 30 minutes! It's the perfect weeknight meal! As featured in Taste of Home's Simple & Delicious Magazine.
Greek Tortellini Pasta Salad: is full of fresh veggies and herbs, tangy homemade Greek dressing, feta cheese, and fluffy little cheese filled tortellini!! A delicious make ahead meal your family and friends will devour!
MEXICAN & CARIBBEAN STYLE PASTAS
Chicken Fajita Pasta An easy creamy, cheesy chicken and pasta one-pot meal with Mexican Fajita-spiced chicken, pasta, onions, and bell peppers in a creamy, cheesy sauce that can be on the table in 30 minutes!
Healthy Jerk Chicken Pasta: This spicy Jamaican-style dish is juicy, slightly sweet, and super easy to make on the stove! It also is lower-calorie than traditional creamy Rasta Pasta recipes!
Taco Pasta: Taco Pasta is a delicious one-pot meal made using Italian Pasta and Mexican Flavors. Its nutritious, delicious crowd pleasing recipe thats perfect for weeknights!!
Green Chile Chicken Pasta: A rich and creamy, spicy and savory Southwest style pasta dish with green chiles, chicken, and corn that makes a delicious weeknight meal or an impressive gourmet dinner
Creamy Chicken Fajita Pasta: Tender chicken with sliced red onion and bell peppers in a creamy tomato sauce with a spicy kick!
Beefy Taco Mac and Cheese: Beefy Taco Mac & Cheese recipe is going to delight your taste buds and bring you back to home cooking memories.
Caribbean Rasta Pasta: Rasta pasta is creamy pasta tossed with Caribbean style jerk chicken and sauteed bell peppers. This dish is so full of flavor, and makes a great weeknight dinner that can be made in just half an hour! It's creamy, rich, spicy, and cheesy.
Cheesy Taco Pasta Bake: A taco pasta bake recipe that packs a bold kick of flavor and is easy to make with ground beef, Pace Chunky Salsa, pasta, cheese, and condensed soup.
INSTANT POT PASTAS
Instant Pot Buffalo Chicken Pasta: This creamy Instant Pot buffalo chicken pasta is comfort food perfect. If you're a buffalo chicken lover, you'll go nuts over this pasta.
Instant Pot Beef Stroganoff: A classic Russian recipe is made easy with an Instant Pot. Unlike other recipes that use sodium-laden soups. This beef stroganoff uses healthy whole ingredients.
Insta Pot Pasta in Tomato Cream Sauce: Penne Rosa is delicious and super simple Italian Pasta in Tomato Cream Sauce. This comforting pasta dish is filled with colorful veggies, tangy tomato sauce and touch of cream.
Instant Pot Chicken Alfredo: A scrumptious, 30-minute alfredo pasta recipe with tender fettuccini noodles and juicy chicken in a heavenly, white cream sauce. This one-pot, toss-and-go recipe is perfect for Instant Pot beginners and busy people.
Instant Pot Spaghetti with Homemade Tomato Sauce: Easy to make! Spaghetti cooks together with just 6 ingredients from your pantry for a quick and easy homemade marinara sauce.
Instant Pot Penne Pomodoro: This vegetarian pasta dish in the Instant Pot turns this meal into an easy one pot wonder, perfect for the busiest of weeknights or even for kids lunchbox!
Instant Pot Tuna Casserole: One of my all-time favorite summer tuna pasta recipes. It can be served hot or cold and is perfect for picnics, barbecues or a quick comforting lunch or dinner.
Instant Pot Taco Pasta: This taco pasta recipe includes an added pack of protein with the addition of black beans. It's a dish of warm comfort food that is both quick and easy and reminiscent of childhood.
Instant Pot Tuna Pasta Salad: A super budget-friendly pantry recipe that's easily adaptable with the ingredients you already have at home! Quick and easy, so it's perfect for weeknight dinners, meal prep.
Instant Pot Pesto Chicken Pasta with Veggies: This recipe for instant pot pesto chicken pasta and veggies is dairy-free, gluten-free, ready in 30 minutes, packed with protein, and requires just four main ingredients! Use plant-based pasta for an extra protein boost and sprinkle with your favorite cheese.
LEMON PASTA RECIPES
Contessa's Lemon Linguine: Yes, this lemon linguine recipe truly comes from an Italian contessa. Just outside of the city of Catania, in the Sicilian countryside. It's a fresh, lemony pasta perfect for springtime.
Lemon Fettuccine with Garlic and Shrimp: A delicious Lemon Fettuccine with Garlic Shrimp recipe. Light, easy, and perfect all year round!
Lemon Pasta with Pancetta & Peas: This 5 ingredient dinner is easy to make and tastes gourmet! Zesty lemon, frozen peas, pancetta (or bacon!), pasta, and mascarpone cheese … and you've got a great Italian-inspired meal!
Lemon Garlic Pasta with Asparagus: Lemon garlic asparagus with pasta is a simple dish that really pops with flavor.
Lemon Pasta with Pancetta & Peas: 5 Ingredient dinner! A zesty five ingredient lemon pasta recipe that's one of my favorites to throw together when I'm short on time. Not only is it quick and easy to make, but it also reminds me of Italy.
Creamy Lemon Butter Sauce: This lemon pasta recipe that comforts the soul and fills a plate with comfort goodness. This Creamy Lemon Butter Sauce over Farfalle pasta is so simple, but feels so big. It is easy to make and even easier to eat.
Lemon Pasta [No Cream]: This Lemon Pasta is a flavorful and simple pasta dish that makes a great main or side dish.
Lemon Chicken Pasta with Broccoli: This easy Lemon Chicken Pasta with Broccoli is ready in less than 30 minutes for an easy weeknight meal.
Lemon Pepper Chicken Fettuccine: Easy pasta dish that's so full of flavors, you can't stop eating it. Chicken breast cooked with lemon pepper spices and served on top of pasta that's been tossed in lemon pepper sauce.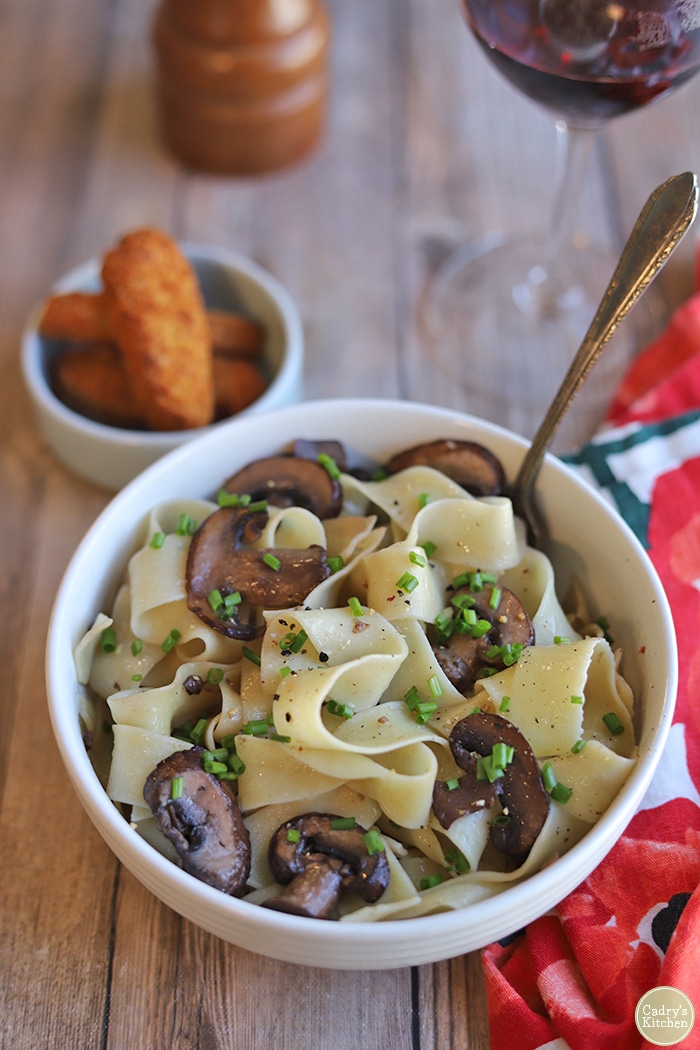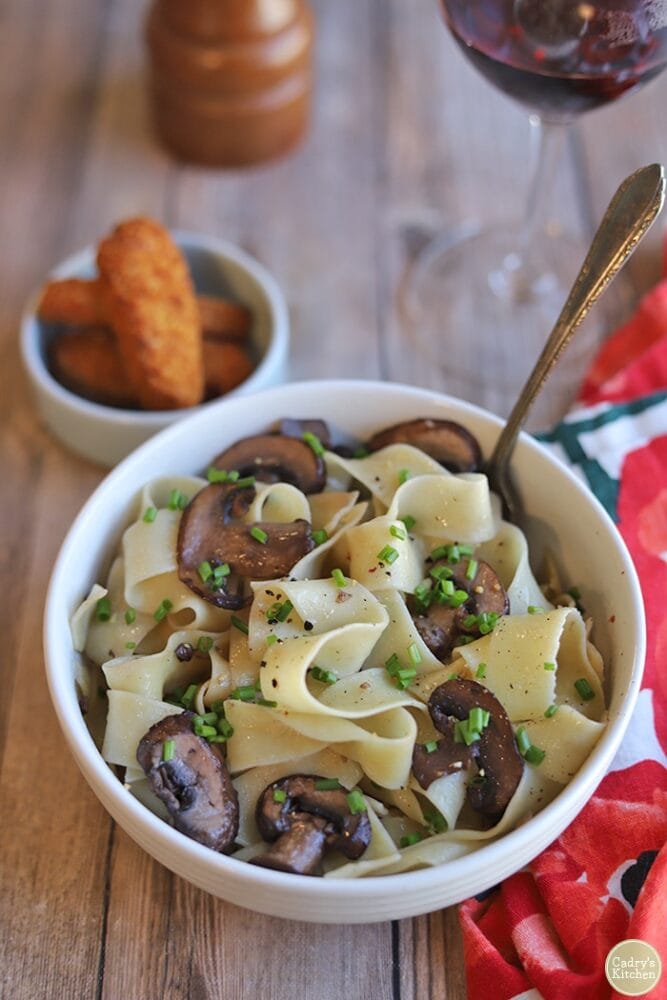 MUSHROOM PASTA RECIPES
Creamy Mushroom Tomato Pasta: This Creamy Mushroom Tomato Pasta is total comfort food! Using simple ingredients, this vegetarian pasta will be on the table in around 40 minutes. A deliciously quick and easy weeknight dinner.
Crispy Mushroom Pasta: Sautéed mushrooms tossed and swirled with pasta in a garlicky cream sauce. This easy meatless weeknight crispy mushroom pasta with creamy garlic sauce is perfect for any occasion!
Mushroom Pasta with Mascarpone Sauce: This has got to be one of the creamiest, tastiest pastas I've ever had. And it's utterly simple to make, too. If you're looking for an easy Instant Pot Vegetarian dinner? This is the one you want.
Tortellini with Caramelized Onions and Mushrooms: This simple and delicious vegetarian tortellini pasta has the most flavorful sauce you will ever taste. Your whole family will love this!
Mushroom Butter Garlic Sauce: Pasta in Mushroom Butter Garlic Sauce – Pasta tossed in delicious browned butter garlic sauce with mushrooms and Italian herbs
Garlic Noodles With Mushrooms: Buttery garlic noodles with red wine mushrooms is a bowlful of comfort food. Ready in just 20 minutes, it's a quick lunch or dinner option that's endlessly satisfying.
Creamy Mushroom Past: The ultimate comfort food and so easy to make with simple ingredients that you might already have in your fridge. It's one of those 15 minute meals that everyone will want a second or third plate of.
Vegan Mushroom Stroganoff: This Vegan Mushroom Stroganoff has a savory mushroom flavor that will remind you of the rich and scrumptious stroganoff recipes you grew up with. Now you can satisfy those pasta cravings without the guilt!
Pancetta Mushroom Fettuccini: This Pancetta Mushroom Fettuccine can make an easy weeknight dinner! Ready in about 20 minutes!
ONE POT PASTAS
One Pot Lasagna: This one pot lasagna pasta is so easy to prep! And who doesn't love being able to make a lasagna in one pan?
One Pot Chicken Penne Alla Vodka:One-Pot Chicken Penne Alla Vodka is a 30-minute dinner that's made with juicy, lean chicken breast and sun-dried tomatoes in a light vodka cream sauce.
One Pot Creamy Curry Pasta with Shrimp: A perfect marriage of Indian flavors with Italian produce. It is effortless to make and you can dish up this quick and satisfying supper in about 30 minutes.
One Pot Creamy Chicken Tomato Tortellini Soup: Cheese tortellini and shredded chicken are coated in a tomato-cream sauce full of herbs and fresh parmesan cheese!
One Pot Pasta Primavera: Whether you go for the vegetarian or the vegan option, this creamy pasta dinner is sure to be a fave. Packed full of vibrant spring veggies, brightened with lemon, and – maybe best of all – on the table in less than 30 minutes.
One Pot Cajun Chicken Pasta: Ticks ALL the boxes: quick, easy, delicious and slimming friendly! A simple one-pot pasta recipe that the whole family will love – on the table in 30 minutes.
One Pot Creamy Garlic Pasta: Creamy, garlicky and so delicious! This white sauce pasta is the ultimate weeknight dinner for the whole family. It's a quick one-pot meal that tastes amazing and is very easy to make.
One Pot Farfalle One Pot Farfalle Pasta with Sausage, Mushrooms and Peas is an easy, 30 minute one pot pasta recipe that the whole family will love!
One Pot Creamy Vegan Pasta Primavera: This vegan pasta dish is a quick and easy recipe! This pasta is ready in just 30 minutes and a favorite family dinner!
One Pot Cajun Style Pasta: This pasta recipe is an easy weeknight dinner that has a robust flavor and a creamy, melt-in-your-mouth sauce that everyone will love!
SAUSAGE PASTAS
Cheesy Broccoli Sausage Skillet: This skillet is the perfect one-pan dinner option for when you need an easy meal on the dinner table quick.
Italian Sausage & Radiatore Pasta: Radiatore pasta has a lot of nooks and crannies which is perfect when served with this delicious quick and easy marinara sauce with Italian sausage.
Cajun Chicken and Sausage Pasta: This pasta recipe is perfect for quick and easy weeknight dinners!
One Pot Orecchiette with Sausage: This One Pot Orecchiette with Sausage and Broccoli is a hearty family friendly dinner you can make in 30 minutes!
Creamy Cajun Chicken and Sausage Pasta: Cajun-style blackened chicken and penne pasta, and a creamy cajun, tomato sauce! Add andouille sausage for extra flavor.
Sausage and Artichoke Pasta: A tangy twist on pasta night, this simple Chicken Sausage & Artichoke Pasta recipe is a feast for both your eyes and your taste buds.
30-Minute Sausage & Sun Dried Tomato Pasta: Pasta with sausage, cherry tomatoes, fresh basil, and homemade sun-dried tomato pesto sauce. An easy and healthful meal that comes together in less than 30 minutes.
Apricot and Chorizo Bolognese: A chorizo twist on your classic bolognese with the sweetness of apricots and the smokiness of turmeric pasta. A quick and easy, irresistibly flavorful and comforting dish, this Apricot and Chorizo Bolognese is perfect for week nights.
Rigatoni with Italian Sausage: This hearty meal is the ultimate comfort food. It's a rich, satisfying meal that makes enough to serve a full family – with enough for leftovers.
SEAFOOD PASTA RECIPES
Smoked Salmon Fettuccine with Creamy Dill Sauce: This pasta is an elegant but easy dinner to make. Tender smoked salmon, cradled on top of fettuccine, covered with creamy fresh dill sauce.
Mushroom Garlic and Shrimp Pasta: Buttery and flavorful Shrimp pasta with mushrooms, sundried tomatoes, is flavourful and delicious dinner.
Coconut Garlic Shrimp Pasta: This delicious coconut garlic shrimp pasta is perfect for easy weeknights and date nights alike. The rich flavor from the garlic pairs perfectly with umami-packed shrimp and creamy coconut milk.
Shrimp Gumbo Pasta: This pasta recipe is a mashup of Louisiana-style gumbo and pasta for an ultra comforting meal. Make it all in just one pot!
Scallop Shrimp Pasta: This scallop shrimp pasta with burst cherry tomatoes is perfect for not only quick and simple weeknight meals but also fancy date night dinners. It is so flavorful with sweetness from fresh seafood and umami from burst tomatoes.
Paccheri con Sugo di Mare (Pasta with Seafood Sauce): A seafood pasta recipe I fell in love with on a trip to Southern Italy! So quick and easy to make, too!
Squid Ink Pasta with Scallops and Shrimp: Squid Ink Pasta with White Wine Cream Sauce Recipe is an elegant dish that is easy to prepare using squid ink spaghetti. Top with shrimp and scallops.
Simple Garlic & Butter Shrimp: Simple garlic and butter shrimp with spaghetti is a weeknight dish that everyone will love! Ready to eat in 15.
Shrimp & Pesto Pasta: This easy shrimp pesto pasta with asparagus and sun-dried tomato is super easy to make for a quick weeknight dinner.
SPAGHETTI RECIPES
Homemade Spaghetti & Meatballs: A delicious homemade Spaghetti & Meatballs recipe where we make the meatballs and tomato sauce from scratch. Easy to do, and delicious. This recipe is perfect for many occasions!
Pasta with Zucchini and Cherry Tomatoes: Pasta with Zucchini and cherry tomatoes is a family favorite recipe. Perfect side dish or a meal, you decide.
Spaghetti with Goat Cheese, Lemon, and Arugula: This deliciously easy dinner can be made gluten free using brown rice noodles! Peppery, light and tangy.
Classic Italian Spaghetti and Meatballs: Nothing says comfort food to me more than a plate of the Italian Classic, Spaghetti and Meatballs. I never get tired of this delicious dish and making a batch of sauce and meatballs ahead of time is a great way to make sure you have dinner in the freezer whenever you need it
Spaghetti with Garlic and Oil: Spaghetti with Garlic and Oil, also known as Aglio E Olio, is a simple and delicious 15 minute meal made from just 5 ingredients.
Spaghetti with Garlic and Olive Oil: This humble and fragrant spaghetti with garlic and olive oil brings me back to my childhood. It's a classic Italian pasta dish that requires a few cheap ingredients, little effort, and it's ready in 10 minutes.
Garlic Spaghetti with Blue Cheese and Sage: Blue cheese and sage provide unusual but delicious base flavors for this garlic spaghetti recipe that gets a wonderful textural element from some butter toasted bread crumbs!
One Pot Taco Spaghetti: One-pot taco spaghetti is an easy Mexican-inspired recipe that will get dinner on the table in 30 minutes! The pasta, beef, and sauce all cook in ONE pot!
Mexican Spaghetti This dish is a flavored pasta bake that comes together easily for a hearty family meal. This chicken spaghetti dish is pure comfort food and requires just a few pantry ingredients.
Spaghetti with Spinach: Quick and easy spaghetti with spinach and garlic. A delicious 30-minutes recipe using frozen spinach and other pantry ingredients.
Kale Jollof Spaghetti and Meatballs: This Kale Jollof Spaghetti is yumminess redefined. A blend of Jollof Spaghetti goodness and some Kale. This is one 'hot one pot recipe' to try.
VEGAN PASTAS
Vegan Pasta e Fagioli: This classic Italian dish is the ultimate in comfort food. Pasta e fagioli is made using pantry staples for an easy, filling and nourishing dinner the entire family will love!
Vegan Penne Alla Vodka: An easy weeknight meal to prepare and will quickly become a family favorite. It's rich, creamy and so satisfying!
Vegan Carbonara A full-on comfort meal made with savory tofu bacon and a silky sauce that is filled with smoky and cheesy flavors. It'll be a new family favorite!
Vegan Pasta Bolognese with Lentils A vegan meal made with rich, creamy sauce packed with protein—all the ingredients you'll need come straight from your pantry!
Green Garden Pasta: This easy Green Pasta is a tasty way to eat your greens! The sauce has avocados, peas and fresh green herbs. Ready in just 10 minutes with 8 ingredients. Vegan, vegetarian, dairy free.
Air Fryer Vegan Zucchini Lasagna This vegan lasagna is layered with pasta sauce, tofu ricotta, fresh basil & spinach. It's a mini casserole that is just the right size for one.
Vegan Vodka Sauce: Rich and creamy vegan vodka sauce is a favorite way to take your weekly pasta night up a notch! This version is entirely nut free!
Vegan Vegetable Pasta Bake: You absolutely need this vegetable pasta bake in your life right now! Not only is it crazy good for you, but it's packed with veggies, requires NO precooking whatsoever and tastes absolutely flippin' delicious!
Creamy Vegan Pesto Pasta: Low in fat and completely oil free! By using white bean pesto and vegetables along with a whole grain pasta, this dish is very high in fiber and nutrients. An easy and comforting dinner that's perfect for meal prep and can also be eaten cold!
Vegan Pesto Pasta with Beans and Sun Dried Tomatoes: The perfect marriage of comfort food and culinary art that comes together quickly and simply. This dairy-free pesto pasta dinner is flavorful and fast, making it the ideal family dinner or an easy one to use when you are meal prepping for the week.
Creamy Vegan Mac and Cheese: This recipe is 100% vegan, low in fat and really healthy for you! Homemade with everyday ingredients, it's a family-friendly comfort food prepared in less than 30 minutes total. Great for meal prep and kids really love it!
Buffalo Cauliflower Pasta Sauce: This sauce is creamy, flavorful and perfect by the spoonful! Add to your favorite pasta or pizza for a quick and easy weeknight meal. Vegan option is available as well!
Vegan No Sugar Added Tomato Cream Sauce: This no added sugar vegan tomato cream sauce recipe is made with 7 good-for-you ingredients and ready in 15 minutes! Double this healthy, dairy-free marinara and freeze extras to have on hand for an easy weeknight pasta dinner.
Dairy-Free, Vegan Alfredo Sauce With Fettuccine: This dairy-free vegan fettuccine Alfredo is super rich and creamy – you won't miss the dairy! It's the ultimate comfort food.
Vegan Rasta Pasta: This delicious Jamaican Rasta Pasta will make you feel like you just transported to the Caribbean in one bite,
Gluten Free Pasta Bake: A chickpea pasta in a rich creole style tomato sauce and topped with melt-in-your-mouth oozing vegan cheese.
VEGETARIAN PASTAS
Strozzapreti with Tomatoes, Arugula and Cannellini Beans: The recipe is included with instructions for both making the pasta from scratch, or simply purchasing the pasta pre-made and cooking the sauce to serve with it.
Creamy Pesto & Goat Cheese Pasta: This pasta dis is a quick vegetarian weeknight dinner recipe, done in less than 30 minutes. This is an easy and quick pantry pasta dinner recipe. A delicious creamy goat cheese and pesto sauce with no cream!
Cavatappi with Roasted Tomatoes and Pistachios: Cavatappi is a toothsome pasta, and this recipe includes all the delicious flavors of Sicily on one fork with an easy lemon ricotta sauce and crushed pistachios for flavor, texture, and a dash of protein.
Spinach Kale Pesto: Sometimes, you need to sneak a little more veg into your diet – which is why I whipped up this spinach and kale pesto to mix with any pasta. What makes it really stand out is roasted garlic for a bit of added flavor.
Pesto Summer Pasta Salad: This Creamy Pesto Summer Pasta Salad is a vibrant summer pasta salad recipe tossed in a creamy pesto dressing and topped with fresh topped with fresh basil!
Kid Friendly Veggie Pasta Salad: This kid-friendly pasta salad is packed with lots of fresh veggies, which makes it a healthy, filling, colourful and delicious meal that your child will love!
Fresh Tomato and Pine Nut Pasta: This vegetarian pasta recipe includes fresh garden tomatoes and pine nuts for a delicious, healthy, vegetarian dinner recipe.
Roasted Vegetable Pasta: The flavors of a fall harvest in a cozy pasta dish. Roasted butternut squash and red onion, seasoned tempeh crumbles, and sautéed kale tossed with chewy orecchiette pasta and an easy balsamic broth that brings it all together.
Cauliflower Scampi in Lemon Garlic White Wine Sauce: This pasta dish only needs a handful of ingredients and is ready in less than 30 minutes. Weeknight winner!
Light and Flavorful Broccoli Pasta: This amazing Broccoli Pasta is a one-pot wonder made with just 6 ingredients in minutes! Use staples, fresh or frozen ingredients to whip up this delicious dish.
Pistachio Pesto Pasta Salad: This easy Pasta Salad recipe with Asparagus and Arugula is the perfect cold make-ahead salad for spring or summer. It can easily be made vegan and gluten-free.
Penne with Artichokes, Sun Dried Tomatoes & Peas: This vegetarian pasta recipe is super easy to make and filled with veggies that are good for you. Try Penne with Artichokes, Sun Dried Tomatoes and Peas if you need to get dinner on the table fast! A great meatless meal!
Greek Fresh Pasta Salad: A colorful pasta salad with rainbow veggies and chickpeas. Drizzled with awesome homemade vinaigrette. Quick and easy recipe!
Pasta Alla Norma: A traditional Sicilian dish made with pasta, eggplant, tomatoes, grated cheese, and basil. This recipe uses the microwave to speed up the cooking process and minimize the need for oil. If you love eggplant, this pasta dish is for you!
Basil Pesto Pasta with Spinach and Avocado:Enjoy this easy Basil Pesto Pasta with Spinach and Avocado in less than 20 minutes! It's a flavorful and healthy dish to make again and again!
Cherry Tomatoes and Garlic Pasta: A simple vegetarian recipe for pasta with cherry tomatoes and garlic with a quick homemade chili-garlic oil with lemon zest.
Mediterranean Pasta: This vegetarian pasta is filled with artichokes, capers, olives, tomatoes and spinach and tossed in a light olive oil lemon sauce. The pasta is topped with fresh, creamy feta cheese and herbs.
Creamy Garlic Pasta with Veggies: This pasta dish is a summery springy pasta with asparagus, peas, cherry tomatoes, hints of garlic and lightly coated with cream and Parmiggiano Reggiano. Its light, fresh and full of great flavor!!
Lemon Broccoli Pasta: Broccoli Pasta is a one-pot wonder made with just 6 ingredients in minutes! Use staples, fresh or frozen ingredients to whip up this delicious dish.
Pasta with Olive Tapenade: This is a great way to include a meatless dish on the dinner menu without sacrificing the heartiness that comes along with a traditional meat-centric dish.
7 Veggie Pasta Sauce: This healthy vegetable sauce is loaded with SEVEN different veggies (including a legume for extra protein) and blended into a creamy hidden veggie tomato pasta sauce. It is so delicious and creamy that I guarantee you even your kids will lick the bowl.