Yes, this lemon linguine recipe truly comes from an Italian contessa. Just outside of the city of Catania, in the Sicilian countryside, is a sprawling farm with charmingly rustic 17th century stables and buildings. During our Southern Italy food journey with EF Go Ahead Tours, our guide brought us out to this rural farmhouse owned by a women he'd known for over 20 years, a descendent of Italian nobility, simply introduced to us as, "the Contessa."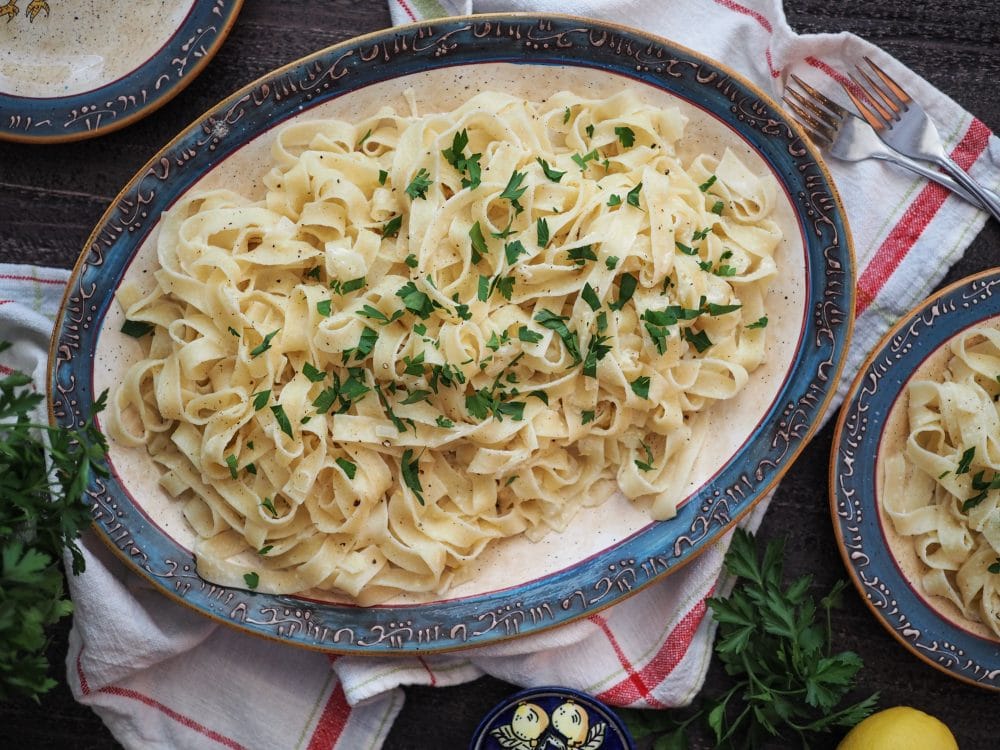 We were greeted outdoors with a sprawling feast of appetizers — brick oven roasted calzones filled with potatoes and spinach, bruschetta, focaccia with carmelized onions, peppered pecorino, endless bowls of olives. And just when we thought we couldn't eat one more bite, we were all invited inside for dinner.
A Family-Style Feast
Inside the rustic stables were a set of picnic tables elegantly dressed with linens and candles, and the keystones above dated in the late 1800s let us know we were dining inside a bit of history. A parade of food soon followed — homemade meatballs, fried eggplant, and this lemon linguine — making us feel like we were a part of a family dinner. The freshness of the lemon linguine made us all beg The Contessa for her recipe. She gladly shared, making it sound simple enough to make at home. I quickly typed the ingredients in order of appearance, but no exact amounts were given, so I had to experiment a little once I got this back home.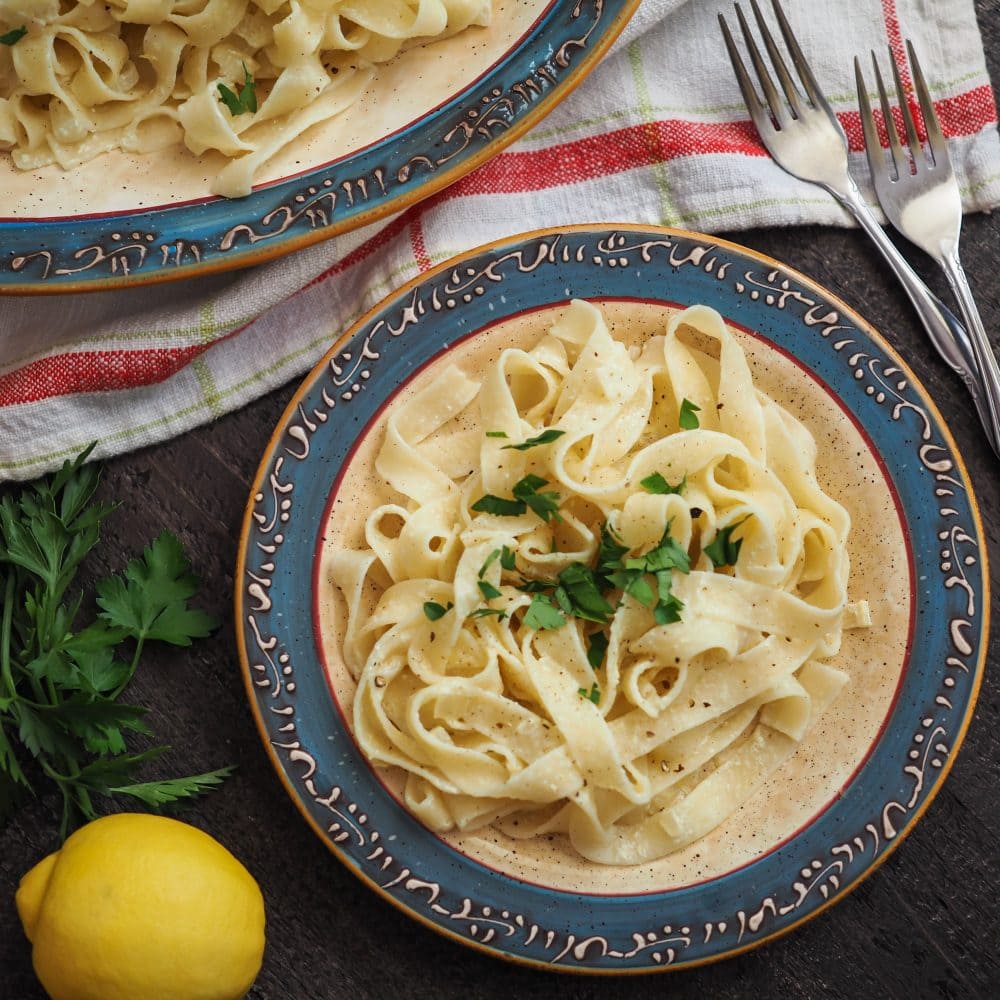 Lemon Linguine Recipe
Now, I confess, I think my photos above are fettuccine. At least, they look like it. I picked up some fresh homemade pasta at our local market and that was in the mix. Linguine … fettuccine … both will work with this recipe. If you can buy fresh pasta, I highly recommend it as the noodles are better at holding the sauce. You can typically find it in the refrigerated section of your supermarket. Enjoy!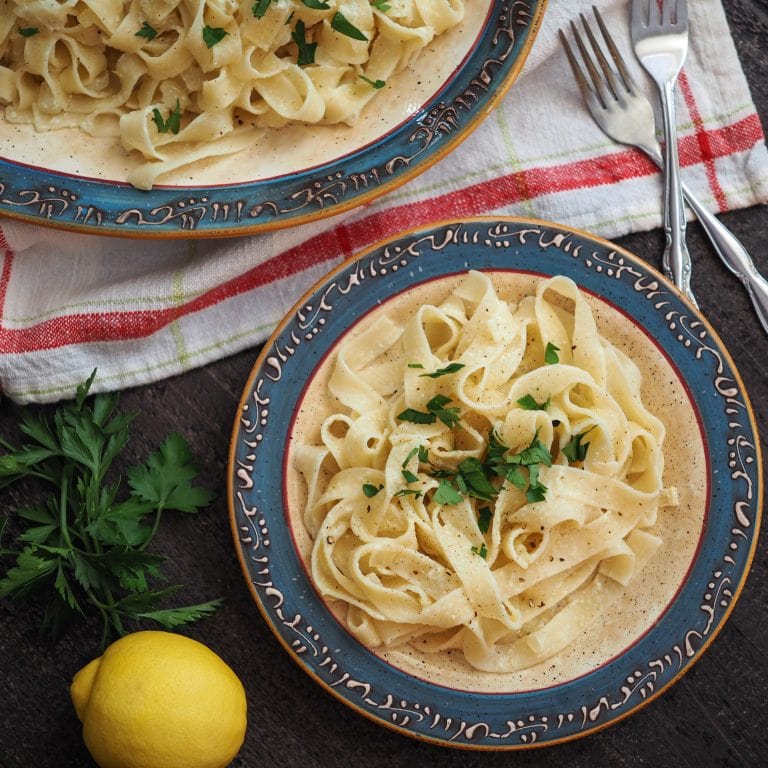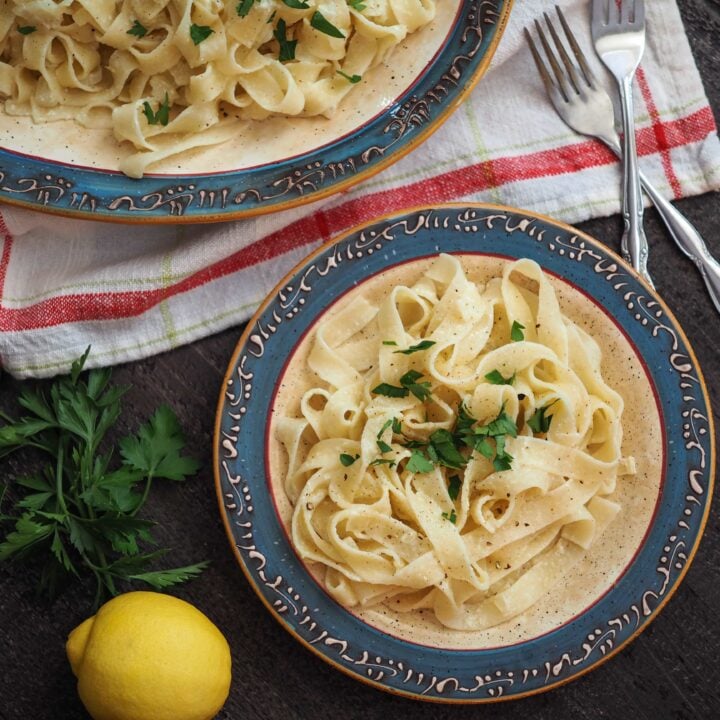 Contessa's Lemon Linguine
Ingredients
1 large onion, diced (approx. 3/4 cup)
1 stick salted butter
1 lemon
1 cup fresh cream
16 ounces linguine pasta
fresh parsley for garnish
salt and pepper to taste
Instructions
Cook pasta according to directions on package.
Wash and dry the lemon, set aside.
While pasta is cooking, slice the stick of butter into quarters and melt in a large pan on medium heat.
Sauté the onions in the butter until they're translucent and starting to brown (approx. 2-3 min).
Zest the whole lemon over the sautéed onions, then slice the lemon in half, and squeeze the lemon juice into the pan as well.
While continuously stirring the onions, slowly add the cream to the pan and bring to a boil. Once it starts to boil, turn off the stove and remove the pan from the heat.
Drain the pasta and add to a large serving dish. Spoon the lemon cream over the pasta, add salt to taste, and garnish with fresh parsley and fresh ground black pepper. Serves 6-8.
More Recipes We Think You'll Love!
Save This Pasta Recipe … Pin it!