Whenever someones asks for my recommendation for the best pasta-making classes in Italy, I always tell them about the Casa Artusi Cooking School. You see, Casa Artusi (translated as Artusi's House) is dedicated to the art of Italian cuisine and home cooking.
The school is named for Pellegrino Artusi, an Italian businessman who collected recipes from his travels around Italy. Artusi retired at the young age of 45. So with time on his hands, money to spare, and a passion for Italian cooking and culture, he self-published his collection of recipes in Science In The Kitchen And The Art Of Eating Well in 1891. This collection of recipes, published roughly 20 years after the unification of Italy, became the very first Italian cookbook. It's quite special.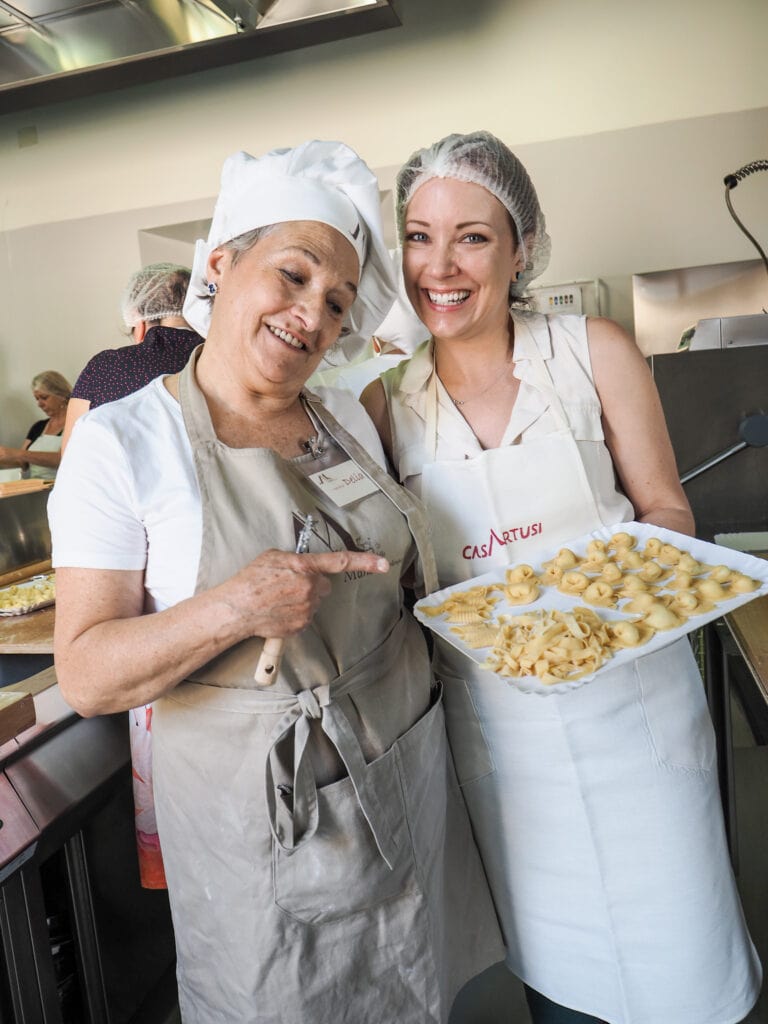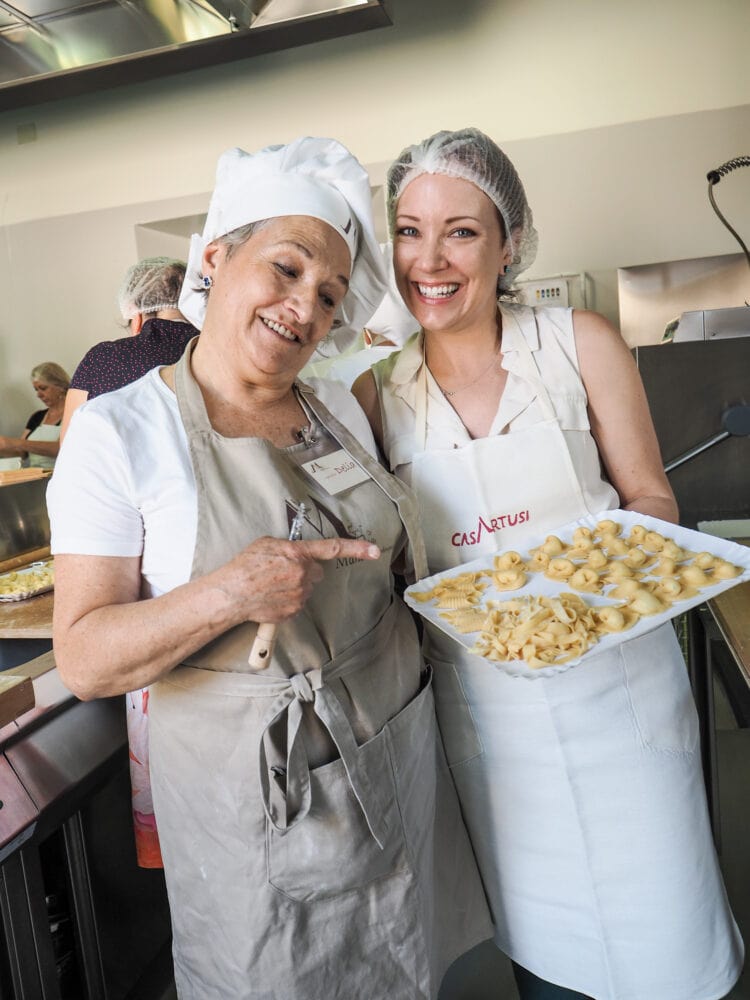 Hands-On Cooking Classes At Casa Artusi
The classes at the Casa Artusi Cooking School are fun and lively, taught by volunteers that will have you feeling like you're learning from your long lost Italian aunties. The volunteers have the nickname 'Mariettes', named after Marietta Sabatini, who was the maid and cook for Pellegrino Artusi. Marietta helped Artusi test so many of his recipes and was like family to him. And the Mariettes at Casa Artusi make you feel like you're family too.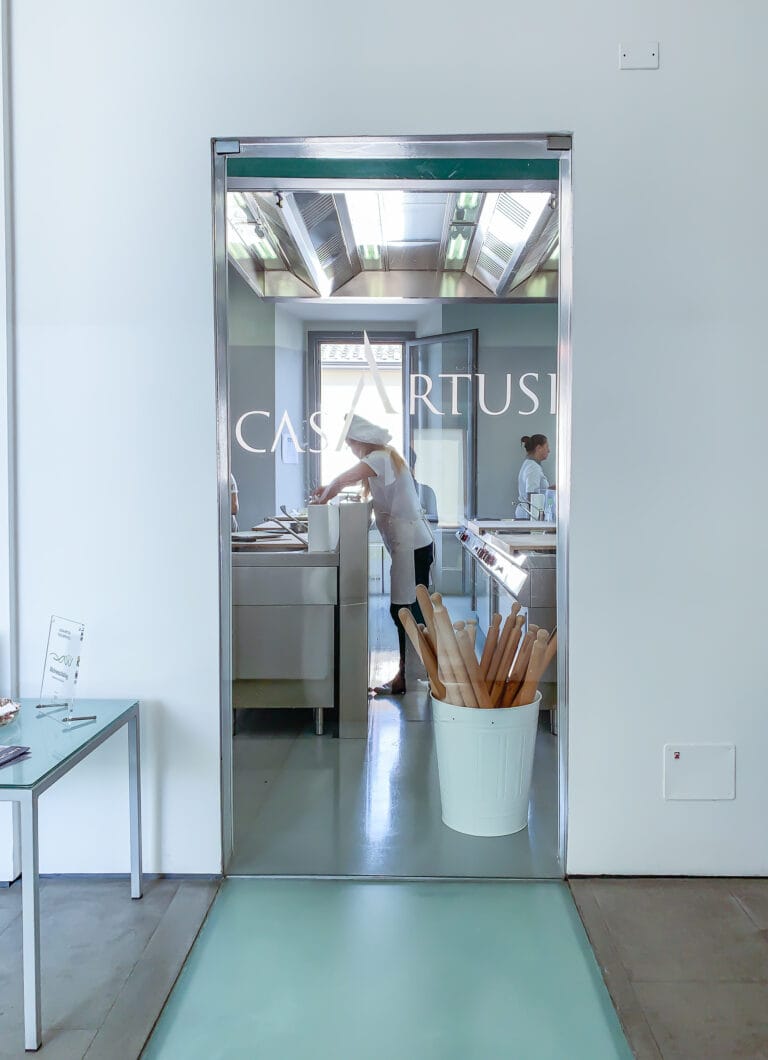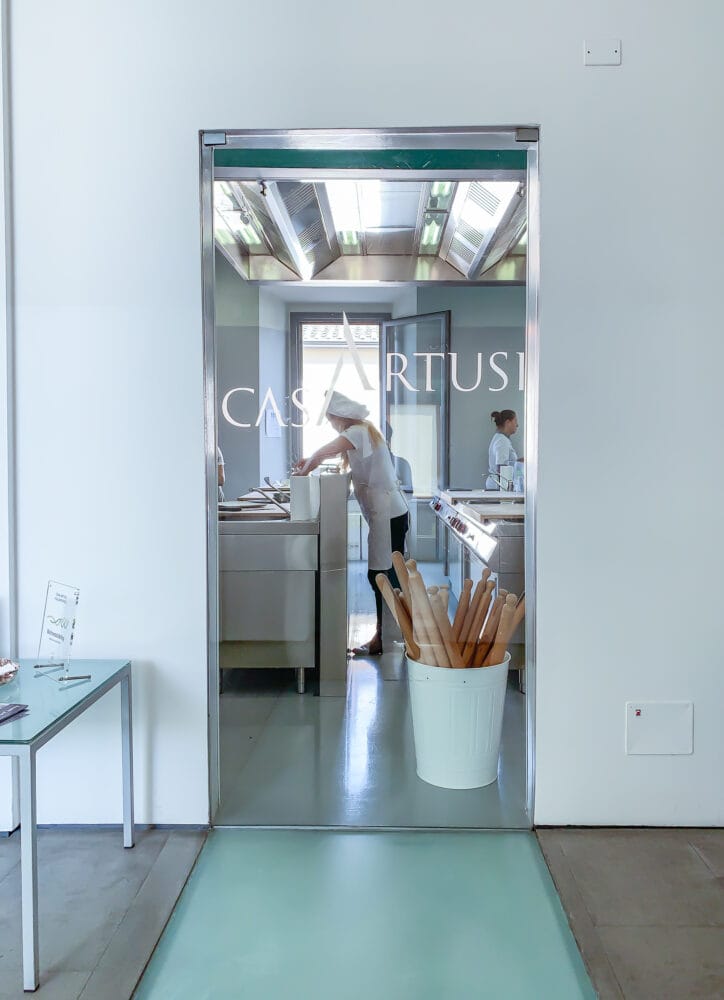 Casa Artusi has a museum-like library dedicated to Italian cuisine, a restaurant, and a classroom setting. The Artusi Cooking School classroom is set up with a theatre style kitchen at the front of the room for observing and learning. Then behind the stage kitchen are multiple stainless steel workstations where students are paired with their own "Mariette" to try making pasta by hand.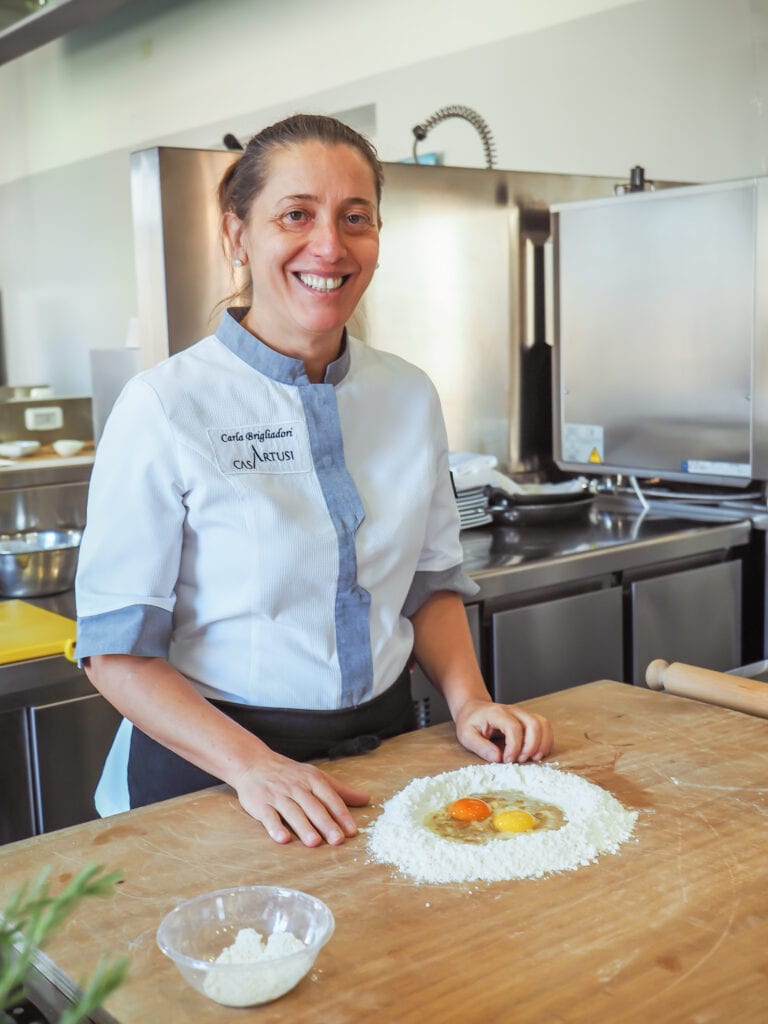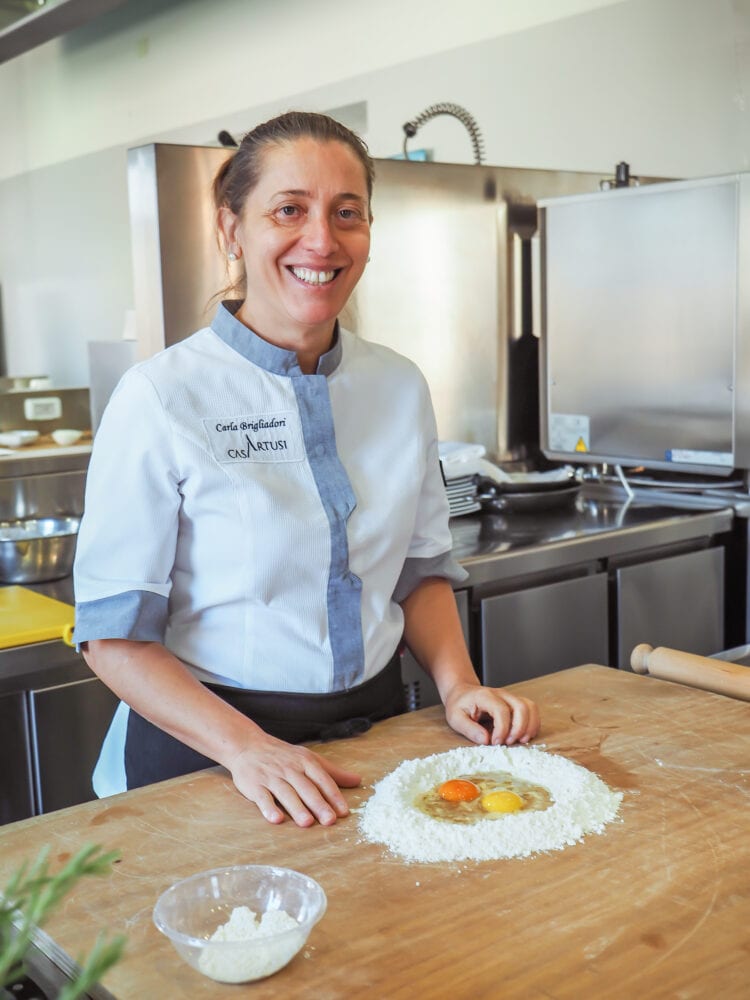 Our main instructor, Carla, taught us the basics of blending flour and eggs by hand as we were each served an espresso while we're taking notes. Of course coffee is served in school, this is Italy. Carla then rolls out the dough and teaches us all the various pasta shapes. I'm impressed by the many different ways you can shape flour and eggs.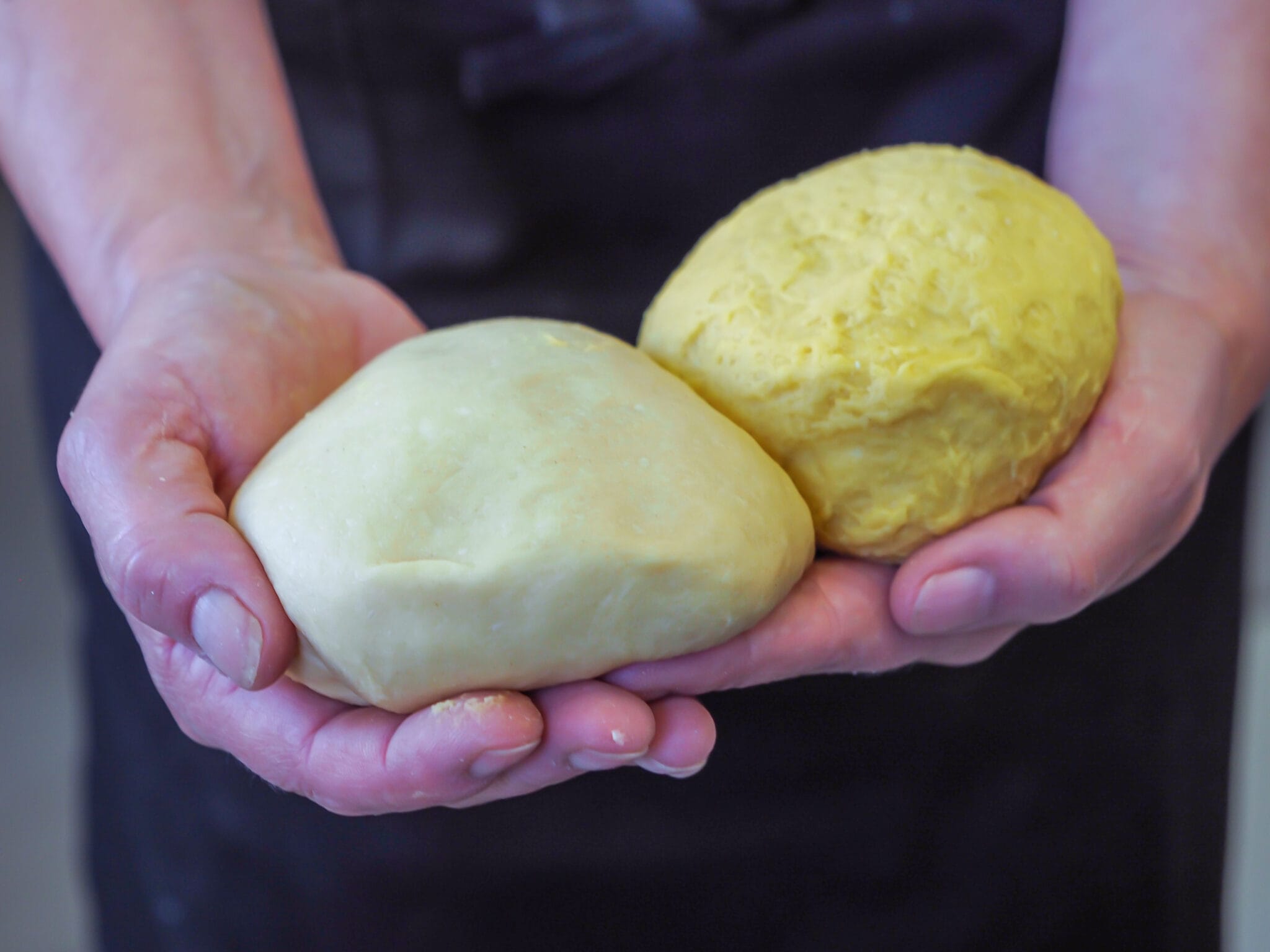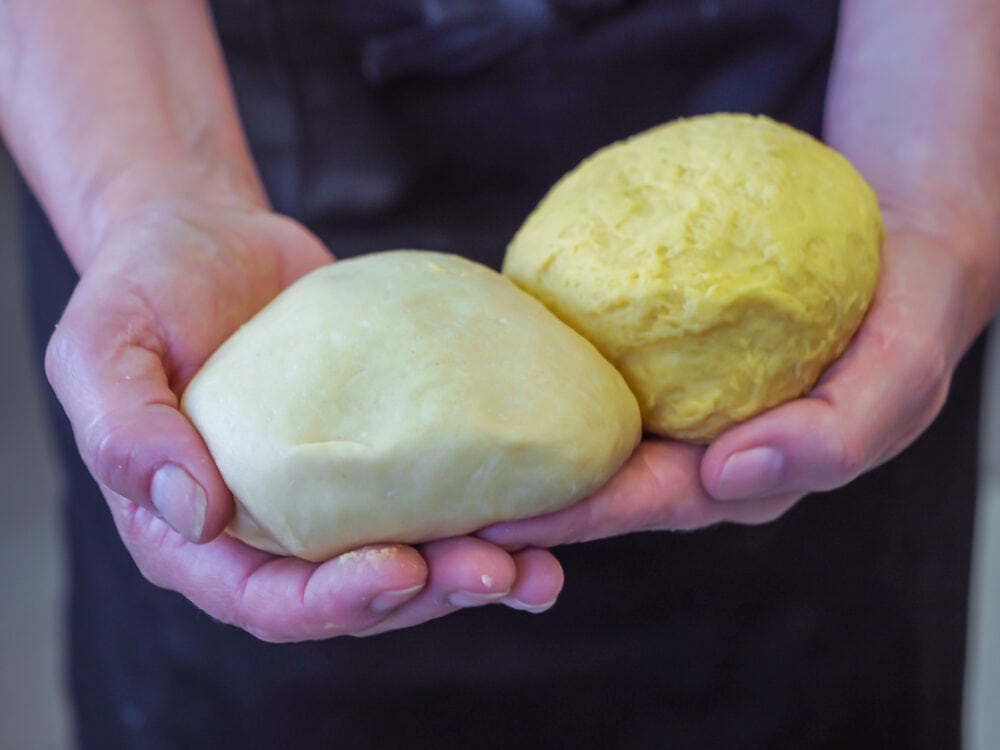 Learning To Make Pasta By Hand
After the main lesson, Carla begins cooking the ragu (pasta sauce) while we break out into pairs and are matched with our own Mariette to help us make pasta. I'm paired with Delia, a fun and lively woman who instructs me to start making the dough. I don't speak much Italian, and she speaks just a little English, but food is universal language and we get by with fun hand gestures and facial expressions.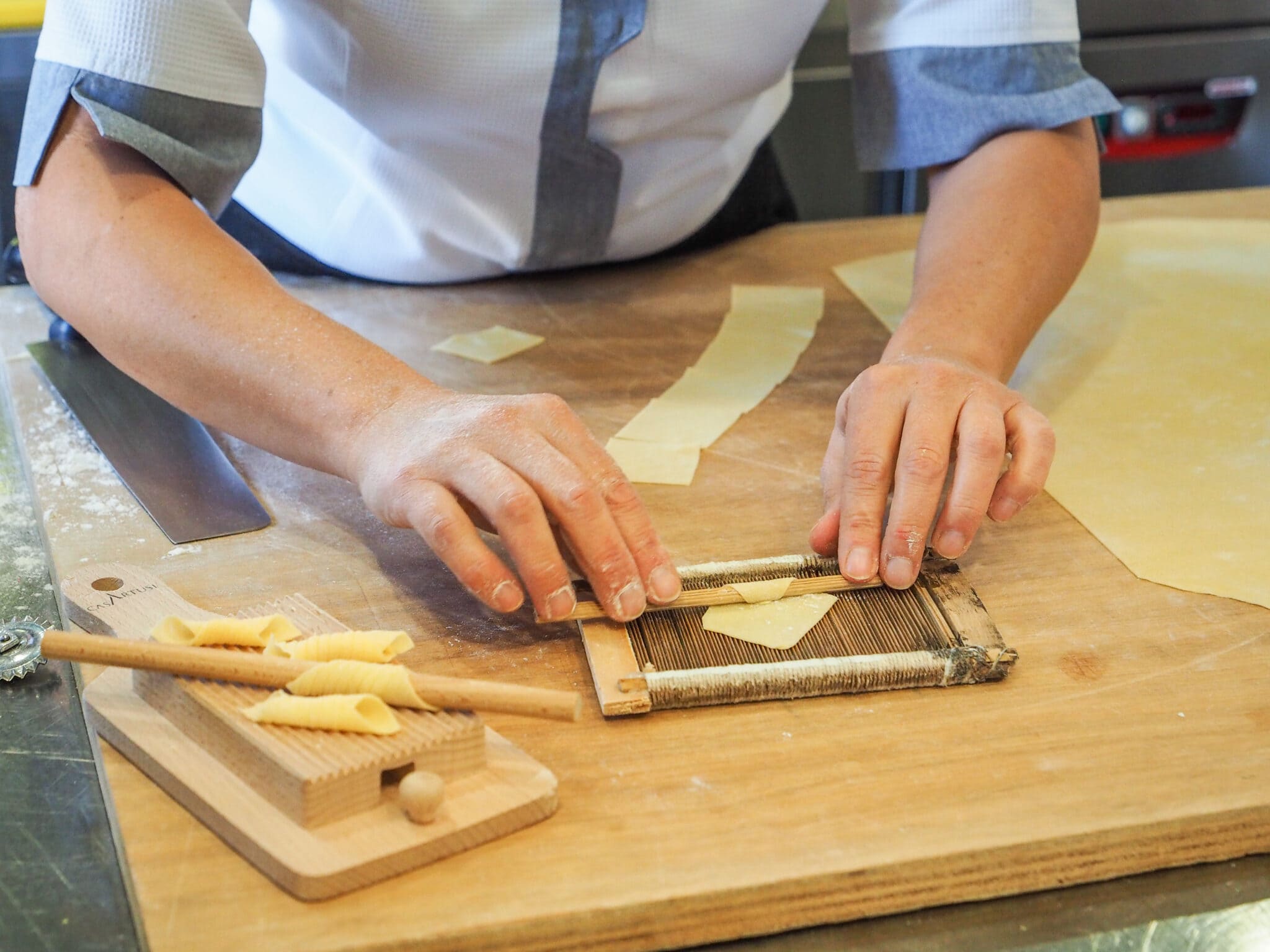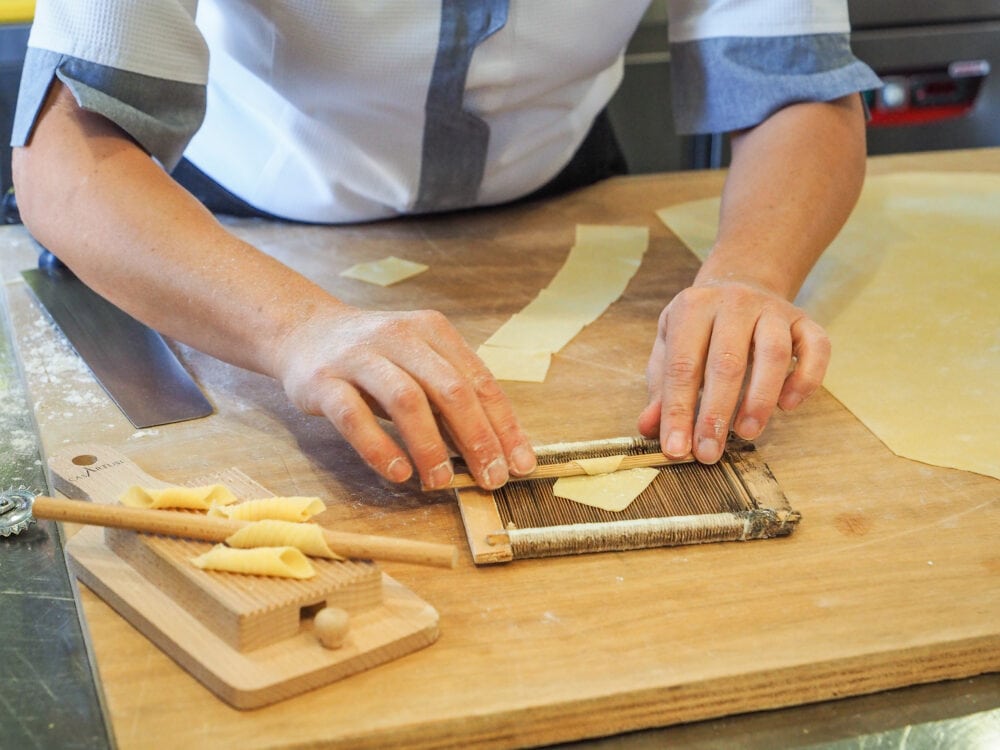 We try a few of the different pasta shapes, trying to remember each by name. There there are over one hundred shapes of pasta! But ultimately we proceed to the two pastas most loved in the Emilia Romagna Region of Italy, cappelletti and tagliatelle.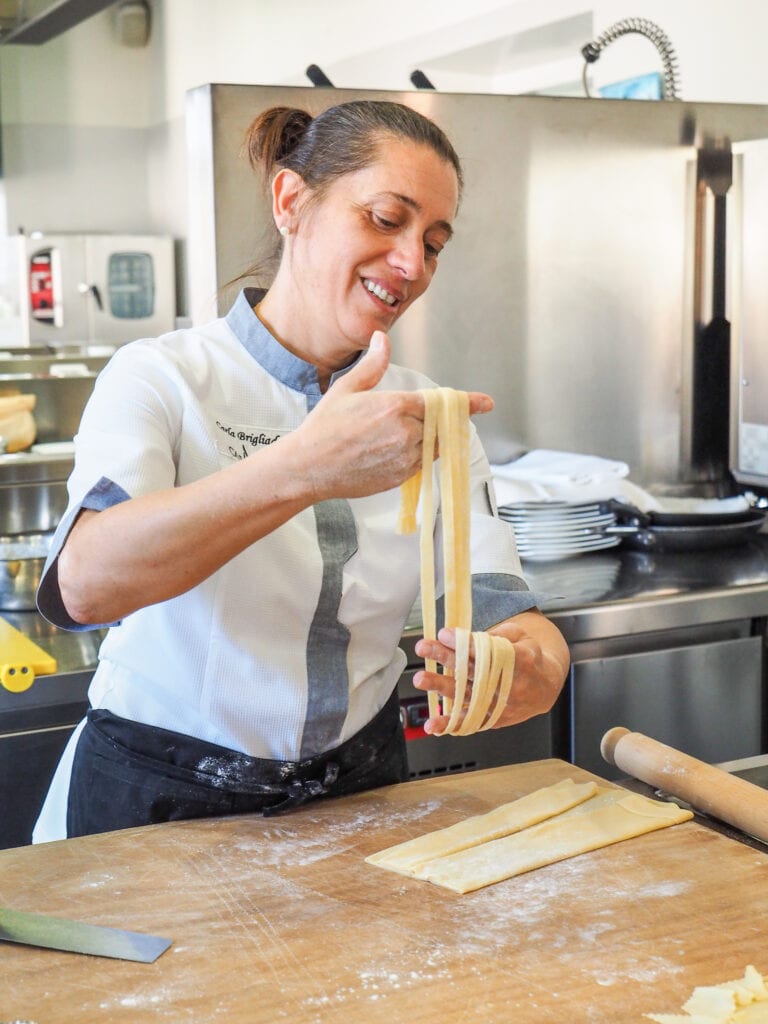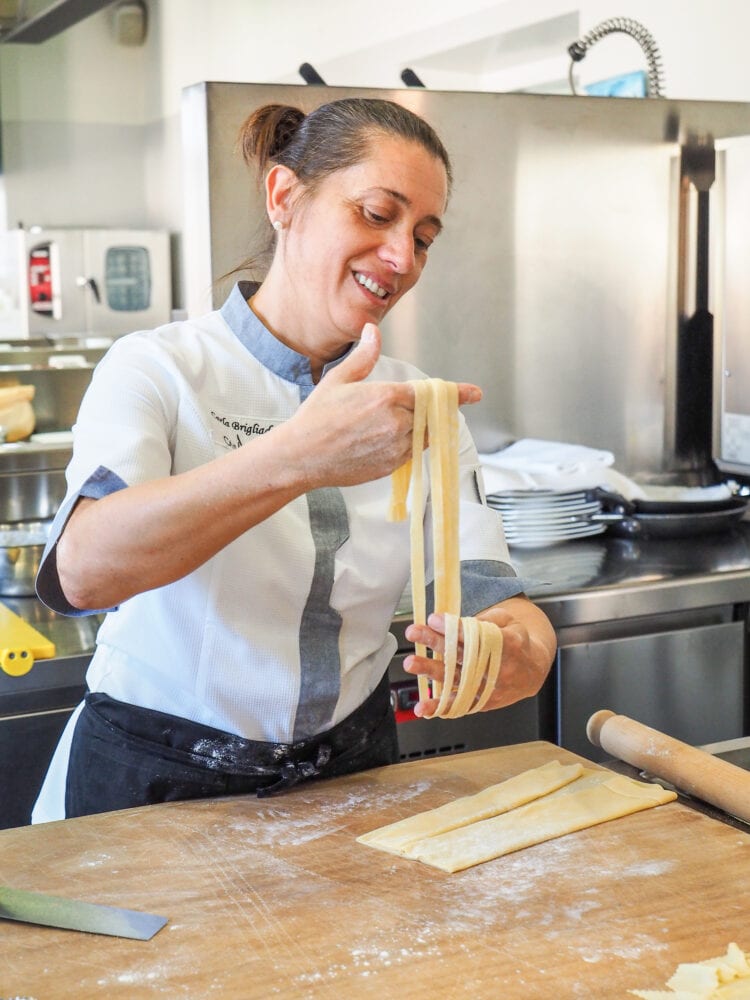 Artusi's Recipes
We starting with Recipe 7, Cappelletti Romagna Style. The name "cappelletti" means little hats due to their shape. Delia makes it look so easy! And truly, it is a simple recipe. But the technique takes some practice. Perhaps pasta making gets easier with time. Artusi used to always say the best teacher is practice.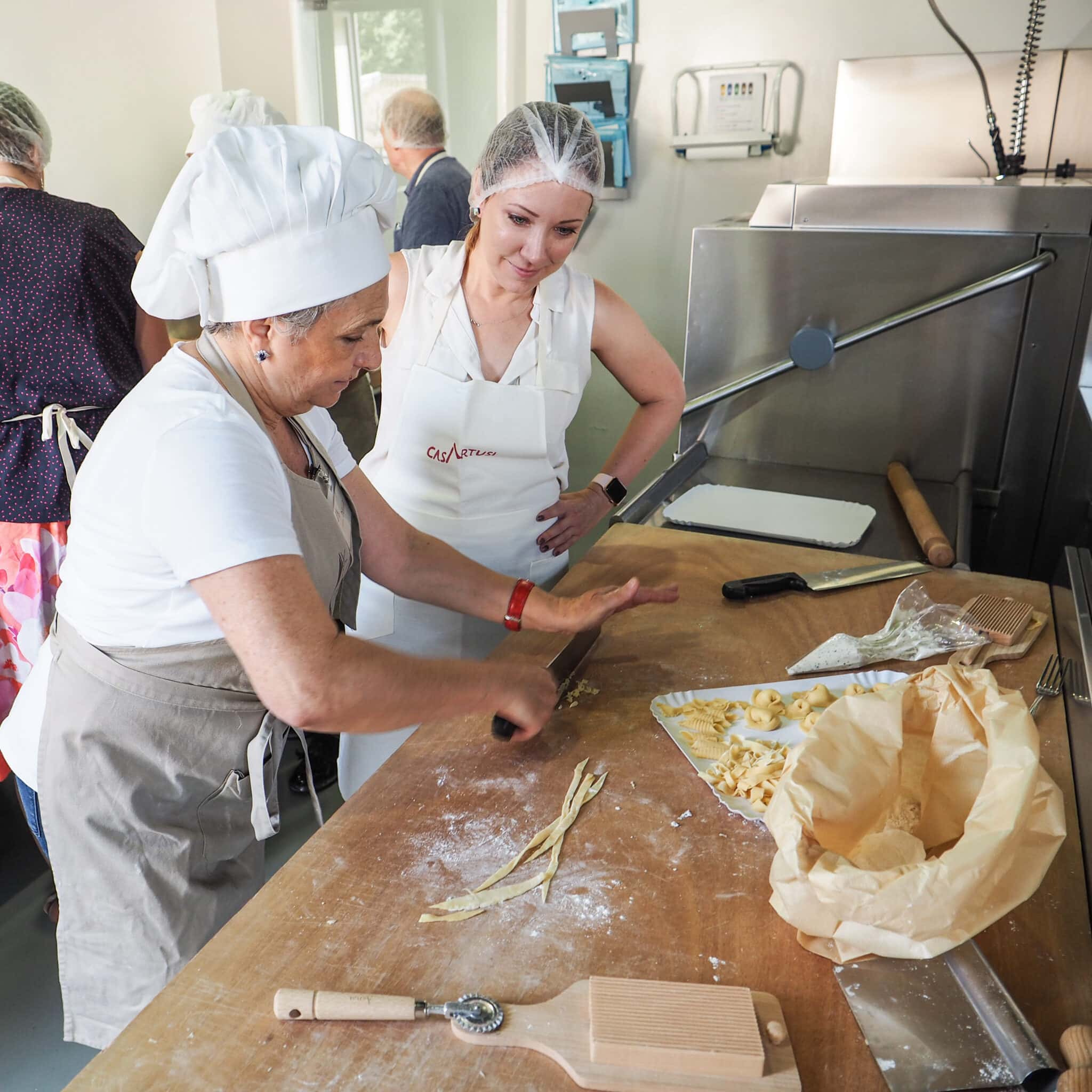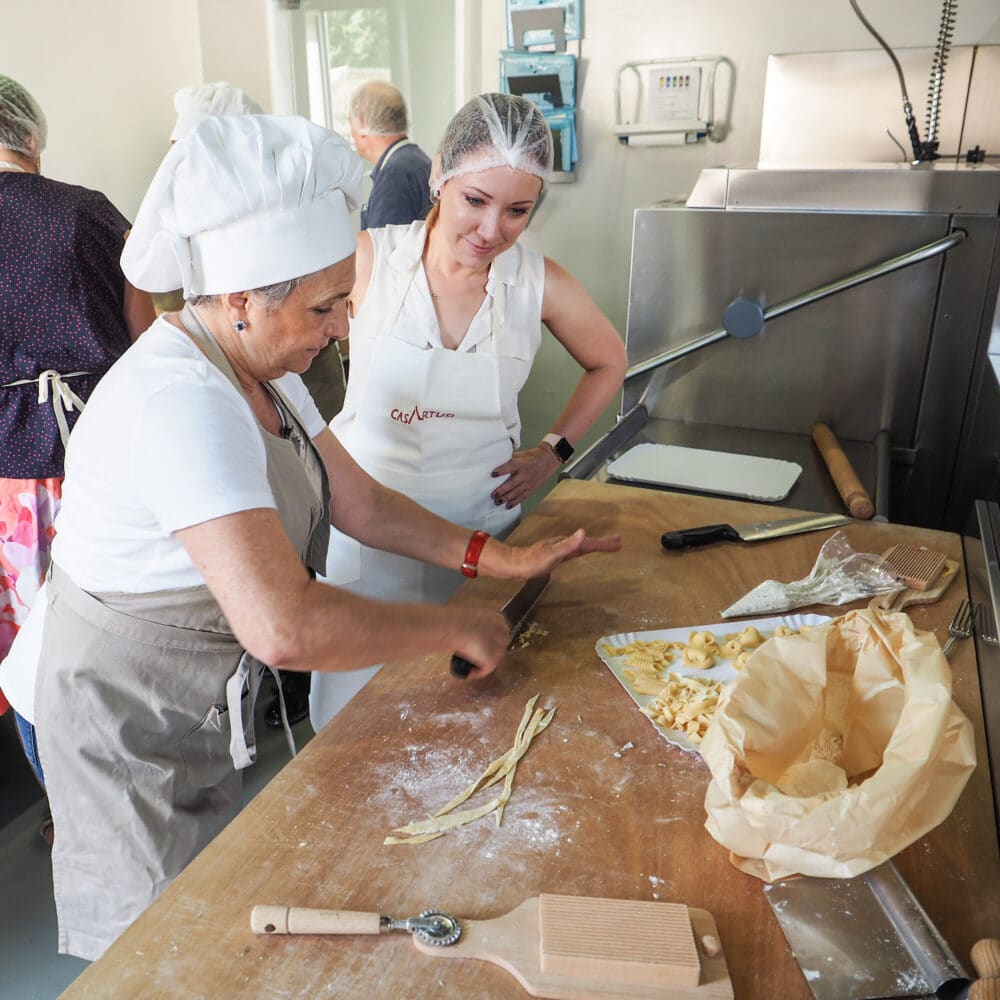 I can see that making pasta can be a great stress relief at the end of the day. A glass of wine, and forming dough with your hands like an edible art form. This is definitely something I want to try at home.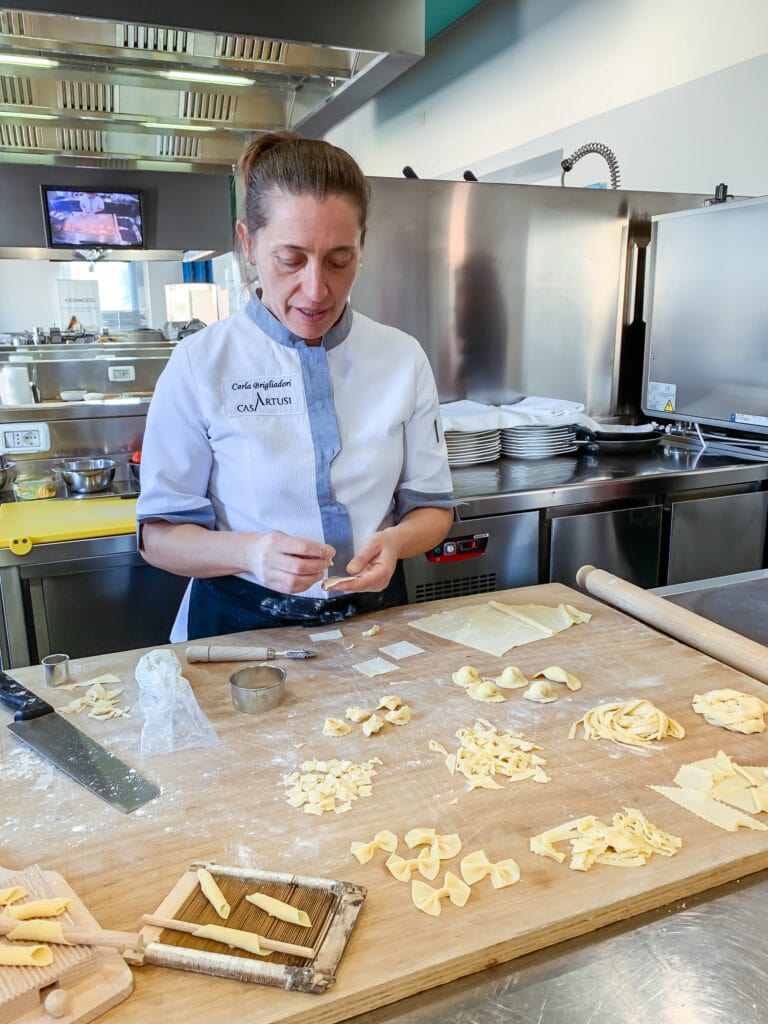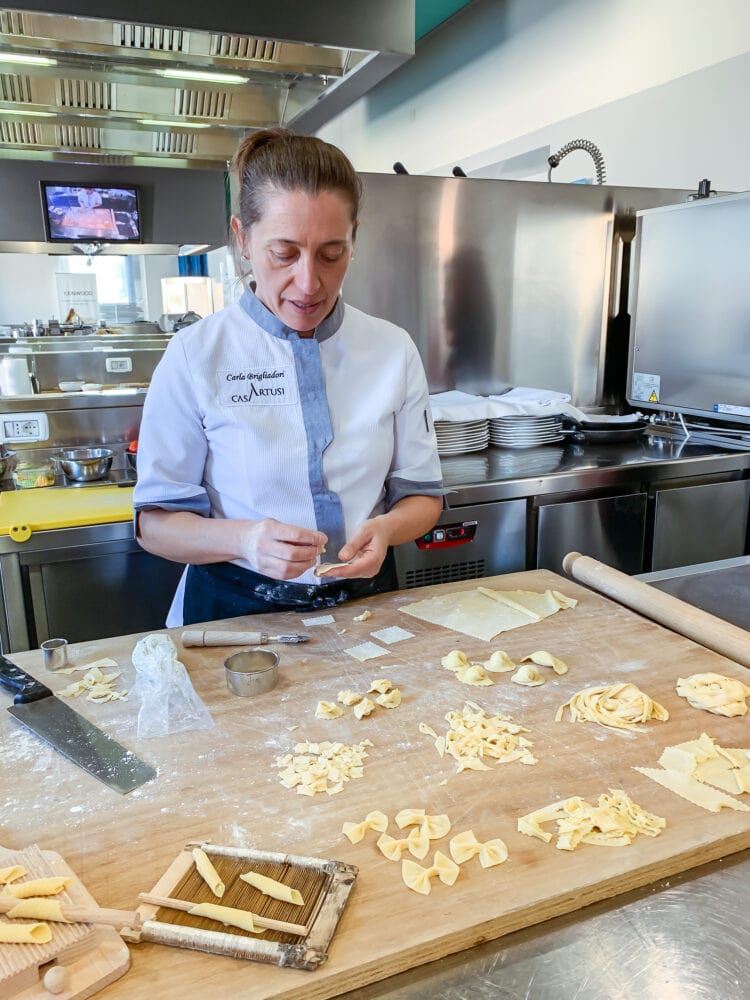 After making cappelletti, we move on to Recipe 71, tagliatelle. In Artusi's cookbook, he writes, "Bills should be short and tagliatelle long,' the people of Bologna say, and they are right, because long bills terrify poor husbands and short tagliatelle looks like leftovers, attesting to the incompetence of their maker."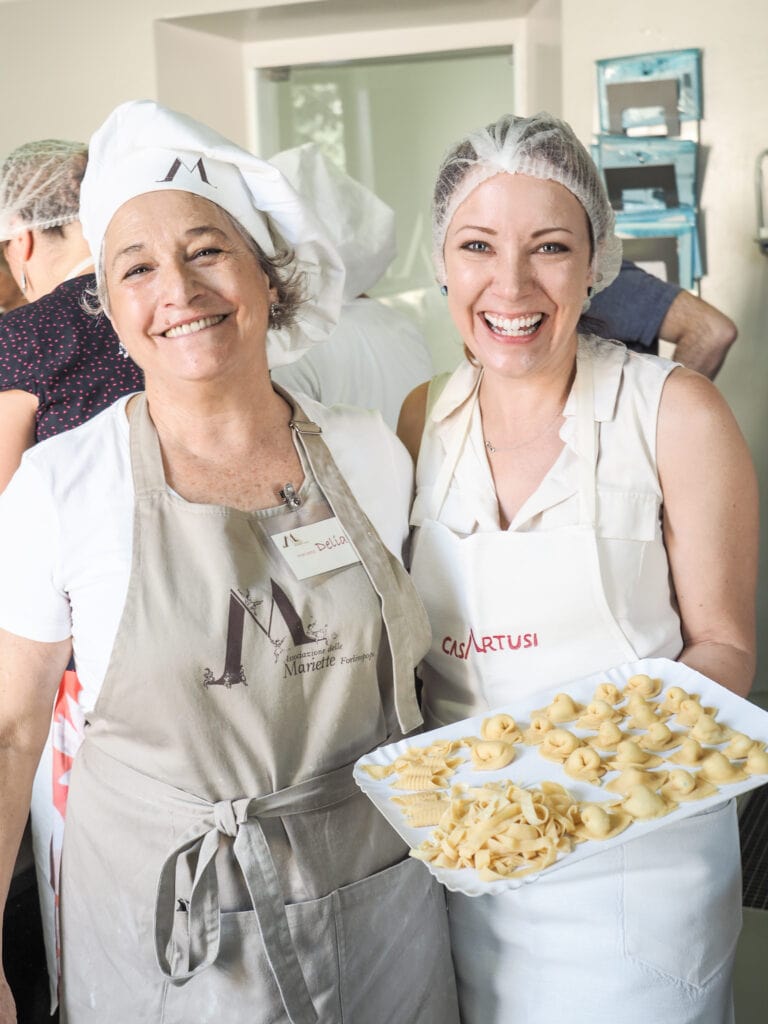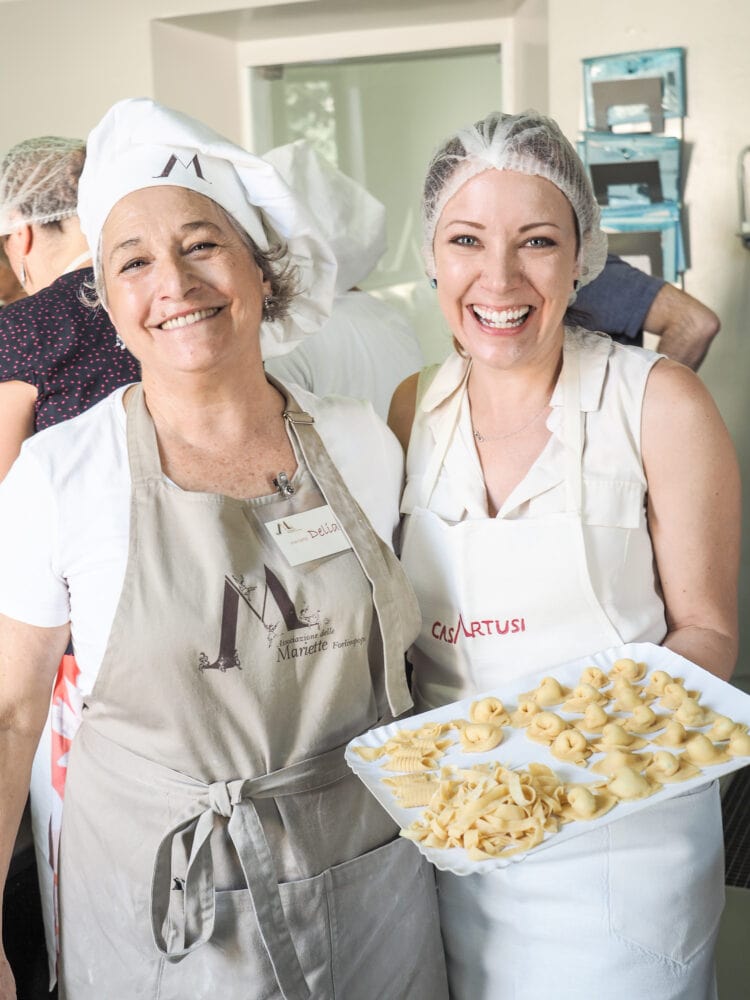 I did not want to make short tagliatelle. We learned a quick an easy way to fold the dough and cut it thin so that when it unraveled the pasta noodles were long and our Mariette's were proud.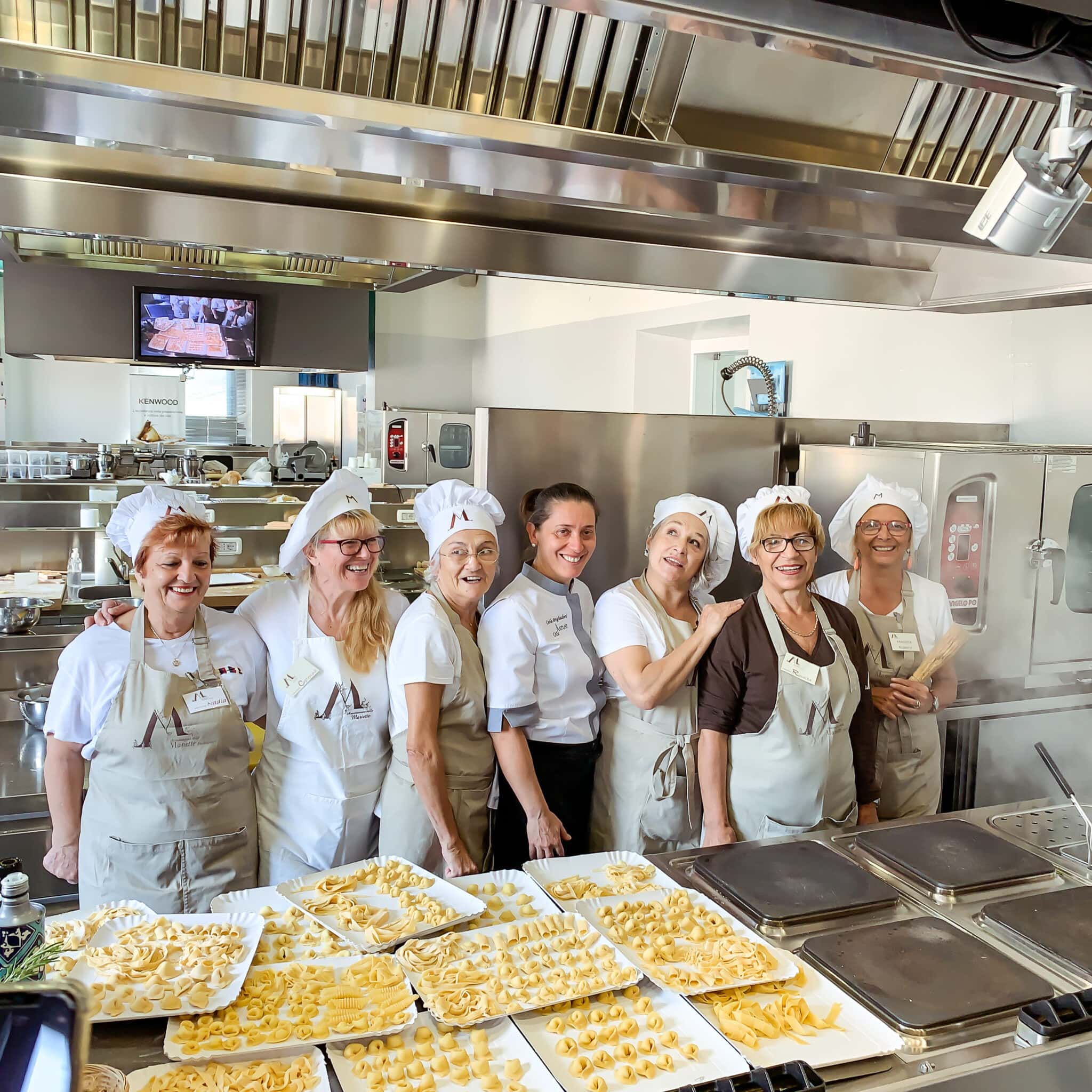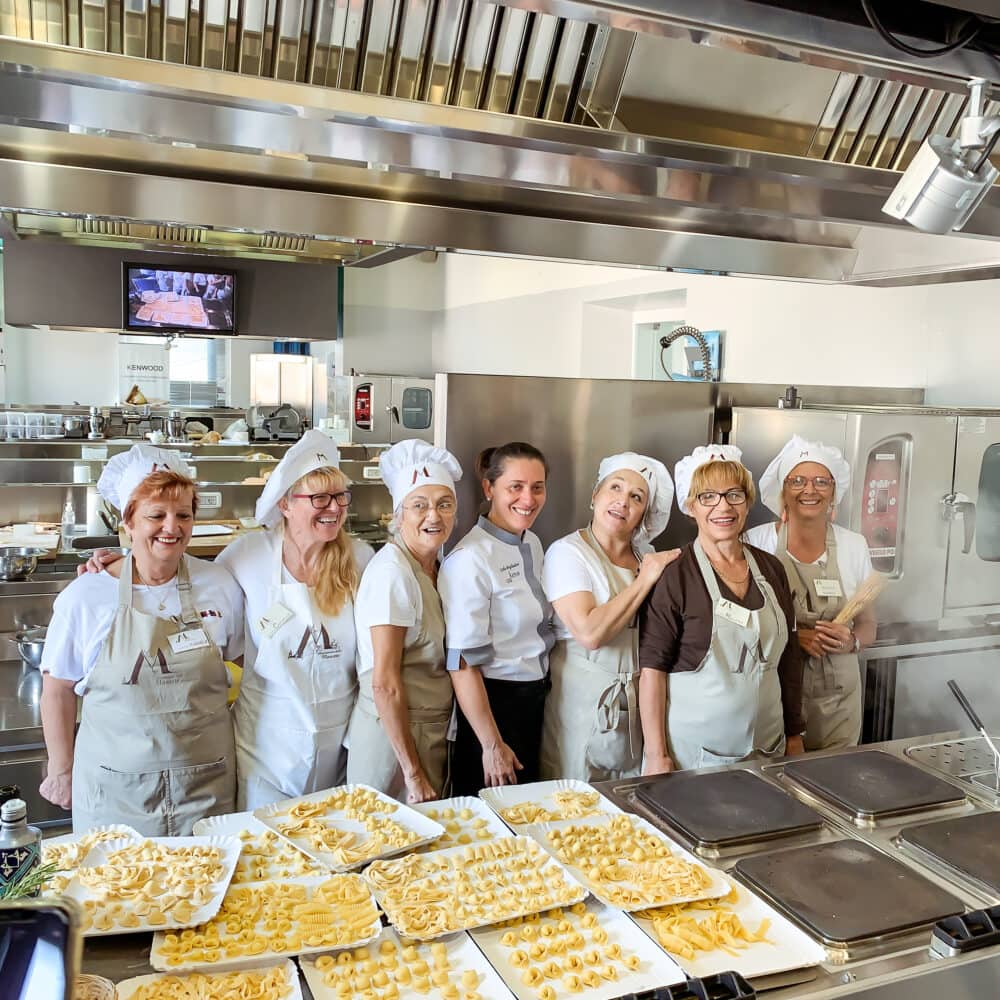 Feasting On Our Pasta Creations
At the end of the cooking lesson at the Casa Artusi Cooking School, there's a feast! Our handmade pastas are cooked and served with the ragu Carla had been making throughout our lesson. There's also meat and cheese boards as well as other small appetizers the volunteers prepared. Each course is paired with a local wine and sitting there at the end of our lesson feasting with new friends, I don't think I could be any happier.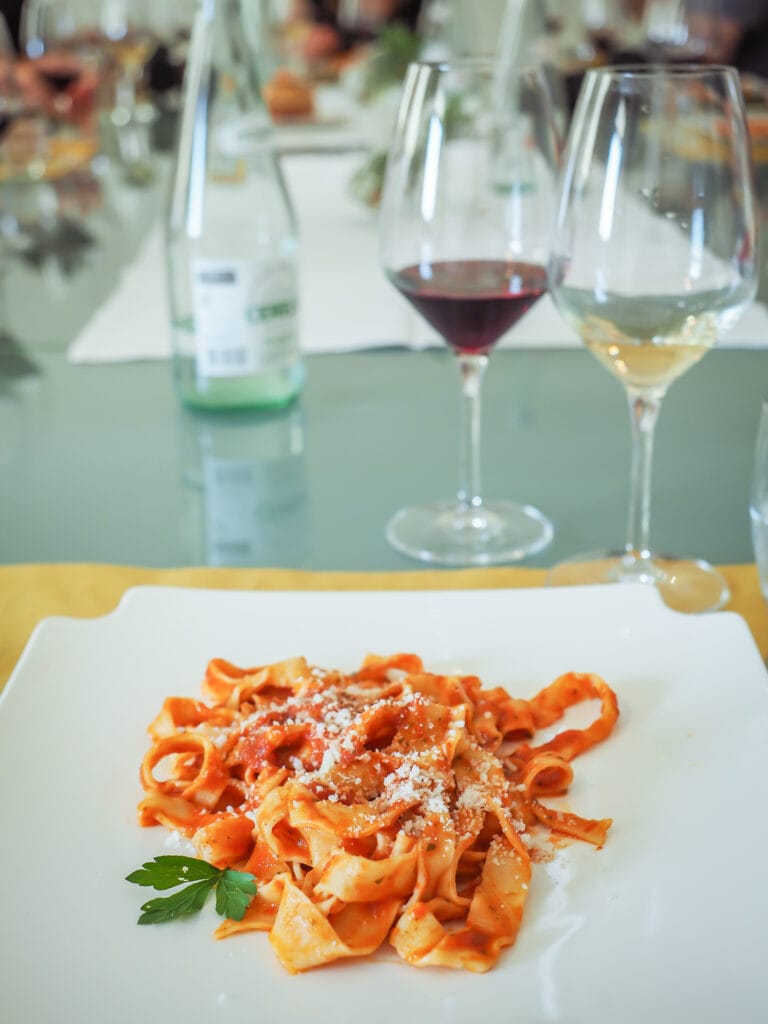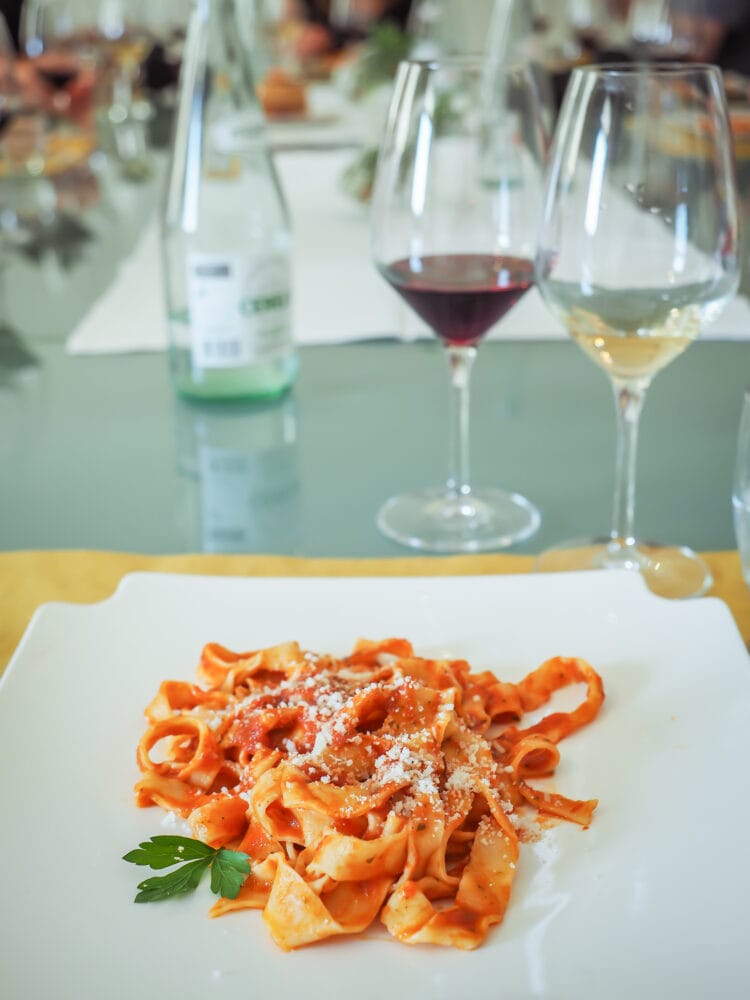 Artusi's Cookbook
Artusi's book is no ordinary cookbook. It was self-published in 1891, then quickly sold out and became such a success that Pellegrino Artusi worked on 20 more editions throughout his lifetime.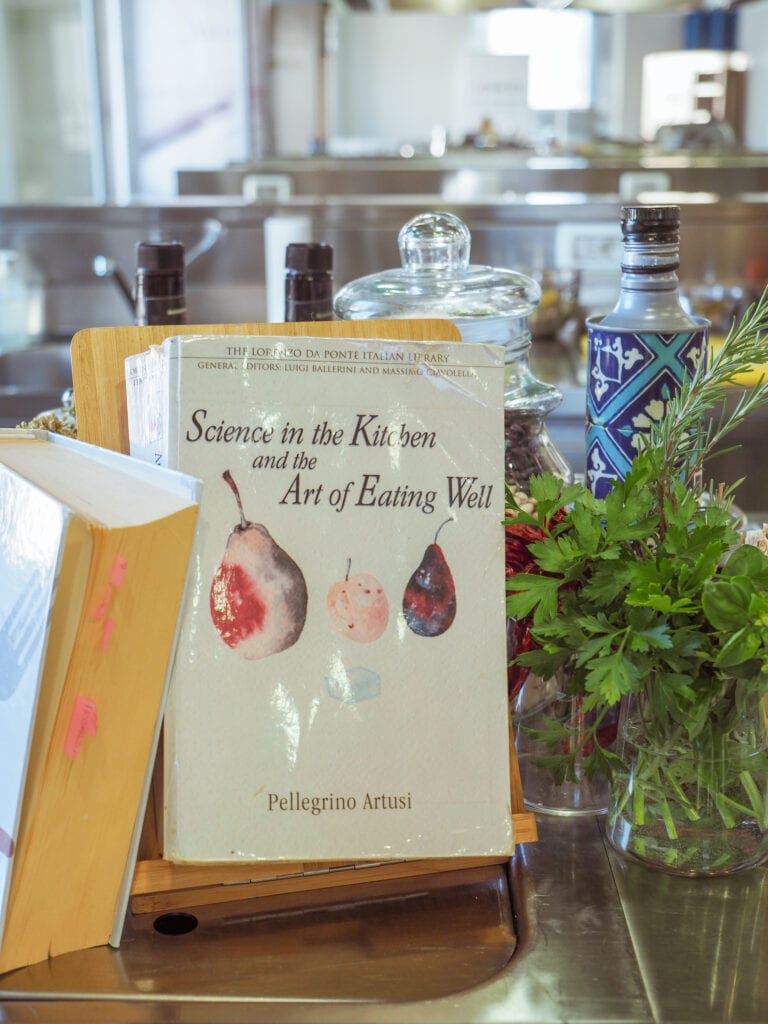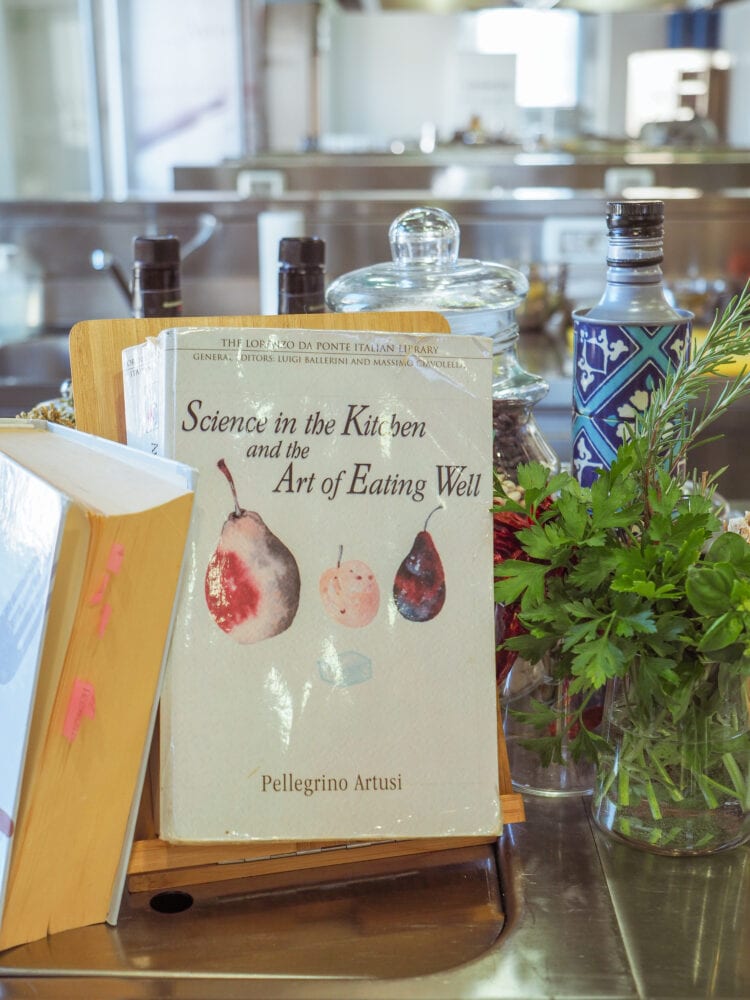 When you read through the book, it is more like a manual (with a few fun short stories in-between) rather than the typical layout of cookbooks today. Each recipe builds on others and are commonly referenced throughout. For instance, once you know how to make the pasta dough (paste), you can then roll it out and form it to make over one hundred different shapes of pasta.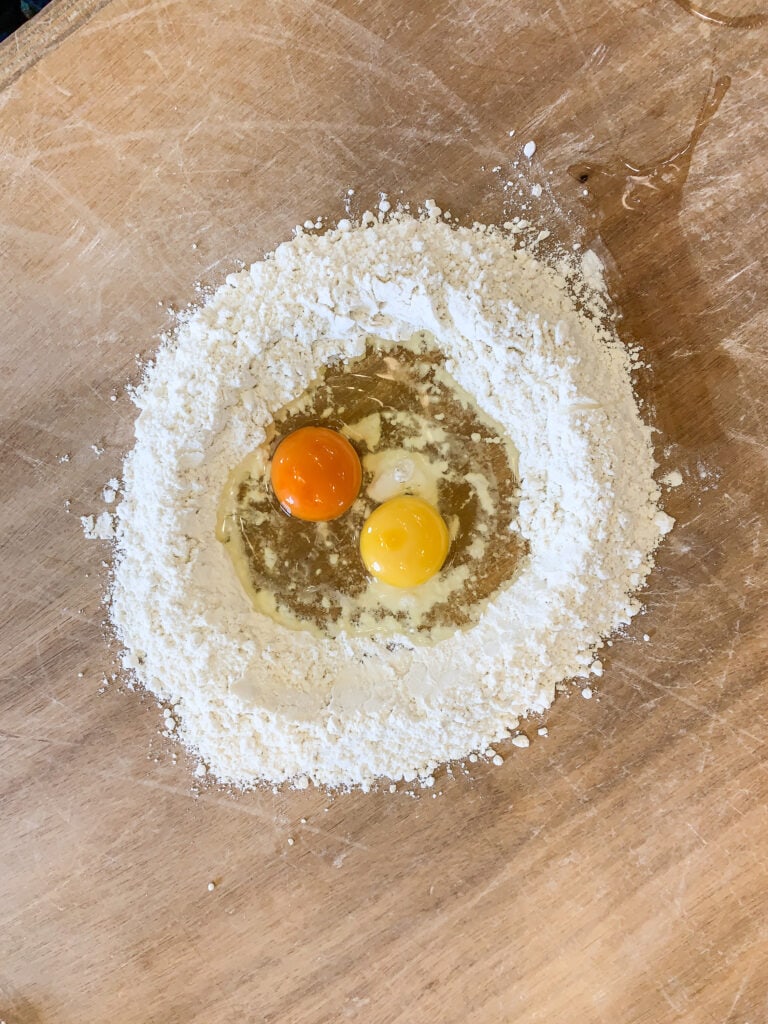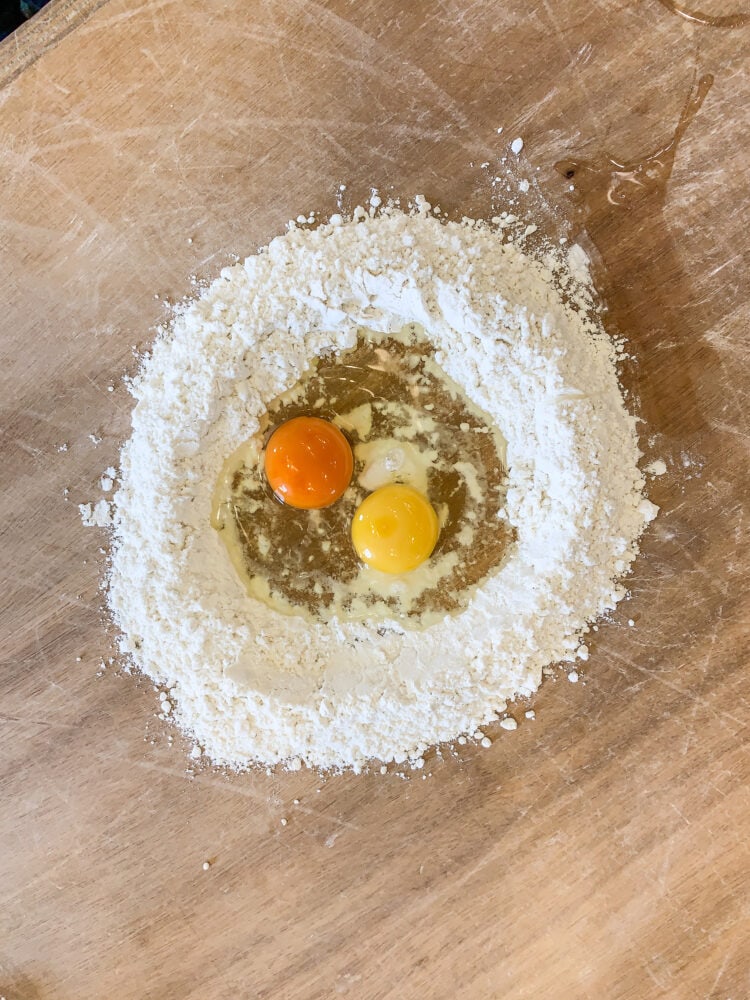 There are anecdotes and witty observations, almost like reading a journal with recipes in-between. Artusi would taste the recipes while traveling, then try cooking them at home with Marietta. Then he'd write about the process along with short stories from his travels — so he's essentially one of the first food and travel bloggers.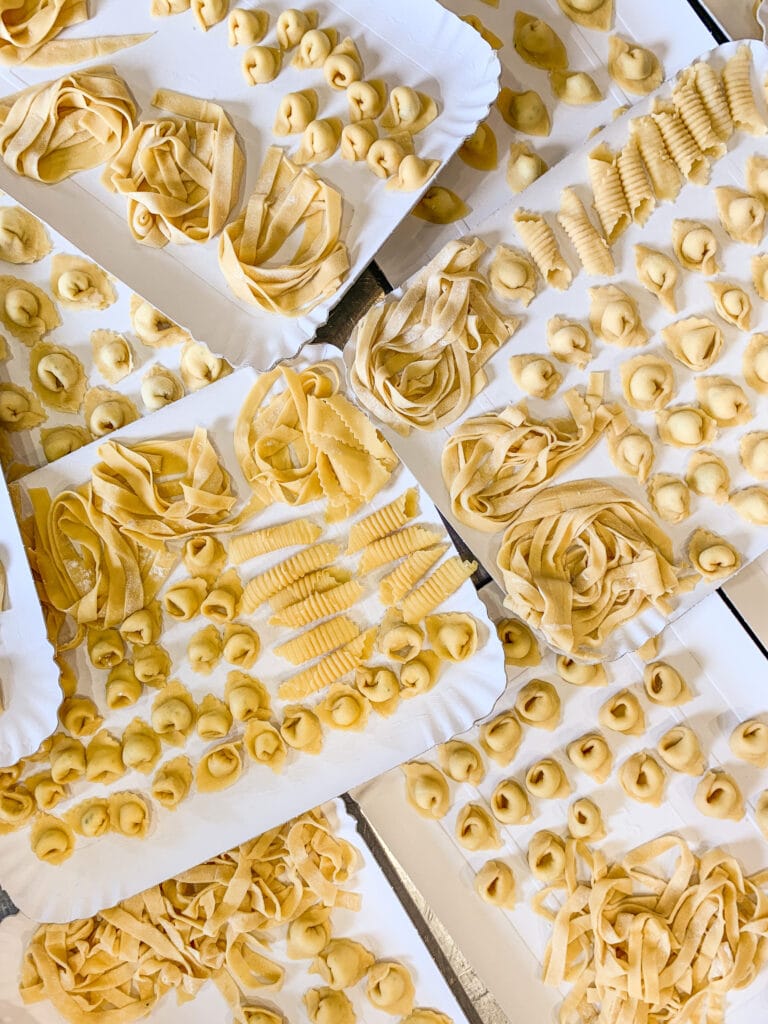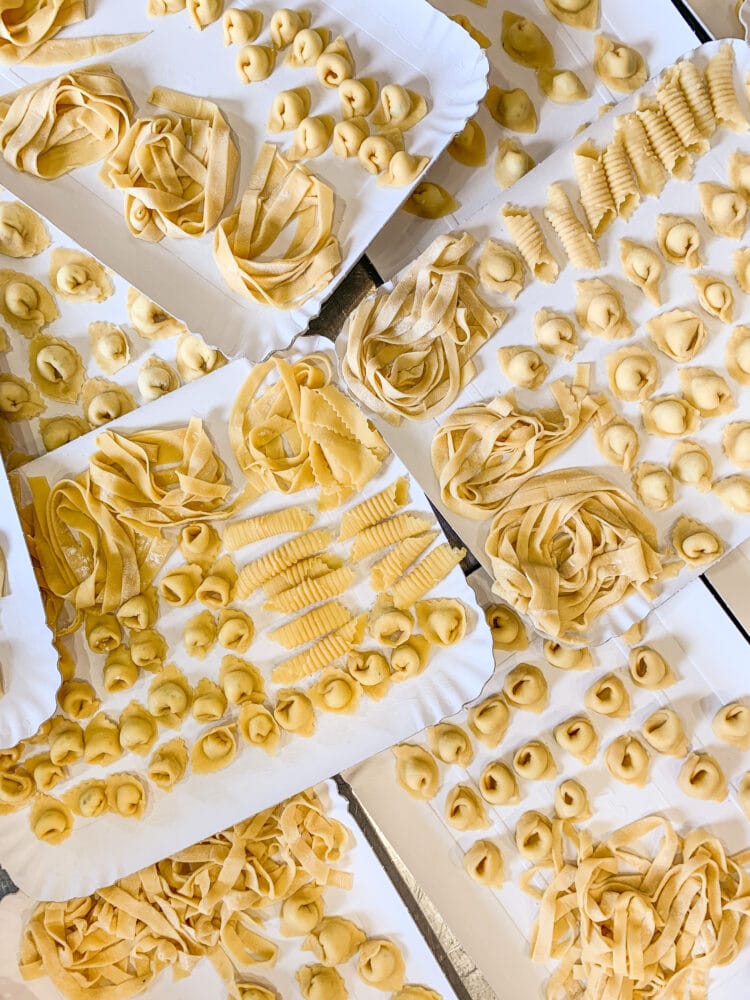 In Artusi's book he says, "When you hear someone speak of Bolognese cooking, salute it, because this cooking deserves it … Bologna is a big old town where the feasting never stops." Having spent several summers in Bologna, this is true.
I love that Italy's most beloved cookbook wasn't written by a chef. Instead, it's dedicated to the home cook.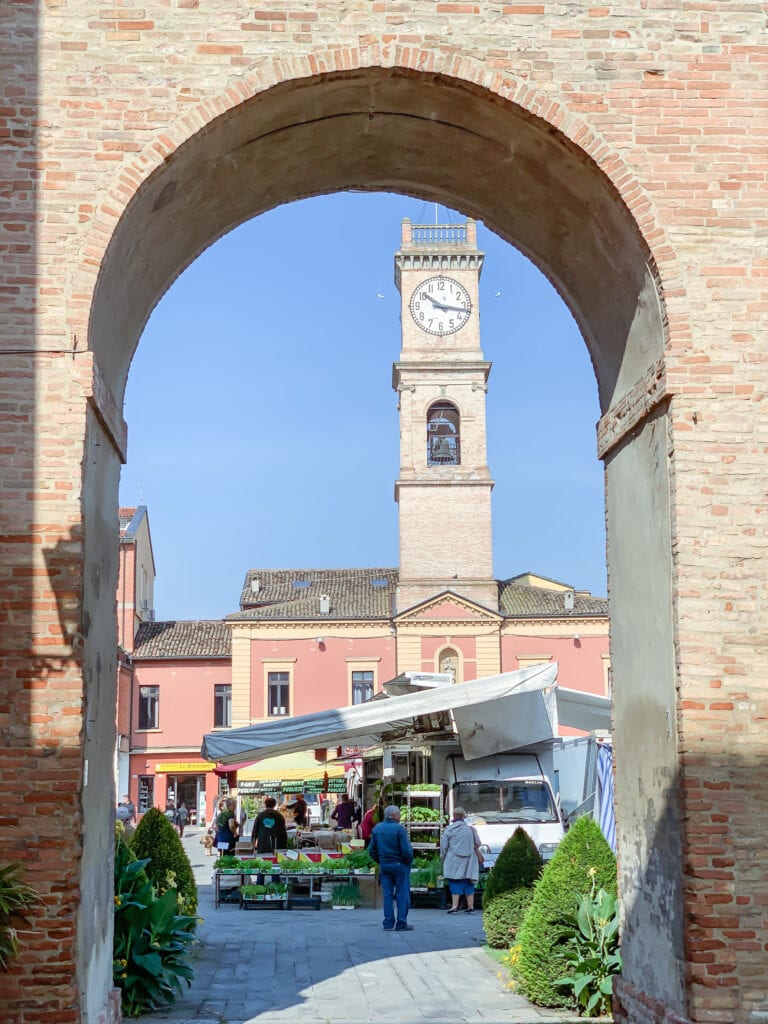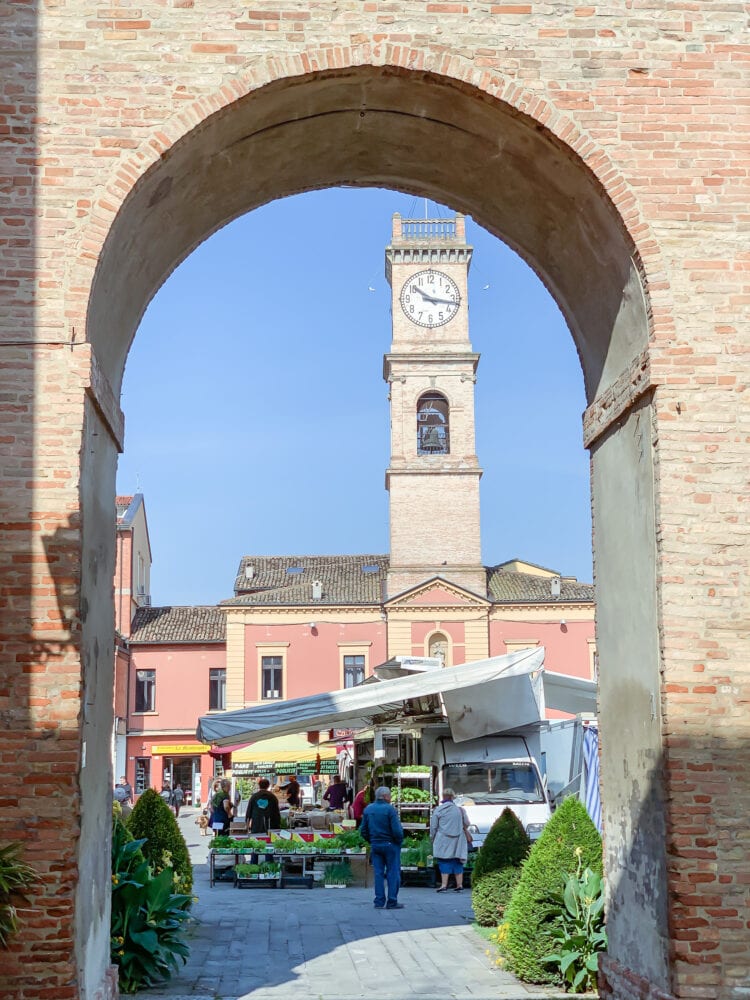 Where Is Casa Artusi? Forlimpopoli!
Casa Artusi is located in a town called Forlimpopoli, a little more than half way between Bologna and San Marino near Cesena. Forlimpopoli is where Pellegrino Artusi was born, and I love that there is this tribute to him in his home town. The school is just a short walking distance from Rocca Albornoziana, the medieval fortress that overlooks Piazza Garibaldi.
Address: Via Andrea Costa, 31, 47034 Forlimpopoli FC, Italy
Website: casartusi.it/en/

What's The Best Way To Get There
The best way to get to Forlimpopoli is by car or by train. There is a main highway that runs northwest to southeast along the main cities in the Emilia Romagna region, and the trains run along the same route. You can spend the day in Forlimpopili, even spend the night there. The Casa Artusi Cooking School is also a great day trip if you're visiting nearby Rimini or San Marino too.
MORE STORIES ABOUT THE EMILIA ROMAGNA REGION