This easy ravioli and meatballs one skillet meal is my favorite dinner to throw together when we have a busy weeknight. It only takes FIVE INGREDIENTS! And it cooks quick so dinner is done in twenty minutes.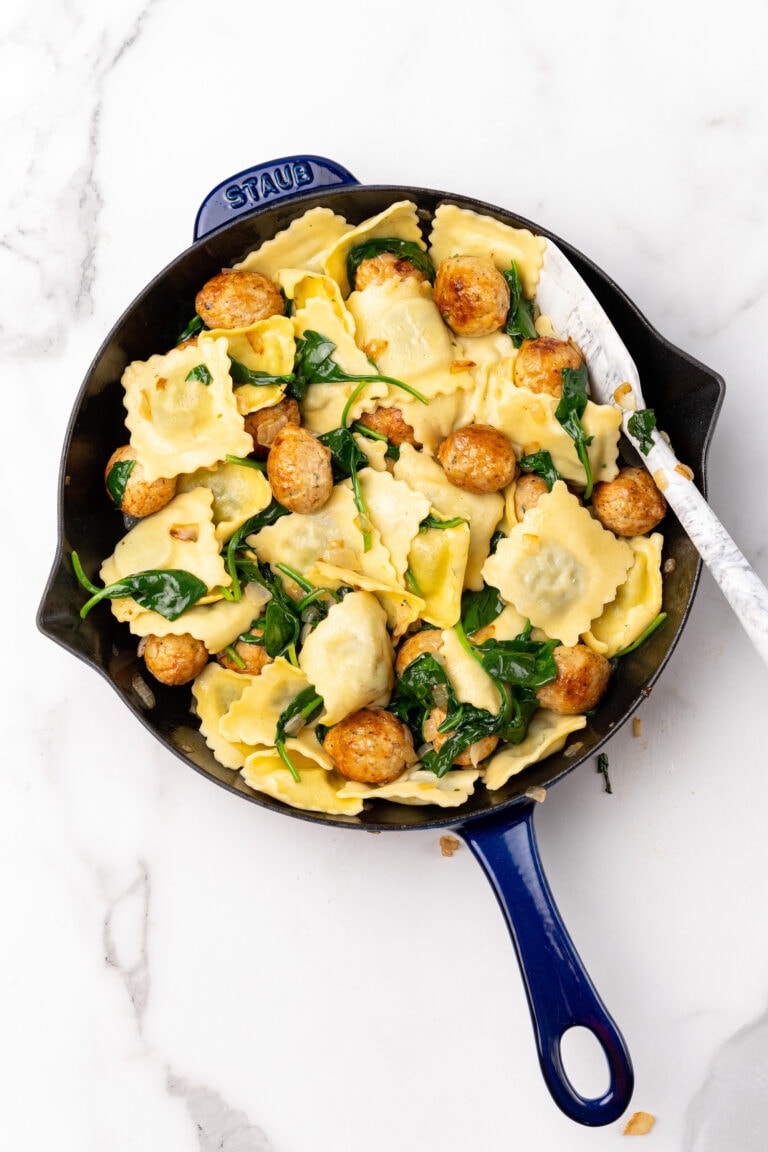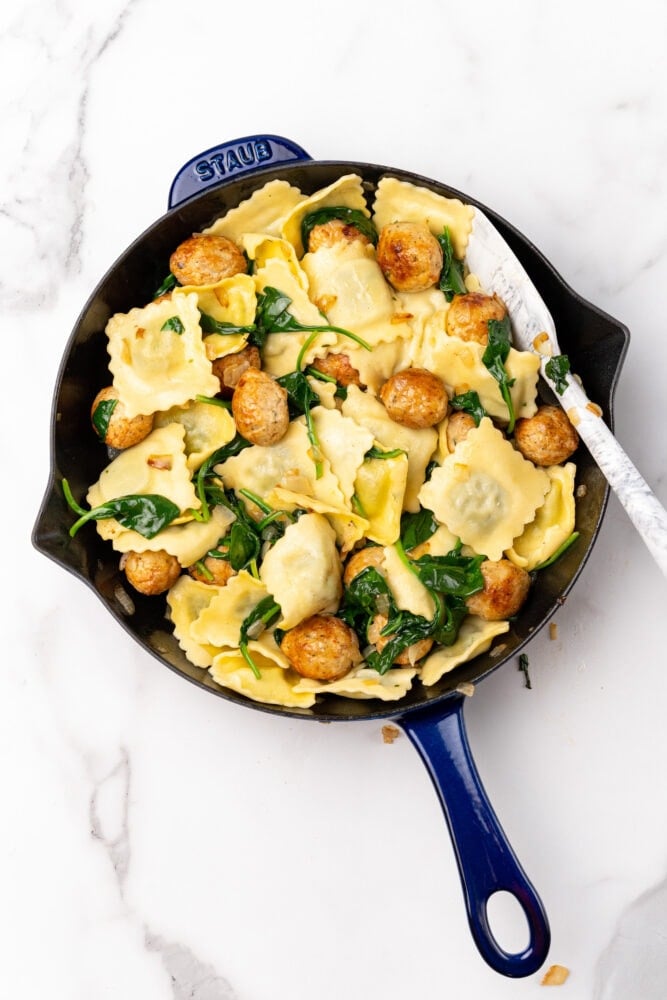 The fun part about this recipe is you can mix it up with different flavors of ravioli. I've tried butternut squash ravioli in the fall, and lemon ricotta ravioli in the spring and summer.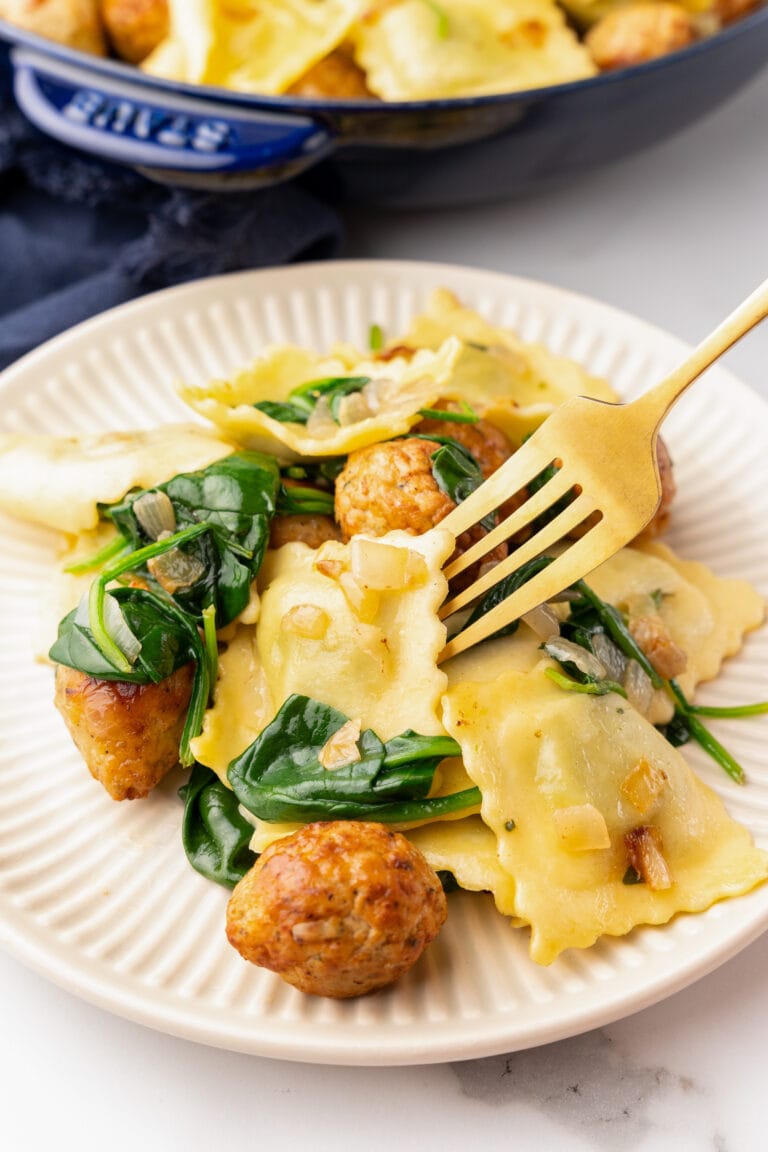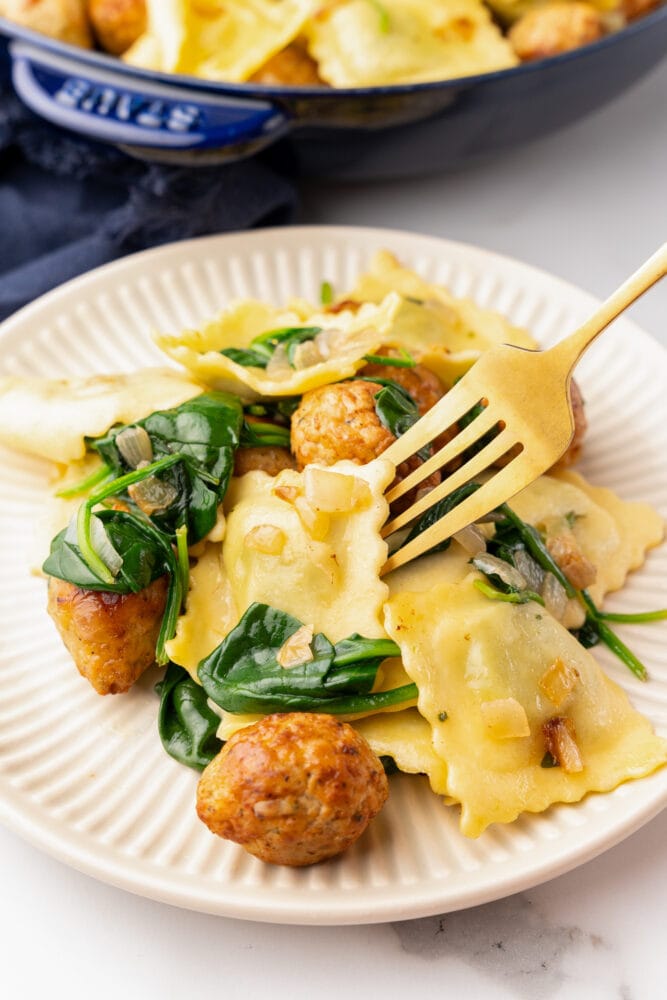 5 Ingredient Meal!
To make this quick and easy dinner, you'll only need these five ingredients, plus a little salt and pepper to season.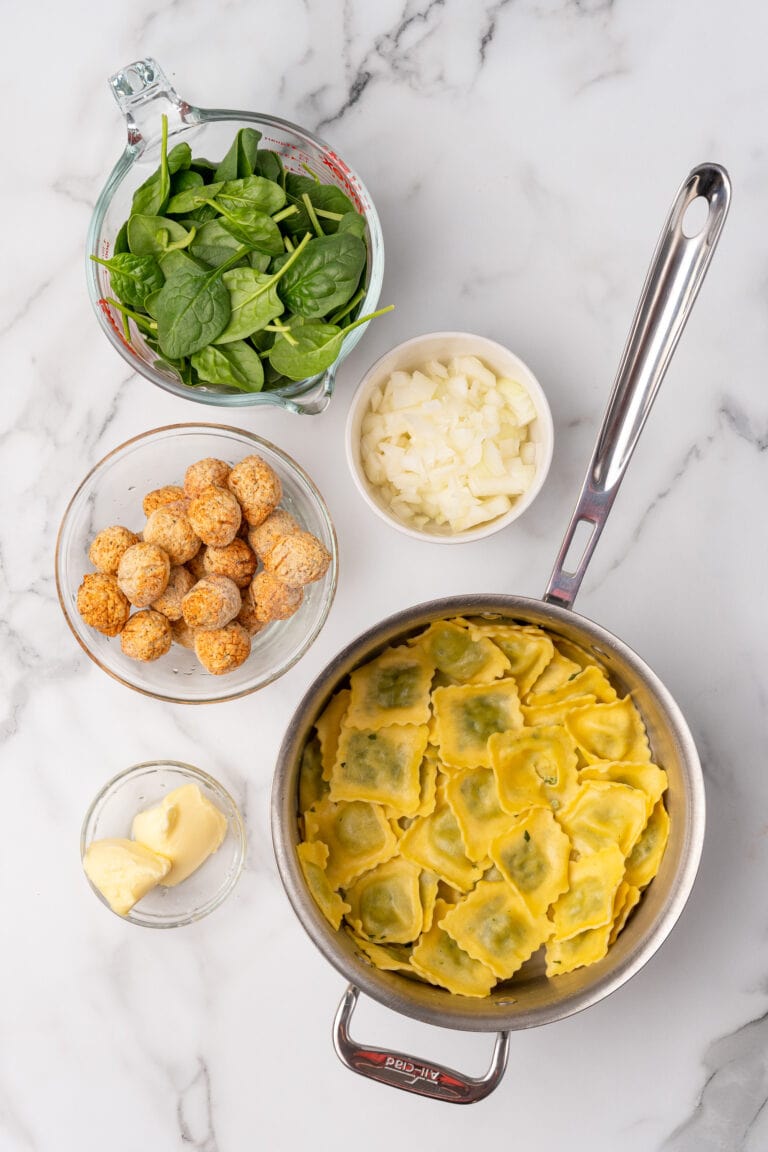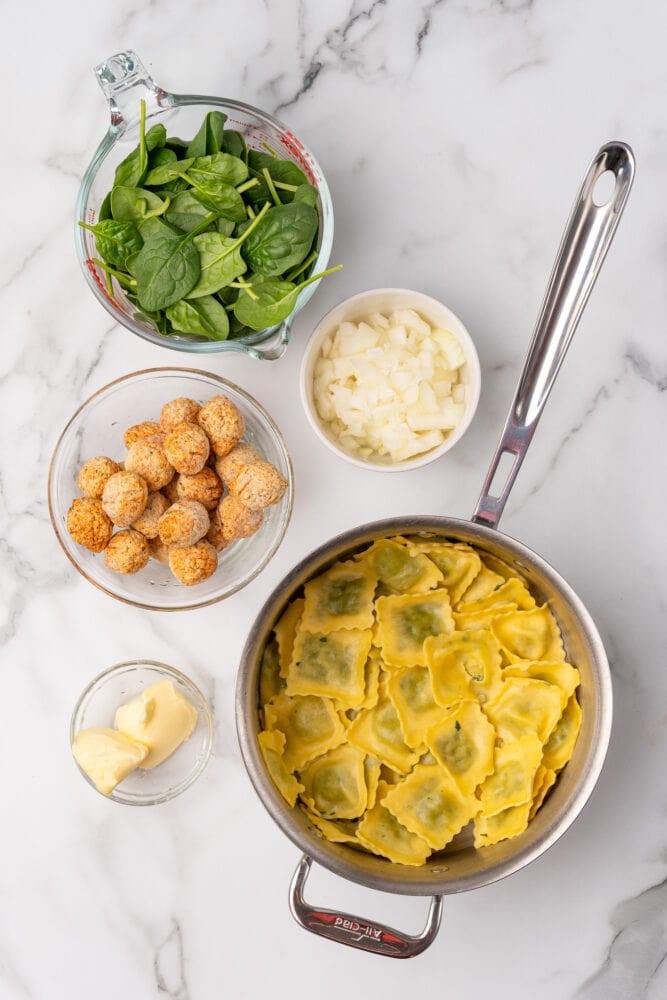 Butter – I like to use salted butter. You could also use olive oil in place of butter, but I like the creamy rich flavor the butter adds to this dish.
Onion – Onions vary in size, but usually I'll dice one whole small onion for this recipe. It ends up being about a half cup of diced onion.
Pre-Cooked Meatballs – Using pre-cooked meatballs is the secret to getting this recipe done in under 30 minutes for a quick dinner. You'll either want to use leftover meatballs, or look for pre-cooked meatballs in your local grocer's refrigerated section. Trader Joe's sells pre-cooked chicken meatballs in their refrigerated section (that's what I like to use). TIP: If using frozen meatballs, briefly microwave them to thaw, then follow the recipe to cook in the skillet to give them caramelization and flavor.
Baby Spinach – I use a whole bag of fresh baby spinach. It cooks down in volume, and adds a nice fresh color to this ravioli and meatball skillet. Plus you get a serving of vegetables!
Ravioli – Look for fresh ravioli in the refrigerated section of your local grocer. The stuffing can be anything you'd like (lemon ricotta, cheese, butternut squash, etc.). But the fresh pasta tastes better and cooks quick.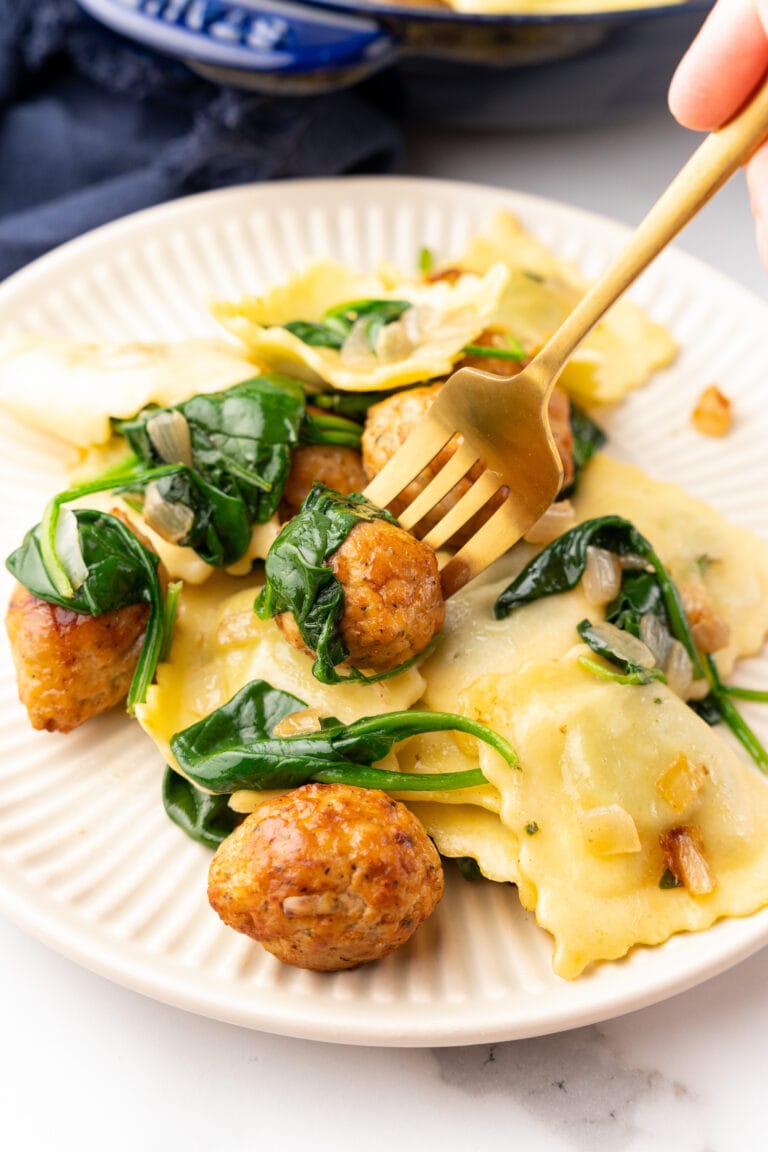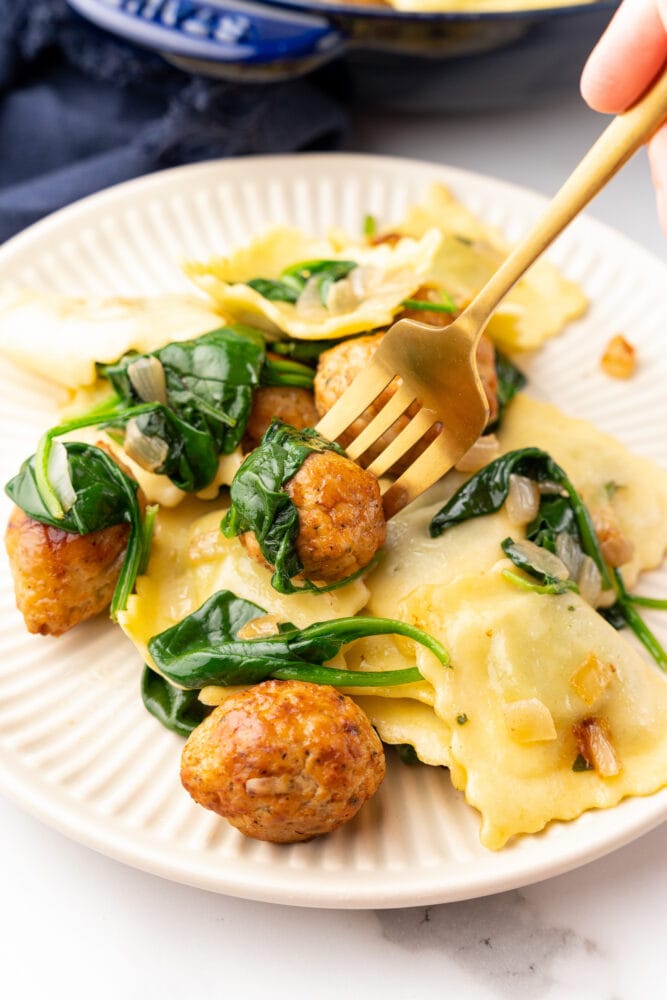 How To Make Ravioli and Meatballs
Start by gathering together the ingredients listed above. If your pasta is not cooked, bring a medium sized pot of water to a boil and follow the package directions. Usually fresh ravioli will cook in 2-3 minutes. Have a slotted spoon ready to transfer the ravioli from the pot of water to the skillet once it is done cooking.
Then melt the butter on medium heat in a large skillet and add the onions. Cook onions until they're translucent (about 2-3 minutes).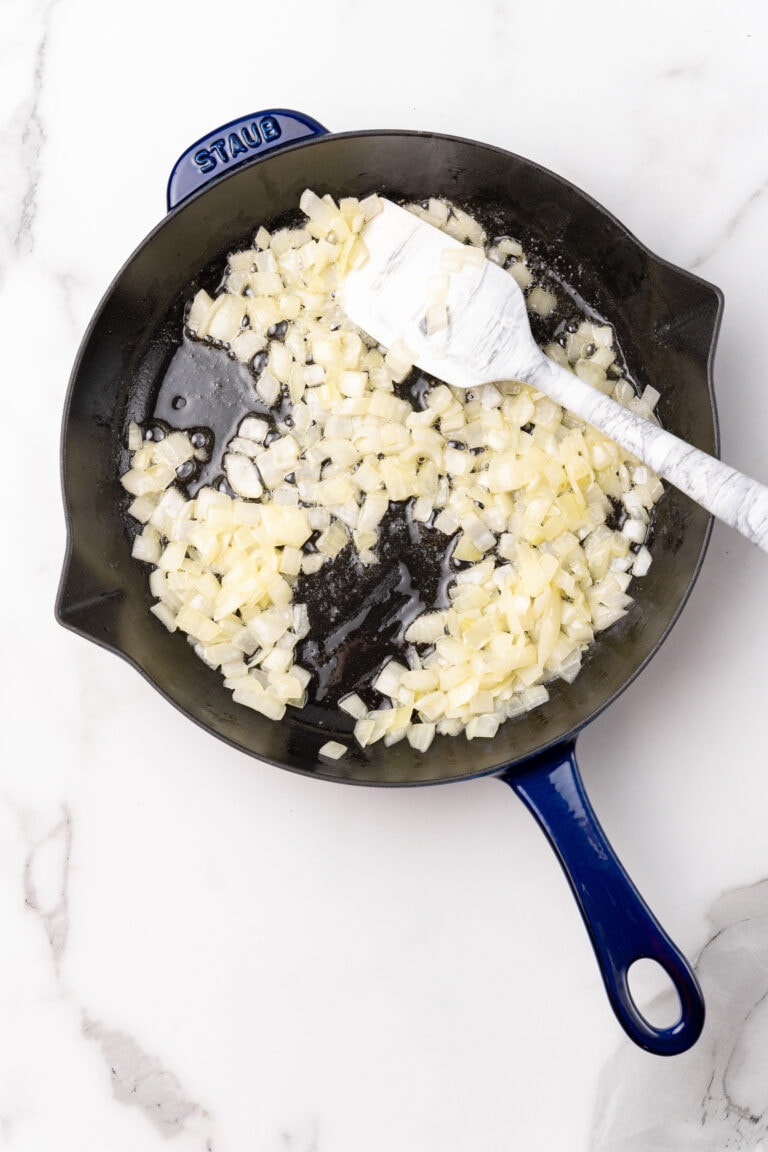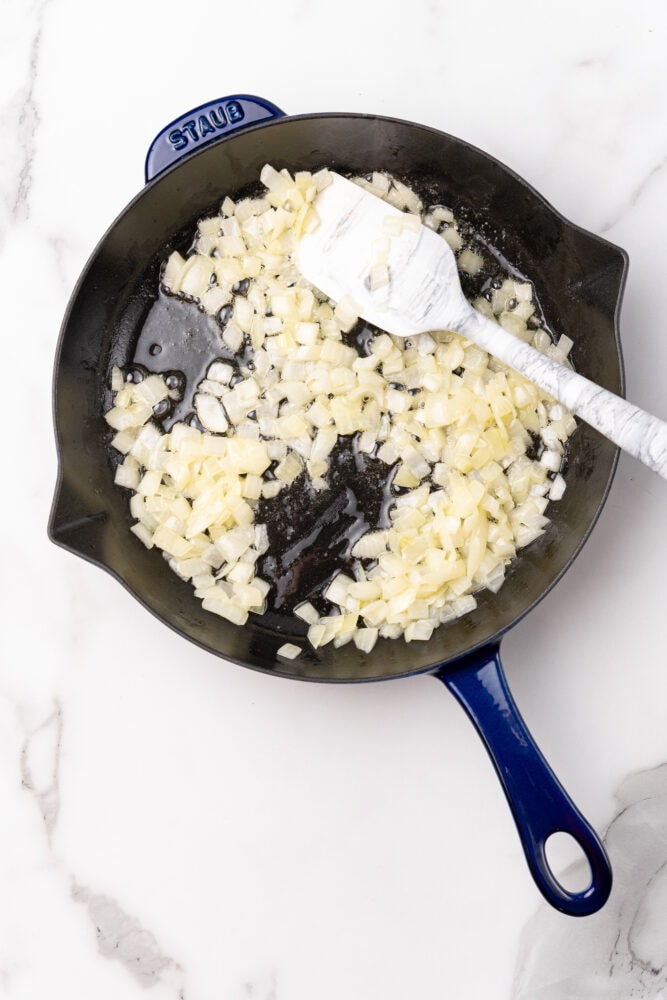 Next, add the meatballs and cook until they're browned (about 5 minutes). I like to turn them during cooking so they get a nice caramelized color on all sides.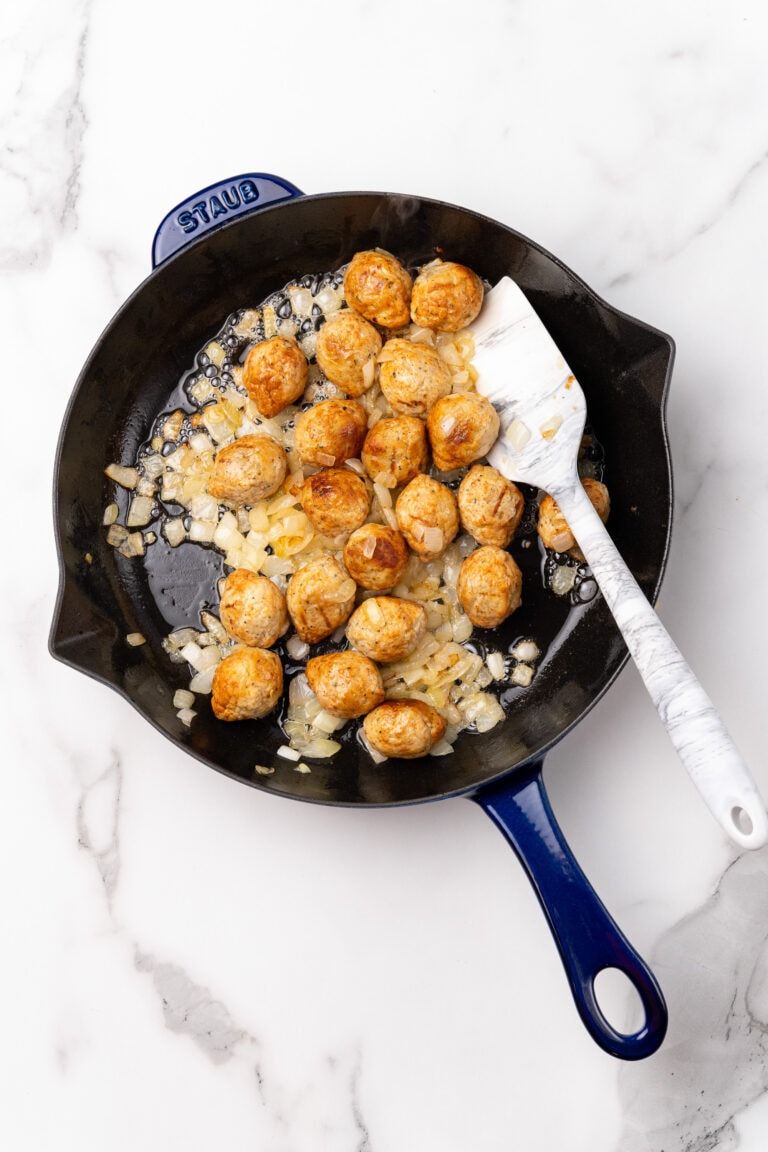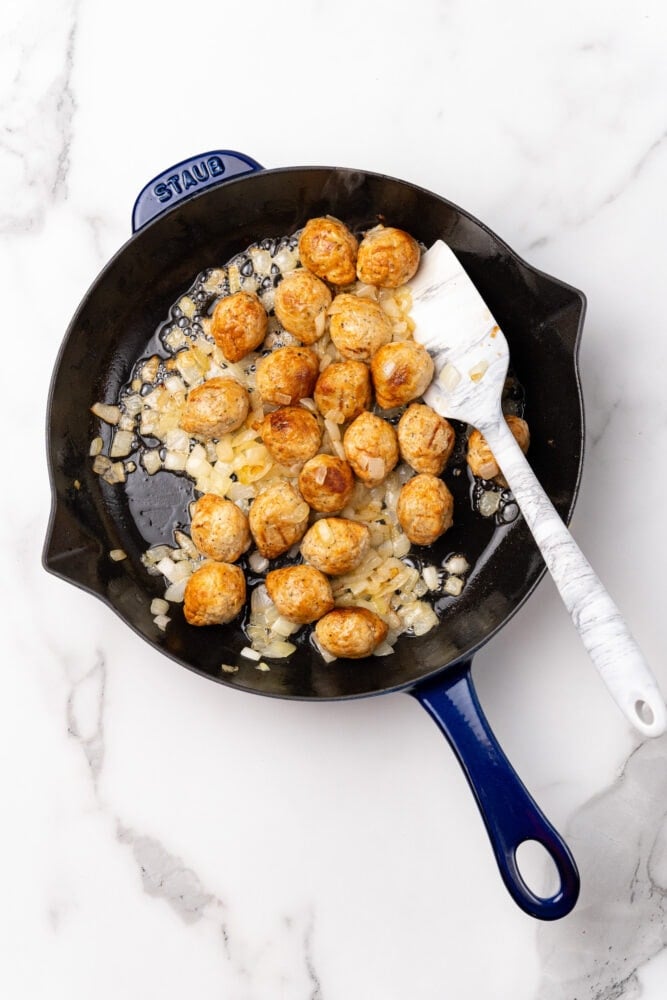 Once the meatballs are cooked, add the spinach. You can cover the skillet for the spinach to cook quick.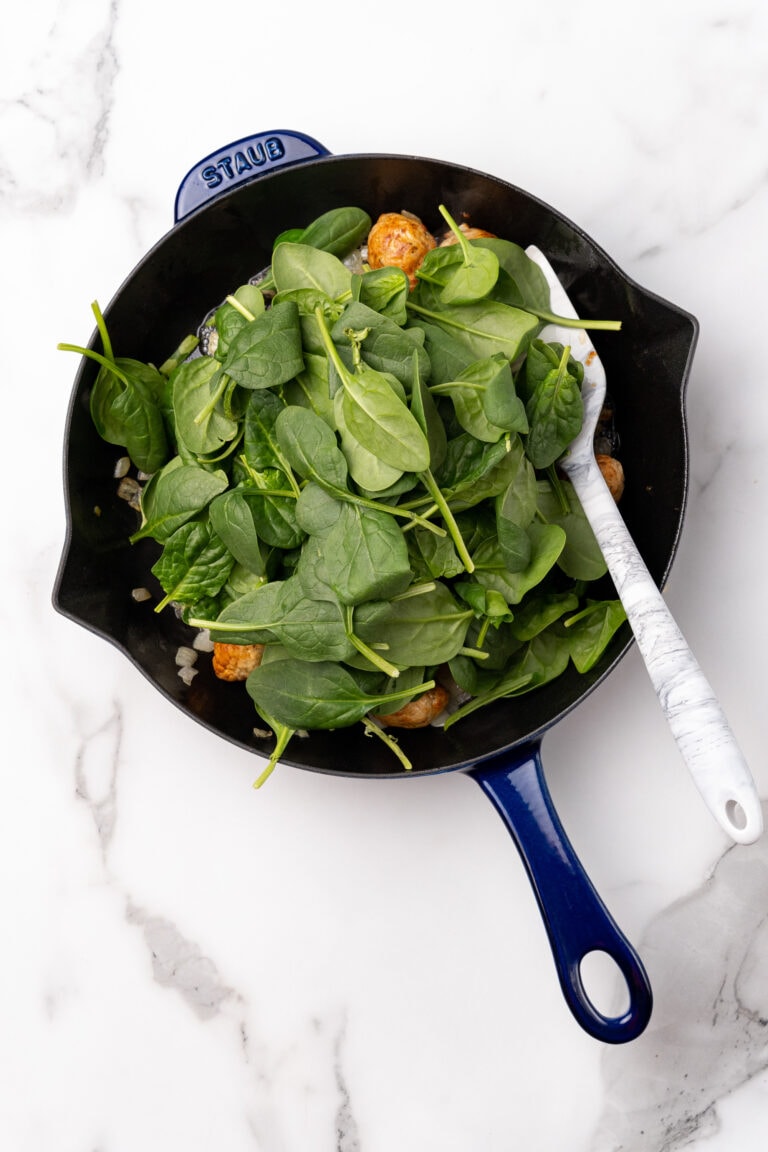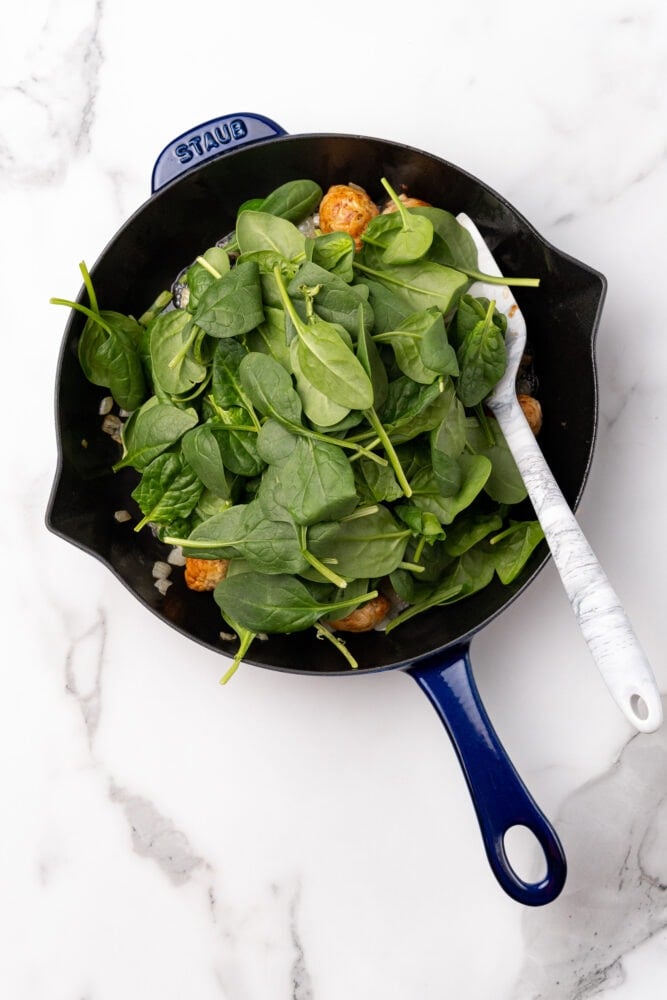 Once the spinach is cooked down, mix it together with the meatballs and onions.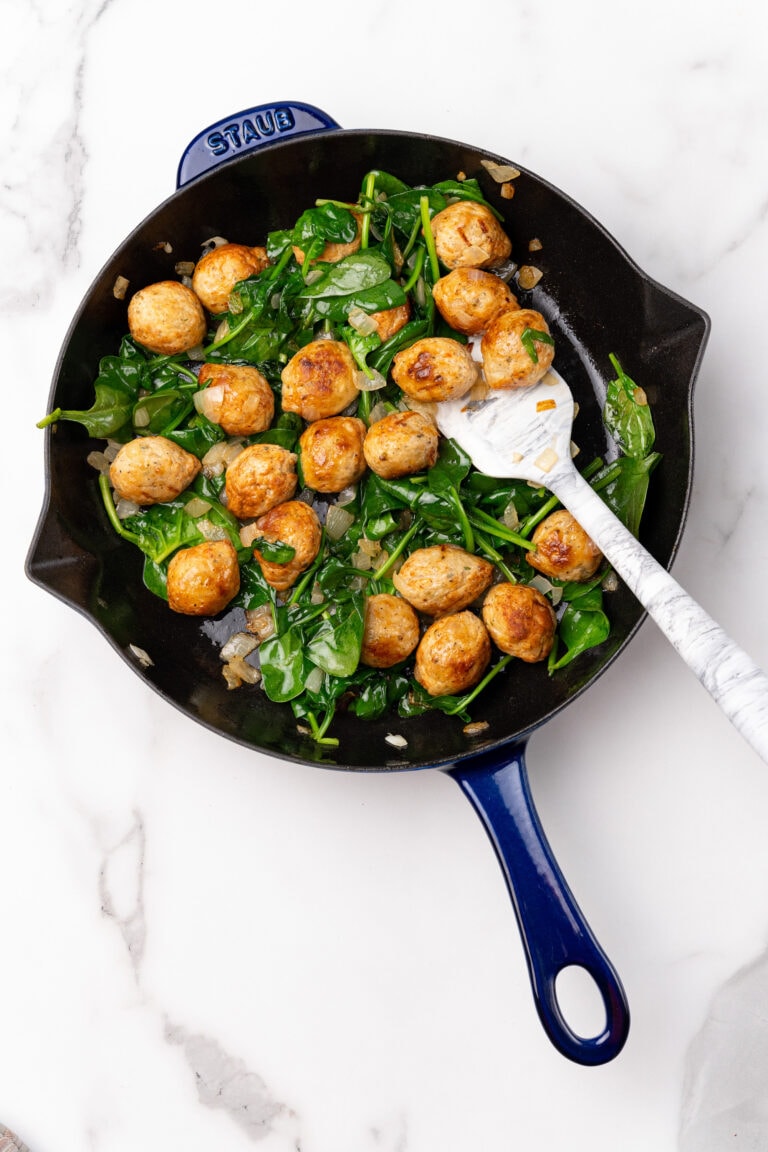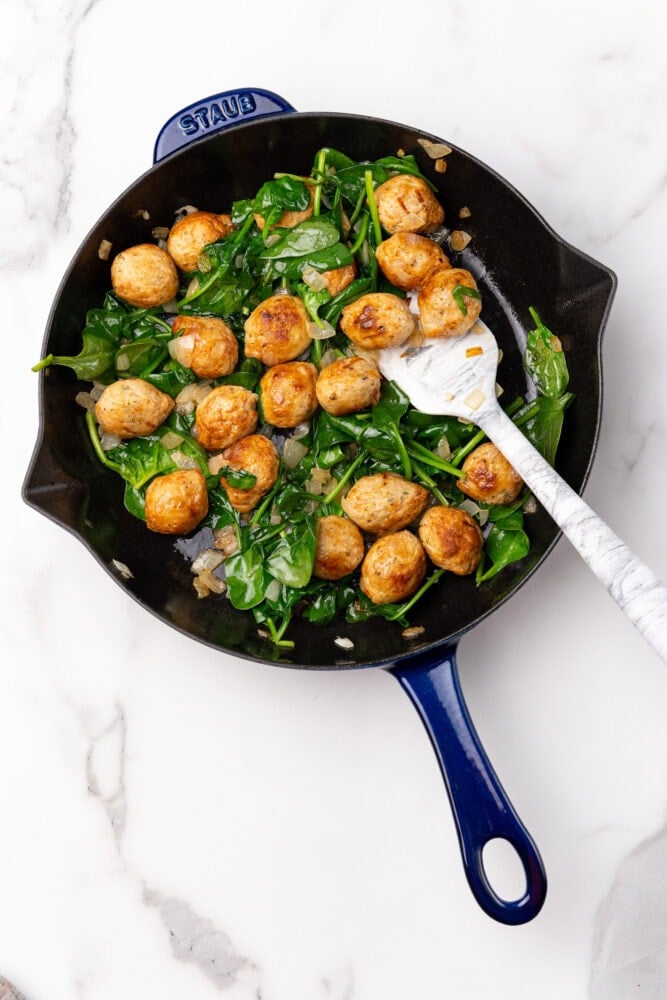 Using a slotted spoon or skimmer, gently transfer the ravioli from the boiling water to the skillet and mix with the other ingredients. Top with salt and pepper to taste.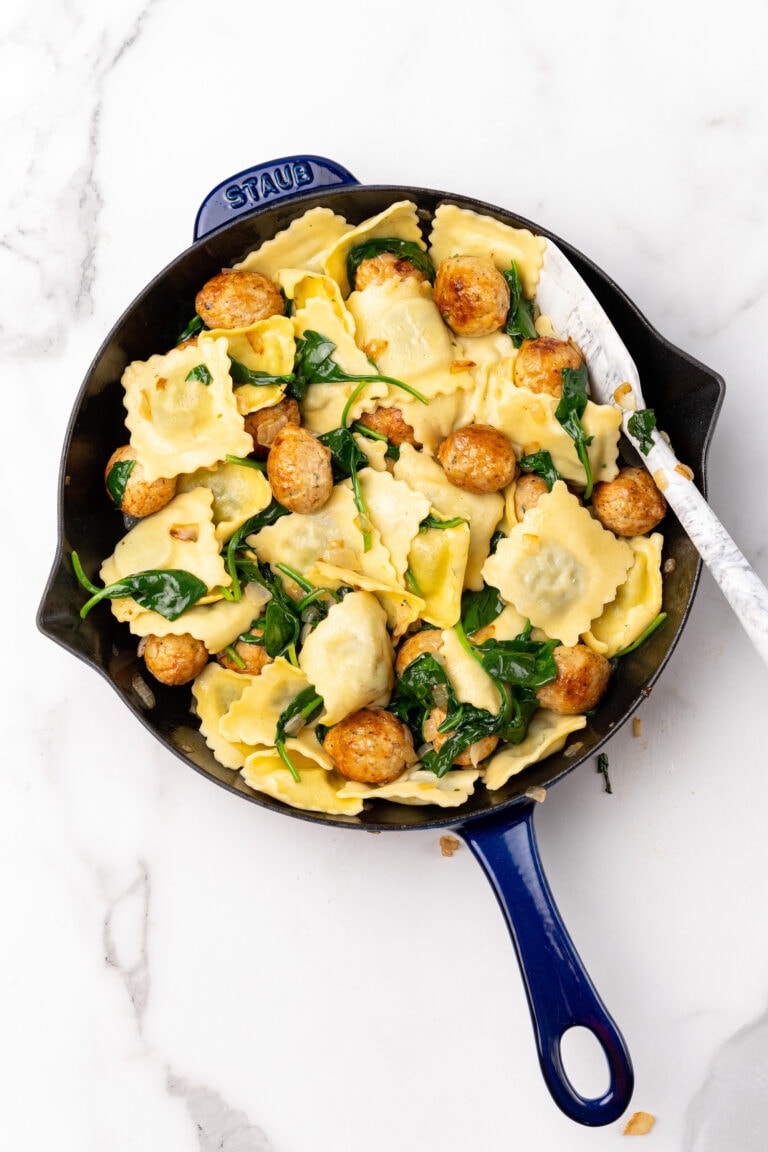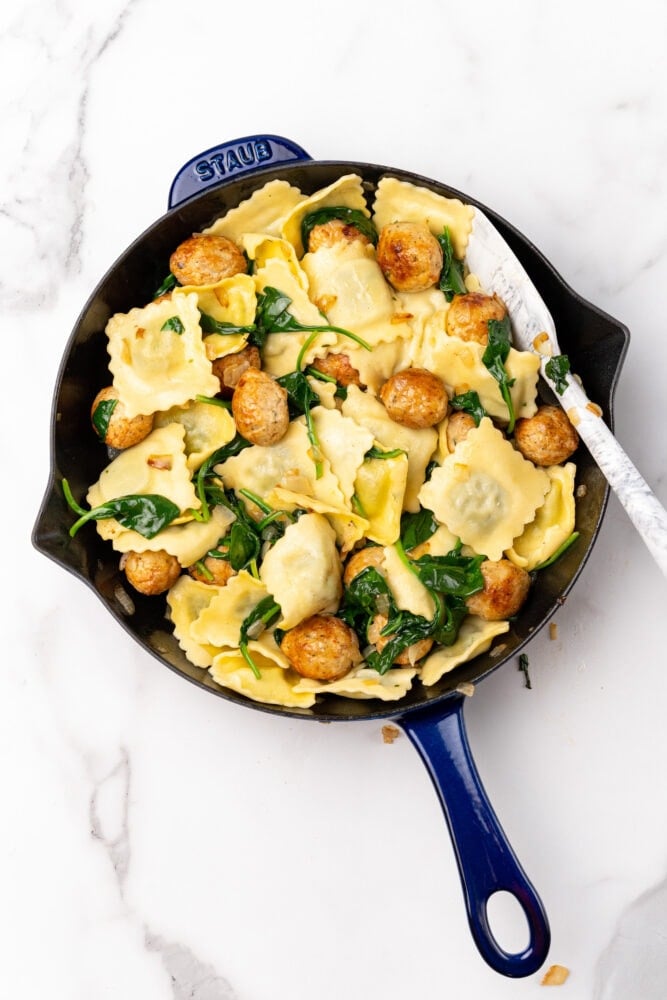 That's it! That's all it takes to make this easy ravioli and meatball dinner in about 20 minutes. Enjoy!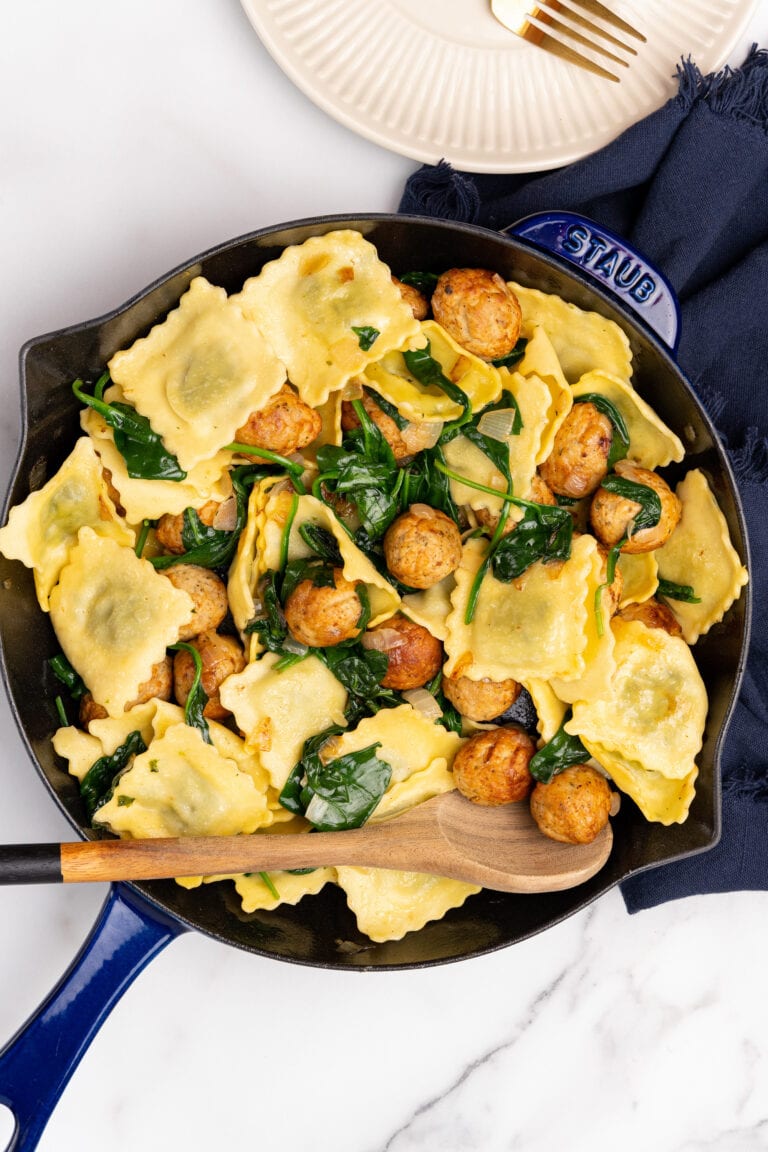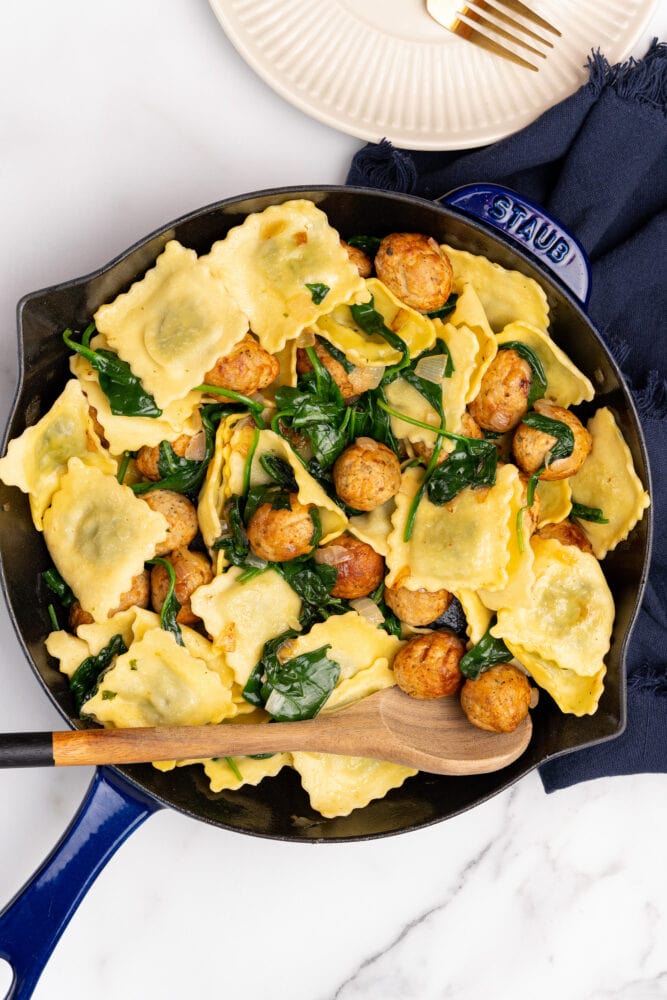 What To Serve With Ravioli and Meatballs
This is a great dish on it's own, but if you're feeding four and want to make it into a more hearty meal, I'd serve ravioli and meatballs with a side salad and some fresh baked crusty bread, like soda bread. Also, a little fresh grated parmesan is excellent on this dish.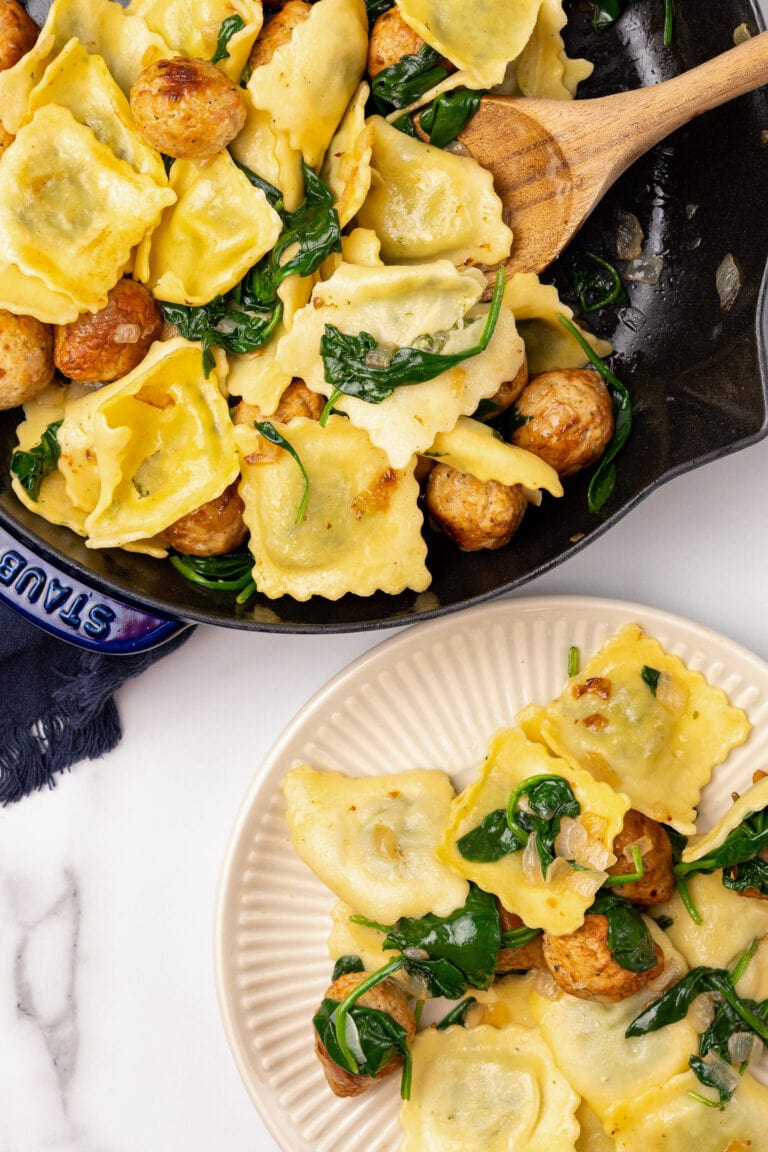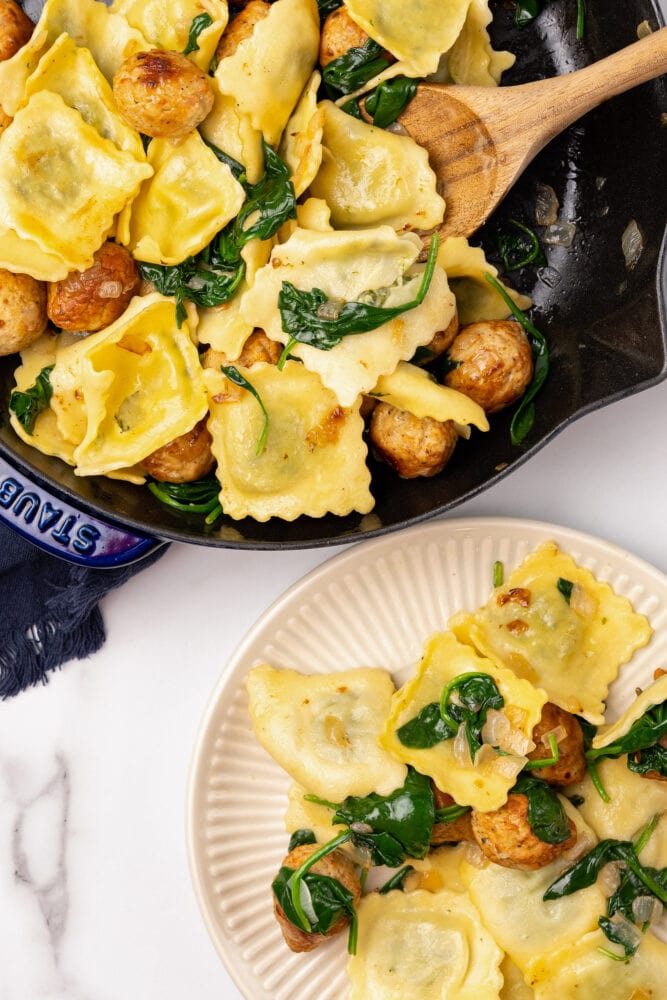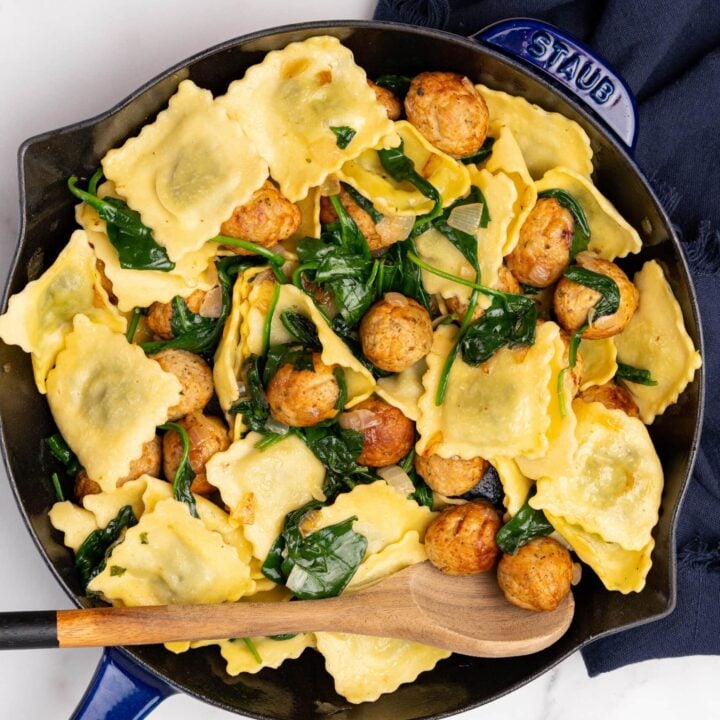 Ravioli and Meatballs Skillet
This EASY ravioli and meatballs dinner is done in 20 minutes, cooks all in one skillet, and only takes 5 INGREDIENTS! My favorite meal for busy nights.
Ingredients
2 Tablespoons butter
1 small onion, diced
12 ounces pre-cooked chicken meatballs
6 ounces fresh baby spinach
10 ounces fresh ravioli
Instructions
Bring a small pot of water to boil, then add ravioli.
While you're waiting for the water to boil, add butter to saute pan on medium heat. Once butter is melted and sizzling, add diced onion and cook for 2-3 minutes until onions are transluecent.
Next, add the pre-cooked meatballs and cook for 5 minutes until they are browned, turning with tongs as needed to make sure they cook evenly and carmelize on all sides.
Once the meatballs are cooked, add the spinach and cover the skillet with a lid. Cook for 2-3 minutes until the spinach is wilted.
Carefully scoop the ravioli out of the pot of water with a skimmer or slotted spoon and add the ravioli to the skillet with the meatballs and spinach. Gently stir all the ingredients together, season with salt and pepper and enjoy!
Notes
If you need to use frozen meatballs, microwave them for 2-3 mintues to thaw before adding them to the skillet.
Not a fan of spinach? No problem. You can subsitute the spinach for peas. Or just add fresh parsley once everythign is done cooking.
Nutrition Information:
Yield:

4
Serving Size:

1
Amount Per Serving:
Calories:

405
Total Fat:

24g
Saturated Fat:

10g
Trans Fat:

0g
Unsaturated Fat:

12g
Cholesterol:

126mg
Sodium:

646mg
Carbohydrates:

24g
Fiber:

2g
Sugar:

2g
Protein:

26g
Nutrition information provided is only an estimate.