Irish soda bread is so easy to make with just a few ingredients you probably already have in your pantry. It's simple, rustic, and can be a great addition to accompany any comforting Irish soup or stew.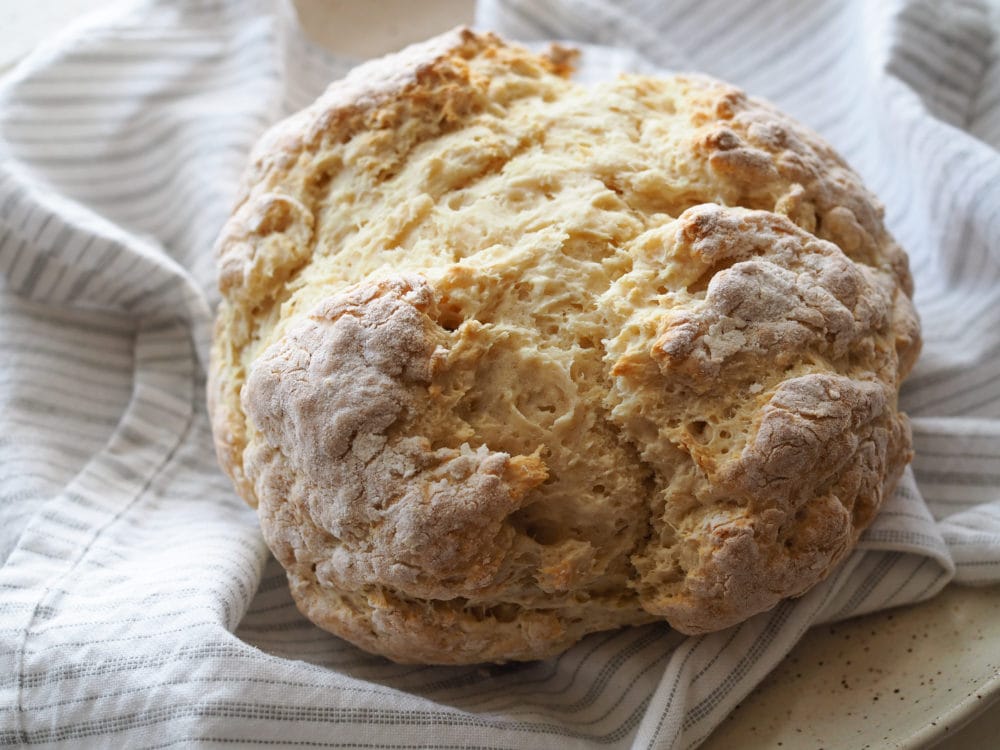 The secret ingredient is buttermilk, a cultured dairy product that helps the dough rise quick. In just a half hour, you'll have a hearty rustic loaf that's oh so decadent with a dab of Irish butter or strawberry jam.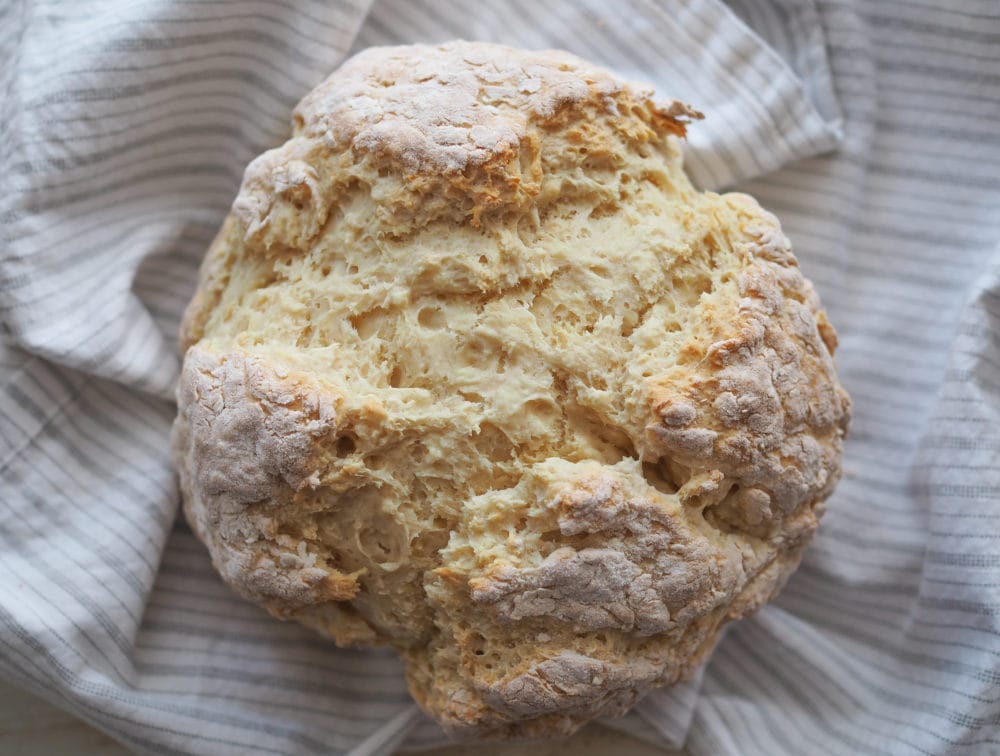 Really, you don't need a lot of ingredients or fussy instructions to make Irish soda bread. It should be simple, quick, and easy.
While visiting Belfast for a conference, a group of us spent the afternoon just outside of town at Larchfield Estate. It's a beautiful historic home that's been lovingly renovated by the current owners. The property is well equipped to host groups for weddings and events and such. We were hosted for a few hours for a cooking class and dinner in their historic kitchen. (I was seriously fan-girling a bit because it reminded me of Downton Abbey)
Baking Irish Soda Bread On A Skillet
We learned how to make Irish soda bread, and since there was a group of us, we baked it on a skillet! Yes, eight loaves baked on a skillet!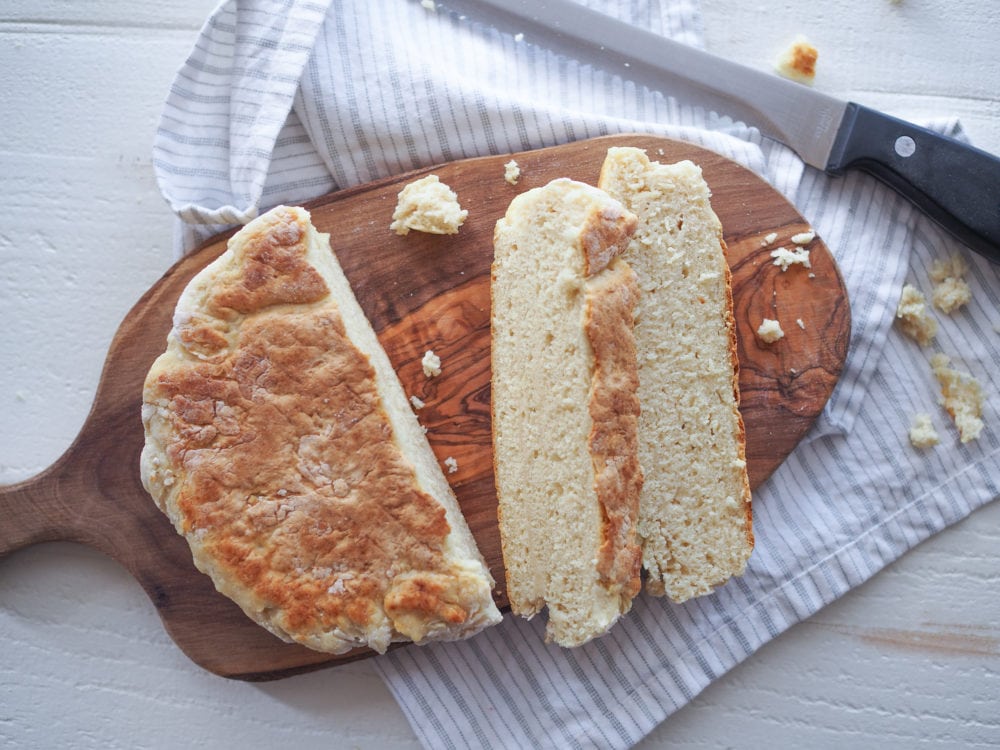 So, this Irish soda bread recipe is not only the real deal, but it's versatile too. You can bake it, cook it on a stove top, or even whip it up on a cast iron skillet while camping. I love it.
A Few Recipe Tips:
This is one baking recipe where you don't have to be *exact* in the measurements. Have some extra flour and buttermilk on hand so you can add a bit more of each if necessary.
I like to make small, 6 or 7 inch round loaves, but the recipe can easily be doubled if you want to make two loaves to have for a dinner party, or to have one extra for breakfast in the morning.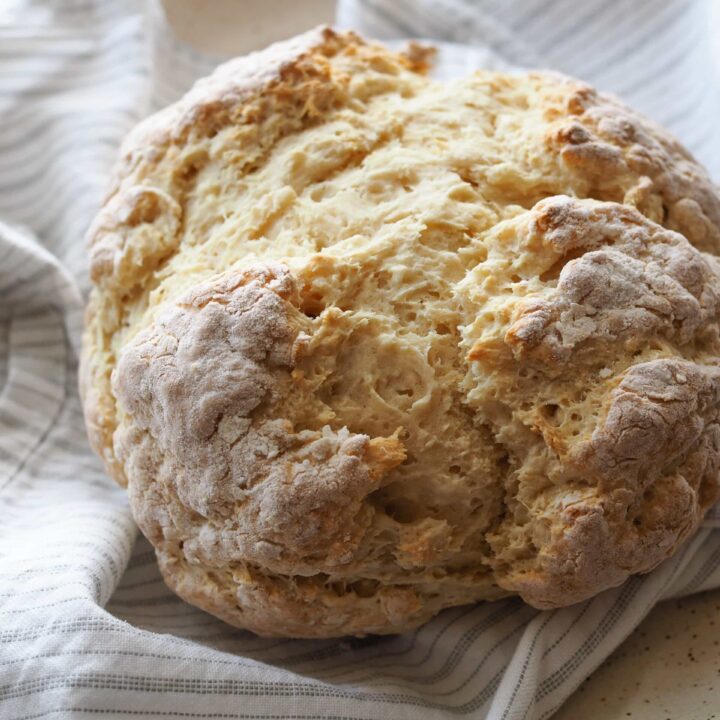 Irish Soda Bread
A hearty round loaf of authentic Irish Soda Bread that's easy to bake.
Ingredients
2 cups all-purpose flour
1 teaspoon baking soda
1/2 teaspoon salt
1 cup buttermilk
Instructions
Preheat oven to 425 degrees.
In a medium bowl, mix together your dry ingredients: the flour, baking soda, and salt.
While stirring the flour mixture, slowly pour in the buttermilk until the dough forms a nice sticky ball. You may add a sprinkling more of flour if needed.
Coat your hands with flour and pick up the dough in the bowl, kneading it gently with your hands and forming a ball.
Place on a cookie sheet lined with parchment paper. You can score an X into the dough to help it expand and create a fun design along the crust. Just sprinkle some flour onto a sharp knife and cut an X into the dough. Though, the scoring of an X isn't necessary.
Bake for 25-30 minutes until the crust is golden brown. The bread should have a hallow sound when tapped.
Cool the bread on a wire rack for 15 minutes. Serve warm with some Irish butter and jam.
Notes
You can also bake this soda bread on a skillet set on medium heat. Add approx 5 minutes to the cook time and   flip it half way through. It will be a bit more flat, like a giant biscuit, but tastes wonderful.
Want to save this recipe? Pin it!